Tributes
To add your pet's memories on our tributes page, please email a photo and your tribute to Tribute.ppp@gmail.com.
Tyka Firth
---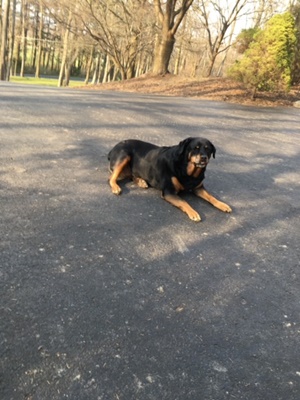 Tyka was known for relentlessly chasing bears away from the woods behind our neighborhood. She had several encounters and ended up in the vets twice do to injury. She was a relentless protector and always on duty.
Matilda LaRue
---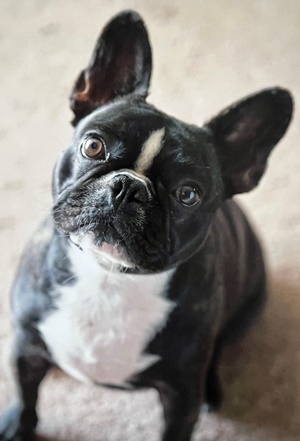 Matilda was our precious angel from day one. We love her and miss her so much. We love you always and forever Matilda.
Whimsi Tauser
---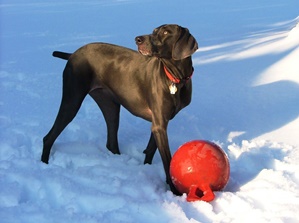 Once Upon a Whimsi
A friend at work called to tell me she knew of a Weimaraner puppy in need of a home. We had two dogs already and really didn't need another one, but one of two breeds my husband had shown an interest in was the Weimaraner. I agreed to a "meet and greet." The first time I laid eyes on her, I thought she was the most elegant and beautiful Weimaraner I'd ever seen. Her coat was a shiny slate blue gray, which is not recognized by the Weimaraner parent club and is considered a fault. No matter to me, I thought she was gorgeous. She was between three and four months old and had a story. The girl who owned her had seen her in a pet shop and paid an exorbitant price for her. "Winnie," as she was called, probably started out life in a puppy mill. The owner had a full-time job, sang in a church choir, played on a volleyball team and was taking college courses. I don't know when she had time to play with and train a puppy. The reason the puppy needed a new home was because the owner found herself in need of finding an affordable apartment that would accept dogs and was having no luck. After making arrangements to adopt her, the puppy needed to be introduced to our pack at home. Margaux was a Bluetick Coonhound rescued from the worst of conditions and had been moved from one shelter to another before she found us. She had been used for breeding, so had plenty of maternal instincts. She accepted the puppy without question. Albert, on the other hand, made it perfectly clear that ALL toys belonged to him and there would be consequences if any other dog attempted to take his treasures. One reprimand from Albert was all it took and the puppy never tried to take his toys again. There was no blood shed, but there was an immediate understanding between the two. The transition into our home was surprisingly smooth and the newly re-named "Whimsi" became a member of our family very quickly. I was curious about her breeding, so we looked through the papers we had been given and found the breeder's name, address and phone number. The phone call was unsuccessful, as our number was blocked. The name and address of the breeder was in Chambersburg, so we went on a road trip one Saturday morning in search of Whimsi's original home. The GPS system led us to a vacant lot in downtown Chambersburg. I guess the breeder didn't want to be found and we never did solve that mystery. Although maybe not enthusiastic, Whimsi was willing to do as I asked. She did not enjoy obedience classes or competition and showed it by dropping her ears and tail and giving me the "sad eye." Our first step was earning her Canine Good Citizen certification in 2008 when she was ten months old. From there, we started Rally Obedience classes and competed in APDT (now WCRL) Rally Trials. She also competed in the Companion Dog Sports Program (CDSP) Obedience and American Kennel Club (AKC) Obedience Trials. Randy enrolled her in Agility classes and both man and dog seemed to enjoy that activity a great deal more than obedience. They never competed, but had fun together running, jumping, climbing and weaving poles in classes. After a year or so in Agility classes, we noticed that Whimsi seemed to tire easily and lacked the energy and stamina she'd had before. We had bloodwork done. The test results showed low thyroid, so she was placed on medication. Agility seemed to drain her, so we stopped taking her to classes. When she was eight years old, we started having fun with Tricks classes through Do More With Your Dog (DMWYD). She earned her Novice, Intermediate and Advanced Trick Dog Titles. In 2019, Whimsi suffered a spinal cord stroke and was restricted from activity for nearly a year. She had a remarkable recovery, but with age, she gradually lost more and more control of her hind legs. At the age of ten, I introduced her to Scentwork and she learned very quickly. She did quite well in class and continued to succeed in competition. I believe she enjoyed sniffing as much as any activity we did together and she earned titles through C-WAGS and then AKC. Having lost her two housemates, first Margaux and then Albert, and becoming an only dog, Whimsi was alone and appearing lonely. We checked several rescues and shelters, but each dog we considered had issues. No dogs, No cats, etc. We couldn't seem to find the one that felt right. In 2020, we did the unthinkable. We brought home not one, but two female puppies. Whimsi showed her true colors and accepted both wild and crazy into her home. She showed incredible patience and tolerance with the "Z Girls" and amazed us with her gentleness and tenderness. She gave corrections when the girls became too much for her, but she was never too harsh with them. For nearly two years, the three girls lived together in what was mostly peaceful harmony. When the youngsters got too rough in play, Whimsi would scold verbally and things would settle down. She was their surrogate mother and she treated them as her puppies. But time moves on and Whimsi began to slow down and show the signs of aging. Her rear end was becoming weaker and she would favor her left front leg from time to time. At her last check-up, I asked the veterinarian about a small bump on her left front leg. Was it something to be concerned about? Yes, definitely it was. We could remove it surgically and send it off for biopsy, but she had a heart condition. Combined with her age, she would be considered high risk for anesthesia. If the results came back positive for cancer, what were our choices? Chemotherapy and possibly radiation. At nearly 15 years old, I wasn't going to put her through that process. We decided to wait and watch. Her appetite remained good, but she slept more and had less interest in the comings and goings of the house. With her weakened back legs, she fell a few times and needed our help to get up. It was time to make the most difficult decision of all. With less than a month until her 15th birthday, we made the call. On December 16th, twelve days before her birthday, we stroked her and spoke softly to her while she went to sleep. She drifted off quietly and peacefully as our tears dropped onto her lovely slate blue coat. Her quiet presence is missed and I still find myself looking for her, reaching for her food bowl and thinking it's time to take her out for a walk. I sent her spirit on to my little sister, Dee Dee, who is the caregiver of all my past beloved companions. I can only hope and pray that we will all meet again one day with tears of joy.
Tauser's Whimsi, CGC, RL1, AOE-L1, CD-C, RL1X, BN, CGCA, NTD, ITD, CW-SP, CW-SD, CW-SI, ATD, SCN, SHDN
12/28/2007 to 12/16/2022
Piper Fleming
---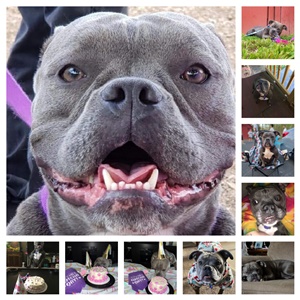 I miss my girl so much already. So her journey started with us in May 2019. We found her or better yet she found us at the spca. She wasn't available for adoption yet because she had to get a kidney removed. But we fought and fought and filled out an application so we had our chance when she was finally available. We'd go visit her daily. Even though we didn't know anything about her except she was found roaming York city, had a kidney removed and by dental records she was about 4-5 years old, we knew she was the one. And she was! She was the best dog in the entire world. We had a good couple years even though it just wasn't long enough. She loved her jackets. She did tricks for treats and loved everyone despite of being terrified of going out and about. We are pretty sure she was abused. We gave her the best life possible and my heart will forever be missing a piece since she passed. She is my favorite girl in the entire world.
Buck Rowan
---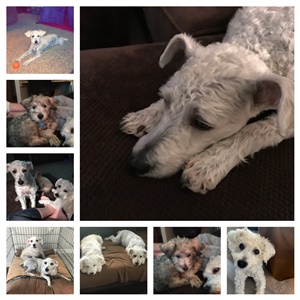 04/17/2016-01/20/2023
Lost his battle with kidney failure…………
Deuce King
---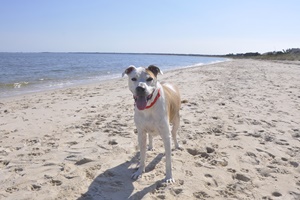 Here is our boy Deuce. He loved to play frisbee, go on long walks, the beach and car rides. His favorite was camping trips with the family and riding in the golf cart. He was so loved and we miss him very much!
Bear Hankins
---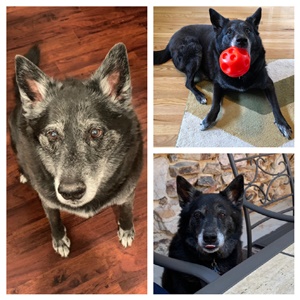 Bear loved food, his treat ball toy, the outdoors, or just being by our side. He was super smart, a little mischievous, and a great big bundle of joy! He was the best companion and made our family complete. He will be missed dearly.
Hazel Warner
---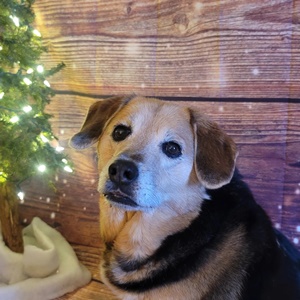 Hazel was such a sweet girl. She made me a dog mom. She was a wild girl when she was younger but then calmed down to the perfect dog as she got older. She got to go on many adventures; camping to different states, the beach, lunch dates, lake days, visiting family and much more! We are all terribly sad that she got sick so quickly at just 10 years young. And we all miss her so much especially her 2 fursiblings.
Jazzy Mowery
---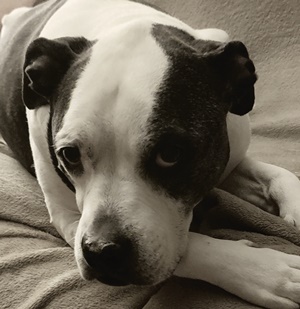 Jazzy has been gone for a little over a week (1/13/2023). Our lives have been changed forever. She was a spunky bulldog with an attitude all her own. She was a member of our family for over 11 years and will be missed forever. We had a great experience with Peaceful Pet Passage. Our whole family was present when we said good bye and we never felt rushed. All our questions were answered. As a family we can not thank you enough.
Zoey Winn
---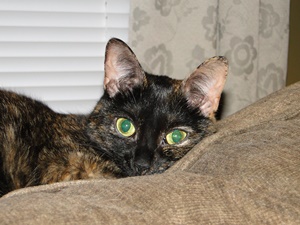 Zoey came into my life at 6 months old. It seemed she was allergic to something where we adopted her from because her eyes were very closed, possibly swollen. Boy, were we surprised when that cleared up and these big beautiful eyes showed up. Zoey was always a funny girl... very vocal with the tiniest, sweetest voice. She had super tiny feet that she would paw you with and try to crawl up your back. She loved being petted especially at bedtime. She was not a lap cat, however, and hated being held. She loved you on her terms which suited me just fine. Zoey and I were together for over 15 years. She was my silly goose, my zo zo, and my friend.
Maddie Thomas
---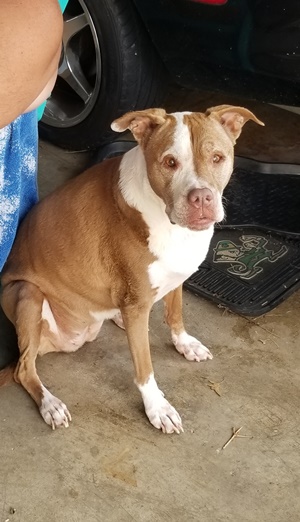 Maddie is a very special girl. She always met us at the door after work. Anywhere we were that is where she wanted to be too. We love and miss our sweet Maddie.
Brogan McDermott
---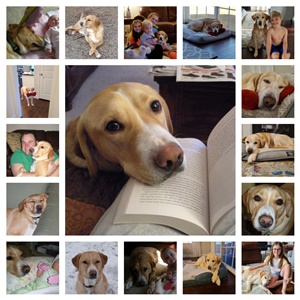 In early June 2008, we went on a hunt to the Bedford County Humane Society with intentions of finding a puppy to call our own. Unknowing, we would stumble upon a full-grown dog with the biggest, most beautiful warm brown eyes staring at us through the bars of his cage. He was very thin, soiled, and we could tell he had not been cared for in his young life. As we learned more about him, the worker shared that this unfortunate dog had encountered a porcupine prior to being brought to their clinic and he had had quills throughout his entire face and mouth. They had performed surgery to remove what they could but he was going to need some very special attention in the coming days and months from whoever would adopt him. Well, right then, we knew that this dog had to be ours. His luck had just changed. We were the people meant to find him. We would take care of him and give him the love he deserved. We began the process immediately and adopted him that very next day and brought him to his new home. We decided his name would be Brogan. It didn't take long for Brogan to settle into his new spoiled life at the center of our world as he healed and got healthy. He was a joyful and playful dog. In his early days, he would greet visitors with a big jump and sometimes his famous hound-like "howl". He rarely barked. He went for daily walks on the leash but he preferred to lead the way. A run-free spirit at heart. He loved to flop down to get a good belly rub and adored every bit of the attention from neighbors, friends, and family. He was our one and only for two years and he thoroughly enjoyed being the "only child". In April 2010, the world he knew was about to change. He was getting a little sister. He was inquisitive when we brought our first baby home; he welcomed and loved her just like we did; often joining me in the nursery while I rocked her to sleep. He was loyal and watchful. The perfect companion. Then, in May 2013, he got a brother, another baby in the house. Old hat for Brogey. He was happy to have another family member to love. Brogan loved being right in the family action. No surprise as he thought he was one of us. He joined in countless walks to the neighborhood park and went on many family road trips over the years. His ears always perked up at the word "car ride". There was always a place in the car for Brogey to go along (even when we were packed full). On game nights, he would pop his head in to see what board game we were playing. During family movie nights, he made sure to get his share of the popcorn. Even though he had some Labrador in his blood, he was not a fan of swimming or bath time. He preferred to sunbath. Any opportunity to find a spot of sunshine, you could find him lying there soaking it up. He enjoyed a nice coating of fresh snow to frolic in too. He loved to sniff. Even in his old age, his nose never gave out. There was no crumb on the floor that could escape Brogey's nose. He would surely find it. And, there was no doggie treat ever dismissed. Brogan was an incredible dog and member of our family for many years, truly irreplaceable. We are so thankful he shared his life with us. He taught our children the unconditional love that a dog can provide. It is difficult to digest that his time with us here has passed. However, we find comfort that we gave him a life of love and he is finally at peace and running free. Our memories of Brogan will live in our hearts forever. Rest easy our dear sweet Brogey. Please leave the porcupines alone. We love you always.
Billy Benkert
---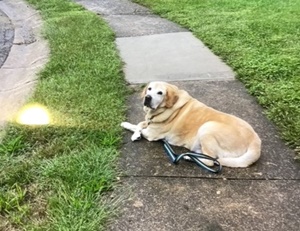 We had Billy for approximately 13 yrs and I don't think that there was one person who had met him that didn't fall in love with him. We would always greet our guest with something in his mouth, such as a shoe, blanket and there were even those few occasions where he gave our guest a beer. He was such a gentle soul who just loved all the attention he could get and would return that love ten fold back to you! You will be missed sweet boy 💔😢💔
Barney Taylor
---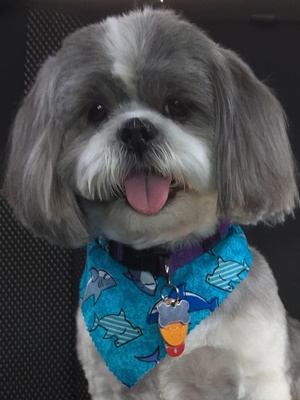 We adopted Barney through Lucky Dog Animal Rescue, Arlington, Va. in 2011. They brought him to Va. from a "high kill facility" in South Carolina. From the day we picked him up, we were his and he was ours. We couldn't imagine how he had ended up in such a terrible place. He was probably the most laid back and well behaved dog we ever had. He was everyone's dog, quiet, gentle and accepting. He was good with everyone including kids and cats and other dogs. We couldn't have asked for more. He was truly a love and we miss him every day. We are so grateful that he was saved by Lucky Dog and spent the rest of his life with us. He had a peaceful passage at home which was such a blessing to him and to us.
Scamp Kline
---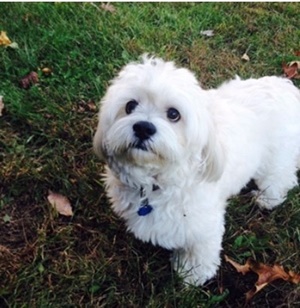 My daughters were just little girls and begged us to go into the pet store, so we reluctantly took them in. They noticed a playpen full of fluffy cream, colored dogs and very quickly the youngest daughter became interested in the little male dog chewing on one of the workers shoe laces. My daughter instantly knew that was the dog for her, and we reluctantly gave in after an hour of convincing. We took Scamp home, and he quickly became acquainted with the cats. We instantly knew we had made the right decision. The kids grew up and left home and Scamp became mom's dog. He was her shadow. She couldn't do anything without him right there by her side. Scamp was so stubborn, but also so sweet. He loved his walks. He loved going for golf cart rides at our beach house. When he would go for walks, he would literally prance down the sidewalk and look so majestic. He also loved his car rides with the whole family. He slept with mom and dad, and on cold nights right up against mom and dad. He loved playing with his furry cousin, and loved getting new toys on Christmas and a few here and there throughout the year. Scamp will be dearly missed. He was such a wonderful part of the family, and will forever be in our hearts.
Sedona Witmer
---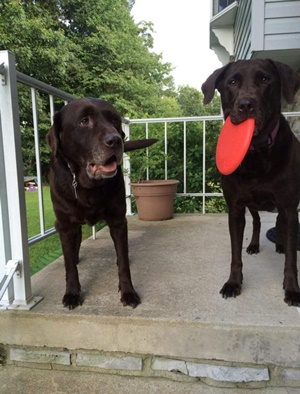 Here is our sweet crazy girl, Sedona with a Frisbee in her mouth with her Momma a few years ago. This is how we want to remember her, a bundle of energy, always wanting to play ball or Frisbee and would play until her tongue was on the ground. She couldn't get close enough to her humans and thought she was a lap dog, laying her head on your neck and nuzzling in to get as close as possible. If you sang to her, she would sing with you. No food was safe around her, she thought it was all for her. She is missed by her humans and her 4 legged friend Martin. She is with her Brothers, Momma, Grandma and kitty sister Cali now and I hope they are all playing and taking naps with each other. Thank you for helping us give her a peaceful transition from this world. 🙏
Seemore Webster
---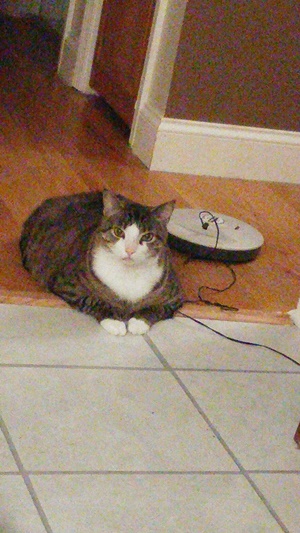 Seemore lived to be 22 years old, and never met a dog he didn't like!
Roby Sandoe
---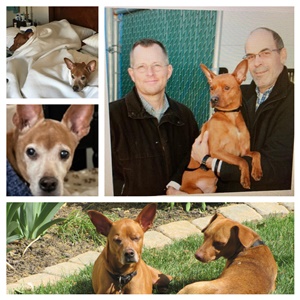 Roby (Row-be) Sandoe-Jacobs Roby was rescued from a shelter in Mechanicsburg in 2011. When we met he walked right over and started showing us, he wanted us to be his family and we really then didn't have a choice. He was home with us in just a few hours from that meeting. And he would have been our choice any way, we knew he was going to fit in with us. We gave him just over 11 years of love and caring. He wasn't real keen in 2015 when we introduced another rescue, his little brother Oscar. But after a few short weeks they were two peas in a pod, each zooming through the back yard and laying side by side in the grass on sunny days. He went through 2 moves with us and always adjusted and made home wherever he was, as long as he was with us, and beside us on the sofa. Your dads are really going to miss you our beautiful boy, and Oscar's going to be ok and someday we'll all be together again. Love you forever buddy.
Oreo Kornbau
---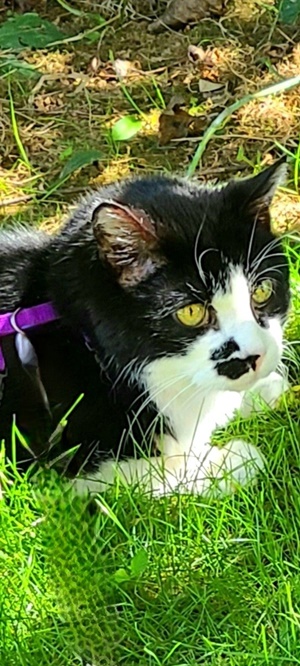 I was able to drive up to see my Oreo's final resting place. It is a very nice setting, hope to get up in the spring because I am sure it is even prettier when all the plants are in bloom. So glad this is available for those of us who live in apartments or have no one to 'pass' their ashes down to.
Dewy Borgel
---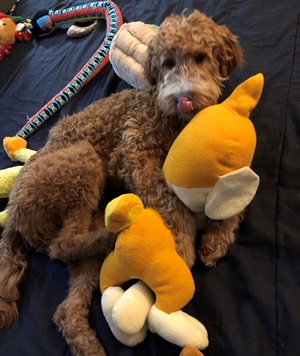 This is our sweet Dewy who passed due to bone cancer just at 9 months of age. Dewy loved everyone he met and was always happy. He would greet us with a smile anytime we had been gone. He only had 9 months with us but he was given the best life by our 12 year old son who would take him on walks/runs or play in the yard. They loved snuggles on the couch. He was so loved & will be greatly missed!
Annie Martin
---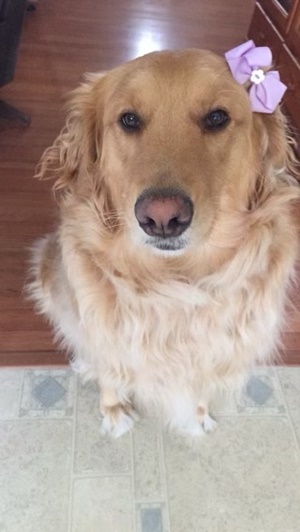 In memory of Annie
We lost our 'baby girl', 'princess' Annie on December 30, 2022. Annie was truly a gift and we miss her terribly! Annie was your typical golden retriever personality with her sweet, gentle nature. Annie loved her family and was so gentle with kids. Annie was also a 'foodie' and enjoyed mealtime and was right there if you were making a snack. Annie was always on duty 24/7/365 guarding her home and family. She was so funny with her antics! When she was young she loved playing 'laser' and chased that laser down like life as we know it depended on her catching it. Annie liked to watch TV and was a bit 'territorial' when animals on TV were 'in the room' - barking even at cartoon animals. When she was younger Annie gave the bunnies in the yard a run for their money. Once we had a very large groundhog considering making home in the yard but Annie would not allow it and the groundhog decided it best to find another place to live. Annie was a member of our family and my best bud; she was always at my side. We miss her terribly and were blessed to be able to love her for almost 11 years. Annie, until we meet again...
Sampson Riddle Bainbridge
---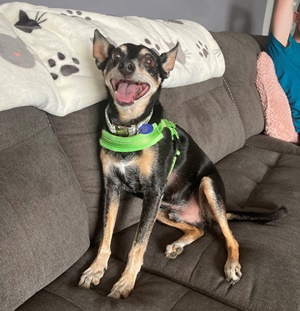 About 2 weeks ago (12/29/2022) we said our goodbyes to Sampson. I adopted him as a senior and was lucky enough to have 6 years with him. I miss our long walks and cuddle sessions, and especially hearing the pitter patter of him sneaking into the kitchen to steal cat food. I'm thankful to Peaceful Pet Passage for helping his transition to be stress free, and for the compassion of the vet and staff.
Nemo Tabasko
---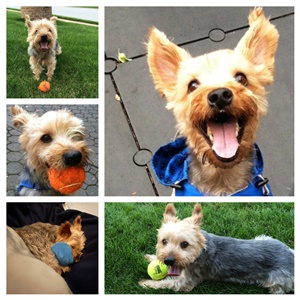 It's been one month (12/10/2022) without you and I think of you every day! I miss you when I wake up as I stumble through the morning routine and I miss you waiting for me at the door when I get home from work. I never dreamed I'd miss your barking as much as I do but the house feels quiet without it. I miss the zoomies, the stinky kisses, the Batman ears, the cuddles on the couch and the snoring…. I miss it all! I am grateful I had so much time with you and that I was able to let you go before you stopped being you. You will forever live in my heart and I hope to see you again on the other side. ❤️❤️❤️
Gomer Royce
---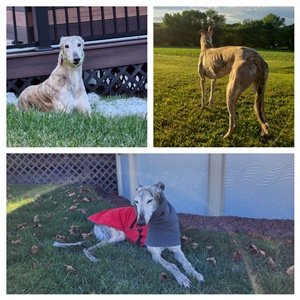 Gomer came into our lives after retiring from his racing days in Florida. He was on the Nittany Greyhounds website and instantly he was part of our family. He was the fastest couch potato you ever did see, and would take all chances to steal his mom's blanket if she left it on the floor. He had a hard time picking between his 5 beds in the house or the couch on where to have his racing snooze. He made his racetrack around the yard where he frequently ran, and zoomies were a must when coming inside. He made friends with everyone who came to visit, even if they didn't want to be friends. He had the softest coat and was often called an imposter greyhound with how much hair he shed, and how soft it was. Gomer made it to 8 years before cancer took him too soon on 12/26/2022, but he made it the best 8 years he could. Gomer leaves behind a sad mom, dad, and brother. His toys and blankets live on with other dogs in an animal rescue his mom picked. We are thankful that Gomer is able to do his zoomies once again now that he has crossed the rainbow bridge, and know he is no longer in pain.
Eddie Shughart
---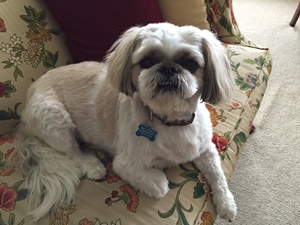 From that day almost 16 years ago till just the 23rd of December 2022, Eddie was the most loving puppy. Eddie always wanted to meet people and put a smile on their face. I knew as we both aged that sooner or later I would have to say goodbye to my little buddy. I watched as my buddy began to have health issues and hoped that he would get better but we all know that never happens. I was blessed with 15 years of the greatest moments I could ever imagined with Eddie. From our early morning walks before going to work to the kisses he would give me while sleeping with us. Goodbye my little buddy. You took a piece of my heart with you. Love and miss you always.
Charlie Bear Kline
---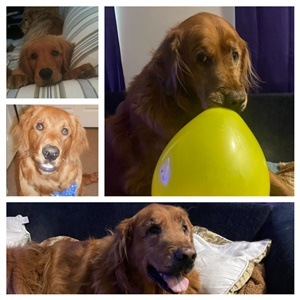 It is with a heavy heart that I had to put down my last dog on Dec 15th, 2022. He was not just my dog but my best friend. When I was feeling depressed from prior losses or just the mood, he was there for me. So, I am here to honor my passing best friend. Charlie Bear Kline was born on May 13th, 2011. I picked him out of a litter of 3 a few weeks after he was born to allow the adjustment period from parents to home. He was so Tiny when I first got him per the pic. Then he slowly grew into a cute monster! Big rabbit paws, his head and body! He was such a mischievous dog during his youth! What made him unique was the Balloon Obsession (per pic ). He would not put it down till he was ready. Tried to take it away, he held onto it and wouldn't let go!! He did slow down later in years, got very finicky with food and lost interest in chew and toys.. He took ownership of the couch instead of the floor but I was ok with that to help his body relax. The only thing he ever has ate in his final years was Milkbones, Glucose/condroitin chews, Grocery store White Meat Already made rotisserie chicken and McDonald's plain/no salt Hamburgers! This dog ran my bank into the ground with his needs! I didn't really care because it was for him. I'm deeply hurt and sad that he has moved on. I hope when it is my time we will be together again cause I miss him terribly. I probably won't get another dog because I can't deal with the pain nor want a dog to suffer a fate of loneliness when I go to work because it is just me. I miss you Charlie and loved you whole heartedly! 🙏😔🙏💔. Thank you for being a part of my life. May we meet again someday.
Milo Reeves
---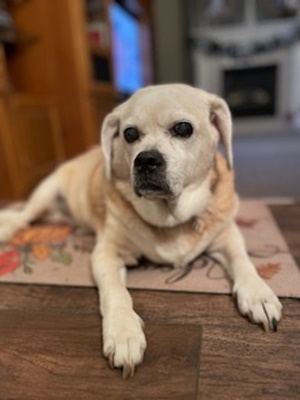 We got Milo in 2015. He was sweetest little puppy. He loved to sit outside on the deck in the sun and chase rabbits. He was a gentle old man in his old age but a few years back, when our youngest daughter was house sitting alone, Milo knew the people on the other side of the front door were not our friends and he ferociously let them know they were not welcome. If it wasn't for him, they would've broken into our home. Milo made them think twice. He is our hero ❤️