Tributes
To add your pet's memories on our tributes page, please email a photo and your tribute to Tribute.ppp@gmail.com or fill out the form below.
GracieMae Stewartz
---
- Best friend for three road trips from Texas to Pennsylvania
- She could tell time: 6 am and 3 pm for breakfast and dinner
- She never missed the chance to snuggle
- Her best friends were all french bulldogs
- She had an attitude and was mouthy, but gave unconditional love
- She made my life better just by being in it and was a best friend since we met on January 26, 2019 in Houston Texas until November 11, 2023 when she fell asleep and went to live in heaven.

Titan Hess
---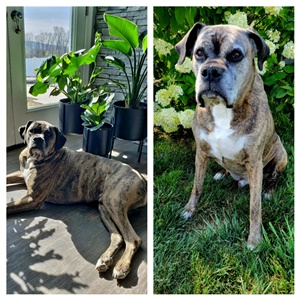 Titan was part of our lives for the last 9.5 years since he was 8 weeks old. He has always been our doofy, laid-back, sweet boy. He loved playing tug, chewing his Kong bone, devouring pizza crust and sleeping. He brought so much joy to our lives. We'll miss you always Titan.

Otis McClure
---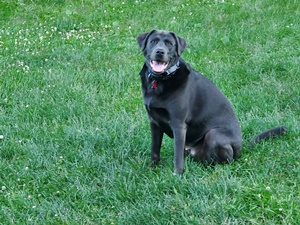 Otis 12/10/2018 - 11/07/2023
Otis you were our world, see you on the other side <3

Max Neihart
---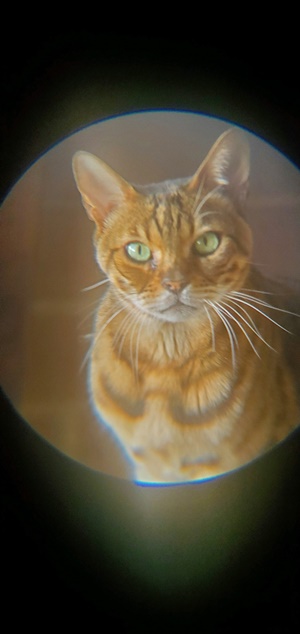 Max was the sweetest companion and is so greatly missed by the whole family. He loved taking his morning walks followed by a nap in the sunshine. Curious by nature, my days were spent chasing him around the neighborhood and meeting all of the new people who's hearts he captured. We miss our moon pie.

Boomer Downey
---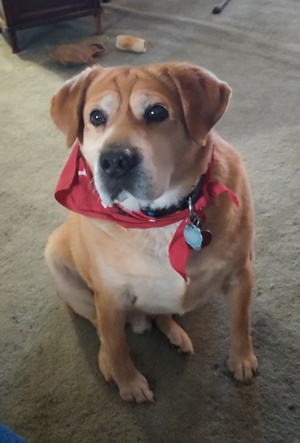 I adopted Boomer about fourteen years ago from the Cumberland Valley Animal Shelter, he was about a year and a half year old, He was friendly to everyone and everyone loved him. He was having trouble walking and I think he was going blind. I hated to lose him but I could not see him suffering. I miss you Boomer.

Nellie Maurice
---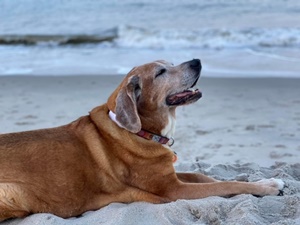 Nellie lived a wonderful life of 12 years filled with love and adventure. She enjoyed the freedom of country living and her frequent excursions to the beach. She was sweet and loved the company of people and animals alike. We are blessed to have had her in our lives.

Huk Cohrs
---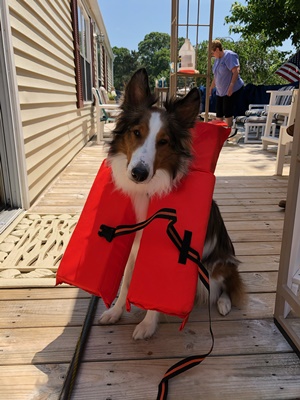 Our boy, absolutely LOVED the beach, boat rides and golf cart rides. He was a traveling pup who lived an amazing life. This picture made him famous for a little while, by getting on a billboard. He was our cuddly boy, and were missing those snuggles. He made sure to let us know that the UPS, Fedex or Amazon were at the front door, our protector. Super thankful for the amazing 6 years together. Love and miss you boy!

Mufasa Bakonyi
---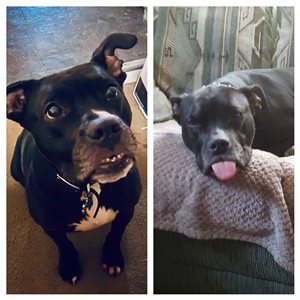 Mufasa came to me with all kinds of fears, didn't know what to do with a toy or how to chew a bone. With a lot of gentle coaxing his personality really came out. He was a silly boy that loved everyone he met, he greeted everyone with a wiggle but and a big smile. I really won the lottery when I adopted him. PS- he often slept with his tongue out, so funny.

Cooper Ward
---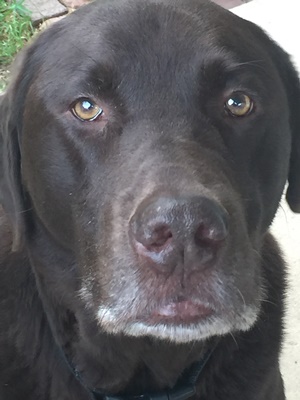 Cooper was a great sweet Labrador. He would always give a hug to anyone who got down to his level. He loved goose and duck hunting and swimming. Cooper also loved Freestyle training. He loved long walks and meeting new people. We miss him dearly.

Carlito Sawicki
---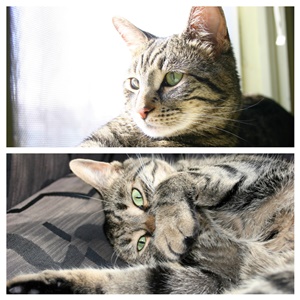 Carlito. In his 18+ years he lived peacefully among pit bull terrier sisters and feline brothers and sisters. He loved laying in pools of sunlight, and watching goings on from the comfort of his perch on top of the kitchen cabinet. Sweet dreams, Carlito. Thank you for your perspective on life, and enjoy your reunion with Emma and Lanny.

Reagan Stroup
---
Reagan was so loved. Every night she would lay in the yard waiting and watching for the deer. She loved playing with her fur-cousins Bristol and Seamus. We miss her very much .. But she no longer is in pain.

Murphy Hockenberry
---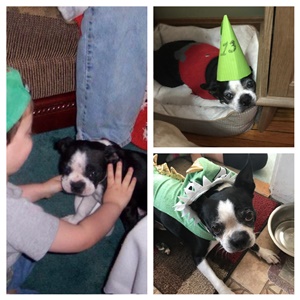 My 15 1/2 year old little boy ♥️. We got Murphy when he was 8 weeks old. His first day with us consisted of taking one of our daughters to visit another daughter, picked her up from college to visit the third daughter in college. So 3 teenage girls with their friends just loved him up. Murphy was the funniest dog. He was so entertaining and a complete love bug. You never wondered how he was feeling. His face said it all. He and my oldest grandson grew up together. At 18 my grandson came to say goodbye to this little doggie a few days before he crossed over. Murph was that special. He was so special that he greeted the vet when she walked into our home and even tried to sit in her lap. As the past few months grew tougher for him I knew it was time. Time to set aside my own heart and look at his what his face was telling me. He told me it hurt and that he was tired.
Jake Sease
---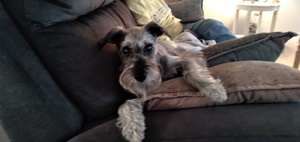 Jake loved walks and playing with his toys. He was my friend. He got to hang out at the beach for three good years.

Riggs Bankey
---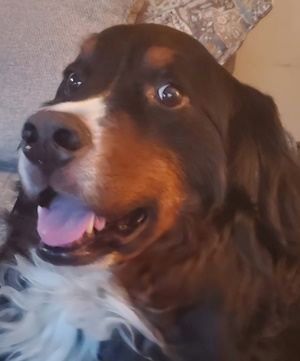 We got Riggs when he was 5 months old and we had him for 8 wonderful years. He was such a gentle and loving dog and pretty goofy. He loved his butt scratched and his belly rubs that would put him to sleep. Our home is so quiet now but someday we will see each other again. We love you and miss you. ❤️

Dude Miller
---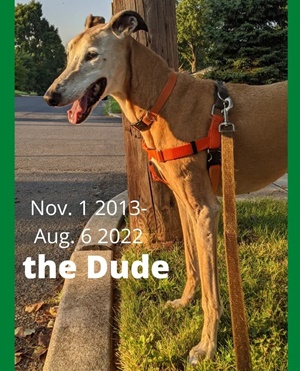 Sometimes, a particular animal companion comes along and changes everything. Not that others before or after matter less, but certain ones create a pivot after which nothing is the same. The Dude, aka Valerio, was that dog for me. He kept me moving through the darkest moments of my adult life. He motivated me, made me laugh, and taught me courage. The Dude was a Spanish galgo, a dog similar to a greyhound. In his early life, he saw abuse; then, he was rescued and became my guy. We did everything together. He was my constant companion in all aspects of life. My sweet Dude passed under the care of your vet and volunteer on Saturday August 6, 2022. He was able to be outside in his own yard, under a brilliant blue sky. It was peaceful and compassionate, and I will always be grateful for PPP giving him this dignified crossing into Spirit.

Zorro Wright
---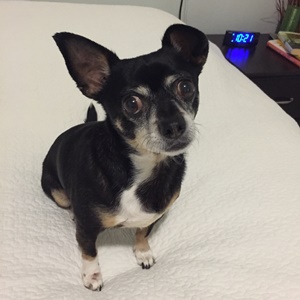 Zorro was the absolute best boy from the moment I got him at a year old in 2006. He gave me 16 years of unconditional love and joy. Navigating through all of my ups and downs in life. He is very much missed already. Fly high buddy, until I see you again. ❤️

Snoopy Sattman
---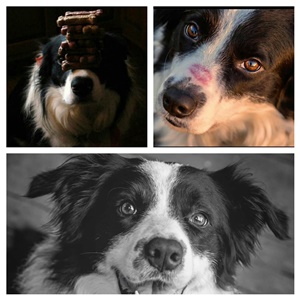 Our Snoopy gave us pure joy and unconditional love for 14 years. He loved his kids the most. He loved his doggy brothers too. He was super smart and funny. He was a merdog...love, love, loved swimming. And he was a strict schedule enforcer! His mom is still wondering who is going to keep her on schedule now. His family loved him beyond measure and miss him so very much. He is forever in our hearts. We love you Snoopy.

Moochie Wuorinen
---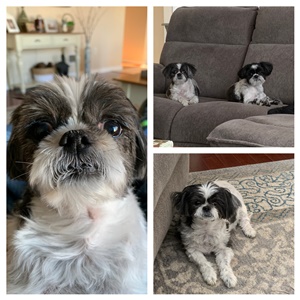 Our memories of Moochie are many, since she was with us for 15 1/2 yrs, she became part of the fabric of our life. She picked us shortly before our grandchildren began to arrive. She was always an old soul and was never one to play fetch, or run about. She was not overly affectionate but she loved one on one time with both my Wife and Myself. She would lay by me in bed and I would rub her head and neck and I would tell her what a good girl she was and how much we loved her, and she would make these snorting/grunting sounds that would be short and sometimes long like a sentence. I was sure she was talking to me and she would grunt a sound that sounded a lot like " Uh Huh" when I would tell her I loved her and ask her if she loved me.... When the Grand kids were young, she would not interact with them, but she would lay across the brick hearth of the fireplace and not allow them to access it, and she would lay on the first step of the stairs up to the 2nd floor and black them from crawling up there. She was an amazing dog and we miss her terribly.
Bella Bear Herb
---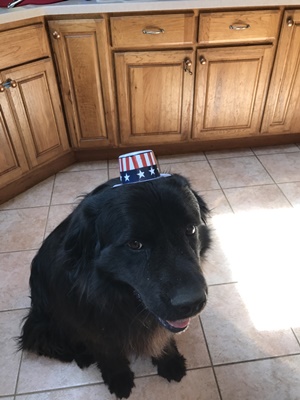 Bella Bear was the most gentle, loving family member. She touched so many hearts. Bella was right up there with Lassie. Gone but will never be forgotten 💗

Harold Kuhn
---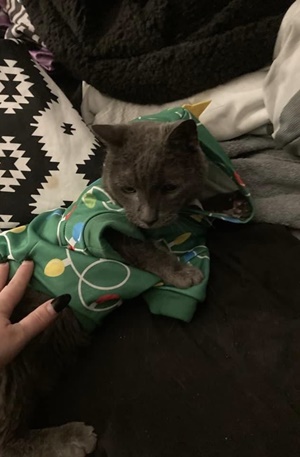 Harold loved to talk when it was time for my mom to feed him, he loved to follow her around when she was in the kitchen or doing things around the house. He loved to kick my mom out of her chair and steal it when she wasn't looking. He frequently begged for treats, he liked to sit and look out the window. Harold passed on October 13, 2023. We miss him terribly, he was a perfect gentleman that at times could be grumpy.

Bo Gehosky
---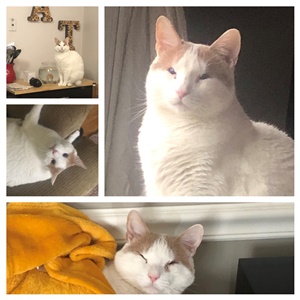 Bo was shy at first but warmed up quickly to those he loved and was very affectionate. He loved exploring, showing off his cool tricks, and modeling. He spent most of his time sitting and watching the fish.

Josie Erickson
---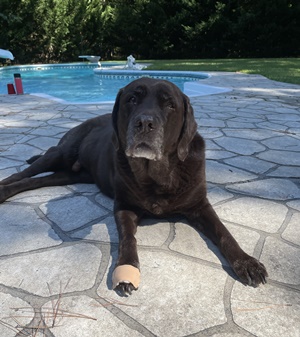 Our sweet Josie…
You were a beautiful soul and an exceptional dog. Thank you for giving us over 14 years of unconditional love, loyalty, and laughter. You touched the lives of so many people. You will forever be in our hearts. Rest easy now sweet girl.
(7/14/2009-10/12/2023).
Pebble Gehosky
---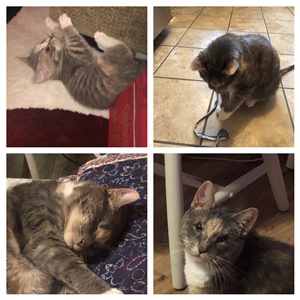 In memory of Pebble.
She was the sweetest, cuddliest and most playful cat you could ever meet. She loved playing with my hair-ties and her little mouse toys. She loved following me around the house and always ran to greet me when I woke up in the morning.
Goose Bryington
---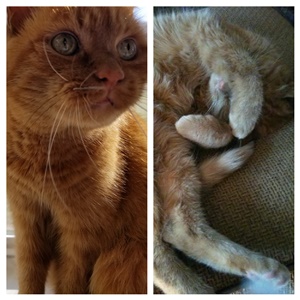 Born October of 2005.
Adopted Jan 5, 2006.
Last day October 12, 2023.
He was dearly loved for almost 18 years.
Jeda Knight
---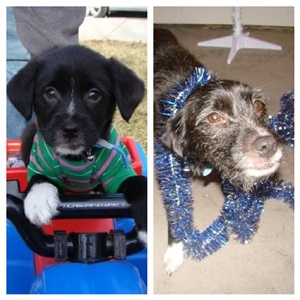 Jeda Knight spent 16 years chasing hose water, bubbles, and her furry siblings. She was often called "Mama Jeda" because if a new pet came around, she taught them the rules. Jeda Knight was loved so much by her whole family!
Fitz Shull
---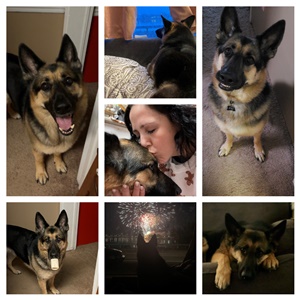 In loving memory of Fitz 🐾💕
I had the greatest honor of being Fitz's mom since he was little pup. From the day our eyes locked, he was mine and I was his. He was the sweetest most gentle angel boy. He was always so happy. He loved all his toys (which there are now tons because he never destroyed any of them) and his bones. He loved trips to Starbucks and chik-fil-a. He loved being in his window and all his pillows, where he was either trying to get people's attention to pet him, watching his favorite… fireworks, or just watching the cars pass by. He loved making people happy and to make them smile. He loved his family, whom he had a special relationship with each of them, all of his and mama's friends, and all the people he met coming to work with me. But most of all, he loved his mama and I loved him more than anything. He loved being at home with his mama and being silly playing hide and seek, getting sassy because he wanted treats, kicking me in the head while he slept because he slept above me, and always being by my side. He was the greatest joy of my life. He made me a better person. He showed unconditional love. He wasn't just a dog. He was my family. My son. My best friend. He was my happiest and most special hello and my absolute hardest goodbye. My life will never be the same. I will love Fitz until the end of time. See you at the rainbow bridge my sweet angel. 💕🌈
Fitz Shull 🐾
10/22/14-9/26/23
Charlie Scherpf
---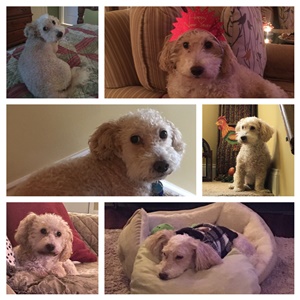 Our sweet, precious dog, Charlie, passed away recently (9/29/2023). He was 16 years old and we had him for 14 of those years. He was very sick with congestive heart failure and he struggled for quite awhile. We knew he had given up fighting when he stopped eating and taking his short walks. As hard and painful as the decision was, we knew he was at peace and not struggling anymore. It was a peaceful, quiet death and we were with him the entire time so he wouldn't be alone and scared. We will always love you sweet boy….. until we see you again😘❤️
Lacey Probst
---
Lacey became part of our family at the young age of 7 weeks old. We were blessed to have her with us for the next 14 years and 8 months. She loved people and was especially gentle with children. When children played ball with her, Lacey would bring the ball back to them and drop it at their feet. With adults, it was a tug of war game to get it back. She always greeted family and friends with a smile when they visited us. Some thought she was snarling, but it was her beautiful smile. She slept in our bed, on our couch and chairs and occasionally on her own beds for which she had several. She vacationed with us many times throughout the years and was always such a good traveler. We moved to a new home two years before she passed. Lacey and I walked 4 times a day. Because of her, I met just about everyone in the neighborhood. She excitedly trotted to all our neighbors with her tail wagging and they returned her greeting with gentle pats and sometimes treats. Everyone loved her and always commented on how sweet and beautiful she was. Lacey is missed by many friends and family members, mostly my husband and I. We loved her immensely. There will never be another Princess Mona Lacey. We hope you met up with your best 4 legged friends, Sneakers, Sammy & Dakota and you're all running free in the beautiful pastures of Heaven. Until we meet again, Baby Girl.
Charlie Lewis Henry
---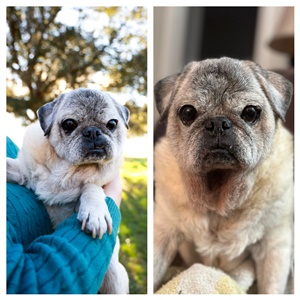 In 2010 I was blessed with the most handsome foster dog, Charlie. He walked in like he owned the place and never left, forever a part of our family. For over 13 years Chuddles graced us with his laid back attitude (unless it was time to eat) and love for everyone. We traveled the country together and he was the best companion to all. Thank you my Chuddy Bear for choosing us as your family, we will love and miss you forever. Your 17.5 years on this earth were a blessing,rest well sweet boy. Charlie 04/10/2006-10/05/2023
Chloe Mumper
---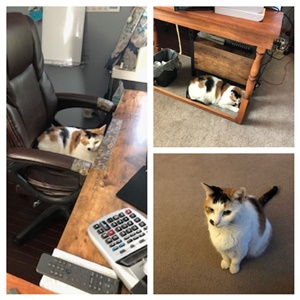 My Chloe was never far from me. She often sat in the office, sleeping.
Zod Coffman
---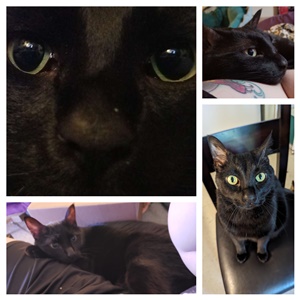 "From the day you first came into my life you found a place deep in the most bruised parts of my heart and wrapped yourself around them, purring away through so many events that shattered me and giving me gentle nudges as I slowly pieced myself back together every time. The World could never handle the power of your love, Zod, but you were just what I needed to keep going. Even when depression made me not even want to eat you should appear at dinnertime, insisting on watching me make dinner before eating your own. You watched me when I was recovering from surgery, never wanting to let me out of your sight for long. You always had the ability to make me laugh with your antics and your intelligence, and you charmed every person you met until the very end. Even when I could see you were in so much pain you purred and greeted everyone like a friend. You truly made me want to be a better person. It would take something as strong as lymphoma to steal you from this world that you so loved, and I made sure that you knew how much you were adored and loved before you left. Thank you Zod, thank you for saving me, and for loving me. We will meet again some day, my little Shabbos Cat.
Níl sa saol seo ach ceo,
Is ní bheimid beo,
ach seal beag gearr.".
Rusty Lea
---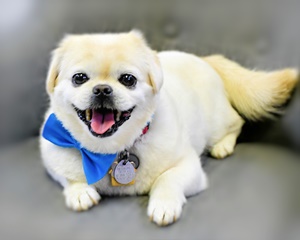 Rusty was a kind soul who loved everyone he met. He was my constant companion for 12 years. We took care of each other through many ups and downs. When I was sad he would clown around and make me laugh. When I was happy he would dance. When I hurt he comforted me. I hope I did the same for him. We loved walking through the neighborhood or through the woods and stopping in a grove of trees to play hide and seek and dance in the wind. My boy stole my heart 12 years ago and will always be in my heart.
Dodger Earnest
---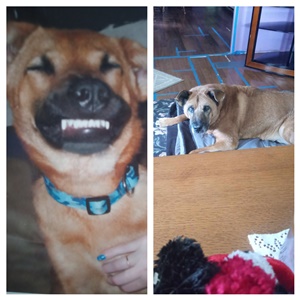 Dodger Edward Balor-Earnest came to us as a stray back in 2009 he was only 6 months old. He loved go for car rides with us when he was younger. He always loved to run like he was at a race track. One memory I'll never forget is when he was a puppy his daddy and I got my granddaughter fancy boots Mr Dodger decided he wasn't happy about it and so he destroyed them when we weren't home. When I moved where I am now he always loved to run up where my daughter lives (his sissy) to be with her dog. He was such a sweet caring dog and he'll be greatly missed by everyone who knew him.❤️😭
7/24/08-9/19/23
Coco Grebb
---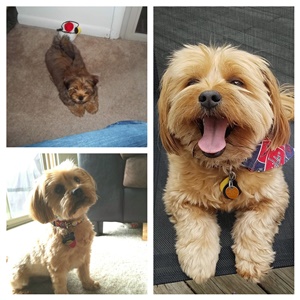 "Coco was a wonderful 11 year old Yorkie Pomeranian. Coco was an energetic pup, who loved barking at animals much bigger than him, and had fear of no man who came to his door, especially someone in their work uniform. Coco always enjoyed when his human friends and family came over, because that meant belly rubs, and what dog doesn't love belly rubs? Coco enjoyed curling up with his Mom and getting belly rubs while she read in the library. You would always count on coming home to Coco waiting to jump in to your arms for a hug or giving kisses. Coco loved being outside in "His" yard, securing the perimeter or laying in the freshly mowed grass while watching Dad finish mowing his paradise. Coco's feline siblings will miss cuddling him against his will and having him chase them down the hallway to break up a fight. Coco loved when his Grammies came over because that meant all the snacks and treats. He will miss his sleepovers with his Aunt Grace when Mom and Dad were gone. He will miss his favorite little cousins Iris and Parker who made him a fan of kiddos. Coco was only here for 11 short years, but the impression he left on people, and the unwavering and unending love he gave to everyone he met is unmatched, and he will forever be remembered. Coco Foie Grebb"
Raven Hersh
---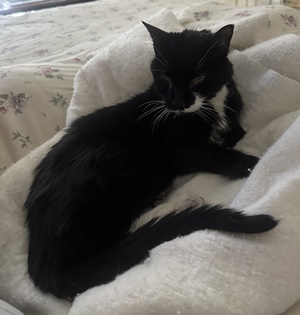 Raven came into my life when she was estimated to be five years old. For most of her life with me she was a big girl, and she was the best lap cat. She would sit on my lap and lean back against me, look up at me and just say "Meow". She was always checking on me, always willing to lick my peanut butter knife clean, and always willing to check out my sheets when I made the bed to make sure I did it right. 😉 I miss my little shadow every day, and so does her little brother - he's always looking for her, and lays in her "spot" that must still smell like her. Rest in peace my sweet girl. ❤️
Cali Tabachini
---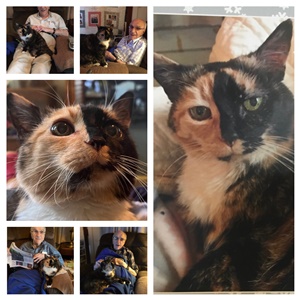 The story of our family being expanded began 5 3/4 years ago. My Mother had gone to heaven and my Father was left very lonely in a big house. Every time we asked what he wanted for Father's Day, his answer was always, "I'm lonely without Mom, I need a cat." Well, we weren't quite sure this would be a good idea being that Dad was 95 years old. We worried that a cat could make him fall. My sister found the perfect cat for him. It became a senior to senior adoption. Cali and my Father became Velcro buddies! They were together all the time. Once in a while she would decide to go upstairs for a nap but otherwise they were always together and were such good buddies. They were meant for each other. For over 5 years they were each other's best friend! Fast forward to May 10,2023 when Daddy went to heaven to be with Mom. Cali had no idea where he had gone 2 months prior which rotated from Rehab Nursing facility to hospital and back and forth multiple times until we brought him to Carolyn's Hospice House in Linglestown. I brought Cali back here with me the week before. She adapted well as she knew me from being at Dad's every week for multiple days at a time. She adjusted to my house easily. She was such a good girl. I knew 5 months later that it was time to let her go. I can not tell you how hard that decision was and how much I ached for this little being that had been such a God send to my Father, by then a 99 year old WWII Veteran! She was a blessing to my Father and our family. I want them both back so badly but it just can't be. They both so deserve a tribute!
Isabel McBride
---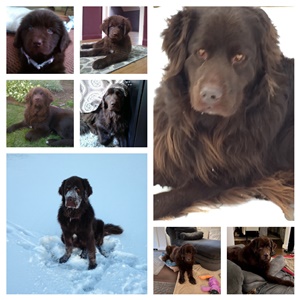 Isabel would have been 13 yrs old in December 2023. I had the honor & privilege to have her bless my life since she was 8 weeks old.
Blue Moon Stover
---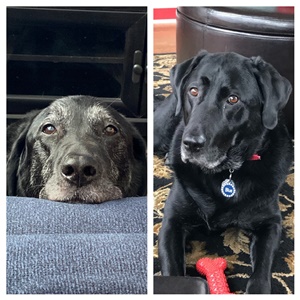 Dear Blue Moon,
For almost 13 years you were a huge part of our lives. You loved being with your family, whether at home or on the road. You were never a big fan of sleeping on the floor, the bed or couch was much cozier . You loved your golf cart, yes it was his. Camping was definitely one of his favorite things to do. As well as doing your walkabouts on our property following where the deer were. And swimming in the pool. You enjoyed watermelon, mashed potatoes, and frosty paws. You loved everyone you met. May you rest in peace baby boy. No more pain, run free in the woods in Heaven. Until we meet again, we love you boo boo. 🐾🌈❤️😢
Sasha Stine
---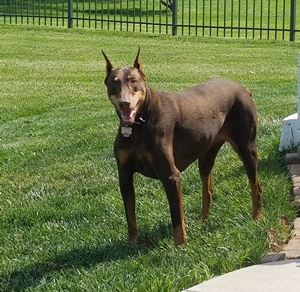 Sasha was the sweetest, most caring dog - always making sure everyone and everything was in order. Fly high Princess Paws - we love you.
Kevin Fetterholf
---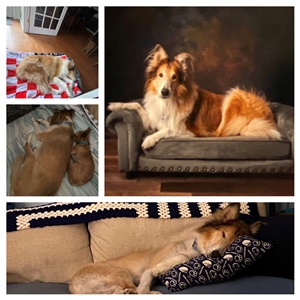 Kevin loved to sleep, chase squirrels, and snuggle with his buddy Taz! He loved getting his picture taken and was quite photogenic. We miss him so much but also know he's no longer in pain and chasing lots of squirrels in Heaven!
Dixie Stone
---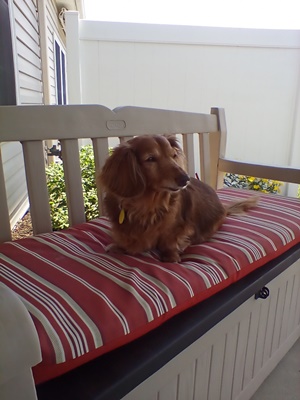 I thought I had rescued her, but she really rescued me. From the moment we met it was obvious we were meant for each other. This beautiful girl was the perfect example of completely unselfish and devoted love. She loved nothing better than to cuddle with me on "our" chair, and couldn't bear to have me out of her sight. When necessity dictated she had to stay home without me, she was waiting at the door when I got back and was so overjoyed I could barely get into the house. And when I took her along, she sat in her car seat like a queen on her throne....just thrilled to be going with me. She hated cats, but loved other dogs, and she loved being outdoors basking in the sunlight. Trips to the vet were far from her favorite and though she was mostly well behaved, she had her limits and acted accordingly. She is, and always will be, missed beyond words.
Reina Chi Benner
---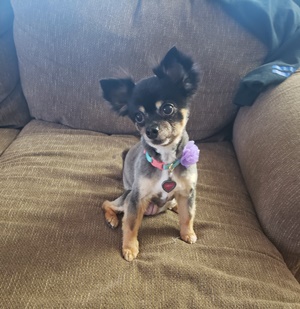 Our sweet Reina went to the Rainbow Bridge August 19. She was the light of our home for 15.5 years. Reina loved life and brought joy to everyone she met. She loved attention and could be quite a ham! Our lives were made better sharing it with our loyal girl. We will love you always.
Quinn Schaefer
---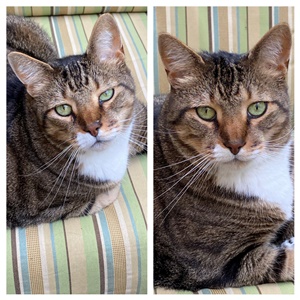 We adopted Quinn when he was 2 years old and his body left this earth just after his 15th birthday. Quinn was an excellent companion to our miniature schnauzer, Maddie. They grew up together and were great company for one another. Quinn was an indoor cat but took great pleasure lounging on our deck with his human dad in the evenings. It was one of his favorite activities. Quinn did not show affection in traditional ways. He definitely wasn't a lap cat or accepting of cuddles. But he made his love known by his consistent presence - he wanted to be "in the mix" wherever we were and loved to sleep at our feet each night. We will miss his late night zoomies, his obsession with turkey lunch meat, and his constant companionship. He was a witness to our lives and will be missed every day.
PJ Orr
---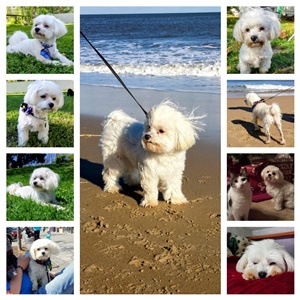 PJ loved going to the beach and trying to eat the waves or just soaking up the sun. He also loved snuggles under a soft blanket on chilly winter days and he was definitely a dog of creature comforts. He had no fear of much larger dogs and would often march right up to them and greet them. He was also very fond of corn on the cob and, of course, cheese. He is so deeply, deeply missed, but I am thankful for the almost 13 years that we had with him.
Niko Martin
---
Niko was a very loving goofy boy, he loved sitting on his mom. And carrying around the biggest stuffed animal he could find. He loved his sister even though she was the boss of him. He is so missed by all of his family.
Snuggles Foster
---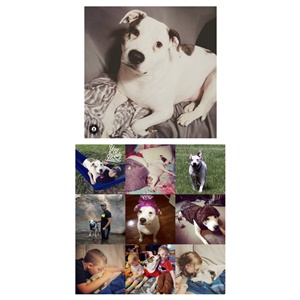 Snuggles was such an amazing and empathetic animal for the 11 years we were lucky enough to have him in our lives. He knew when people were sad and would lay with them, well ON them, to comfort them. He was my therapy dog and made me feel safe in a world that had shown me the ugliest of things. When we brought him into our lives it was because I was broken. I had been sexually assaulted and had a very difficult time sleeping or being alone. He was a chance encounter. We ran across an outdoor adoption day for Pike County Humane Society . Our eyes met, and they let him out of the kennel and he crawled into our laps. He knew I needed him. He knew he was meant to be mine. Originally my husband told me no and that we didn't need a dog at that moment, and he was right, but I couldn't stop crying. I needed him. Within a day we had gone to the shelter and picked him up. Since that day he has not left my side. He has cuddled me through every tear and life obstacle. He has loved my children the same as he has loved me. Our 5 year old is his BEST FRIEND. They have had an unmatched bond since the minute we brought our baby home from the hospital. He was an amazing representative for his pitbull breed. As a puppy he was bred to fight, and wouldnt. They made him a bait dog instead. They let the fighting dogs beat on him. They tattooed him. He had a rip in his ear from the abuse. Still he has loved every person he has ever met. I miss him with my entire being. We all do. Not hearing your bark when i come home hurts beyond measure. Your kids have asked about you every single day. Snuggles Wuggles Foster there will never be another like you. Until we meet again.
Echo Bigham
---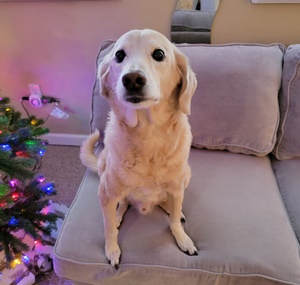 Echo 2-11-2009 – 09-13-2023
Our sweet boy. Echo saved me in all the right ways. I laid eyes on him when I was 19, not sure where my life was going. I decided no matter what, I wanted this guy to come on the ride with me. We grew up together and protected each other fiercely. He was there when I moved into an apartment, got engaged, bought a house, and eventually brought his little human brother home. Let's not mention that it took him 3 months to get over his anger at me and be able to be in the same room as his human brother. That did not last and eventually he learned he was the easiest target to get people food from. After that, they were best buds! 14.5 years with our little love will never be long enough. Echo taught us about love, loyalty, and happiness. His passing leaves a void that cannot ever be filled. His wagging tail when we came home, or his barks of disgust when we ran errands are engraved in our hearts forever. We couldn't have been luckier to have Echo for his whole life, and we know we will miss him for the rest of ours. We love you sweet boy, run free with no more pain or anxiety and know that you will be deeply missed in our hearts forever.
Wally Evans
---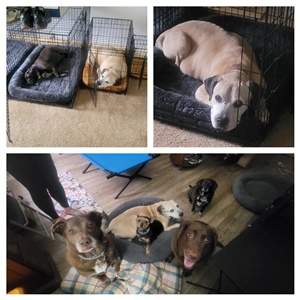 Wally was a prison pup, but not really a pup. He was an older dog who was brought into the Hounds of Prison Education program at SCI Camp Hill, PA, (where I worked) where he was taught some basic obedience skills by an inmate who had to go through an application process and be selected by meeting certain criteria and being trustworthy enough to train and keep the shelter dog in their cell. They estimated his age in 2015 was 5-7 years old. I met Wally and immediately fell in love with him. He was mild tempered but scared of his own shadow. I am surprised he didn't giggle all of the time because his tail was so far between his legs, it had to have tickled his belly. I felt bad for him because he was an older dog and generally, it is hard to find furever homes for older dogs. I didn't care. I would smuggle him back hot dogs from the staff dining hall and always make it a point to give him lovins' whenever I worked. Then the begging began. No, not Wally begging, me begging...begging my husband to adopt Wally. You see, we already had our hands full with 3 other dogs (Riley, Bailey and Reese) averaging from 4 months to 2 years old. We had rambunctious puppies at home and would Wally get along with them? I guess we wouldn't know unless we try. So finally, my begging paid off and we applied and were approved to bring Wally home. On January 26, 2016, Wally took his freedom ride to our already fur-filled home. For the first 3 days, I slept on my bedroom floor with him because he just sat and stared at the ceiling. Anything we owned that made a noise caused him to shake with fear and scurry to a safer place. He wasn't afraid of his fur-siblings, though! He loved people and other animals. He was a street dog...a stray found in North Carolina and networked to a Pennsylvania shelter dog program. They identified him as a Boxer Mastiff mix. When they found him, he was 35 pounds. Two years of living with us, he pretty much doubled in size. I'm not sure about the Mastiff part, but he definitely had the boxer scoot and his tail was long! Slowly, that tail began to emerge from between his legs and we soon realized that he finally considered himself part of the pack! Somewhere along the way, he received the middle name of James and Mr. Walter James Evans became a distinguished gentleman. He enjoyed rolling onto his back in the grass and playing with his siblings. He never really cried or yelped. He would bark with the other dogs. He liked to tear through the woods and took us on some adventures wondering where he ran off to. He loved vegetables of all types and human food that we always said we wouldn't feed him. He never begged at the dinner table though, but that was mostly my fault. On holidays, he (and his fur-siblings) would have their own plates of Easter, Thanksgiving and Christmas dinners. If we grilled any type of meat, he was included in the taste testing process. His faves are hot dogs and steak. One time, however, he didn't even wait for grilled pork chops. He and his siblings busted into a pack of raw pork chops while I was finishing unloading groceries from the car. Since we celebrated our fur-kids' birthdays, but didn't know his actual birthday, we'd celebrate his "Gotcha Day" on the day he arrived at our house. It wasn't always a breeze with Wally. He had to work through some hostility issues towards one of our other dogs but with professional training and lots of trial and error, the pack was at ease. I even slept in the basement with him for 3 months because the thought of having to crate one of the dogs when we were home was not an option. We threw a spin in his world when we got a 4th doggie sibling for him and even had some cats temporarily stay with us from time to time. Luna, his 4th sibling, quickly became his best good friend. She would lay in his crate and he would lay in hers!! They'd play tug of war all the time and she made sure he never had any flavor left on his face from any food he ate! Wally absolutely adored the laser light and would chase it for hours if you'd let him. In such a short period of time, he won our hearts with his personality. He was the bestest goodest good boy and we were so thankful and blessed to have been able to spoil him rotten for the last 7 and a half years. We miss him terribly but know he's a pup again, no longer in pain and cancer-free.
Smokey Deitch
---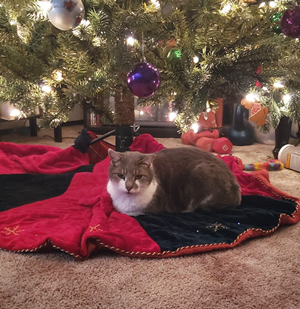 Smokey, you were a faithful friend with a purring motor that was always running. We'll miss your soft fur and wet and are thankful for the 16 years we were blessed to have you as ours. Thank you for helping to make our last moments with Smokey calm and comforting.
Bubbs Ingram
---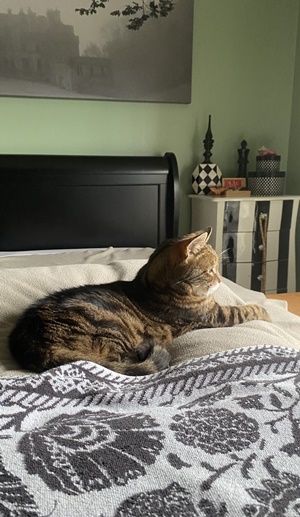 Hello, everyone. My name is Bubbs. My momma liked to call me Baby Cakes too. I was rescued along with my fur brother over 17 years ago. My fur brother and I were days away from being sent to a kill shelter because no one would adopt us after being surrendered to the SPCA when this nice mom and little girl discovered us when looking for a Halloween outfit for the little girl. They went home and told the dad about me and my brother, and we were both adopted that day. My fur brother passed almost three years ago. Despite us not being close while he was in this life, he is much more excited to see me now because he doesn't have to be alone anymore. Absence really does make the heart grow fonder! I had such a great life. My mom was really good at making me different areas to sleep in around the house. She called them "nooks". I had three made from organic strawberry boxes filled with the softest and comfiest towels. I also had a boat with a really comfy pillow as the base for me to sleep on. I even had my own nook on the couch and another nook on the big bed. I didn't like jumping. See, I am an American Shorthair, and my great-great-great grandparents were brought over on the Mayflower to trap mice on the boat. Jumping onto things on a boat could very easily lead to going overboard, so I was never a fan of jumping; it scared me. My dad made me this really cool ramp that I could walk up to get to my comfy nook on the bed because, again, jumping was just too scary for me. No countertop jumper here; I liked to stay on the ground. I didn't even like jumping onto windowsills. I was more than content to lay at the back door in one of my strawberry boxes and look outside at the birds, squirrels, groundhogs, and deer my mom and dad would feed each morning. They called it "cat tv". I also had a great view out the side window of the house and out of the front door by simply sitting on the stairs. I LOVED l my butt smacked. Yes, you read that right. I would sit on the steps and rub my face on the posts of the steps while my momma gave me butt smacks. I'd make her do it until her wrists hurt, lol. My momma would brush me every morning in the sunshine while I laid in my strawberry box, of course. Momma was the best at butt smacks, chest rubs, and morning brushes. My human sister was the best at belly rubs. I had a cool cheetah print belly but was very protective of it. My sister was the only person I let rub my belly, and her belly rubs would make me melt and drool. My dad was the best at face and ear rubs. I always leaned way in when he would rub my ears. As for food, I was pretty plain. I wasn't into eating human food. I mean, I would eat tuna that my momma and sister shared with me, and I may have nibbled on a chicken nugget when my dad made them occasionally. For the most part, if I was curious about what someone was eating, I would give it a few sniffs to satisfy my curiosity and would walk away. I liked organic coconut oil. Weird, I know. It was my bedtime snack. It kept my teeth and cat breath clean. But one thing I really LOVED was hard food. We called it "crunch" at my house. My mom and dad gave me wet food morning and night and throughout the day, I would get pieces of crunch from my family. I'd eat too much crunch at one time, if it was just put in a bowl. I had jars full of crunch and crunch stations on each floor of my house. I knew exactly where all my crunch stations were located too. When I wanted my crunch, I would let everyone know by telling them. My momma said I sounded like Steven Tyler when I meowed (k-k-k-k-kow). I don't know who that is, but I guess he loved crunch too. As far as toys go, my momma was my main toy. My cat toys did much cooler things when she was around than when they were just on the floor or in my toy box. But, I did have a weakness for plastic pull tabs from water jugs. Forget a $10 cat toy…just give me those plastic tabs, and I would play my little heart out. As you can see, I had an amazing life while here. I was super loved and understood. Even on my last day, I got to move on pain free at home in one of my strawberry boxes with the help of Dr. Morgan. So, please no tears because it was a great ride, and I was happy to have been given the extra time to enjoy 17+ more years of being loved and spoiled!
Kenzi Briggs
---
We love and miss Kenzi very much. She would come running whenever she heard someone getting ice cubes, swim in our pool or float in her raft, get so excited to go on car rides, and she would give kisses to anyone who would let her. She was my wife's constant companion and knew just how to look at me in order to get a taste of whatever I was eating. We miss her terribly and see and feel her wherever we go. I pray that I will see you again someday! We love you Kenzi.
Jabin Nathaniel Kautz
---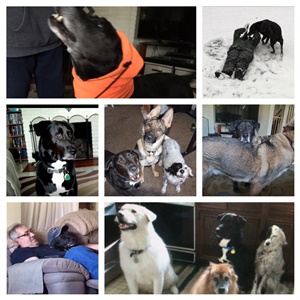 My Jabin, our buddy... we miss you so much and think of you every day, and always see you in the way your brothers do different things around the house that you taught them... You will forever be my always watchful, always loyal, service dog and daddy's cooking and grilling buddy. Tenacious, Loyal, Funny, Brave, Stubborn, Teacher, Snuggler, Food Timer, Mediator..... So many words to describe you but there will never be enough to truly illustrate how awesome you are. We can only see you in the stars now playing with Lady, Tootsie, Shelly, Sammy, and Bella. We love you all. <3
Leia Jones
---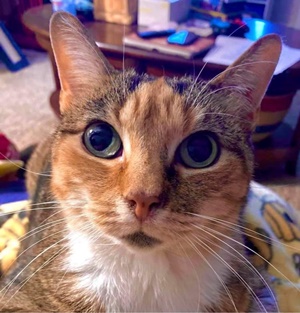 Leia was the stereotypical independent cat except when she was needed, then she could be found in the lap, curled up next the head of, or beside the person (Shannon) who needed her most. We will miss you.
MeMe Benson
---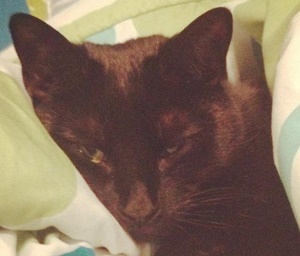 Dear MeMe,
Our hearts long to hold you in our arms once again. Thank you for being a part of our family for so many years. Know that we miss you every day and long for the day when we will meet again on the other side of the rainbow bridge. Hope you have had the opportunity to reunite with Geppeddo and Ellie Pup.
Nikki Lysaght
---
Nikki gave us an amazing 13 years. She was a smooth collie mix with a gentle heart and soul. She was loved by all. She helped many rescue/foster dogs and cats by sharing her peaceful energy with them. She helped me get through the past 13 years of my life. I couldn't have done it without her. One of our favorite activities was dancing to "Back that azz up" by Juvenile. She was a great dancer. She would shake her butt and run through my legs. We really backed it up. She gave me an amazing gift by being my dog.
Sophie Jacoby
---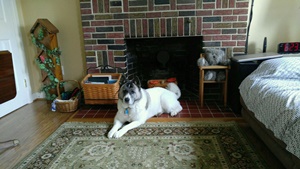 Best Akita ever out of 5. Real personable, when we went to the Akita rescue to meet her, she picked us. She walked over to me sitting on the ground & laid down in my lap, looked up @ me as if to say take me. We did. She was home all day her 1st day, about 9pm she laid down, let out a long sigh of relief & went to sleep. I knew then she was ours. Spent every night on the love seat next to me & would even stay there all night sleeping after bedtime. Every day around 3pm, she would hop up on the couch & begin watching out the picture window for her mom to arrive. It was as if she could tell time. If an errant Fed X, UPS or other vehicle stopped out front, you would think she was going to jump thru the window, very protective, but well behaved. Her favorite food besides treats was chicken.
Grace Ross
---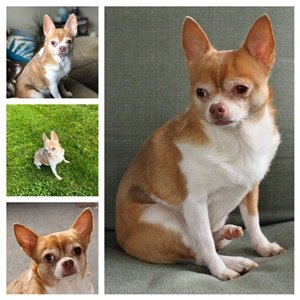 We said goodbye to our sweet Grace just days after she turned 16. Grace lived a long, happy, and healthy life. In her younger years she enjoyed going on walks, exploring outside, laying in the sun, wrestling and chasing her siblings, and following her mom around the house no matter what room I went in. Grace was also known for doing security checks where she would go room to room just to make sure all was well. We always felt safe having Grace as despite being a Chihuahua she was 10 lbs and could hold her own. In her later years, Grace enjoyed napping, monitoring the activities of the household from a comfortable bed, demanding a greenie every single evening, rolling around joyfully on the living room rug, and just sitting in the middle of the floor watching the action go on around her. She was the last of our original 4 dog Wolfpack and over the last 3 years she helped us welcome 3 new dogs and also grieved with us when the other original pack members passed on. She was a great and very tolerant big sister even up to her final days. Grace is finally reunited with her Wolfpack, including her brother and 2 sisters all of whom we said goodbye to in the last 4 years. We will miss you Grace Ann! We love you with our whole hearts sweet Annie girl!
August 28, 2007 - September 1, 2023
Vidahlia Weddle
---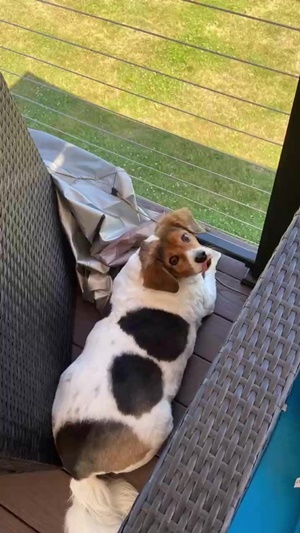 Until we meet again my sweet pup. RIP
Winter Joines
---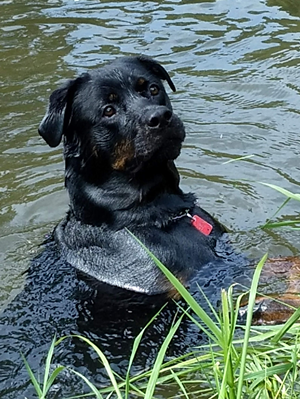 Winter loved to swim in potter county and travel . She loved everyone we mean to anyone.
Scarlet O'Hara Norman
---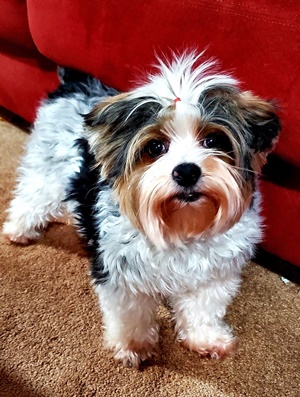 August 24th 2023
Abbey Forney
---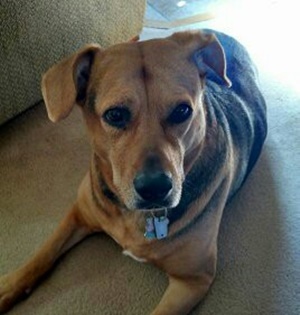 Abbey Sue, our " Heartmelter from a shelter" sweetest dog we've ever had.
Samantha Belle Clayton
---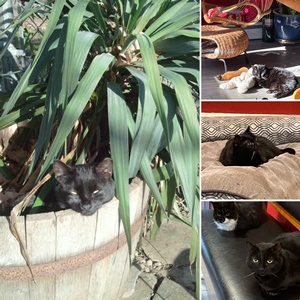 My Samantha Belle.
She befriended me in 2006 when I moved into my first owned home- Sammy, her sister Frankie, mom & dad (Momma and Poppy), and aunts, Sissy & Phantom. I had a side patio the clowder had moved into (unbeknownst to me as homeowner had died and surviving family who sold me house didn't disclose during settlement). I realized there were so many homeless cats in neighborhood that I chose to get them all fixed thru TNR service. Sammy would purr cage side to reassure her family (if they were trapped) that it would be alright as I couldn't take all 6 in at once so staggered spay/neuters. Sam would be by my side as I gardened. She checked in with me at breakfast and dinner feeds. She greeted me as I parked my car. Due to a POA, I had to move to new digs in 2014 and I was able to take two with me, Sam and Poppy. My neighbor took on caring for the rest. They were styled with a catio set up on my neighbor's property. Samantha Belle moved with me in 2014 and lived permanently inside my house. She crossed Rainbow Bridge 1/9/23 (the day after my Mom went to heaven) at the age of 17. I was never comfy with the idea of outside cats. Sam changed that in me. She made me appreciate the daily schedule of feed check-ins and even stayed by my side perched on my outside living room window purring and kneading bread when I was bed ridden post surgery. I haven't encountered a soul with a larger heart. She taught me grace & grit. What an amazing queen - my Samantha Belle! My neighbor moved so now I have the last remaining cat of the clowder, Sam's geriatric semi feral aunt, Phantom. I'm honored to be reminded of my heart cat, Samantha Belle!
Moxie Mae Walker
---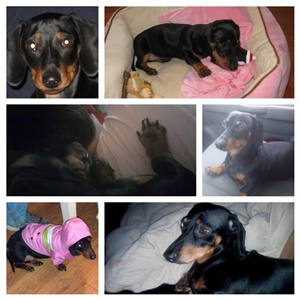 Moxie Mae was such a loyal, protective, playful and loveable (at times, when it suits her) adorable miniature dachshund that was loved by all of us. Moxie was a special gift that held a special meaning to us. She was born on the same day that a very young relative passed away, 12/16/2008. At 8 weeks old, after we took you to your first vet visit for your shots, that was the beginning of life long allergies. You stayed strong and managed to get through the monthly vet visits for allergy shots/meds/skin check ups. When we got back home, all you wanted to do was play and hold onto to Andrew's socks with your mouth and wouldn't let go. So for Andrew to be able to walk, he had to slide you on the floor. You always had a favorite blanket to burrow in. You knew exactly which one it was. When I held up 3 different blankets, one at a time, you got excited when your favorite blanket was shown. To go along with the blanket, was the favorite donut dog bed. When you were about 10 yrs old, you were given the nickname "Cujo" because at times you were mean and very obsessive about food and certain items. We loved you and still love you unconditionally even after you traveled the Rainbow Bridge. This is not good-bye but just a "paws" (pause) in meeting again. Love you lots Moxie Mae.
Kota Andrews
---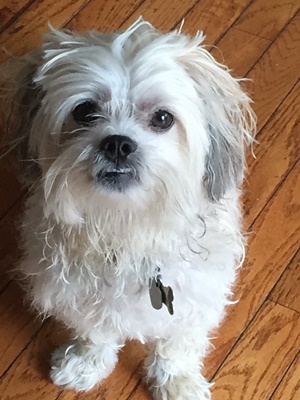 Kota was a "little brother" to our twin sons for almost 15 years. They grew up loving him, and teasing him just like they did each other. He swam with them, ran with them, and wrestled with them. He never wanted to miss out on anything, he was always trying to get in on the action. Every time we eat ice cream cones, we remember him because he waited patiently watching us…waiting for the last bite of each cone! He loved his mama, and was often her shadow…following her around the house…and even jumping in the pool on a blue mat so that he could float with her. Here is an Ode to Kota… He thought he was big, even though he was small, He walked like a Clydesdale and was a big-hearted furball. His superpower was cuteness, But he could endure our sons' brute-ness. He peed where he shouldn't, And did lots of things we thought he couldn't. He loved his "chips and dip," And now he's in the heavenlies where he can "yip yip yip." We love and miss you Kota!
Tildy Mellerski
---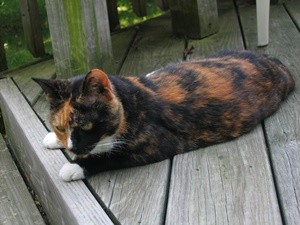 Tildy was with me for 23 years, the last seven as my only companion. She was a beautiful calico, playful, loving—and feisty enough to face down a deer in my backyard. I know I am lucky that she lived so long, but as we all know, pets never live long enough. I miss her more than I can say.
Boomer Hansford
---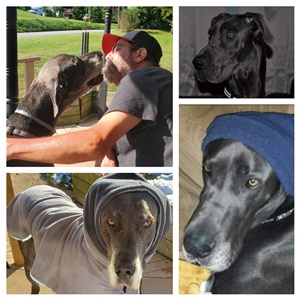 Boomer,
When you were 3 years old, we rescued you. You fit right into our home with Sammie, who lost her sister days before, and she was grieving badly. You joined your sister Sammie, quickly becoming her best friend. You were a loyal furkid and gave us your unconditional love and a force of amazing personality traits. Our house is quiet now with the loss of you and your sister two years ago ,but you will always be in our hearts. We miss you very much. You are forever our main man.
Hugs, kisses, and love, Daddy and Mommy
12/12/2012- 08/19/2023
Quorra Stenberg
---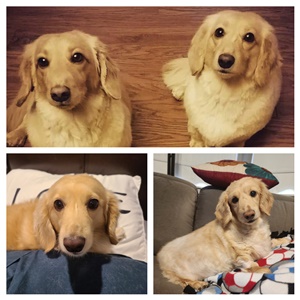 Quorra was a beautiful soul and full of endless kisses and love. She loved to be snuggled, play fetch and eat! Deku, her brother, and us miss her terribly. She was the softest little baby you'd ever pet and she had the cutest "mohawk" on her nose. May our little Quorra bear rest peacefully.
Chloe Bucher
---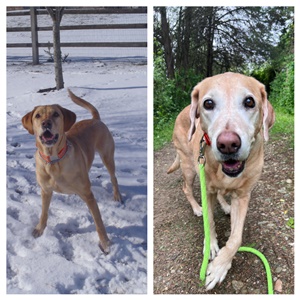 This May(2023) we're celebrating the 16th birthday of our Labrador Retriever, Chloé, who was diagnosed with Canine Cognitive Dysfunction just over a year ago, and since we know we are not alone in living with this disease, we thought we'd use this occasion to share with you what life has been like living with a senior dog who has a cognitive impairment. The Story of Chloé It feels like yesterday we brought our Chloé home to our college apartment, even though we weren't supposed to have pets. Not long after, we began reading Marley & Me. At first, the book was heartwarming & hysterical filled with seemingly never-ending laughs that gave us a peek inside what was ahead for us both as new owners of our first Labrador Retriever. However, as we read on, that all changed & we can remember crying about losing our Chloé someday in the future when here she was only a few months old. We told ourselves then that we had many more long years together with Chloé before we'd even have to think about any of that, but we never dreamed it would be 16+ years! Celebrate Chloé's sweet sixteen with a look back at her first years through the gallery below: Fun facts about our Chloé-dog: • In her first year, we moved 3 times, had our own suite at Bark in the Park during a MLB game, helped Governor Ed Rendell sign a law to ban puppy mills, began donating blood to University of Pennsylvania Animal Hospital, went to the beach, ran her first of many 5k's fundraising for our local shelter, began competing in dock diving & went on our first ever camping trip… in a tent… outdoors… in the rain. not ideal! • Some of her nicknames are "Yellow Dog", "Chloé-dog", "Bunny" (she hops like a bunny when she runs) & "Chew-bee" because prior to losing her hearing she would often express herself vocally like Chewbacca from Star Wars • Chloé was a working dog for many years while she went to work with Janine. Everytime Janine stepped away from her desk, Chloé climbed up into her chair which gave everyone a good laugh! • When it comes to food, Chloé hates pickles. Jared & Chloé once entered an eating contest for dogs & almost won, until we got to the last round where she had to eat a pickle. She refused & we lost! Chloé was so full of life until January of 2022 when she was diagnosed with Canine Cognitive Dysfunction ("CCD"), a degenerative brain condition, aka doggy dementia. This progressive disease affects their social behaviors, sleep behaviors, and toileting behaviors creating confusion. Confusion creates anxiety, and as the cycle loops, your senior pup becomes overstimulated and exhausted. At first you may only notice a few strange things here and there, but as the disease progresses further along, the symptoms become more prominent and a part of your daily life.
Dudley Stahlman
---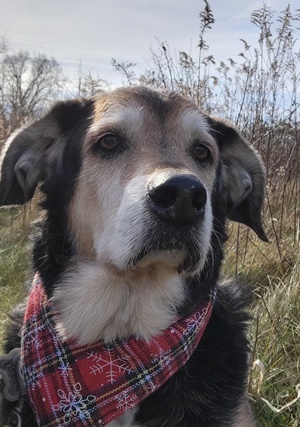 Born in Kentucky and rescued to Pennsylvania through the kindness of Worthy Tails Animal Rescue, Dudley (originally named Marley) joined our family as a 3-month old puppy in May of 2010. We were blessed to share the next 13 years with him at our sides. He welcomed our son into our life and was a faithful guardian and companion. He was our best friend, a goofball and the goodest boy. An avid hiker in his younger years, he remained adventure ready, most recently glad for a car ride, a jaunt in his cart, or time with his most-loved people. His favorite spot was under a maple tree on our hill, where he could survey the neighborhood and catch all the good scents. It was there, in the shade with a gentle summer breeze, that we laid with him as he made his way to Rainbow Bridge.
Gunner Bonsell
---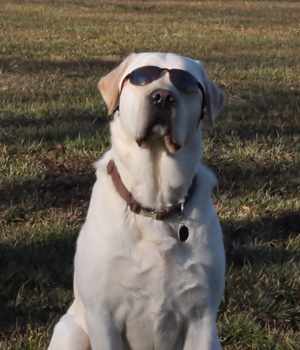 Gunner was the "coolest" dog we ever owned. He was a gentle giant. Every day he would find his toy bone and drop it in front of the vacuum so we could push it and he could chase it. (We had to vacuum every day due to his hair so it was a daily game LOL). Miss him so much. Love you Gunnie-poo, Gunnie Bear, Gunner. RIP
Captain Jack Stowell
---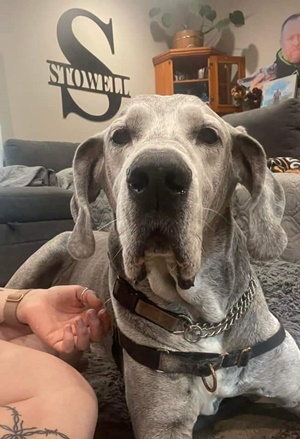 In memory of Captain Jack Stowell 💙 ❤️ ♥️
Nella Dincher
---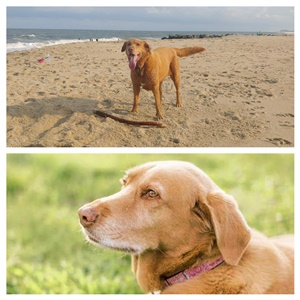 We hit the jackpot with Nella - she was a "once in a lifetime" kind of dog. As a puppy, we found out very quickly how much she loved water, and that love continued her entire life. Every year she would go to the beach with us, and since she never learned to sit in the backseat between car seats, she rode in the front seat every time! Swims in the ocean, swims in the creek at home - Nella couldn't ever get enough water time. She was the sweetest dog we ever had - so gentle with people and other animals. We will miss her tremendously and will always treasure all the years she made our family better!
Diesel Miner
---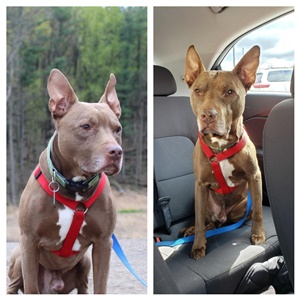 Diesel Doo was the best dog we've ever had. He was our best friend for over 15 years. He was so loyal, loving, protective, and a goofball. Everyone who met Diesel fell in love with him. He was always so content by our side and he went everywhere he could with us. He loved car rides, playing ball, snuggles, and visiting our family. We will miss him dearly.
Mia Denike
---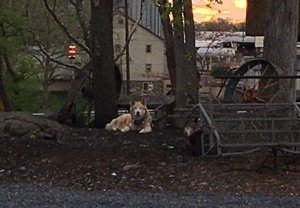 Our baby girl Mia resting in Mommies flower bed watching me planting flowers. 💕 Love her and miss her so much.
Hansel & Schnitzel Maisch
---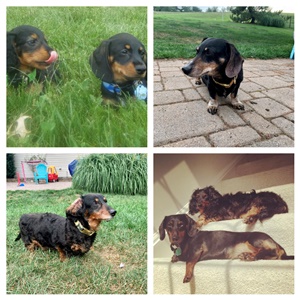 We are completely heartbroken that we had to say goodbye to our sweet little miniature dachshund sidekicks, Hansel Donald and Schnitzel Lee. Both of their healths declined rapidly over the past months despite all of our efforts, and it's so devastating but fitting that they left together, just like they came into the world, as littermates. We never ever imagined this terrible day would come after over 13 years of having the two best friends that anyone could have by our sides through everything, including college and law school, the bar exam and PE exam, car accidents, new houses, surgeries, jobs, long distance dating, our wedding, vacations, other pets, and our baby. Hansel and Schnitzel have been there for it all and were always along for the ride, often literally, always snuggling together on countless car rides and road trips. We will always cherish Hansel hot dogging on the couch, Schnitzel flopping for pets, Hansel with one little paw in the air and the head tilt, Schnitzel hiding under pillows and furniture, shoveling spots in the snow for them to use the bathroom, the ramps so they could get up and down steps, both of them hopping like bunnies through the grass, Hansel with his funny attitude, Schnitzel with his extra laziness, Hansel with his zoomies, Schnitzel showing off his belly while sleeping on his back, them always seeking the sunny spot or the best spot in front of the fireplace, their love for carrots, meats, denta sticks, and whipped cream, their sweaters and bowties and Halloween costumes, Hansel walking the line, Schnitzel with noodles, Hansel loving the dishwasher buffet, Schnitzel tolerating all the bugging from Lemon, Hansel with his little white patch, Schnitzel with his fuzzy wuzzy curly wurly hair, Hansel with his frog legs, Schnitzel getting stuck in bathtubs, Schnitzel always resting his head on Hansel, Hansel always seeking out a soft spot to lay, especially if it was new, wrestling each other, us flipping their little ears back to factory settings, them moving in unison, and the sweetest little faces and softest little ears and cutest little paws in the world. We hardly remember our lives and our relationship before our amazing little hot dogs. We started visiting the boys when they were only 3 weeks old, and we were able to bring them home at 8 weeks as the absolute most adorable puppies we'd ever seen, and they have been the center of our lives for as long as we can remember. Thank you for all the years of love and snuggles, Skinamin and Chunkamunk; we will see you in Heaven. 💔 Be sweet to Oatie and all of you just snuggle up and wait for us to get there, we miss you beyond words already our "baby dachsanas." We love our two besties so much, and we don't know how we'll live without them. 🐾
April 13, 2010-August 7, 2023
Snowball Colvin
---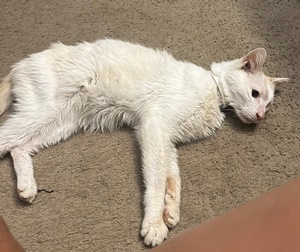 Snowball was our first pet as a married he was a very vocal cat and would meow to us all the time. He will definitely be missed by us.
Zoey Redding
---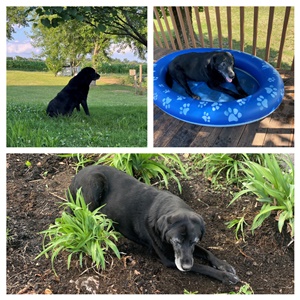 You came into our lives 12 years ago. You gave us so much joy and happiness. You were loyal and gave us your unconditional love. Zoey, the house is quiet now,but your paw prints 🐾 will always be in our hearts. We miss you, but will always love you. You are forever our baby girl. Sending you hugs, kisses and our love.
Josie Crane
---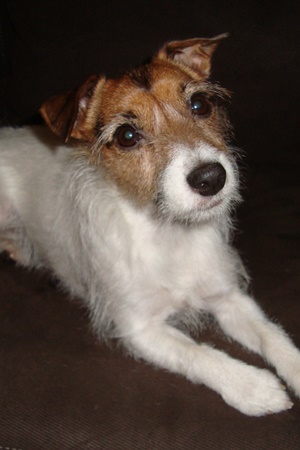 7/15/2006-7/31/2023
We were blessed to have Josie for 17 years. She had a small stature which made her look like an eternal puppy. Her playtime was essential to quieting her Jack Russell mind and energy. Everyone told us she would slow down around 7 years old but it took Josie till she turned 12. She loved footballs, frisbees, tug-of-war and laser pointers. Anything, so that she could run. Whenever it was time to sit down she would become your "shoulder monkey" and perch herself proudly next to your face. She loved meeting new people and greeted them with love and excitement. She was such a joy to be with.
Josie, We were so blessed to have had you in our family. You can now play again with your sisters. Be at peace little one. We love and miss you dearly.
Cody Slothower
---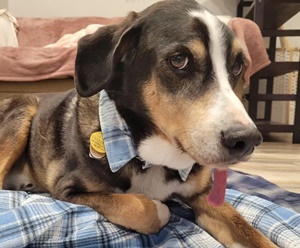 Cody had a way of making people smile. His gentle nature made you want to just love him so much. He loved going for long walks and running free in the woods. He was his best when he was exploring nature using his nose and finding all the goodness that this world offers. He was a very shy and timid dog when we got him at 6 months old, but with the right combination of safety, security, love and fun (and good food), he was able to reach his fullest potential as a dog. He lived a very good and active life and he made so many people happy. Cody and his gentle spirit will be missed by many. The house feels so empty without his presence, and there is nobody to greet me at the door. But in time, I know that this grief will heal and the memories that I have of Cody will sustain me for a lifetime. He was the most perfect pooch, and he will be forever in our hearts.
Smokey Jones
---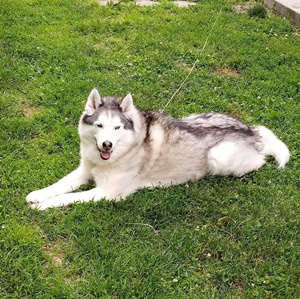 Smokey was born on 11/11/2008 and passed on08/01/2023.
Smokey I remember all the best times with you. Like the time we hooked you to hunter's sled and you took him on a ride, hunter loved it. You where the best dog ever. You where always there for me when I needed a shoulder to cry on. I miss you so much, but I know I had to stop all of your pain. I will love and miss you for the rest of my life, until we meet again.
Bosco Groff
---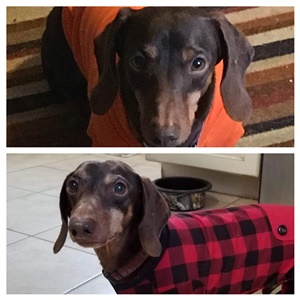 Bosco was always cold and loved his sweatshirts, sweaters, PJs, etc. As soon as I would get them out he would come running to get them put on.
Charlie "DuDD" Herdman
---
Charlie "DuDD" Herdman 8/2/2023
I "fostered" Charlie in September of 2021. His original mother had gone through some life changing events and while finding living arrangements out of state I said I would care for him. I wasn't sure how my cats would react but after just a few short weeks, Charlie won my heart. I loved that dog and he wasn't going anywhere. My sister pointed out he was a Dudley Lab and after researching I learned all about the pink nose. From then on he was my DuDD. I took him on all kinds of new adventures but he mostly loved sleeping on the couch. He was taken from me so quickly and has left a huge void in my routine. Fly high sweet boy.
Scout Hensel
---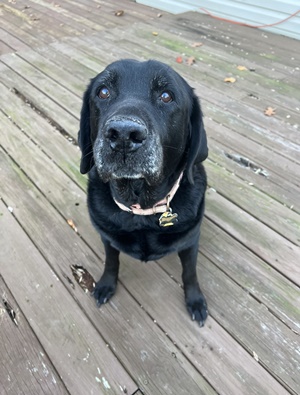 Scout was adopted 6 Years ago. She was found running with her mom. She was a kind hearted soul. She loved belly rubs & car rides. Scout continued to attempt to run free to visit neighbors any chance she could get. She spent her last days enjoying her favorite foods, running off leash & seeing the beach for the first & last time. She got lots of pets & was always given lots of love.
Stella Marie Chronister
---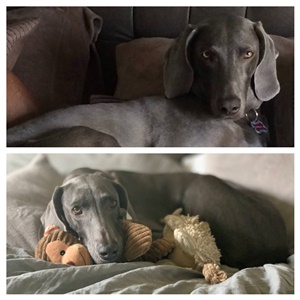 Our favorite girl that we miss terribly.
Stella Marie was the most beautiful blue Weimaraner and the gentlest soul. She loved her Mom and Sisters (human and feline). She loved to squeak her toys til she broke the squeaker! She lived all of her 16 years as the happiest girl.
Arendelle Peterman
---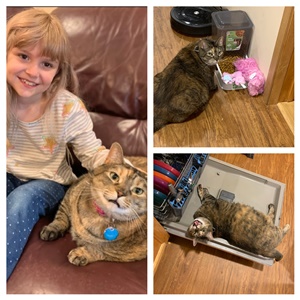 Adopted 6/1/2014 peacefully crossed the rainbow bridge 7/25/2023.
Arendelle was my daughter, Alyssa's first pet. Arendelle always had a feisty personality. We called her a little mother cat. She had this amazing ability to notify me if my oldest was having issues with his health at night. Anytime someone was health wise in trouble she'd quickly come to check on them. Often when I was working out and had excises on the floor she's would be all up in my face to make sure I was ok. She loved her food bowl and was quick to come if she heard it being filled. Her biggest enemy was the blow dryer. As soon as she heard it she come to glare at it. She will be missed as she had her own place in our family. Our other cats already miss her. We all miss her. We're grateful she's no longer in pain. As much as it hurts us we know we were fair to her.
Tank Hostetter
---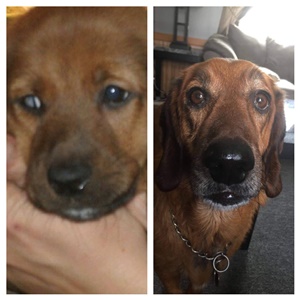 In memory of my baby boy, Tank! I'll never forget the day I went down to a family members home to pick you up. I held you the whole way home while you were a little scared & nervous but yet so lovable. You were so energetic. The kiddos always had fun with you especially in the snow when you would run around. I always loved when your ears would fly back when it was breezy out. The memories of you could go on forever on this post but I will always cherish those memories as well as the rest of our family. We all loved you and we will all miss you very much. Rest in peace sweet bird! You've lived an amazing 13 years. We love you always🐶💙🐾
Randy States
---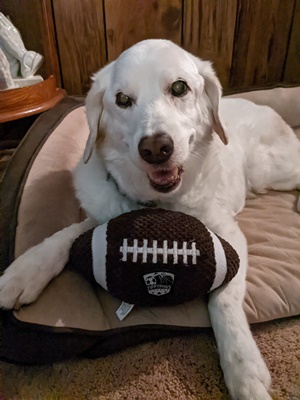 This boy I had since a puppy. My only child Randy passed away at the age of 24. This puppy was given to me to love and care for. I named him Randy after my son. He loved swimming , walking in creeks. He loved taking long walks. He was my companion that went for car rides. He was with me all the time. He also liked playmates. Randy was by far the best in my life. He was such a happy boy filled with love. He helped my heart heal tremendously. His health was deteriorating, but his love never failed me. I had Randy for 16 years. What a beautiful fur baby he was. I prayed for Jesus to pass my dog to my son. I am still crying for him.
Beasley Arwine
---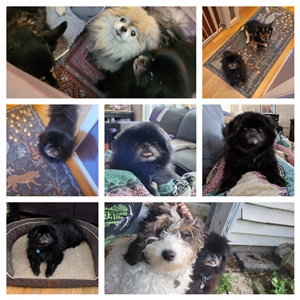 You have so many names - Mr. Beasley, Beewee, Beegee, and the past few years you have been my Little Bug, my Buggy. My circus clown, my court jester, my funny little man. I'd always tell you I didn't understand how one little guy could be as cute as you. You were funny and you knew it, too. The first time I saw you, it was a picture of you and your two sisters at the rescue, and in my heart I knew you'd be my baby boy from that moment - that's why I was so surprised someone adopted you before I could. I ended up meeting your sister Cookie at the fosters home and fell in love with her too and adopted her. It's okay that someone else adopted you first, because Cookie was meant to be my baby too, and I wouldn't have met her and adopted her if you didn't get adopted. I'm so thankful that you and her were able to spend your lives together. I ended up starting work at the rescue part time. One day, the rescue owner called me on my day off - "Beasley was returned, do you want to foster him?". Absolutely, I'll be right there. You were adopted by an older woman who was expecting you to house break immediately and not need grooming. You were returned in such poor shape a few months after being adopted that they had to shave you. I fostered you for a few weeks then went to pull up your petfinder - would it be helpful if I took some updated pictures of you? You weren't listed. I called the rescue owner and asked why and she said "Well.... I kind of thought you were going to just keep him....?" She was right. If I got a call that someone would have wanted to meet you? Absolutely not. This is my son. I drove to the rescue and signed your adoption papers. I've had you almost your whole life and what feels like most of mine since I had a rough time growing up and don't remember much before I was 21 or so - you turned 10 in June, and I am 32. We have had two houses and you have been with me through so much and so many transformations. You've loved me no matter how much money we have had, and you and your siblings have always been my priority. I am so so so thankful that I got a job using my degree in the last few years so when you aged and needed all this care, I was able to provide it to you. You were diagnosed with CHF about 9 months ago. They gave you 6 months to a year. You had been doing very well, but since your emergency stay about 2 months ago, you just hadn't been the same. I tried so hard to change your medication around with your cardiologist but your little body was just too tired, and you passed in your sleep in the early hours of 7/26. I'm so glad we got to go on a big trip to West Virginia before we found out you were sick. I'm so glad your sister is here with me - it's easy to close my eyes and pretend her round little head is yours, too. Mocha will miss you cleaning her eyes and ears. I love you so very very much and I will never, ever, ever, ever forget you.
Lily Heiser
---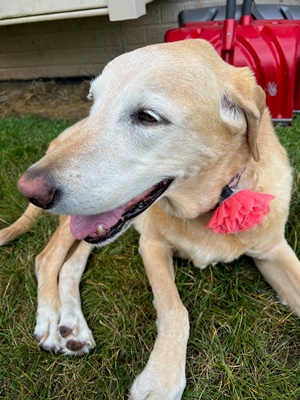 If you knew this sweet, blonde beauty when she was in her puppy years, you probably remember her audacious antics: darting out of the house and flying like the wind anytime the door opened, eating an entire strawberry shortcake (parts of the lid and all) from right off the counter, smearing fresh picked tomatoes all across our light beige, Berber carpet, chasing tennis balls down the hill, visiting her dad on the football field, and rough-housing with the boys in the house. As she matured, she still had some of her escape artist moments, but she also grew into a well behaved, diva dog: enjoying leash-less battlefield walks, hiking in the woods, basking in the moonlight by the fire-pit, and her all time favorite activity, lounging in one of her many outdoor spots around the patio just watching the birds. Lily also witnessed "her people" go through both the ups and downs of life, always there providing the companionship, friendship, and love that only a furry friend can. However, over the past year, our sweet girl started to slow down, experiencing numerous health problems and trips to the vet. Our latest visit revealed a large bone tumor in her leg, exposing the true reason for her gimpy gait and trouble standing up. With this latest hit, we knew it was time to let her go. As I reflect on her life, I can only hope she knew how much she meant to us these past 12 1/2 years. Fly like the wind, Lil-lil. 🐾💕
Jaxson Dietrich
---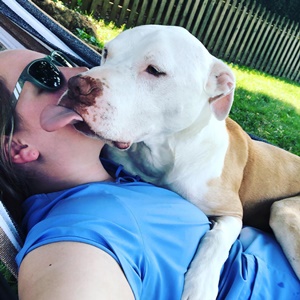 We had Jaxson since he was 5 weeks old. He was my first pitbull I ever owned. He started my love of the breed and now I won't ever not have one❤️
Charlie Crider
---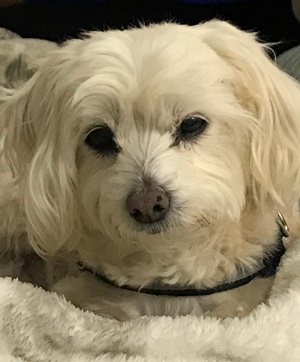 We rescued Charlie from a shelter in California and he was the best pet and companion you could ask for. He loved sleeping on laps, sunning himself on the patio (even in 100-degree weather), running in the grass and hot dogs! He was also an excellent traveler as we vacationed often in our RV. R.I.P. Charlie! It isn't the same around here without you!
Maddison Oestereich
---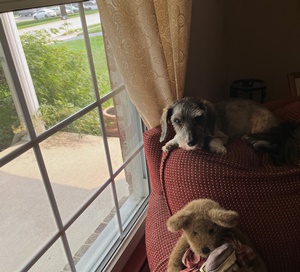 Maddie was a double dappled wire haired mini dachshund. She crossed the 🌈bridge one month short of her 17th birthday. She was also my last girl standing, of three wire haired fur babies. This was her favorite spot in the house, her window on the world, and sentry spot. She was the youngest of the pack but she was the leader, always out ahead on our walks. What a void these pups leave in our world when they are gone.🐾❤️❤️‍🩹🐾
Cherry Malanowski
---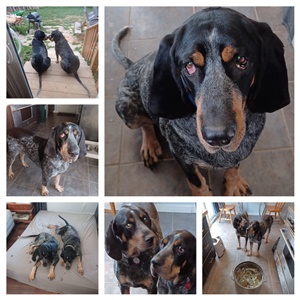 In memory of Cherry Blossom Malanowski.
Cherry was just 3 years old when she left us. Having dealt with eye surgery at as a pup, she came to live with us in July 2022. She joined her biologic sister and our family and became ill in December. Cherry and her little sister were inseparable. She was a beautiful soul who would love you to no end. Her sister and family miss her love and snuggles.
StarZ Spaniol
---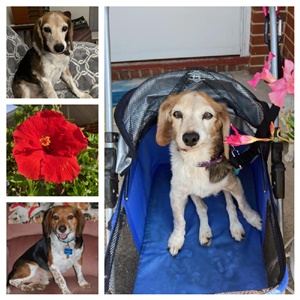 On July 15, 2023, I lost a big ray of sunshine. That morning I found my little man @Starz the Beagle, passed away peacefully in his sleep at almost 16 years old. True to his huge personality he did it his way. He was rescued by @beagle911rescue in 2013, hit and run by a car in Kentucky and left to die, broken, emaciated and heartworm positive, and made his way to me after many months of recovery. You can read about his many escapades, including the great berry caper, on his page @Starz the Beagle. Along the way he tried to educate a bit about rescue as he met his many fosters as well. He was a little guy, only 13" high and 20 lbs, with a big mouth and loved every person and dog he ever met. Everyone he met loved him and he was a great beagle ambassador as we walked the neighborhoods in our community, from the time he was a young man and even in his stroller later as his little legs began to fail him. He was affectionally dubbed "The Mouth" by his foster mom @'Sue Miller' and mom and became one of the "Citizens of Lakeside Avenue" by @Shawn Keith Snyder, who was always there for him. For those who believe in "signs" when our loved ones pass, my hibiscus tree on the front porch hadn't bloomed for over a week. When I walked outside the morning I lost him, I found the gift he left me. 10 years was not enough time with my little guy, even though he was 16 and I feel so broken. I look for him everywhere and wake up in the middle of the night expecting him to be sleeping curled up next to me.
Poppy Hollenbaugh
---
Poppy Hollenbaugh
March 1, 2008 - July 12, 2023
Poppy was 1 1/2 years old when he came into our life, his Angel mom saved him from a Lancaster Pa Puppy Mill! He was a Super Sweet Boy 💙 He Loved Playing with his small tennis balls, walks, car rides and Laying in the Sun. He is now with his fur sibling on the other side of the rainbow bridge, Bailey the Corgi in the picture went to heaven March 30, 2023 the 2 chihuahuas are still with us. Run free my boy until we meet again! We Love You ❤️ and will miss you!
Snickers Santiago
---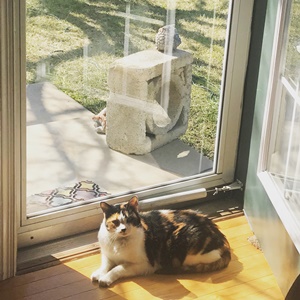 I got Snickers as a kitten from a local shelter when I lived in Missouri. She traveled all over the world with me even though she hated flying. When we lived in Georgia she loved chasing the little lizards around when they'd get in the house. She loved laying in the sun and watching the birds. She was never interested in toys from the store, but give her a Q Tip or a twisty tie and she'd play for hours. She had all the sass you'd expect from a calico, but she was my shadow and best friend for 13 years. Even when I had nothing and my world was falling apart, she was there in my lap ready for snuggles and begging for treats. There are not enough words to express how much I loved her and how much she is missed. But I know she's pain free now, and I'll have to take comfort in that until I see her again.
Maximum Destruction Powell
---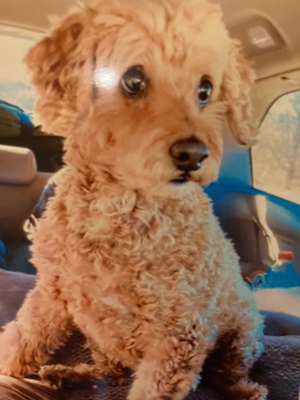 Our Maximum Destruction Powell (Max) lived a wonderful 14 years and 7months with us. He was our Boy, our Buddy, and Sweety who brought joy to our family. We will miss stepping on your little toes in the kitchen, kisses in between your eyes, and how quick you greeted us at the door. This picture was taken when Max was 13 years old yet still looked like a puppy. Love to you sweety!
Kitty Gebhart
---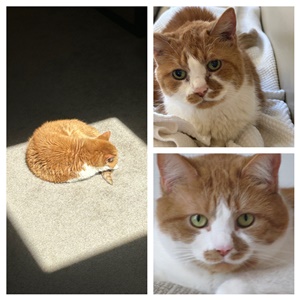 For 19 years I had the best friend by my side. Kitty gave unconditional love everyday. She was such a joy to have in my life and left me with so many wonderful memories. I will miss her so very much.
Peanut Connors
---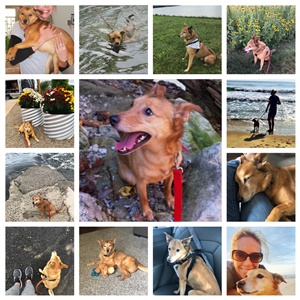 In May, 2008, the sweetest little dog named Peanut found his way to PA all the way from the streets of Kentucky. Peanut loved his daily walks ("dubbies"), playing with his toys, snuggling, treats, peanut butter, DOGTV, Puppocinos from Starbucks, ice cream and laying in the sun. He was the most determined little dog; even in the last couple of years when he began to struggle, he was always such a stubborn fighter, always making sure to prove his strength and independence however he could. Sweet P, Bubba, Goober, Love Bug and all the other nicknames there isn't possibly room to share here-you brought joy to everyone who met you and you are greatly missed. Until we meet again sweet boy…..❤️🐾🌈
Sadie Watson
---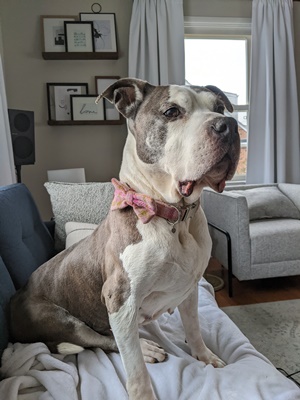 Sadie was the sweetest girl ever. Didn't have a mean bone in her body. In fact, neighbors didn't even realize we had a dog because she never barked. She was the happiest when she could join us on the couch to watch TV or sleep in the bed with us, just as long as she was by our side. Sadie did have a bit of separation anxiety and was definitely a momma's girl, but that was probably partially my fault because I always had to be by her side too. We loved her so much and we miss her a lot. Rest easy, pretty girl.
Senta Dowell
---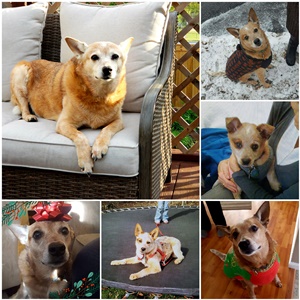 There are no words to sum up how much we love and miss you. You will forever be in our hearts. Thank you for taking such good care of us sweet Senta.
12.17.2008 - 7.7.2023
Sadie Weaver
---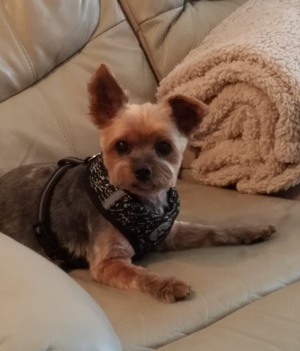 Sadie, we had your love and companionship for seventeen and a half years. Your were quite the trooper on our walks and will miss that so much. When you were younger you were a great body guard. There is another part of our hearts missing, but we know it's with you, as yours is with us! Until we meet again. We love and miss you so much💔
Kali Eline
---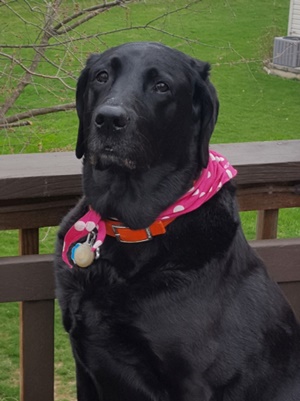 Our Kali held a special place in the hearts of many. She will be truly missed by all. She had such a big heart and loved everyone, if you weren't giving her the attention she wanted you would get a little nudge to know she was waiting. We all cherish and hold close to our hearts the special relationships we had with her and will never forget the amazing memories we made with her by our side.
Halo Smith
---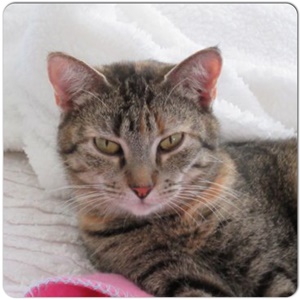 Halo chose us. We brought her into our home as a pregnant stray. She had her kittens under the desk in our office. We kept Halo and one of the kittens. Miss Paddington was with Halo when she passed. She misses her as much as we do. Halo was a beautiful soul and a wonderful mother. She was always grateful that we took her in. She was kind, gentle and a faithful companion.
Sophie Loucks
---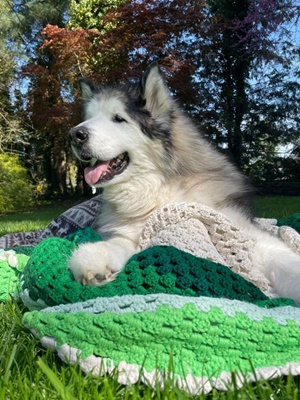 Here is our sweet Sophie girl
Sophie was one of a 6-pack of Alaskan malamutes. She lived a fun-filled life with her 3 brothers and her parents. Sophie loved a good mud puddle, pizza, snow & talking walks. And every morning she had eggs and cheerios! She was our last pack member at almost 14 Sophie and the pack will be missed forever __xo
Dallas Rogers
---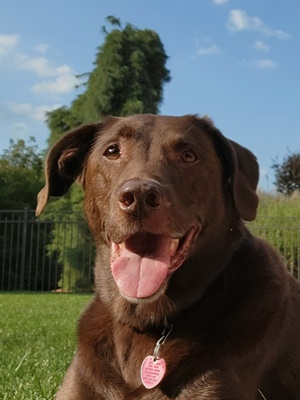 Dallas was our boy. We loved him so much. He was the best cuddler and he had this way of looking right into your eyes and making a connection. He loved his people and his big brother Wally (Golden Retriever). He was a touchy feely kind of dog - he had to be lying on my lap or at least touching me when we sat on the couch and watched TV. He was a great athlete and loved catching frisbee and swimming. Always up for a hike or a walk and boy did he get excited when we took car rides. At age 12 ½ he was still "hyper". We are grateful we had him this long but we were hoping for a couple more years. Rest in peace, Dallas. Until we meet again.
Chancey Silvers
---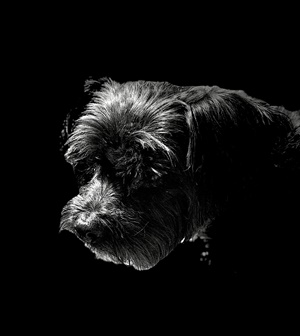 Chancey
10/25/2008-06/28/2023
Beloved pet of Warren, Lauren, Lina, Corianne and Joey. Chancey loved everyone and will be greatly missed.
Chatty Otstot
---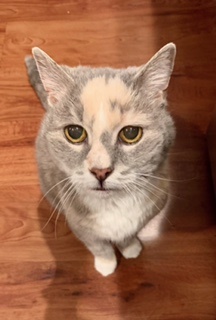 Chatty was my "Velcro" kitty! If I sat on my recliner, she would be right there on my lap, if I went to the bathroom she was there and when it was bedtime, she would snuggle in beside me. She was a stray living on someone's deck. She was taken to the vet to get spayed and it turned out she was already spayed. I thought that it was a great deal to get a cat that I didn't have to pay for spaying. Well, two days after I got her, I took her to my vet because she was drooling. That free cat became my $1,200 "free" cat because of abscessed teeth. It was the best $1,200 I ever spent! She gave me so much joy and love. She will be forever in my heart. ❤️
Sassy Shelleman
---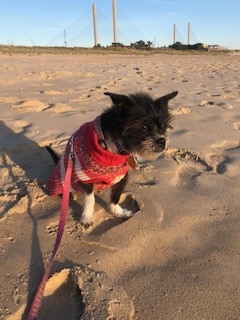 Grief weighs heavy on the heart! It's the heaviest of emotions that I've experienced. From 10 weeks through 16 years, 6 months, and 3 weeks, Sassy has been my biggest fan… my dearest companion… my most loyal confidante… my tightest bond… my fondest road tripin' (through 31 states) roadie. Always there… silent… usually off to herself… but observant nonetheless. Up until 16 - she thought she was 2. At first, it was her body that began to wear out; nothing that Adequan Injections and Cold Laser Therapy couldn't treat. But then, her brain quickly caught up and surpassed her body. The decline that goes with Canine Cognitive Dysfunction (aka Doggie Dementia) is difficult to watch; at times comical, but mostly difficult. For 15 1/2 years (longer in many ways), she took care of me. It is only right and fair that I began to carry her up and down the stairs; and, in the last couple of days, hold her in my lap while holding the bowl of food in my other hand. I will miss her more than words are able to express. My final act of LOVE was to arrange to have her euthanized. The hardest decision of my life. This time was different than with Rio. Sassy had moments where she seemed almost normal (at least for old girl Sassy). But eventually, normal became getting stuck in random corners or behind the sofa/bed/toilet bowl, circling over and over in one spot, pressing her body and head against the wall, and not being able to control her bodily functions. It was hard to tell if her balance was going, her hips were giving out, or both as she would teeter-totter over her food and water. It was time; the last battle could not be won. Sassy's final sleep began in my lap and arms at 12:45 pm today(7/1/2023). As the poem "The Last Battle" states: When the time comes, please, let me go. Take me to where to my needs they'll tend, Only, stay with me till the end And hold me firm and speak to me Until my eyes no longer see. That's exactly what I did! Sassy, the house that I've only ever lived in with you feels so empty. But that's nothing compared to the emptiness in my heart. I know this will pass. I know that the memories we've made over the years will flood back into my heart and outweigh these final couple of hard days you had to endure. And I also know that there will be other dogs who need me, and I will need them. But they will never replace the pitter-patter of my little grape-smelling budders… my sassafras wing nut… my squirrel poop loving - belly rub demanding - energetic little girlie girl. I love you forever and always!
Shade Cherry
---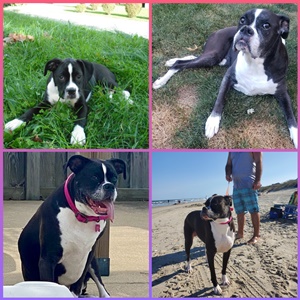 Shadey girl 11 years was not enough. You were our first furbaby together. We took you everywhere from car rides, the beach, and visits to family and friends. Every single person that met you loved you and called you a princess. We miss you so much already. Until we meet again in heaven sweet girl, please enjoy being pain free and running again.
Nina Knouse
---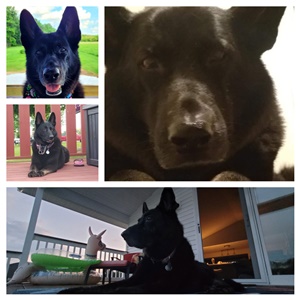 In memory of Nina Knouse. After 13 years of being our protector and loyal companion, Nina is free to run and chase all moving things. She loved chasing bees and birds, cats and actually if it moved, she was on it! She gave such love and protection to our family. She loved car rides and tennis balls, peanut butter and all the treats. In her later years she loved walks to the neighbors for a treat or two and also time spent on the deck enjoying nature. She was great at napping and yet always was able to keep an eye on everyone or an ear was listening for a sound we might have missed. She was our life guard, security system and floor cleaner all rolled up in a lovable, huggable cuddly ball of fur. She loved the holidays and parties when the house was full and she soaked up all the extra attention and took advantage of any food left within her reach. As fiercely as she was loved, she is greatly missed.
Maggie Budzinski
---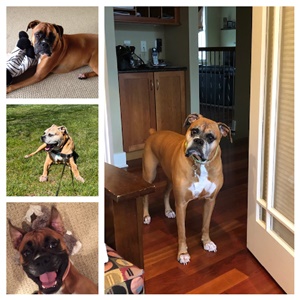 Maggie had the sweetest soul. She was the perfect mix of sweet, silly and sassy. She kept us laughing, and always knew when a doggie kiss or cuddle was needed to make us feel better. Eleven and a half years was just not long enough. We loved her so very much
Augie Schleig
---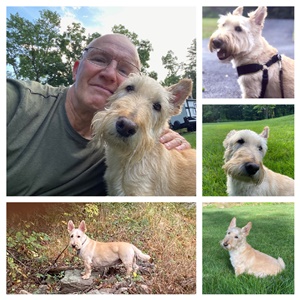 Auggie
May 22, 2012 – June 25, 2023
This was my buddy of 11 years. His name was Auggie and he was such a good boy and faithful to the end. He greeted everyone with his wagging tail like they were his long-lost friends. He loved to chase deer out of his yard, play with his toys, and lay under the oak tree in his yard. He especially loved riding in the truck with his "dad". He would either stand on the center console looking ahead with that big dog-smile on his muzzle, or hang his head out the side-window seeing and smelling what he could. We're so thankful that he was part of our family for those 11 years. He brought a lot of joy to his family's heart. We miss him so much. It will take some time to get over my buddy leaving. He was my sidekick. My heart aches when he comes to mind. But I know in time the emotional pain will subside little by little, but the good memories never will. Some say dogs don't go to heaven, some say they do. I'm not convinced what the answer to that question is. But I wouldn't be surprised if our great God would do something like that. Something that brought us such joy while we were here on earth. The bible says "… eye hath not seen, nor ear heard, neither have entered into the heart of a man , the things which God prepared for them that love Him." (1 Corinthians 2:9) I don't know if that may include me seeing my buddy again in heaven, but I can always hope. Until that day …
Domino Rowe
---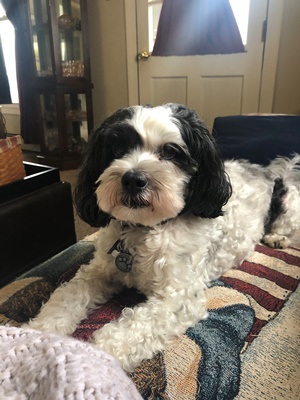 This is my best buddy, Domino. He lived a good, long life; from August 17,2007 until June 26, 2023. He loved people, car rides, and ice cream. He was my constant companion for almost 16 years. I will miss him, but he will forever be in my heart.
Finnegan Jacobs
---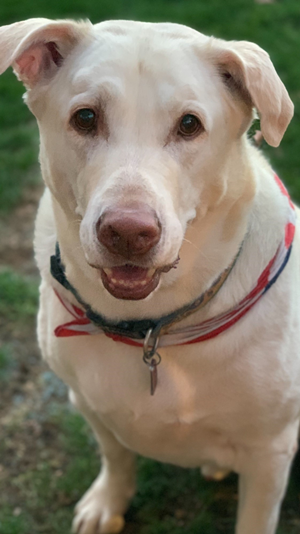 My name is Finnegan Francis Jacobs!
I loved my walks, my pool, chasing squirrels and food (especially pizza)! I know that I am missed dearly by my Mommy, Daddy, fur brother Rueben and my kitties, Winnie and Cooper! I will always be with them, in their hearts and will always watch over them-I loved my life and was always a good boy!
Spencer Douglas
---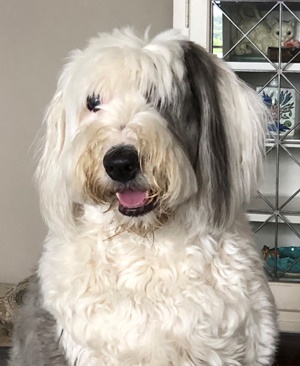 Spencer was the best decision I almost didn't make 12 1/2 years ago. He filled our hearts and home with so much love and laughter being a big furry clown. Spencer had vision issues from birth and totally lost his sight a few years ago but he took it all in stride. I always said he may be blind but he sees with his heart. Now our boy is watching over us with those big beautiful brown eyes and pain free from cancer. Long may you run buddy until we meet again.
Rocky O'Brien
---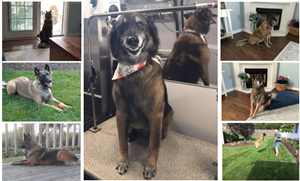 Stahllrosenhof O'Brien's Rockets Red Glare……..Rocky
Rocky was two months shy of turning 12 when we had to say goodbye. It is hard to sum him up in just a few words. He brought more love and joy into our lives than we could have ever imagined or hoped for. He came to us at the age of two and he bonded quickly with my husband and they became inseparable. Rocky was very protective of us and such a curious boy. Nothing got by him and there wasn't a day that went by that he didn't make us laugh. His breed is prey driven so he loved chasing birds, rabbits, squirrels and the occasional cat that would dare to pass through his yard. His greatest joy was being with us and when you looked into his eyes you could see the love he had for us. A friend had given us a brochure for Peaceful Pet Passage. Rocky hated going to the vets office so we decided when the time came we would use their at home service. Since Rocky was in good health we didn't expect to use their service quite so soon. Their compassion, professionalism and the respectful way they handled Rocky made an unbearable situation a little easier for all of us. I know Rocky will be patiently waiting for us at Rainbow Bridge. RIP our sweet boy! You were loved beyond words…..you have taken a huge part of our hearts with you and you will be missed beyond measure.
Loki Farrell
---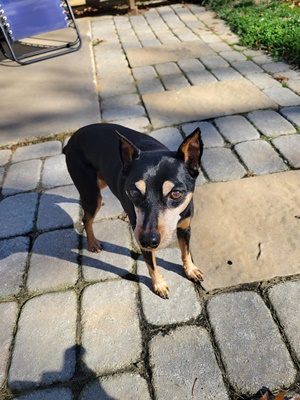 My husband and I found the perfect addition to our family at a time when we weren't even planning on adopting. Loki ended up being one of the best things that ever happened to us. He helped my husband through a rough transition to civilian life after a deployment and he helped me just by sticking by my side. The love of a miniature pinscher is far beyond what I ever experienced from other dogs and I will forever be grateful to him. RIP my sweet boy. You are forever in my heart.
Samantha Sanders
---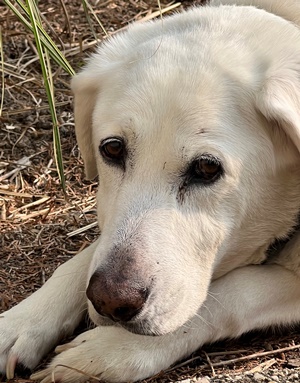 Our sweet girl Samantha Mayberry (Mayberry her given name by the ASPA) came to use 13 years ago. She came with issues as a run away, but soon became our Heart. She loved to talk to everyone and always had the last word. Samantha was our lap dog, she loved snuggles and taking her space in bed. Our hearts are lonely but have many memories of our Girl.
Tiger Trout
---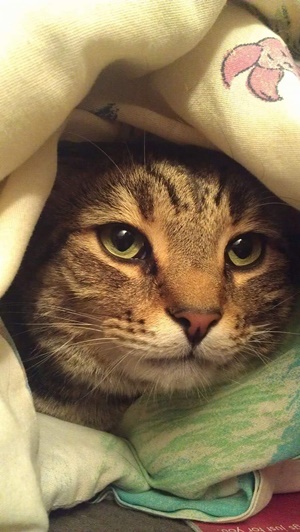 Tiger was such a sweet loving boy who loved to play with bottle-cap lids and ping-pong balls. It took him years before he started to purr and just the past two years he started reaching up for me to pick him up and hold him. He also loved climbing under the blankets and curling up next to me. I miss him dearly as do his two brothers. He had 14 wonderful pampered years with me. I will miss you forever. RIP
Russell Gillespie
---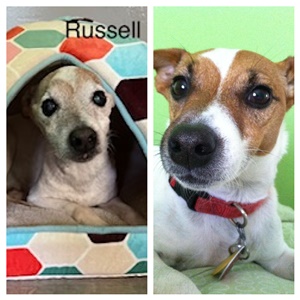 We brought Russell home when he was 11 weeks old. He was energetic and funny. He loved to chase bubbles and absolutely loved thunder storms. When he slept, you would always find him under a blanket or in his little house. When he didn't like something he would curl up one side of his lip like Elvis Presley. He was 15 years old when he left us to continue his journey on the other side. He is loved and deeply missed.
Hunter Sallade
---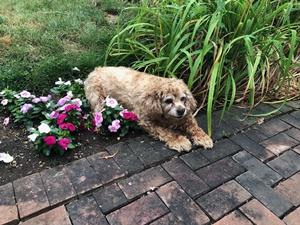 Hunter was the friendliest, sweetest dog. He loved everyone. Eating was his favorite pastime especially the special treats he got from the neighbor. He was so loved ❤️and he is so missed😢
Patches Ruppert
---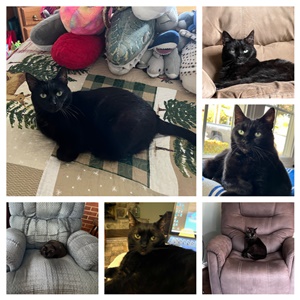 Best kitty ever!! She was so so sweet! She loved her family and we sure loved her!💕 She wanted all the attention to be about her! She would get on your lap to get some scratches and then she would push under your arm until you moved, giving her the chair where she would curl up and take a nap! When she wanted food, she would go to her dishes, sit there and stare at them till we got the hint!! Patchy truly was a one of a kind special kitty and we will miss her greatly! Love you little girl!!💕
Beulah Nelson
---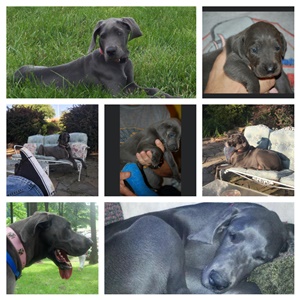 Here is Beulah from one week old when mommy stepped on her to 11 years later.
Dixie Myers Watts
---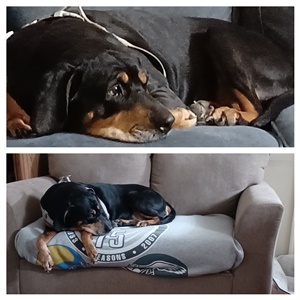 Dear Dixie. You are truly missed.
Ruger Sheetz
---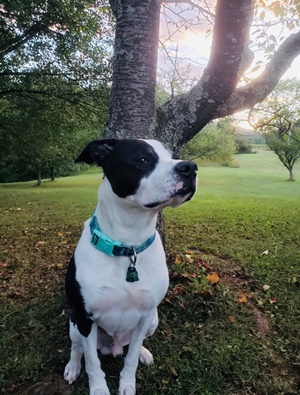 Ruger was the goodest of all boys. He absolutely loved being dressed up in his headbands and outfits for each holiday. He was the best snuggler one could ever ask for and always there when you needed him. A professional model and selfie taker and loved all the attention around it. In his older days he became a big brother and he showed him the ropes. Ruger's favorite time of year was the winter and loved to play in the snow, if it was snowing he never wanted to go back inside and would bury himself in the snow. Ruger touched many peoples hearts and will forever hold a special place in their hearts.
Larry Knaub
---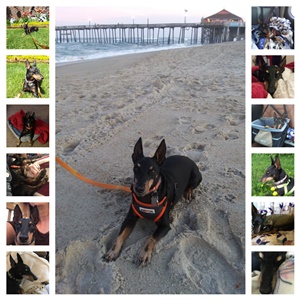 Larry came into our lives as a miracle. First bc we were looking for a small dog and second bc he was a remembrance of our Dobermans we'd had when first married. He just looked like he was our dobie but "honey I shrunk the dog". LOL People always mistook him for a Min Pin and complimented on how handsome he was plus how well he was leash trained. That was not my doing, he automatically walked beside me when we took him out of the YCSPCA so I was hooked. Little did I know he would be my Godsend when I had mental health issues and had to leave my full time job. If not for Larry I believe I would not have gotten out of bed most days. We were walking buddies for the first 2 1/2 years after we rescued him, but already being a Senior dog he began slowing down and the heat bothered him. His comfortable walking temps were between 50 and 65 degrees. We will never forget his first boat ride at the lake. He tried to walk off the front of the boat, when it was moving!! The video is on Instagram @larrythemanchesterterrier along with multiple other memories of him. We also discovered that day he could swim when we took a break along the shore and he went swimming beside the boat. He loved stalking the rabbits in our yard but they always seemed to know how far his cable reached. The past 6 months he couldn't see them so they were more brazen and would hop right by him and he wouldn't notice. Our Happy Place was on my deck swing where we were surrounded by flowers, wind chimes, sunshine with cool breezes. Normally he would swing with me for an hour, especially if he dozed off to sleep. This Spring it was harder to get him to stay on the swing, assume bc he could no longer hear but also couldn't see so he may have felt off balance with the movement. I could go on and on with so many things about him. 5 1/2 years was not long enough but he was struggling more and more with his loss of hearing, loss of sight and Doggie Dementia which made him more anxious when alone. We will NEVER forget him and thank the VetPet Clinic in Tractor Supply who helped take wonderful care of him and reassured us we were doing the right thing after giving him such a wonderful 5+ yrs, especially after learning his real birthday was in January of 2006. Our Boi was 17 not 14 as we thought. Also a Huge Thank-you to Peaceful Pet Passage. It was harder on me than I expected but at least I got to hold him through the procedure and tell him/show him how much we loved him and he could let go to be at peace. This company is so considerate and compassionate. He is now in Doggie heaven with his hearing, sight, teeth and overall health back. I want to believe he is snoozing whenever he wants (not different when here with us) eating good stuff, running after bunnies and finally learning how to play. He couldn't fetch, tug or play like a normal dog when we rescued. He would grab his green bear and shake it when he thought we were taking too long getting up to feed him. The bear has been buried with him inside his clamshell bed. Thank-you❣️❣️❣️
JohnBoy Fields
---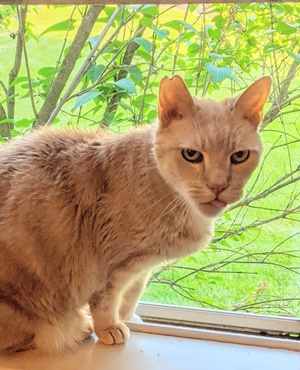 Passed on May 30, 2023
JohnBoy, a wonderful companion who was so adoring and lovable. My Mr. Boo!
Kemah McCoy
---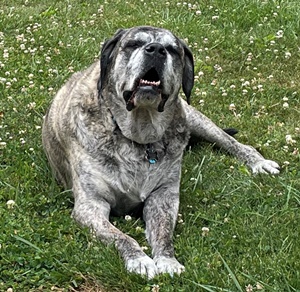 May 6, 2013 - June 10, 2023 - 10 years old.
Kemah was the sweetest soul with ears of velvet. She was often seen smiling with her little teethers. She enjoyed spending evenings laying on the patio sniffing all the good smells. She was terrified by her two cat sisters, Gracie and Sophie, and loved to cuddle with her little brother, Bruce (Chorkie). Kemah never knew a stranger and never met a snack that she didn't like. Kemah would always run to the window to check if Grandma was coming to visit and was the BIGGEST daddy's girl. She is missed deeply by all, but especially by her humans Travis and Caitlin. Special thank you to Uncle Chase and Bonnie for bringing her Hot Dogs in her final days, as well as visits and Bacon from neighbors John and Kemah's doggy friend, Daisy! Rest in Peace sweet girl, you were truly a joy to our lives and we will spend the rest of our days missing you. <3
Chaos Webster
---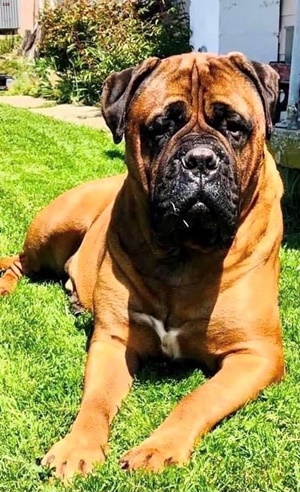 My Gentle Giant Chaos 💙
He was my best buddy Beautiful Boy 🐾💙
RIP 💔
Austin Evitts
---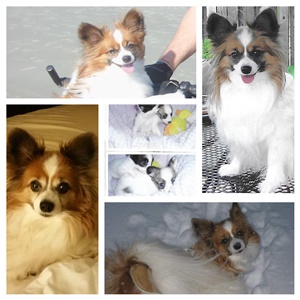 Our beloved Austin
born Jan 29th, 2006; passed on May 30th, 2023
The first day we brought him home when he was a puppy, he let us know he was a pedigree and trained to be a lap dog. His name was RockStar until we named him Austin and boy did he shake his head intensely when playing with his football. He was also adventurous and loved to ride in the truck or in his basket on the bicycle but was always ready to get back home where it was safe and sound. As he aged, life became a hard challenge for him: first from hearing loss then blindness. His resilience was slow but he did his best. Thank you handsome little man for giving us 17 years of joy and love. Hopefully as time passes this feeling of emptiness will dissipate. We miss you and love you so much Austin.
Skippy Poffenberger
---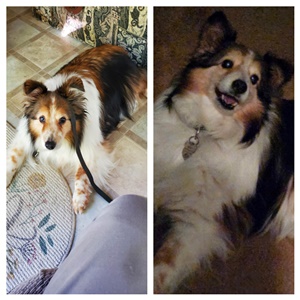 Skippy was a very special dog. He was a Shetland Sheepdog aka Sheltie. He was camera shy so getting good pix of him was quite a challenge! In his younger days he was fast as greased lightning. He loved to chase squirrels and rabbits. He also watched TV and would protect us from TV dogs and other animals that appeared on the screen. He was 14. He is deeply missed.
Brie Loiacono
---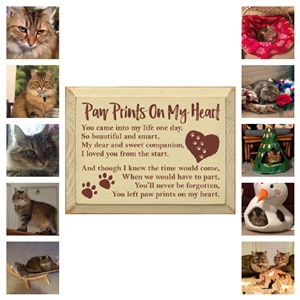 My sweet, precious, shy Brie crossed the Rainbow Bridge on May 19, 2023. Her sister, Baylie, was there to greet her. Brie really missed Baylie who crossed the Rainbow Bridge on February 9, 2023. I know they are both healthy again, pain free and at peace. I can see them playing together and happy to be with one another again after being apart for 3 months. I was so lucky to have both Brie and Baylie with me for 17 years. While Baylie was the mischievous sister, Brie was more reserved and they both gave me their unconditional love. Brie loved to "hide away" in her beds. She would sleep on my bed but at some point in the morning she would go in the bathroom and lay on a towel in the sink where she would greet me in the morning with a sweet, loud "MEOW"! Their sister Zoie and I miss Baylie and Brie very much.
Simon Noel-Klunk
---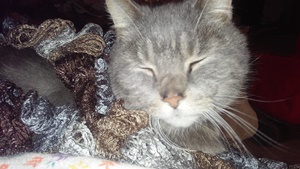 Simon was my "best good ol' man kitty". I brought Simon home as a tiny kitten more than 18 years ago. At first, I thought he was a girl, and he was given a girl's name but it soon became obvious that I had a little boy kitten and so I renamed him Simon. Simon was one-of- a-kind and he was my companion through many life events. He moved with me 5 times over the years. He was by my side as I recovered from a major auto accident and several surgeries. He is a fun part of my wedding memories as he managed to escape the house the night before our wedding. He made it as far as the neighbor's enclosed porch where he was discovered the next day. And he was by my side through pregnancies and grieving the loss of our first child. He has been my faithful companion through many life events, and he will be greatly missed!
Dallas Winters
---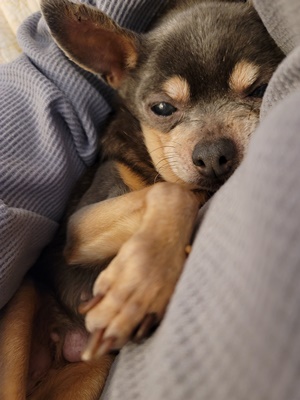 12/2007 - 05/2023
To my sweet little girl - Although we did not have nearly as much time together as I thought we would, you were an absolute joy and so loved from the minute I met you; I am devastated you are not here with me anymore - I didn't expect it. I thought we would be enjoying a beautiful summer, but I suppose you felt it was time to go. I know your true mom died tragically from an illness after raising you for many, many, years, ever since you were a tiny pup, and I am grateful to have loved and cared for you until you could be reunited with your true mom again. I hope I did right by her, and I know she is waiting for you. Your own mom and sister are still here with me and adored as well, so don't worry. You had such a beautiful face, were so soft, curious about everything, always had to be by my side, watching my every move. I will miss you dancing around at mealtimes, and when you were able to steal a small piece of food from someone else's bowl, you raced away so happily as though you had found some buried treasure - I think I will miss seeing that the most. I will miss you sleeping next to me and in my arms before bedtime. You will always be loved, and forever in my heart.
BabyGirl Buckley
---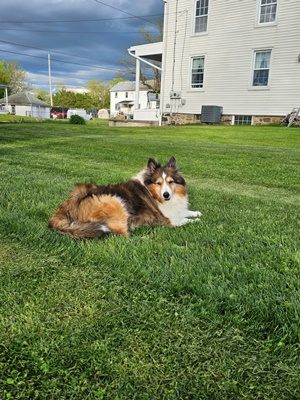 BabyGirl became my side kick and best friend 13 years ago. No matter what life brought her and I went through it all together. Dog truly is mans best friend. She will forever be my baby girl!
Rocket Kemp
---
This is Rocket! Rocket was adopted from upstate New York. Prior to New York, Rocket was due to be euthanized in Tennessee. He had a long journey to get to me as a puppy but he was saved. Little did he know, he was saving me! He was my person, my protector and my best friend. Letting him go was the hardest thing I've ever had to do. Being a pei momma isn't easy but we did it for 7 years. He loved to be with me anywhere I went and he was loved by many. It is my hope that he is soaking up the sunshine, eating all the ice cream and peeeesha he wants and making friends until I meet him at the rainbow bridge. Love, Momma
Bentley Elijah & Lily Faith Frye
---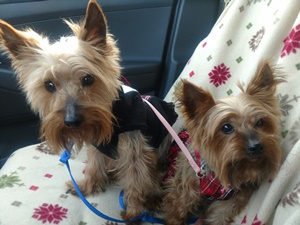 Bentley Elijah Frye 7/13/2007- 11/12/2022
Lily Faith Frye 07/13/2007- 05/19/2023
Both of our sweet babies crossed the rainbow bridge in the past 6 months. They are gone, but not forgotten. We miss them so much, our world is not the same without them. We miss the tippy tippy sounds of their nails walking across the wood floors, Bubby's shrill double bark, Lily's raspberry tongue sticking out of her mouth. If love could have saved them, they would have lived forever. They both loved going for car rides, swimming in the lake, chasing squirrels and bullfrogs, going on boat rides, fishing (so they could bite and attack the fish), campfires so they could eat the marshmallows and graham crackers, going for ice cream, watching movies curled up on mom and dads laps bumming popcorn.They enjoyed going on vacation to the beach where they would run and play in the sand and be brave and go up to the crashing waves and run and bark at them. They loved the boardwalk where they could bark at the seagulls and scarf down some Thrasers French fries. They loved playing fetch although Bubby never did understand the concept of bringing the toy back. He would just run around all proud that he got it. Lily would wait for him to drop it and bring it back to us. They were addicted to McDonald's chicky nuggets. They loved Christmas, we have never seen 2 dogs that loved unwrapping presents like they did. They would grab the present and shred the paper open with their teeth and claws. They hated wrinkles in their sheets and blankets. When we went to bed they would spend 10 mins digging like crazy to ensure their blankets were nice and smooth. They were not fans of the cold weather and snow. In fact the only blizzard they liked came from Dairy Queen. They did not enjoy baths, blow drying, hair cuts, or nail trimmings. They absolutely hated fish and bullfrogs, would attack them if they got the chance. Mommy and daddy will miss you two forever. We are sorry we didn't have more time. There is so many more adventurous places we wanted to take you to. Time is so unkind. Oh what I wish I could give to slow it down. We are so grateful for the 15 + beautiful years we got to spend with you two. You were the lights of our lives. We couldn't wait to get home to see your excited waghing tails, hear your happy barks, and get all the kisses. Now when we come home, it's just so empty and quiet in the house. Everywhere we look, we see memories of you two. One day when we are gone, we hope to see your happy faces waiting for us in heaven where we can hold you and love you again. Until we meet again our sweet angels, we will hold you dearly in our thoughts and memories. You two were the best dogs ever. Rest in peace.
Georgie Rau
---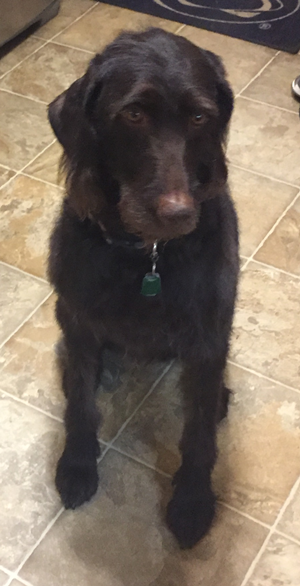 Born 12/5/11 Passed 5/15/23
We rescued her and her brother at 4 months old in Maryland. She was a great protector! Definitely the Alpha. She kept all the neighbors in line and alerted any one of strangers nearby our block. Loved asparagus and almost any food, even bunnies that tried to visit our garden. She was so proud when she brought them to us. Georgie was loved very much by her human parents along with her seven human siblings. She will be missed.
Bubba Belanger
---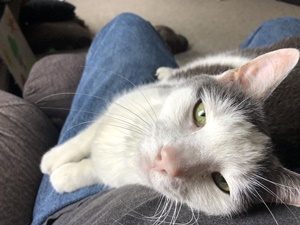 We had to say goodbye to our Bubba on May 20, 2023 as illness robbed him of quality of life. He was a member of our family for nearly all of his 12 yrs. Bubba was only a few months old when he chose us at the shelter. He loved to play, and dig under blankets looking for a choice spot to nap. Bubba was VERY vocal with us. As with many cats, he had settled into a set routine. So when we deviated from his schedule, he was sure to let us know his thoughts! It broke our hearts to have to say goodbye. So few things in this world offer the depth of bond and love that develops with a cherished pet. Our years with Bubba were truly a blessing from God, for which we are very grateful. RIP Bubba, you are dearly missed and won't be forgotten. ❤️
Grady Diller
---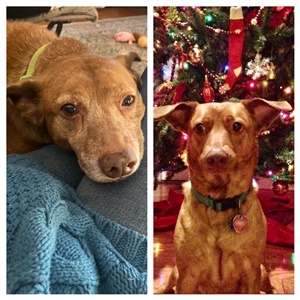 My dog Grady was a dog that seemed to look into my soul. He never looked away when I talked to him. He listened to every word. 13 years doesn't seem long enough to have a friend who loves me unconditionally. Wherever I was, Grady was near. It was a day I knew would come. The day I said goodbye to my best buddy. I always told him towards the end, not to worry because we will always be together. When the day came, I somehow managed to talk to him through the entire process. Telling him to go run and play. Grady was so very afraid of the vets office. I couldn't let his final moments be filled with fear. Thank you Dr Morgan for doing the job you do with such amazing compassion. It was peaceful for Grady. As for me, I'm missing my best buddy. But, I 100% believe God will allow us to be with our beloved pets again. Thank you.
Domino Hutcheson
---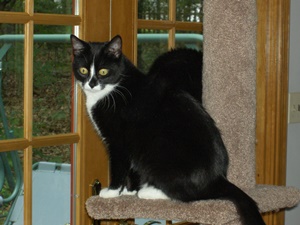 Domino was a petite tuxedo cat with a huge personality and a long happy life. She was just over 19 when she went to the Rainbow Bridge. Domino had a happy life because she was a free spirit – rules just weren't meant to apply to her. No matter what happened, Domi was happy. She loved being the center of attention and talking to people. Domino always had to have the last word. She had a sister, Cleopatra, who died a few years ago. Both cats loved to talk – Cleopatra asked the questions and Domino had the answers. Domino watched out for her sister and they were always together. Domino was a loving, joyful cat but she believed the world revolved around her. We found a theme song for Domino and would sing it to her; the song is "Barbie Girl" by Tori V – we changed the words to "She's a Domi girl in a Domi world". Domino had a great life and we miss her so much but she and Cleopatra are together again. So grateful Dr. Elser and Peaceful Pet Passage were there to give our Domino a wonderful ending to a joyful life.
Gunner Bankert
---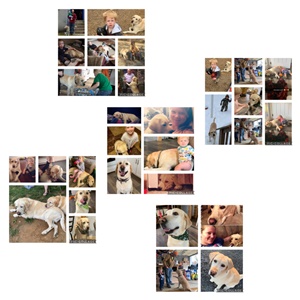 Gunner loved running around our 5 acres, playing fetch, going to friends and grandparents' houses, playing in the snow, greeting everyone that came over by running down the driveway, and giving kisses! He is already so very missed. We appreciate your kindness during this process and tough time. Thank you.
Lynx Donley
---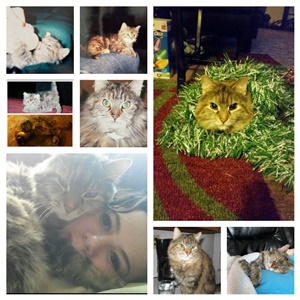 Lynx was my best friend for 18 years! Raised her from a kitten feeding her a bottle. Would cry and wake me up in the middle of the night for a feeding. When I cried she didn't leave my side. She was with me thru all the tough times. She was the most gentle cat. Most perfect cat. When she walked on a table, Tv stand, etc (wherever it may have been) she would avoid everything on it and prance around it, not knocking anything off. She was a silly girl who loved to play with balls. She would hold them with her front paws as she kicked it from behind. She also loved to play with any kind of string. Even when I was sewing something she wanted the thread! Lol. When you changed the sheets on your bed she jumped up in the middle of the bed and went crazy flailing her whole body around. As she got older she lost her vision. She always knew I was there though and she would cry to get me to come to her. This by far was one of the hardest decisions I ever had to make in life, but I know it was time. She is in heaven now with her Grammy Donna. I will miss you Lynx with all my heart and soul. Until we meet again baby girl. I love you. Thank you so much to Peaceful Pet Passage. You were very professional and very nice people. Thank you so much for this in such a difficult time in life.
Ozzy Taylor
---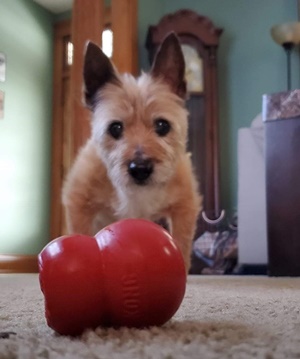 Ozzy was the best family pet! He loved playing with his nunnie (a Kong that he would break the nubs off so it would bounce crazy when thrown). He had many kids and grandkids who would play with him. He would play soccer with it. He would be the goalie prancing his front feet and you would have to shoot his nunnie past him. He was a really good goalie! He had a sister dog Daphne who he always protected. She misses him alot. His family misses him and love him bunches. RIP buddy ♥️
Professor Moody
---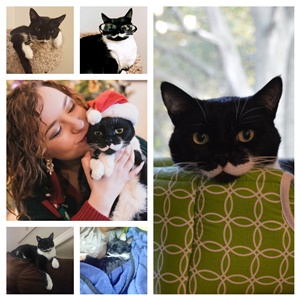 "Picture a wave. In the ocean. You can see it, measure it, its height, the way the sunlight refracts when it passes through. And it's there. And you can see it, you know what it is. It's a wave. And then it crashes in the shore and it's gone. But the water is still there. The wave was just a different way for the water to be, for a little while. You know it's one conception of death for Buddhists: the wave returns to the ocean, where it came from and where it's supposed to be."
Alexis Nonemaker
---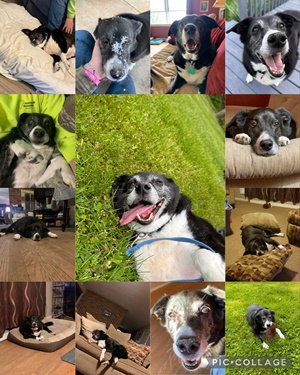 Alexis Jade Nonemaker
1/7/08 - 5/8/23
We have had our baby since she was 8 weeks old from a farm and it was the best thing we have ever done. She was such a blessing to our family and will always be remembered by her barks, begging for food, and always being such a happy girl. She was the sweetest, most loving dog ever. She always wanted attention from anybody that would walk through the door no matter who it was. She lived the best 15 years. Our house is so quiet without you sweet girl, we miss you and love you so much. You will always have such a special place in our hearts.
Laci Redding
---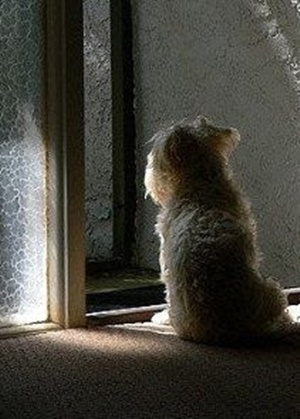 I'm home mom.
Tucker Mellott
---
Tucker was our sweet 11 1/2 year old boy who crossed the rainbow bridge on May 4th, 2023. He had the sweetest, kindest soul of any dog we have ever owned. No matter what, he would always greet you with an excited tail and lots and lots of licks. We got Tucker at 8 weeks of age and my children grew up with him. His 4 year old sister Flossie was killed in December of 2022 when she was hit by a car. I just know he is running and playing pain free with her now. Tucker always displayed the kind of love, forgiveness and sweetness that we all should try to display. He was a true inspiration for our family of how we wanted to be. Thank you Tucker for loving us and allowing us to be your family. Until we meet you again in heaven...we love you. ❤
Copper McFerren
---
Copper Stewart McFerren
5/29/11 - 5/1/23
Adopted June 9, 2019
Sheriff Copper was laid to rest after almost 4 yrs with us. I wish we had more time to enjoy the most gentlest of giants. Copper loved taking long walks at parks, chewing on Nylabones, rolling in warm sunshine filled grass, cuddling, greeting people, barking very loudly to alert us of absolutely nothing, and playing with his sisters. Rest in peace Sheriff Copper, you are so loved 🖤🐾🐾
Titan Kemper
---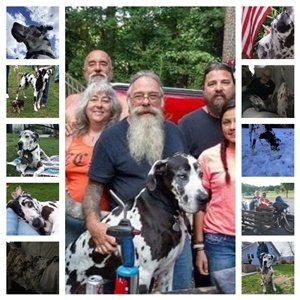 Titan was the best Dane we ever had. We rescued him from emaciation at age 1. And we had him back to health in no time. He had rescued us as well. Well behaved, loved people, rides, and was sensitive. He comforted me while dealing with a chronic illness and he comforted us during Mike's cancer journey of 6 years. And didn't leave his side, until 3 months later. He will be greatly missed…always.
Bentley Lauver
---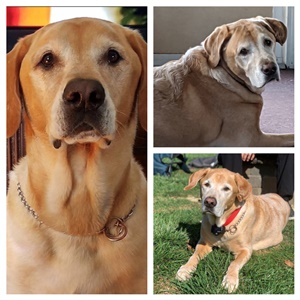 On April 23rd (2023), you crossed the Rainbow Bridge, we thought you would live forever! Trying to take almost 13 years memories and not write a book about you is hard. In your younger years, you loved fetching and catching the ball, you got some good air on some of those catches! You and Kyle would go for rides to the creek, and walks around the block. Kyle has a million pictures of you! As for Tonya, her greatest memory of you is a recent one, you got up on her bed and ate her egg sandwich! I can't take just one memory, as there are a million, you were my shadow, followed me everywhere! I miss your presence, the house is so empty without you! Rest easy Bentley aka pup pup dog, Benny Boy, Benson
Abbey Monte
---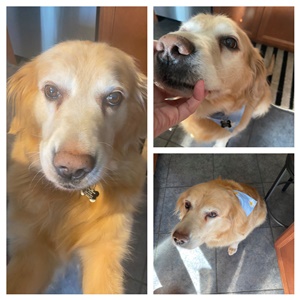 Abbey was a huge piece of our hearts . Equal parts sweet and sassy she pretty much ran our home. She fiercely loved her people and was the most loyal companion to us . We loved her so much and will miss her forever . Our hearts hurt, our house feels empty , and we miss her sweet greetings every time we come in the door . We rescued Abbey 10 years ago from a very abusive situation. I hope that we provided her a safe haven and hope that she knew how much she was loved.
Buckles Brousse
---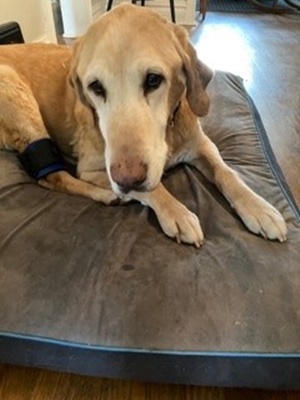 Buckles joined our family as a foster after his humans died within weeks of each other. No one in their family wanted him. We named him after the last living WWI veteran who had recently passed away. We knew within a few days that he belonged with us. Buckles lived an awesome life….always with other dogs (permanent and foster), hiking, playing at the dog park, chasing a ball, sleeping in our bed, etc. He helped train a long line of foster dogs. Despite being a lab, he hated to swim. He'd wade in a few inches of water but that was it. Buckles made it through two ACL surgeries and lived much longer than anyone throught possible with Inflammatory Bowel Syndrome and Reflux. All who met him noted his sweet disposition and his ability to keep the floor clean of all dropped food. We will miss him but are grateful that his passing could take place in our home with such a kind, gentle and considerate veterinarian. I could not have gotten him into the car without causing a lot of pain. Almost fifteen years is a long time for a large dog but it is never long enough. We'll see you again at the Rainbow Bridge!
Smokie Fegley
---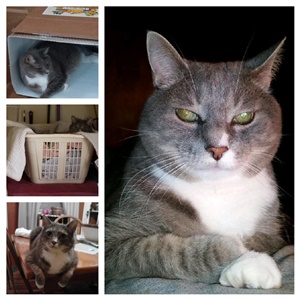 Smokie came to us in 2004. He was found in the engine of a car by a friend and instantly became our son's beloved pet. He was best known as "PUD" - he loved boxes, baskets, and being the boss of the house. He was 18 years old -- it's hard not having him home with us. He was loved dearly and will be missed.
Panzer Sinift
---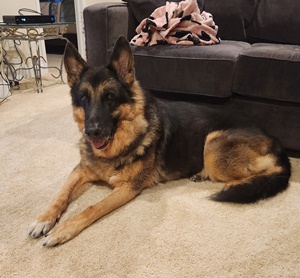 In memory of Panzer
2/3/2010- 4/10/2023
He was named Panzer after the German tank because even at 8 weeks old we knew he was going to be a power house. He was everything you envision of a German Shepherd. He was beautiful and intimidating with his huge head but had the kindest eyes and was the most gentle of souls. He loved smaller animals and all people, especially women. He would literally stop traffic when we walked with the standard comment "what a beautiful dog", and he knew it! He was my pretty boy and best friend. We were so blessed to share our lives with him for over 13 years and he was so loved. He will always be in our hearts and our thoughts.
Soot Sulzer
---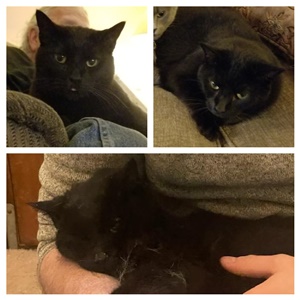 In memory of Soot.
4/4/23
A neighborhood stray mamma cat brought us Soot as a little guy. And we couldn't say no. We needed him as much as he needed us. Soot was an absolute love and was always purring. He wanted to be friends with everyone. We are so thankful for 16 amazing years with him. Until we are together again....you will always be in our hearts. We love you Sooter.
Bailey Hancock
---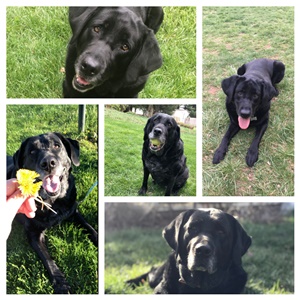 In memory of our beloved black lab Bailey Hancock. She was the most gentle, loyal, sweetest dog you'd ever want to meet. She was a great companion and we miss her every day.
Laid to rest 4/11/23.
Our hearts are broken.
Boonie Reynolds
---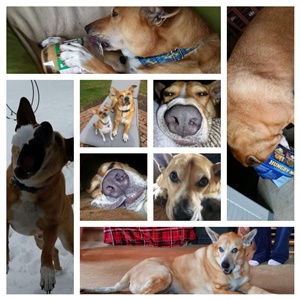 Our beloved Boonie (Boon dog), such a gentle soul, loving, loyal, goofy, our wonderful companion for 15 yrs. We will miss you forever my sweet boy.
Laid to rest 4/11/23.
Our hearts are broken.
Abby Dellinger
---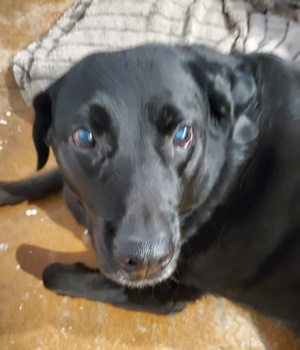 Abby was my best friend, my protector. She would walk around with her stuffed babies in her mouth, so proud of her toys, especially if she got a new one. She was lovable, she is definitely missed.
Ellee Kwiatkowski
---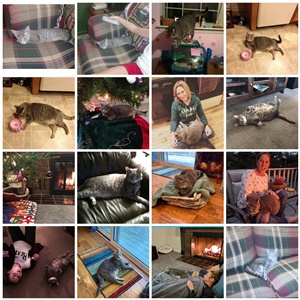 Here is my tribute to Ellee.
Ellee came into my life as a feral kitten who was left with her littermates on my friend's front porch 15 years ago. We found homes for all 10 kittens and Ellee came home with me. She was the most loyal cat I have ever met and I was "her person"….Ellee ALWAYS greeted me at the door after a long day at work and first thing in the morning with her loud meows and she just "knew" when I was having a bad day or was upset and would try extra hard to comfort me. She will never be able to be replaced and there is a huge hole in my heart right now. PPP was amazing and I am so happy she was able to pass while being held in my arms in the comfort of her own home. Miss you baby girl.
Taffy Rodarmel
---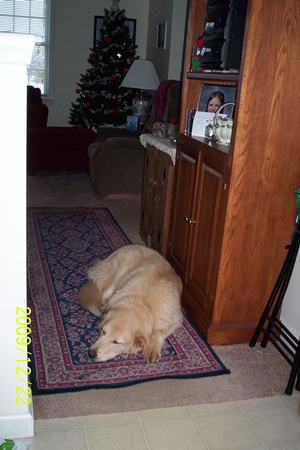 Taffy was with us for over 13 years. She was a rescue dog and I could not have asked for a better one. She loved the outdoors, no matter the weather. One year we had a snowstorm that left 24 inches of snow in our back yard. My neighbors thought I was one french fry short of a happy meal when they saw me with my snow blower in the back yard clearing off an area to allow her to do her business. To my surprise, she still went into the snow to take care of nature. She was a playful companion, and she enjoyed our 2:00 a.m. daily walks in all kinds of weather. No matter how much clothing I wore some winter mornings, I thought I would freeze to death, but Taffy loved it. She greeted all visitors with a few sniff's and a waggling tail. She loved to ride in our suv but always insisted on sticking her nose out the window, including in the winter time. She was a loving companion that my entire family will miss for many years to come. I thank the Good Lord for creating Golden Retrievers, she made my life worth living. God bless you Taffy, you will be missed but always in our hearts and memories.
Ginger Gordon
---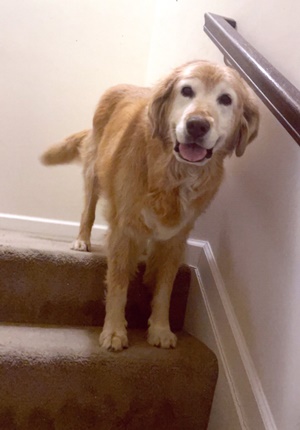 Thank you for making the journey of euthanizing Ginger more peaceful. It was a positive experience during our heartbreaking time.Thank you again.
Tony McCoy
---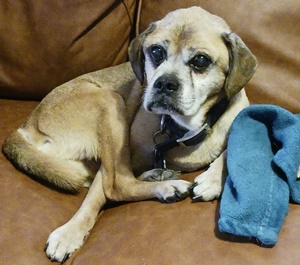 Tony was my dog for 15 years. He was born in my house. I raised him. He was full of energy. About a month from his death he began to get sick and lost his energy. He was loved by me and by my family members.
Jake "Bubby" Hawkins
---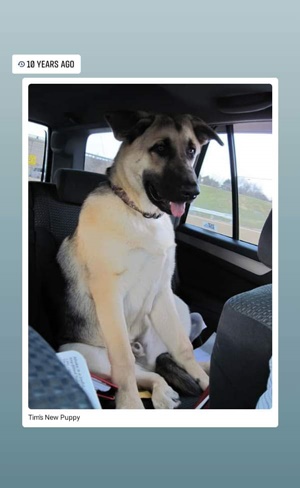 Jake was the best friend and protector anyone could ever ask for. Ball was life for him, he could chase the ball for hours. He was such a big presence, there is no way to fill that void. We love and miss you Bubby!!
Billie Peachey
---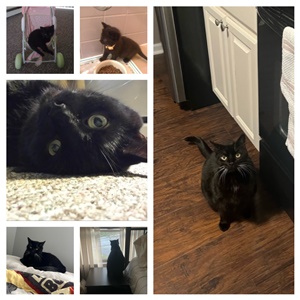 Billie came into our lives in June 2011, she was found alone after a bad storm. She was very tiny, only 1 lb! She grew up to be the biggest and sweetest girl, I swear we never heard a growl or a hiss from her, and she rarely even meowed. She was so quiet and gentle. We lovingly nicknamed her Mee Maw, after all of her black whiskers turned white in her old age. She loved to watch the birds from her window and take lots of long naps. She was diagnosed with cancer at the age of 11, and we had 3 weeks with her after that. We made sure every day was special, and we spoiled her rotten. We are so thankful for Dr. Morgan; she treated Billie with such kindness and respect. We miss Billie so much; she will live on in our memories. She's got the best view of all the birds from her comfy spot in Heaven.
Bailey Hollenbaugh
---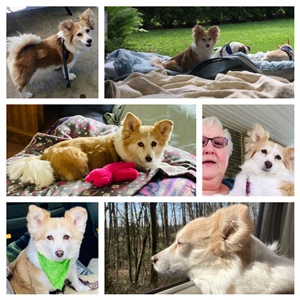 In memory of Bailey ❤️
December 4, 2015 - March 31, 2023
Bailey was a Sweet Beautiful Girl that We are happy to have had for 4 Years! We transported her to a rescuer in NY where it was discovered she had heart worms, the adopter backed out so I adopted her. She was treated and came to us May 18, 2019. She loved sleeping on the bed, taking walks, Wind Surfing out the front window of our car when we were going slow, playing with all the toys, but her favorite was her stuffed bunny! We will all miss her deeply, We Love You ❤️ Bailey!
Cookie Peck
---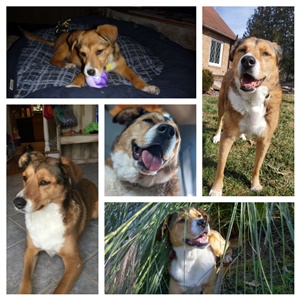 Cookie was a rescue puppy. We couldn't have asked for a more loving, happy, and friendly dog for 13 years. As our children's childhood dog, she loved laying in the sun, going on walks although we never got a handle on her pulling, belly rubs, and her dog friend at the end of life, Lexi. We will miss her dearly but we are comforted in knowing that she is at peace after suffering with such severe arthritis for many years. She is now playing in green fields until we meet again, rest in peace. You are forever in our hearts, Cookie.
Banjo Fortelka
---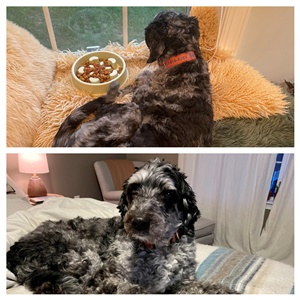 This past week (3/29/2023), the wonderful Dr. Morgan came to help Banjo cross the rainbow bridge. His 11 years with us were full of adventure- he lived in three states and gained three human siblings and some dog siblings too. It was a painful decision to make to put him down, but he spent his last moment in his capture spot, watching the birds. Thank you, PPP, for helping Banjo pass peacefully and with dignity. Your kindness and compassion will not be forgotten. From start to finish, we have been so impressed and appreciative. Thank you.
Roscoe Woodrow
---
Roscoe Woodrow
aka "Ruff Ruff" "Knucklehead" "Baby" "Rocko" "Rocky Socky" "Rocky" "Rock Big Head"
He will always be two years old. The forever baby of 2 older brothers, Teddy & Archie. He had the biggest howl/bark with the most scared attitude. He loved his two bigger brothers, loved his mam and daddy, loved his nannies and pappies any only gave kisses to them. He made our family complete. He was the best one at the groomers. He had the biggest head and paw out of the three. He loved his sticks.
Tiny Saytar
---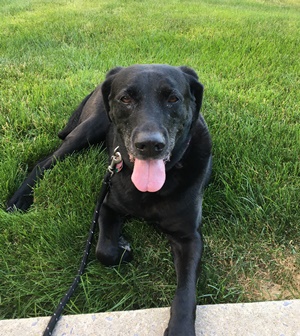 Tiny crossed over on 3/8/2023. While we don't know anything about the first 8 years of her life, I choose to think that her last 7 with us were her best. She loved laying out in the grass, soaking up the sun and watching people, animals, whoever, walk by. She also loved rolling in the grass in any kind of weather. Yes - she even rolled around in the snow! She was my girl and almost 4 weeks have passed but she is still missed very much.
Pita Ambruch
---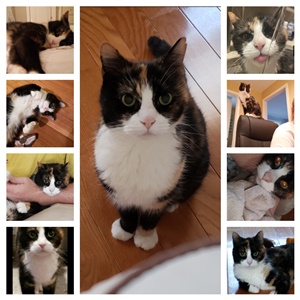 It was a week ago today (3/23/2023) that I had to say goodbye to my precious Pita. My heart is broken and my house feels so empty. It's amazing how a little 7 pound girl could make such a presence and fill a house with such life, love and laughter. A friend of mine found her on the road when she was just a baby. She had almost been hit by a car, so he stopped and snagged her and took her home. He had intended to find a home for her because he didn't want another cat. I would have taken her, but I had two male cats who were older and brothers. I wasn't sure how they would adjust to having her in the house. My friend decided to keep her because everyone loved her. Every time I would go visit she would come running to me for snuggles. Anyone that ever met her fell in love instantly. Eventually after my last boy passed away, she came to live with me. My friend was starting to remodel his house. He felt it was better for her and for my broken heart for her to live with me. Plus, he would be able to visit her whenever he wanted. Within 24 hours she was right at home with me. She was my first female cat and I treated her like the princess she was. I am not ashamed to say I spoiled her. My friend and I would laugh because when he came to my house she would hide under the bed because she thought he was taking her back. He took care of her but not to the spoiled level that I did. In time she realized he was just there to visit and she would crawl up on him to get butt scratches. My life revolved around her. I happily tended to all her needs. Whenever I was away from her, even if it was just to go to work, I missed her. My favorite part of every day was our snuggle time. All the stresses of the day would just wash away once she started to purr. I miss so much about her not just the affection and unconditional love. She made me laugh every day with the funny things she did. She would greet me every day when I came home from work and her little face made me smile immediately. I loved her little meow that sounded more like a peep. When I worked from home she would sit on my lap or on the back of my chair and supervise me. I miss how she would run the length of the house like she was in the Kentucky Derby. I miss how she would hide under the bed to zip out and grab my ankles as I walked by. I miss watching Friends with her (her favorite show). I miss watching her play with her toys, especially ping pong balls. She loved to bat them around and chase them. I know I did everything I could for her once she got older and started having health issues. But in the end, the best thing for her was to let her go. I hope she knows that I loved her as much as I know she loved me. She was one of a kind. I told her every night when we went to bed that I loved her because she was beautiful, smart, funny, and oh so loving. RIP my sweet Pita. I will love you forever.
McShea Bonner
---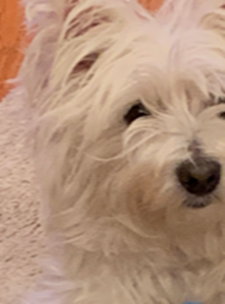 McShea was just a little white furry ball with huge ears, which she soon grew into. She often caught my attention.
Maggie Amsbsugh
---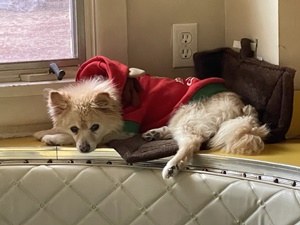 Maggie was rescued from a sad story but had a sweet story to tell herself. Came in the house the day she was rescued, jumped on the kitchen counter because she was terrified of everything and everyone and stayed there for 3 days. With love and time came off the counter and took over as the Queen of the house and head of the pack. Kept all the other dogs in line. Danced for her food, loved to go for walks and yes, loved hanging out on the kitchen counter looking out the window. Maggie loved to be pampered and loved getting dressed up. We miss her so much but we know she is having a blast on the other side of the rainbow bridge.
Wilson Glass
---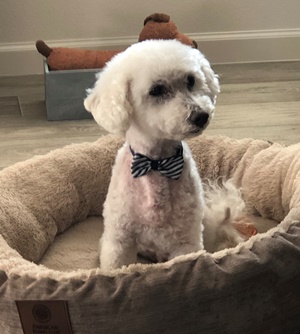 We got Wilson 19 years ago for a Christmas present for our son Aaron Glass. Wilson was the best dog ever. He slept in my son's bed with him every night. They were as close as 2 brothers could be. My son passed away May 16, 2020 and Wilson was lost. He would go into my son's bedroom every time he went back the hallway. Wilson just couldn't understand where Aaron was. Wilson wasn't the same after that. He lost his best friend. We will miss Wilson so much. He was always at the door when we got home and now no one is there to greet us. I know Wilson is with Aaron now playing in the fields with his toys.
Stella Solomon
---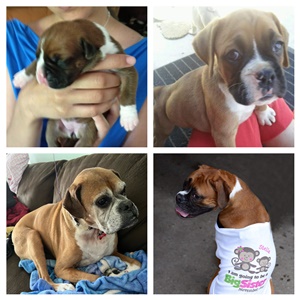 Eleven years ago, we fell in love with our first baby. Stella from the beginning was nothing but pure love, fun, exhaustion and excitement. She brought happiness and joy into everyone's life that she met. To say that we are heartbroken and sad doesn't even start to describe how we feel. Stella, thank you for being in our lives and making our family whole. You will forever be in our hearts and we will continue to love you always!! We love you our Stella Bella
Beckham Gabriel
---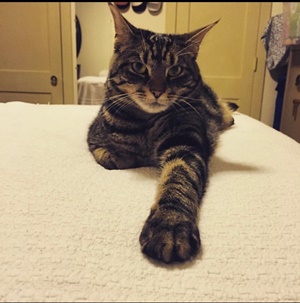 Beckham was a spunky fun loving boy who loved to get into mischief! We will miss him terribly!
Jeter Hannold
---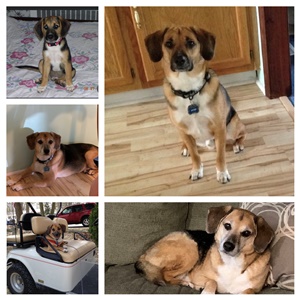 April 2, 2011 - March 1, 2023
We lost our baby boy Jeter ( aka Bubba Boo, Bubba, Bud, Handsome Boy) on March 1, 2023. He was just 11 years old. We rescued him when he was 10 weeks old. Jeter loved his walks, golf cart rides, his woobies, and baby sister Mia and meeting new people. He was very friendly with people and other dogs. He had a personality that will make you fall in love with him the moment you met him. He had secret little antics and never failed to make us wonder how he did some of the things he did! Jeter loved to visit his Grammy, get his treats, and play in her yard. We miss and love you so much Jeter, and your little sister Mia still looks for you. Till we meet again Bubba!!
Lucy Flynn
---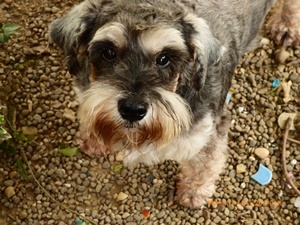 Dr. Mary came to our home on Thursday morning, March 16 (2023) to assist our beloved Mini Schnauzer, Lucy over the Rainbow Bridge. Lucy had a wonderful life playing with our pack of four dogs for many years. Lucy had a sweet disposition and got along very well with all of our other pets. Lucy was our last dog in the span of over 20 years of having dogs. In Lucy's earlier years she enjoyed visiting nursing homes and shut ins and brought much joy. She was a natural at service work without having any formal training. Lucy had a calm demeanor but would always get very excited when offered treats. Lucy did love her food. Lucy had a big heart and loved us as much as we loved her. I believe it was her loyalty and devotion that kept her going despite her failing health the past few years. Peaceful Pet Passage has assisted two of our beloveds and we are grateful to have had their final moments happen in our home. Thank you Dr. Mary and PPP.
Rocco Porta
---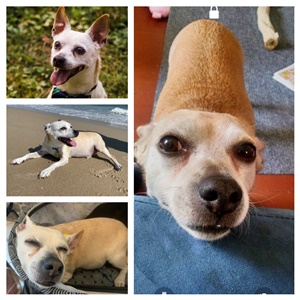 Rocco has been my best friend for over 13 years. He was rescued around the age of 4 by a group called Homeward Bound from a shelter in WV where he was about to be euthanized. We bonded almost immediately and Rocco went everywhere with me. He's been to almost every dog-friendly winery on the East Coast (because I really like wine🙂). Basically, where I went, Rocco went. It was a given that he would come with me to friend's houses, holiday events, etc. I'm lucky to have had that kind of bond and love from a dog in my lifetime. He was also loved by pretty much everyone who met him. Rocco Porta is one of a kind and will be so deeply missed.
Riley Amend
---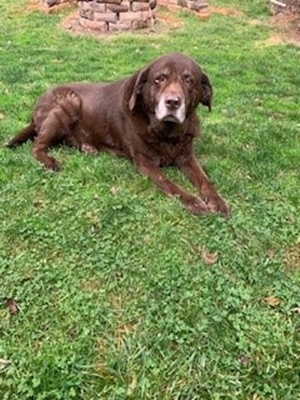 Remembering our Riley over the years. We will always cherish the time we had together. Watching him chase Willie around the back yard, playing in the snow watching him try to find the elusive snowballs after they hit the ground. Eating French fries after work, the greetings at the door. I'll miss looking into his eyes and wondering what he was thinking. He was always there, showing love and wanting attention. He always brought a smile to your face. I know he is in a better place where there is no more pain. Rest in piece Riley. The house is very quiet and lonely. Until we meet again.
Willie Shafer
---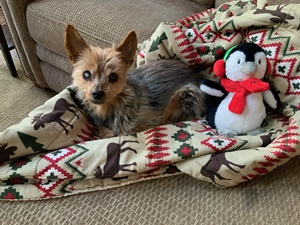 A tribute to Willie
Willie, our beloved Yorkie of 16 years left us on March 15, 2023. For 16 years Willie filled our lives with unconditional love that only a dog can do. He was sweet yet fierce. He loved to welcome visitors to our home as long as they kept their distance from us and didn't take attention away from him. At Christmas, he thought that all the presents were his. He would scratch the paper off of each box or stick his head in each bag before we could have our presents. He was our spoiled pup and he loved it. As he aged, he slowed down. Eventually his eyes developed severe cataracts, which made seeing difficult for him. Then he began having seizures. He no longer enjoyed walks or playing with his stuffed toys. The decision to euthanize Willie was heart wrenching. We knew our little man was suffering and that it was time. With all the unselfish gifts that he gave us over the years, it was time for us to be unselfish for him. Willie, we loved you your whole life and will miss you the rest of ours.
Abby Molchan
---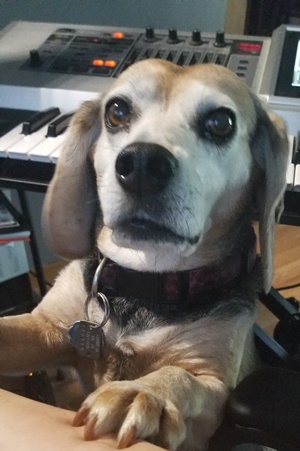 Abagail "Abby" Molchan
Our beautiful girl lives forever in our hearts.
Lilly Jellick
---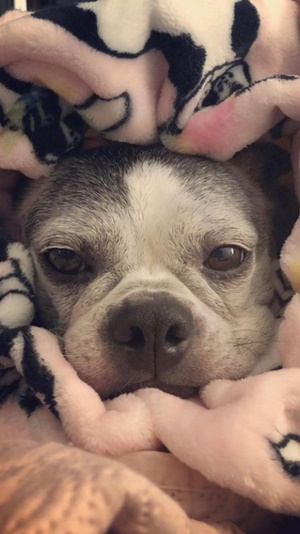 11/2011 to 3/13/2023
It is with great sadness that we laid our sweet Lilly Belle to rest. We couldn't have asked for a more loving, easy-going, and gentle companion. She lived an awesome 11.5 years where she loved and was loved by everyone she met. She loved laying in the sun, following us around wherever we went, early morning walks in the yard, belly rubs, playing with her sister, and all types of food. We will miss her dearly but we are comforted in knowing that she is at peace, playing in green fields with her big sister Marley. Until we meet again, rest in peace my love.
Savannah Bankert
---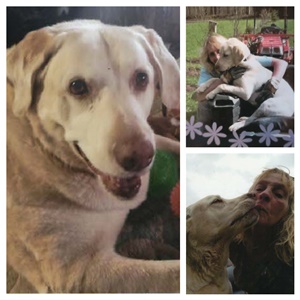 It is with a heavy heart that I write this about my dear Savannah. When I first saw your eyes at months old, I knew I had to have you. I will never forget how happy she was. She sat up the whole way home looking out the window. Savannah & my other dog Bucky loved to go for car rides especially when we were headed to the lake. They both loved to run the fields and swim. Savannah couldn't wait for me to throw the ball in the water. She would bring it back every time. When we went to the cabin, she loved to run with Bucky beside me on the 4-wheeler. It seemed like wherever I was, that is where she wanted to be. Savannah was a very special dog! She was so full of love. She was like a child to me. I would never leave her with anyone because I didn't want her to get hurt. She would get her toys to play with, when I tried to get them she loved to growl and put her paws on them for me to try to get them or take them away. We could spend 20 minutes playing with a ball in her mouth. She loved for me to tap on it or just try pulling on it. She loved the attention. The best feeling of all was when I would come home. She couldn't wait until I came over to hug her and give her kisses. Savannah loved to kiss you. Our love for each other was unconditional. "Savannah, the love and devotion you gave me will remain in my heart forever! I love and miss you dearly. Love, Mommy"
Ranger Layton
---
He was our best friend for 14 years. He was the best dog we could have asked for and he spent many years chasing squirrels and hanging out with our cats and other pets. May our beautiful pup rest in peace. Thank you for your services and all you do.
Ginger Dorward
---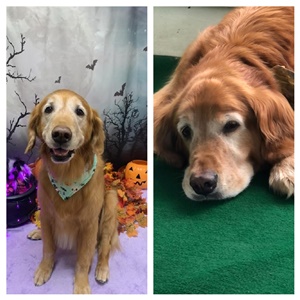 Ginger was a very special companion to me. She was loved by all who came in contact with her. She loved people and they loved her. Neighbors would be going up the street and if she was out with me they would stop and get out of their cars to love her and she them. It has been a very difficult time without her. My heart aches every day for her. She was beautiful inside and out. She gave every ounce of breath to me as long as she lived. In her final days she never gave up trying to live for me. She taught me to be strong right with her. I am forever thankful for her being part of my life.
Baxter Billings
---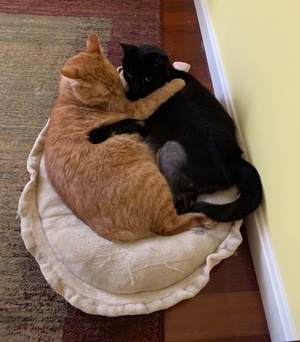 Baxter (4/15/07 - 3/6/23) and
Boomer (11/4/08 - 5/5/20) Billings
- brothers and best friends, recently reunited at the Rainbow Bridge. Our sweet boys. Always loved, missed, and in our hearts.
Harley Shanahan
---
My sweet Harley was my buddy for over 17 years. I walked in the door and there he was wagging his tail and jumping up to greet me. It has been one of the hardest things I have gone through and I miss him more than I can say. Thank you, Peaceful Pet Passage for being there for us.
Daisy Brown
---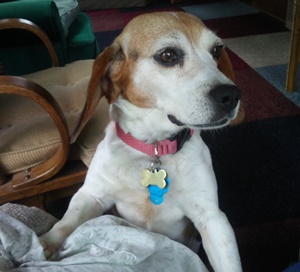 Daisy was adopted from the York County SPCA and was about 7 yrs old. She was the sweetest beagle girl. She was my constant companion and bed buddy. Her passing leaves a large void and she will be deeply missed. She took a big piece of my heart when she left. Breathe easy Baby.
Onyx Adams
---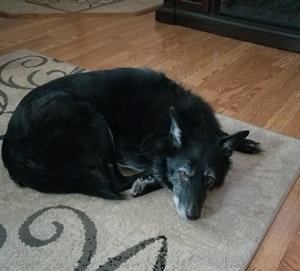 Onyx was a rescue dog that came to me in 2012 via my granddaughter. He wasn't a very affectionate guy, but he showed his love by following me around as much as he could throughout his life. As dark as he was, I had to be very careful that I didn't trip over him or step on him a lot. He loved to help eat my meals, as well as almost any treat that came his way and loved to go in the car with me. He was my companion and my boy and he will always have a place in my heart. Wait for me at the Rainbow Bridge, Onyx, my boy.
Lizzie Aloisi
---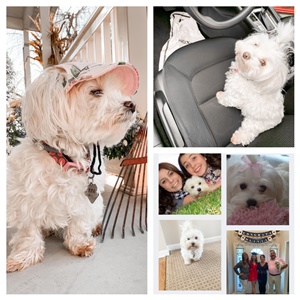 Lizzie was an absolute ray of sunshine with her fluffy white hair and energetic personality. She constantly brought joy to our family throughout the past 15 and a half years and has given us so many amazing memories we will cherish forever. Some of her favorites include taking rides in the car with her dad, going on walks with her two sisters, and visiting her mom at work on spa days! We love you forever Lizzie❤️
Indiana Jones Barr
---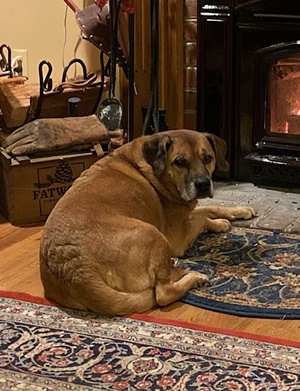 In Memoriam:
Indiana Jones, "Indie". Best Dog Ever!.
Phebe Foster
---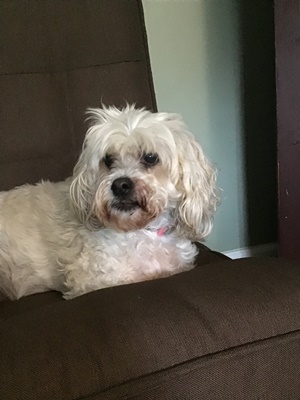 Phebe loved being with family and cuddles. She loved to eat too. She was a very easygoing and sweet dog. She had an underbite and it would look like she was smiling.
Sadie Boots Crenshaw
---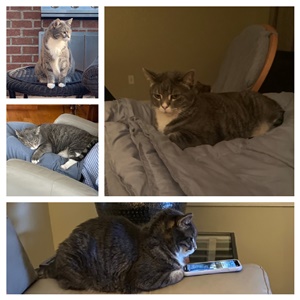 Sadie was an adventurous and vocal soul that was 14 when she passed. She was always looking for a lap to snuggle and nap. You are greatly missed Miss Sadie Boots.
Gracie Schuman
---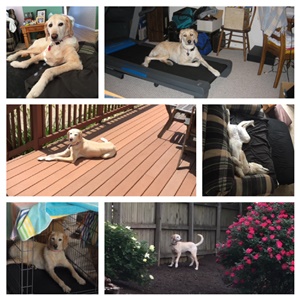 Gracie was the sweetest and funniest girl. She loved life. She loved her tennis ball and even played with herself when no one was available. She loved her daily walks. She was so happy she barked the entire walk letting all the neighbors know she was on her walk and happy about it. She didn't like cuddling unless it was her decision. Then she very much demanded it and enjoyed it. I miss her crazy antics and love so much. But she is with her bonded sister now running and playing. Catch on the other side Gracie Girl. ❤️
Sadie Mae Rufo
---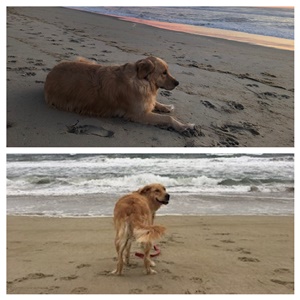 Sadie was the best welcome home we could have asked for and the hardest goodbye. The beach won't be the same without you sweet girl and neither will we until will meet again on your favorite beach. Run free.
Izzy Knoll
---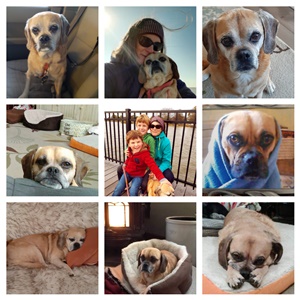 This is my Izzy. She came into my life at 3 months of age, her birthdate is 2/23/2006, and left me on 2/28/2023 at 17 years of age. It was a wonderful 17 years and I wish I could have 17 more years. She is already greatly missed. Izzy loved food! She would eat just about anything! In the photo I sent, she and I went out for ice cream. She thoroughly enjoyed her "pup cup" and then helped me eat mine! You can see some of her ice cream on her bottom lip! It's one of my favorite photos of her. She's waiting patiently for another lick of my ice cream!! She also loved walks and napping. She was a wonderful companion and my best friend. I'm not sure how I will get past not having her beside me.
Rocky Ross
---
We said goodbye to our beloved Rocky at the age of 18 years and 8 months after an amazing 11 years together. Rocky lived a great life and received the best care for his heart condition that he had for the last 7 years, but he was healthy, and his condition well maintained the entire time. After a Lymphoma diagnosis at the very end, he spent his final 8 weeks eating all kinds of delicious human food and lived like a King like he always has been. He was the toughest tiniest little man I ever met. Rocky enjoyed lounging in the sun on our porch during the Spring and Summer, sitting poolside and enjoying bites of steak, snuggling with his mom and dad, and being glued to his mom's side wherever we went. I like to think he stayed alive for so long so he could make up for the first 7 years that we didn't have him. Rocky was the best boy, and he will always be the best boy as he can never be replaced. He may have been tiny, weighing around 4-5 pounds most of his life, but he had the biggest heart, which is why it was enlarged. He always had just so much love to give and so many doggie smiles! We will miss you Rockman! We love you with our whole hearts Buddy Guy!
June 18, 2004 - February 27, 2023
Bedknobben Wilderson
---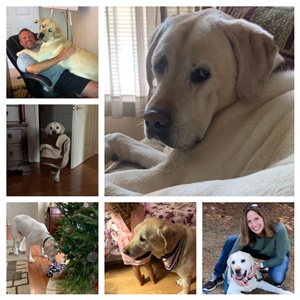 A Tribute to Chief
Chief was just so special. He was fun, silly, exuberant, sweet, loving, smart, and such a chow hound. He was born on Christmas Eve and came to us on Valentine's Day. What a wonderful ten years with him. He was always so gentle and good with the grandkids, putting up with them grabbing his tail, putting necklaces on him, laying all over him. He knew we loved them, so he loved them too. He loved his walks outside and was always ready to play games when inside. Hide and seek was one of his favorites. And yes, I actually would hide so he would come and find me. Whenever we played with the grandkids he always gave my spot away and I would laugh. He never left my side when I was home. If I took a shower, he would lay right outside the shower door. If I went to the bathroom, he'd try to follow me in. If we went to bed, he'd sleep there with us...all 95 lbs of him sprawled out. If I was doing laundry, he would be there trying to fit between me & the dryer. And I would scold him (as I was laughing) that he was going to get dog hair on my clean clothes. But he always did it anyway because he knew it would make me laugh. Oh....how he could make me laugh. At night, he would go into my closet and bring me my blanket if I was watching TV whether I was cold or not. He knew it would make me smile and he would receive a treat for this, of course : ) He loved Christmas time and would always look for his presents under the tree. He couldn't wait to unwrap them. His excitement was contagious, we always gave in and would let him open one early. I know he knew we loved him, he knew it without a doubt and he returned that love. Our home is just not the same without him. He is loved and missed every day.
Angus Hagrid "Gus" Henry
---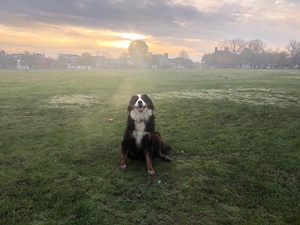 My Forever Valentine…
Yesterday morning (2/13/2023) our beloved Angus Hagrid 'Gus' passed peacefully, surrounded with love, crossing over the rainbow bridge to the brightest place we could ever imagine for him, to rejoin his sister Penny. . .
For nearly 8 years, our Big Man, Handsomeness, Happiness, Gustavo, Best Buddy has graced our lives. The years have been filled with the most wonderful adventures and simple moments of life's joys: from Hoboken to London, the beaches of the Outer Banks to the English Seaside, from mountains of New England to the woodlands of Wimbledon, and leisurely walks on the commons of London and around Lake Meade. Gus was a true Mountain Man who loved being outside, day or night and most especially in the cold. He loved cuddling under his backyard tree, splashing about in streams or his personal baby pool (just don't add soap), running in the common, and sprawling out in the snow. He was a Happy-Go-Lucky guy who greeted people with a smile and in turn, brought a smile to the faces of many. He was also most certainly a ladies man - I still can hear the Englishwoman's shout on the common of "Angus, my boy, my boy! He's a real lover, that one." In the days of Zoom meetings, he became a CNN Zoom meeting special guest as he would make on screen appearances by jumping into his Dad's lap to signal that it was clearly time to end he meeting as it was his dinner time. He was a protector of his sister who always let her take his toys without complaint and a buddy to his cousin Reign. He had a special love for his Mam-me. He was his Dad's Best Buddy. He was his Mom's Happiness. Gus and Penny were influential in opening the doors of friendship for us in the US and the UK. Friendships that endure and that we value so very greatly, whether near or far. We are so thankful for our family and friends who have shown them attention, care and love as well as support over the years. We truly are grateful. We knew the day was coming for the last several months after finding out that he was battling two different types of cancer at once, ever so bravely. So, while we have always done our best to give both He and Penny a good life, we have made sure that the last several months have been filled with love, comfort, and all the favorites for our Prince. He will Forever be in Our Hearts…
Caesar Zematis
---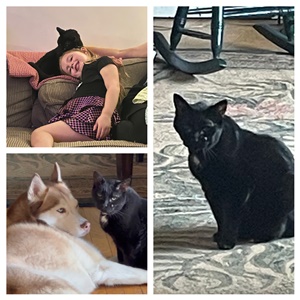 We had Caesar for more than 16 years and he was the best cat ever!! He was always purring and his purr was so loud you could hear it in another room! He loved everyone…both humans and fur friends. He followed you around like a shadow, which should have been his name! He loved sitting on your lap and giving head bumps. He was very patient with children no matter how they attempted to pick him up. Everyone who knew Caesar loved him…especially his family. We miss him dearly and will love him forever.❤️
Grizzly Downey
---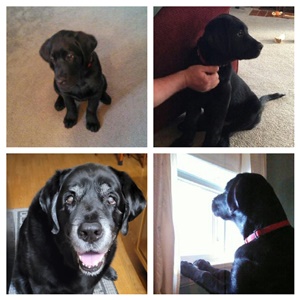 We had put our buddy Grizzly to rest last week (2/22/2023). It's always the hardest decision to say goodbye to a family member, but it was best for our buddy to stop his suffering. When we called Peaceful Pet Passage, they were able to accommodate our needs the same day. Dr. Morgan Elser was so wonderful with Grizzly, and he fell asleep being loved. Our hearts are broken, but we're at peace knowing Grizzly can now run through the fields again freely with our other pets. Definitely would use Peaceful Pet Passage services again. Thank you for everything.
Bedknobben Wilderson
---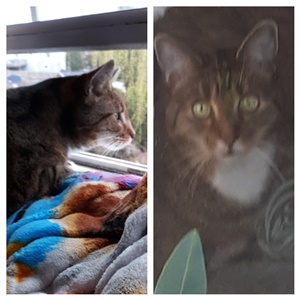 Our beautiful Bedknobben, 16
..she's back with broomsticky, mom, and bob o... we loved every moment with her💓
Diesel Weaver
---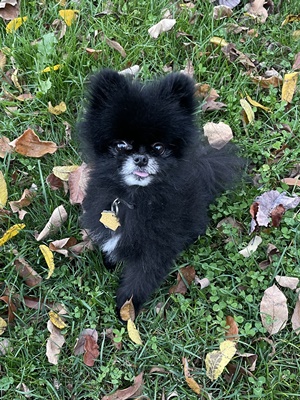 Diesel Weaver loved his sisters, going for car rides and playing with his favorite purple dinosaur. He was the most sweetest, happy, gentle little guy with many friends.
Gabriella Smith
---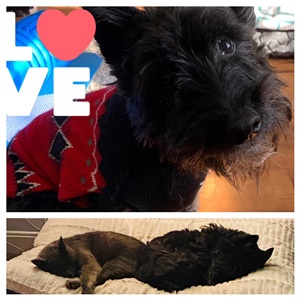 Gabriella Michelle "Gabby"
Gabby blessed us for 15 years with her energy, love of her family, winter stylish sweaters and absolutely loved her cat siblings! Gabby always welcomed the strays and new additions to our home! We love you, Gabby Girl! 🐾 ♥️
Thanks for allowing us this special treat to honor our girl!
Pablo Fuhrman
---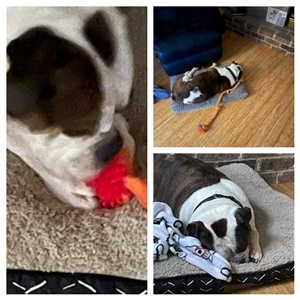 In the short amount of time that we had Pablo, he definitely got into our hearts. He was such a good listener and had a lot of love in his heart. He will definitely be missed and remembered.
Ginger Lesh
---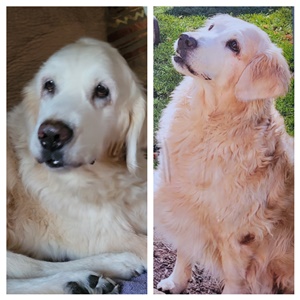 It is with heavy hearts that we had to let Ginger go on 2/10/2023. She would have been 16 on March 4th. She is the love of our life who made us smile and laugh everyday with her silliness. Instead of golden retriever we called her the golden keeper because she would never give back the ball or stick. Our home is not the same without her. She is so loved and missed everyday ❤️. I could write a book of almost 16 years, but I know you all get it.
Rocco Ginnetti
---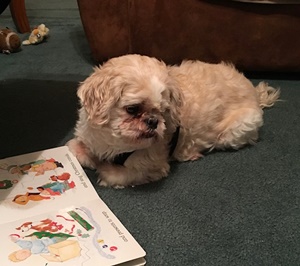 In memory of Rocco
We loved our Rocco. He was very spunky and protective! He had the cutest underbite and lopsided gait. He especially loved the grandkids, car and RV rides, snuggling in blankets as he always wanted my blankets no matter how many I gave him, sleeping on my feet/legs, and just being with us! He is now with his sister, Bella who was his all time favorite Rocco, thank you for bringing us so much joy and laughter. You will forever be in our hearts! ❤️
Lucas Nehrt
---
Our baby boy. We love you so much, and we're so glad you're not in pain anymore. The 15 years we had you were nothing sort of heaven. You were the best behaved, sweetest, most gentle dog this world has seen. Everyone in your presence felt your love. We hope you're giving so many kisses in heaven. We love you Lucas. Rest well. 💖
Baylie Loiacono
---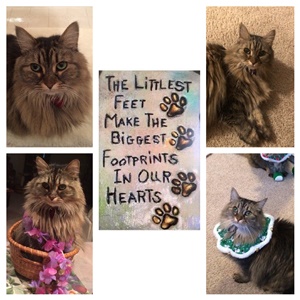 My precious girl, Baylie, crossed the Rainbow Bridge on February 9, 2023. She passed peacefully in my arms, close to my heart. ❤️ She crossed the bridge knowing I loved her very much. Baylie passed "in her own way" just as she lived her life and I wouldn't have wanted her to do it any other way. Baylie was a very friendly, sassy, mischievous, feisty kitty who loved unconditionally. She brought so much joy into my life for over 16 years. Her sisters and I will really miss her a lot, but I know she will always be with me. ❤️
TrixieMarie Youells
---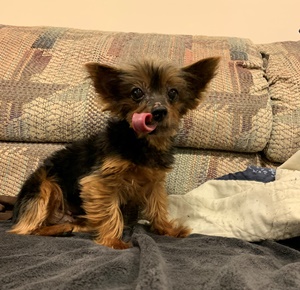 In Loving memory of Trixie Marie (Sissy) Youells
You were more than just a pet you were a loving soul we will never forget you. From Mom & Dad and Wezzy
Penny Troupe
---
There are too many fond memories of Penny to enumerate, but we have come up with a few of our unique memories of her.
• Penny had an affinity to walking on wet or snow covered grass. So, when she had to walk on either of those she had the ability to lift her rear paws into the air, well above her head, placing all her weight on her front paws (as if performing a handstand in a circus act) and walk to her desired location performing the "Handstand walking" to her destination.
• Penny would eat pretty much anything you would give her the opportunity to eat. Including, vegetables and fruits of all types. Carrots were her favorite. She never met a treat she wouldn't eat.
• Penny was fiercely protective of all family members, of course. But, she was also fearlessly protective of her sister dog, Abby. At one point throwing all of her entire 6.5lb body into fearlessly attacking a large German Shepherd that had gotten loose and attacked Abby while we were taking both of them on a walk.
• Of course, Penny was also somewhat spoiled and had a couple of padded small dog beds she would use for taking her naps. Penny, as you would expect of a 6.5lb frame, was always cold. She loved lying anywhere you would find the sunlight beaming into our home through a window or a door. So, when the sun moved and the beam of light moved with it, Penny would move to wherever the sun beam was now coming through the window or door. Of course she would want her bed to move with her, but she was unable to move the bed herself. Her answer to this dilemma was to stand in the area where the sun was now beaming and bark until one of us would get up, from whatever we might be doing no matter how important, and move her bed to that new location of the nice warm sunbeam.
• At night, Penny was finished warming herself using the sun's rays for the day. Being perpetually cold her warming tactic had to change. If she wanted to nap at night, Penny would jump up on whatever chair, or sofa a person was sitting on and cuddle up as close as possible to that person so she could, as we referred to it "Steal that person's Warmness". I could go on, but I think that is plenty.
Penny…"Thanks, for the memories."
Baby Godwin
---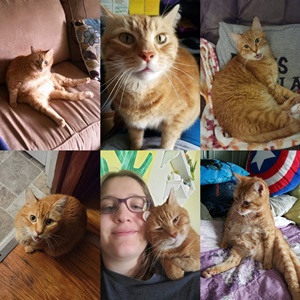 🧡🧡🧡 I loved the way you'd look at me. The way you sometimes failed to hide. The way you tolerated Ember's kitten behavior. The way you begged for my food like a dog. The way you greeted me loudly at the door. The way you always painfully stepped on me when trying to find the best position to lay on me. The way your meow sounded more like a quack. You were a very extraordinary companion. A one of a kind cat. I absolutely miss you, Baby. I cry for the loss of you now, but you'll always be a part of me. (Definitely the weird part.) I didn't want to be there for your last moments; the way you looked at me in that moment broke my heart. I can't help but feel like I made a huge mistake, and I have to remind myself that this was for the best. The best thing for YOU, not me. I am glad I was there to comfort you the way you always comforted me. You were never "just a cat." You were and always will be my Baby. 🧡🧡🧡
Belle Landis
---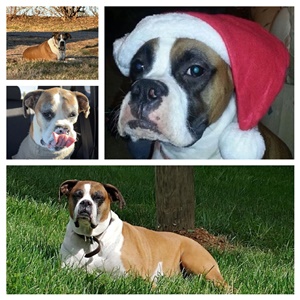 Our beloved Belle. She loved all, human and furry friends and those who met her loved her sweet personality. Her nick name is "licks a lot" she always wanted to give kisses. She was my daughters side kick for 12 years and our families protector. She was queen of the house. Belle is missed dearly.
Ra Kehoe
---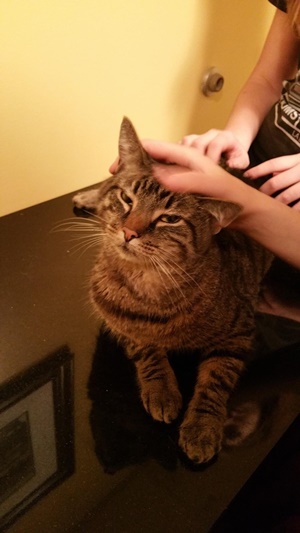 Hello and my heartfelt thanks for the loving compassion you showed not just my sweet boy Ra but to me and my family, HIS family while helping him to peacefully pass to whatever lies beyond. It has been difficult and remains so to be without him but we know we did the right thing and, with your help, allowed him to pass on with all the dignity and peace that the God of the Sun deserves. Thank you for all you do. You are angels on earth.
Lucy James
---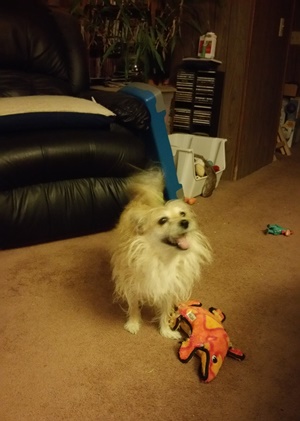 I still remember the very 1st day Lucy came home with us. We had several toys already in her playpen which she promptly dragged into her crate. "Mine" she said. :)
Spartacus Herring
---
Spartacus was a senior foster. He was saved from an inner city kill shelter. He was suffering too much from neglect and abuse in his past life. In the short time we had him, he won my heart. On his good days he was happy, excited, and loved being outside on walks with me. He always helped me get my steps in! I love you dearly, Spartacus ❤️ I know puppy heaven is pain free for you, we miss you so much, and I hope you're up there playing with Mr.Biggz ❤️
Oscar Enders
---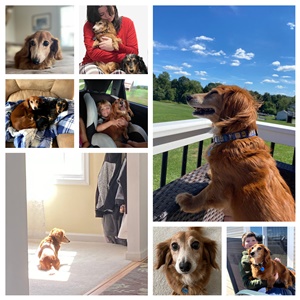 Oscar left us on January 30th, 2023.
Our family affectionately referred to Oscar as our "old man". Oscar loved everyone he met and was a true gentleman to the very end. On the day of his departure, he greeted the vet with his tail wagging. Oscar especially enjoyed spending time with our family on our back deck. He would spend hours taking in all the sights and smells with the breeze blowing through his ears. Oscar was a very bright spot in our family for almost 14 years. We are incredibly thankful for all of the love he shared with us during that time. We will miss him dearly but are at peace knowing that he is running free in the fields of heaven.
Rico Marrow
---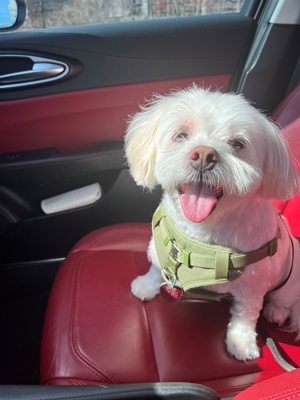 Our Rico gave us the most amazing experiences in the life time we got to spend with him. He was the most energetic, rowdy, bossy, and sweet little dog we've ever got the chance to love. When we got Rico as a little pup, he would not sleep in his cage but I (his sister) could not allow him to sleep alone. I would hear his whimpers and just have to sneak to check on him and let him out of his cage. I would lay on the floor with him and wait until he was tired enough to sleep alone. Rico was an amazing dog and we all will miss him immensely. Though this will be a long road to healing without our Rico, we are so happy he is without pain and blessed we were able to be there every second by his side. Our Rico will be extremely missed, and we pray he is running wild and free happily in doggy heaven. We love you so much Rico 🤍.
Bruiser B Barb
---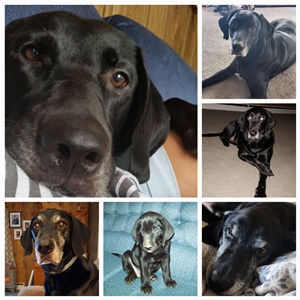 Bruiser B.
Much like the Big Bang Theory's Sheldon Cooper, Bruiser had a "spot" and would likely be found by family and friends in said spot on the couch with his pillow. He loved playing in the snow and sleeping in bed between his momma and poppa. He was a loyal companion for almost 14 years, a best friend that would comfort you when you were sad and was always happy to be by your side. As much as we didn't want to let him go, we knew it was time. We know he is pain-free, running around in heaven, where he will happily wait for us by the rainbow bridge until we meet again. Rest in peace, my beautiful boy.
Bruiser 3/20/09-2/4/23
Lucie Yeater
---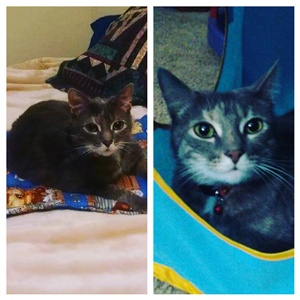 My sweet little Lucie passed away on 2/3/23. She was almost 16 years old. I rescued her from Castaway Critters at 3 months old. When I picked her up, she fit in the palm of my hand only weighing about 1 pound. Lucie loved stealing pens, eating peanut butter, apple pie and tuna. She was the sweetest girl and will be forever missed.
Penny Miller
---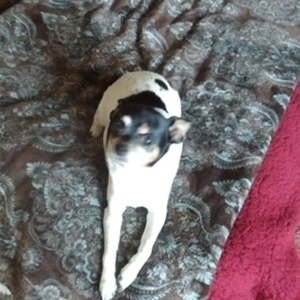 My sweet and sassy girl for 16 years.
Couper Becker
---
In memory of Couper 1/30/15-1/07/23
Couper was a sweet boy...a mama's boy. He sure could turn grumpy in a second if he was trying to sleep and a loud truck or motorcycle drove by the house and woke him up. He loved to lay in the yard in the warm winter sun. He would constantly sling slobber on the walls for me to clean off! 🙂 Couper was a gentle giant and loved any and all attention from everyone. He would sing at the top of his lungs when his Daddy got home from work. The whole neighborhood could hear him. Unfortunately he got sick with lymphoma and in a matter of 5 weeks it was time to say goodbye right before his 8th birthday.
Couper...I loved you your whole life. I'll miss you for the rest of mine. Love, Mommy
Brandi Folckomer
---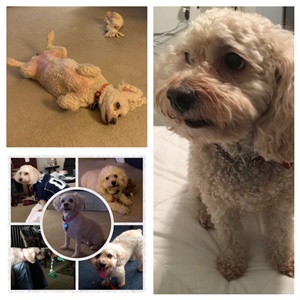 Brandi was a very loving dog who entertained us daily. For almost 15 years she was our best friend and protector. She loved other dogs and socializing with all of our neighbors, friends and family. She will be deeply missed but comforted knowing she is no longer in pain.
Tyka Firth
---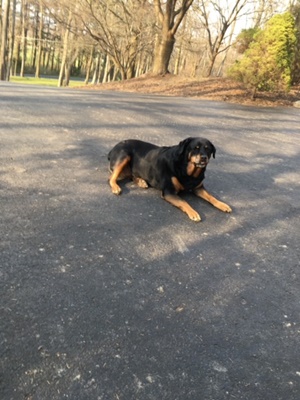 Tyka was known for relentlessly chasing bears away from the woods behind our neighborhood. She had several encounters and ended up in the vets twice do to injury. She was a relentless protector and always on duty.
Matilda LaRue
---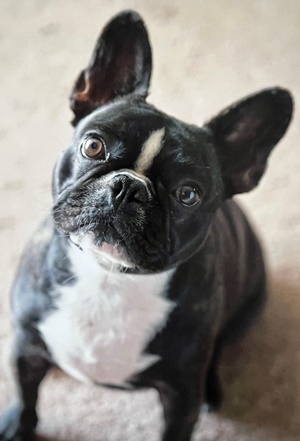 Matilda was our precious angel from day one. We love her and miss her so much. We love you always and forever Matilda.
Whimsi Tauser
---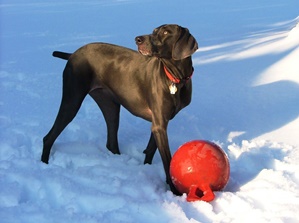 Once Upon a Whimsi
A friend at work called to tell me she knew of a Weimaraner puppy in need of a home. We had two dogs already and really didn't need another one, but one of two breeds my husband had shown an interest in was the Weimaraner. I agreed to a "meet and greet." The first time I laid eyes on her, I thought she was the most elegant and beautiful Weimaraner I'd ever seen. Her coat was a shiny slate blue gray, which is not recognized by the Weimaraner parent club and is considered a fault. No matter to me, I thought she was gorgeous. She was between three and four months old and had a story. The girl who owned her had seen her in a pet shop and paid an exorbitant price for her. "Winnie," as she was called, probably started out life in a puppy mill. The owner had a full-time job, sang in a church choir, played on a volleyball team and was taking college courses. I don't know when she had time to play with and train a puppy. The reason the puppy needed a new home was because the owner found herself in need of finding an affordable apartment that would accept dogs and was having no luck. After making arrangements to adopt her, the puppy needed to be introduced to our pack at home. Margaux was a Bluetick Coonhound rescued from the worst of conditions and had been moved from one shelter to another before she found us. She had been used for breeding, so had plenty of maternal instincts. She accepted the puppy without question. Albert, on the other hand, made it perfectly clear that ALL toys belonged to him and there would be consequences if any other dog attempted to take his treasures. One reprimand from Albert was all it took and the puppy never tried to take his toys again. There was no blood shed, but there was an immediate understanding between the two. The transition into our home was surprisingly smooth and the newly re-named "Whimsi" became a member of our family very quickly. I was curious about her breeding, so we looked through the papers we had been given and found the breeder's name, address and phone number. The phone call was unsuccessful, as our number was blocked. The name and address of the breeder was in Chambersburg, so we went on a road trip one Saturday morning in search of Whimsi's original home. The GPS system led us to a vacant lot in downtown Chambersburg. I guess the breeder didn't want to be found and we never did solve that mystery. Although maybe not enthusiastic, Whimsi was willing to do as I asked. She did not enjoy obedience classes or competition and showed it by dropping her ears and tail and giving me the "sad eye." Our first step was earning her Canine Good Citizen certification in 2008 when she was ten months old. From there, we started Rally Obedience classes and competed in APDT (now WCRL) Rally Trials. She also competed in the Companion Dog Sports Program (CDSP) Obedience and American Kennel Club (AKC) Obedience Trials. Randy enrolled her in Agility classes and both man and dog seemed to enjoy that activity a great deal more than obedience. They never competed, but had fun together running, jumping, climbing and weaving poles in classes. After a year or so in Agility classes, we noticed that Whimsi seemed to tire easily and lacked the energy and stamina she'd had before. We had bloodwork done. The test results showed low thyroid, so she was placed on medication. Agility seemed to drain her, so we stopped taking her to classes. When she was eight years old, we started having fun with Tricks classes through Do More With Your Dog (DMWYD). She earned her Novice, Intermediate and Advanced Trick Dog Titles. In 2019, Whimsi suffered a spinal cord stroke and was restricted from activity for nearly a year. She had a remarkable recovery, but with age, she gradually lost more and more control of her hind legs. At the age of ten, I introduced her to Scentwork and she learned very quickly. She did quite well in class and continued to succeed in competition. I believe she enjoyed sniffing as much as any activity we did together and she earned titles through C-WAGS and then AKC. Having lost her two housemates, first Margaux and then Albert, and becoming an only dog, Whimsi was alone and appearing lonely. We checked several rescues and shelters, but each dog we considered had issues. No dogs, No cats, etc. We couldn't seem to find the one that felt right. In 2020, we did the unthinkable. We brought home not one, but two female puppies. Whimsi showed her true colors and accepted both wild and crazy into her home. She showed incredible patience and tolerance with the "Z Girls" and amazed us with her gentleness and tenderness. She gave corrections when the girls became too much for her, but she was never too harsh with them. For nearly two years, the three girls lived together in what was mostly peaceful harmony. When the youngsters got too rough in play, Whimsi would scold verbally and things would settle down. She was their surrogate mother and she treated them as her puppies. But time moves on and Whimsi began to slow down and show the signs of aging. Her rear end was becoming weaker and she would favor her left front leg from time to time. At her last check-up, I asked the veterinarian about a small bump on her left front leg. Was it something to be concerned about? Yes, definitely it was. We could remove it surgically and send it off for biopsy, but she had a heart condition. Combined with her age, she would be considered high risk for anesthesia. If the results came back positive for cancer, what were our choices? Chemotherapy and possibly radiation. At nearly 15 years old, I wasn't going to put her through that process. We decided to wait and watch. Her appetite remained good, but she slept more and had less interest in the comings and goings of the house. With her weakened back legs, she fell a few times and needed our help to get up. It was time to make the most difficult decision of all. With less than a month until her 15th birthday, we made the call. On December 16th, twelve days before her birthday, we stroked her and spoke softly to her while she went to sleep. She drifted off quietly and peacefully as our tears dropped onto her lovely slate blue coat. Her quiet presence is missed and I still find myself looking for her, reaching for her food bowl and thinking it's time to take her out for a walk. I sent her spirit on to my little sister, Dee Dee, who is the caregiver of all my past beloved companions. I can only hope and pray that we will all meet again one day with tears of joy.
Tauser's Whimsi, CGC, RL1, AOE-L1, CD-C, RL1X, BN, CGCA, NTD, ITD, CW-SP, CW-SD, CW-SI, ATD, SCN, SHDN
12/28/2007 to 12/16/2022
Piper Fleming
---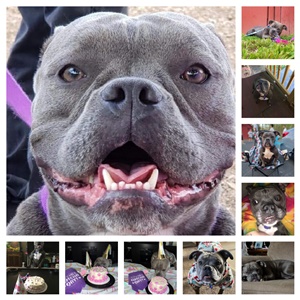 I miss my girl so much already. So her journey started with us in May 2019. We found her or better yet she found us at the spca. She wasn't available for adoption yet because she had to get a kidney removed. But we fought and fought and filled out an application so we had our chance when she was finally available. We'd go visit her daily. Even though we didn't know anything about her except she was found roaming York city, had a kidney removed and by dental records she was about 4-5 years old, we knew she was the one. And she was! She was the best dog in the entire world. We had a good couple years even though it just wasn't long enough. She loved her jackets. She did tricks for treats and loved everyone despite of being terrified of going out and about. We are pretty sure she was abused. We gave her the best life possible and my heart will forever be missing a piece since she passed. She is my favorite girl in the entire world.
Buck Rowan
---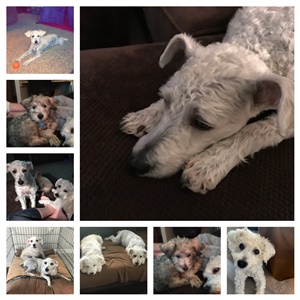 04/17/2016-01/20/2023
Lost his battle with kidney failure…………
Deuce King
---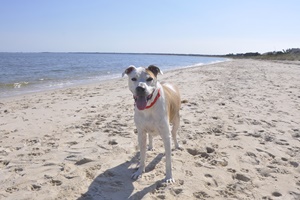 Here is our boy Deuce. He loved to play frisbee, go on long walks, the beach and car rides. His favorite was camping trips with the family and riding in the golf cart. He was so loved and we miss him very much!
Bear Hankins
---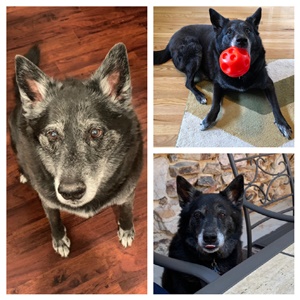 Bear loved food, his treat ball toy, the outdoors, or just being by our side. He was super smart, a little mischievous, and a great big bundle of joy! He was the best companion and made our family complete. He will be missed dearly.
Hazel Warner
---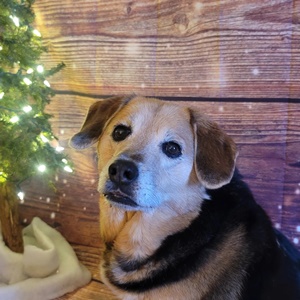 Hazel was such a sweet girl. She made me a dog mom. She was a wild girl when she was younger but then calmed down to the perfect dog as she got older. She got to go on many adventures; camping to different states, the beach, lunch dates, lake days, visiting family and much more! We are all terribly sad that she got sick so quickly at just 10 years young. And we all miss her so much especially her 2 fursiblings.
Jazzy Mowery
---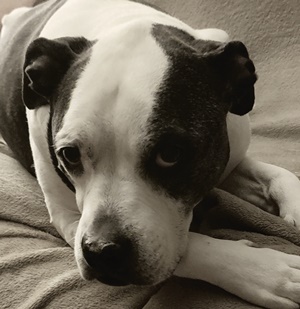 Jazzy has been gone for a little over a week (1/13/2023). Our lives have been changed forever. She was a spunky bulldog with an attitude all her own. She was a member of our family for over 11 years and will be missed forever. We had a great experience with Peaceful Pet Passage. Our whole family was present when we said good bye and we never felt rushed. All our questions were answered. As a family we can not thank you enough.
Zoey Winn
---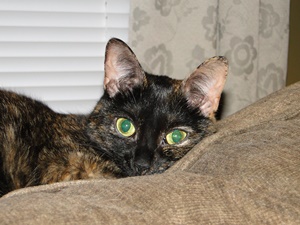 Zoey came into my life at 6 months old. It seemed she was allergic to something where we adopted her from because her eyes were very closed, possibly swollen. Boy, were we surprised when that cleared up and these big beautiful eyes showed up. Zoey was always a funny girl... very vocal with the tiniest, sweetest voice. She had super tiny feet that she would paw you with and try to crawl up your back. She loved being petted especially at bedtime. She was not a lap cat, however, and hated being held. She loved you on her terms which suited me just fine. Zoey and I were together for over 15 years. She was my silly goose, my zo zo, and my friend.
Maddie Thomas
---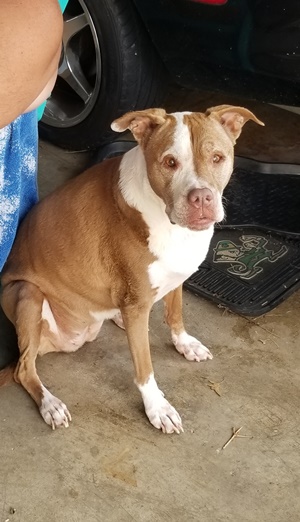 Maddie is a very special girl. She always met us at the door after work. Anywhere we were that is where she wanted to be too. We love and miss our sweet Maddie.
Brogan McDermott
---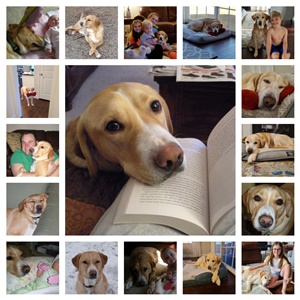 In early June 2008, we went on a hunt to the Bedford County Humane Society with intentions of finding a puppy to call our own. Unknowing, we would stumble upon a full-grown dog with the biggest, most beautiful warm brown eyes staring at us through the bars of his cage. He was very thin, soiled, and we could tell he had not been cared for in his young life. As we learned more about him, the worker shared that this unfortunate dog had encountered a porcupine prior to being brought to their clinic and he had had quills throughout his entire face and mouth. They had performed surgery to remove what they could but he was going to need some very special attention in the coming days and months from whoever would adopt him. Well, right then, we knew that this dog had to be ours. His luck had just changed. We were the people meant to find him. We would take care of him and give him the love he deserved. We began the process immediately and adopted him that very next day and brought him to his new home. We decided his name would be Brogan. It didn't take long for Brogan to settle into his new spoiled life at the center of our world as he healed and got healthy. He was a joyful and playful dog. In his early days, he would greet visitors with a big jump and sometimes his famous hound-like "howl". He rarely barked. He went for daily walks on the leash but he preferred to lead the way. A run-free spirit at heart. He loved to flop down to get a good belly rub and adored every bit of the attention from neighbors, friends, and family. He was our one and only for two years and he thoroughly enjoyed being the "only child". In April 2010, the world he knew was about to change. He was getting a little sister. He was inquisitive when we brought our first baby home; he welcomed and loved her just like we did; often joining me in the nursery while I rocked her to sleep. He was loyal and watchful. The perfect companion. Then, in May 2013, he got a brother, another baby in the house. Old hat for Brogey. He was happy to have another family member to love. Brogan loved being right in the family action. No surprise as he thought he was one of us. He joined in countless walks to the neighborhood park and went on many family road trips over the years. His ears always perked up at the word "car ride". There was always a place in the car for Brogey to go along (even when we were packed full). On game nights, he would pop his head in to see what board game we were playing. During family movie nights, he made sure to get his share of the popcorn. Even though he had some Labrador in his blood, he was not a fan of swimming or bath time. He preferred to sunbath. Any opportunity to find a spot of sunshine, you could find him lying there soaking it up. He enjoyed a nice coating of fresh snow to frolic in too. He loved to sniff. Even in his old age, his nose never gave out. There was no crumb on the floor that could escape Brogey's nose. He would surely find it. And, there was no doggie treat ever dismissed. Brogan was an incredible dog and member of our family for many years, truly irreplaceable. We are so thankful he shared his life with us. He taught our children the unconditional love that a dog can provide. It is difficult to digest that his time with us here has passed. However, we find comfort that we gave him a life of love and he is finally at peace and running free. Our memories of Brogan will live in our hearts forever. Rest easy our dear sweet Brogey. Please leave the porcupines alone. We love you always.
Billy Benkert
---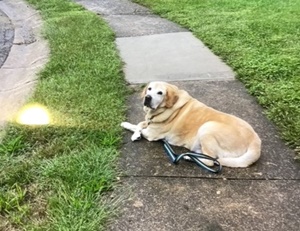 We had Billy for approximately 13 yrs and I don't think that there was one person who had met him that didn't fall in love with him. We would always greet our guest with something in his mouth, such as a shoe, blanket and there were even those few occasions where he gave our guest a beer. He was such a gentle soul who just loved all the attention he could get and would return that love ten fold back to you! You will be missed sweet boy 💔😢💔
Barney Taylor
---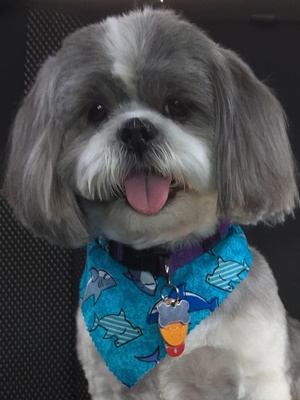 We adopted Barney through Lucky Dog Animal Rescue, Arlington, Va. in 2011. They brought him to Va. from a "high kill facility" in South Carolina. From the day we picked him up, we were his and he was ours. We couldn't imagine how he had ended up in such a terrible place. He was probably the most laid back and well behaved dog we ever had. He was everyone's dog, quiet, gentle and accepting. He was good with everyone including kids and cats and other dogs. We couldn't have asked for more. He was truly a love and we miss him every day. We are so grateful that he was saved by Lucky Dog and spent the rest of his life with us. He had a peaceful passage at home which was such a blessing to him and to us.
Scamp Kline
---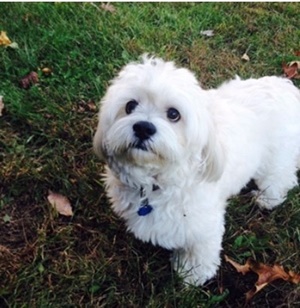 My daughters were just little girls and begged us to go into the pet store, so we reluctantly took them in. They noticed a playpen full of fluffy cream, colored dogs and very quickly the youngest daughter became interested in the little male dog chewing on one of the workers shoe laces. My daughter instantly knew that was the dog for her, and we reluctantly gave in after an hour of convincing. We took Scamp home, and he quickly became acquainted with the cats. We instantly knew we had made the right decision. The kids grew up and left home and Scamp became mom's dog. He was her shadow. She couldn't do anything without him right there by her side. Scamp was so stubborn, but also so sweet. He loved his walks. He loved going for golf cart rides at our beach house. When he would go for walks, he would literally prance down the sidewalk and look so majestic. He also loved his car rides with the whole family. He slept with mom and dad, and on cold nights right up against mom and dad. He loved playing with his furry cousin, and loved getting new toys on Christmas and a few here and there throughout the year. Scamp will be dearly missed. He was such a wonderful part of the family, and will forever be in our hearts.
Sedona Witmer
---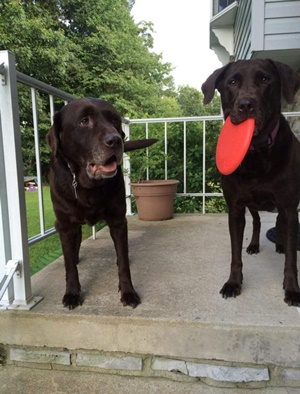 Here is our sweet crazy girl, Sedona with a Frisbee in her mouth with her Momma a few years ago. This is how we want to remember her, a bundle of energy, always wanting to play ball or Frisbee and would play until her tongue was on the ground. She couldn't get close enough to her humans and thought she was a lap dog, laying her head on your neck and nuzzling in to get as close as possible. If you sang to her, she would sing with you. No food was safe around her, she thought it was all for her. She is missed by her humans and her 4 legged friend Martin. She is with her Brothers, Momma, Grandma and kitty sister Cali now and I hope they are all playing and taking naps with each other. Thank you for helping us give her a peaceful transition from this world. 🙏
Seemore Webster
---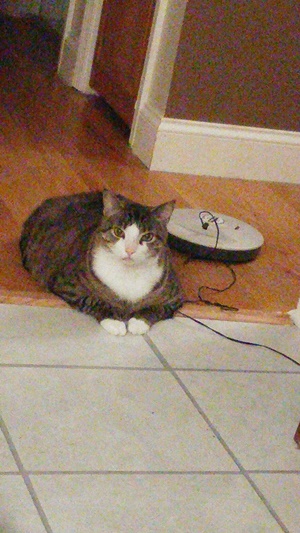 Seemore lived to be 22 years old, and never met a dog he didn't like!
Roby Sandoe
---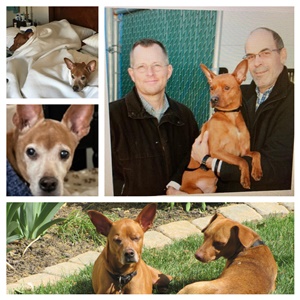 Roby (Row-be) Sandoe-Jacobs Roby was rescued from a shelter in Mechanicsburg in 2011. When we met he walked right over and started showing us, he wanted us to be his family and we really then didn't have a choice. He was home with us in just a few hours from that meeting. And he would have been our choice any way, we knew he was going to fit in with us. We gave him just over 11 years of love and caring. He wasn't real keen in 2015 when we introduced another rescue, his little brother Oscar. But after a few short weeks they were two peas in a pod, each zooming through the back yard and laying side by side in the grass on sunny days. He went through 2 moves with us and always adjusted and made home wherever he was, as long as he was with us, and beside us on the sofa. Your dads are really going to miss you our beautiful boy, and Oscar's going to be ok and someday we'll all be together again. Love you forever buddy.
Oreo Kornbau
---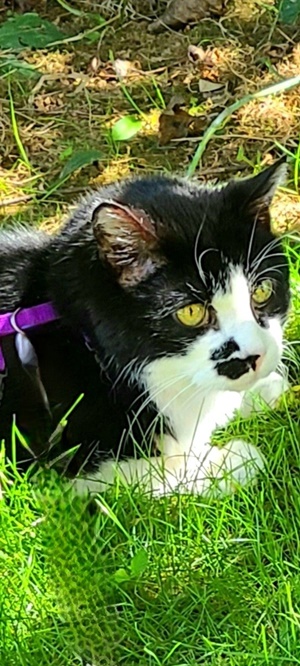 I was able to drive up to see my Oreo's final resting place. It is a very nice setting, hope to get up in the spring because I am sure it is even prettier when all the plants are in bloom. So glad this is available for those of us who live in apartments or have no one to 'pass' their ashes down to.
Dewy Borgel
---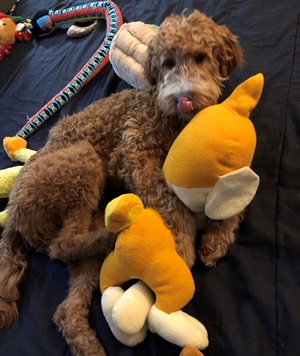 This is our sweet Dewy who passed due to bone cancer just at 9 months of age. Dewy loved everyone he met and was always happy. He would greet us with a smile anytime we had been gone. He only had 9 months with us but he was given the best life by our 12 year old son who would take him on walks/runs or play in the yard. They loved snuggles on the couch. He was so loved & will be greatly missed!
Annie Martin
---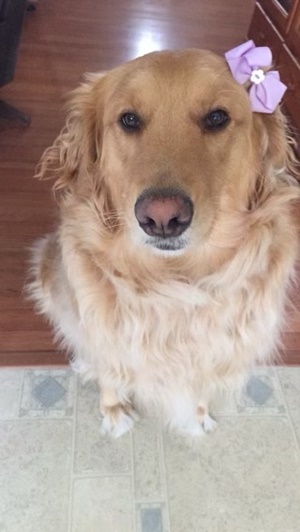 In memory of Annie
We lost our 'baby girl', 'princess' Annie on December 30, 2022. Annie was truly a gift and we miss her terribly! Annie was your typical golden retriever personality with her sweet, gentle nature. Annie loved her family and was so gentle with kids. Annie was also a 'foodie' and enjoyed mealtime and was right there if you were making a snack. Annie was always on duty 24/7/365 guarding her home and family. She was so funny with her antics! When she was young she loved playing 'laser' and chased that laser down like life as we know it depended on her catching it. Annie liked to watch TV and was a bit 'territorial' when animals on TV were 'in the room' - barking even at cartoon animals. When she was younger Annie gave the bunnies in the yard a run for their money. Once we had a very large groundhog considering making home in the yard but Annie would not allow it and the groundhog decided it best to find another place to live. Annie was a member of our family and my best bud; she was always at my side. We miss her terribly and were blessed to be able to love her for almost 11 years. Annie, until we meet again...
Sampson Riddle Bainbridge
---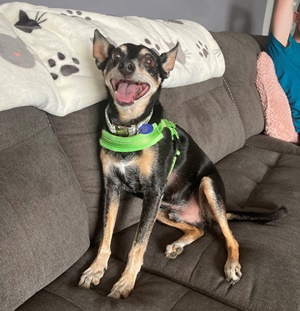 About 2 weeks ago (12/29/2022) we said our goodbyes to Sampson. I adopted him as a senior and was lucky enough to have 6 years with him. I miss our long walks and cuddle sessions, and especially hearing the pitter patter of him sneaking into the kitchen to steal cat food. I'm thankful to Peaceful Pet Passage for helping his transition to be stress free, and for the compassion of the vet and staff.
Nemo Tabasko
---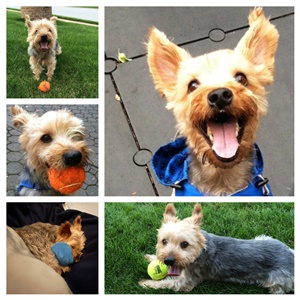 It's been one month (12/10/2022) without you and I think of you every day! I miss you when I wake up as I stumble through the morning routine and I miss you waiting for me at the door when I get home from work. I never dreamed I'd miss your barking as much as I do but the house feels quiet without it. I miss the zoomies, the stinky kisses, the Batman ears, the cuddles on the couch and the snoring…. I miss it all! I am grateful I had so much time with you and that I was able to let you go before you stopped being you. You will forever live in my heart and I hope to see you again on the other side. ❤️❤️❤️
Gomer Royce
---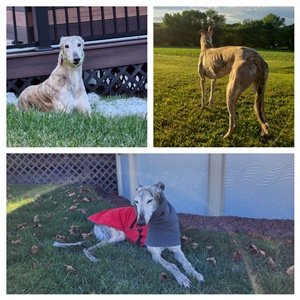 Gomer came into our lives after retiring from his racing days in Florida. He was on the Nittany Greyhounds website and instantly he was part of our family. He was the fastest couch potato you ever did see, and would take all chances to steal his mom's blanket if she left it on the floor. He had a hard time picking between his 5 beds in the house or the couch on where to have his racing snooze. He made his racetrack around the yard where he frequently ran, and zoomies were a must when coming inside. He made friends with everyone who came to visit, even if they didn't want to be friends. He had the softest coat and was often called an imposter greyhound with how much hair he shed, and how soft it was. Gomer made it to 8 years before cancer took him too soon on 12/26/2022, but he made it the best 8 years he could. Gomer leaves behind a sad mom, dad, and brother. His toys and blankets live on with other dogs in an animal rescue his mom picked. We are thankful that Gomer is able to do his zoomies once again now that he has crossed the rainbow bridge, and know he is no longer in pain.
Eddie Shughart
---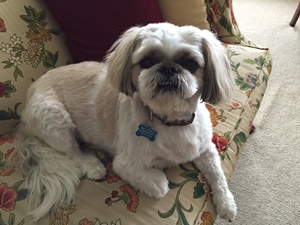 From that day almost 16 years ago till just the 23rd of December 2022, Eddie was the most loving puppy. Eddie always wanted to meet people and put a smile on their face. I knew as we both aged that sooner or later I would have to say goodbye to my little buddy. I watched as my buddy began to have health issues and hoped that he would get better but we all know that never happens. I was blessed with 15 years of the greatest moments I could ever imagined with Eddie. From our early morning walks before going to work to the kisses he would give me while sleeping with us. Goodbye my little buddy. You took a piece of my heart with you. Love and miss you always.
Charlie Bear Kline
---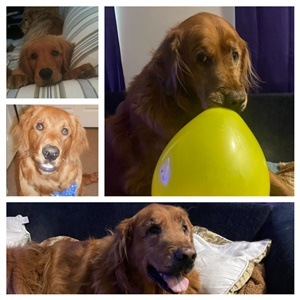 It is with a heavy heart that I had to put down my last dog on Dec 15th, 2022. He was not just my dog but my best friend. When I was feeling depressed from prior losses or just the mood, he was there for me. So, I am here to honor my passing best friend. Charlie Bear Kline was born on May 13th, 2011. I picked him out of a litter of 3 a few weeks after he was born to allow the adjustment period from parents to home. He was so Tiny when I first got him per the pic. Then he slowly grew into a cute monster! Big rabbit paws, his head and body! He was such a mischievous dog during his youth! What made him unique was the Balloon Obsession (per pic ). He would not put it down till he was ready. Tried to take it away, he held onto it and wouldn't let go!! He did slow down later in years, got very finicky with food and lost interest in chew and toys.. He took ownership of the couch instead of the floor but I was ok with that to help his body relax. The only thing he ever has ate in his final years was Milkbones, Glucose/condroitin chews, Grocery store White Meat Already made rotisserie chicken and McDonald's plain/no salt Hamburgers! This dog ran my bank into the ground with his needs! I didn't really care because it was for him. I'm deeply hurt and sad that he has moved on. I hope when it is my time we will be together again cause I miss him terribly. I probably won't get another dog because I can't deal with the pain nor want a dog to suffer a fate of loneliness when I go to work because it is just me. I miss you Charlie and loved you whole heartedly! 🙏😔🙏💔. Thank you for being a part of my life. May we meet again someday.
Milo Reeves
---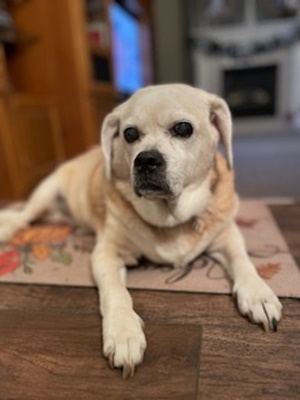 We got Milo in 2015. He was sweetest little puppy. He loved to sit outside on the deck in the sun and chase rabbits. He was a gentle old man in his old age but a few years back, when our youngest daughter was house sitting alone, Milo knew the people on the other side of the front door were not our friends and he ferociously let them know they were not welcome. If it wasn't for him, they would've broken into our home. Milo made them think twice. He is our hero ❤️
Charlie Lewis Henry
---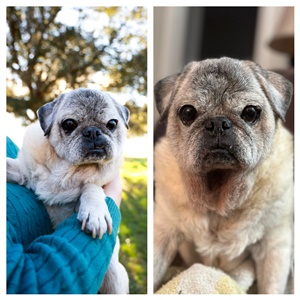 In 2010 I was blessed with the most handsome foster dog, Charlie. He walked in like he owned the place and never left, forever a part of our family. For over 13 years Chuddles graced us with his laid back attitude (unless it was time to eat) and love for everyone. We traveled the country together and he was the best companion to all. Thank you my Chuddy Bear for choosing us as your family, we will love and miss you forever. Your 17.5 years on this earth were a blessing,rest well sweet boy. Charlie 04/10/2006-10/05/2023