What to Expect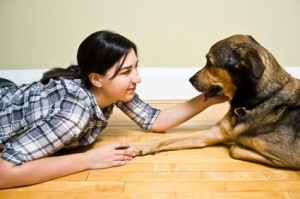 The time needed to allow the procedure to proceed with dignity and peace

The ability to ask any questions you may still have about the procedure

A pain-free and anxiety-free experience for your companion animal in his/her own home

The compassionate treatment of your companion animal at all times

Skilled and experienced veterinary care

The opportunity to have all family members present including your other companion animals
In addition to a pain-free medical procedure, our goal is to eliminate any fear, anxiety or discomfort your dog or cat may be feeling. Our companion animals live in the present moment. If they feel the loving presence of their family and have no anxiety about anyone new in the home, they will feel secure and calm. Our veterinarian will take whatever time is necessary with your companion to allow him or her to feel safe and comfortable. We recommend using the room or area of your home in which your companion has normally spent most of his or her time – this is the space they have chosen and where they will feel most relaxed. During this getting-acquainted time, you and your family can ask any questions you may still have about the procedure.
Prior to the administration of any medication, you will be required to sign a permission form to proceed with the euthanasia procedure. This is a standard form that is required by the state. Click here to download the form. It gives the veterinarian permission to proceed, and it serves as verification that your pet has not bitten anyone within the past ten (10) days.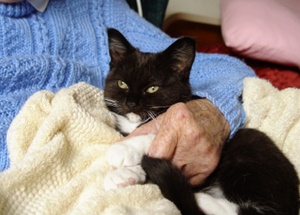 Our euthanasia procedure is a sequence of two injections. With your permission, the veterinarian will begin by administering a sedative and pain reliever, given as a single injection under the skin. These medications produce a state of relaxed drowsiness in which your companion will not experience pain or discomfort of any kind. The presence of you and your family will promote a feeling of normalcy. You can stay where your companion can see you and be comforted by you as the medication gradually produces a state of deep sedation/light anesthesia. Because every individual is different, the time between the injection and full sedation/light anesthesia will vary between 5 and 15 minutes.
When your companion is fully sedated/anesthetized, we will clip a small amount of hair from the leg to better visualize a vein. The euthanasia drug will be administered intravenously. Because of the initial medications, this second injection will not be experienced. This drug has been designed specifically for this purpose and works in the body quickly. The medication moves to the brain and renders complete inactivity within seconds of administration. The cessation of brain function produces rapid heart stoppage. The last reflex to cease is the breathing reflex which may continue for 60 seconds or so. Your beloved companion will not be aware of any of these changes in his or her body.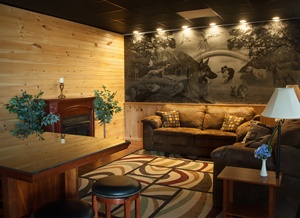 There are some extenuating circumstances in which you may feel that your home is not the best choice of location. In these cases, we provide a private and comfortable living room suite for your animal companion and your family. If you have chosen to use the living room suite at the facility, we will meet you there upon your arrival. The protocol will then be the same as if the euthanasia procedure was performed in your home. Whether in your home or in this private setting, we are committed to euthanasia services professionally designed to honor the passage of your companion in the most peaceful and dignified way.
---
NEW: WATCH VIDEO OF AN ACTUAL APPOINTMENT WITH ONE OF OUR CLIENTS AND DR. CARNEY.