Tributes
To add your pet's memories on our tributes page, please email a photo and your tribute to Tribute.ppp@gmail.com
Rudy Simons
---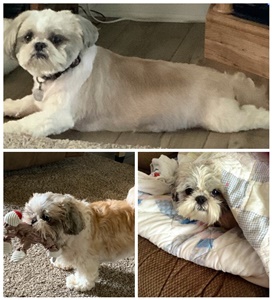 On 8/1/2020 we lost our furry baby Rudy. He brought so much joy and happiness to our empty nest. He was a very smart pup and I am convinced he understood everything we said to him. My heart is broken!
We are so thankful we were able to keep him in our home where he was comfortable.
Thank you for being so understanding and gentle with Rudy and for your patience.
Mischa Ritchey
---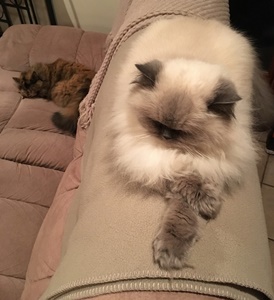 Thank you for Honoring Mischa (The Baby). We appreciate your kindness and sympathy is very much appreciated. Mischa was also the "Princess". She always got her way.
K9 Brutus
---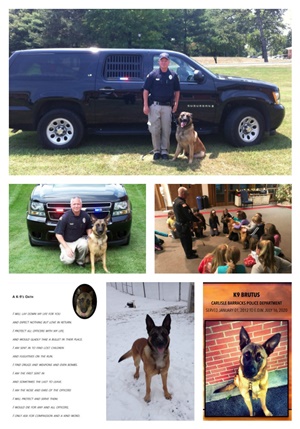 K-9 Brutus was born January 13, 2010 in Slovakia. In the spring of 2011 he came to the U.S. and to Castle's K-9. SGT Howie Weary (Carlisle Barracks and U.S. Army War College Police Dept.) became his handler and started training together in the summer of 2011 and finished training in December of 2011. K-9 Brutus was certified in Obedience, Aggression Control, Area Search, Building Search and Explosives Detection with North America Police Work Dog Association. The team is also certified by the Department of the Army yearly as well. He replaced K-9 Rosie January 01, 2012.
A few weeks later SGT Weary was diagnosed with AML leukemia cancer and was hospitalized for a few months and then continued treatments at home through August. During this time K-9 Brutus was devastated when SGT Weary was not picking him up. But SGT Weary did fully recover and joined back up with K-9 Brutus.
In his time of service from 01 January 2012 thru today he had 1,995 search hours, 547 VIP missions, searched 17,926 vehicles, found 61 weapons, 2,932 hours of training, found 1,928 explosive training aids, and was on patrol 10,616 hours.
K-9 Brutus assisted the local community with several calls and bomb threats. He conducted searches for numerous Generals, Secretaries, President Donald J Trump, Vice President Mike Pence, and in 2015 assisted with Pope Francis visit in Philadelphia. SGT Weary is the Chairman of the K-9 Section of the South Central Task Force and coordinates when bomb dogs are needed in Adams, Cumberland, Dauphin, Franklin, Lancaster, Lebanon and Perry Counties. K-9 Brutus assisted with VIP missions and bomb threats in those counties.
While conducting searches in the summer of 2018 at Carlisle Barracks SGT Weary noticed K9 Brutus wasn't himself and took him to get checked out. A large tumor was found on his spleen. They immediately conducted surgery on K9 Brutus and removed the tumor and spleen and it was thought back then that K9 Brutus had cancer, but after several days of waiting and several tests of the tumor the results were negative. SGT Weary was very grateful and K9 Brutus fully recovered and was back to work in a few week.
On the morning of June 15th 2020 SGT Weary noticed K-9 Brutus was not himself and was not eating. He was taken to Rossmoyne Animal Emergency Trauma Center where after some x-rays, it was revealed he had a large mass next to his liver and smaller tumors in his lung. Additional tests have been done over the past few weeks and has been determined its some type of aggressive cancer and it has spread. SGT Weary noticed the past week that K-9 Brutus has been in pain and not himself. So the painful decision has been made to have him euthanized on Thursday July 16th at 5pm and was done at SGT Weary' s home along with his family. Peaceful Pet Passages handled this with much respect.
On Thursday July 16th 2020 at the U.S. Army War College on Indian Field from 1300-1400 staff was able to say good bye to K-9 Brutus and then again at Big Spring Middle School 43 Mt. Rock Road Newville, PA 17241 from 1500-1600 and was open to the public and fellow Law Enforcement Officers and friends and family. Several K-9 teams came out and lined up for a final call.
K-9 Brutus will be greatly missed. His service to our community has been of above and beyond the highest of standards.
On Friday July 31, 2020 Cumberland County had a Memorial Service for K9 Brutus at the Fallen Police Officer's Memorial. It was a very nice service with a color guard with a K-9 team, guest speakers, bugle playing TAPS, presentation of U.S. Flag to SGT Weary's wife (Deputy Valerie Weary), presentation of K9 Brutus's ashes to SGT Weary, a memorial reading over all Cumberland County Police channels, and a final K-9 salute to K-9 Brutus as his handler walked his ashes to the patrol vehicle.
SGT Weary had already started the process of replacing K-9 Brutus on June 8th with a new K-9. K-9 Cezar is still currently in training and will be for a couple of months. He will also be trained in Obedience, Aggression Control, Area Search, Building Search and Explosives Detection. K-9 Cezar was born February 08, 2019 and also from Slovakia.
Daisy Mazutis
---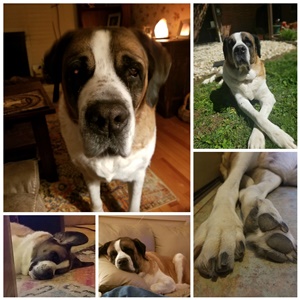 "The Brightest Star In The Night Sky Is Sirius...The Dog Star"
Those We Lose...They Shine On Around Us. Shine On Daisy.
Rest In Peace and Pain Free, Our Gentle Giant.
Brutal Casterline
---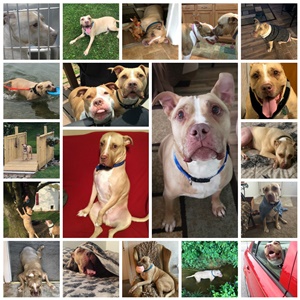 Contrary to his name (named after a prison guard in the Green Mile movie), Brutal was the sweetest pit bull you could meet. A bit antisocial and definitely broken (in the best way possible), he loved his toys and playing in the creek. This stoic dog powered through not just one but two ACL surgeries - our bionic baby boy! He will forever be loved and missed but he is resting with his sweet sister Sable now. Fly high, Brutal.... Until we meet again. ♥️♥️♥️
Sadie Hepner
---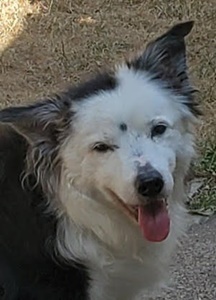 What can I say about our beautiful pup, Sadie. She gave us 17-1/2 years of pure joy and happiness. She went everywhere we went. As a young dog, she loved to find soccer balls in the woods by the soccer field. I had a trunk of 15 balls I had to return to the high school coach one time.
Sadie could tell time up until her death. She would come to the living room at 10:30 every evening to get me to go to bed with her. She loved everyone she met, especially little kids. She would always allow petting but only for maybe 10 seconds then she would walk to the next person. She had no faults. I could tell 1,000 stories, and not one would be bad or about mischief. She didn't need a leash, never barked, never left the yard. She was perfect.
Many people will miss our sweet wonderful girl. But none more than her people mom, dad and brother. Truly our best friend.
Apollo Kapranos
---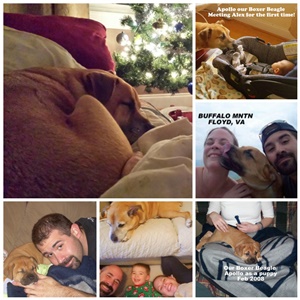 Apollo will always be our first "kid." He was an incredible pup that we adopted when he was just a baby. He was kind and loving and we are so much better off having had him in our lives. He will be sorely missed and our home won't be the same without him. Thanks to Peaceful Pet Passage for making the process comfortable for him at home.
--- I hope to be the kind of person... my dog thinks I am. ---
Wyatt Lukunich-Radle
---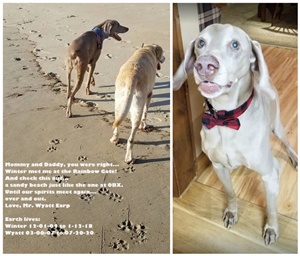 THEY CALL ME WYATT.
Like many a beloved pet, my Earth life was filled with joy. But what really surprised me is the remarkable adventure Over the Rainbow. Here I have the magic ability to be at Earth life in Camp Hill, Pennsylvania plus Over the Rainbow at the same time. Here I can be with big brother Winter exploring Over the Rainbow while simultaneously helping heal my humans. You are invited to join me on this extraordinary venture on Facebook at
www.facebook.com/MrWyattEarpFromOverTheRainbow
Patches Smith
---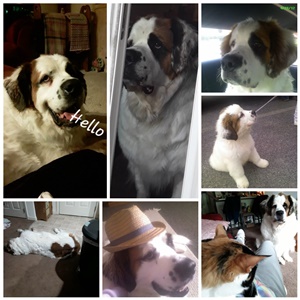 Patches was my boy and loved by everyone! Patch wasn't a barker much instead he would come and hit you with his paw to let you know he wanted something. Patch loved his food dish held by me. One of his favorite foods was Chef Boyardee mac and cheese in a can and loved cheese, french fries and absolutely loved funnel cake fries. Patch was a picky eater when it came to hot dogs! He would only eat them if they were warm. When Patch thought he wasn't getting enough attention he would take anything he knew he wasn't to have especially shoes and loved taking my work tshirts. Patch loved to go bye byes and picking on Lovie his feline sister. All I needed to do was say her name and he was full attention. Patch couldn't get enough snow or cold temps in the winter time. While mommy was freezing he was in his glory. There is so much more to tell about Patches that I could go on and on! Most of all he was the best companion that my 2 sons and 2 granddaughters and myself could ever ask for. Thank you Patch for giving us the love that you did. Part of us and especially me went with you. I love you and will miss you dearly!
Jax Craig
---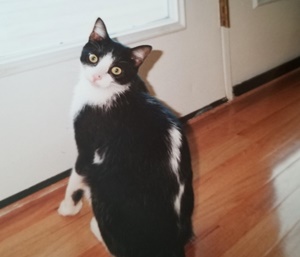 This is Jax. He may be about 6 yrs old here. He lived to be 16yrs and 8 months. He loved going outside. When he was young I took him out with a leash for hours almost everyday. He loved watching birds and eating catnip. He loved his treats. His favorite human food was steak and bacon. I'll miss him forever. He was the best kitty ever.
Louie Zienkiewicz
---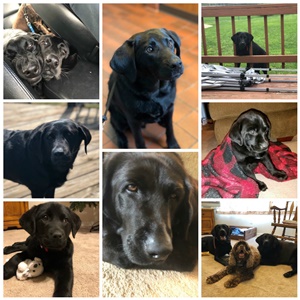 I couldn't choose just one picture of our sweet Louie. He was only 2 years old when he passed. He fought a hard battle with kidney disease. We were so blessed to be able to be his family. Louie loved laying in the yard and being a brother to Nestle and Easton. We miss him so much, but we know he is no longer in pain. ❤️ 🐾
Erin Sass
---
From day one she was a precious part of our lives. She chose not to chase any of our wildlife animals but adored taking walks followed by a Kong of peanut butter and a long, restful nap.
Timmy Miller
---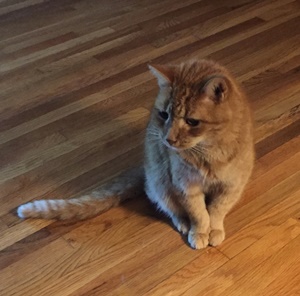 Our Timmy was a great communicator and protector of our home. He loved Ed's lap and total body rubs. Timmy always had a new surprise waiting for us. We miss him so very much ❤
Carley Rose Hildebrand
---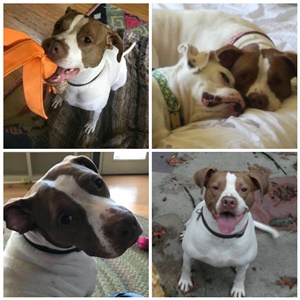 Carley Rose was rescued in November of 2014 when she was one years old. She was the princess of the house and was in love with her brother, Clooney, from the first day she joined our home. Carley Rose loved to chase balls, walk outside, smell the flowers, lounge in the sun, play with her stuffed bunny, and end the day cuddling on my lap. She brought so much joy to our lives. She is dearly missed and will forever live on in our hearts.
Abigail Westgate
---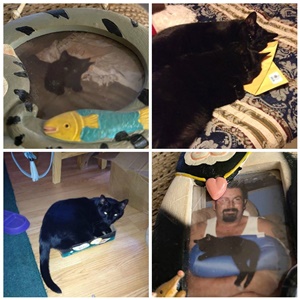 I want to say thank you again for taking great care and love for our girl Abigail. You showed the same love and compassion for our boy Moe. You will always be the one we turn to when our fur babies cross the rainbow 🌈 bridge.
Our Abby was such a joy and we were blessed to have her for 15 wonderful years. She has a twin named Isabel and they were besties. She loved to be cuddled in a blanket while she slept with me. She would always come over and bop me on the nose when she wanted attention or a treat. So many fond memories ❤️ She had a heart of gold with a fiery spirit. She will forever be in our hearts 💕
Thank you again for helping us get through this hurt and letting us now your hearts are just as big as hers was.
Jill Wertz
---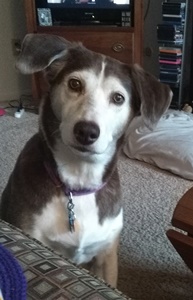 On July 3rd, 2020 we lost our 16 year old adopted baby, Jill after sharing nearly 4 years of our lives together. Jill was a wonderful soul that had a very sweet disposition. We will always remember her and are comforted in knowing she has crossed the rainbow bridge to be with her passed brother, Jack. She will forever be our Jilly Bean.
Bear Loder
---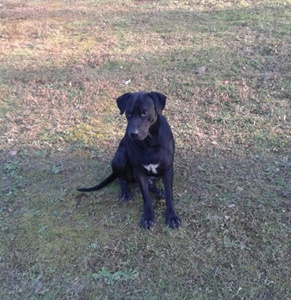 This picture is from when Bear was a young pup. He would chase us all over the yard when we would ride our four wheelers around. He loved running, swimming, playing with sticks. I'll never forget the time he was running around the yard with a stick and got stuck trying to run between two trees thank God he didn't get hurt but the look on his face was priceless. He was such an amazing dog. So friendly to everyone he met, playful and such a good hearted dog. He will be missed terribly. I'm so glad he's not in any more pain.
Myko Rowe
---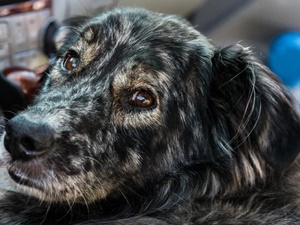 I recently lost my sweet, loving Myko. He was a one of a kind - intelligent, loving, patient, pro- family .....he loved every living creature on this beautiful Earth.
He was a rescue that we had since he was a pup and he lived just past his 15th birthday. He was so much a part of me and my daily life and I miss him terribly.
I am a better person, having been his loving Mommy. He brought such kindness and care to my life. I am incredibly grateful for the blessing that he was to me.
I am also grateful to Peaceful Pet Passage for their kindness in the end. Their thoughtful and gentle ways helped me through this terrible time. My husband and I thank them from the bottom of our hearts.
Sadie Maxwell
---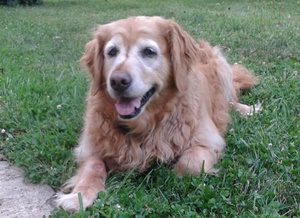 My sole companion for the last 12 years. I miss her so!
Jackson Hirsch
---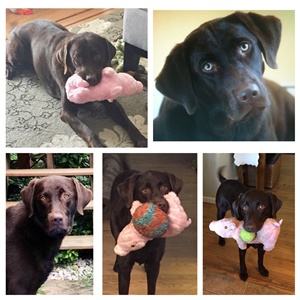 On July 16th we lost our beloved Jackson. Our precious boy brought so much joy to our home. He was a sweet soul that loved everyone that he met. His "Piggy" was his favorite toy and he always ran and got her when anyone came to the door. He played with other toys, but she was always included. Jackson was our shadow, never wanting to be left out of anything. He loved to swim and play in water and fetch tennis balls in the yard, but his favorite thing to do was to shred the cardboard roll inside paper towels. He didn't eat it, but he would rip them up and leave the pieces all over the house. It used to drive me crazy, but now I miss the mess. What stands out the most is that Jackson lived to please us, and we are convinced that he understood everything we said. Our house will never be the same. Rest in peace sweet baby, we miss you terribly.
Max Wise
---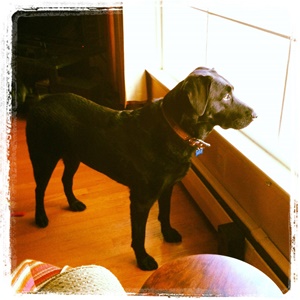 Max was loyal and happy and loved walks. He loved to chase squirrels and play frisbee. He was very excited when people visited and he loved everyone. He came to us when we needed a friend. We were new empty nesters and he was given to us at just the right time. We are privileged to have had him in our lives. Our hearts are aching with his passing.
Thank you for being so kind and professional and helping us through this difficult time.
Nigel Kautz
---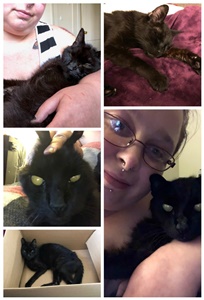 On Saturday July 11th around 7:00am Nigel crossed the rainbow bridge. I woke up and heard him gasping for air. I took him in my arms, and that's when he took his last breath. I want to tell the story of Nigel. He came into my life about 8 years ago. He showed up outside my apartment building one night. Stefan and Osif were outside smoking and came in and said hey there's a cat outside, and of course I had to go out and see it. He was super friendly, and purred and let me pick him up. I thought because of how big and friendly he was that he was someones pet. He started showing up at the door everyday, and eventually we got into the routine where he knew when I got off work and every day he'd be waiting by the door to see me. This went on for months. He initially showed up in the summer, which turned into fall. He'd hide in the bushes to keep warm. The last straw for me was when Stefan said he saw the neighbor kick him. I immediately brought him inside. I remember that day because we let him walk in the door, he looked around and then jumped up on the couch and laid down like he always lived there. He never really played with toys. He always ate so fast he'd throw up. He liked to sleep on his back, and loved belly rubs. He liked to lick faces. He purred like a motor boat. He liked being brushed. As he got older he got thinner, and started losing is teeth, and his coat wasn't quite as shiny as it used to be, but I thought he was the most handsome cat in the world. I got him a cat tree once, he used it a handful of times and decided the bed and the couch was much better, plus he was never much for jumping. He really liked drinking water out of the sink. He loved people food especially anything with tomato, he loved spaghetti sauce a lot. Chicken and tuna were his favorite, he'd absolutely fight you for them. He was very talkative. He reminded me when it was meal time every single day. His meow was so funny because he had one fang at the top and one at the bottom. All I had to do is look at him and start talking to him and he'd start purring. He had the most outgoing personality of any cat I've ever met. He was never scared of anything, he was never one to hide from anyone or anything. Even when fireworks would go off at the fairgrounds, he never cared. He never met a person he didn't like. He just wanted everyone to pet him. Fancy feast was his favorite food, he'd go absolutely crazy over it. He never minded me trimming his nails. He was absolutely the goodest boy. He showed up in my life when I needed him the most. He was with me through a lot. He always knew when I was sad and never left my side. He always slept with me at night. He let me hold him like a baby, and he would just purr and purr. He was a very unique cat, there will never be another Nigel. He was the embodiment of companionship and unconditional love. There are no words to express how much I loved him. Rest in peace Nigel, one day we will meet again.
Ozzi Hymes
---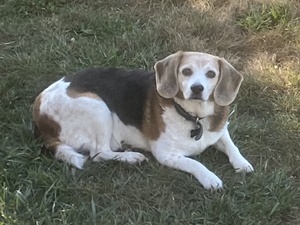 Ozzi was my first love. He saw me through the toughest times and the best times. He always enjoyed being outside. And if you started to pet him he always bugged for more. He was great with my boys from the moment we brought them home. Gentle and always looking for a handout from the table. He also loved motorcycles, although he never rode on one. The day before he passed, on the way to his vet, a motorcycle followed us the whole way. He was so excited to see and hear it even though he wasn't doing good. We will forever miss and love our Oz.
Stella Ross
---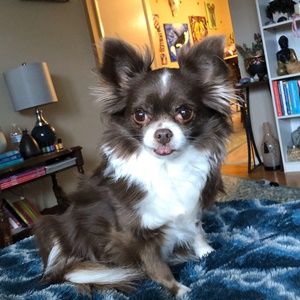 Stella was a natural healer all 10 1/2 years of her life. When her siblings didn't feel well she'd stay posted by their side. Neighbors that had stressful days came over to hold Stella and feel better. Stella was the most kind and loving dog ever. She loved snuggling and lounging on her back, laying in the grass in our yard, and cuddling in a pile with her brother and 2 sisters. She also enjoyed licking every dog bowl just to make sure it was completely clean. Her nickname was Baby Bear because she resembled a bear cub. Stella spent the last 3 years of her life as a certified therapy dog visiting the elderly at retirement homes, dementia/Alzheimer's residents at a local nursing home and visiting our local library so children could practice reading books to her. When they struggled to read out loud, they would pet her for reassurance and loved how she attentively stared at the pages of the book they read to her. She was a favorite requested by many kids. Our hearts are forever broken by the sudden and unexpected passing of Stella Bear but we cherish the memories we have of her and how easy going she was. There will never be another dog like her.
Sugar Danner
---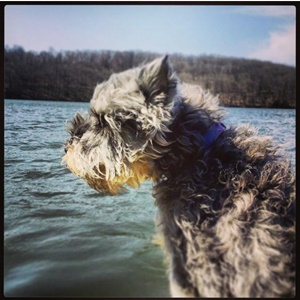 Sugar was a sweet, considerate, yet sassy Mini Schnauzer and loved everyone. She made friends every where she went. She loved veggies, tennis balls, walks and car rides. She was a loyal companion! We miss her dearly!
Ginger Belle Felix
---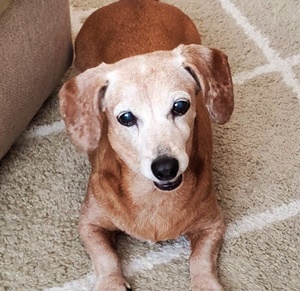 You taught me so much....Ginger Belle
You taught me to walk so much slower through our home so your little legs could keep up. You taught me that, as much as I joked about it, you really weren't ignoring me. Your failing eye sight and hearing was simply an effect of your age. You taught me that, the effect from your age, didn't matter. You still recognized me and greeted me with so much love and trust and happiness. You taught me that it was an honor to hold you. You didn't allow anyone else to pick you up, even though they wanted to. But you knew that I would support your long weiner body and place you down with the care that only a mom would give. You taught me that letting you in and out and in and out and in......was a privilege, you are family. Even if the neighbors thought you were just spoiled. You taught me that rushing in the house wasn't nearly as important as seeing your little face at the window when I'd come home. And the thrill I got when you'd recognize me and jump off your window seat to greet me at the door was insurmountable. You taught me that you gave the neighbors so much joy when they'd see you watching them get their mail or taking a walk and you'd quietly watch them. How many of them have told me they've said hello to you while you "guarded" our house? Or how you'd make them smile by your simple act of acknowledgment. You taught me that, even though I was your sixth home, 4 of them fosters, that your first mom loved you enough to want you back even though she couldn't due to her own failing health. You taught me that you could make me laugh just by yawning or sleeping. You taught me to ALWAYS leave extra bowls of water out because a tenacious and determined weiner dog could still reach the toilet bowl even with short little legs. You taught me that you, standing on your hindlegs, asking to be picked up and held, while I was busy on the computer, was so much more important, to BOTH of us. You taught me that even though you weren't a needy dog, you knew when to ask for love at just the right times. That you, sleeping with your head on my shoulder in the last two weeks, was the most comforting thing you could have done for ME. You taught me that even though I got you at 13 years of age, that one and a half years is more than enough time to fall in love. You taught me that even though I knew I wasn't going to share as many years with you as I would have with a puppy, I learned that a little grey-haired dog from Vermont was exactly what I needed and wanted. You were small but you were mighty. And even though I only got to share your life for a short time, I'd do it all over again, in a second, for your sweetness and your love.
RIP my sweet little girl.
Booger Rudy
---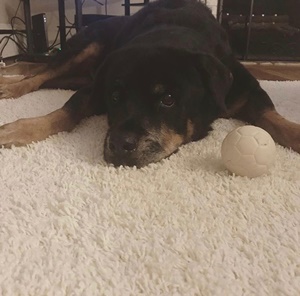 We had to say goodbye to our sweet boy, Booger on July 7. He had a goofy and loving personality. This was the only ball he would play with. We miss him everyday. He was seriously the BEST dog!
I would also like to thank Peaceful Pet Passage for being so professional and compassionate.
Norman Wylam
---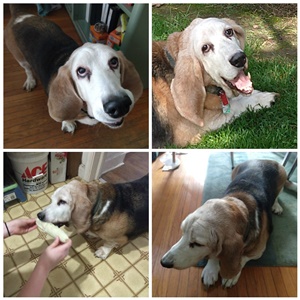 Norman came to our family as a rescue dog. Once he arrived to our home and met our other rescue, Morty the Boxer, his life became full of adventure and mayhem. Norman loved his two a day walks with his brother and many hours of running, chasing, barking and wrestling with him too. Norman also loved to rearrange his dog bed, pillows and whatever else fit his mood for that days decor ideal while being very vocal with his "Harr, Harr, Harrs" and "Woooffs!!" explaining each decorating decision he was making.
Norman was our kitchen manager for anything being cooked. He never missed an opportunity for taste testing of that days meal to make sure it was good enough for his family to eat and Norman loved ham and corn on the cob!
Norman was a great dog with a beautiful soul who filed us with love every day. We miss him dearly.
Nugget Formanowski
---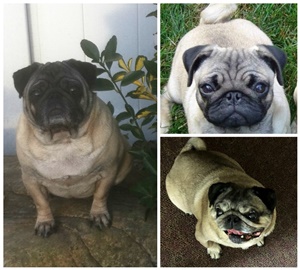 NUGGET * March 12 2007 June 25 2020 *
AKA Fang's Gold Nugget, Nuggie Boy, Nug B. or BoBo
We have said goodbye to our boy Pug NUGGET. He was a most excellent dog. Born in 2007, he came to us in May of that year with his sister litter-mate, Chiclet. He was a loving dog whose favorite activity was whatever you were doing – he had to be right there with his humans. He was never satisfied with just being the same room. If possible, he had to be right up next to you. He owned that spot.
Of the two, Nugget was the more playful. He wanted you to throw a small ball to retrieve or play with any one of his countless tug toys, his preferred 'Mr. Fishy' or one of his unstuffed animals. He would even run back and forth with one of his first dog friends, Cairo, a greyhound. The fact that Cairo was much larger and faster didn't deter Nugget. Nugget was everything he wanted to be and you should know it. He was a dog who wanted to enjoy life and give love. You could see that in Nugget's eyes – you could tell what he was feeling. As he got older his favorite toy was 'Bally'. He was content to just simply hold it in his mouth.
Nugget was playful for sure, but he was also a protector of Chiclet. In our walks, when any dog barked from the other side of the road, Nugget would stand in front of Chiclet and bark a solitary bark – his warning. In doggie day care, if Chiclet was scared she would put her paws on his back while he sat in front of her. I am not sure if to tell Nugget she had his back or to make her look bigger and more ferocious. Well as ferocious as an 18 pound pug could look. Really, in fact, he would never take the offensive or bite. He just wanted to look the part, make you look into his eyes and see he could mean business. Really… he was just a love bug.
By being the protector, anxiety often was part of his nature. You could look at him and know he was worried. Sometimes you could see the source of his worry and sometimes not. Sometimes you could tell he was sad, too. It is funny how he showed so many different emotions by just a look. But for the most part, Nugget was a calm male pug who loved the ladies. However, should anyone sit on his favorite sofa, he would choose you as his favorite and snuggle up against you.
For most of his doggie life, Nugget was a healthy dog. It wasn't until his senior years that issues began to develop as many dogs do. He slowed down and became a practiced couch potato. He developed arthritis and then a partially collapsed trachea was discovered. It didn't get Nugget down until recently. After an ER visit and a month of recovery, we had our Nugget back. But that time would prove to be short. Barely a month later, Nugget's problems returned severely and with more complications.
In the light of day, we sat on the grass with Nugget but he would not look us in the eye - as if he did not want us to see what he was feeling. You had to hold his head to you - only to see he was failing. He had difficulty being able to do what was his nature – enjoy life and give love. That day Nugget left us. He left us with broken hearts but also with a lifetime of memories that will fill in that piece of our heart he took with him. We have more to say about Nugget - tons more. We know you would see that in our eyes.
Thank you to the staff at Peaceful Pet Passage for your support and kindness during Nugget's passage.
Tippy Spiecker
---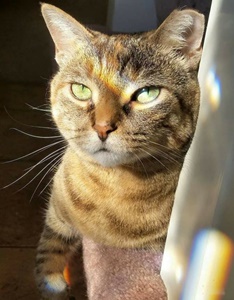 Tippy was my greatest foster failure. She came into our lives as a very feral momma in the Chicago suburbs when she became my first TNR cat. Tippy had an unbelievable will and found pleasure in everyday even after 20 years!
She became an amputee foster cat as the result of an injury and moved indoors. With love, patience and plenty of treats she claimed my youngest child as her person. The trust she discovered in us created an unbreakable bond. Tippy learned to love everyone who visited. All you had to do was scratch that one ear she couldn't reach and she was putty in your hands. I have never known an animal so completely trusting, content and loving. She would have lived forever if she could.
Bella Sheldon
---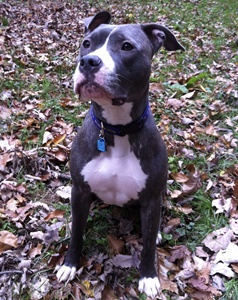 Here is a pic for your tribute. Bella passed away on May 22, 2020. Thank you again for being so compassionate and professional.
Sadie Barrett
---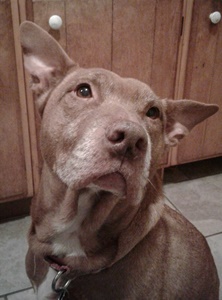 I had to make the most difficult decision for my very best friend. I adopted Sadie from the YCSPCA when she was nine years old. When I saw her picture on Petfinder, I knew immediately she was my girl. I feel extremely blessed to have had her in my life for her last five years. She crossed over at 14 yrs old, within the comfort of her own home, surrounded by her family. Thank you Dr. Carney, and everyone at Peaceful Pet Passage, for your compassion and caring. Fly high my sweet Little Sadie. It's not goodbye, it's see you later.
Cicada Lauer
---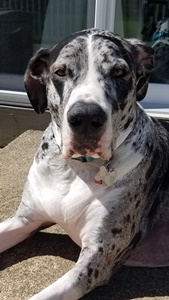 My sweet sweet Cicada was such a beautiful gentle giant. She loved to lay outside in the warm sun and also chew on her stuffed toys for hours often falling asleep in the process. She loved her people and giving kisses and morning snuggles. Five years was way too short and we miss her so so much. Our house is not the same without her and our hearts are broken. 💔
Thank you Peaceful Pet Passage for being kind, understanding and so gentle with our baby. We are so thankful that we could keep her at home where she was comfortable during this difficult time.
Cobi Mankel
---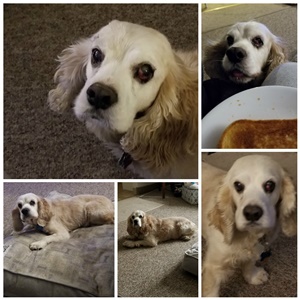 Thank you very much for all that you have done.

I couldn't have wanted any more for my little buddy.
Hermie Shenberger
---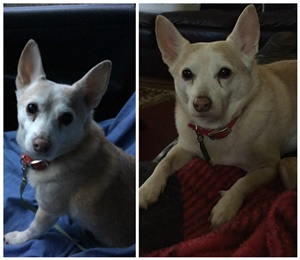 Hermie was born October 31, 2004 which is how he got the name Hermie the Munster❤️ He was loved and spoiled by our family. He was such a cuddly little guy and we will miss him terribly 😭. We enjoyed him for over 15 years but wanted more time. Till we meet again little buddy❤️
Amy Alvey
---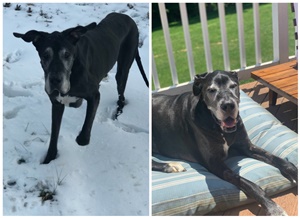 I'd like to thank Peaceful Pet Passage for helping us to say goodbye to our precious girl in the comfort of her own home surrounded by her family.
We took Amy in as a rescue about 2 years ago. She was a sweet old girl that only wanted to be loved. I'm sorry we only had a short time with you Amy, but I believe in my heart that you finally knew what unconditional love was. We will miss you and love you always. ❤️
Maya Moosic
---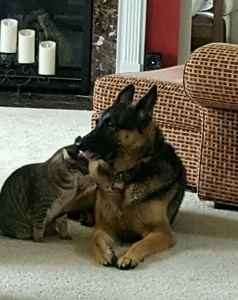 I said goodbye to Maya, our German Shepherd, as she lost her battle with heart disease.

Maya was 12 years old and was all the things you expect in a German Shepherd; intelligent to a fault… she knew too many words, loyal to her pack and fearless. But she was also a silly clown, momma's girl, spoiled brat and best friend to Chase and Chelsea the Cats. She always showed her unconditional love for her family and friends and leaves us with so many happy memories.

My girl had the most endearing personality that filled me with so much happiness during some of my darkest hours. Goodbye pup… If I could only be half the person you were, I'd be twice the human I am.
Toby Schaeffer
---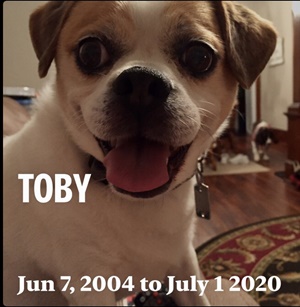 He was the happiest, cuddliest and loving dog a person can want! Miss him so much!
Vada Tritch
---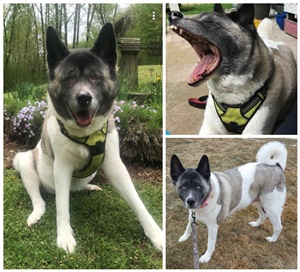 In loving memory of Vada Ann Tritch 💚
What was supposed to be 3-6 weeks turned into the best 5 years of my life. I lost Vada on June 26th. I feel like I lost my entire world that day. I loved Vada with everything I had. Vada was the most perfect dog. Vada was blind and had special needs but that never slowed her down. Vada was playful and LOVED treats, a little too much maybe haha. I miss how excited she got every time I came home, if I was gone 30 minutes or a few hours she acted like i was gone for days! I miss her funny head tilts when she begs for my food and how she puts her paw on my arm when she wanted more pets. I miss her booping me with her big head when I'm not giving her enough attention and her huge yawns that showed her front teeth. Vada was attached to me at all times, she sat next me all day while I worked and i fell asleep every night to her sweet snores next to my bed and woke up every morning to her still there. My house is now empty and sad and I'm so lost without her. I may have only had her for a short time but she was everything to me.
I miss you so much Vada, you are my best friend.
Flynn Evans
---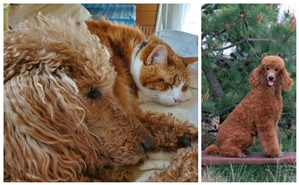 Rest in peace Flynn. We love you and miss you. It was a privilege to have you in our lives. It's been difficult knowing when the time is right to go to bed without your consistent encouragement. And the warmth and calm you brought to us is no longer but those memories will be forever in our hearts. Run free.
Thank you Peaceful Pet Passage. You helped make a difficult decision less traumatic. We appreciate the kindness and empathy you showed us and especially Flynn.
Charlie Baxter Wright
---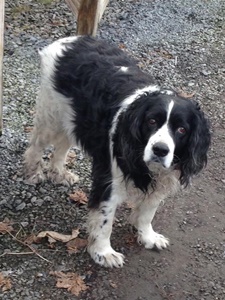 Our beloved best friend Charlie Baxter passed on last Friday, June 26 and we miss him terribly. He spent 16 years on our farm, being the greenhouse greeter to our customers, and my husband's best friend. His favorite thing to do was to swim in the pond – jumping off of the dock to swim for rocks or his ball. We do hope he gets to swim again someday, with lots of puppy energy. We miss him so much. Thank you to Peaceful Pet Passage for coming to our home to set him free. It was very peaceful for him, and for us.
Jada Crockett
---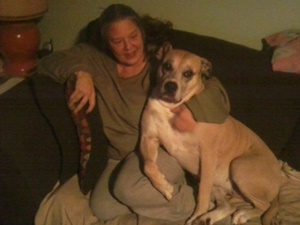 Jada was the largest lap dog we ever had. She loved to lay in the sun and take a quick run around the yard after she took a poop - that always made me laugh!
She is missed.
Keeko Molina
---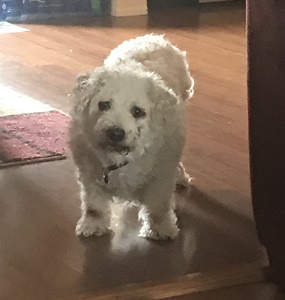 I would like to thank you so much for your kindness and gentleness with Keeko in his final hours.

He was such a good friend and faithful dog and he also comfort me when i felt depressed.

Here is a picture of Keeko.
Zeus McQuait
---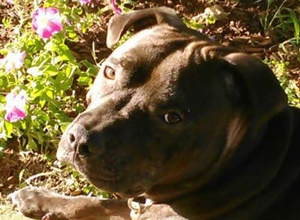 We brought Zeus home as a puppy. He was the only male in a litter of eight and looked just like his dad. We took him to puppy classes because we wanted him to be a good boy and not be anything like how pitbulls are typically viewed. He was the dog that sat against the wall and shook like a leaf. He did really well after a class or two, and became friends with the other pups in class. He was my son's sidekick and my shadow. He followed us everywhere and we took him anywhere we could to keep him social. When my father had a stroke, Zeus visited him often as Zeus was the only thing that got my dad to speak. They had a special connection and if you asked him if he wanted to see grandma and pappy, he ran for the door. Zeus has two feline sisters that have been missing him terribly. They have spent the last week roaming the house looking for him. The house seems so empty without him. Even in the last few weeks after his health rapidly declined, he always got up to greet you and wagged his tail when you returned home. He was the best boy ever, and we miss him beyond belief. Our only comfort is knowing he no longer has any pain and can run free again. We will love you forever, Zeus. Rest in peace.
8/9/2011 - 6/22/2020
Zernebog Beshore
---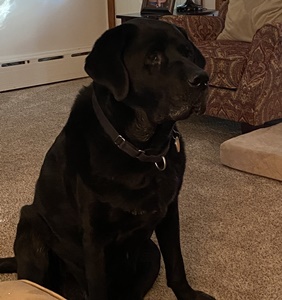 In loving memory of our boy Z. You were picked out of the litter by your boy. I remember Mama and I asking if you were the one because every picture the breeder took you always looked so cranky. You came home and you were a very headstrong and determine Lab. We all got trained and life settled down as you molded us to your ways. I can honestly say, you were one of a kind and very different then our other labs but you were always so gentle, loving and sweet with your boy. The two of you grew up together and you knew you outweighed him in no time, which is why I think you were always so gentle with him, even though your personality was rammy jammy and a bull in a china shop. You are so missed by us all and your boy now has no one to hang with and play tug. Mama does not have her coworker with her in the office everyday and you always wanted to be apart of the conference calls so you would snore so loud that everyone on the meeting could hear you. Me who misses the caring for all your pains, ears and paws and giving you lovings on demand and your terms. I also miss the foot warmer when I watched TV. The void you left in our heart and this house is and will be hard to fill. We have a lot of open spaces as we realized you had beds in every room. We did everything we could for you and it came to a point were we needed to access our desire for you to stay with us and your quality of life.We would have spent anything if we could just have made you healthy but we could never achieve that for you. Until we meet again please run and play pain and itch free. Your lost and loving family!
Sparky Curtis
---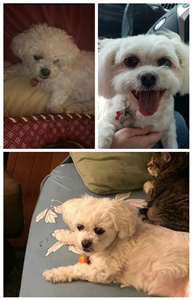 Sparky provided us more than 14 years of love, loyalty, humor and comfort. A genuine and beloved family member who never saw an outside cat or large truck he wouldn't fuss at, nor a human or dog meal he wasn't interested in....This puppa boy is missed more than we can express.
Thank you, PEACEFUL PET PASSAGE for your compassionate professionalism and timely response. We were so appreciative of saying goodbye to Sparky here in his forever home.
The Curtis Family
Harley Stokes
---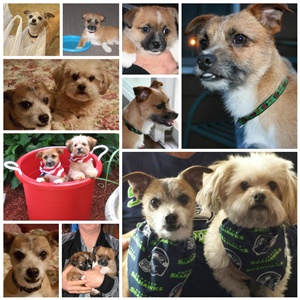 Where to begin with my little buddy Harley. We went to see some puppies early in 2005 to possibly pick one to become part of our family. The moment I saw him and held him (he was so tiny) I fell in love. We ended up taking Harley and his brother who we named Sam. Harley loved school buses, UPS Delivery Trucks, and the US Mail truck. We always knew when one of them was in the neighborhood because he would stand up at the window and bark.
Harley had an adorable under bite that made him look like he was always smiling and he was very quirky in that he hated to ride in a vehicle. He would make noises that I never heard him make any other time. He also did not usually play with toys, only when he wanted to tease his brother who liked to play with toys. He would try to warn me when he needed to go out, but if I was busy on the computer or hesitated to long, he would make me pay. I would find a "present" somewhere.
Over the 15 plus years he was with us, he made us laugh and he was a loving little guy. As hard as it was to let him go, I would not trade the years of joy that he and his brother gave us. He spent many evenings snuggling on mine or my wife Denise's lap while watching TV and of course we shared our bed with him and his brother as well.
Sam passed away in mid December of last year. As hard as that was to deal with, we still had Harley so we were able to give him all of our love and cherish these last six months with him.
Our house is quiet now without the sound of his nails on the hardwood and kitchen floors. There is also an emptiness without him. Mommy and I miss you so Harley, but we take comfort in knowing you are reunited with your brother now.
The folks at Peaceful Pet Passage made a sad situation for us a little easier with their compassion and patience. We had the time we needed to say goodbye and Dr. Carney and Tom were sympathetic and handled Harley with care and respect. A big Thank You to this organization for the amazing service they provide.
Buddy Zeiber
---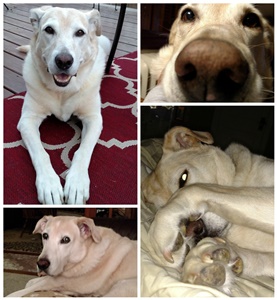 I found Buddy advertised for "Free" on Craigslist (of all places)! He was 3 years old and his family needed to re-home him since their new baby was allergic to dogs. He was very well trained, but shy. It didn't take long for him to settle in. He LOVED playing fetch! I will truly miss the times throwing tennis balls and practicing chipping in the back yard. But he loved playing golf most of all! He was my automatic ball retriever. Buddy was the best of the best. He was one the most loving and loyal dogs I have ever had. I am grateful his previous family chose me to be his new Mommy. He lived a long 14.5 years and I am forever blessed he spent the last 11+ years with me. I miss you sweet boy!
Finn Hoffheins
---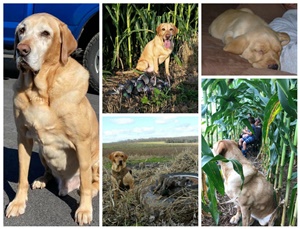 We got Finn as a puppy because my husband wanted a retriever, and we already had one bird flushing dog. I knew from the beginning I wanted a yellow lab. Finn was a lovable guy from the start. He was the perfect mixture of hard working hunting dog and playful, lovable family dog. He had the best temperament and was 100 pounds of cuddly softness. I'm grateful for the time with him, and being able to see him be such a great part of our family.
Trixie Andersen
---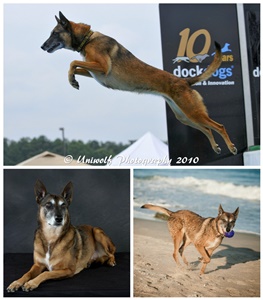 We adopted Trixie from American Belgian Malinois Rescue in 2003 at which time she was estimated to be a year old. Trixie was the best dog anyone could ever ask for. She would rarely get into mischief but was good at policing the younger dogs we added to our pack over the years. We discovered early on that she loved swimming and would jump off of a dock happily and so we spent many years competing at dock diving events, travelling as far as Iowa with Trixie. Because of Trixie we met many people and made many lasting friendships. And she made so many friends along the way herself.
Trixie had two back surgeries, around ages 10 and 14, for disc issues. For the last few years her hind end strength continued declining but she got herself around like a trooper, not wanting to miss out on anything going on. She was the bravest, strongest, most willful yet gentle and sweet dog we have ever known. Words cannot express how much we loved her and will miss her.
Sara and Ed Andersen
Molly Driver
---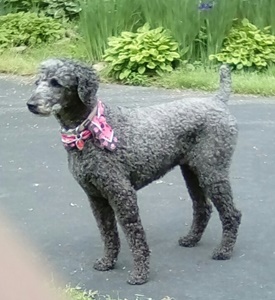 Molly was our beloved pup for 14 years.
She was devoted to us; gentle with children and older people. She didn't lick or bite; didn't jump up on folks.
She took showers with me and frolicked happily afterwards.
She was always happy to see us when we returned from an outing, racing around the yard joyfully.
In her last years she rested more, went to sleep earlier and no longer wanted to play ball. But she always came to get me when she needed to go outside.
Molly liked to sleep between us, snuggled close to my side.
Her last months were not easy for her and it was with reluctance that we let her go.
She will always have a special place in our hearts and be greatly missed. 💔
Storm Lader
---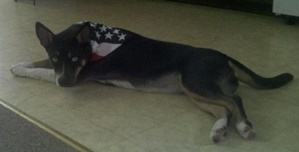 We adopted Storm from a rescue shelter in NY. Her mom was turned in to a high kill shelter in SC while pregnant with Storm and her siblings. I searched through hundreds of photos and stories looking for the right addition to our family. When I saw her picture, I knew immediately that's our girl. We drove 4 hours up to NY to adopt her. I made sure we were the first ones there too! When they brought her out she didn't hesitate, she walked straight to me wagging her tail past everyone else in the room.
Storm was just full of love. She never met a person she didn't like. You could see the love she had for us when she looked at us. She always had to be where we were. She was an amazing girl. Smart! Sweet! Loyal. Very well behaved, always looking for permission before jumping up on the bed or couch. She was a very good listener. And she was just a happy, happy girl! She didn't just wag her tail, she wagged her entire back half with a silly smile on her face. She loved to run. And boy was she was fast!
Our hearts are broken. We will carry her memory with us always. We miss her so much. Our only comfort is knowing she is not in pain any longer and she can run once again. Thank you Storm for giving us 9 wonderful years with you. We love you.
Mom and your bestest bud Dustin.
Smudge Shanahan
---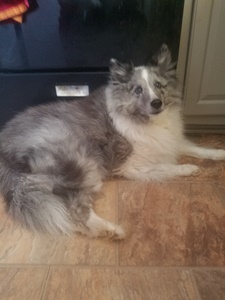 I was lucky enough to have Smudge "Moo-Moo" for 17 long years. Even though that was a long time, I wish he could have lived for another 17 years. I miss him terribly. He was such a comfort to me in different times of my life. I want to thank Dr. Carney for being so compassionate and empathetic during one of my lowest times. She was just terrific.
Max Davies
---
Max was such a special pupper! We rescued him when he was one year old. Little did we know, he would bless his Dad, Mom, and sister Allie with such joy, care, love and amazing loyalty. While he loved us all, he had a special bond with me...always by my side. He loved to eat, all the time if he could, to dig, to roll in dirt, to shake when asked, "how do" and to play fetch with his sister. Although our hearts are heavy, we are at peace that he has no more pain. Missing you every day, Maxie Boy, until we see you again. ❤️
Blair Miller
---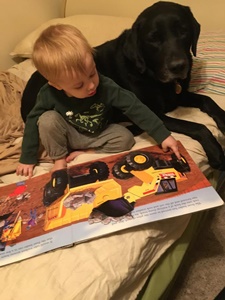 Blair was our Gentle Giant...
Blair there are so many wonderful memories I can remember being shared with so many people over the almost 15 years we were blessed with you.
I remember picking you out because you didn't pee on the previous owners carpet when you came out of your cage like your sister did.
I remember how everyone called you a "lady" because you crossed your front legs when you laid down.
I remember you chewed up countless toys, crate beds and trays, and my favorite pair of sandals that I still have not been able to replace.
But I know the most important thing you left in our hearts was your Gentle Giant kindness. Especially with children and our son Eli.
Forever in our hearts, we miss you everyday ♥️
Zoey Albaugh
---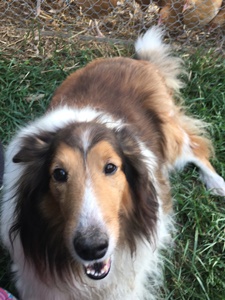 Zoey, you were just like family. As were your mom and dad before you. We raised you from that beautiful little pup that your mom gave birth to. There were 11 pups in all, but you were so cute we just had to keep you. You were the first of your brothers and sisters to make your way up from the basement and sat there like you were watching tv with the rest of the family. Then thru the last 15 years, we kept in touch with everyone who had one of your brothers and sisters, you were the last. So now we give you back to god who gave us you and know you are with mom (Abby) and dad (Teddy) and all of your brothers and sisters. Hopefully we will see you in heaven with no more pain, just that playful dog you once were. We love you Zoey
Mickey Hoffman
---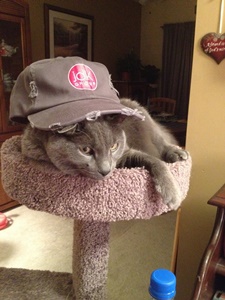 A very special "child" who picked us, not the other way around!
It was about 4 am on an early January 2003 morning, with a light snow falling and winds howling, temps in the single digits, that during a bathroom trip I thought I heard a strange sound. Listened a little while but returned to bed hearing nothing else.
Around 630 am, getting ready for work, my wife ask me if I heard sounds during the night! I said yes but wasn't sure. It sounded like a whine type sound. She said she had heard it also. Suddenly we both heard it again, almost like a weak meow sound. Headed to the window where it sounded like it was coming from, pulled back the curtain, and there sat, what was about to become an integral part of our lives for the next 17+ yrs.
A small, no very very small, little kitten pressing up against the window with his entire body trying to get some warmth from the window pane. We looked at each other in amazement. We had no pets and I was always a dog person, actually I had a strong dislike for cats... since they never seemed to care about anything... yeah yeah, "Mickey" was about to change all that!
We knew we could not leave the kitten outside as we could not believe it had not already frozen to death. Like I said, it was bitter cold, snowing, and blowing hard. When we opened the nearby front door it took about 3 seconds for the little kitten to jump down from the window and come running inside to the heat.
We stood there just looking as he walked into the middle of the room and just sat down looking at us!
We really had no idea what to do. We were both getting ready for work but knew we could not put the poor thing back outside. So, the next best thing, carefully walked over to him, picked him up, he licked my hand, and we put him in the bathroom and closed the door. Gayle, my wife, got a little bowl and put some milk in it and put it in the bathroom with him. Yes yes we know, NOW, you don't feed kittens milk, but remember we had no pets and I didn't even like cats. Besides, everybody knew cats drank milk! LOL
Gayle made up a flyer at work to put up by the mailboxes at the entrance to our apartment complex about a lost kitten. On the way home she stopped and got some litter, real kitten food, and a small toy. She waited till I got home and we opened the door to see the kitten just sitting there looking up at us!
We stepped back and slowly the kitten came out and proceeded to walk the entire apartment, looking into each bedroom, every room, every corner, etc. Once he had completed his rather intense inspection he came to the kitchen and just sat down and looked at us again! So I got down and played with him some. Gayle gave him the toy and he had a ball.....well, actually WE had a ball playing!
Gayle being a complete Mickey Mouse "nut" decided we should call him Mickey, sounded better than, "Hey little kitten"! The next day Gayle got home early and played with Mickey some more. I got home a few hours later, exhausted, came in and went right to the living room and sat down on the recliner. The next thing I knew, I had "company" on the recliner curling up next to my leg and licking my hand and wrist. Oh no, I was starting to like cats!!!
By the end of the third day we had gotten very attached to Mickey. The next day at work, BTW, Gayle and I (Dan) worked and ran a small company together, Gayle got buzzed by our receptionist telling her someone was on the phone about the missing kitten poster. We were devastated.
Gayle started talking and looked very sad and then..... said "What?, are you serious, we'll take him absolutely!"
Turns out the owner had been away and had just seen the poster today. She claimed that "Misty", yes she had named a male kitten Misty, did not get along with his sister and they were going to have to get rid of him anyways. Don't get me started on that story, oh well, a true win/win for both Mickey, now properly named, and us!
By the end of two weeks, I would come home, open the door, and see Mickey coming running to the door to greet me..... yes he is a cat, not a dog! But he acted more like a dog than some dogs I knew. He would spend the entire evening sitting with us wherever we were in the house.
Mickey had a personality that was unmatched, even by many "humans"! He came anytime you called his name, he loved to play and "fight". I got a pair of tube socks, put one inside the other, and then pulled the doubled up pair over my hand and wrist. As soon as Mickey saw me doing this he would be ready to attack. He would grab, bite, chew, hang on, etc.. It was great for him and I loved playing "rough" with him. This went on for years. The amazing thing was, he would be furiously attacking the socked hand, but the second I raised my hand and said "Mickey" he would stop, let go, I would remove the sock, and immediately reach right back down towards his head and mouth and he would just lick away. He "knew" the minute the sock was off, no biting, clawing, scratching, etc. Rough time was over. I was always amazed. Gayle could not believe he never "attacked" after I took the sock off.
We moved to a new house with some land a few years later. We had a motorhome that we traveled in. Mickey loved to travel in the motorhome. He would lay on the big flat dashboard watching everything passing by, including other vehicles! We had a fairly steep driveway and kept the motorhome at our office parking area. Anytime we were getting ready to go away I would bring the motorhome to the house to load it up, as soon as Mickey would hear the diesel engine sound coming up the driveway, he would run and find Gayle and then run to the window to sit and watch it coming up the hill. He knew he was about to go away!
Gayle decided to try something with him one time when we were at an RV park. She had bought a leash, yes a leash, and thought she would try to take Mickey for a walk. I laughed!
That was until Gayle laughed at me when it worked like a charm. She could literally pick up the leash, Mickey would come running, she would clip it on and they would proceed to take walks around any and every RV park we stayed in. He drew a fairly big crowd base. People would wait to see Mickey coming around for his walk! He would let anyone, kids or adults, come up and pet him as much as they wanted.
The best part was, he was fearless! A dog, including big dogs, would see him walking by and just look. If they barked or started to come towards him, he would stop, turn and just stand there staring at them! It was funny to see this huge dog bark and start towards him, all of a sudden, the dog would stop, just stand and look, and then turn and walk away. It was hilarious, nothing scared him.
This included thunderstorms, which are not a favorite of Gayle, but Mickey would love to be outside under a porch or patio roof and just sit and look up at the rain and lighting. Never jumping when the thunder cracked or the lightening would light up the sky.
Five years later, Gayle and my sister who lived with us in an in-law section of the house, surprised me with a "sister" for Mickey. They had gone shopping and ended up coming home with another kitten! Quite a shopping trip. They had gone to a rescue shelter and picked out a little female kitten, well to hear them tell it, the kitten kind of picked them!
Would you like to take a guess at what name Gayle picked? I had no input! Most of you probably got it, MINNIE! What else! What's a Mickey with no Minnie!
When they got home, Mickey was not as thrilled. He hissed for the first time we had ever heard. He didn't want "his domain" invaded. We had to keep Minnie in a separate room for 10 days due to some shots and everything from the shelter. Mickey would sit by the door to the room and just listen for hours. Not sure exactly how they communicate but they must have worked things out. When we let Minnie out, it was like Mickey found his long lost friend, he showed her the entire house and they were best buds for the next 12+ years.
Several years ago Gayle started having serious medical issues and was no longer able to work. She had some good days, bad days, and some very bad days. On good days Mickey would just be his normal self. On bad days, he would "check in" on her many times to see how she was doing. On the very bad days, he would not leave her side. If she was in bed, he was lying next to her. If she went to the bathroom, he went with her and just watched her. If she walked to the living room or kitchen he would walk in front of her and keep looking back to make sure she was coming and was ok. I am amazed to this day how he was able to "sense" how she felt and stayed by her side 24/7 when she was not doing good.
If you haven't figured it out yet, I now really like cats....well at least Mickey and now Minnie! We are pretty sure we could never replace Mickey and his personality and really don't want to even try.
Mickey, you truly gave us a wonderful and amazing 17 ½ years and we miss you so much already. You will forever be in our hearts and thoughts and will never be forgotten or replaced.
Love you buddy!
Morgan Hoffman
---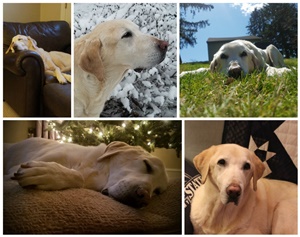 We adopted Morgan from Homeward Bound Animal Rescue around the age of two after he had been found abandoned and starved in a foreclosed home. Despite this, he came to us full of nothing but love and joy. He was a slobbery, hairy mess, but the sparkle in his eyes captured my heart, and he instantly fit into our home. Over the years he developed special routines with all of us--sofa snuggles with Daddy, face rubs with Mommy, treats from his brother, and naps in his favorite chair. He loved and was loved beyond measure, and he was simply content to be home with his family. At times he seemed frustrated by old age, but it was an honor to see him through his golden years. He wagged his tail until his very last day. He was an eternally good boy, loving and loyal. We miss his wise and tender soul. We feel his absence every day, but our hearts are whole because of all the joy he brought to our lives. <3
Shadow Amodei
---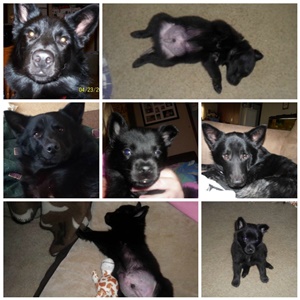 There was not a day that Shadow wouldn't visit me in the bathroom! He'd come in and zoom in and out until I was done. So part of my routine included blowing my nose. After about a month or so, Shadow started to "blow" his nose! I'd take a tissue or piece of toilet tissue and say "blow your nose Shaddy boy!" Without missing a beat Shadow would blow his nose on command. I'd hold the tissue and he would do his snuffing sound!
He also had a keen sense as to when I'd be making pancakes. They were his favorite treat. Plain no syrup!
Caesar Fisher
---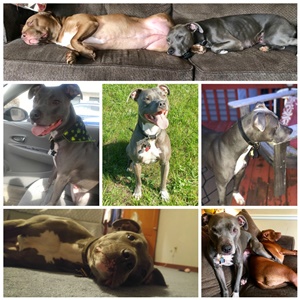 Caesar started off as this beautiful blue nose pitbull puppy in an ad. Our family went to meet the puppies and we couldn't pass up the little blue boy (even after the family said they really didn't want to get rid of him).
Caesar became an instant part of our family. He loved each one of us in different ways. He was mom's best friend and "shadow." He was dad's most loyal play mate. He was Jade's "therapy." He was Cameron's snuggle buddy. He grew up side by side with Ryan. And, finally, he was the best teacher to his four-legged sister, Remy. He made non-dog people into dog lovers. Everyone we met loved Caesar!
Caesar was the best dog (hoooman if you asked him) in the world but don't get me wrong - he chewed his way through many many many shoes, dog beds, remote controls, pillows, comforters, and any "stuffed" objects. In fact, dad had to call off one day because Caesar chewed his only work shoes.
While Caesar was always our comfort and could cheer anyone up with that silly tilt of his head, he RAN if you even hinted at a cry - typical man!
Caesar will be missed greatly by everyone! Not a day goes by that we don't think of him or feel his ever loving presence. We know that even though Caesar crossed the Rainbow Bridge, he will always walk beside us with his little freckly face!
Thank you, Peaceful Pet Passage for making an unbearably hard situation a little better and exhibiting such compassion and care for our little boy.
Bayne Ewing
---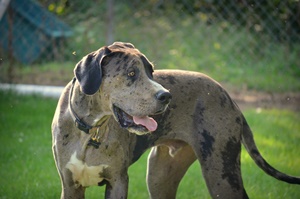 Bayne, the most gentle Great Dane. The couch will forever be empty without him. 💔
Bailey Stough
---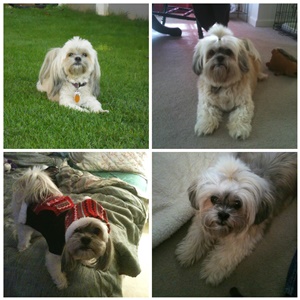 I highly recommend Peaceful Pet Passage for one of the most painful decisions you will ever have to make. The entire staff was so compassionate during this difficult time for me. Dr. Carney was so gentle and kind, but most of all patient, as were Tom and John. Everyone treated my baby with love and respect. Thank you from the bottom of my heart. - Bailey's Mommy (Kim)
Hugo Meixsell
---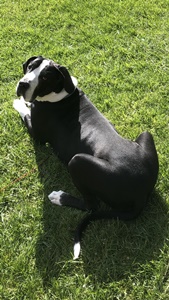 Have you ever seen such a regal creature?
Hugo was a nine and a half year old Great Dane who loved lounging... in our sunroom, in the backyard, on the couch, the bed... pretty much anywhere there was a warm spot! He loved food (especially pineapple, pancakes and chicken), and his stuffed chick "Peep," but he loved nothing more than his family. Anywhere we were, he was too!
Unfortunately, Hugo was diagnosed with osteosarcoma in early March. We were blessed to be able to spend a lot more time with him during the last three months, while being home more during the pandemic, and he was glad for it.
When he became tired and let us know that his time was drawing near we called Peaceful Pet Passage. On June 6th we said goodbye to our best bud. He was home, in his sunroom, surrounded by nothing by love and light.
Sweet boy, we know you would have continued forever if you could.
We take comfort in knowing that Hugo is no longer in pain, and that he is fully restored, but we'd be lying if we said we didn't wish for more time... although it would never be enough.
Hugo had a life well lived, a heart that so effortlessly loved, and a loyalty that we will never ever forget. We would choose him again and keep him forever if we could.
There will never be another quite like him, and for that, we grieve deeply.
Thank you for everything, Hugo. You really were the very best boy, and we love and will miss you more than we could ever properly express.
Thank you also to the wonderful staff at Peaceful Pet Passage: Dr. Carney, John, the drivers and all others who had a hand in ensuring that our pup was given a peaceful rest and transition to the Rainbow Bridge, and who also treated us with their deepest care and concern. You are greatly appreciated.
Pippa Sprenkle
---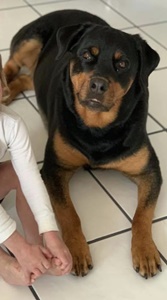 Pippa was one of a kind! She was always by my side, absolutely loved kids and so gentle with them. She loved car rides boat rides and was considered our beach dog! We miss her greatly.
Oliver Wright
---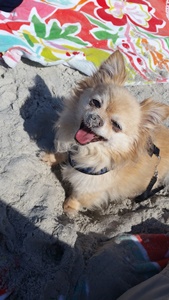 In loving memory of Oliver
Bella Zimmerman
---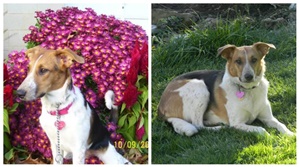 Bella Zimmerman was 11 years young when we had to say goodbye for now, on 6/6/2020. Bella was beautiful both inside and out. She was sweet, loyal, loving, funny. Some of her favorite things to do were chase squirrels and groundhogs, belly rubs, dancing everytime she was fed.
Thank you PPP and Dr. Carney for being so kind, gentle, and compassionate with our baby girl.
AJ Tidwell
---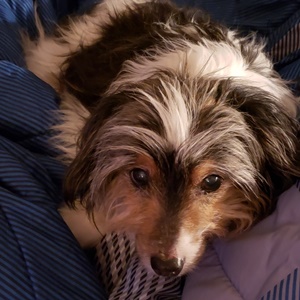 In loving memory of AJ
Bowser Noss
---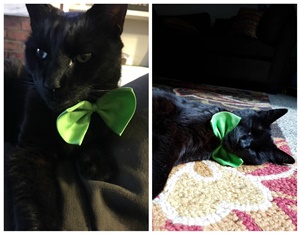 Bowser lived a "good boy" life filled with cuddles and kisses from mom, dad and jay. He was a gentle fuzz who enjoyed watching chippys and birds from his favorite patio window. Bowser's favorite things in his sweet world were chimkin, belly and chin rubs, pocket treats, and sitting on the patio with mom and the family. Bowser passed at home peacefully being snuggled by mom at 16 years old. Thank you for giving us this gift of peaceful passage. We are forever grateful!
Miss Pearl Bair
---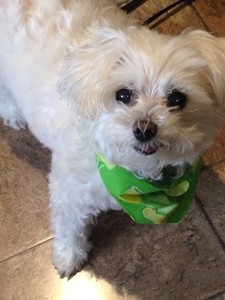 This is Miss Pearl Bair. She passed on May 27 2020. We appreciate your kind care as we had to say goodbye to our precious little gift. Dr Carney was very compassionate and helpful and patient as we said goodbye to our little girl. We look forward to the unveiling of the memorial wall. And again thank you very much.

Kim and Arnie Bair
Molly Mae Smith
---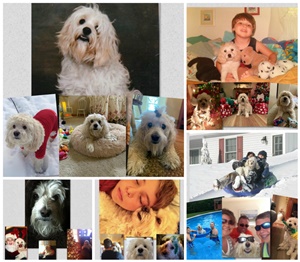 In loving memory of Molly 💗
Molly was a big part of our family for 15 years. We went to buy a swimming pool one evening and decided to just "look" at a puppy near by and came home with our sweet Molly girl. When we saw her and she ran after Jake, then a 4 year old, nipping at his bottom as they ran around together it was love at first sight for all of us.
Thank you Peaceful Pet Passage for making one the hardest days a little easier. The kindness and compassion shown to Molly and our family is helping our broken hearts start to heal. She went to sleep in her favorite room resting her head on her favorite blanket while I told her how much she was loved.
We will love you forever and always💕
Molly Mae
4/5/05-5/30/20💗
Verdict Parker
---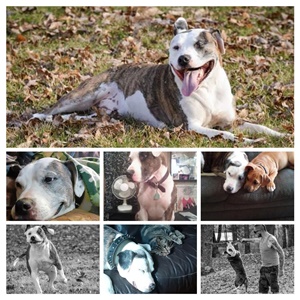 Verdict was picked out before his eyes were even open. He lived the life of a vagabond with his dad and best friend, Sean. Those two experienced the darkest and brightest parts of life together. Everywhere he went, people knew this legendary dog and loved him. He has befriended thousands in his journeys and taught so many and with a look into his eyes you could see the connection, the wisdom.
Verdict's favorite yard was that of his grandparents. He would rip a tree into kindling and protect those he loved with all he had. He was always excited when his siblings, Elora and Wolfy, came to visit. He never liked cats till we brought a particular one home one night who was lost before a snowstorm, he showed us his approval and shes been with us for years. When our pup was left at our doorstep, he took on the challenge of raising him and teaching him how to be the best companion. He loved to swim and never needed a leash. I can never explain with enough words the enormity of this pup's life and the impact he made but those are some aspects of him.
Verdict smiled everyday through his pain to teach and play with our pup. When he taught all he could and was sure we would be okay, he let us know it was time. He walked into Peaceful Pet Passage without a care in the world. Usually he would be cautious, but he went in there proud, before we were even ready to go in. He was eager to be pain free, he knew why he was there. Even though our hearts hurt and our minds are full of thoughts of him, we are happy to know he isn't hurting anymore. He is out there somewhere, launching himself into rivers, tearing down trees and showing who's boss. We will see you in the next stage of life. We all love you, Verdy.
Tabitha Knitter
---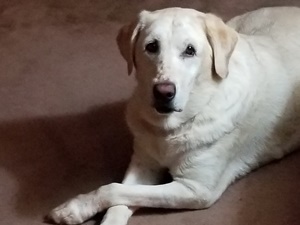 In loving memory of Tabitha
Brit Gagliardi
---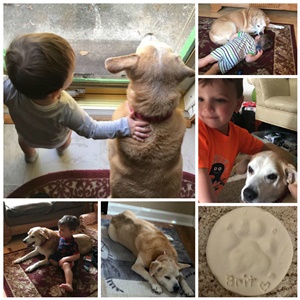 We rescued you from the streets of Camden, NJ when you were only 1 1/2 years old and you never looked back. Your bark was loud and intimidating but your gentle demeanor and love for your new family never faltered. The tenderness you showed Timmy from newborn until present was unmatched--even when he tugged and pulled on you. Time was very good to you and you had a great life...16+ years of it without any health issues but in the end it was hard to put them off any longer.
Thank you Peaceful Pet Passage for allowing us the opportunity to let her go over the Rainbow Bridge while n the comfort and love of her own home. She deserved nothing less.
We will never forget you, Brit.
Misty Clark
---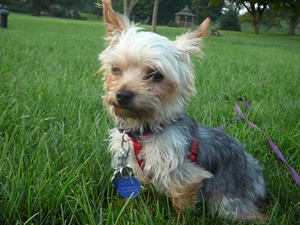 On May 14, 2020, Misty, our little 3-pound Yorkie took her peaceful passage. She had been with us 11 years. We will never forget the day we met her at the Humane League when she chose the 3 of us. She'd been rescued from a puppy mill. What a companion, comfort, and loyal friend she was. My mom, Beverly, is blind, and Misty instinctively knew to get out of her way and was very protective of her. My dad, Clark's days were brightened by her joyful welcoming dances and she loved to snuggle with him. I always went to her for her unconditional comfort when life got difficult. Misty, Thank you for all the joy you brought to our lives. You rescued us.
Clark, Beverly, and Karen
Remington Killinger
---
Here is a picture of Remington. He was such a good dog. He loved people, swimming in his backyard pool, playing frisbee and taking walks in the woods. Later in life his big thing was grabbing daddys shirt at night and keeping it away from him. He was born March 14, 2006.
Puddles Vaskorlis
---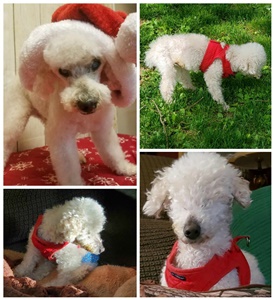 Yesterday our family said good bye to our quiet one Puddles he was a rescue from Maryland old and blind and deaf and we welcomed him into our hearts. His eyes had not been taken care of and over the years we were unable to save and he lost both of them. He was our Mr Gentle and we miss him so much.. rest easy my sweet boy
Bentley Goodling
---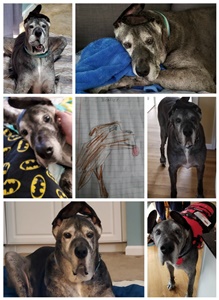 Bentley Goodling was a wonderful Great Dane. We love him and will miss him dearly.
JJ Anderson
---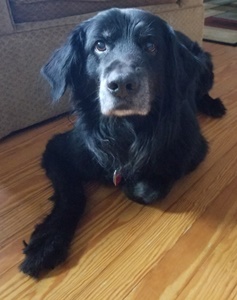 Thank you bubby for loving us for 13 amazing years! I pray you are having the best game of fetch. We love you and miss you like crazy.
R.i.p. JJ 01/15/07- 5/11/20
Ernie Ream
---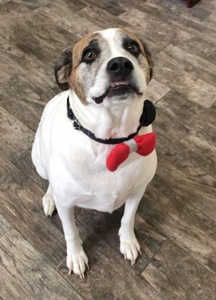 Ernie passed Saturday May 16 at his home.
Merlin Price
---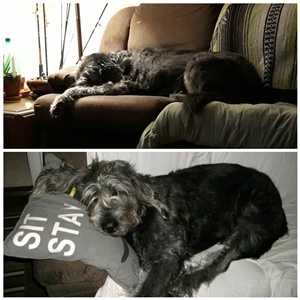 Missing Merlin so much.
The name Merlin fit you because you came into our lives through a higher being and brought the magic of love into our hearts, that is why our hearts hurt so badly.
Steve Riley
---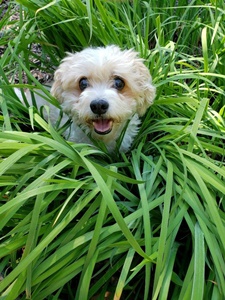 In memory of the best little dog we have ever known. Steve was part of our family for 13 years. Smart, playful, silly, loving...yes, he was everything a dog should be!
Today, with congestive heart failure, joints that made him limp terribly, and fluid in his abdomen, he chased rabbits, frogs and squirrels; drove with his head out the window; and enjoyed many of his favortie treats, including smoked chicken and a bowl of chocolate ice cream.
Finally, at 5:30 in the evening on May 14, hejoined our other dogs, Tara, Gromit, Bentley, and Guinness and is pain free forever. We will all lmiss him and never forget him. I hope his spirit sleeps under my bed every night and keeps on snoring.
Thank you for helping to make Steve's transition so peaceful!
The Riley Family
Dewey Moyer
---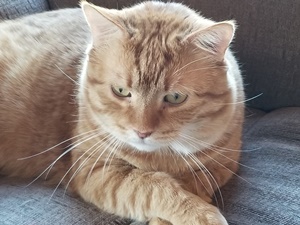 Everyone loved our sweet boy Dewey. He was a lap cat who never missed an opportunity to put his paws around your neck and give you a hug. We miss him greeting us at the door and always racing to the kitchen in the morning for his food. He is deeply missed by the Moyer family and his furry brother, Mittens. Thank you to Peaceful Pet Passages for assisting us in letting our sweet boy go. The Moyer Family
Norden Paules
---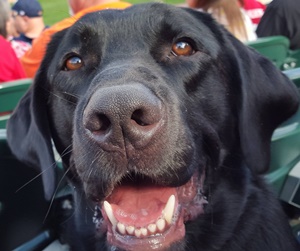 You came to us as a guest, a temporary assignment for a greater purpose.

But you returned to us, as a blessing.

We miss your snuggles, snores and little barks as you napped.

Although our time was short, you are forever in our hearts.
Adel Sharp
---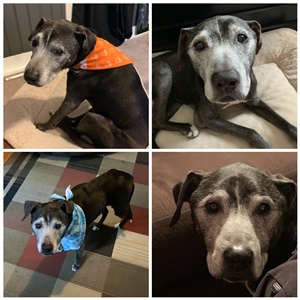 Adel (June 2003 – April 29, 2020) was just shy of turning 17. My son and I decided to adopt a dog at the end of 2003. After looking at the dogs online we went over to see them in person. They were all cute, but I started looking around on my own and saw this adorable black and white pup staring at me with her big brown eyes! She was what I was looking for in a dog and she kept watching me. She didn't bark or wasn't jumping around…she was just sitting in her cage like a good girl. As I walked away I could feel her watching me. I knew at that moment we had a connection! I didn't want to leave without her. We got to do a "test walk" with her and she did great! She didn't jump or slobber all over me, nor wasn't out of control. We were informed this pup was about 6 months old and the adoption agency had named her "Adel". I said that name is different and people who met her after we brought her home thought the same thing and would ask again, "What is her name?!" After the singer "Adele" became popular people who met Adel asked if she was named after her. I would let them know that my pup got her name before the singer was well known! I always shared that story when people asked about her name and wanted to share it one more time!
Adel had several nicknames…."Sleek Mama", "O-del", "Adelwee" and Baby Girl. We have so many, many good memories with Adel! I remember I questioned whether or not she could swim. When we went out one weekend to the lake she got in the water and I saw her swim for the first time. She loved trips to the beach, car rides, going on walks, begging for our food! We always said that she could "talk" to us, not with her normal bark, but in a way that reminded us kind of the way Chewbacca spoke in Star Wars! It was hilarious! Adel was very smart and knew all of her tricks (speak, shake, sit, down, roll, drink/water, treats, walk, outside/potty, bye-bye)! She had a lot of energy when she was younger and as the years passed by she enjoyed sitting outside in the sun all the time, just like me…those were definitely bonding moments.
Adel will always be our best friend. She was a great companion…so sweet and gentle and always there for us. We miss her deeply. We love you so much and you will always be our baby girl!!!
Samantha Kinard
---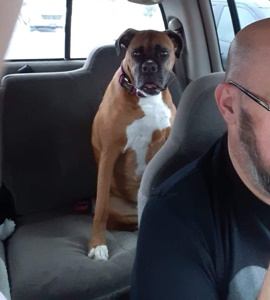 In loving memory of Sammy
Rocky Creek
---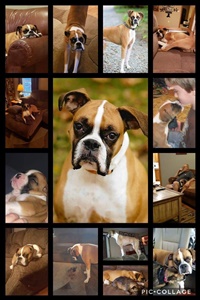 We brought Rocky home a few months after losing our first boxer to lymphoma. He was an energetic playmate to our toddler boy but for me he was the saving grace to heal my broken heart. He loved whipped cream, car rides, camping trips and visiting his Mam and Pap. While he loved us all he was a Momma's boy at heart. We will miss him always and be forever thankful for the 9 wonderful years we had with him.
Samone Baranski
---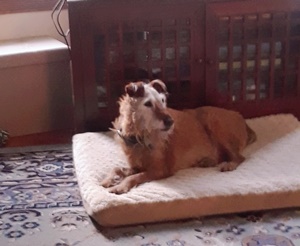 Samone was born in Gettysburg PA. I was just looking, but she wasn't having any part of me leaving her. She was 17 when she passed. And she was the queen of the house.
Lucy Telep
---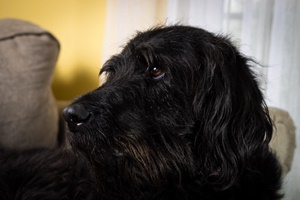 We brought Lucy home on a cold wet Spring day when we were only going to "look" at puppies. She was the one who saw us and immediately starting wagging her whole back side to get our attention. It was love at first sight even though she was a muddy mess. Three baths later she was shiny enough to show Dad and break the news that we did a bit more than look. Lucy was our faithful companion as well as the neighborhood. She convinced the mail carrier and our neighbor to keep treats handy so they could give her one every day (our neighbor, sometimes more). There wasn't a trash can she couldn't open. Took herself swimming when she got hot and then climbed back into the chair she had claimed as hers. She was the queen of the house. We will treasure the memories which will forever keep her spirit alive.
Rodanthe and Sandpiper Mazol
---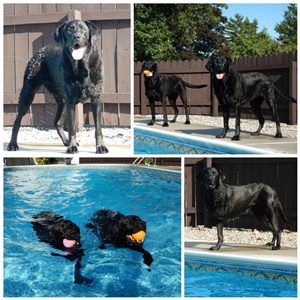 No one ever wants to say good-bye to their loved one; never mind doing it twice...392 days apart.
Rodanthe and Sandpiper came into this world 361 days apart; from the same breeder, Sand was the 'nephew' to Rodanthe.
Rodanthe joined me to create our pack; we welcomed Sandpiper 361 days later

15 December 2018 we lost the fight to beat Rodanthe's cancer and said good-bye

8 January 2020 I lost the fight again and said goodbye to Sandpiper
The way they came into this world, to my life is the way the lived their lives and in turn, left this life. Their connection to one another was an amazing sight to witness and to be granted a place in their bond, in their pack was truly an honor. I am forever changed because of our lives together and my grief without you.
Bear Sweitzer
---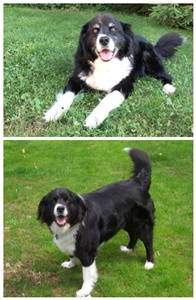 We rescued Bear from the SPCA when he was about one year old, and he blessed our family for 13 years. He got along with every dog he met. For several years his best friend was a white shepherd named Makay. Bear and Makay played every day. Bear loved going on walks, car rides, and TREATS! We took him everywhere-he was part of the family. If you met Bear, you loved Bear. He was our boy, and we loved Bear so much!
Zoe Severe
---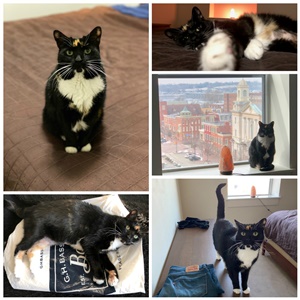 Adopted from the Harrisburg Humane Society as a kitten in April 2008, Zoe was a quirky, sweet, and handsome cat who loved to play with many toys, climb on all the furniture, and look out the window. She enjoyed sunbathing whenever the sun would shine in the house and cuddling next to whoever would pet her while sitting on the couch. Any sudden movement or sound would usually cause her to jump up, run, and hide, but she would always come back as soon as she thought the coast was clear. She had a strange love of plastic bags which she liked to lay and roll on, often licking them as well. Her favorite way of drinking water was from her paw and you'd often see a trail of one footprint in a path away from the bowl. Bedtime and morning were her favorite times to cuddle in bed and her purring and head butting let you know how much she enjoyed it.
We enjoyed every minute of your love and quirkiness and miss you greatly. You were loved by all who met you and we regret only not having more time to spoil you with pets and treats.
Drake Hoak
---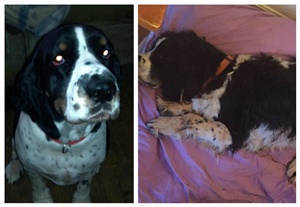 He was the best boy. With us through so much. The best KIDS dogs ever, never snapped snarled or looked at them sideways. We will miss him.
8/22/09 - 5/8/20
Jack Baum
---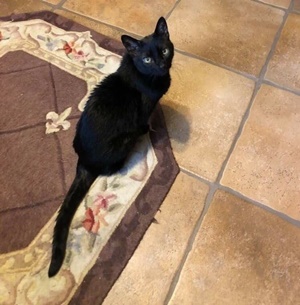 My best memory of Jack is just all the times he messed with stuff on my desk while I worked. Or the time he was looking at a high shelve meowing frantically. My mom had a wooden cat figure on the shelf. I think he was worried they were going to fall. I lifted him to show him it wasn't real and he quieted down.
Katie Hess
---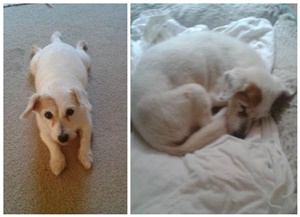 Katie was very loving and enjoyed family time.She also had lots of energy to her. Always she would resist having her harness and leach placed on her by racing behind the couch and daring Dad to catch her before her walks. Then Katie would spring out the door knowing exactly the route taken down Covington Drive and turning right onto Crosswind Drive. In her friendly nature, she always took time to greet neighbors and dogs of all sizes. Favorite exercise? Running back and forth fetching rubber balls especially tennis balls. One only needed to halt the activity because she would have dropped from total exhaustion. Second greatest excitement was taking Katie to the park where she loved smelling and locating abandoned baseballs from youth baseball fields. Just that sheer smell of leather made her tail excitedly wag. As if she found her prize possession. Like clockwork, she sat on top of the living room couch, cocking her head looking out the window waiting to eye Dad returning from work. In her elderly years she enjoyed sleeping in the recliner chair and finally in either two of her comfy beds. Katie was not "just a dog" but the family's happy daughter. We were so proud to have her touch our lives. Katie made it to her 16th Birthday.
May Peace, Love and Joy follow her in Heaven. Love ya' girl!
Father- Jerry Hess
Suede Deming
---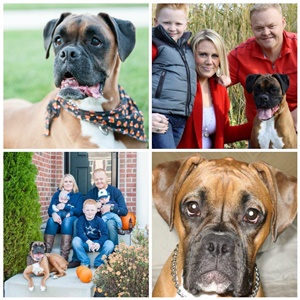 Monday was a day we've dreaded for 14+ years. The Deming Family said goodbye to our sweet Suede Michelle at our home. There has never been a more loving protective family friendly dog. From the moment we saw you 14 years ago to today while we kissed your face as you passed over. We know you're on the 🌈 bridge. You will be sorely missed our sweet daughter. We love you beyond compare. Special thanks to Peaceful Pet Passage for making her journey and our heartfelt goodbye as peaceful as possible. Forever and always our baby girl. We love you Suede. 3/15/06 - 5/4/20 ❤️🐾
Joseph Antonelli
---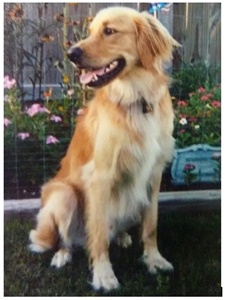 Joseph, we will always remember your beautiful reddish golden hair, the smile on your face, the love in your eyes and heart. You loved everyone and we loved you. You enjoyed life, playing ball, finding your apples and most of all you loved going to doggy day care. You even liked going to training classes and practices. We were blessed to have had you in our senior years and we are so thankful we were here for you in your time of need.
Diego Zimmerman
---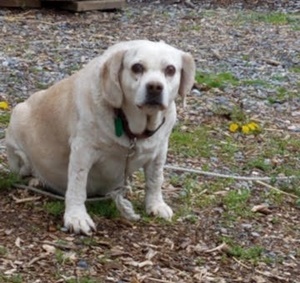 Diego was 15 years of age. He was Marlin's constant companion and went everywhere with him. He rode shotgun in the front.

They had many good days in the fields hunting rabbits.
J.E.B. Noel-Klunk
---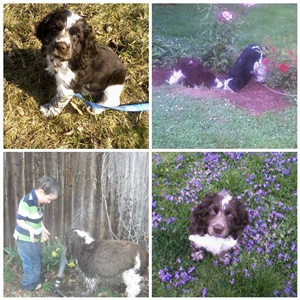 Attached are some of our favorite photos of J.E.B. He LOVED to dig holes in our backyard and even got his big brother in on the fun sometimes...LOL. He also loved to play with the garden hose when it was turned on. He'd lap at the water spray and chew at the nozzle and inevitably spray everyone in the yard much to our son's enjoyment. He also accompanied us on one of our many trips to visit the battlefields of Gettysburg (he is named after a Confederate general; General J.E.B. Stuart) and loved to just be outside in the yard enjoying the sunlight. We miss him so very much.
Chloe Bittrick
---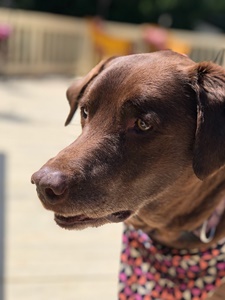 Chloe was the sweetest chocolate lab. She loved to swim in our pool and play with the grandkids. She was very clingy and always stayed by our side. We miss her so much. MOM AND DAD
Alli Rehmeyer
---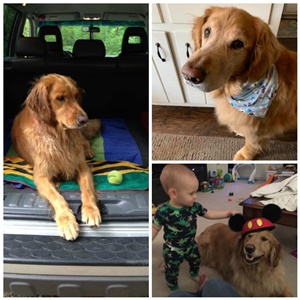 My Best Girl ❤️
Alli was a fantastic dog...one of a kind, for sure. She was smart, sweet, and sassy. She loved us fiercely, protected us, played with us, and comforted us. She new her boundaries, she never played too rough, she knew how to "speak", amongst other talents, such as sneaking pizza off the counter. She was infatuated with her tennis ball, peanut butter, and chewing on rocks She kept me busy and in shape from having to vacuum up after her tumbleweeds all the time. Alli loved people. She was just HAPPY. A happy, healthy, full of life, loyal-as-they-come, friend and family member.
We were blessed to have her with us until the age of 17. Blessed. It's difficult not to want and wish for one more day, or one more year...but, we loved her too much to be selfish. Her energy is missing from our home, but certainly never forgotten. I am reminded of her daily. She'll always be my number one girl. ❤
Thor Hymes
---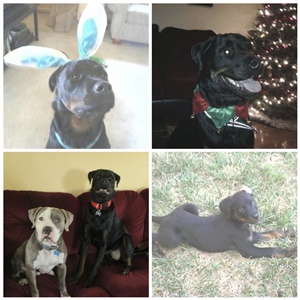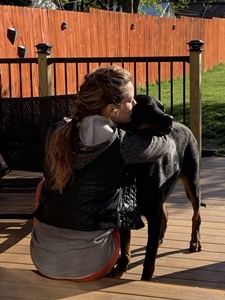 We got to spend almost 9 wonderful years with our Thor Monster. He got this nickname because he was a true monster when he was a pup! We went through numerous sofas because he must of just enjoyed the taste! Although it took many years for him to grow out of the chewing stage he eventually turned into a snuggle bug. He snuggled so hard it sometimes hurt as he didn't realize his size. He was always the protector of the house, staying downstairs while we were up sleeping and only coming up for morning snuggles when my husband was up and downstairs to watch over things. To say he will be missed is an understatement but we know he is pain free and always looking over us and protecting us everyday!
We also cannot thank Peaceful Pet Passage enough. You were kind, caring, and made sure we were comfortable throughout the whole process. Thank you so much! XoXo
Rockie Kos
---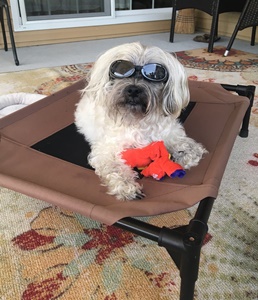 I knew you were a special little boy within minutes of meeting you. It wasn't long before I realized you were my soul dog. The connection we shared was like no other. It was just the two of us for five years until we met the man who would be your daddy. The two of you became the best of buddies. Over the years you had more than your share of health issues; back surgery, knee surgery, eye surgery and leg amputation among others. You faced each challenge with both courage and sweetness. Thank you for all the joy, laughter and unconditional love you gave us. You will be forever missed and eternally loved.
Jacqoe Emig
---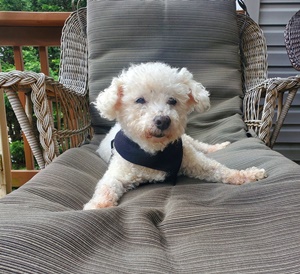 I remember when I first got you back in July of 2016..You were already 11 years old..going on 12...you were the Bichon glimmer of light we all wanted and needed in our life.. Kind, energetic, and full of kisses. You bonded to me and I am forever grateful to have had your love after losing another dog just 11months before. You had you health issues, but you were happy, and you were ours!!! You loved the pool, and lounging around with us whenever we were outside and loved looking out the window on the puppy bench with your other 2 doggy brothers and sister! I will never forget your loving kisses and yipps as we came home from work! You were a true blessing even though our time with you was short and never seemed like enough! Rest easy Bell Bell...(Jacqoe). Our hearts hurt! Run free and always remember your heart was also here with us❤️ We will never forget you! Michelle& Justin Emig 10/29/2004- 04/24/2020
Vinci Shadder
---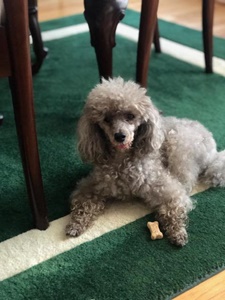 10-22-2005 to 04-24-2020
The fifteen years together will never be forgotten for you brought so much love and companionship to our lives. We held you in our arms a short while but, you will be in our hearts forever.
Diamond Marcum
---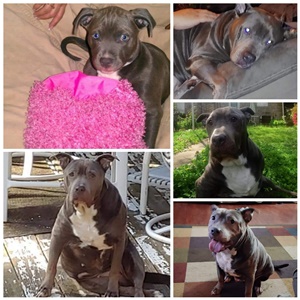 Our Diamond was very special to all of us but was my best best friend. Diamond was born 7/23/11,the only one of all her siblings 14,to survive. They all had parvo. We took her to get her shots and carried her everywhere I went to show her off. She was the cutest blue eyed pup. She loved attention and absolutely loved being with the kids. I think she thought she was a kid. She would jump in trampoline with the kids and when the boys played football, please she thought she had to catch that pass! The boys would be so mad because she wouldn't want to give it back. As she got older she couldn't get jump in trampoline so she used her nose to follow and punt the ball from underneath to play with the babies. She was totally awesome. Followed me everywhere in the house from basement doing laundry to bathing in tub. When she wanted your attention she would nudge your hand or arm with her head to give her attention. She was unbelievably soft. She often slept in my bed even though she took up a lot of room. She was spoiled and knew it. As she took to being sick, I never thought it would take her so soon. I planned on her being around much longer. After 2 tumors being removed I thought she was fine. Due to her health declining suddenly we chose to not allow her to suffer and put her to sleep. It was by far the hardest thing ever and I miss her dearly. I now look for her and she isn't there although she is and will always be in my heart. Diamond passed Thursday April 23,2020. They say when you truly love someone and you let them go, they somehow return to us. I keep believing this too could happen. Run and jump my girl....until I see you again...Love Mommy
Snorkels Kuntz
---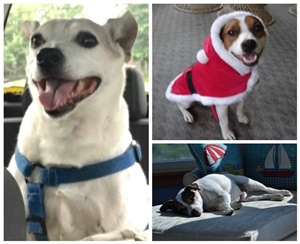 Feb. 18-2004 – April 25, 2020
One rainy, cold Saturday—February 18, 2006— we decided to go to the West Shore branch of the Humane Society of Harrisburg just to pet some dogs. When we got there, it was filled with big dogs except one small, shivering Jack Russell terrier in a tiny bed. All the doors were open and this little guy was freezing. We asked to see him so we could get him into warmth and that was it: we were in love.
On the truck ride home he sat on Scott's lap as he drove. He wanted nothing to do with Kelly and seemed scared of women. Thankfully that only lasted about six weeks before he became Kelly's soulmate. The first week we had him was an expensive one. He was neutered while living at the Humane Society and later developed an infection. That was our first trip to the vet. The next day he chewed open his stitches. That was another trip to the vet. Then two days later he started sneezing and coughing. Yes, another trip to the vet and this time the dog came home in a cone! We spent the next week constantly washing snot out of the cone. This little dog cost us more than $1,000 in just one week. But it was a small price to pay for the lifetime of love we received.
We named the dog Snorkels. He was our first "child" and filled our lives with love and laughter. His energy was off the charts and we installed a fence so he could run off energy. One of his favorite things to do was have Scott swing him around while he gripped a Frisbee in his jaws. He also loved to bark and chase squirrels, which resulted in several anonymous "love notes" on our cars from neighbors. A few years later he got his own dog—a boxer named Daisy. Those two loved to run and chase each other around the yard, one hiding behind the shed and jumping out in front of the other. Our family of four enjoyed trips to get ice cream and the Outer Banks as well as several beaches in Delaware and Maryland. A family favorite trip we made numerous times was to Scott's camp in Cameron County. The canine kids loved to see, and bark at, tons of wildlife in our yard including elk, deer, bears, raccoons and even a fisher or two.
Snorkels earned many nicknames including Pickle Puss, Snorkey Pig, Babalooey and sweet boy. Snorkels, thank you for spending most of your 16 years as part of our family. We hope there is an all-you-can-eat buffet of cheese, Cheetos, peanuts and all your favorites in heaven. We will love you forever and look forward to seeing you again one day, precious, precious boy.
Danica Van Scoyoc
---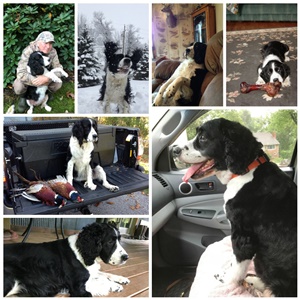 We got Danica when she was 8 weeks old and were graced with her as a family member for almost 14 years. Danica simply loved life. Her personality was one of a kind. Her energy was endless and she did things that made us laugh daily. She was involved in our active lives and interacted with us and anyone who was around. She lived life to the fullest and fought to stay with us until her last breath. We mourn her loss, but celebrate her and all she gave to us. RIP our dearest Danica!!
Ellie Mae Howell
---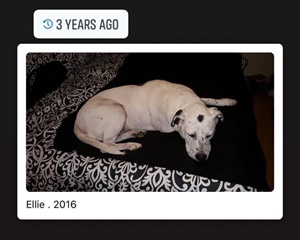 Ellie Mae. April 15,2020. Loved and missed so much by her family.
Misty Zoll
---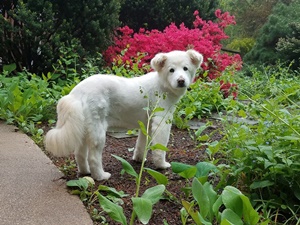 Misty was the greatest dog. She was rescued from McKean county where someone just dropped her off at my in-laws when she was a little less than a year old. We had been without dogs for about a year. God works in mysterious ways and we knew it was time for another dog. She lived to be 17, and over the course of the 16 years, we must have made 4000 trips to Lower Allen Twp. Park before or after dinner. Only times we didn't go is if it had snowed and couldn't get around or if she spent the entire day with me traveling with work. She was a piece of work, when she had her head out the window she barked at every car passing by us. We have many other good memories, too many to mention, but she was the love of our lives. We miss her dearly each and every day.
Thank you to Peaceful Pet Passage for making her crossing over the rainbow bridge pain free and peaceful.
Sassy Warfel
---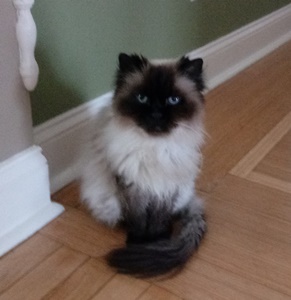 Sassy...Always loved and in our hearts 2000-2020 The Warfel Family
Zoey Harper
---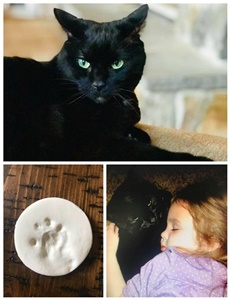 Zoey was our first cat as a family. She was a rescue from Goldsboro North Carolina whom we fell in love with immediately because of her sweet demeanor and strikingly beautiful blue-green eyes. Due to our military service, Zoey has traveled all across the United States. Our kids grew up with her by their side so she was a big part of our family. It was rough on each of us when we saw her age taking a toll on her. We are so grateful to Peaceful Pet Passage for coming to our home and helping her transition to the other side to be peaceful, loving and with her whole family by her side.
Franky Carbaugh
---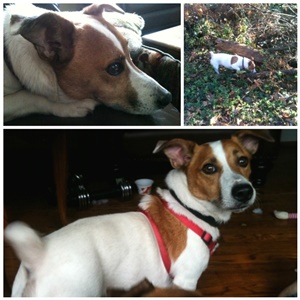 I got Franky at 9 weeks of age and he was so smart and loved to learn. He was sitting, rolling over and playing dead by 4 months.
He found a large ball in the garage one day and instantly was a great soccer player, herding the ball in, around and through any obstacle. I had to spell words to keep him from getting excited, but he then learned the spellings of Ball, walk, leash, ice cream and other favorites. I started him to ride horses in my saddle bags and then when he outgrew that he rode on a pad behind me with a harness. He loved everyone, our horses, cats, chickens and people. We had 15 years of adventures but it never seems to be enough. RIP Franky, we love you and miss you terribly.
Toby Will
---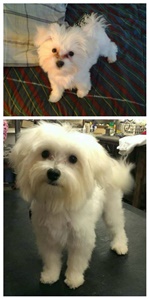 This was my fur baby named Toby. I had gotten him from a local pet store unexpectedly. Me and my boyfriend we're out just looking and trying to figure out what kind of dog we were looking for cuz we both had decided we wanted one. We had just moved into our own new townhouse, and I suffer from sever anxiety and depression and I love animals so my Dr. Had suggested that I get a pet to help. Once we got to the pet store I had gotten out a couple other dogs and played with them in the little cubicle area but none had that bond. Then I seen this little white furry puppy trying to steal this toy from another puppy and I said I want to see him! I held him and immediately he started biting at my sleeve and wanting to play! Then came all the kisses and I completely fell in love! I told my boyfriend that this was the one! Of course we wasn't planning on buying a dog from a pet store let alone a $1,800 Maltise puppy! But he seen the bond we had and talked to the stores employee. He was able to get the approval for financing thru a company. We were able to pick him up 2 days later! It was February, 10 2015. His paperwork said he was born on November 11,2014. So he was just 3 months old! It was a unconditional love and bond between me and Toby! But unfortunately I had let him stay with my mother one night and found out that he had been hit by a car and died. 😭 That was on July 8, 2017. Just 2 and a half years old! It broke me completely! I haven't been able to move on or can I even talk about him without crying 💔. I try to remember all the great times and memories we shared together. But there should of been so much more! I'm left with this feeling that it's my fault for leaving him. But after alot of talking with my Dr. And family and friends I think it's time for me to try again and get another puppy. But this time I want to adopt! But I wanted to share my story also. So with that said..
Rest in peace my Toby Dog! You will never be forgotten and always be in my ❤️ heart!
Bosley Jones
---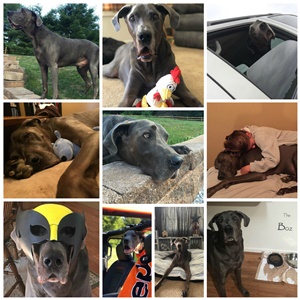 It's been 2 long, lonely weeks since Bosley decided to take his final rest. He was only with us for 5 years....5 wonderful years where he was completely loved and spoiled. There is a piece missing from my heart that belongs to "my favorite child". Knowing he is now pain free and running around doing his spazz runs makes the heartbreak bearable. I love and miss you Boz!! 💙
Tank Shipley
---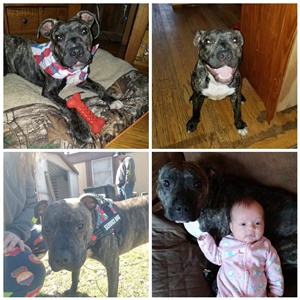 Tank was such a loyal & loving dog. He loved snuggles with his humans & giving slobbery kisses. He loved his baby sister he was always by her side. He proved so many people wrong with there beliefs on his breed everyone who met him fell in love with him. Just when you thought he didn't have anymore love to give he gave it. I hope your having all of the zoomies in heaven buddy we love & miss you so much forever in our hearts💜
Ace Grubbs
---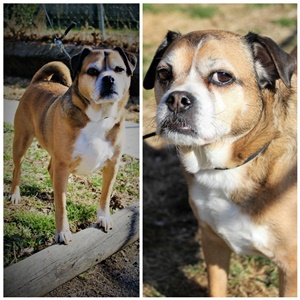 Ace was the sweetest boy. He loved everyone! He loved car rides and going for walks and especially snuggling with his humans. He also adored bacon. He is missed very much. I miss his smile and how excited he would get if I said "walk."
Biscuit Kessler
---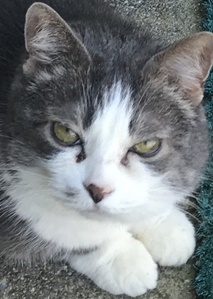 2011 to 2020
Biscuit came to my house and chose me. I was so honored. She was my happy, my joy. She will be forever in my heart.
Moca Dively
---
It's hard to put into words how amazing and important she was to me. I adopted Moca when she was about 3 months old from a not so good situation but she settled in pretty quick and loved and learned from her new sister Simba. I didn't really know much about her breed before adopting her but I learned quick what a loving loyal dog she was and I couldn't have asked for a better friend and companion. Moca was a great representation of her breed and I was so lucky to have got to love, learn and grow with her for all these. Run free baby girl Simba is waiting for you. Daddy loves you baby girl
Grizzly Meli
---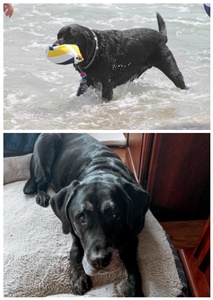 Grizzly loved the ocean and swimming in the lake. He was one who loved anyone he met.
Grady Gans
---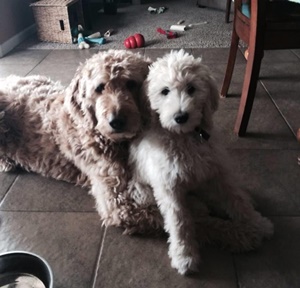 Thank you for all of your kindness with the passing of our precious Grady. Grady monster, as he was lovingly referred, to was the BEST dog. We got him the year after we got married. I remember thinking it was probably a bad sign that he was the last picked from a litter that was born on Friday the 13th, but boy was I wrong. He was such an easy puppy, only getting into a little bit of mischief. He was our world, so when we got pregnant, the fear was how would he do sharing the spotlight. To that point only his toys were on the floor. But he stepped up to be the best big brother. He was very protective as I was pregnant, and I recall my husband sending me on a wild goose chase throughout the house, to prove the point that Grady would not leave my side. He was so patient with our children as they aged, as they often used him as a step stool and didn't quite understand the idea of gentle. Never once did he growl or bite, but rather give me the look of "mom really?!" Of course he thought the children were a great addition to the family as they offered him his first taste of people food and his love of people food went well into his last days. He could often be found in the kitchen waiting to see what scraps would be given to him, before he would finally retreat to his own bowl. Grady was a lover of squeaky toys and snowballs. He loved to dive for snowballs, not understanding that they would become one with the snow and search and search until his nose was covered in snow. He often would be found eating the snowballs, despite the fact it made him sick every time due to an unusual gag reflex from cold temperatures. Continuing his patience, at the age of 8 when we got him a four legged little sister, Ireland. He played hard with Ireland up until the end, and I am convinced she is the reason he lived to be just shy of 15 years old. He was a wonderful dog and set the bar very high. We miss him so much, but we know he is running painfree and happy with all our loved ones who have gone before us.
Tiga Lato
---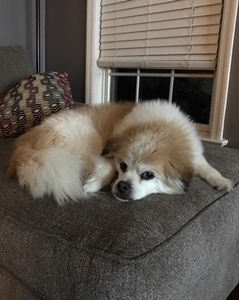 We are truly thankful for being able to allow him to pass in our home. Such a difficult day but he was at peace and wasn't in pain anymore.
Where to start on memories of Tiga. We bought Tiga from a pet store and my husband told me I could go home with any dog I wanted but we were going home with Tiga for sure. He wasn't my pick but he turned out to be my best friend. During a hurricane that came through that fall he somehow got out of his crate and scratched at my bedroom door to come in so he wasn't alone. My husband was at work so he was my bed partner. Tiga slept in bed with us from then on.
He was an amazing dog. My parents loved him just as much as us and he was able to go there for sleepovers. He actually went for sleepovers more than the kids. He LOVED his treats. He would do anything for a treat. He loved his W A L K S as we would say because if you said walks he would go nuts wanting to walk right that minute. He slept by my side every night and he worked by my side for the last few years. He will always be our first baby! We love you so very much Tiga! 😘
Isabella (Izzy) Wade
---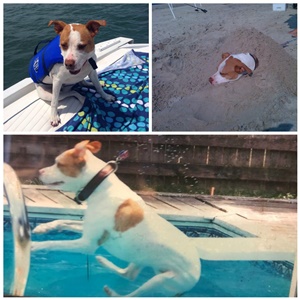 I'm sure you have heard this before but she was my pride and joy. I had no children, she was my baby. She had such a personality!
I took care of her all of her life. From the moment I adopted her from the shelter she was a little spit fire. She curled up on my wool coat and laid there looking so docile and sweet. As soon as I got her home she ran through the house with her new toys. Just racing around the house. I started laughing and so did my friend. What a change in her demeanor.
I had many pet names for Isabella. Izzy, Busy Izzy, Boo Boo Kitty and many more. Boo Boo Kitty because she would crawl on top of the back of the sofa and lay on top of the cushions and smoosh them down. Hence, kitty.
One time, her daddy and I were making a nice dinner. She was in the living playing with a toy. There were candles burning on the coffee table...she tossed her little toy right on top of the candle. Looking so cute, she was like, was that me that just burned the coffee table? It was an old coffee table which allowed us to get a new one. Everyone was ok. Her daddy and I just chuckled.
She loved to swim in the pool, as you can see below. She would jump in and try to save you. She thought she was doing you a favor by pulling you to safety. It was hysterical.
Izzy also loved the beach. She would let her daddy bury her in the sand. She loved the warmth of the sand and the sun. See below❤️
There are sooo many pictures I could share it was hard to pick only one.
I want to thank Peaceful Pet Passage for all they have done for me during this very difficult time. They came out in this very crazy time of the coronavirus crisis to put my loved one at peace and I can't tell you how much that meant to me.
Much love and appreciation for what you all do each and every day. I won't hesitate to recommend your services.
Oliver Twist Kubistek
---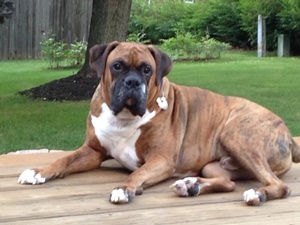 We said "see you later" to our best boy Oliver! We brought him home from PA Boxer rescue on August 4, 2012 and he has been an important member of our family ever since. Ollie loved every human and dog he ever met and everyone loved him! He was a gentle giant.
Cassie Jade Miller
---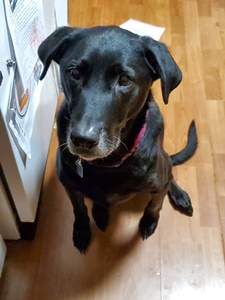 This is Cassie Jade Miller. She was born on October 22, 2008 and passed away peacefully March 23, 2020. She was 11 when we had to put her to sleep. Cassie was the best girl ever. From the time she was a puppy at 9 weeks old we knew she was going to give us a run for our money. She was an escape artist, she was amazing at counter surfing and had an iron stomach! We had her in NC from the puppy rescue I worked at Mustard Sandwich. And she was with us through all our moves, the birth of our daughter(which she did not like.). After our daughter was born she was bitter about having attention taken away from her and would pretend to limp to get attention and sympathy and man did it work! She was a happy girl and loved to run and wander. She never missed begging for food and loved car rides and walks. We miss her terribly but am thankful she was able to go peacefully on her favorite couch with all of us with her. Till we meet again sweet girl!! We love you forever!
Rex Delaney
---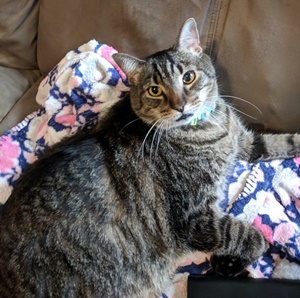 In loving memory of Rex
Midnight Castillo
---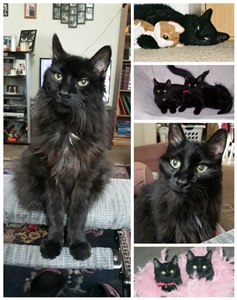 For 15 years you brought smiles to our faces. Your purrs that came with the chin scratches, your blinky eyes every time we spoke to you, and your meows as if you were answering us back. We are already missing all these things about you. You made us laugh every time you would steal Melody (a stuffed animal) off of Sienna's bed and cuddle with her. Our sweet adorable baby boy Midnight you are missed so much by us. We will never forget all the memories and the love you gave. Now you can run and play with Mia Bella and be at peace.
Caboose Spanswick
---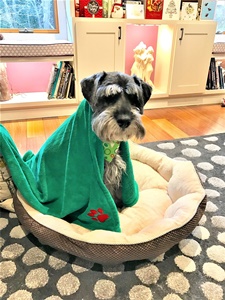 Caboose had lots of nicknames including 'Queen Boo'. She was certainly the queen of our household. She came to us as a 12 week puppy and left us as a very elderly 16 and ½ year old.
Caboose was the perfect dog for our family. We were so lucky to have her.
Bella Daihl
---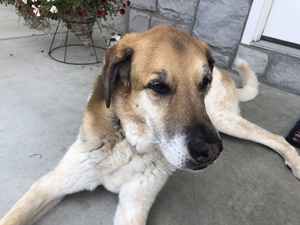 Bella was such a huge part of our lives for many years and we miss her so much. She was so kind and loving but her anxieties from her life before we adopted her often got the best of her. We are glad she can finally now relax.
Gordon Ruppert
---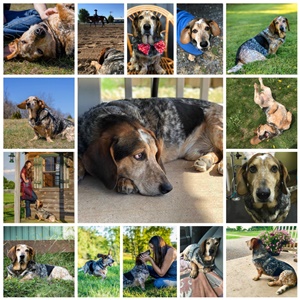 I have so many photos of Gordon it was hard to choose. I mean hundreds and hundreds.
Gordon was my best friend. He was that once in a lifetime dog. The love I have for him I never thought was possible but is mutual. He never liked to be far from me and expressed that if I had to leave him home. He so enjoyed truck rides but especially in the dually because usually that meant it was time to go to a horse show. Gordon loved sunbathing, watching me ride horses, play with his sister jade, scratching his back in the warm grass. Gordon was great at getting people to share their food even if he had to be loud about it. He was the happiest when he was with me, but was so good at making friends Gordon had so many people from so many places who knew and loved him.
Kashmir Lighty
---
At the early age of 3 months, Kashmir was already very opinionated. Setting out on her own, she decided to adopt two human servants to pamper her every need for the next 15 years. Being the boss of the household, Kashmir was a loyal friend to her servants, a great listener, professional napper, part-time comedian, and an all-round princess. Kashmir earned the name "Boopy" from her male servant from the games that she and her caretakers would play. Kashmir had only a few requirements, but they were enforced requirements. The window blind at the window in Kashmir's room was never to be closed. Sad to say Kashmir's female servant got a serious slap down one day for trying to close said blind; this never happened again. Another rule Kashmir had was: Kashmir's male servant was never allowed to go to the bathroom alone for the first few years of their life together. No matter where she was at within her castle, she knew when he would enter the bathroom and she would be there within a moment's notice. His needs were not important to Kashmir: Kashmir needed to leap onto the toilet seat and then onto the bathroom sink so she could be brushed and pampered while he did his business. Lastly, Kashmir's male servant was to know his place, and it was on the floor. When he would try to sit in his recliner Kashmir would sit at his feet, tap on him with her paw, and stare at him, until he returned to his place on the floor. A confirmed bachelorette, Kashmir had no children. Kashmir crossed very peacefully over the rainbow bridge at her castle on her favorite chair surrounded by her servants.
Jeter Henry
---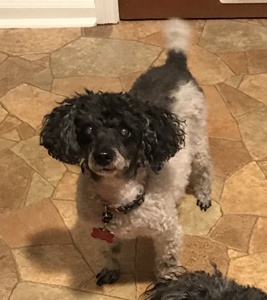 Jeter was the sweetest little guy who helped me through a lot of stressful times in my life. He always seemed to know when I needed extra kisses and snuggles. After 15-1/2 years, I had to make the decision that no pet owner wants to make. Thank you, Dr. Carney, for taking care of Jeter AND me. He left a large void in my life, but he also left me with many memories to make me smile when I think or talk about him.
Brantly Sandridge
---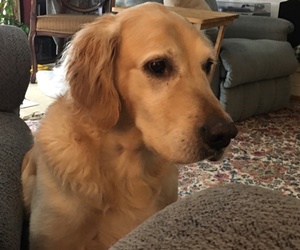 He gave 110% when playing but had defective brakes. A great companion and sorely missed.
Little Bit Header
---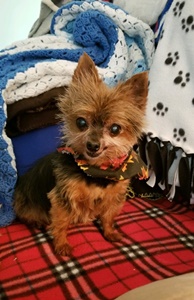 Little Bit was an energetic little Yorkie. She was a huge part of our family and will be deeply missed. She had a big heart as well as melting the hearts of everyone she met. She loved the outdoors whether it was sunny, warm, and breezy or cold, wet, and nasty. She loved chasing squirrels or just leaves blowing down the street. She also loved posing for pictures. She was an amazing pet and the hole she left in our hearts will never be completely filled. We loved her from the moment we met her, and we'll miss her dearly until we see her again at the Rainbow Bridge.
Jackson Browne Waters
---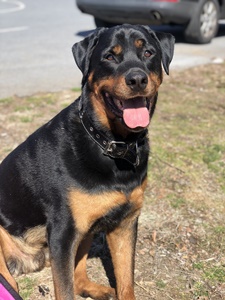 Jackson's personality was larger than life and there was not one person who met him that didn't fall in love with him immediately! Jackson loved being playful, exploring the woods and eating whatever he was not supposed to eat off of the kitchen counter. Jackson will forever be remembered for filling our hearts with endless love!
Bijou Welling
---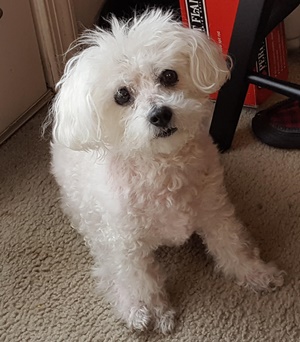 Bijou was a sweet dog all her life. When she was young she would love to play soccer out in the yard, fetch a tennis ball endlessly, and loved her car rides. In 2013 she had cancer in her mouth, dying. We had an oral surgeon remove the cancer and she bounced back to life. We were told it would come back, but it never did. She was a mighty little warrior. She enjoyed her life slower as she aged, but she still loved her food, play, and cuddles. We miss you so much little angel. We will see you again someday. ❤❤
Onyx Overmiller
---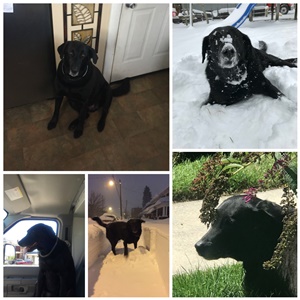 In loving memory of Onyx
Bo Spoon
---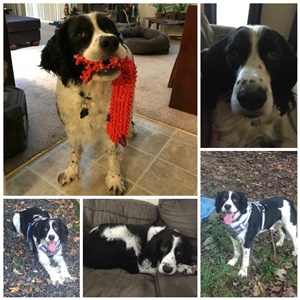 In loving memory of Bo
Mason Campbell
---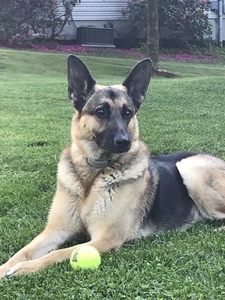 Mason came to our family in September 2011 as a rescue. We watched him grow from a very scared and timid boy to a beautiful confident boy. He loved taking walks, playing ball and getting all of the other dogs in our neighborhood to "talk". He is missed terribly by the entire family but is now back with his best friend, Cosmo playing on the Rainbow Bridge. He will forever be in our hearts.
Pinky Trowbridge
---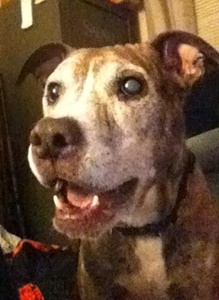 In loving memory of Pinky
Photo taken March 11, 2019
Isabella Piper
---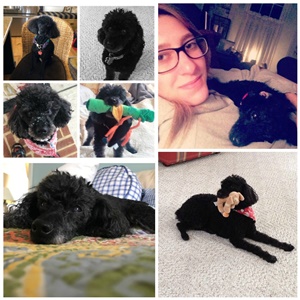 I wanted to reach out to say thank you for helping my beloved poodle, Isabella, pass at home with her family with her. I had the opportunity for her to pass while resting on my chest so she could feel my heartbeat to remind her that she was safe and loved. Making the decision to let her go was one of the hardest decisions of my life and I'm comforted to know that she seemed at peace and ready to cross over the rainbow bridge to see her sister, Gabby, as well as my grandparents who loved her so very much who also passed away recently. I know that my grandpa was waiting for her saying "there's my doggy do!" as he always did every time he saw her and my grandma was waiting for her with a full plate of liver to devour. Dr. Mary Riordan arrived and was extremely kind and explained the entire process to us and didn't rush us at all. She allowed us the time we needed to say "see you later" to one of the greatest loves we have ever known. Thank you to Peaceful Pet Passage for making things as calm and nice as they could be under the circumstances.
Frankie Lynn Galetar
---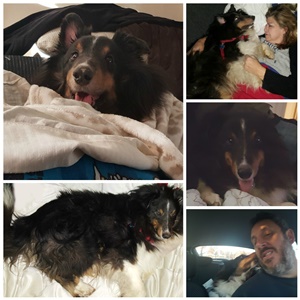 Frankie Lynn Galetar was one of the most special family members we ever could have wished for. He had a hard life for sure, but NEVER stopped pushing his love into us... no matter what! He passed easier than he lived. And that will always keep our hearts happy! Love you Babbielynnz!
General Lee Carter
---
General Lee was my precious companion for 17 years. He was an excellent traveler accompanying me on many trips/visits. He was also my daily walking buddy. Two of his favorite toys were his crab and pig. He also enjoyed a game of chase and hide and seek around the house. True to his dachshund heritage he loved to burrow and sleep under the covers. His sweetheart and best friend was my sister's dachshund Abby. He was the love of my life and will be missed forever. I'm so thankful that I used Peaceful Pet Passage to give him the peaceful ending he was so deserving of.
️
Thank you, Janice Carter
Nittany Brown
---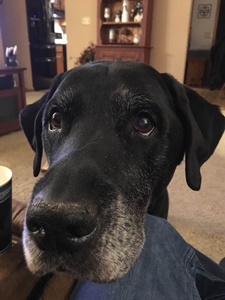 On March 9, we lost our boy, Nittany. He was such a loyal and amazing dog that loved food, toys, and his family. He has turned 13 years old only a few days before on March 3. We fell in love with him immediately as an 8 week old puppy who was extremely clumsy because he was constantly tripping over his gigantic paws. He grew to be huge but had an even bigger heart. We love you Nittany.
Thank you Peaceful Pet Passage for allowing us to spend time with Nittany in his final moments doing his favorite things with his favorite people. Knowing he is at peace puts us at peace. We will forever be grateful for your services.
Sonny Crater
---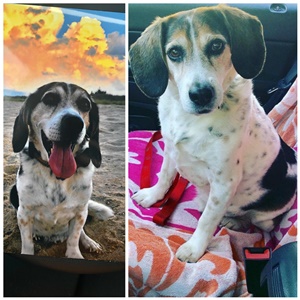 Every day I got to spend with Sonny was a precious gift. He was my sidekick, my buddy, my best friend. I remember the day I brought him home for the first time. He had the kindest eyes, such a loving heart, a beautiful soul. I remember he was so smart and clever. He was also mischievous, but in the cutest way possible. I never had any difficulty training him to do anything. I trained him in one day to stay in the yard. He never needed a leash when we went outside, unless we went on a walk and that's only because his beagle nose would let him wander forever if you didn't keep a close eye on him. That's about when his selective hearing would kick in. He rarely ever had accidents in the house, and when he did it was out of spite because we left him alone too long and he was mad. I remember he would always greet me at the door when I would get home, unless he was guilty about something. I remember he wasn't like the typical beagle. He was unusually quiet, except for when I got home. I could often hear his excited howls before I even got out of the car. I remember we always had to arrange the furniture in a certain way so that he was able to see out the windows. I made the mistake of forgetting to open the blinds for him and he expressed his anger by biting a chunk out of the blind so that he could see out. I had to replace the blinds on more than one occasion. I remember he loved to sit outside in the sunshine with me. He loved to go for walks, but liked to take his sweet time and stop to sniff every single bush and tree. I remember he loved his treats and sometimes he would bury a treat in the couch for later. That was always a surprise when I sat down to watch tv and would discover his treasure. The time he got his head stuck in the milk bone box will forever be one of my favorite memories. Every day with him was the best, my favorite, my peace and joy. My heart will cherish these memories forever. Sonny, you were such a good boy. My heart will long for you every day until we meet again on the Rainbow Bridge.
Missy Williams
---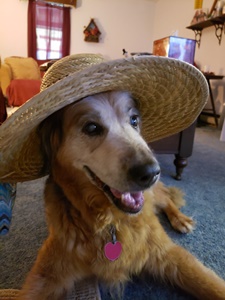 Love you and miss you Missy girl. Sweet Sixteen Sixteen picture was the most favorite. 💞❤
Daisy Hammonds
---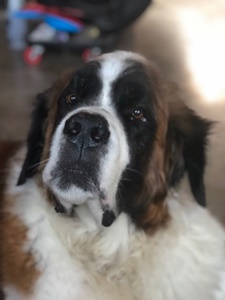 Daisy
Our faithful friend and loyal companion. You brought so much joy and happiness into our lives. We will always remember your crazy antics like all the bird nests that you destroyed; the time that your curiosity got the best of you and you had a run in with a skunk. We were up half the night trying to get the smell off you. So many times when we would fail to close the door completely from the garage into the house and you would slowly nudge the door open with your nose. If after a few seconds you didn't hear "Daisy don't you come in here" then you would poke that big head of yours around the door and pause. Then if you didn't hear anything you would come bursting into the kitchen. We really miss that big head poking around the door. There was never a dull moment with you around. We have so many good memories. We always knew the day would come when we would have to say goodbye, but our hearts were not ready to let you go. As time went on and we watched you struggle to get up and down even though you never let on we knew you were in pain. When you could no longer get up without help we knew we had to do so something. We couldn't bear to see you suffer. It broke our hearts in two but we had to do what was best for you. Thankfully Peaceful Pet Passage made the process a little easier for all of us. Dr Carney was so kind and understanding. We miss you so much. There will never be another dog like you. You may be gone from our side but you will be in our hearts forever. We love and miss you so much. Rest In Peace sweet girl.
Love always
Mom and Dad
Sadie Chronister
---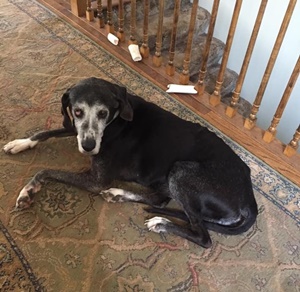 Sadie was 14 years old she had 3 acres to run around. Always waiting for me to come home. Since I retired we spent a lot of time as she laid on her bed at my feet watching tv. She will be greatly missed.
Paris Kauffman
---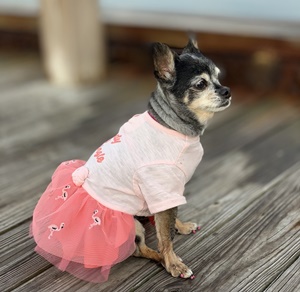 Paris was our baby girl, our princess, so full of spunk and energy. She loved to be loved, but liked her space too.
She enjoyed playing with toys in her younger years, but as she got older, getting all dressed up and pampered (yes her toe nails are painted pink) was what she enjoyed most. Oh, and we can't forget about her cuddle time with her dad every night before bed. She always waited up for him and gave him kisses, but she always needed her pets in return. She also enjoyed the beach. We were lucky enough to be able to take her twice in the past two years which is where she seemed carefree and happy. Spending time cleaning, kissing, loving, and tormenting her brother (Pico) was one of her favorite things to do as well. Paris lost her brother, Pico, almost a year ago. (May 2019) Ever since then, a part of her has always missed him. They were inseparable for 13 years of their lives together.
Shortly after Pico passed last year, we introduced Paris to her new brother (Loki – 1 year old now) . We hoped this would help the healing process for both her and us. In some ways it did, but she never let Loki get away with anything. She was still the princess and she made sure he knew that.
Paris was 14 years old and fought a good fight. She endured congestive heart failure for the past few years and kidney failure for the past year. She was such a blessing to all of us and will be missed dearly.
Paris, we miss you more than you will ever know. Thank you for teaching us what unconditional love is and also for mentoring your little brother (Loki). We can only hope that you are with Pico running, playing, and enjoying each other, once again.
Love, Mommy, Daddo, and Loki.
Peaceful Pet Passage – Thank you for your kindness, compassion, and making a really sad/horrible day into a positive experience we will never forget.
Molly Martek
---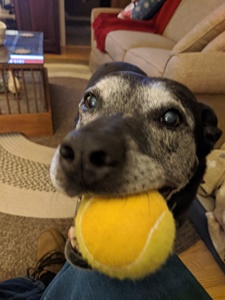 Molly was a black lab/pit bull mix. We were able to celebrate her 13th birthday in January 2020 with steak and ice cream. Molly had personality plus and made us laugh every day. She was also the best snuggle buddy. Molly loved carrots, apples, chipmunks, helicopters and birds. Her favorite toy was her "binkie". Our sweet puppy will be in our hearts forever.
Molly Hummel
---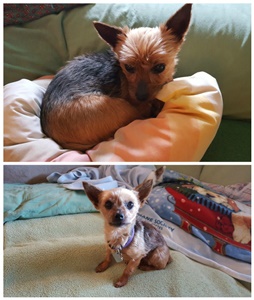 Our hearts are broken. Our 16 year old faithful friend Molly has crossed the rainbow bridge. She came into our lives when she was just 8 weeks old and was one of the most loving, loyal, and sweetest friend that we had the good fortune to experience. She joined her sisters and brothers, Buddy, Jasper, and Sadie on the other side of the rainbow bridge and we know they are all running and playing together. She would always be sitting in the window waiting for us to arrive home and would announce our arrival to her sisters Daisy, Honeybunny and to her brothers Harley and Cooper. We love and miss our little Molly and are certain that when it is our time to cross the bridge that she will be sitting there waiting for us like she always did.
Jovi Wells
---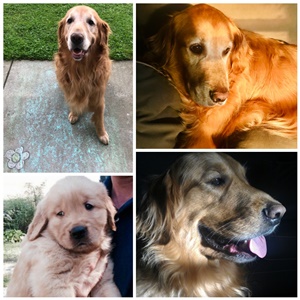 Jovi my beloved best friend went over the rainbow bridge on October 2,2019. My heart is still beyond broken without him by my side everyday. He was the most precious puppy for sure. The day we picked him up to take home he was crying and trying to get out of the car. It was sad really as we were strangers to him and all he had known for the first 8 weeks of his life was being with his mom and siblings.
Jovi was a loved part of this family for 9 short years and took care of us as much as we took care of him. He was spoiled with sleeping in bed with us and always had his favorite toy ...a racket ball and his stuffed tuff toys. He also did a great high 5.
You always think you have more time and 9 years with him went by so so fast. Jovi had an aggressive form of bone cancer in his leg and was in so much pain I am sure.
The day I had to call Peaceful Pet Passage was the hardest thing I have ever had to do. It still haunts me and always will that I made the right decision. My Family and friends said it was time but I will forever wonder.
He loved the snow and I hope there is a lot of it in heaven for sure. I also hope he is waiting there for me when my time comes. Thank you Peaceful Pet Passage for showing us kindness and empathy when you were with us to help Jovi to the other side. Jovi was treated with great respect ,integrity and dignity.
I will always think of him running in fields and loving us as only dogs can.
Tony Copenheaver
---
This is Tony Copenheaver in his very favorite place - the living room window. He was the best behaved and most affectionate cat ever.
Oreo Marburger
---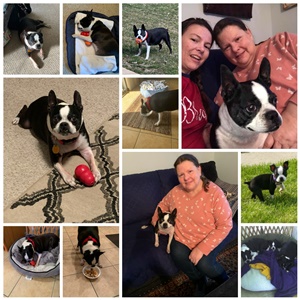 In loving memory of Oreo Marburger, Boston Terrier, who would have been 12 in April 2020
We had to say goodbye to our sweet Oreo on Saturday, Feb 29th. The house is so quiet. I expect to see her following me around as I go from room to room. I want to sing to her and call her name out hoping she comes into the room. My heart is broken. She had a great last day before and then morning of her death. She got to enjoy peanut butter in her Kong, had Jasmine Rice for lunch and a child's cheeseburger for dinner. She had a very short walk and played catch one last time (both painful for her but it was something she loved). I was so happy the sun shined for a little while because she loved laying in the sun. Hollie Marburger Kline & Andy, Chase, Fred Marburger where with her at the end. Jess Taylor got to say goodbye to her via Facebook from College and Robert Taylor stopped by Friday night. We know Beau, Lucy and Diamond were waiting for her as she crossed over the Rainbow Bridge. We laughed about how Oreo would be bossing them around again. She was always the Alpha Dog! I lost my little, loving companion and will miss her every day. Thank you to Fred Marburger, Dave Heikes and Diane for our fun road-trip to help me from being so sad...... Thank you to Dr. Riordan, Joey and John from Peaceful Pet Passages for coming to our home and allowing us to help Oreo have her loving family with her at the end.
And I sing: Oreo, e - o, e - o, e - o, e - o. xoxoxo
Furry Sparkles
---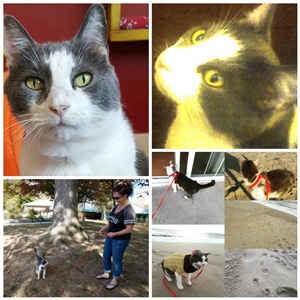 This cat...so clever - the magical Mister Furry Sparkles. This neighborhood legend and I crossed paths in 2006 and little did I know we were destined as adventure seeking partners for the next 14 years.
We met when I moved into the first house I ever bought. My first memory is of him scampering down a tree to chase my Dane and I. He moved on to jumping up on the second story and pawing at my bedroom window until I let him in.
You see, his lot was challenging. He was adopted from a shelter giving free cats away by an 8 yr old and her family, a neighbor of mine. The kiddo named him as her birthday gift but soon this family decided litter boxes didn't belong in the house and that cats (even in the city) should live outside. Every time I saw him outside, I opened my neighbor's door only to see the husband kick Sparkles back outside. This amazing soul worked the neighborhood for treats, food, and shelter. He even looked both ways before crossing the street. Fast forward a couple months, and he is bleeding on my side porch - a victim of a UTI/crystals since every handout was a different brand of food. I called my vet who kept Sparkles for the weekend. After that experience, Sparkles moved in with me. We've road tripped, attended music festivals, and jammed out on the Cape May ferry amongst other seaside excursions. My heart kitty was purely the reason when I was alone one Thanksgiving that a famous artist and her deeply compassionate friend invited us into her beach house for a holiday meal for both of us.

My magic man traded in lives fighting the good fight against cancer, asthma, and diabetes.
My last memory is of him curled up next to my current rescue Dane.
So, it's not goodbye mon petit chat, just see ya later. I love you. I can't wait to see your name engraved on the granite wall, now you can run free with your bestie Apollo Jester.
Luna Cope
---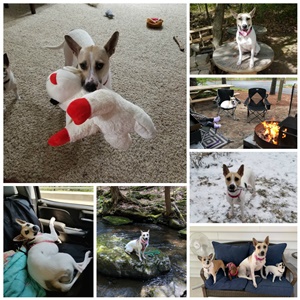 In loving memory of Luna Cope 7/11/16-2/22/20
Luna lost her battle with renal dysplasia over a week ago and it has been too difficult to post; she was a fighter even up until the end when we had to decide for her. Luna had a lot of adventures during her short life; she loved car rides, camping, hiking, sticks, chasing squirrels, basically anything to do with being outside other than rain, she despised the rain! She was incredibly intelligent and quick to learn, but also super stubborn!! Her favorite toy was "Lamby" (lamb chop), it was the first toy she'd run for in the morning and would proudly carry it in her mouth all around the house; lamby went everywhere with her, she had about 4 or 5 of them in her lifetime since mom could only do so much surgery until it had to be replaced. At the end of her life, she had 2 lambs and her favorite was cremated with her; I was thankful that she was able to take it with her. We miss Luna terribly, despite having 3 other dogs (chihuahuas), the house feels so empty and is quiet without her. We wish she could've had more time but unfortunately, we knew from the beginning that she wouldn't be around long, she surpassed living past the age of 1 and survived 5 months longer after a near-fatal kidney failure this past September, and for that extra time, we are grateful.
Thank you so very much to peaceful pet passage for all that you did and the way that she was memorialized; I especially am grateful that some of her fur was saved for us as I had felt incredibly guilty for vacuuming up all of her fur after she passed.
We love and miss you Luna and will see you again someday; run free ♥️🐾♥️
Sonja Rishel
---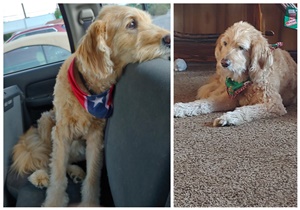 Sonja was apart of our family for almost 14 years. I remember going to pick her up from the farm like it was yesterday. We were just going to "look" at the puppies, but everyone knew we would come home with a puppy. She was one of the first puppies that I saw and she had these massive little paws. I said that this is the one (our first dog had been small my mom and I really wanted a big dog). Thankfully we all agreed on her. We made it halfway down the lane when we made my dad turn around and ask when she was born. The man thought that we were crazy, but you cant celebrate her birthday unless you know it. She was born on June 2nd, 2006. Fast forward a few hours, she was freshly bathed and walking around the yard. We had a pond that was covered with Lillies and Hyaciens. Sonja walked right over this and fell into the pond. Luckily we were there to grab her. This was a rough event for her, she had no idea what had happened. It was scary at the time but, after it was over we all laughed about it.
Another memory is our first camping trip as a family. We had only had Sonja for a few weeks when we took this trip to Codorus State Park. It started great but ended up being a little bumpy. The first thing that happened was Sonja decided to jump off the boat and into the lake since, she was a puppy she was not able to swim. So, my dad jumped into the lake with all the fishing rods in the water and the motor still on. My mom and I were screaming "Sonja Sonja oh my god" meanwhile my dad is tangled in all the lines and the boat was moving away from him. Finally, we got her and my dad in the boat safe and sound. We made sure to hold onto her for the rest of the trip. To this day my dad jokes that he only jumped in to save the money he spent on her. Haha, Fast forward a few hours our Jeep broke down and we had to walk from the lake to the campsite. This was a nice little hike. Sonja was too little to do this on her own, so I ended up carrying her half the way. FYI puppies can still be heavy. I could not let her walk all that way on her own though. She had the sad eyes and pouty face down since day one. Hence I had to carry her.
Sonja may have been just a little bit spoiled. My dad always joked that she was his favorite (it wasn't a joke). Everyone knew this and would even tell me he loved the dog more. (who wouldn't?)Sonja had everyone my dad included wrapped around her paw. She got whatever she wanted whenever she wanted. Even my grandma who doesn't love dogs loved her. My grandma would give her a treat every time Sonja went to visit, let her eat off her plates (if you knew my grandma you would know how big of a deal this was), and she even shared a bed with her. Sonja was one in a million dog. No dog will ever replace her and she will be greatly missed by all. If you ever had the pleasure of meeting her you would know how true this is. There will never be another dog like her.
I could go on and on with thousands of memories of her. She had a great life and was happiest when she was with my dad. She may have been a family dog, but she was attached at the hip with my dad. They did everything together and I do mean everything. When hee showered she waited outside the door, he ate she ate, he went out to run errands so did she, he went to the bathroom she followed, and he would get so upset when he would trip on her. She was his shadow and even though he hated tripping on her nothing made him happier than being with her.
Thank You for allowing me to share some of my memories of her.
Munster Bryson
---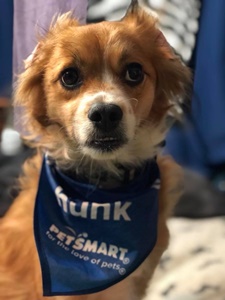 Munster (mun mun) was everything plus more I could want in a dog. From his special underbite, to his one paw only having 1 finger/nail, to his really long skinny legs. He was the sneakiest boy when it came to getting into the trash, or really getting into anything he knew I wouldn't want him to be in. His selfie sticks (long legs) are sure missed in our home. Ready easy my boy.
Smile often 💕
Jimmy Swartz
---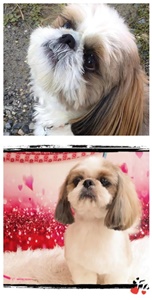 Jimmy lived only 9 short years because of a cancerous tumor in his mouth/jaw but those 9 short years brought us so much joy & laughter. He loved everyone & everyone loved him. We always said Little Dog with a Big Attitude! He ran the house, whatever he wanted, he got!
He loved going north to our cabin, car rides, kids & treats. He loved his toys and wouldnt share with anyone.
He especially loved his Santa that was cremated with him.
He went for rides on his Daddy's snowmobile, Harley, golf cart & tractor—he was fearless for a little guy.
I read one time that dog lovers/owners will have that "once in a lifetime" dog....he was & always will be that dog!
Run free little man....Mommy & Daddy will love you forever and will see you again in Heaven
11/14/10—2/28/20
Sergie Clark
---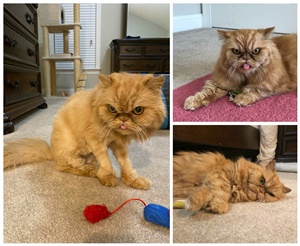 Our sweet Sergie, we are so thankful for the 18 wonderful years we had together, but we miss you dearly.

Run and play, pain free, sweet little guy, until we meet again. We love you ❤️ always
Ollie Cohick
---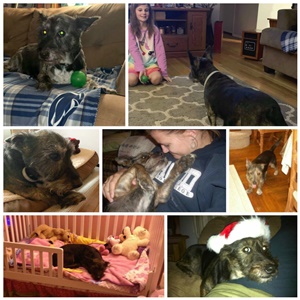 We lost our sweet Ollie a few weeks ago and my heart hasn't recovered. I got Ollie as soon as I graduated college - I couldn't wait to get a dog, and when I saw him on the Humane Society's website - a 3 year old mixed breed, I knew he was the perfect dog for me. That was 13 years ago and I couldn't ask for a more perfect dog. Ollie always loved his green ball. He would play and play until he was exhausted. He loved having his neck scratched, and loved looking out the window. Rest well, Ollie bear - we hope you're keeping Sargey company. We love you! 💚 we are so thankful to Peaceful Pet Passage & Dr. Riordan for making it easier on us, especially having lost Sarge less than two months before.
Annie Cline
---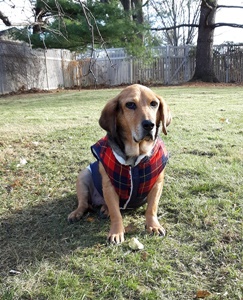 My beloved Annie. You made a difference in my life after the passing of my husband.
Kelsey Ford
---
Kelsey became a part of our family when she was just 8 weeks old and captured our hearts completely. I will miss her sweetness, her goofiness, her loyalty, her snoring, and her love and friendship.
While you are no longer with us Kelsey, I will hold you in my heart forever.
Blu Benjamin
---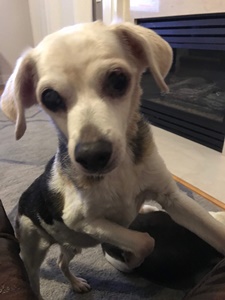 Blu was almost 17 years old when he passed. Blu was independent and had the softest fur under his neck. Blu loved vegetables...carrots and green beans. In his earlier years he would run into the kitchen for frozen green beans any time anyone opened the freezer door. Blu was "my" - our baby beagle who is missed SO very much. I will love you forever and ever, my Blu.
Tavon Yantis
---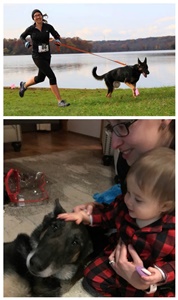 Thank you so much for the wonderful care our dog Tavon received. We appreciate your support during a very difficult time. Dave and I were very pleased with how peaceful Tavon passed. Elizabeth was so helpful and really eased everyone's anxiety including Tavon's.
Tavon was a wild boy with lots of energy. He had the biggest heart and was very protective of his family. His favorite thing to do was to go for long runs and fetch sticks. He was the best running partner you could ask for.
Harley Helwig
---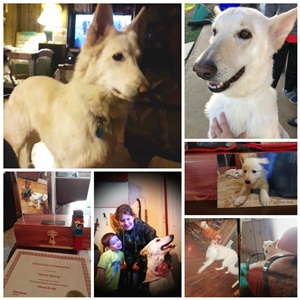 Here are some pics of Harley Helwig. Thanks so much for a great job and getting our dog back to us so fast. She was my son's best friend. Thanks again God bless you all.
Lilly Woods
---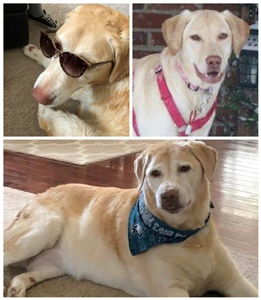 Lilly our sweet girl crossed the rainbow bridge on February 19,2020. She was loyal friend and missed so very much.
Skunky Brewster Brodbeck Noel
---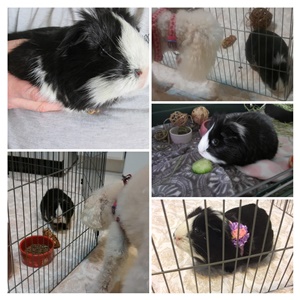 Our beloved Guinea Girl, Skunky, joined us after she was already well into her years. Her sparkling presence was a very welcome one and she was a delightful companion. Skunk's puppy Sisters, Jady and Molly, honored their Skunky sister with the title of "Dog" after which Skunky was known to us as "Skunk Dog".
Skunk enjoyed sunny afternoons noshing grapes, cucumbers or watermelon while listening intently to classical music. An effective communicator, Skunk's delightful "Wheeks" ensured she received everything she desired and required ASAP.
Jady and Molly preceded our Skunk across the Rainbow Bridge last year and undoubtedly were joyfully awaiting Skunk when she made her return to Spirit.
Little Skunk Girl, you are greatly missed. I miss your sweet little nose peeking out from your Pigloo. Thank you for sharing your sparkling little self with us. I am glad you are free to run through endless Meadows under everlasting Blue Skies once again. I hope you have an endless supply of beloved grapes too.
We love you still and always. xoxo
Skunky Brewster Brodbeck-Noel aka Skunk Dog
2011 - February 9th, 2020
Bentley Meisenhelter
---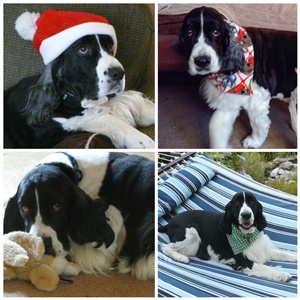 Thank you so much for your visit to our home this past week. From the moment you walked in the house I knew we were in good hands. I truly agree with your characterization of your work as a ministry. You certainly blessed us.
Here are some photos of Bentley. One is with the bunny I was trying to find to send with him. It was the very first toy we bought for him.
The photo of him on the hammock is our favorite. It really shows how regal Bentley was as a young man!
Bren Elizabeth Babcock
---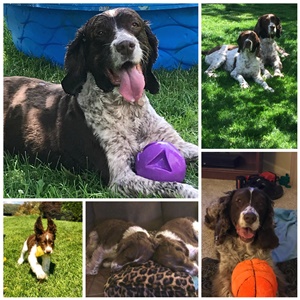 Bren Elizabeth was born on July 17th, 2006. We had just lost our 1st Springer, Dexter, and couldn't take the quiet in the house anymore. Since we were still working, we thought it would be nice if she had a companion so we added her little brother, Jackson, in December, 2006. For the past 13 years they have done everything together from walks, playing frisbee and ball, swimming, sitting on the porch with us in the evenings and snuggling with us on the couch and bed everyday and night. We miss her dearly.
7-17-06 to 2-15-20
Simon Eli Deimler
---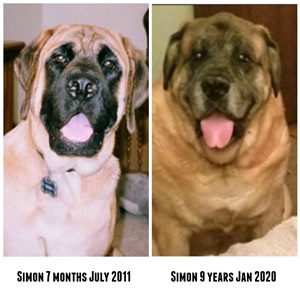 December 10, 2010 to January 17, 2019

Puppy Park Days
I loved the puppy park. We went every nice Saturday and Sunday early in the morning around 7:00 am. My favorite thing to do was to drag a metal water bowl upside down thru the mulch. I would flip the bowl over with a paw, and then drag it towards me while I was walking backwards. Sometimes I would go around in a circle. As I was dragging the bowl backwards I would talk to it. So can you image a 190 -200 lb dog dragging an upside down water bowl backwards thru the mulch and talking to it! When other puppy parents would ask me what is he doing? Mommy would say I am making "Crop Circles" for the aliens to find us.
Abby Doodle Savage
---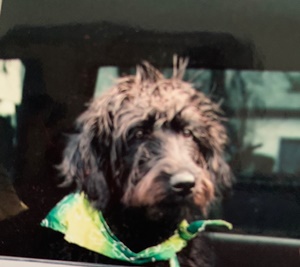 Abby Doodle was the most fun loving, obedient and kind dog. Everyone who met her loved her! She loved to swimming, kayaking, retrieve tennis balls, catching frisbees and being by my side. She will forever be in my heart and soul. ❤
Kahlua Lane
---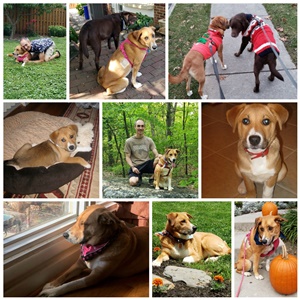 In loving memory of Kahlua
Sammy Alexander
---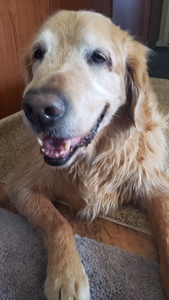 Sammy became a member of our family at just 8 weeks old and was with us until he was 13 1/2 years old. He was a gentle giant who loved everyone and everyone loved him. Sammy and I had a special bond and he was my shadow. Our family went through a lot of loss last year and I asked Sammy to make it through the year and he did. He made it a month 8 days into the new year. We love Sammy and our family now has a void without him.
Mallory Trout
---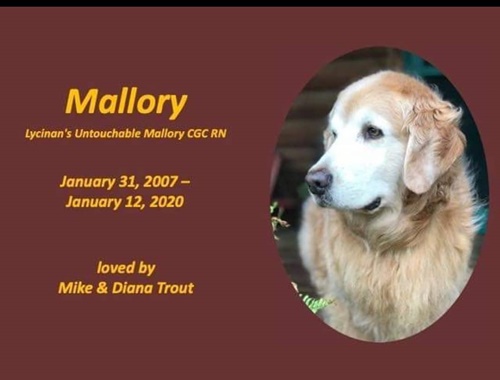 Benny Wilson
---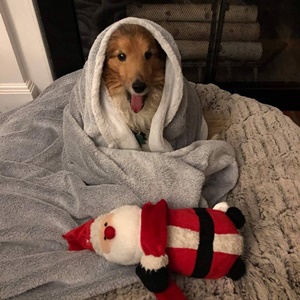 This is our beloved Benny. He was almost 14 when he passed away. He was a huge joy in my husband's and my life. He was a truly quirky Shetland Sheepdog and one of the loves our life. Thank you to Peaceful Pet Passage.
Winston Schanck
---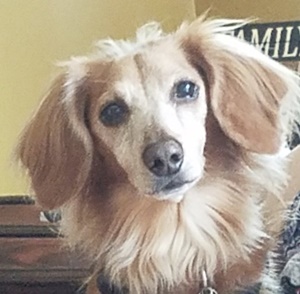 Winston aka Winnie will be forever known for all his fun, mischief and laughs he brought to our family and friends. He will be missed and will always hold a special place in our hearts.

The Schanck Family
Zeus Spangler
---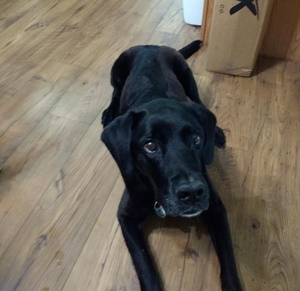 Zeus was a wonderful dog, he was playful, funny, full of energy and the best companion anyone could ask for. Above all else was an integral part of the family. He was always there to greet you at the door when you came home from work and always looked out for us. He was constantly alert to let us know when someone was around. Usually he didn't like getting his picture taken, but when caught at the right moment the expressions on his face were always priceless. He was the type of dog that liked to be right there next to you. Whether it was on the sofa or under your feet at the kitchen table. He would always sit there with this expression on his face of hope, thinking that you would throw a piece of food down on the floor for him, or anxiously waiting to play with the laser pointer or play tug-of-war with one of his toys.
He is missed tremendously and will never be forgotten.
WE LOVE YOU!!
Rain Covert Straub
---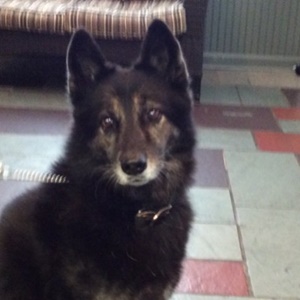 Rain came into our lives, a rescue dog, so small, shy, scared and fearful. That didn't last long. She became fearless with a gentle hand and a lot of love. She loved greeting people, with a little howl and a big smile. She loved to play, run, fetch and frap and was the best companion and comfort. Our hearts could not be more full with her remembered love, given so freely.
We gave her peace, now she plays again, til we get there.
Rain let her love rain down on us for 16 years and will continue forever.
"Let it Rain, Rain, Rain!"
Squeaky DeLizio
---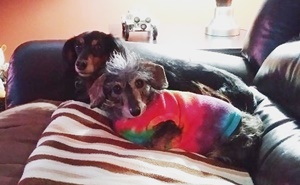 Our tiny, adorable Squeaker...love you forever.
Charlie Cole
---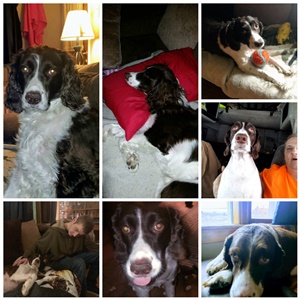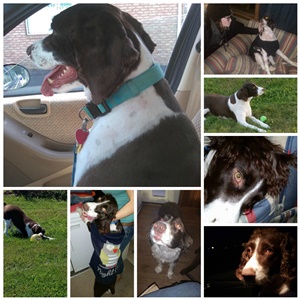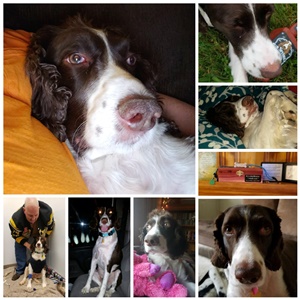 Allie Stermer
---
In Loving Memory of Allie:
My sweet baby boy Allie is gone 💔😥. Hardest thing I've ever had to do to put him down. My heart is totally broken 💔. He will really be missed I got him a week after I bought my house so he has always been here. He was such a good good boy!! Loved to play. Loved presents and loved playing with bows. Loved Christmas and Easter and his Birthday!! He was such good company. He got me thru a lot of rough times in the last 12.5 years. Rest now baby boy. Mommy loves and misses you so much. 💔😢
Sadie Eckert
---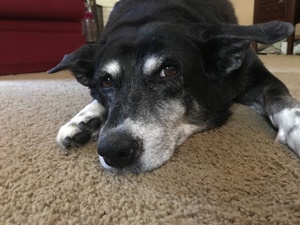 Sadie lived her life to the fullest. She always did things her own way. She loved to swim in our pool and dig in our yard. Sadie could never resist snagging a hot dog or two during our picnics. No unattended plate was safe around her. She loved our kids, was a fun companion and gave us many good stories to retell. She will be missed. Sadie was a great dog.
Pacino Lehman
---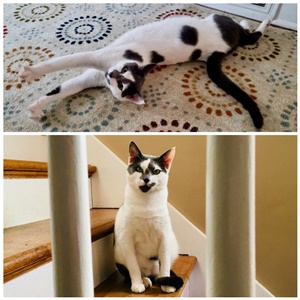 It's hard to pick a word to describe Pacino; there are simply too many. He was ornery, playful, curious, rascally, mischievous, loving, feisty, and full of wonder. He was a fighter who loved life and all it had to offer.
I found Patchy as a young grey and white kitty in August 2018. He had been hit by a car and was laying in the road, almost like he knew I would be coming along to scoop him up. As he rested in my lap on the way to the emergency vet, I promised him that if it made it, he would have a home with me. Miraculously, he wasn't as injured as it seemed. But x-rays revealed that he had an enlarged heart. He would probably not live as long as a "normal" cat, but could still live a decent life.
My husband, a movie buff, immediately named him Pacino because of the big gash above his right eye. Patchy promptly made himself right at home. For the next year, Patchy spent his days tripping people, chasing the other cats, taunting the dog, stealing food, and being the neighborhood watch cat. If there was excitement in the house, Patchy usually started it or was somehow involved.
We noticed Patchy losing weight and strength in late 2019 and by January of the New Year, we realized he wasn't the Patchy we knew. We did everything we could to make him feel loved in his final time with us. Thanks to Dr. Carney, we were able to say goodbye to him as he peacefully slept on my lap, on his favorite blanket, on his favorite couch with those who loved him by his side.
We can't thank Dr. Carney, Taylor, John and Laurie for everything they did for us and our boy. Because of them, we know Pacino was comfortable until the very end.
The saying "the light that burns twice as bright burns half as long" has never been more appropriate. Rest well, sweet Chini. You are forever in our hearts.
Alyssa, Adriel, Jonas, Nolan, Mona, Keke & Fluff Fluff
Bullet Guay
---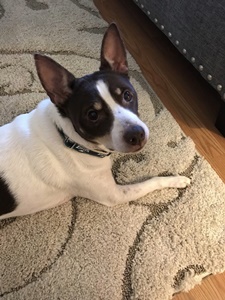 Bullet was a quirky terrier mix who came to us from a rescue. He liked playing with stuffed toys, going on walks, and especially loved burrowing under the covers. He was devoted to his people and we grew to love him as one of the family.
Thank you for your kindness and compassion.
Maggie Mae King
---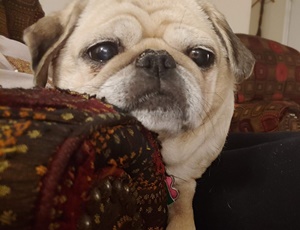 In loving memory of Maggie Mae
Kobe Taylor
---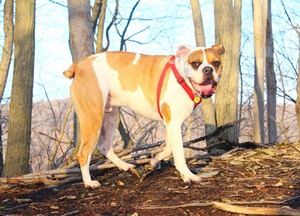 Kobe loved adventures, bye-byes🚙, swimming, hiking, barking, cheese, cuddle time & much more. He wasn't a fan of all dogs but he had a few doggy friends in his lifetime. He was a great dog, one of the best I've ever raised. He was a wonderful sidekick & his favorite song was HEYBULLDOG by The Beatles. There's so many memories we shared in 7 years & we will always have them & that's how we plan to keep him alive!
Thank you again,
Namaste from Ariel & Chris ✨🐶✨
Nigel Taylor
---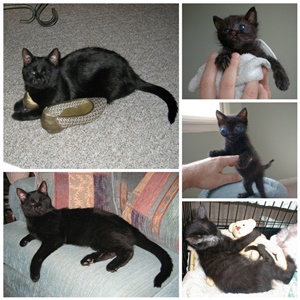 We lost our precious Nigel on 1/28/2020. He passed peacefully at home with Dr. Riordan's help. Thank you Dr. Riordan & PPP. Nigel was almost 17. He was special, a fighter and a true inspiration.

We got Nigel when he was approx. 2 weeks old. Abandoned by his mommy, he was malnourished and had severe upper respiratory and eye infections. I honestly didn't think he would survive. After seeing a vet and receiving meds within the week he began to improve, however, his eyes appeared cloudy and seemed to be getting larger. After seeing a veterinarian eye specialist he was diagnosed with glaucoma, rare in kittens and puppies. Due to his young age meds and surgery had to be put of until 16 wks. of age. We were assured that his eyes would not rupture. Unfortunately at 10 wks. that is exactly what happened. He had emergency surgery to remove his eyes. His first year was rough as he battled many infections in the eye area. He was a fighter and came through the ordeal with flying colors.

Although blind Nigel was healthy, happy and did everything a normal cat could do. He lived a very active life chasing my other cats, playing with toys, getting on cat trees & counters. Nothing could stop him. It was hard to believe he was blind. He liked sleeping on shoes and his very favorite person was my husband Paul.

A few months ago Nigel started losing weight. Tests & blood work showed nothing. We almost lost him at X-Mas but with fluids done at home and prednisone he bounced back. A couple days before he passed his abdomen filled with fluid & with some of his other symptoms the vet thought he may have liver cancer. This battle he couldn't win.

Nigel was special. He was loved more than you can imagine and will NEVER be forgotten. Don't be afraid to adopt a special needs animal. They are amazing!

Paul and Janet Taylor
Twinkie Seitz
---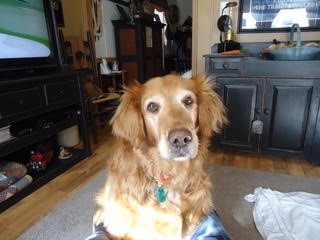 Twinkie came to us about 5 years ago thanks to GoldHeart Golden Retriever Rescue. She was a little on the heavy side, weighing 120 pounds. She started eating correctly and getting exercise by going to the park and walking about 1/2 mile twice a day. She ended up losing 26 pounds in about a year. She loved everything (including cats) but she was always ready to say hello to people she met during her walks. Her favorite things to do were destroying stuffed animals and especially sleeping. She definitely was one of a kind and will be deeply missed but not forgotten.
A special THANK YOU to Dr Mary and Joey. They truly made this process bearable.
Ken & Carol Seitz
Peanut Jacobs
---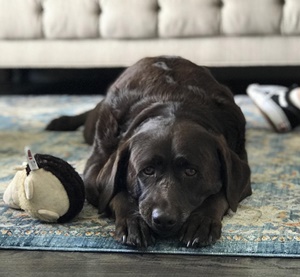 Peanut was always a lover and wanted to kiss everyone she met. She was a kind dog and always knew how to reach people, even people who claimed to not be a dog person. She will be greatly missed.
Jimmy Walker
---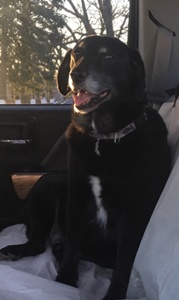 Jimmy was already 1 1/2 years old when I rescued him through Castaway Critters on 12/23/2006. Jimmy and I had such good times together throughout our 13+years!! We put hundreds of miles in walking during our time together!! Jimmy loved going out for rides with his Dad. Our longest road trip was to Pittsburgh and back in one day. He rode in the backseat and was completely content. He even got to ride along with Dad on Fire Calls occasionally. Jimmy hung out at the fire station a lot and was the unofficial fire dog at Eureka VFD! Jimmy loved getting spoiled with food!! He loved eating cheeseburgers!!
I will miss our long walks together!! I'll miss talking to you, crying with you, laughing with you, eating with you, playing with you....mostly giving you those kisses on your nose!! You were my most truest and loyal friend and companion!! My heart will have a huge void that'll never be filled again!! I miss you so very much!! You were such a Good Boy!! My heart hurts so much buddy!! I'm happy that you're able to run around and play without pain now...but your Daddy's heart is truly broken!! Run free buddy and someday we'll meet again!!
Love You Forever Jimmy!!
Rudy Stoltz
---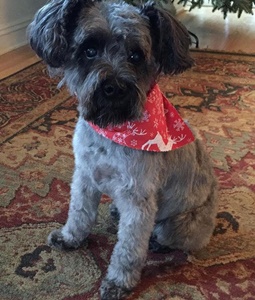 We are so appreciative of Dr. Elizabeth Carney. She helped put our family at ease when making this most difficult decision for our dog, Rudy.

He truly had a peaceful ending to his happy life!
Thank you, John, Kim, Elizabeth and Eric
Brandy Hetherson
---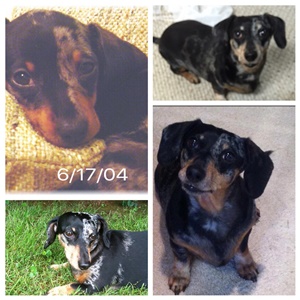 Our Brandy girl loved to cuddle, look out the window and patrol the yard perimeter to keep her bunny friends safe from predators. Brandy was loving, loyal and irreplaceable. She is deeply missed by her loving doggie parents John and Samantha who loved to spoil her.
Maggie Auker
---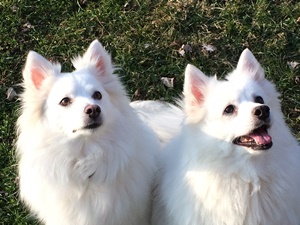 Thank you PPP for your compassionate care and euthanasia of our beloved Maggie last week. (Right) She loved the creek, even in the winter! RIP to her companion Leo who passed just six months ago. He always was the lead on any hike. Both are sadly missed.
Bailey Frank
---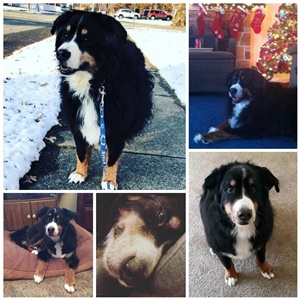 Bailey was so full of life with a deep love for the snow. He would lay outside for hours getting covered until he was a white blanket. Bailey would let you know he was there by barking. He never let a moment go by where you didn't know he was there until he got older. He was a dog true to the words of loyal companion. Also, he never let a day go by without letting you know if it was time to eat or time for a treat. We will never forget his obsession with milk bones and his LOVE for cheez-itz (because it was the same colored box). He was a dog true to knowing when you needed a pick me up or even just a snuggle. If you couldn't ever find him just know not to look too far; because he was hiding in his safe haven of the closet. He truly was the best Bernese Swiss Mountain dog we could have ever asked for and the best doggy brother to his sister Reese. His love for going bye byes and long car rides was priceless, and we will truly miss him. He loved his bed and his family more than anything other than food. He will truly be missed, but we know he is living his life to the fullest in doggy heaven.
Love Always,
The Frank's
In Remembrance of Bailey 04.04.2006-01.20.2020 💙🐾👼🏽🐶
Jadey Kormis
---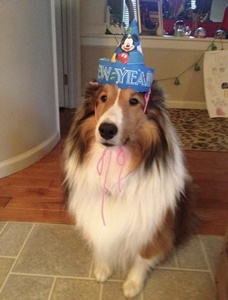 We loved our sweet sheltie Jadey. She always put up with us dressing her up for the holidays! (At least long enough for a photo!)
Sam Long
---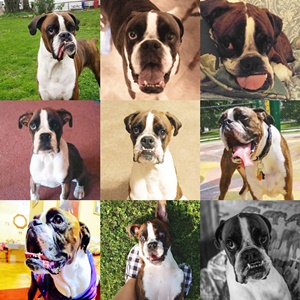 Sam, Sam, Sam...
Where can I even begin? I had no idea I wanted a dog. (To be fair, I "want" every dog I ever see.. but to really be ready to take on the responsibility?) But there you were. On the Petfinder page, next to your sister. "3 month old boxer siblings" it said. The female had been adopted and the little boy remained. I decided on your name before we even met. "Sam" after the unlikely, brave hero Sam Emerson from my favorite movie The Lost Boys. Meeting you in person was the best day of my life. You hung out in my arms, so comfy, for probably an hour. Giving you back (you still had stitches from your "snip snip") was so hard! You were MY baby! MY son! From that first moment you were my everything. Your first few months were hectic. I think I said "you're lucky you're cute!" daily. Let's recall the time you destroyed your grandparents entire recliner chair! And how many times did we have to call Verizon for a new cable remote? But the puppy days end. You became regal, stunning, buff, threatening in appearance but charming in personality. We had some awesome times together! We went to Cape May with your sister Daisy! Are you playing together up on the rainbow bridge? I loved our afternoons spent at the dog park, and swimming in the Yellow Breeches. Do you remember the day little sister Olive came home? You were so happy to not be the "only dog" again. You guys had so much fun playing and romping around. When we found out you had this nasty thing called cardiomyopathy, we were so worried for you. But we should have taken a hint from you. You lived life to the fullest and enjoyed every single day. You had the best summer, Halloween, Thanksgiving, 6th birthday, and Christmas with us this past year, even with being "sick". But we know you didn't like the pills. And the poking. And not being able to eat anything you wanted. We are so happy for you that all that is over. You are back into the body you had when you were that devilish little pup. Life on Earth without you is hard. But our forever life together is yet to begin! Stay by my side and be my guardian angel. I promise to try to live with the values you taught me. Unconditional love, empathy, enjoying the small things, and never turning down a good afternoon nap.
Rest in paradise our sweet angel.
Sam
12/18/13-1/12/20
Love, Mama, Hailey, Grandma, Grammy, Pappy, Uncle Joe, Olive, George, Nefertiti, and Cooper.
Bella Timmermans
---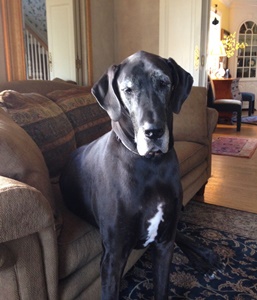 Bella's Love is beyond measure. When we would walk her around Mount Wolf, PA, a lot of Love came her way. Everybody knew her name. She gave Love Energies off simply by BEING & knew how to have a very good time. Joy was all around her even when she slept.
As it goes, at age 10 1/3 years old, things started shutting down quite rapidly & we felt the need to release Bella from her suffering body.
Peaceful Pet Passage was Highly recommended to us because of their Compassionate & Loving Service. Even though it was a Saturday & the weather was snowy & sleeting, Elizabeth Carney, DVM came within a 2 hour time frame & with great care & compassion, she assisted our Bella for a peaceful passing. We Highly recommend Peaceful Pet Passage...one of the Greatest Gifts of Love is that of letting Love go.
L.A.A.F.
Pat & Robert Timmermans.✨💖
Max Kerlinger
---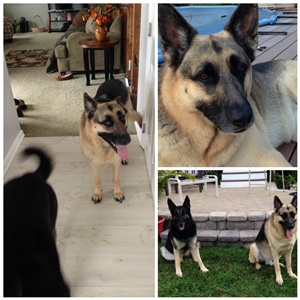 We adopted Max when he was about a year old. He was a stray and taken to the York SPCA. When we took him home he didn't know how to play at all. I remember he was so tired from being in the shelter for the previous 2 weeks that he collapsed that evening we brought him home & we thought he passed away. From that day on he has been such a special part of our lives. He was a true protector, a true best friend, our biggy boy, and literally the happiest boy ever. He learned how to play and played well with our other dogs. He would sit in the yard or on the deck looking out over the yard and we would say that he was sitting there like a king looking out over his kingdom. He gave us so many good memories over the next 10 years he was with us. Sadly, his arthritis got the best of him and we knew we had to make the toughest decision of our lives........to let go of our "king". He is now pain-free and able to play again with his siblings. Until we meet again Maxie. We will love you forever.
Toby Wertz
---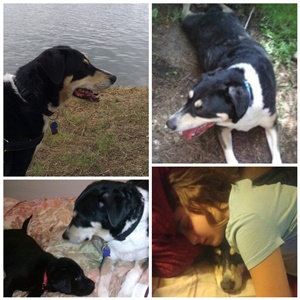 Toby was adopted into the family on May 1, 2010. Animal Friends matched him with us and announced that he found his FOREVER home. Over the years we fell more and MORE in love with him. As we walked through the front door he wagged his tail so happy to see us. He loved to take go for drives, walks by the Ohio River, chase/bark at birds and squirrels, and play tug. He was always so laid back. He never jumped up or liked giving kisses, but we would smother him with love and kisses. His spirit lives on forever in our hearts.
Brandy and Shiloh Nailor
---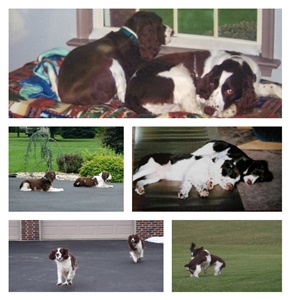 Our girls, Brandy and Shiloh, were littermates. We brought them home when they were 10 weeks old, and for the next 13 years, they were inseparable. They died of cancer, just 3 weeks apart. There are no words for how much joy and laughter our girls gave us. We would only hope they felt as loved by us. They warmed our hearts and our lives like nothing else before. They were like children to us, and we called them the kids, which confused others who would ask how our kids were doing and we would talk about Brandy and Shiloh. Girls, there is an emptiness in our hearts and our lives that was once filled with your loving companionship, and we miss you terribly every single day. Till we are with you again, "You kids rest, OK?"
Greta Smith
---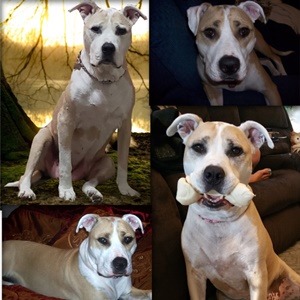 In loving memory of Greta, 12/31/19💖🐕
Greta was 13 ½ and she has left the best memories with us. She was an important part of our family and she will be truly missed. It was love at first sight when I saw her….she wasn't even the puppy we went to see in the litter. But, this fat little 10 week old puppy ran towards me and jumped into my arms and that was it! I had to have HER. She always loved to snuggle on the couch or in bed. This girl was definitely a lover! She wasn't athletic or graceful; but, her clumsy moments are leaving lasting memories for us to laugh at.
FOREVER LOVED, NEVER FORGOTTEN; GRETA WILL ALWAYS BE IN OUR HEARTS
Thank you to Peaceful Pet Passage for making the experience as tolerable as possible. It was wonderful to have this done at home where Greta was comfortable.
Shmooshy Pike
---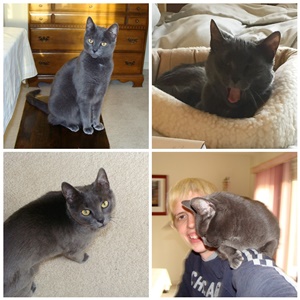 No words seem fitting to describe Shmooshy or to express the painful void her passing has left in our hearts. Our Shmooshy brought so much laughter, happiness and comfort to our lives. Her favorite game was to play with the flashlight beam or the light reflections from passing car headlights or to catch the sunlight glinting off a watch face. When picked up, she liked to climb onto our shoulders and perch there. She loved window gazing, snoozing in the sunlight and watching me put up the Christmas tree. She was talkative and loving, gentle and snuggly. I'm so thankful for the gift of her 19 years and so grateful she was ours.
Thank you for everything during this difficult, most difficult time.
Sarge Cohick
---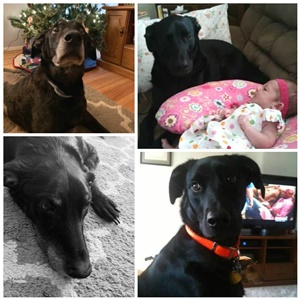 Our boy Sarge passed away on December 14th, one month shy of his 11th birthday. We had him from 8 weeks old, and he was there through my husband's deployment, the birth of my two babies, and was the most faithful, loving, and best dog we could have asked for. We miss him and love him so very much. 💚
Maggie Bartels
---
I miss my girl very much every day. She was my best friend and we adored each other. She was the only pet I ever had who was just all mine. Thank you for making a sad sad day a little more thoughtful. Your staff is amazing.
China Bish
---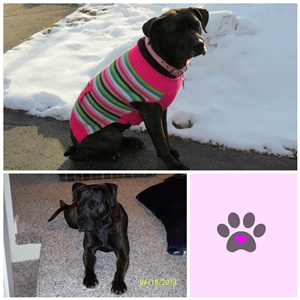 Thank you Peaceful Pet Passage for giving us the opportunity for our China to pass at home. She got to be in the home she loved and we got to be with her when she passed. I know you have seen the signs of "Who Rescued Who?" and this is truly the case in our home. We rescued China when she was 2 years old, but she rescued us too. She gave us so much love and joy in her 8 years with us.
Sincerely Thankful to you Peaceful Pet Passage,
Jon, Angie, Noah and Hannah Bish
Sam Stokes
---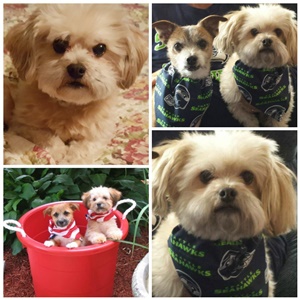 Sam crossed over the Rainbow Bridge on 12/16/19. He was 3 weeks shy of turning 15 on January 4th!
When we first laid eyes on Sam and his littermates, he fit in the palm of our hand. He was so cute, I fell in love with him immediately but my husband was drawn to his brother, who we named Harley, so we each had a pup to cuddle with on our laps. Even though they were from the same litter, they looked and acted totally different! Sam resembled a Shi tzu and Harley a Jack Russell.
Sam was laid back, loved to play with toys (he would shake his head back and forth with his stuffed animals in his mouth and they would fly across the room and he would chase after them), loved to have his toys strewn all over the floor and when we would gather them up and put them in the toy basket, he would grab a few and bring them back out or upset the whole basket looking for a certain toy! Just like a kid...he was one of our kids! He loved to sleep laying on his back with his legs up in the air. I could go on and on about all the wonderful memories of Sam, but right now my heart aches and I am typing through tears. I miss you so much Sammy. You were my favorite Hello and my hardest Goodbye.
Your Daddy, Harley and I miss you so much but are grateful for the many years you touched our lives. We will miss & love you forever!
Thanks so much to Peaceful Pet Passage for your compassion and kindness. Saying goodbye to Sam was, by far, the hardest decision we had to make but Dr. Carney made this diffucult experience a little easier by giving us the time we needed, being compassionate and sympathetic and even including Harley in the final goodbye. Tom was so compassionate and respectful both when he took Sam away and a few days later when Sam's remains were returned to us. Thank you for providing this truly amazing service for pet families.
Shelby Crouse
---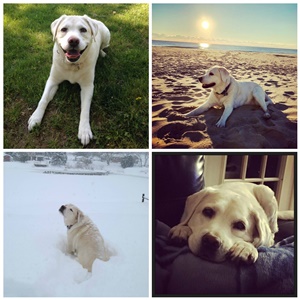 Shelby was 5 1/2 when she first melted my heart. I saw her photo on the breeder's website that I was going to get a puppy from. As soon as I saw her face, I knew I met my best friend and forgot about the puppy! She was my side kick and companion - always making my bad days good and keeping me smiling and laughing. She was an original - quirky and silly! Shelby embraced my husband when he came into my life and welcomed him into our little family. She passed days after her 15th birthday. Our hearts are broken and she will be missed more than words can say. We love and miss you Bubba!!
Tigger Davis
---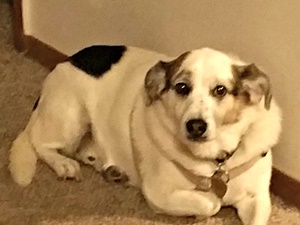 My Tigger crossed the rainbow bridge this morning - he was 17 years old - run free my little buddy.
Kingie Groft-Kindig
---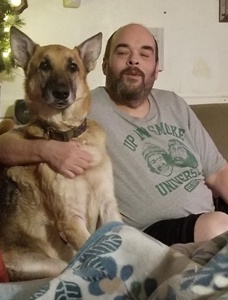 In loving memory of Kingie Groft-Kindig.
Peaceful Pet Passage was so understanding when they got to my house. They left us take our time to say our goodbyes. Though it was a tough decision to make, we know it was the right call and kingie is no more in pain. They also took 2 of his favorite toys with him and a munch bone. Kingie, you are deeply missed. Mommy and daddy love and miss you so much. CJ misses his little brother too and said he loves you.
May you spot all of the buck across the rainbow bridge. 🦌🦌🐪🐪🦌🦌 and may the camel always ask you what day it is......
Tawny Barnhardt
---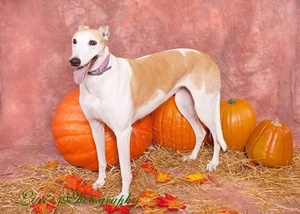 I can't believe that it will be a year on December 31st that my beautiful Tawny Gable Minne HaHa went over the Rainbow Bridge. She may have been my third greyhound that I lost, but she lives on in my memories. She was a very happy girl that came from Texas. I miss her so very much. I loved how she would come greet me at the door when I came home with a happy dance and then a play bow. When it was time for bed she would bark at me as if saying, come on mom, let's go out and then go to bed. I know she is running free of pain along with Anna and Minnie Pearl.

Thank you so very much for helping her have a very peaceful passage over the bridge. The vet that came was very compassionate to both me and to Tawny.
Morgan Grove
---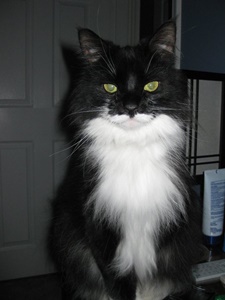 In Loving Memory of Morgan
️

Morgan was with us for 16 years but it will never feel like enough. She had the prettiest green eyes, craziest whiskers and plenty of sass. My first pet as an adult, she was with me through the good times and bad, always laying by my side when she knew I was upset. The past 4 years, she has been my son's best friend. She will always hold a special place in my heart. We will love and remember you always sweet girl.
Meeka Fowler
---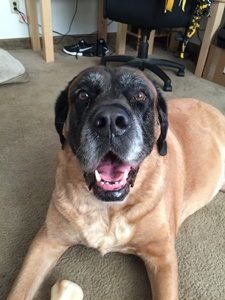 Meeka was an amazing companion, protector, and beloved member of our family. She was a rescue, and within about a minute of meeting each other, we knew it was a perfect match! She loved going for her daily walk, her blankie and her chew toys. She was very nosey, very smart, and just had to be around someone, no matter whom it was, as long as she wasn't alone. She had to follow wherever you went. She loved her family, just as much as we loved her, and we feel honored to have had her as a family member.
She will be cherished and missed forever.
Crosby Bressler
---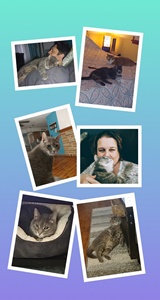 Thank you Dr Carney & staff for helping us with something so very painful when saying good-bye to our sweet little cat Crosby. You made the experience a comforting and peaceful acceptable situation. We appreciated your patience while we held him and kissed him to sleep that 1 last time. Your thoughts and care were comforting and greatly appreciated.
The Bressler Family
Rusty Thiel
---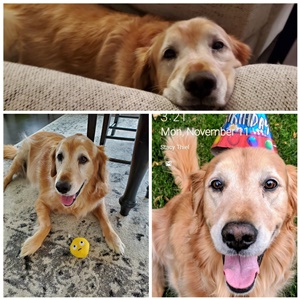 In loving memory of our sweet Rusty dog who has been with us for over 10 years, being the sweet comforting soul throughout all of them. He passed on 12/12/19. The house feels empty and sad without his smiling face and happy wiggling bum at the door. Our hearts are truly broken. We miss you Crusty.
Luckie Scalavino
---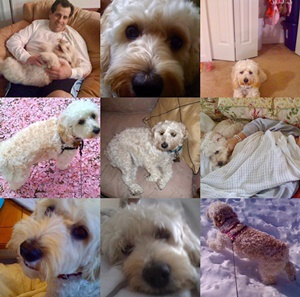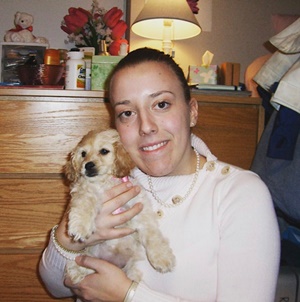 In remembrance of Luckie who would have turned 13 today, were it not for her unfortunate passing on May 30th, 2019. For over twelve years Luckie graced my life providing nothing but love, support, and companionship. We grew up together, she was by my side through college, law school, the bar exam, career changes, and more. She vetted my potential room mates and boyfriends, she sat by my side as I studied for exams, she sat on my desk as I stayed up to all hours at work, she rode shotgun on trips, she comforted me through the death of loved ones, and she brought me love and laughter when I needed it most. More than that, Luckie taught me compassion, patience, loyalty, and selflessness. I am grateful and "lucky" that I was blessed to have her in my life for the past twelve years, and she will forever live on in my heart, in my memories, and on my bank statements:). I know she was loved and had a special place in many of your hearts, and I want to thank everyone who brought love and happiness into her life! God bless Luckie, I will miss you and love you always, and when I think of you it will always make me smile.
Trixie Shreiner
---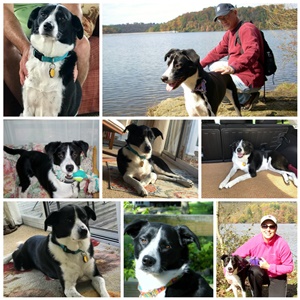 Dear Trixie,
Oh how Mommy and Daddy miss you! We were so happy to rescue you from the streets as a puppy 10 years ago right around this time of year, and we will never forget the first night you came home with us. We can't believe you are gone and we are so sad and heartbroken. Our home is so quiet without you here. We miss your sweet face and your smile. We miss how you used to beg for turkey lunch meat from Mommy every time she got it out of the refrigerator. The empty spot by the fireplace is the hardest to look at. Your bed was always there and you always enjoyed lying on it watching the fire. You used to love to lie in the sun too, no matter how hot it was outside. You climbed the rocks at Rocky Ridge when we went for walks, and enjoyed sniffing around at all the smells in the woods. When Mommy walked you in the neighborhood, everyone told her what a beautiful dog you were. You were so easy to train and did so many tricks. You loved to play hide and seek and play with all your toys and puzzle ball. Even toward the end, you still kept your manners and looked up at us for your release when we would give you some for food. You were such a good girl. You were so easy to train, never messed in the house, and kept a watchful eye out for critters in the yard, especially the stray cats. We miss petting you and snuggling with you in bed. The bed is so empty now without you there. The grandchildren miss you terribly. They can't believe they'll never be able to play with you or pet you again, or ever go away together on our annual vacation weekend. We reassure them that you are up in Doggie Heaven and that you are happy and healthy again once more. We did not want you to suffer…so we made that most difficult decision to allow you to pass in peace. Never in a million years did we think we would have to do this until later on in your life. We are so sorry you got so sick. There will never be another Trixie, and we will always hold you close in our hearts. We love you Trixie, and wish we could hug you and hear you bark again once last time.
Miles Lee
---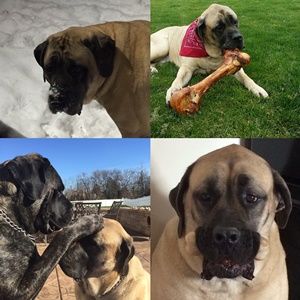 Miles was a fun loving guy who loved to play with his sister! He was a great protector of his family and is greatly missed!
Maggie Bartels
---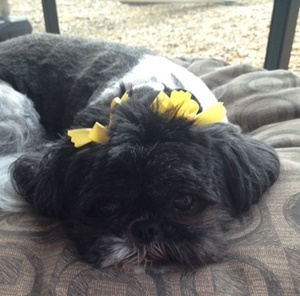 I was blessed for 13.5 years to share my life with precious Maggie. She was the only pet in my life who was solely mine. She traveled everywhere with me and knew lots of tricks. She rarely barked or jumped on people. She never shed. We loved each other so much and I will miss her always.❤️🐾🐾
Frankie Ensminger
---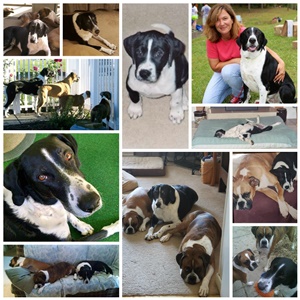 I can't thank you all enough during the difficult time of letting my Frankie cross the rainbow bridge and after. His life spanned 3/8/06 - 12/3/19, he came into my life at only 5 weeks of age. I learned then that it is illegal to get a pup in PA until they are 8 weeks of age but I can't imagine what would have happened had I have not taken him Easter weekend of 2006. He was my shadow in every sense of the meaning and the smartest dog to ever let me be their pet parent! If I turned around he was there, if I stopped to quick he would run into me. He was wherever I was, I couldn't leave a room without him. I miss hearing his bark when I would pull in before even getting out of the car. He would bark at every animal on TV and I mean every animal including fish!!! This boy had some seriously good eyesight!! I remember when he was about 6 months old I took him to visit family out of state. My one uncle wanted him in the worst kind of way because he thought he'd be a great hunting partner 😊 Instead Frankie had a cushy life of lounging on whatever furniture he liked and chasing a ball for hours on end because that was his "job". I called him Dr. Frankie because if any of the other furkids had a booboo he would take care of cleaning it no matter how hard I tried to get him to not do that. Every morning while I would be getting ready for work Mia, the female Boxer, would come and sit in front of him. He would proceed to clean her face and ears, this was every day!! His presence in my home was larger than life and missed so very much!!! The 1st pic is of him and I at a Furry Friends Network fundraiser, it is my profile pic on FB. My name on FB is Patty Cook. Again I can't thank you all enough for what you do to make it easier on those of us left behind.
Katie Hodges
---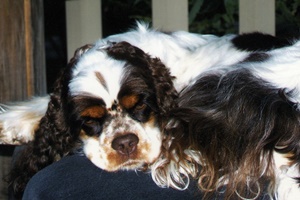 This is Katie, you helped us put her to rest on 7/16/19. We appreciate you all for making it as easy as possible for us. Katie was a sweet chocolate tri cocker. She was 6 wks short of 13 years.
Ebony Hodges
---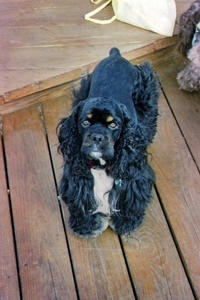 This is Ebony. Peaceful Pet Passage helped us to give her peace on 8/23/19.
We are forever grateful to you for your kindness during this process. She was a very special girl. She lived 15 years and 7 1/2 months. The last girl from my own breeding that I had kept.
Benji Heffelfinger
---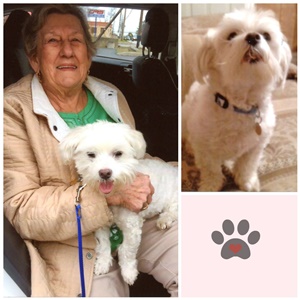 In loving memory of Benji
Smokey Slough
---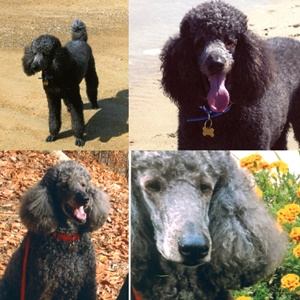 Smokey was a lover. Smokey was just a happy dog and loved to travel in the truck.
Sydney Gideon
---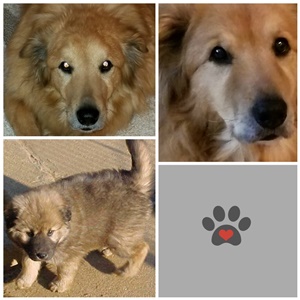 We adopted Sydney from a rescue as a puppy. We weren't sure we would get him because many others wanted to adopt him also. By the grace of God we were chosen to be your family. You were such a good boy, but I could tell you missed having playmates so we went back to the rescue and adopted your friend Sophie. You two were a bonded pair immediately! But even more than that you were my best friend, always by my side no matter what! Back in August when Sophie passed I knew it was going to be hard on you and indeed your health began to decline. You were always by my side and i just couldn't imagine you not being there. I knew i had to do what was best for you. You passed so peacefully! The emptiness i feel some days is unbearable! I hope you are back with your best friend Sophie and enjoying playing and not being in pain! I love you buddy!
Chessie Wallick
---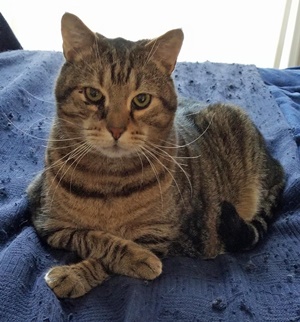 In memory of Chessie, our Rail Trail kitty (April/May, 2007-November 20, 2019).
On June 26, 2007 my wife and I were riding our bikes on the York County Rail Trail. Where it crosses Indian Rock Dam Rd I noticed a small crouched ball of fur about the size of a chipmunk. It was a kitten, alone, frightened, starving. We put him in the carrier bag on my bike and rode the five miles to our car. He didn't even seem to know how to drink water. We rushed to the store for some kitten milk and an eyedropper. We took him to our vet the next day and he had every problem in the book (upper respiratory infection, conjunctivitis/corneal ulcer, ear mites, fleas, weighed 1 lb.) Over the next several months we nurtured him back to health, saved his eye, gave him a sock monkey bigger than him (his favorite toy), and he was with us until his heart gave out suddenly on Nov 20, 2019. We named him Chessie as he looked like the C&O Railroad cat. We miss him dearly.
Cody Ruth
---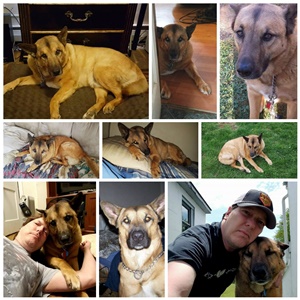 Cody was more than just a dog to me, he was family "my best friend". I will miss you forever Cody, I love you. Till we meet again.
Zoey Sheaffer
---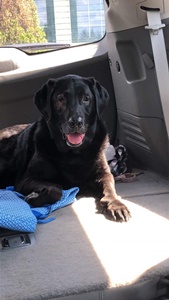 We called her Eeyore because she was on Zoey time, she did what she wanted at her own pace. Whether it be 8 a.m., noon or 2 a.m. She was a rescue and one of the sweetest dogs, but she and her sister were severely neglected. She had a stuffed giraffe we bought the 1st day we got her, she would carry it around and sleep with it. The other dogs couldn't get anywhere near her giraffe. Our only regret was we couldn't save her sooner so she could have had a longer life with us. She surely left pawprints on our hearts and we will miss her. We love you Zoey!
Thank you for the kindness Zoey and our family were shown in her final moments. And the gentleness and kindness taken with her.
Phoebe Miller
---
In loving memory of Phoebe
Penny Kelly
---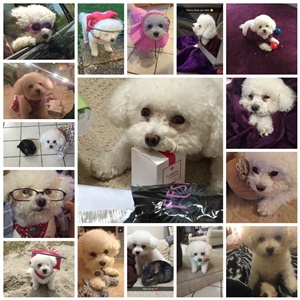 It has been 1 year today that We said my hardest goodbye yet! Penny came into our lives & became everyone's favorite pup! We used to say that she is not "practically" perfect in every way but "PERFECT" in EVERY way! She was a quiet Bichon, except when the kids would play with her. She would see them off on the bus & run to the door when she heard the bus dropping them off. She turned her "daddy" into a marshmallow, even though he never had a dog his whole like until Penny. Her favorite activity was snuggling & her favorite vacation home was with her Grandma & pop-pop! She is still very much missed today. I wish the Rainbow Bridge had visiting hours.
Cooper Winters
---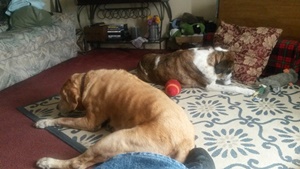 "Baily" Smith (left) and "Cooper" Winters enjoy a frosty paw on a hot day.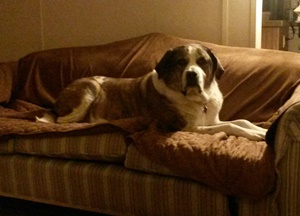 Joe "Dog" Sinopoli
---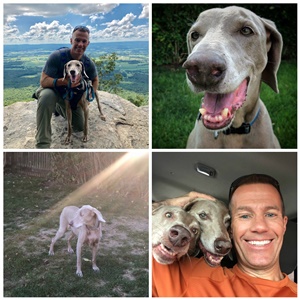 Now about Joe! He is my "Heart" Dog and always will be. I will miss him dearly! He was truly my soul mate in canine form. We logged over 12,000 miles in the 9 years that he was with me from walking 2 times a day every day to hiking and running. He was my training partner. Up at 5am every day, sometimes earlier and it did not matter how bad the weather was outside. If Joe wanted to go for a walk, then so did I. One of his favorite hikes, was Flat Rock at Colonel Denning State Park. It is a strenuous 5-mile round trip hike to the top of the mountain overlooking the Cumberland Valley. Even the last few months of his life, while battling cancer at the age of 14 we charged up that mountain passing the younger dogs like they were standing still. :)
I put together this video in tribute of my boy, Joe! https://youtu.be/ecZC-X3TFas
Joe was my companion, friend, soulmate!
Goldie Gorby
---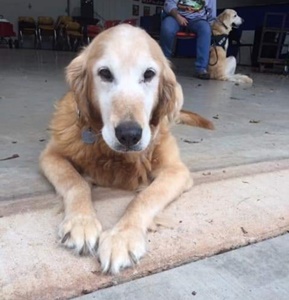 Goldie passed on 11/7/19. She was a puppy mill survivor and a bloat survivor. She was a representative dog of DVGRR spending a Saturday a month with the public telling them about rescue.
Muppett Clark
---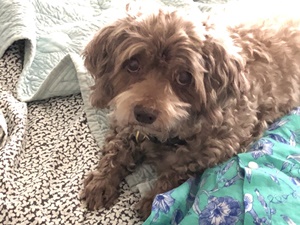 I had to say goodbye to my little best friend, Muppett in October. It was bittersweet; bitter because I loved her so much and did not want to let her go, but sweet because her suffering was ended in a humane and peaceful manner. I miss her every day, but I am very grateful to Peaceful Pet Passage for the compassion and care they gave both to Muppett and to me.
Autumn Spiecker
---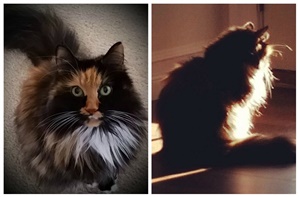 8/1/03 - 11/8/19
Autumn came into our lives in 2005 at a little over a year old. I volunteered with a TNR program in suburban Chicago. Luckily she was socialized and named by the neighborhood children. Autumn became part of our family rather than a TNR cat with the rescue.
She quickly reigned supreme with her giant calico attitude stuffed inside her petite yet super fluffy body. She was my constant companion nearly 24/7. A door could never be shut.There was always some crazy antic or crazy new behavior even into her senior years. The loss of her presence is undeniable but the unconditional love and joy she gave us is forever.
Margie Oestereich
---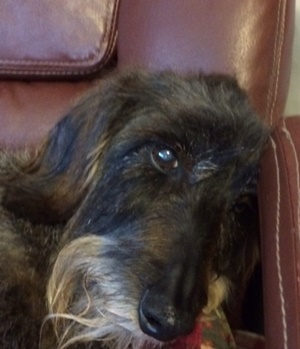 Margie came to us in 2008 as a breeder rescue. She had been living in a crate for 5 years and was not house broken. She learned really fast and became best buddies with our other 2 wire-haired Dachshunds. She was my shadow and loved to sit in my sewing chair while I worked on quilts. She was a love and will be missed.
Daisy Rorick
---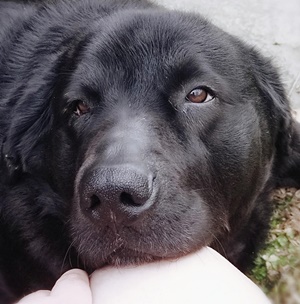 I met Daisy on Valentine's day, not 24 hours after she was placed at the SPCA shelter with her second litter of puppies. She chose me, she rescued me. Daisy was my best friend, companion, snuggle buddy, playmate. She would greet everyone at the door with a toy in her mouth and her large tail would thump thump against the floor with joy. She would lay beside me after a long day at work, patiently waiting for a pet or ear rub. She would smack her paw down on your arm if you weren't paying her enough attention and squeeze her muzzle under your arm to let you know she was there for you after a heartbreak. I know she is in a better place, no more hurting hips or pain from arthritis. She was my favorite hello and hardest goodbye. You are loved and missed Daisy.
Snapper LaMartina
---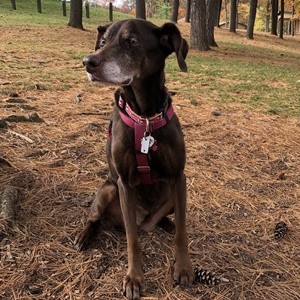 Our beloved Snapper went home on November 4, 2019. Snapper was the sweetest, most loving dog any family could have asked for. She spent 13 wonderful years loving and protecting our family and stayed strong until the very end. We will miss her dearly until the day when we are reunited.
Karl Krebs
---
9/30/2010 - 10/28/19
We found Karl (f/k/a Kenny) at the YCSPCA. He looked terrified and confused in his crate. We immediately fell in love and brought him home. He became his new mom's best friend. He loved being outdoors and hiking for hours while staying constantly at his mom's side with a smile on his face. His other favorite activity was snuggling. He loved being with his people, wrapped up in a blanket, but he hated getting a bath and would always try and hide . He was smart, friendly, kind, loving and protective of those he loved. He had this amazing gift of knowing when his people needed his love and snuggles the most. Unfortunately, his big heart wasn't able to keep going and he passed on to play in the woods until one day he will be excitedly joined with his family again. He will be forever loved by his family and will hold a very special place in his mom's heart and soul.
Madison Krout
---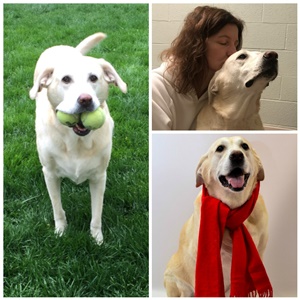 Madison had been the ONE constant in my life for over 10 years. She had welcomed dogs Yoshi, Autumn, Zoey, Hank, and Roman into her life as a happy labrador retriever tends to do. She also said goodbye to all of them. On Friday, November 1st I was the one that said goodbye to her.
I loved Madison from the moment I met her. She had been my rock! THE constant and dependable dog that a person dreams of having in their life. She was selfless, amazingly kind and as her adoptive dog brothers and sisters all had major medical problems, she graciously stood by and allowed me to take care of them. She didn't have a jealous bone in her body. She exuded love and joy every minute of every day.
Summer and I are soldiering on together.
I love you Maddie Moo!!! Thank you for ALWAYS being the perfect dog.
Timber Clower
---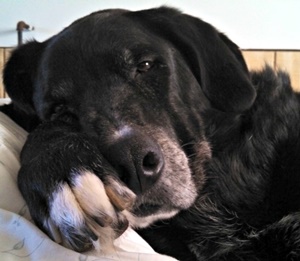 Our big guy "Timber" crossed the Rainbow Bridge October 14, 2019. It was one of the hardest days of our lives. Timber loved to be outside and loved to play with his special ball. He was surely a daddy's boy but knew mommy was always there for him. We are truly thankful for the 13 years we had with Timber. We will keep him in our hearts forever! 💕❤🐾
Bentlee Stover
---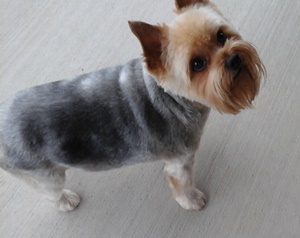 We were lucky to have Bentlee in our lives for a short 9 years. He touched the hearts of any one he met His brother, Journee and his sister, Libertee miss him so much. Life will not be the same without him. RIP my little man. Mommy and Daddy will see you in heaven.
Loki Smeltz
---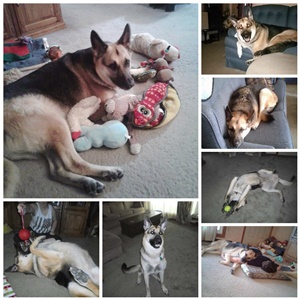 Loki was a sweet, silly, and loving family member. He loved his family as much as they loved him. His favorite things were his ball and his squeaky toys. He will be greatly missed. We love you very much Loki. It's not goodbye my boy, it's just until we see you again.
Delilah Smith
---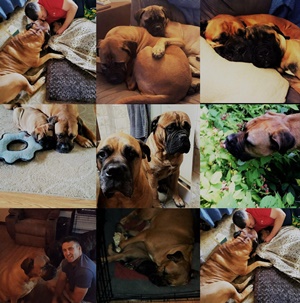 Dee was a mommy to puppies that came to her home, she was a friend and best friend to Jed and Hendrix.
Dee loved to go swimming, play and lay outside and catch sun rays in the warm weather.
We love you Dee! And will miss you deeply.
Freddie Schugsta
---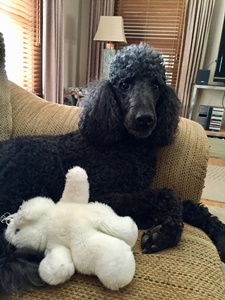 Freddie took Obedience, Focus and Canine Good Citizen classes. He was a Canine Good Citizen and a K-Pets therapy dog for 3 years. He was graceful and light on his feet and we participated in Free Style classes with Barkaritaville for about 4 years. He was an awesome and gentle friend to the end.
Rylie Gersic
---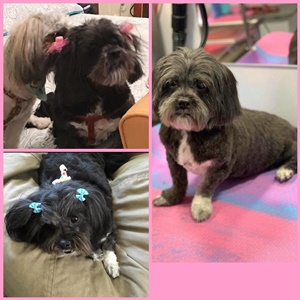 In loving memory of Rylie "RyRy"
Lexi Campbell
---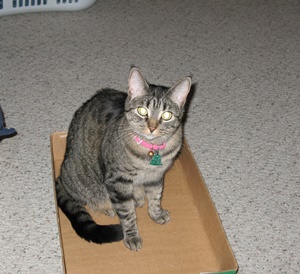 She was a mama's girl for sure, my lap was never empty when I sat down, no matter where that was, floor, couch, kitchen chair - even though she knew that the kitchen [table] was forbidden while we were eating. She would speed up the stairs when I said I was going to bed. When I would go away for a few days, as soon as my head hit the pillow, she would literally lay on my head with her paws wrapped around.

We had a good 16 years.
Mr. Zeez Weigle
---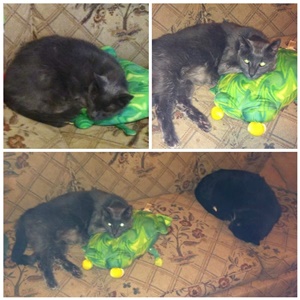 My precious Mr. Zeez has crossed over the Kitty Cat Rainbow Bridge. Rest in Peace my oh so handsome, loving and dedicated baby boy. You and your brother came into my life 18 years ago as approximately seven week old orphaned kittens. Spunky will miss you so much. I will really miss your hugs and sleeping next to me. There is so much I could say about you. We had a wonderful and fulfilling life together. My heart will never stop aching for you. I love Mr. Zeez (Zeez-Zeez). Give hugs and kisses to my other babies; I am sure they were there to greet you. 💕💕💕
Marley May Flory
---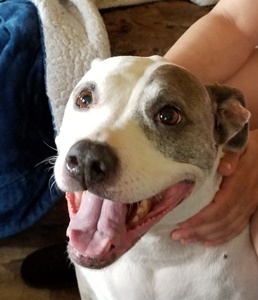 In Memory Of Our Marley May.
Marley May crossed the rainbow bridge on October 7th. She blessed us with 12 years full of memorys. We couldn't have asked for a better dog. Our hearts hurt. However, we take comfort in knowing she is no longer in pain.
We Will Always Love And Miss You "Mar Mar" 💕
Naked Erdman
---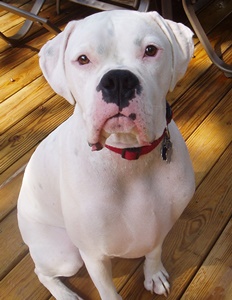 We wanted to get one boxer puppy but you had our hearts from the first time we saw you, so we came home with two. You were missing your fawn coat except one brown patch on the top of your head that would forever be your kiss spot. We loved telling our family and friends that we were walking Naked and your name alone brought many smiles. A lap dog you became even though you grew to 90 pounds. May your days now be playing again with Maximus chasing garden tractor tires and laser lights. Our hearts are broken and our house is too quiet without you. We will always love you, Nakey-Boy.
Bill and Teresa Erdman
Molly Glatfelter
---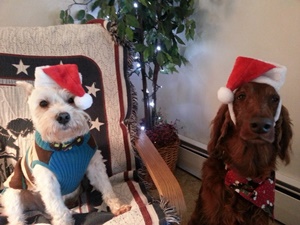 Molly girl was the bestest girlfriend I have ever had and the most laid back Irish Setter. Will love her furever!❤️❤️
Julius Maurice
---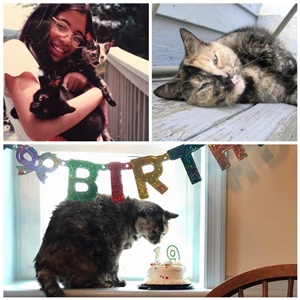 In loving memory of my childhood cat Julius, 2000-2019.
We found you in the summer of 2000, a skinny kitten mewing in our front yard. The next day, you ran to the other end of the yard with your tail held high, leaping through the tall grass as you led us to your brother.
You were my favorite playmate as a child, your friendship got me through my teen years, and you were a great source of comfort as I began adulthood. When I cried you'd snuggle me so aggressively I couldn't help but laugh, you'd yell at me to come to bed when I stayed up too late, and when I moved away you were always happy to see me when I visited home.
I'll miss you, Julius. ❤️
Levi Jacob Rider
---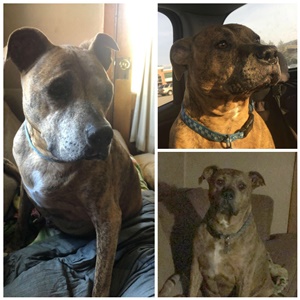 I would like to honor the life of Levi Jacob Rider who was put down on September 20th 2019. He was a good boy he was loving to everyone who stopped down to see him. Some memories include going places together, being drug around on the blanket by him and him just lightening up the world our family deeply misses him including my father because that was his baby.
Emily Wingenbach
---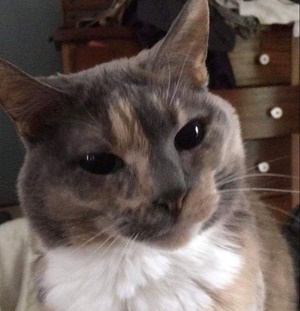 Dear Emily. From the moment you showed up at our kitchen door we knew you were special. You picked us and we had the privilege of spending a wonderful 14 years with you. Watching you tackle your quirks and crazies were a joy and made all the time spent with you even more memorable. You will always be the fluffiest. And the most devoted girl. Till we meet again at another kitchen door....your daddy and other daddy.
Romeo Black
---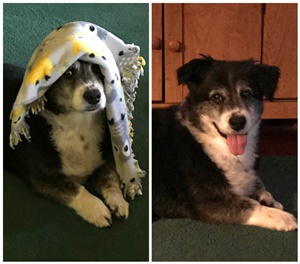 Romeo AKA Pokey - cartoon character, rascal, one of a kind. 14 years is a long time to love a little person in a furry outfit. We think of you everyday and will miss you forever.
Cooper Azeles
---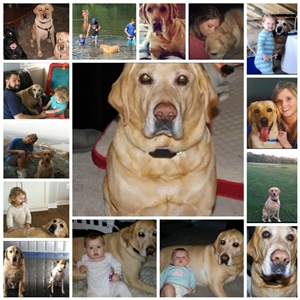 In loving memory of Cooper
Frankie Diehl
---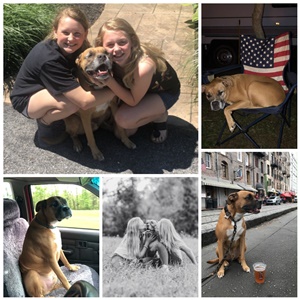 In loving memory of Frankie
Summer Mueller
---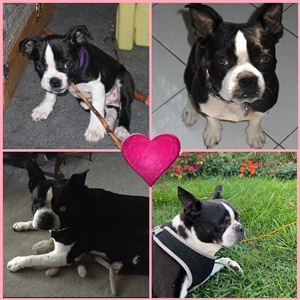 In loving memory of our precious Summer-Lily-Dottie.
July 5, 2006 to September 28, 2019
Summer, you came into our lives as an adorable feisty ball of energy. We loved your strong will and soulful personality which was all your own and we will forever cherish your constant joy, friendship, and your fun and endearing ways: kisses and cuddles, your little head squeezing into the folds of our arms or between our knees, hoping to catch a morsel of food, doing your tricks, basking in the sights, sounds, and smells of the outdoors, pulling eyes and stuffing out of every stuffed toy, playing fetch and soccer, car rides, chasing spray from the garden hose and the spray of kicked snow, chasing the broom, our long walks looking for birds, chipmunks, and squirrels, and your favorite toy possum that you swung by the tail and tore out its stuffing.
Our home seems so empty and quiet now. We miss everything about you including your sweet greetings when we return home; possum in your mouth or a smile, as you shuffle excitedly toward us with your torso curved sideways. We are so thankful God blessed us with you for 13 years.
You unknowingly taught us invaluable lessons about unconditional love, loyalty, and resilience, especially having lived your last 5 years blind from glaucoma, your last year deaf, and a congenital heart defect.
With your fighting spirit and will to live, you never gave us any signs that you were finished and ready to pass on....if only your failing heart would have allowed you to stay. We will always love you and miss you, Summer-pie. It broke our hearts when you left us on that beautiful, warm September day just after the end of summer, but you did not go alone; part of our hearts went with you. We know our loving God is taking care of you, and that when our times come, you will step into the light to greet us once again. Until then, run free doing all that makes you happy.
Jasper Heckert
---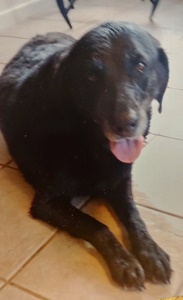 Our sweet beautiful Jasper passed on August 31th, our hearts are broken. She was a such a wonderful dog we called her Jazzy because she loved everyone and everyone loved her. She loved her 2 little guys Aiden and Alex, whom she followed for lots of snacks and treats. Jazzy loved to camp and take car rides but mostly she loved to eat. She always had kisses, smiles and lots of tail wags for us which I think is what we miss the most. We loved her so much and miss her so much.
Lola Church
---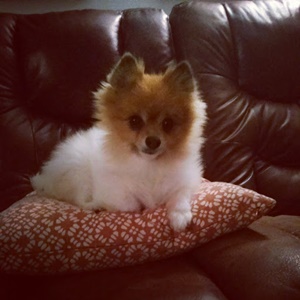 Our sweet Lola gave us 12 wonderful years. She was not an affectionate dog but showed us her love when we needed it most. She was fierce and spunky. She loved bossing her brother around. Even having three small children and her dog brother around, the house seems so empty without her. She will live in our hearts until we meet again on the Rainbow bridge.
Jack McCall-Garman
---
Today my sweet little dog Jack crossed over the rainbow bridge. 15 years ago I went to the Harrisburg Humane Society on a whim...as I had lost my dog Buster a few months prior, and was feeling an empty place in my heart in the shape of a dog. I didnt plan on bringing a dog home that day, and told myself "your just going to look"... The shelter was packed and there were little dogs in crates lining the halls as all the kennels were full. I walked up and down the hallway, dogs barking and jumping in their crates trying to get my attention. There was a little white dog with 2 perky ears which stood straight up and flopped over at the tips, and a brown patch over his eye. He was lying calmly with his front legs crossed and just watching me walk up and down the hall. I walked by him and said "well aren't you the cutest", and kept walking by. I made my rounds, but came back to his crate where he was still calmly laying. I asked the staff if I could take him out to play with him in a visiting room. They brought him in, and he instantly became excited and started licking and rubbing against me. I pet him and he tinkled on the floor...he was so excited, and I was in love. I took him home that day, and he was with me every day since. For 15 years, this little guy was with me through every event in my life, and I was with him. We made it through heartaches, death, and divorce, loss of other pets, and integration of new ones, pancreatitis, glaucoma, surgery, blindness, and eventually old age. The past 2 years, Jack's quality of life had started to fade and he became increasingly stressed and confussed as he was living with puppy dementia as well as blindness, and partial deafness. His last days were filled with snuggles, pets, tasty food, walks, and love. Today I chose to set him free from all his Earthly burdens and pain. We did an in home euthanasia, and it was very peaceful and calm. Thank you to Peaceful Pet Passages for helping Jack make his transition, and for being so gentle and compassionate to both him and I throughout the process. This is the hardest thing we do as pet parents, but I am blessed to have been able to hold him and be with him during the time he needed me most. I know that Jack is running and playing, seeing his heaven through his new healthy eyes, and finally free from the physical and mental pain and struggles. Please adopt from shelters or rescues, cherish your pets, give them all the love you can while they are here, and when their time comes, please stay with them, hold them, tell them you love them, and help them cross with dignity and honor. I miss you and love you forever sweet Jack.
Venus Fake
---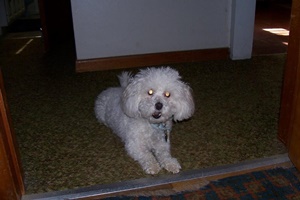 This was the last gift my late husband, had given me. She meant so much to me. She gave me so much love and she will surely be missed. I will miss our walks. I told her to now go to her Daddy that was in Heaven.
R.I.P. my beloved Venus.
Paisley Werner
---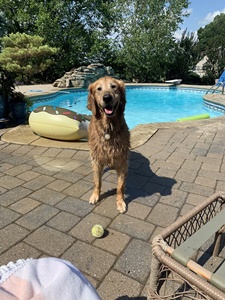 Oh how we miss our pretty girl so much. Paisley was our first fur baby and we never thought we would have to say goodbye at just 6 years old. Cancer is a terrible thing. We had so many more adventures planned. She loved walks, hikes, ice cream dates, swimming, and most of all... she loved tennis balls. We pray she knew how much she was and is still loved and that she had a good life for the short time it felt like she was here with us. Her sister, Sadie, is completely lost without her. Run freely pretty girl, we're thinking about you always. We will take care of Sadie for you and see you again some day.
Mr. Mustard Drew
---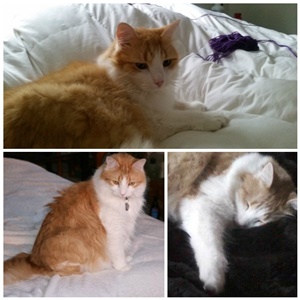 I miss my poor Mr. Mustard and want to thank you for your kindness.
Kole Bridges
---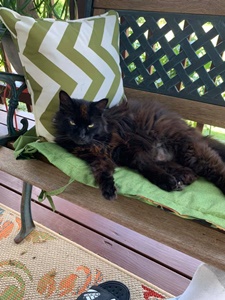 My sweet boy Kole. No words can describe this boy. He was a treasure in so many words. He will be missed tremendously.
Tucker Phillips
---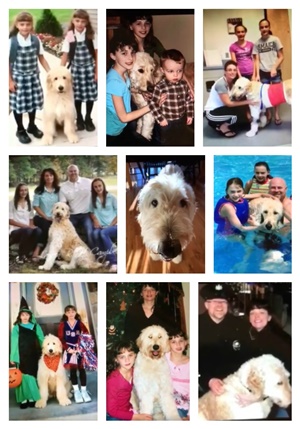 We have been blessed to have Tucker in our lives for 13 years. My husband Rick was in a catastrophic on duty car accident resulting in brain injury 9 years ago. He was in the hospital and lived in rehab facility for extended time. When he came home a year after the accident, Tucker and Rick had a joyous reunion. I imagine that's what it will be like when we meet up with Tucker again. Thank you Peaceful Pet Passage for the peaceful transition for our boy Tucker 🌈 He has been my angel on earth and now in heaven.
Brute Dean
---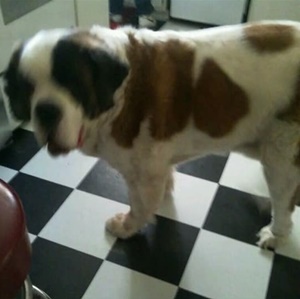 You Will Be Missed, RIP Big Boy BRUTE, we LOVE you!
Cocoa May Moon
---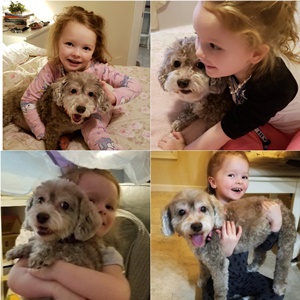 In loving memory of Cocoa May with her favorite little human...doing what she did best...giving love and immeasurable joy. Oh, how we will miss her.
Oliver Davey
---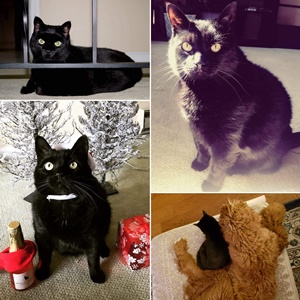 Oliver was the man. He had such a big personality, independent, sometimes feisty, and always caring. He was with us for ten years, which was not nearly enough time. Those ten years were filled with so many adventures, from roaming the streets of New Holland, joining us in Philadelphia, watching the World Series together, constant cuddles, road trips, moving into a house, and adding a little brother puppy to the family. Oliver took everything in stride. He was the best big brother and sidekick anyone could ask for. To say that we will miss him terribly is an understatement. We were so lucky to have him as part of our family. Thank you, Oliver. We hope that you have found peace.
In loving memory.
2009 - 2019
Grace Leaf
---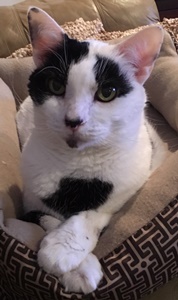 In loving memory of Grace

9-23-1993 to 9-26-2019
Turkey Merani
---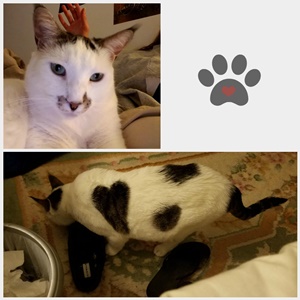 Turkey was the sweetest, had the biggest heart and loved his family. Even though we only had him for 5 short years, he was cherished every single day we spent together. This beautiful little angel is missed every day.
Noel Burd
---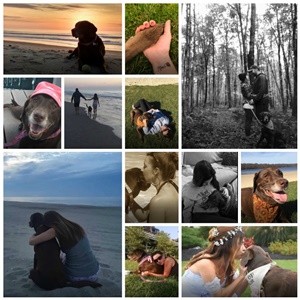 First, we would like to thank the staff at PPP. We truly appreciate the respect, compassion and empathy shared with us during this extremely difficult and emotional time. We can't say enough good things about our experience.
We had to make the awful decision to say good bye to our precious Noel on Monday 9/16/19. Noel was and is my very best friend. I had her since she was just a wee pup at 7 1/2 weeks. Her and I have been through so much together. Over the last 12 years Noel had been my rock.. my only constant in this crazy life. We travel up and down the east coast together. She was my co pilot, my sous chef, my snuggle buddy, my hiking and walking buddy. A true and loyal companion through and through. She was my good morning and good night. She was my everything!!! She brought us so much joy and laughter everyday. We cherish each and everyone of those memories. She was such a strong girl.. at 11.5 yrs old .. she battled bone cancer and had to learn how to do life with her front left limb removed along with 4 rounds of chemo. She was our rockstar! We couldn't have been more proud of her spirit and will! She won!!! A cancer survivor she is and she was so brave through it all.. a fighter! A true inspiration to us all!! She has taught us so much about life and true love. It brings me peace and comfort knowing she is in a better place. She is safe, happy and healthy again. I know she will always be with me and watching over me/us.Our bond was one of a kind.. unbreakable! I cannot wait to see her again some day. Until then, I will hold tight to all the many memories we made together. Rest easy my Sweet Angel.. Mommy and Daddy love you.
Thank you
The Burds
Marmaduke Biggs
---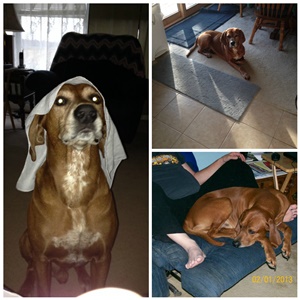 Marmaduke loved to be with his daddy.

Marmaduke loved to sun bathe.

Marmaduke will always be in our house and in our hearts.
Rocky Shultz
---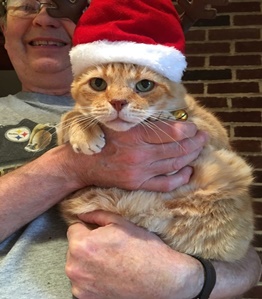 Rest In Peace
Rocky Shultz
December 14, 2012 – September 7, 2019
Aptly named, Rocky never backed down from a fight. Unfortunately he, like all of us, was not able to win this one.
When we discovered him as a "drop-off" in our neighborhood in December 2012, we thought he was a little over a year old.
He loved to play with shoe strings, sleep on his green blanket (the plaid one wouldn't do), oversee the activities on his deck and referee disagreements between our other kitties (he usually took Jenny's side against big bad Ozzy). He was the most social kitty of our gang, greeting strangers with a long stretch, but he would disappear when Uncle Jim came by (he knew bad news when he saw it)!
He began losing weight early in the year and was diagnosed with a nodule on his spleen and irritable bowel syndrome. It was so hard to let him go, but selfish to make him stay another day. We want to thank everyone at Boiling Springs Animal Hospital for their care and Peaceful Pet Passage for allowing him to go to his final rest on the deck he loved so much.
Casey Snare
---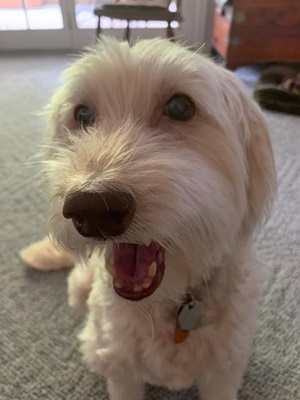 Casey (Dec 2005 — July 2019) was a wonderful dog. He loved to give kisses and he was a very special boy. He liked to be everyone's friend— loved the pats. Casey always enjoyed a good morsel from the table and waited for his humans very patiently. He was never a mean soul and had a very calm demeanor. We will miss him a lot. He was a beautiful fluffy boy. Casey was a friend, a buddy, and a companion.
Cooper Eckert
---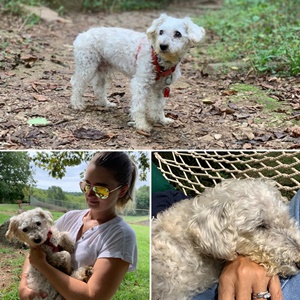 Thank you for your kindness and compassion during our really difficult time. While it was a heart-wrenching decision to make, I am thankful to have such an organization like yours that we can call upon to help us through it. I'm eternally grateful.
Gizzy Bell
---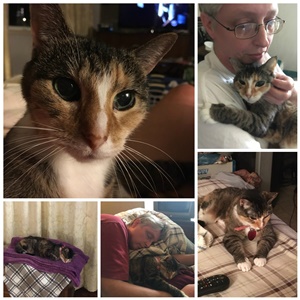 In loving memory Gizzy
Prince Raven Overfield
---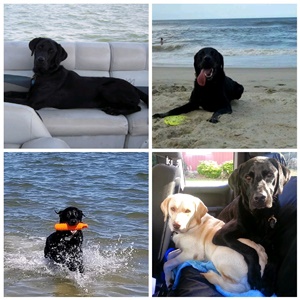 10/28/2008 - 08/12/2019
My sweet Raven came to us in December of 2008 as a puppy. He was quite the handful but over time he grew into such an amazing companion, special friend and despite his large size was truly our "Gentle Giant". At 2 years of age Raven was diagnosed with a serious Triscupid Heart issue and over time developed Pulmonary Hypertension and an Enlarged Heart. At best they gave our boy till age 5. What they didn't see, was that while he did indeed have these life threatening issues, he was also a huge fighter and one of the strongest and sweetest minded pup I have ever known. 8 years later and many memories, Raven had turned into an "avid hunter", " outstanding retriever and catcher" and a "Master Swimmer". I would like to think the active lifestyle that they told us to be mindful of was his ultimate life saver. We wanted Raven to live his best and do all the things he loved doing. Eventually over time his legs and shoulders began to give way and he slowly became more tired. Surgery was never an option because of his heart. While he lived 5 years longer than intended, the 10 years he gave us was just not enough. We all miss him so much. Our Nala (younger canine sister) misses him dearly and is lost as we are without him. But thanks to Peaceful Pet Passage, my Raven left this earth in the utmost of dignity in our home when he crossed the rainbow bridge. While our home, our hearts and pond are empty without you, you are now free to swim forever and ever with all the others and do all those things that brought you so much happiness. I cannot wait for them to meet you Buddy and as it turned out, your large heart baby boy, was your gift to us and the biggest blessing we could have ever been given. You will NEVER be forgotten.
Rest easy, Prince Raven xoxo
Elsa Fauth
---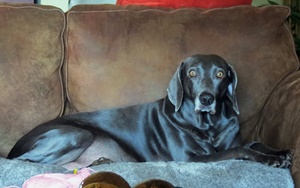 Elsa's journey in this life was not always good. We rescued her on Saturday, October 27, 2012. She was used for breeding in a puppy mill in Kentucky. With the help of Tri State Weim Rescue and Kentucky Weim Rescue, we picked her up in Virginia on the day before Hurricane Sandy hit the area. Her name was Lavender, but I felt she needed a new name. Elsa means "Queen". I wanted her to know that she was a Queen now instead of a nameless breeding dog. She was so loving and sweet. She showered me with grateful kisses when we got her. She was scared of everything. She didn't know basic commands. But with a lot of patience and love, she blossomed into a great dog. She was soft as a mouse, and always on the couch. I still look for her there, as my other two Weims do. We miss her and will always remember the impact she had on our lives. She was a different kind of dog due to her circumstances. Elsa taught me a lot throughout her life. She was my Queen. Thank you, PPP for giving her the dignity she deserved at the end of her life. God bless you all!
Zoe Remmy Bentley
---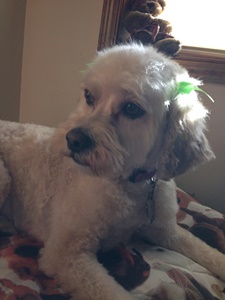 Dear Zoey,
The days preceding your arrival were full of anxious thoughts and ideas of having a tiny bundle of fur to hold onto, cherish, and love. I was told about how you were found by chance in a pet store, saw a photo of you, and instantly knew you were going to be a newfound joy in our lives just as we would hopefully be in yours. When you came, it was by surprise. Mom said we didn't get to you in time and that you would spend your days with another family. It's pretty easy to say that my heart was crushed as much as it was full for the longing of having a new best friend. Feeling defeated, I wandered into my bedroom with my backpack still slung over my shoulder — ready to collapse down onto the bed with the knowledge of losing something I never had, yet out you came in our sister's arms; ready for 9-and-a-half years of unconditional happiness, love and troublemaking.
I can recall sneaking you out of your crate each night as a puppy to keep you coddled in my arms, despite the fact that I knew you would have occasional accidents on my sheets. I remember the sheen of your curly fur and the spontaneous bursts of energy you would get as your little legs had you darting around the kitchen, into the living room and back out again on a loop. Despite having other pets in earlier years, having you felt like something completely new. I suppose it was the mere fact that I was able to watch you grow and become accustomed to the love you gave. You were with me through some of the hardest moments of my life, like my years of schooling or my first breakup. I can vividly recall that night and how I curled up in bed with tears streaming down my face. You knew my heartache and did all you could to fix my ailing. I can still feel you laying next to me, never once leaving my side — your fluffy head burrowed underneath my palm, ear pressed against my chest as if you were listening to make sure my heart remained beating. You always did things like this. You could sense sadness, or days where things just didn't seem to be in our favor. It was always as if you knew how to bring comfort regardless of the circumstances and I can only hope that we were able to do the same for you in your later years — especially during the days and nights that seemed a bit more difficult to get through.
I'll miss the sounds of you trying to sneak into the trash for something leftover to chow down on, or the familiar scent of your paws. I'll miss your kisses and the way you ensured that everyone was okay. I'll miss that familiar jingle of your collar and the way you loved having it on. I'll miss giving you baths and the way you ran around like a crazy woman trying to dry off. I'll miss your pretty lashes, your snuggles and your warmth. I know that I'll miss a lot of things you brought to us with ease, Zoey. I'll miss you in your entirety.
Having you and the fate that brought us together is a concept of such intensity that I wish I could relive again and again. You were and are the embodiment of love and how it's more than just a feeling, but also a tangible force that I was able to hold. I'll forever be grateful that I was able to share these experiences with you.
Wherever you are now, I hope you know that you're my friend 'till the end.
I love you so inexplicably much.
Cloie Garland
---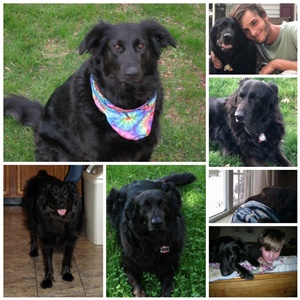 Cloie came into our lives 14 1/2 years ago. My son wanted a dog and it was close to his birthday, so we decided to grant him his wish. I wanted a small dog, but the second I saw Cloie and looked into her eyes, I knew she was meant for us. She was 9 months old, and never once needed any training. She just knew. She loved spending time with her boy Mike and was my fiancé's shadow. She would be wherever Rick was, even up to the end. She loved her boys. 14 1/2 years seems so long until it isn't. We love and miss you so much sweet girl. Furever in our hearts.
Hayden Baumgardner
---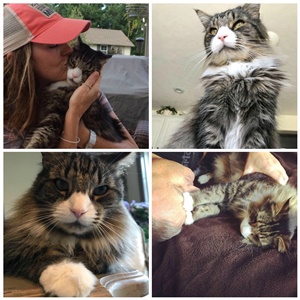 Hayden came into our lives at 6weeks old. We trapped him from a feral cat colony 13 years ago." Mr fuzzy britches" as my husband called him, changed our lives forever. The hole in our hearts is unmeasurable. Go find Sebastian and rest easy my sweet boy 💙
Petey Miller Brinkman
---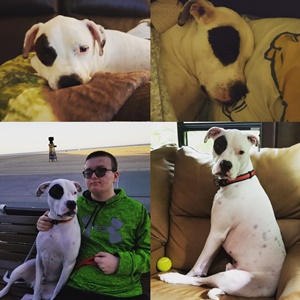 In loving memory of Petey Miller Brinkman 💙
3/24/15 - 9/11/19
Taken way too soon.
From the very moment we met, I knew I had to have you. I needed you in my life. My sweet, handsome boy was loved by all and forever changed my life. I am so grateful for the four years we spent together being loved by you, always being greeted with your wiggling butt and squeaky ball in mouth. No matter if I was gone for two minutes or two days. My world will never be the same without you in it. You were a part of this family and our bond was like no other. You captured the hearts of so many and now are being mourned by them all. Petey, you were such a huge part of me. My heart went with you the day you passed. You are forever my baby, my best friend, my heart, my world and I will never be the same without you. Mommy, Daddy and brother Patrick love you beyond words and miss you beyond measure! Rest easy baby until I see you on the other side 💙
Hugs & Kisses
Daddy, Mommy and Patrick
😢💔😢
Paco Kotalik
---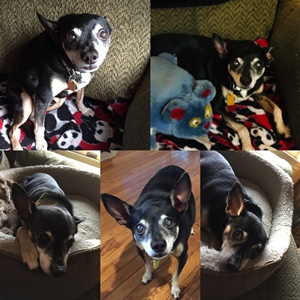 Paco was born on October 31, 2006, he was a very loving family member, loved to sit beside us on the couch, Loved to play ball, and could sneeze on command, His favorite toy was his blue bear, and loved to share little morsels from the kitchen table, and was friendly to all visitors!
Gia Baughman
---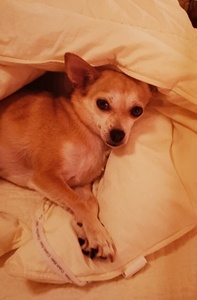 Rescued on Sept 30, 2012
Passed away on April 9, 2019
Sophia Snyder
---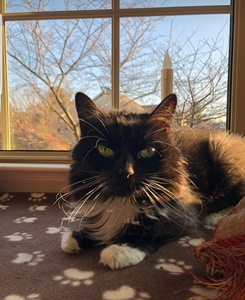 In Loving memory of Sophia 4/16/2003 8/20/2019❤❤
Tessa Lindenberger
---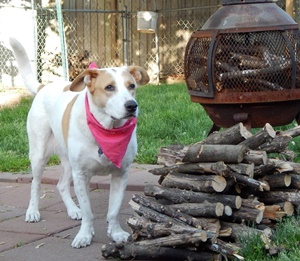 9/5/2008 to 8/29/2019
Tessa was our pretty girl who loved everyone she met. She made me laugh every day.....my "silly girl". She brought so much joy to our family for almost 11 yrs., always eager to go on new adventures, and was a "trooper" to the end. We will miss her physical presence everyday yet she will be with us forever in our hearts. Love you, my little Tessa, and thank you for being in our lives.
Lucky Boger
---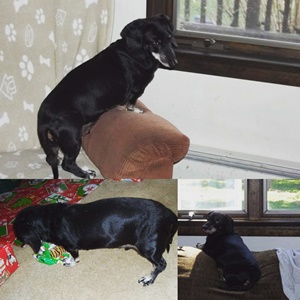 In Loving Memory of "LUCKY"
Lucky graced this earth with his presence from July 4, 2002 till August 27, 2019. During this time we were the recipients of his antics and unconditional love. From the day we brought him home with us, he claimed a recliner in the living room as his. From here he could watch out the front window and see people and cars going by. This was his throne so to speak, but we could rest assured that when we would go away he would be up on the back of the sofa barking at us as we walked to the door. One of his favorite times of year was Christmas, as he knew there were some presents under the tree for him. We don't know how,but he always knew witch ones were his. On Christmas morning when we would tell him it was okay, he would sniff thru the presents till he found his. Then he would proceed to tear the paper off to get at the squeaky toy inside. He has only been gone a week, but going to bed as been tough. When we were ready for bed, he would run in and get up on the bed and proceed to tug, pull, and rearrange the covers to his liking. Then he would plop down on one of our pillows as if to say; "I don't know about you, but this suits me." His physical self may be gone, but his spirit will live in our hearts forever. "May he rest in Peace."
Tillie Primak
---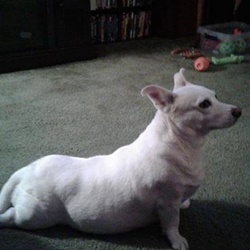 In loving memory of Tillie
Kelly Mojecki
---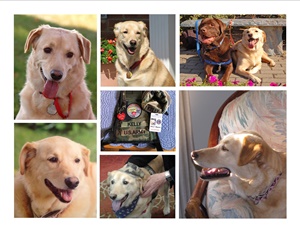 8-24-05 to 8-14-19
AKC Canine Good Citizen 2006; Alliance of Therapy Dogs 2016 -2019
Kelly was a wonderful dog who joined our family almost 14 years ago. She was 1 of 35 puppies who were rescued from a shelter fire. Her rough start in life did not hold her back. Kelly was a bright and energetic dog. She enjoyed running endless circles in the snow. Kelly always had a smile on her face. She adored people — and she loved other dogs.
When we adopted Kelly, we were told that she was a "lab/golden mix." Years later, her DNA results revealed that there were many different breeds in her family history. Kelly's mixture did not change our opinion; we knew that she was a perfect custom blend!
Kelly went back to school in her golden years and achieved her therapy dog certification. She brought smiles and gentle comfort to our men and women in uniform. Kelly touched the hearts of many people. She served with joy. Kelly lived a full and happy life.
We remember those 13+ years between our first hello at the shelter…and our final goodbye in our family room; they were filled with lots and lots of love. Kelly, this is your legacy. And you will always live on in our hearts.
Oscar Neal
---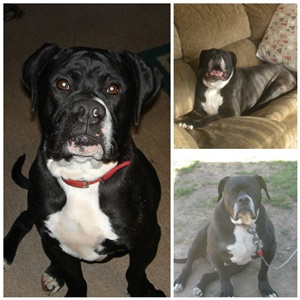 This was Oscar Neal. He went to join his former buddies on the other side of the Rainbow Bridge on August 28, 2019. He was a Hurricane Katrina survivor from Slidell, Louisiana. I went down to help with animal rescue after the hurricane struck on August 29, 2005. Not only did Oscar survive the hurricane, he survived in the aftermath for weeks until he was picked up by Noah's Wish Animal Rescue. During the time he was wondering around, someone shot at him and his right side was filled with pellets. He was not the most personable dog at the shelter and was on the list to be gassed if he wasn't claimed when the shelter closed. I couldn't bear to leave him there so after I flew home Chris and I drove down and brought him home to Pine Grove, PA. For the past 14 years Oscar had a wonderful life, it consisted of long walks, good food, warmth and lots of hugs and kisses. Oscar was about 1 year old when I first met him, so I would say he was at least 15 years old possibly a bit older. He was a big part of our family and we miss him terribly. Rest peacefully Oscar, aka Billy Boy from Louisiana. Love, hugs and kisses my handsome fella.
Ariel McCullough
---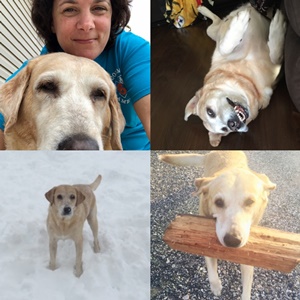 Ariel passed away peacefully on Tuesday, August 27, 2019, at the age of 16. She leaves behind a younger sister, Aspen, who she taught the ropes and a brother cat, JJ, along with her parents, who all miss her very much. Ariel loved to play ball and to play in the snow and loved having her tummy rubbed. She enjoyed just hanging out with her family. She was a very loving and loyal dog. We hope you are playing ball with your big brother, Sutphen, in heaven. We miss you and love you Ariel.
Blossom Hons
---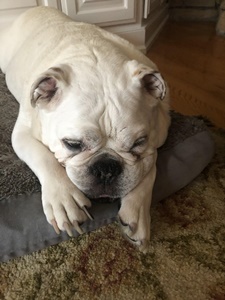 RIP our sweet Blossom! We will love you forever.
Koda McFerren
---
Koda B. McFerren 11/27/2006 - 08/28/2019. We adopted Koda when he was almost 2 years old, he passed away 3 months shy of 13 years old. He's been so strong and healthy for so long,but liver cancer took him too soon. I will always be thankful for the love, companionship, and stability he gave all of his siblings. Throughout the years he put up with a few drama queens and loved them anyway. His love of life, playing, meeting a new friend at the park, freedom runs, stalking his loved ones, demanding attention as needed, as well as lots of cuddle time are a few of the things we love about him.
Doolin Bloodsworth
---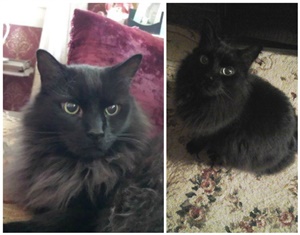 In loving memory of Doolin
Pooh Bear Green
---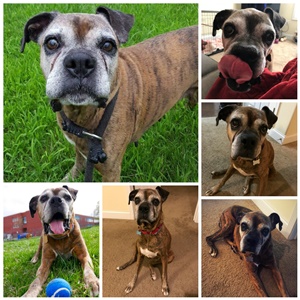 Dr. Mary Riordan helped my furever foster dog Pooh Bear pass this past Saturday, August 24th. I picked up Pooh pup at the age of 12 from the York County SPCA on August 26th, 2018 as a hospice foster with Furry Friends Network, thinking she only had a few months left. An error in her heart diagnosis meant that she lived much longer than anyone initially expected, and even though she turned my life upside down, I wasn't ready to let her go in February when she had her first health crisis (she was determined to pull through too). She was resilient, always trying to please me, and was content to be my sidekick in any situation. She was a goofy, cuddly, strong-willed girl who made sure that she got the love she deserved, and gave just as much love in return. She loved me like I had been hers for her first twelve years too, and despite knowing she may not have much time left, I loved her like she had always been mine as well. Above all, she was my shadow.
Sam and Sara McConnell
---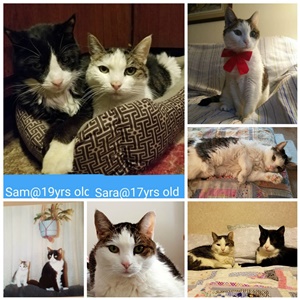 We had the honor of having 2 great fur children who grew up together for 18 years. Meet Sara, who was 18 years old at time of passing. We Sara as a kitten probably 6 months of age. We rescued her from a home in Harrisburg. She was full of fleas sorta bad shape. Got her cleaned up and rest is history until August 23rd 2019. She had to be put to sleep due to decline health reason. We had unfortunate unhappy couple months ago We also lost Sam who was 20 years old when he passed on. Losing 2 fur babies in 4 months time is really, really sad and hurtful. Thank you, Peaceful Pet Passage for being there in time of need.
Scrappy Serra
---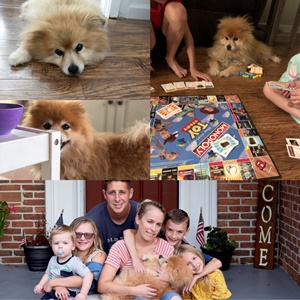 R.i.p Scrappy 8/23/19
I am very grateful I chose Peaceful Pet Passage! They were so understanding, compassionate, gave us time to say our final goodbyes! The vet wasn't pushy at all and left us take our time. Our vet even sat down with us on the floor with our Scrappy and just had a conversation with us, felt warming and left us take our time. I would definitely recommend them to anyone! This was my first pet, he has been through it all with me, 12 years, before children, before marriage, he was always by my side, he was my first child, the first to be my everything. His passing is very hard to our family but he's at peace now and isn't suffering anymore, he saved me, it was my turn to save his. He will forever be in our hearts. Mama loves you Scrappy 💙😢
Although the time of his passing has been extremely hard on our family deeply, we want to especially thank our vet Elizabeth for being so patient with us, from the first interaction, eye contact, I could tell she had a wonderful genuine heart! The way she spoke with us was so calming, she did everything on our terms and not her own! She reassured myself that I was doing the right thing even if I felt I wasn't, he was giving up and not doing good, my boy wasn't him anymore, she was so gentle with him, talked to him with such sweetness, she showed she cared for our family member and not just another patient. As hard as that day was and always will be I knew deeply he was in good hands. Thank you!
Fia Ritzmann
---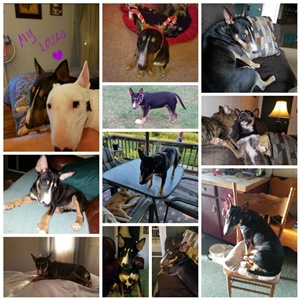 Fia loved her doggie day care and playing in the backyard with her sister Jaci...she was a peaceful soul and everyone loved her!!! The mail lady and ups man would bring her treats!!! She loved kids and other dogs ❤❤❤❤
Molly Bordner
---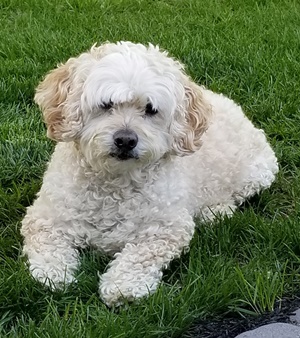 Molly was my sweet girl. She gave us unconditional love and joy for ten years. She will be missed.
Jady Brodbeck Noel
---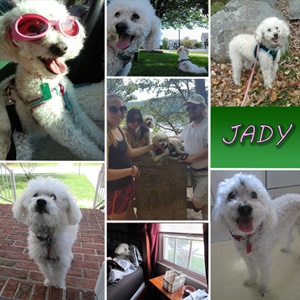 Jady Brodbeck Noel
July 25, 2007 – April 15th 2019
Jady joined us at the age of 7. At the age of 11, Jady's enormously bright and joyful Spirit could no longer be contained within her frail body and so she departed her physical body to be reborn into Spirit.
She brought with her All Good Things and we immensely enjoyed the time we were afforded with her.
Jady was generous with her Love and stole the hearts of all whom met her. She had no concept of "strangers" and approached everyone with a smile, wagging nubby tail and arms wide open. We often termed her "Joyful Jady" accordingly.
Jady shared her time with her elder sister Molly, a Maltese, and her younger sister Skunky, a Guinea Pig. Jady and Molly spent many days exploring their yard together and taking regular trips to favorite parks and nature spots. In their later days they could be spotted riding in their Go-Go (stroller) happily together. Jady enjoyed watching Skunky's antics and loved when her little sister had floor time to play too.
Molly proceeded into Spirit two months prior to Jady. We miss them both being with us physically tremendously. We have occasions upon which we feel their Presence and we cherish those events.
Jady loved pistachios, watermelon, Rachel Ray Soup Bones and Fish Chews. She was the fanciest little rope dancer the world has ever known, throwing her colorful rope toys all around the living room as she twirled about on her back legs. She liked to explore the world by "booping" everything with her nose and a light-hearted sneeze of approval often punctuated her experiences.
She ran like the wind and enjoyed "stealth bombing" her neighboring "Big Dogs". On our walks and outings she greeted other dogs with a Hearty Shout Out that we termed her Big Dog Yells. Much time was spent traveling nature trails and drinking cool water from streams. Jady truly cherished water and never passed on an opportunity to lap it up.
She enjoyed her sofa time with Pappy whom she most obviously loved with all of her Heart and Soul. She liked for Pappy to carry her about like a little Emperor and he didn't mind doing so one bit. At bedtime, she always stood in the hallway to let him know when it was time for the two of them to retire. She loved bedtime and spent many afternoons lying in bed looking out the window waiting for Pappy to return home.
Often time was spent in the kitchen while her Gramda worked, resting in her comfy red bed beside her sister Molly and contemplating "Jady Things". She always looked forward to a visit from her Lil' Momma and was always so excited the next morning to jump into Lil' Momma's bed and have cuddle time with her.
Since Jady's departure she has acquired a new little Sister, Lemon. Lemon seems to experience her sister's Presence at times and we like to think that Molly, Jady and Lemon enjoy their Sisterhood regardless of whom is, and isn't, in a body.
Our Jady Bug filled our Hearts with so much Joy and Love and we will Forever treasure Her.
Thank You Sweet Girl for making our World so Much Brighter.
Run with The Big Dogs, Drink from Every Cool Stream and Enjoy your every Moment Renewed in Spirit. All Good Things.
Love You Jady Bug.
Whitey Sell
---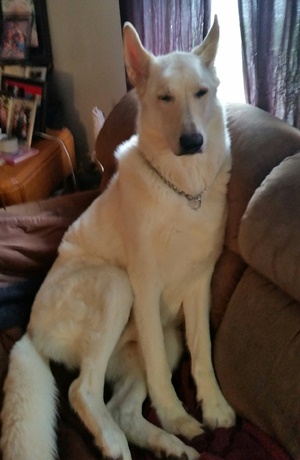 This is Whitey, the things he loved most were to carry wood to the outside furnace, play fetch with small pieces, and play in the snow.
Jade Wassilewski
---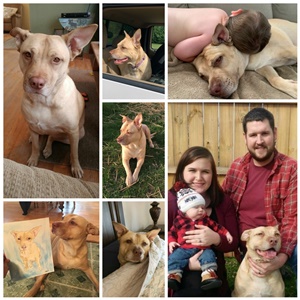 07/29/12 - 08/08/19
Jade was rescued by us when she was one year old. She grew with our family, helping us buy our house, change jobs and have a son. Maverick (our 2 year old) and Jade we're best pals, partners in crime. Jade loved cheese, her squeaky monkey toy and snuggling in bed with her parents! She was spoiled rotten in her furever home and was our "first born." We miss her more than words can describe, but know she is no longer in pain. She just turned 7 on July 29th and was loved every second of every day!
Colt Shuey-Seifert
---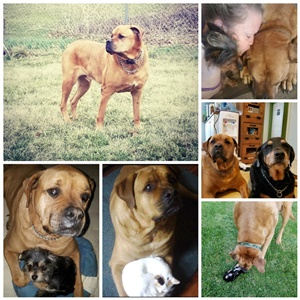 In Loving memory of Colt
Such a wonder gentle giant Colt was. He came to live with me at 6 months old as a resuce and seemed that he was never gonna quit growing…but he topped out at a big 165 pounds. He had the biggest sweetest heart and personality to all humans and animals. His three little puppy siblings already miss him so much along with his kitties! Twelve years just didn't seem long enough with him, though I know he lived an amazing long life for a big breed! The many paw prints he has left on my heart will remain forever. I pray you are running wild and free and out of pain over the rainbow bridge with Dozer and the rest of your siblings that passed ahead of you. "Rest high up on that mountain…Baby Boy till I see ya again!"
02.15.2008 – 08.12.2019
Zeek Andrews
---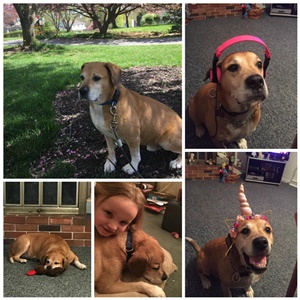 Zeek was a lively and very faithful friend to myself (Nancy) and my daughter Ryan. He was my shadow, following me everywhere I went without fail. He hated to see us leave but always greeted us with love a happiness when we returned. I called him my perma-puppy because he always looked as cute as a puppy and his energy matched it as well! He was always by my side through the good and the bad. He gave the best hugs and never let me cry alone. He celebrated the happy times with me as well! He will forever hold a very dear place in my heart, my forever friend💚 I miss you Zeek and look forward to the day we will be reunited!
Bair Peregoy
---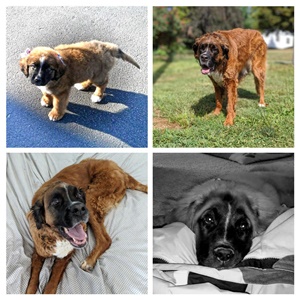 Bair 12/11/11-8/10/19
She grew up so quickly and was gone too soon, but there's so much we'll never forget about her. She loved her toys, but her favorite ones where from the claw machine, especially Mickey. What she really loved most was HER bed. If she was laying in Mommy's spot she'd bark at you for her having to move, but glady moved over and no matter where she was laying she had to be touching you. For being such a large girl she had a high pitch bark as well. Bair was also very spoiled by her parents. When coming home from the store and she heard bags she knew she was getting something. When coming home from a restaurant she'd always get the left overs and if they were left on the table, we'd stop at McDonald's for a plain chicken so she always had something. Lastly, she had a very expressive face. You could always tell how she was feeling by the looking at her, but she never showed pain, as if she didn't want her Mommy and Daddy to be sad and worry about her...we always did though. She was a fighter and pushed through as much as she could for us and we couldn't be more grateful. She will be truly missed and we'll love and never forget her.
Mommy and Daddy love you Bair Bair! ❤️
Rylee & Dozer Wolf
---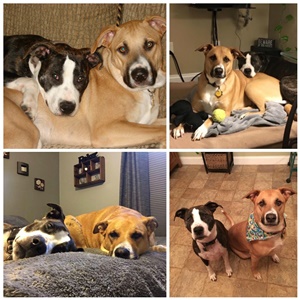 Where do I even begin? 9 years with them was not nearly long enough. Rylee came first, we got her at 3 months old, then a few months later we got Dozer, also 3 months old. They bonded right away, loved each other and did everything together. They were inseparable. Recently, over the last few months it became very noticeable that they were both aging and not enjoying life like they once did. With Rylee's arthritis, and Dozer's failing eyesight, it only made sense to send them over the rainbow bridge together. That's exactly how they would have wanted it. Loosing two pets at once is very difficult, but knowing they went together has given us a peace through this. Neither of them would have wanted to live without the other. Now, I lay in bed at night and where I once heard them snoring and dreaming... it's now silent. When I come home from a long day, I am not longer greeted with the pitter patter of doggie feet and two tails wagging. Rylee came running to the sound of a cheese wrapper, and Dozer came running when he heard the ice maker (he loved ice!). I so badly miss the little annoying things they did everyday. There is a huge emptiness in our home that only time can heal. Rest easy Ry & Doze. Chase those bunnies and soak up the sunshine. We were so lucky to have you as part of our family for 9 years.
Daisy Doodle Barton
---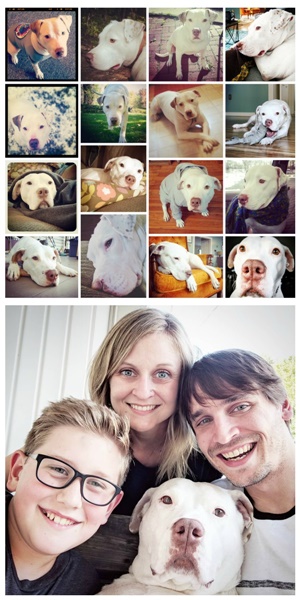 From the moment we met we both knew I was meant to be her mum. My sweet, beautiful, happy Daisy Doodle girl who just loved to be loved and forever changed my life. I have been so fortunate to be loved by her and to have spent these years waking up to her sweet, smiling snoot, greeted at the door by her wiggly bum, my every step followed, every minute of the day filled with her unconditional love, and to fall asleep to the sound of her breaths every night. I held her in my arms every chance I had up until the last. I miss her beyond anything I can describe. I look for her around every corner and listen for her tippy tappy toes. She captured hearts and left a trail of smiles everywhere she went. There are no words to describe our bond other than to say she was part of me; she took my heart with her the day she went and I hope she still feels how much her mummy loves her. The world will never be as sweet without her in it. She is forever my baby, my best friend, my strength, my soulmate, my heart, and I will never be the same without her. Mummy loves you and misses you so much, Doodle.
Huggies, kissies, and belly rubs, Mummy, Daddy, and Zane
Jill Gillespie
---
We miss her so much. She was such a nice dog. Always looking out for her little sister who misses her too. Jill loved to run and play, though it was harder for her to do this the older she got. She always had to be in the lead whenever we would go for walks. She was sweet and gentle and very loving. Rest peacefully our sweet little Jill you will always be in our hearts.
Cookie Klinger
---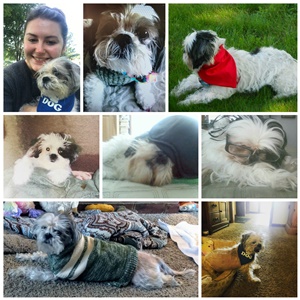 It has been a little over a week since you have been gone! That was the hardest decision I have ever had to make. You the "bestest" friend, cuddle buddy and a constant in our lives for the last 14 years.
I still remember the first day I met you, you climbed into my lap and would not let any of your sisters and brother near me. You snapped at them because you had claimed me.
Thus began our wonderful life together. You came to live with us and we fell instantly in love with this little fur ball. Zach was almost six and Kelsey was 10. We played and they dressed you up in pigtails and dresses; played football with you and your dramatically high jumps were legendary! You would greet everyone who came through the door and your sweet demeanor endeared you to so many!
Now there is something missing and that is you! You filled our days with so much happiness I can only hope we loved you enough and hugged you enough to let you know that you were the very best we could hope for. I almost cannot write this as it feels almost "not real" that I will never see you again. Until that day we pass over and meet you at the rainbow bridge, please run free!
I hope you are walking, running and jumping. I hope you know how much we love you and we wanted you to free from pain. We wanted you to pass with dignity. Something every person and animal should have the right to do!
We love you Cookie Klinger, until we see you again!
Snickers Henderson
---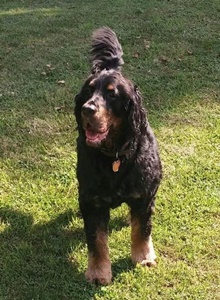 Snickers is missed every day!!
Jack Della
---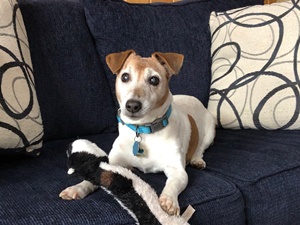 My Dearest Jack,
It's been almost a week since you you've been gone, and yep, I'm still crying, and yep, I'm still angry that life is so unfair. You came into my life soon after the loss of my son, and I thought that I would never feel any kind of joy again. From the moment I saw you, I knew that you would save me, and you did! You became my absolute everything, and I thank the heavens everyday that you were placed into my life, and I in yours. You saved me, but I saved you right back. You are my best friend, my partner in crime, my hemorrhoid at nap time, the just the better part of me. I will miss you until the day I die, and we see each other again. Please remember to leave the Pearly Gates cracked so that we can sneak me in! I love you with all of my heart, forever and ever.
Until we meet again,
momma
Baxter Hughes
---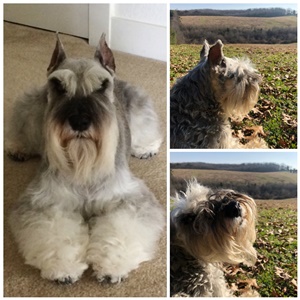 My dear Baxter. Tomorrow will be two weeks without you and my heart breaks and I miss you so much. You were my sidekick, my road trip partner, my little adventurer. It was always you & me, wherever I went, you went. From the time you were a puppy, I wanted to give you the best life a dog could have and I think we did that. You brought me so much joy, happiness, and companionship. You were a talker and always had so much to say along with your happy spirit and your little tail that wiggled fast like a hummingbird. You loved meeting new people and never missed a chance to say hello with your howls. I miss you by my side, and at my feet, and your chin always resting on my knee. You always kept good watch over me, never taking your eyes off of me. You enjoyed life and all of our adventures together, paddleboarding, rollerblading, bike riding, kayaking, agility, pet therapy team, and oh so many walks at the park and ice cream after. You knew how to enjoy the simple things in life and just enjoyed sitting outside together and taking in everything around you. I will forever keep you by my side and in my heart. 13 years was not long enough and I wish I could have had forever with you. You are my baby. I hope you have found yourself a hill to sit atop of and are just looking around and every so often, looking back at your mom. I love you with all of my heart Baxter and cherish every memory we made together. Mommy loves you!
Maxwell McDevitt
---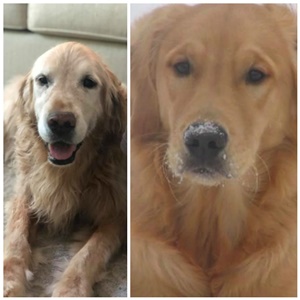 In loving memory of Maxwell❤️
Maxwell will be forever missed and loved. Our house feels empty without him. On the day he passed, we saw five rainbows that evening and knew it was him❤️
He had many wonderful traits that will be greatly missed. He used to feed our small dog first by placing food in his mouth and dropping it by him so he could eat first. I've never seen anything like it.
Anytime we were outside and someone walked by he always stood in front of me making sure it was safe and ok. He was the sweetest and most loving dog I have ever had.
R.I.P. sweet Maxwell! We love you❤️❤️
Roger Stricker
---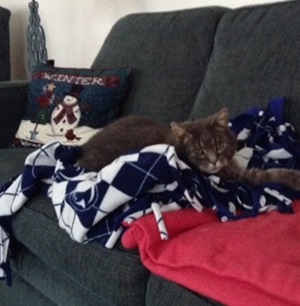 In loving memory of Roger
Jack Ritter
---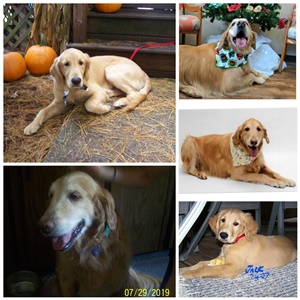 JACK
April 24, 2007 to July 31, 2019
This has been one of the worst days of my life. I made a very difficult decision that sent my best friend, my heart and soul for the past 12 years to heaven this morning. All pet lovers will know what I am saying. The loss just washes over you in waves. There are reminders everywhere. He was everything you could imagine the perfect dog to be. Everywhere Jack and I went, he made friends and everybody liked him. When he was still able to jump up on my bed, he was the perfect bed mate...stayed on his side, didn't steal the covers and didn't snore! I did! And he didn't care cause he loved me. He will not be in pain anymore. I will miss you my beautiful boy forever.
❤️❤️❤️
Fluff Wagner
---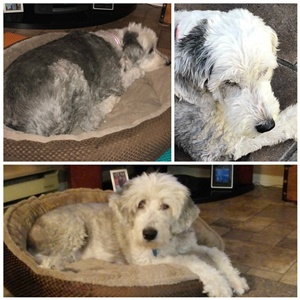 In loving memory of Fluff
Trucker Beaver
---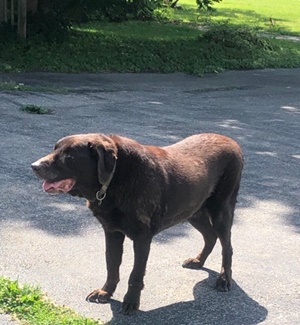 In loving memory of Trucker, a good dog, who is reunited with his Dad in heaven.
Dugger Bachant
---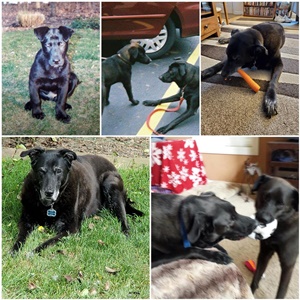 In loving memory of our dear Dugger dog! January 29, 2006 - July 9, 2019
It has been very difficult to sum up what an amazing dog Duge was!
Dugger came to us when he was just 8 weeks old. That was 13 and ½ years ago! I just don't know where this time has gone. Other than going to work, Dugger went everywhere with us. On the weekends Dugger and his Daddy(Steve) would go to John Rudy dog park. Dugger loved catching Frisbee and playing with other dogs. When he was 3 I saw another dog on "Pet finders" that I wanted. That dog was at a rescue in KY. He was about 4 or 5 months old. We took Duge to meet this pup. Well it was an immediate match. The minute Duge saw the puppy, Duge would go into play stance and the 2 played for hours. So we named him Owen. We headed home and Dugger taught Owen how to be a good boy, the boundaries of his electric fence and all about toys , treats and the dog park. Duge and Owen would go on to be inseparable for the next 10 years.
Dugger was most happy when he had a job. He loved bringing the newspaper in, bringing his and his brothers empty frosty paws cups to me.
Duge knew if we were not going to work, he knew he and Owen would be going along with us. We had a van and traveled. Dugger went to Richmond Va. And Bristol Tenn to the Nascar races. He went to Colorado to the in-laws. And he loved outer banks every September. He loved jumping off the docks and swimming. When we traveled we would stop at the rest stops for potty breaks. We would hook the boys together and Dugger would lead the way and Owen eagerly followed right along! When they were done doing the deed along with a little sniffing they would return right to us! Owen just adored his big brother.
I think the funniest thing he ever did was when I found doggie antlers at the dollar store. We put them on him and he shook them off. I laid them on the coffee table. Two days later I came home from work and as I always had done and, I am greeted at the door and I say, "were you a good boy?" He usually would get so excited for his, "good boy treat!" Well this day he turned and went into his kennel and laid down. I noticed on the floor layed the antlers torn to shreds. I laughed so hard. It was worth it to him to give up a treat to never wear the antlers again!
Dugger would lose his Daddy to cancer when he was 6. He took that very hard. It took him about a year to come around. Once he did he would become very in tuned to his Momma & brother. As time went on I could just look at him and he would know what I wanted, felt, expected or when I just needed that laugh! He seemed to understand, I needed him as much as he needed me! We would go to the dog park and they would run around but periodically come back as if to check on me and then go run some more. Dugger loved his walks. He would howl when the fire trucks went out up until the last year. It appeared he did not hear that tone anymore. He always barked at the blender and hair dryer up until the last day! He was my 6am alarm clock! So hard not to have these situations any longer! Dugger loved carrots, he would jump around like it was a toy and then he would lay down and eat it while holding between his paws. He was definitely a dog of routine. When he could no longer walk with Owen I would take him on a shorter walk and then bring him back and as time went on the walks became shorter and shorter. But he still wanted to try, so it was hard to let him know it was okay! It broke my heart to leave him at home the last few weeks of his life. Mentally he was still trying to please, protect and take care of us! I could go on and on with the things he did over the years. He was the BEST dog I have ever known. I wish I could have cloned him. But now he is once again with his Daddy and running and playing like when I met him as that little puppy!
Owen and Mommy miss you big guy!
We will meet you again when God calls us home!
Broken hearted!
Susan and Owen Bachant
Maggie Bickel
---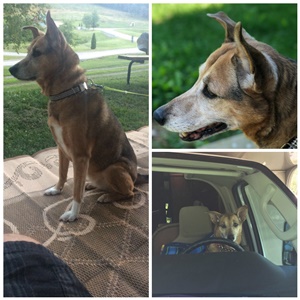 Oct 2008 - July 25, 2019
Maggie was a sweet girl who never met someone she didn't like. We adopted her at 8 weeks old. She absolutely loved going camping, going for walks, and car rides. She will be truly missed.
Bailey
---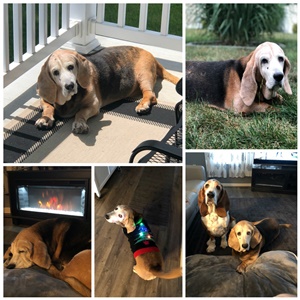 Bailey (Miss B) was a loving companion. From her love of food, trips in the car, and being the star everywhere she went, Bailey was a dog that was loved by all. She had her adventurous side where she was picked up by the local police about a half of a block away from home after taking a walk on her own. But mostly, you could find her snoring away napping in her dog bed or outside in the sun. Despite her ailments, she would always greet you with a tail wag and lots of kisses. She will be greatly missed by her family especially by her younger brother, Chance.
Oreo Falkenstein
---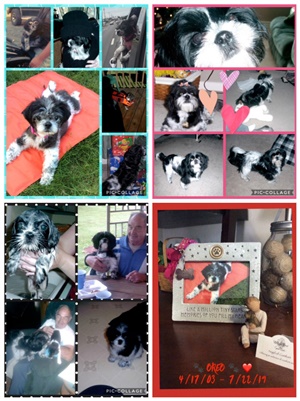 Oreo 🐾❤️
April 17, 2003 - July 22, 2019
She was my sweet baby girl and the best dog (companion). She filled my heart every day. I will miss her so much. We went through many things together. Most good and a few not so good but we were always there to comfort one another.
She most definitely had me wrapped around her little paws. 🐾 99% of the time she got what she wanted. I have so many memories of her over her 16 years with me. There is a missing piece now in my life but I am comforted to know that she lived the best life a dog could live and is no longer suffering in any way. That gives me peace in my heart.
Be free my sweet baby girl with the others in heaven. I will see you again one day. You are forever in my heart. ♥️ I loved you so much.
Solomon Leon
---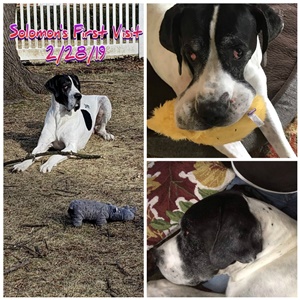 He was my beautiful, sweet & gentle boy. Yet...such a powerful athlete. He could do a vertical jump 3 feet...twisting in mid air to catch his squeaky ball off the bounce. This was one of his favorite things. But he had other favorite things as well...rolling on his back on the cool grass, walking in creeks and of course loving and leaning into everyone he met. And if you were lucky enough to sit in his living room, he would try to sit on your lap or sit beside you on the couch. I know he and my Memphis (Dane who preceded him) are watching over me, but I miss him so very much...my sweet Solomon...my bubby. I will love him forever.
Molly Arnold
---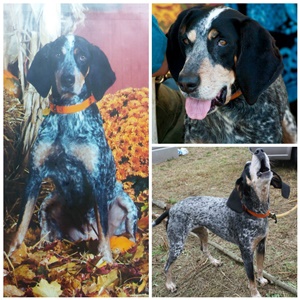 MOLLY
July 1 2005 -June 10, 2019
(3 wks shy of her 14th bday)
Molly was a beautiful Bluetick Coonhound with a bellowing bay. She could be heard from miles away and many would follow her voice to see who was creating that "mysterious music". She was all business all the time, until sleepy time then she was a snuggler. She is greatly missed by all who knew her, especially her human mom. 💔
Thanks for your kind, caring hearts and providing this service.
Michelle M Arnold
Molly's mom 💕
Stella Jacoby
---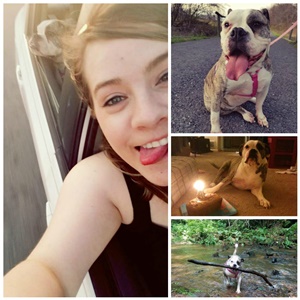 Stella. She was my very best friend and my life isn't as bright without her in it. She was the best dog I could have ever asked for. We went through so much together and I miss her every single day. I wish I had her to hug and kiss and talk to. She was always there for me no matter what and that unconditional love will never be replaced or forgotten. This past Wednesday would have been her 9th birthday and I sang to her and wished on a candle for her in heaven. Sweet Stella, I miss you and love you every day and you will always be the best thing that has ever happened to me. I know you are up in heaven running through the water and dragging sticks out that are twice your size like you always loved to do. I love you my sweet girl.
Lucy Martin
---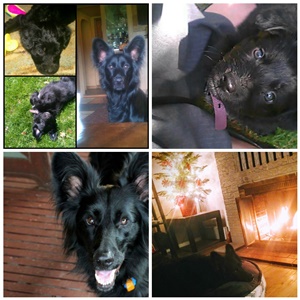 We lost the love of my life, Lucy, at only 6 years old. She filled my heart, making me a better person, and I'm not sure who I will be without her.
She had us wrapped around her little paw, and she knew it, taking full advantage when it suited her: getting all the snacks, getting us to move out of "her spot"... whatever her little heart desired.
My heart remains broken. "Your spot" remains empty. Losing you will be felt forever. We love you, peanut.
Pepsi Gladfelter
---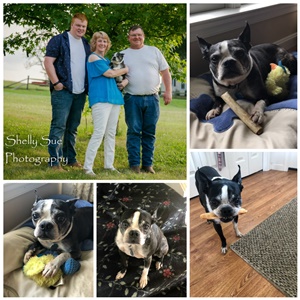 Our girl Pepsi. It's been two weeks since we had to say our final goodbye. July 12th, we lost the best girl we could have ever wished for. We all still miss her so much! We catch ourselves checking the door to see if she wants to go outside, I have to remind myself every time I pull into the garage that she won't be there when I walk in all excited to see me. We also miss the sound of her dog tags jingling and the tapping of her nails on the floor. Our hearts are broken.
Pepsi joined our family when she was a puppy, we couldn't have picked a better addition to our household. She loved attention, as she would like to cuddle beside us on the couch and if we didn't pet her she would take her paw and pull our arm toward her. She also loved to cuddle right up beside our leg and keep us company while watching TV. Pepsi loved being outside laying in the sun or just running around the yard. She loved car rides, all we would have to say to her is "do you want to go bye byes" and she would get all excited and run to the door to go get in the car. If we had pizza, she would sit and watch me eat my piece because she knew I would give her the crust which she would then take outside and bury it, usually in one of the flower beds, for safekeeping. Pepsi also loved her naps in her crate, laying on her bed and playing with her duck toy and chewing on her "cheweez". There also was not a person that she met that she didn't love. Pepsi enjoyed meeting everyone that she came in contact with!
We have so many memories from the 13 years we had our beloved Pepsi with us. There is a missing piece and I don't believe it will ever be filled. It is certainly true that a dog's love is unconditional as our girl showed her love and devotion to us every day. She knew how to make us smile for sure! I wish I could tell her just one more time how much I love her and how much she means to us!
Play and have fun with the other dogs in heaven Pepsi girl! We will see you again one day, until then please remember that we love you so much!!
Indiana Jones Eyster
---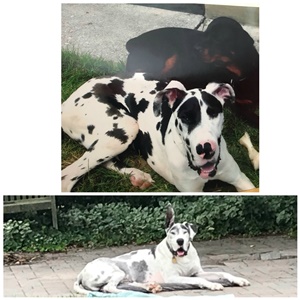 For my sweet boy, Indiana...I adopted him as a 9mo puppy, all legs and spunk, running like a deer and eating things he shouldn't! Yes, indeed, the rascal had 3 gastric surgeries under his belt, so to speak. As the years passed, he lost his two favorite pals, Bella, a Rottweiler and my mom. He never fully recovered from those losses. He is now at rest and won't miss Bella, his constant companion in life, anymore. Up to the very last day, he'd grab his favorite bone and want to play, only to fall over, as his back legs gave way. We spent our last day in the shade outside on his doggie bed that he shared with Bella(I never had the heart to get rid of it)
We ate ice cubes and doggie biscuits and told funny stories of his youth...he liked that. Again, thank you for making such a tragic event less so, if that's possible. I am forever grateful.
Heartbroken again
Robin and Haley (Indy's Rottweiler sister)
Chelsea Johnson
---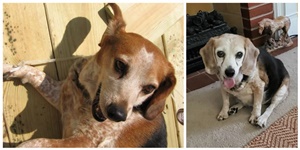 Chelsea was my heart. I had no idea in '06 this 7yo dog with bad knees would bring so much joy for 13 more years. Chelsea was happy to the end. You are loved and missed, Ms. Chelsea.
Kona Wurster
---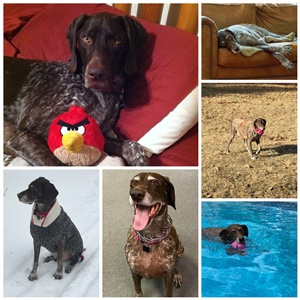 Today we celebrate the life of Kona. We look back at all the good memories. We talk, laugh, and cry about them. We remember what a sweet dog he was, how much he loved watching squirrels, swimming, his pink ball and woobie- or what was left of that smelly pink stuffed animal he carried around. We laugh about him loving the color pink and always picking that color toy when taken to the pet store. We tell the story of when he stole the angry bird stuffed animal from the neighborhood kid on one of his many breakout of the yard joy runs and proudly brought it back showing off his treasure. We remember Kona for being the loving dog he was. The happy pup that brought joy to everyone around him. Loss is never easy, but knowing he is not suffering anymore brings peace. We know he lived the best life a dog could, and for that we celebrate. ❤️ rest easy kona man
Callie Stein
---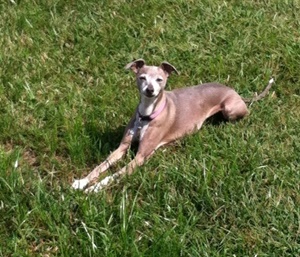 I have attached a picture of Callie for you. Her registered name was Stein's Blue CallieAnn. We sure do miss her, Deb Stein
Twiggy Crabb
---
We adopted Twiggy at about 1 year old with her boy Mo who was 3 1/2 months. She was the top cat and a great companion to all of us. She was always so happy and was our silly girl who liked to make games out of everyday events like the food fight with Mo and her cat sauna in the office window. We found out she had heart disease when she was about 3 years old and recently lost her to it at age 7. We can't believe she is gone so soon. We miss our little kitty goof. Linda, Mike & Mo Crabb
Sophia Gideon
---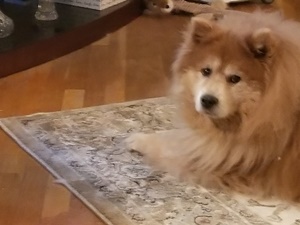 Sophia was a beautiful cinnamon chow. She came to us from a dear friends rescue. She was a little over a year old when she came to us. I always say that she chose us. She was in poor health when we met her. She had a bad case of demodex, so her fur had to be shaved. The first few months that she was with us she made many trips to the vet for treatment. The vet was so amazed at how quickly she healed when she came to live with us. She was a true princess and fulfilled the role perfectly. We miss you so much! You will forever be in our hearts sweet girl!
Princess Callender
---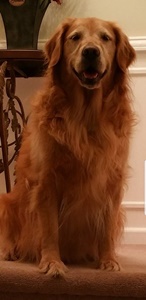 Our beautiful Princess was loving, affectionate and loyal. She will always be in our hearts. Rest in peace.
Dakota Souders
---
Dakota came to us 12 years ago to become part of our family. She was full of life and energy as she was going up and accepting us. When our daughter moved on with her life and Dakota helped us as we helped her fill the void. She was such a beautiful girl and became such a comfort when we needed as we believe we was a comfort to her. She will missed so much for the love she gave and for the love we had for her.
Griffin and Bailey Cretu
---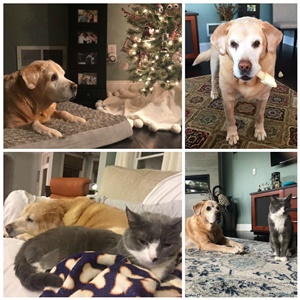 Griffin and Bailey were the best of buds. Even though Griffin (dog) was terrified of Bailey (cat) they still loved each other as much as everyone loved them. Griff was such a wonderful loving lab. All he wanted in life was another bone and someone to love him. He lived such a long life filled with running, barking, sleeping and begging for a treat. He was and still is my buddy boy. Bailey was a little snuggle bug and kept to himself unless I was on the sofa or Griff was laying down. He seized the chance to love up on us. He was a good kitty and I miss his meows everyday. They left me together just like when they would lay together comforting one another. I miss them every day.
Blitz Hockenbraugh
---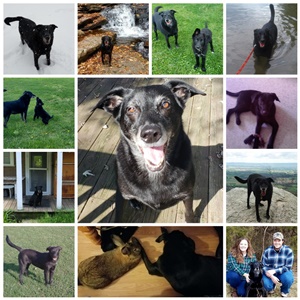 My sweet Blitz 💙 It's hard to believe he left this world on July 2, 2019. I miss him so much and I feel there's just so much that I could say about him!
I adopted Blitz from an animal rescue in October of 2009, and although we didn't know his exact birthday, we figured he was about 7 months old. I just decided on March 13th to be his birthday. I was so excited to begin this journey in my life because my family always had a dog while I was growing up, so Blitz was my first dog as an adult and I couldn't have asked for a better boy. He was such a happy, silly, enthusiastic dog. He was cute and he knew it, and he had the very best smile that could brighten any bad day!
Blitz enjoyed so many things. He loved being outside the most. His favorite seasons were fall & winter because he preferred the cooler weather. His most favorite weather was snow. I loved opening the door while it was snowing and watching him get all excited as he took off running out the door. A snow day was a very happy day for Blitz!
Blitz loved going on hikes. He was the absolute best hiking buddy and enjoyed being in nature and playing in the streams along the way.
Blitz liked going to the family cabin up in northern PA. He was so relaxed up there, he was just a completely different dog. Going there without him is going to be so difficult, but I know he'll be there with me in spirit.
In 2016, Blitz got a bunny sister, who would never leave him alone, but he had fun with her. He especially liked the little "cocoa puffs" she would leave behind for him with every hop!
In September 2018 Blitz had emergency surgery to remove a mass on his back left leg and the results came back that it was cancer. I was informed that they couldn't completely remove it, due to it being deep in his leg muscle, and that it would very likely grow back. Reality began to set in that our days together were now numbered.
Then on Easter this year, I ended up bringing home a precious little 8 week old puppy named, Evelyn. Blitz had been an only dog in our household his whole life and I wasn't too sure how he'd adjust to a puppy sister, but he utterly adored her! He would always keep an eye on her and help coax her back in the house when I said it was time to go in. He played with her so much in his last two months of life, it was the first time I ever saw him play tug, it's safe to say that little Evelyn definitely awoke the puppy inside of Blitz. He loved her.
I had just about 10 years with Blitz. 10 wonderful, happy, fun-filled years that we spent creating many memories together. I do, and will continue to miss him so very much, but I am so grateful I brought home that puppy on Easter. Since she got to spend two months of her life with Blitz, she picked up on some of his mannerisms, so I don't feel like he's completely gone. She'll do something that Blitz used to do and it will put a huge smile on my face.
Until we meet again my sweet boy! I love you Blitz 💙
Annabell Andrew
---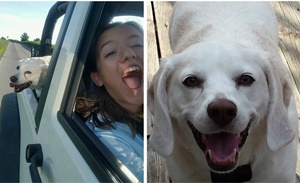 I'm attaching one of my favorite photos of Annabell. I also attached her riding in the jeep. She loved car rides and would go back and forth between front and back seats trying to get a better view. She loved being outside whether by herself or with her brother (Rocky) or her sister (Cinnamon). She was always happy, and loved attention from anyone who was willing to stop by on their walks to give it to her. She will be missed and will always be a wonderful part of our family memories.
Eppie Jayne
---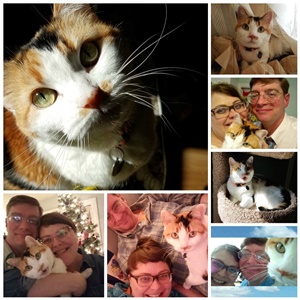 Eppie came to my life in 2005, when she was between a year and a year and a half old. We had almost fourteen happy years together.
Our tiny cat has left a disproportionately massive hole in our lives. We weren't owners so much as we were high priests to our beloved vengeful deity. We catered to her whims, our adorable tyrant whose entire vocabulary of trills and meows all translated to some shade of "want".
She was my very best friend and I am devastated by her absence. The only comfort I have is knowing that the terrible grief is commensurate with the utter joy she brought to our life.
CoCo Bodek
---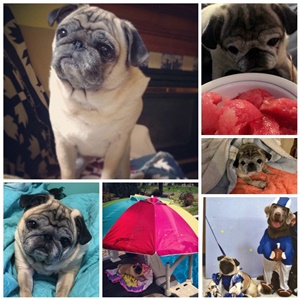 CoCo Chanel was a strong-willed and loving diva, who made an impression on everyone she met. Her favorite things were sun bathing by the pool, eating watermelon and carrots, and snuggling in comfy blankets. She loved her family and will be greatly missed by them. We had an amazing 12 years together. We know CoCo will be reunited with her fur brother, Brewer.
RIP baby 💗💗5/21/07-7/1/19
Emma Neely
---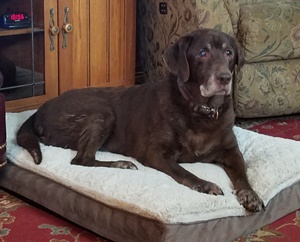 In loving memory of Emma
Comet Chapman
---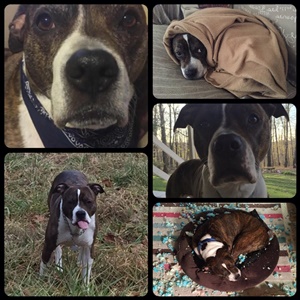 Comet was a handsome brindle & white fellow weighing in at 60 lbs. He was a gentle pit bull/boxer mix. He was adopted from the SPCA on November 8, 2010 after being found left tied to a York City park bench. On February 8, 2013, Comet was shot with a shotgun for chasing a rabbit while dragging his leash onto a neighboring property. Luckily he survived with no damage, but sadly lived the rest of his life filled with shotgun pellets.
His favorite pastimes were taking walks with Mommy, playing rope, either by swinging on it or pulling his masters around. Also chewing on natural bones & Kong toys. Which Mommy always stuffed with peanut butter! He liked to meet new people & especially was fond of little kids to play with. A couple times he did lure chasing. Boy did he love that! Most of all he loved to go for "Rides!" One time he traveled the whole way to Kentucky to meet his Uncle! His other passion was food! He was very food motivated! Especially for fruit, cheese, dog cookies & carrots! He'd pretty much eat anything except ketchup & Old Bay. Lots of times he just liked to put his head on your lap, chill & take naps. He thought he was a lap dog & loved to be cuddled.
Thank you again to Peaceful Pet Passage for your compassion & services.
We miss you dearly Comet. It's just not the same without you at home. Forever in our hearts & mind. You were a very good boy until the end. RIP my sweet boy.
Tucker Neidig
---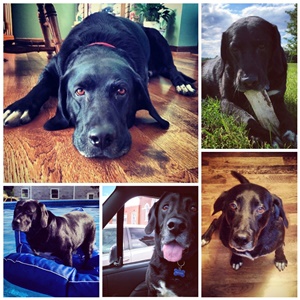 You helped my family's 14 year old black/white lab cross over the rainbow bridge on Saturday 6/29 at 12:53 PM. He was the best dog our family has ever had. He's been a part of my life since I was 17, so he was there for hugs & kisses through high school & college breakups along with all of the ups & downs life holds during early adulthood. He saw me graduate high school & college & buy my first house. He even almost made it to see me get my master's degree.
Tucker was extremely food motivated - if he heard a bag rattle or the fridge open, he would be right there. He was the "shop dog" at my dad's home business & kept customers company while they waited on the servicing of their car. When Tucker wasn't "at work" he would be up at the house, acting as my mom's shadow. Where she went, he would follow. Sadly, even during his last day on earth, he continued to try to follow her until his legs couldn't do it any longer.
I've attached some of my favorite pictures of him. Thank you so much for everything that you did for my parents & my sweet Tucker during his last hours.
Sophie Mitchell
---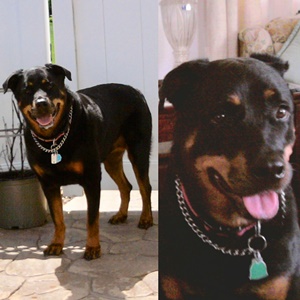 We were lucky to have Sophie with us for 13 years. She was always a sweet girl. Her best animal friend was our cat, Cleo, who was a few years older than her. Our hearts are sad but the memories of her bring us happiness.
Luca Phillips
---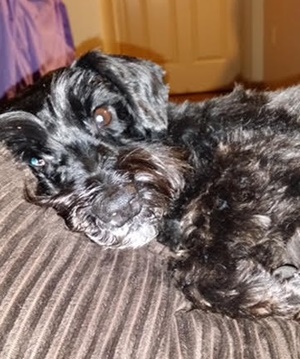 Luca Thompson Phillips 4/3/2007-05/10/2019
I got this sweet girl as I was entering into my last year of college. She was quirky, sweet, always there for me, had the cutest snore which was soothing to me and loved snuggles. She was my very best friend. She saw me through some really tough times. She was with me through marriage, building a house, and pregnancies with all 3 kids, including twins. She essentially saw me through every phase of my life. I had her for 1/3 of my life and she was right beside me every step of the way. She was such a loyal an true companion until the very end. She was always so concerned whenever I would cry, which I had done a lot of for the 6 months preceding her passing, as I knew her time to leave me was getting closer. I'd just had a long chat with her the day before. That I understood her little heart was getting tired and that if she needed to go I understood. I asked her that if she wanted me to make that decision if she could just spend the weekend with me through Mother's Day and we would figure things out on Monday,that was Thursday and my dearest friend went peacefully Friday morning. She fulfilled her place as a faithful friend until her last moment as I think she knew it would have been hard on me to make that decision. She comforted me one last time and I am thankful for her peaceful passing. She was a great pup...the very best. And here we are almost two months later and she is still everywhere I turn...reminding me of her sweetness and unconditional love.
"Pretty good trade, many many years of companionship and friendship and unconditional love for one or three months when sadness creeps in. In fact, that's a fantastic trade. The easiest way to not feel this grief is to never have a dog. And what an empty life that would be." ~Peter King~
Arcadin Urik
---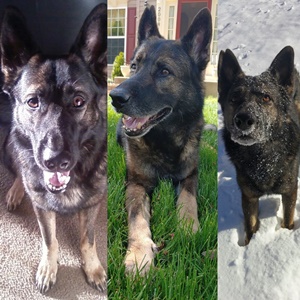 In loving memory of Arcadin
Breezy Keul
---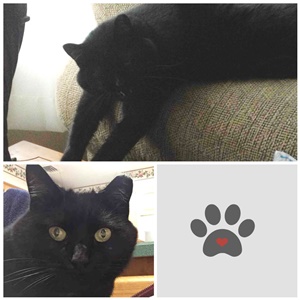 In loving memory of Breezy:
It has been over a week and we will never get over you not being here. You were ever present with your family and so loving. We are grateful for the 10 years we had. Our beautiful baby Breezy- best cat ever.
Kane Torquato
---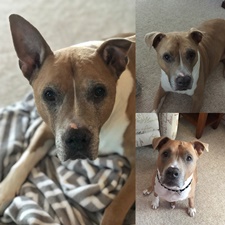 In loving memory of Kane
Hizzy Whistler
---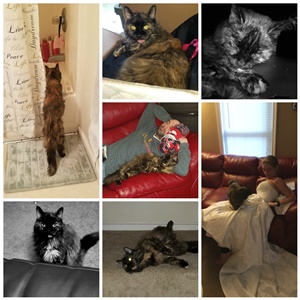 It has taken me some time to come up with a summary of our life together. Hizzy was more than a pet she was our baby and gave us the most wonderful 18 years together.
From a kitten until her final days she was a diva that would talk back and did what she wanted. She was our nurse, snuggle buddy and best friend. Our house hasn't been the same since she's been gone as she ran this place😻 She would be at the door waiting to greet us and would tuck us into bed at night.
Words cannot explain the love we have for her. She is greatly missed and will be loved forever.
Thank you to everyone at Peaceful Pet Passage for your compassion and services during the most heartbreaking time of our life. We know she is not suffering anymore and is watching over us.
We will meet you one day on that rainbow bridge Hizzy mama! We will always love you!!
Derry Pasko
---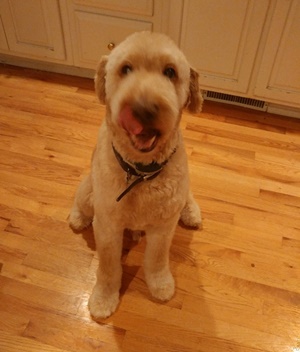 Derry was born 1-16-2006 and crossed the rainbow bridge on 12-15-18. He will forever be in our hearts. Thank you again for helping him have a very peaceful passage. I will always highly recommend your services to anyone else who might need them.
Sable Casterline
---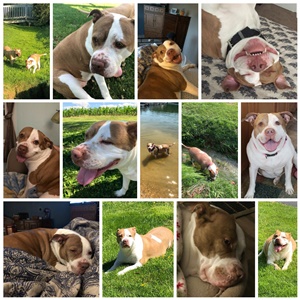 Attached are some of our favorite photos of Sable, who we unfortunately had to say goodbye to on June 12, 2019. Peaceful Pet Passage made the process much easier, though our hearts still hurt every day. Sable was a great dog and we loved her so much.
Many thanks to Elizabeth Carney for her kindness and compassion.
Rummi Pistone
---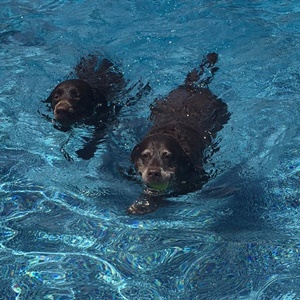 Rummi was a very gentle dog and loved everyone. She was a fierce competitor when jumping for balls in the pool with the other dogs. She was always the last one left to want to play even over the younger dogs. She was my best friend and companion and We will miss her so much. ❤️❤️❤️
Bailey and Elvis Strayer
---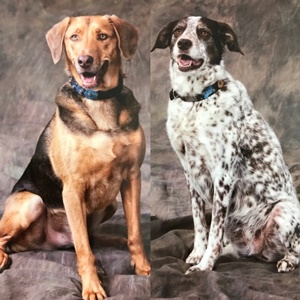 We had to put both our dogs down on June 12, 2019. Bailey, a german shorthaired pointer/black lab mix was 13 1/2 years old. She had horrible arthritis and she couldn't use her back legs anymore without being in tremendous pain. Elvis, a coonhound mix, was 11 years old. He had lymphoma and the tumors in his neck got so big, he had trouble breathing and swallowing. I couldn't bear to watch one dog suffer the loss of the other being put down in the condition each of them was in, so I made the agonizing decision to put them both down together.
We rescued Bailey when she was about 1 year old. She was intelligent, affectionate, good natured, and obedient.
Elvis and his littermates were dropped off at the State Gamelands. We rescued him when he was about 7 months old. He was very playful and affectionate and would lick you to death. He was so loveable, he never even growled at anyone.
Blaze Peters
---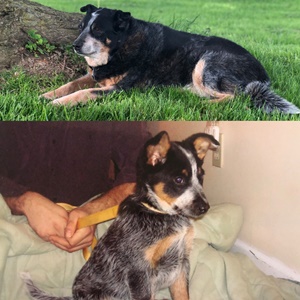 Blaze was a part of our little family for 12 years. He was a happy guy, always eagerly following the kids around ready to devour any treats they may drop. He loved his squeaky loofas and enjoyed relaxing under his favorite maple tree. The decision to have Peaceful Pet Passage come help him "go home" was one of the most agonizing things we have ever had to do, but Dr. Elizabeth was patient, kind and understanding. She made sure we understood every step of the process and was careful to make sure we didn't feel rushed. ❤️
Zeus Wallis
---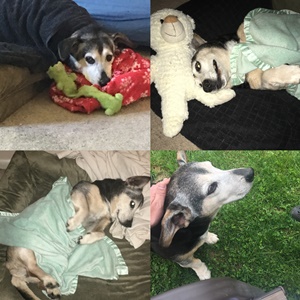 We thank you all for being there with us and for Zeus :) here's our happy old man. ❤️ The Wolf family
Bear Rigling
---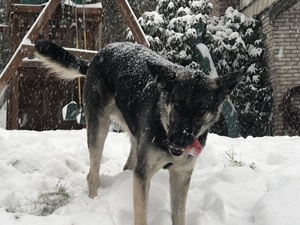 Bear was the very definition of a dog with a bone. He went nowhere without his Kong in his mouth. He was affectionate and was always by your side wherever you went. He always had to be in the mix of things. He had his quirks but that is what made him special too and very much missed.
Livvy Hall
---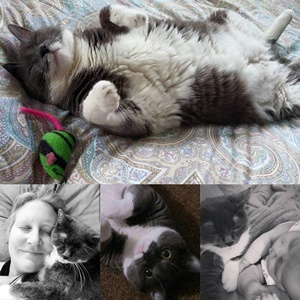 It's taken me almost a week to write this because I don't know how to summarize our life together. Nothing I write could ever be enough.
Livvy was with me for eight years, six homes, two additional family members, and every twist and turn along the way. From the quiet moments when it was just the two of us, to staying up all night rocking a baby, she was always there. Liv was the most intelligent animal I've ever known and the best friend I've ever had.
Ms. "Mean Dog" Sandi Thomas
---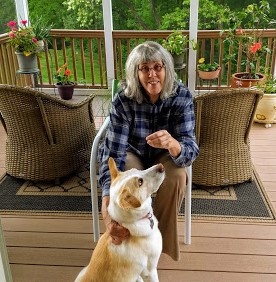 From the very first day arriving from the kill shelter in MS in 2008 with her broken helicopter ear and her terrible fear of EVERYTHING that moved….leaf, bug, frog, etc., Ms. Sandi gave all the trust she could muster to my husband and I (after initially eating the plantation shutters in the den trying to break out…several broken teeth.)
In eight years there were only four people in her life that she could "accept"…Mommy, Daddy, her trainer and boarding overseer/mommy, Chandra Smith, and Ms. Nikki from PetSmart Hanover who would tell her how silly she was….(just had to have her in the building at 7AM before anyone or anything else came through the door!)
No one in the extended family got to pet her, no grands, no neighbors, no friends, etc. While her life was somewhat solitary, she did have good times with us. She was the smartest dog I ever had and knew dozens of tricks and playful antics.
The too few good years were more than she would have had under any other circumstance. She passed on to final rest as my cancer has become stage 4 now….so we will see each other in peace on the other side I have no doubt. God Bless my beautiful, fearful girlie….
Sadie Fleming
---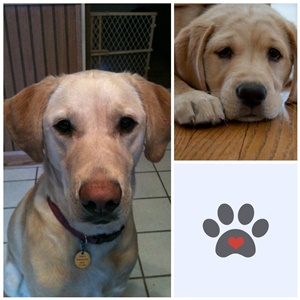 Sadie is our beloved pet who passed on May 31, 2019.

Thank you for your help during this very sorrowful time.
Lacy Kohr
---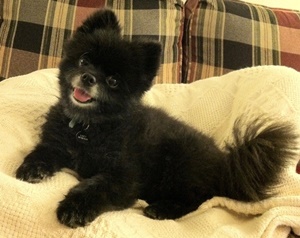 In loving memory of Lacy. We will always remember your affectionate and sassy attitude. We love you and miss you. February 6, 2003 - May 25, 2019
Molly Gunder
---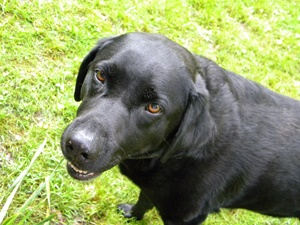 We always told her was "the best girl in the whole world" and she really was! In 14 years we can't ever remember any bad behavior at all, even as a puppy. She was one good dog. She loved kids, campers, her creek, her family, treats and her feline siblings. We will always miss you Molly!
Harley Kauffman
---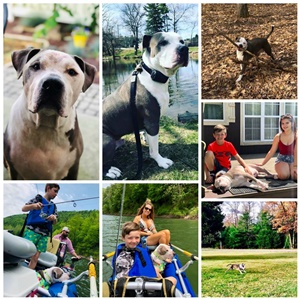 Here are some pics of Harley. He had lupus sle and fought it for over a year. He was the sweetest pitbull. We loved him dearly.
Pico Kauffman
---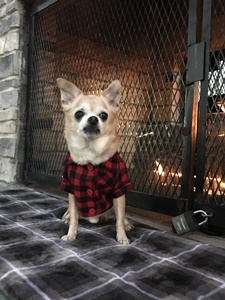 Pico aka "Peekster" was a one of a kind Chihuahua. He was not just a pet, he was our baby and will never be forgotten as he has forever changed our lives.
He adored his sister Paris, cookies, games, cuddling, kissing, long walks at the park, RITA's pup cups, and loved to be loved. He had a spunky personality and wasn't afraid to tell you how it was.
Pico suffered from luxating patellas from birth which resulted in four ACL surgeries over his lifetime, liver failure, and congestive heart failure. However, none of those ever stopped him. At the age of 14, he was still a fighter until the very end!
He has taught us patience and what unconditional love really means.
Pico, you are missed dearly and will always have a special place in our hearts!
Love, Mommy, Dad doo, and Paris
Peaceful Pet Passage – Thank you for your kindness, compassion, and making a really sad/horrible day into a positive experience we will never forget.
Cocoa Quickel
---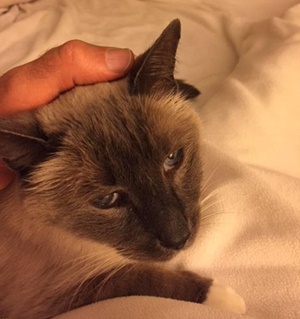 My mother-in-law found Cocoa wandering around her house 15 years ago. She put him in her basement for a while and then gave him to my young daughter after the death of our family cat. Cocoa never responded to his name so he was called "Babses" by my daughter and just plain "Puss" by me and the now ex-wife. Cocoa coined the phrase, "Meowsa Wowza" and always had something to say on any topic. He was very proud of the fact that his photo won first prize at the York Fair many years ago. I know Cocoa would like me to thank the amazing people at Peaceful Pet Passage for their gentle touch and concern. They are saints, pure and simple.
Michael Canterbury
---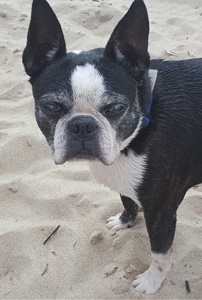 Michael was loved by so many. He was such a loving dog. He had a wonderful fun filled life for 14 years. When he was a younger he loved doing the "Michael 500" which everyone thought was so funny. He enjoyed eating and life in general. So many good times with him and he will never be forgotten. Mommy loves you Michael Stone!! Xoxo
Fidelis Murphy
---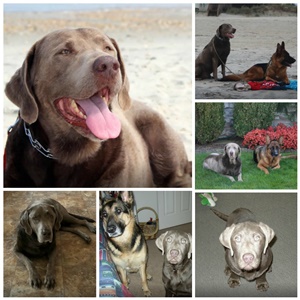 He was the gentlest boy. Always happy, and tail was constantly wagging. He is gone, but will never be forgotten.
Sadie Lehman
---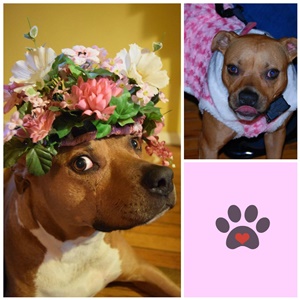 Sadie was our 'lover dog'. She loved to dress up and snuggle. She loved the children and protected them even when they didn't need protected. She had a rough start as she came to is as a starved rescue. She was strong and fought to the very end.
We very much appreciate the service offered by Peaceful pet passage. Sadie was able to stay in the comfort of her home until the very end. It's not easy to say goodbye to a four legged family member but this was done in the privacy and comfort of our home. Sadie will be forever in our hearts. Thank you for taking such good care of our baby girl.
Mandi Althoff
---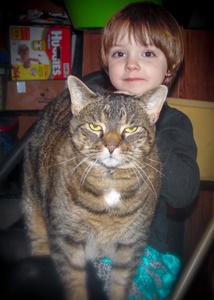 Mandi was our sweet, fat kitty who drooled and kneaded when she was most happy. Julia was her favorite human, but we will all miss her pleasant ways and big cuddles. August 2006-May 2019
Norman Shoenfelt
---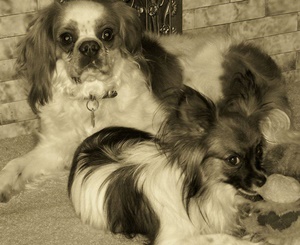 Norman lived a long, happy and very full life. He was the first dog that my husband Chris and I had together. We got Norman when we were engaged to be married, and he'd been with us for the last 14 1/2 years. Norman got his Canine Good Citizen title at only 11 months old. He graduated obedience at the top of his class. He did some agility for fun, and he had his own bumper sticker on our car that proudly boasted "My Cavalier King Charles Spaniel is Smarter than Your Honor Student"!
Norman was a constant companion to everyone. His calming nature made him the perfect comforter Spaniel. He loved to lay in the sun and roll in the grass. He was a constant companion for our rescued Papillon Phoebe, whom we lost three years ago. I know Norman and Phoebe are running and playing together again. I'm so glad we were able to give Norman a peaceful passing, surrounded by love. We will miss him every day. Run free Norman, we love you!
Elsie Mae Estock
---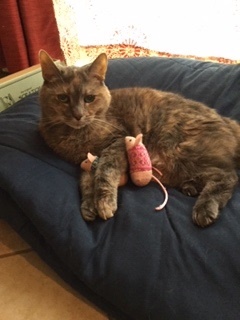 Elsie was our sweet girl for the past 13 years. She was always there to greet us at the door when we came home with a loving purr and a rub against our leg. She loved laying in front of the fireplace and jumping up in her own chair at the table for a taste of chicken, turkey, liverwurst, cream cheese, or peanut butter. You could always find her seeking out a sunny spot or laying in her scratch pad. There is an empty place in our hearts and in our home. We will miss you everyday, sweet girl.
Kelly Salter
---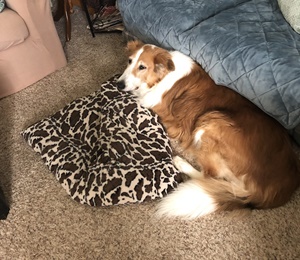 Kelly from the first day I brought you home to the end you were always there for me. You learned to tolerate the grandkids and then loved them for the treats they gave you and extra hugs! You were my buddy and will be missed every day!
Simon Mackey
---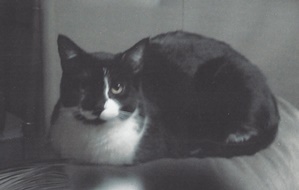 Simon was truly unique. When we first got him, we though he was female and we named her Simone. When we discovered he was a boy, of course we named him Simon. He was always ready to eat a meal and was very picky about whom he would befriend. It was always a comfort to walk into the home and be greeted by him. You were uniquely loved and now are sorely missed.
Maggie Whymark
---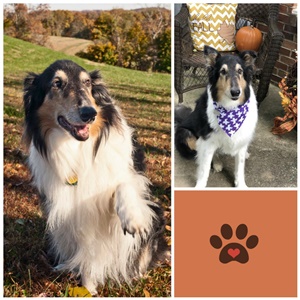 Margaret J. Whymark
September 2005 - May 2019
Maggie will forever be remembered as the most gentle lady dog of all time by our family. She was adopted from Collie Rescue Inc on VA/MD who told us they believe she was abused prior to them receiving her. We picked her up from her foster in West Virginia and from that point forward, we knew we had the Miranda Lambert of the dog world on our hands: petite, demure, beautiful, but with an edge that she brought out only if need be: and only with her fur-brother Max. She was affectionately called 'Nurse Maggie' to her human babies since 2011 when the first arrived, making nightly visits to their rooms and offering a gentle 'nose bump' to each baby with her long Collie snooter through their crib slats, and staying close by during play time. She was Mommy's and Daddy's first 'baby' along with her fur-brother Max, long before the human babies arrived. Maggie also loved napping in her girl's bedroom, checking on her little boy as he got bigger, and waiting at the door for her girl's school bus to bring her home until her last days. She enjoyed herding the coffee table in her spare time when she was not watching her kids.
She is preceded in her passing by her goofy and loving Golden Retriever brother, Maxwell J. Whymark (2005-2018), whom she always made certain to put in his place as she saw fit.
She was made of gunpowder and lead even until her last moments. A true gentle fighter who would never give up. Until we see you again Mags. We hope you've reunited with your beloved Max and got to remind him who's boss once again. ❤️
Jake Halpin
---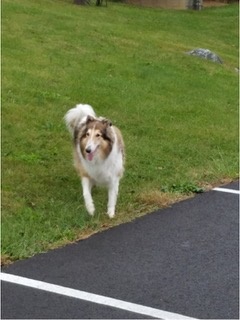 Jake was a remarkable dog. We adopted him at a year and a half old and he would have turned 13 on July 10 of this year. Aside from being sweet, gentle and fun to play with, when he was able, he loved chasing bunnies and squirrels through the back yard. We took lots of long walks every morning and he loved being brushed. He was a great watchdog and barked at everything even if you didn't want him to.
From 2011 until February, 2018 he was the mascot of the York County Fire School in Emigsville, PA. He got to meet lots of firefighters, police officers, EMS , doctors and nurses. They all loved to see him when they came for training. His second mom at the fire school was Heather who would share her lunch with him everyday. You could be sure Jake would eat his dinner whenever Brayden was around. Jake was a wonderful companion. Our hearts are broken. Love you and miss you Jake.
Liberty Leadingham
---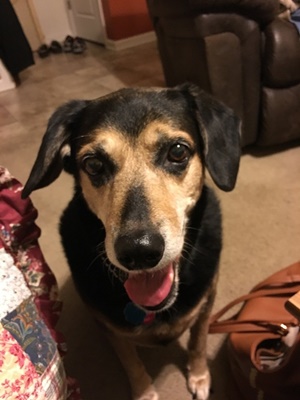 Liberty "Libby" 12/2005-5/2019
I went into Petco on a Wednesday evening with a friend who was looking for a cat calendar. They were having adoption night and in the corner in a huge cage was this tiny puppy with ears bigger than her body. She looked at me with those chocolate brown eyes and I had to hold her. Once I held her I didn't let go, I was a goner. I filled out the paperwork and that was the beginning of a wonderful 13 years with our baby girl.
Chloe Charley
---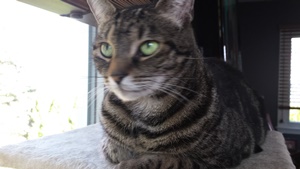 Our first rescue kitty.
Chloe was found on the engine of a car, in January, and was taken to the SPCA
Chloe was a true cat as she only did things on her terms!
Chloe brought us a lot of joy.
Her favorite human was her Daddy. Chloe followed him around constantly.
We miss her so very much.
Annabear Crane
---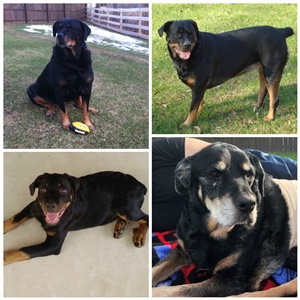 January 16, 2007 ~ April 25, 2019
It was such an honor and a privilege to be her family. Throughout her life she was constantly challenged with medical issues but she never let that define her. Thru all she endured, Annabear always maintained a happy and loving disposition. She was loved everywhere she went. Our baby girl was everything and more that we could have wanted in a Rottweiler and a daughter.
Annabear, you are greatly missed. You gave so much joy and taught us so much! We are a better family for having you by our side for the last 12 years. We love you!
Kiwi Shirey
---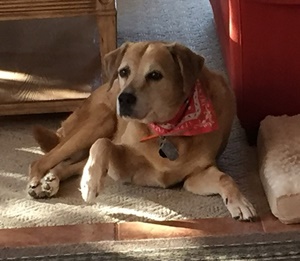 This is Kiwi. Kiwi was a member of our family for 15 years. He gave us unconditional love and was our household protector.....seems as though everyone who met Kiwi thought he was "just the greatest dog". We will miss you and love you forever.
Chance Cook
---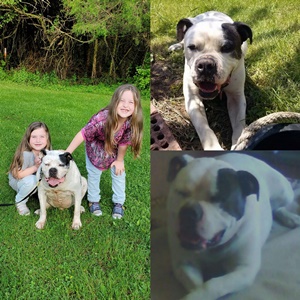 This is Chance ~ An amazing American Bulldog. We was blessed to have him in our lives for 10 1/2 years. He was a big boy but he was gentle and was very loving. He loved to give hugs and run & play with Ashlynn & Aislynn. He was such an amazing boy. He is and will be missed. I cannot thank Peaceful Pet Passage enough for helping make Chance' passing so peaceful and pain free. We take comfort in knowing Chance is no longer in pain and he is now running free and can see again. We love and Miss you so much Chance. You was the best Dog ever and you are so very missed.
Ozzie Wilgus
---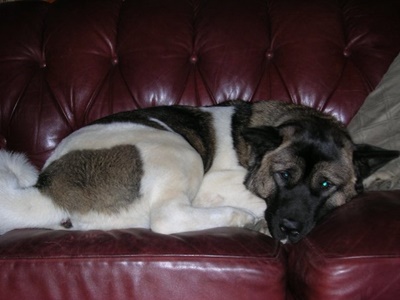 This is Ozzie - an amazing "Big Bear Akita" from Arkansas. We were very blessed to have him for 14 1/2 years! He was really big but a very gentle guy! He loved to play - even up to his last week - when he was still getting into the
play position and slapping the floor with his huge front paws. I cannot thank Mary and Joey for coming to our home and making his passage truly peaceful. They were comforting, kind and patient. We miss Ozzie tremendously
but we know he is now comfortable and running free again! He was our BEST.DOG.EVER!!!
Lulu Myers
---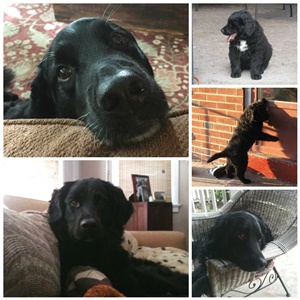 Thank you so much for making our sweet Lulu's journey over the rainbow bridge a little easier.
Hershey Warchola
---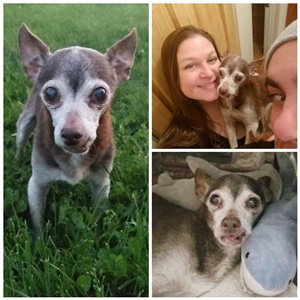 Hershey led a good life. He was certified as a therapy dog and we did volunteer therapy with Alzheimer's and terminally ill patients for a few years. He loved car rides, snuggly blankets, tuna water, and singing along with a harmonica.
He was almost 17 when he passed. Despite the pain of his loss, I feel such an overwhelming gratitude to have had him in my life. He was a very, very good boy. I was glad his passage was gentle and respectful. We thank you from the bottom of our hearts.
True Michaud
---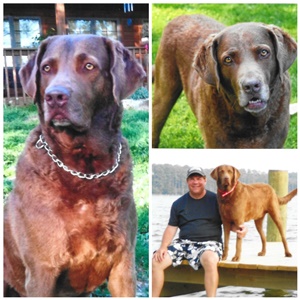 In loving memory True
Chelsea Neeper
---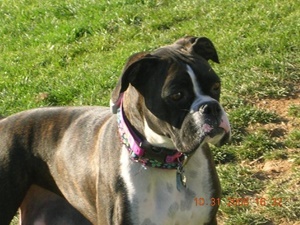 Chelsea RB Beauty Neeper RIP 5-4-19
Our beautiful reverse Brindle Boxer joined our family 13 years ago coming the entire way from Iowa to live with us in PA. She was such a lover girl and we miss her more than we can put into words.
Thank you to the staff of Peaceful Pet Passage for your genuine compassion for us and Chelsea. Our sincere Thanks for all you do.
The Neepers
Baxter Myers
---
Baxy was born on 11-7-03 and crossed the Rainbow Bridge quietly and peacefully on 5-4-19.
He was the sweetest BichonPoo and loved to lay in the sun, carry his red piggy, and lick mommies wet legs when she'd get a bath.
I'll not ever forget my baby boy of 15.6 yrs. I got him when we was 3 months old. He was the best at licking your tears when you cried or just laying with you when you were sick. He also loved to lick my hubbies ears and neck like a salt lick. As a puppy if you went away you'd come home to either dirty tissues dragged out of the bathroom trashcan or toilet paper through the house.
When I got him I wasn't married yet and still living at home. He became my dad's buddy in his retirement. They would take long leisurely walk where my dad would let him sniff everything. Once I got married he continued to live with my parents for a few yrs until both of my parents became sick unexpectedly. While my mom was in the hospital my dad become sick and could no longer watch him. That is when he came back to me and instead of getting visits from us....he got us permanently. Shortly after coming to our place my dad passed. We would continue to take Bax to visit my mom but he would always look for my dad. Now my dad has got his buddy back and I hope they are enjoying each other's company.
Miss you Baxy. Run Free.
Sam McConnell
---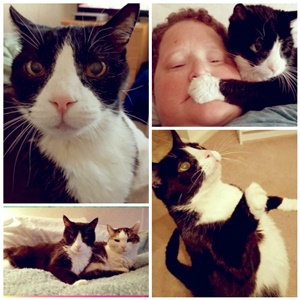 I met Sam, a domestic tuxedo male cat in the late 1990's who was abandoned by a former apartment attendant. He managed to crawl through floor boards to my next door neighbor. She heard scratching and thought it was a mouse until they popped open a ceiling tile. She called me over to see him in the ceiling. We got him out and fed him.
It took awhile to get him inside to live. After that we got him neutered and declawed. The rest is history. He lived to be 20 years old and lived in 5 different addresses. He was definitely my best friend of 20 years.
Kira Treadway
---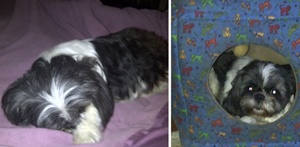 We were overwhelmed by the kind and caring treatment of our Kira. Dr. Carney was a true blessing. Kira was dying and the cancer moved so quickly that we wanted to end her suffering as soon as humanly possible. When we called Peaceful Pet Passage we spoke to John. We were told they didn't think it was possible to get to us the same day. However, knowing our distress and Kira's pain, within a short time John called with the good news that Dr. Carney would be here at 4:45 the same day. She arrived promptly and proceeded to care for our beloved pet in the gentlest and most compassionate way. Kira passed away peacefully. The stress of pain was gone from her beautiful face. Our companion for almost 14 years was finally at peace. We have beautiful memories of our little linebacker. She kept the other three Shih Tzu in line. She was the boss of the pack and they miss her already. Thank you so very much. We couldn't have asked for better service.
Rocky Crilley
---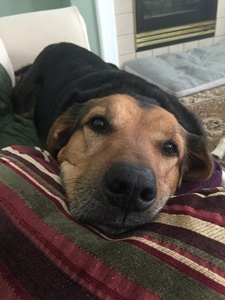 Rocky K. Crilley was a member of our family for 12 years. He was adopted at the SPCA on 2-23-06 and we tearfully said our good-byes at home on 4-27-19. Rocky was our buddy, our companion and a faithful friend. Forever missed now but always loved. Run free and happy Rocky. Until we meet again.
Bucky Kern
---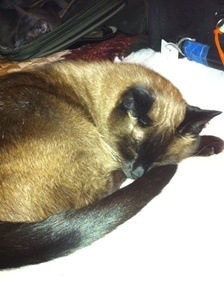 He was such a great friend! He was always waiting outside the bedroom door for me in the morning. He was truly my cat and I miss him terribly.
Gracie Lynne Pinkerton
---
In Memory of Gracie Lynne Pinkerton
May 31, 2006 - April 16, 2019
Gracie was my little baby and she was everyone's best friend. She loved to play with her sister Midnight and everyone that was around her. Gracie would follow me everywhere I go including the bathroom; she loved too sit on the edge of the tub and watch the water go down.
She was such a beautiful cat with bright sparkling eyes. She and her sister Midnight always slept together and was very tight.
Gracie is missed very much and we love you dearly. Our hearts are broken and there isn't a day where we don't think about you. We will meet you on the rainbow bridge and you will forever be on our hearts.
We love you Gracie Lynne Pinkerton
Zoe King
---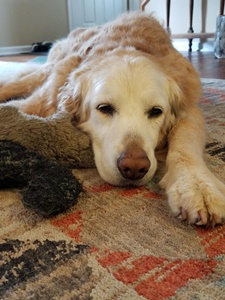 Zoe was the sweetest golden retriever. She loved her walks and greeting the kids in the neighborhood. I never knew a dog she didn't like or get along with. Zoe was saved from a family who underfed her and had too many dogs when she was 4 months old. She lived to an age of 13 years 10 months. It is so quiet without her. I miss her soft sweet doggie smile, the nudge of her nose, and her constant companionship that was so comforting. I love you Zoe, and we will one day be together again.
Snickers Foust
---
Snickers was my best friend, he is the world to me and will be forever loved and missed so much!
Bella Harris
---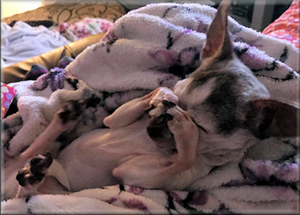 Sleep in eternal peace my Bella Bella until we meet again. 7-20-2007 4-23-2019
"Love Mom"
Lacey Renoll
---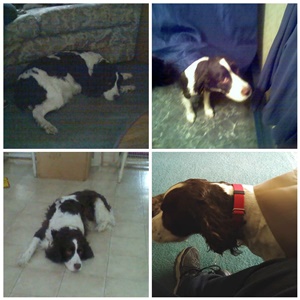 RIP my sweet Lacey girl. We miss you!
Baylee and Blitzen Stevens
---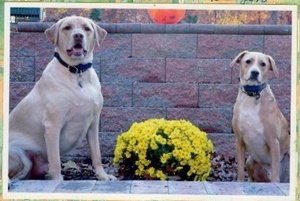 In loving memory of Baylee and Blitzen
I couldn't imagine going through the passing of our beloved pets without Peaceful Pet Passage. They provide an invaluable service.
Lexi Keller
---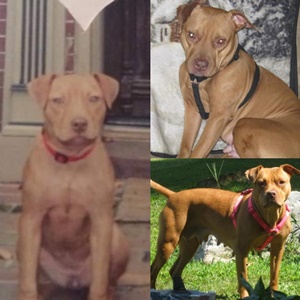 In loving memory of Alexis Keller aka Lexi 6/1/06-4/20/19
Lexi was one of the kindest most lovable dogs anyone could ask for. She loved going for runs, hiking, hopping through the snow and swimming. She also went through a long battle with cancer but always had such a will to live. She is missed terribly and won't ever be forgotten. You are our #1 girl always and forever. Love, Mom & Dad 💕
SSD Dante
---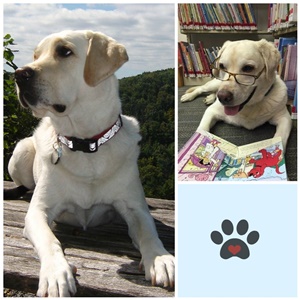 Some dogs spend their whole lives with one family, loving each member as their own. Some dogs become partners to one person, who becomes their whole world and the love is unbreakable. Sadly, some live their lives unloved, never finding their person that becomes their life.
While SSD Dante became a part of our family, and I became his person, he also extended his loving heart to many children throughout his amazing life. Counting the number of books he listen to through the years is impossible. The number of children he helped overcome a fear of dogs is surprising. But the hundreds of fans is astounding.
For over a six year period, he was a regular in South Middleton School district classrooms. He taught kindergartens and first graders what a service dog did, and why they were important to people with disabilities. He sat with children having a hard time with reading, and listened to their books, while never criticizing their work. Then he spent his last 3 years working with Lifeskills students at the high school, attending Special Olympics each year with them and enjoying walks outside or through the halls piloted by a lucky student. Always available for a brush or stroke to one that needed a break.
During a few years stint at Hilltop Academy, he was the yellow dog that calmed students having a hard day. He greeted them as they got off the bus, and said goodbye as they rode away.
A regular member of Otterbein United Methodist Church in Boiling Springs, he attended weekly and even had the service memorized. He knew exactly when to stand and when it was time to leave. Missed when he was absent, more people asked about him than any other family member. Again, he supported children in the church, with quiet dignity he submitted to tiny hands stroking and grabbing as he walked the halls of the church.
He has been a "reading" dog at Amelia Givin Library in Mt. Holly Springs since 2013, listening to countless children read books aloud for an hour each week. During Monday mornings in the summer, he sat on a blanket under the trees at the Living Word Church across the street, while children enrolled in the Project Share Lunch and Learn program read books they then got to take home and enjoy with family.
As the years passed by, Dante spent some evenings through the years educating various groups on the value and skills of service dogs. From finding a ringing phone to picking up a coin from the floor, he patiently demonstrated the skills he learned to be a service dog. From Girl Scouts to Preschools to Hearing impaired to MS groups to church groups to schools he went educating. And he did it all for a piece of a hot dog or kibble.
In 2015, Dante became a cancer survivor, going through surgery and a long recovery, but in 4 months he was back listening to children read at the library. He thrived on the attention and being around the children. Sadly, in 2017 his cancer came back in a new form that couldn't be easily removed by surgery. As he continued on through 2018 he started to decline, and by early 2019, had to finally hang up his reading glasses.
As he finishes his life lounging by the fire, he still wants to go in the car and visit the school, church and library where he spent so many hours. Still wants to wander the yard checking on all the wildlife smells. I wonder if he dreams of all those children whose lives he touched. When his time is finished, I will remember the sweet dog that always watched me with soul searching eyes waiting on the next command with eagerness.
On April 3, Dante lost the battle and crossed the Rainbow Bridge. In the coming weeks, I was humbled and overwhelmed by the outpouring of love for him. From memorial donations to Susquehanna Service Dogs, to the numerous sympathy cards and loving tributes on Facebook, I learned how far Dante's service reached. At our church, I was met with others also in tears at the loss of a beloved member. I am still receiving hugs from those that feel his loss. At the library, children who spent hours reading to him were in tears when they saw the notice of his death. Weeks later, I still feel the pain of his passing, but I know in this community I am not alone.
Rusty Montes
---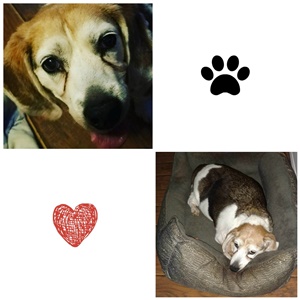 Rusty was a loving dog. He would always greet you at the door wagging his tail. Loved every person he came in contact with. He loved playing with the kids. Loved to snuggle. He will be truly missed. We know he is in a better place now where he can run and play like he used to do when he wasn't sick. RIP our baby boy Rusty.
Rocky Judd
---
Rocky sure was our Rockstar! Full of fun and love. What a blessing to have him in our lives! His sister, Pebbles and Doodle also loved their big brother. He was always looking out for them.
Maggie Anthony
---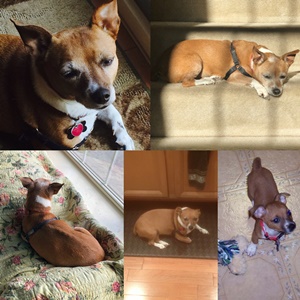 From tiny pup in November 2004, through her passing March 2019 - Maggie was treasure. Especially loved to be close with her family members, loved "her perch" where she could observe what was happening in the neighborhood. Loved the sunshine, would follow the sun up the stairs each afternoon. Miss you, Maggie!!!
Finn Stump
---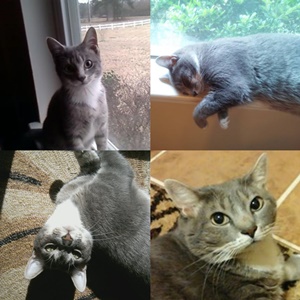 I lost my sweet Finnie on April 5th. My beautiful boy was so sick with seizures caused by kidney issues and borderline diabetes. He has had a hard life the last 6 years and with the seizures coming every few days these last 2 weeks I had to make the hardest decision a pet mom will ever make. Dr.Carney was very sweet and kind, making it easier for this hard decision. I love you Finnie and I will never forget you. I know there are plenty of trees for you to climb beyond the Rainbow Bridge.
Axle Sipling
---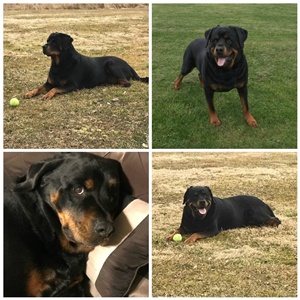 Axle Sipling.......What a great friend! He was a rescue from the Harrisburg Humane Society a police officer found wondering the streets of Harrisburg. The day he found us (Myself Brian, Wife Misty, and Daughter, Megan....lets not forget our two cats Tink and Boots) was one of the best days one could ask for. He loved chasing the tennis ball, and the two cats once and a while. Axle was a loyal and loving friend who will missed by us all. Axle, we could not have asked for a better friend.....THANK YOU for spending your days with us, you will be missed.
WE LOVE YOU!
Thank you to Peaceful Pet Passage for taking our difficult time and making it as easy and respectful as possible. Class act!
Ricky Wheeler
---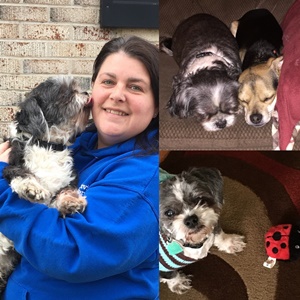 Here are a few pictures of our boy Ricky. He crossed over the rainbow bridge in peace and in our home. Thank you so much for understanding how difficult this decision was. It's never easy to lose a friend, but we know we will see him again. Have fun on your new adventure Ricky!
Moses Diffenbaugh
---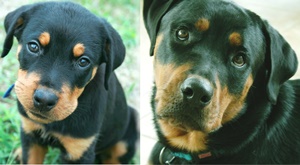 Moses was so gentle and loving. His "expression" in the photos was just as he was - submissive and kind. He and our grandson (4 years old) were best friends. They were inseparable - running and playing ball - wherever Moses was, our grandson was right there too.
It's very quiet in our house without Moses, since he was an avid TV viewer - barking at my Jane Austen movies with all the horse drawn carriages. He was a big, goofy lovebug.
Payton Zimmerman
---
Forever our best girl who will forever be missed. We got to spend almost 12 beautiful years with the most gentle soul we have ever met. Lover of all things comfy and warm, destroyer of all the toys, sun worshipper, long walks that couldn't be missed rain or shine, and a tongue that couldn't be contained. Thank you for all the countless memories and for loving and sticking by us no matter what! You were that perfect addition to our family and you went out like the queen you were. Thank you Peaceful Pet Passage for giving her the most dignified passing that we could have ever asked for. Gone but will never be forgotten!
Simba Brosend
---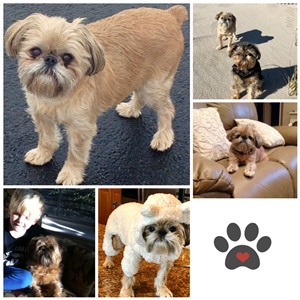 In loving memory of Simba
12/05/07 - 02/28/19
Freddy Bupp
---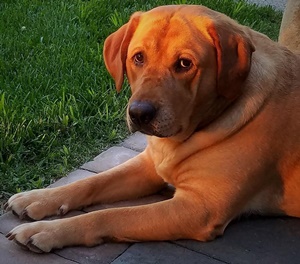 A beautiful and dignified way to send our baby, Freddy home. Thank you Dr. Carney and everyone who was there to help us at such a hard time.
Molly Brodbeck Noel
---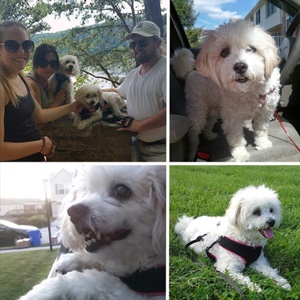 Molly was such an immensely intricate part of our lives. There was very little that occurred in our lives that did not include her in some manner and though Molly has physically departed; her Presence and our Love for her remains. We feel both equally connected to, yet achingly separate from, our beloved girl.
We are incredibly grateful for the many years we shared together doing the things Molly enjoyed. Horse Spotting from open windows on long drives, walks at Gettysburg National Military Park, Caledonia Hikes, and outings for Ice Cream were all activities that Molly joyfully participated in.
Visits from her "Lil' Momma" were enjoyed tremendously and she loved her time spent on the floor being brushed when Momma came to visit.
Molly adored Christmas. She loved the lights, her tree and most especially unwrapping her gifts (and sometimes those of others too!). Molly had a special love of fallen tree leaves and snow; blessing the first and gleefully tunneling through the last.
Later in life, Molly was joined by two younger Sisters, Jady and Skunky Brewster. Molly and Jady enjoyed many yard patrols together and Molly loved helping her sister to clear her dinner plate. Skunk(a guinea pig granted an honorary "dog" title) was not much enjoyed by Molly whom regarded her with suspicion and tended to give her the cold shoulder whenever Skunk was on the floor for playtime. Regardless, Molly's absence is noted by Skunk and she is believed to be missed. Jady has bravely taken up the duties Molly has bequeathed to her and hopes that her sister is proud of her.
We Love You Molly Girl and we are still observing the rules of "Molly Club" to the best of our ability. We are thankful for the signs you have sent us to let us know that you are A-OK. Be the best Grandmaster Flash M-to the-J-to the-O Molly-Jo those pups in the Great Ever After have ever seen.
Keep Kickin' It Molly Style and we'll be seeing you soon!
Molly J. Brodbeck Noel
9/15/03 – 2/7/19
Ruby Couloumbis-Levy
---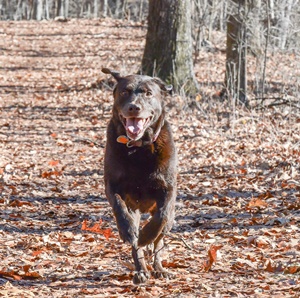 Ruby Couloumbis-Levy, fetcher of tennis balls, chewer of sticks, catcher of Frisbees and swimmer of rivers, pools, ponds and lakes, died Saturday, March 16, 2019. She was 13 years, five months and 10 days old.
Ruby was born a Jersey girl, but moved to Harrisburg, Pa., when she was eight weeks old. She spent her days walking miles along the Susquehanna River, crashing through the woods in parks, laying on our feet like a pair of fur slippers and sitting on the porch watching the world go by.
For years, she pretended that the two sisters her parents brought home from the hospital did not exist, but eventually gave in and liked them.
She loved eating food, treats, grass, sticks and fresh goose poop – and the occasional potted ficus plant or piece of mail slipped through the mail slot. If you wore flip-flops, she would lick your toes.
Once, she won a first-place ribbon for heeding the "Leave It" command, while treats were piled onto her paws, longer than any other dog in the ring. She drew crowds when playing Frisbee, because she could leap really high and almost never missed a throw. She left piles of sticks at the front door, treasures brought home from walks.
In her twilight years, her favorite thing to do was walk up to the "Doggie Diner" house in Camp Hill, where she would devour a treat or two or three. And when she could no longer walk that far, she perfected the art of alligator rolls in the backyard, usually where the rabbits had left behind their scent.
She had big paws and an even bigger heart.
She was a good girl.
Gabe Quinnan
---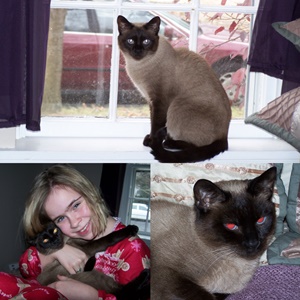 Our beloved cat, Gabe, who passed on 2/19/19. Thank you for your support and services.
Baron Lee Ward
---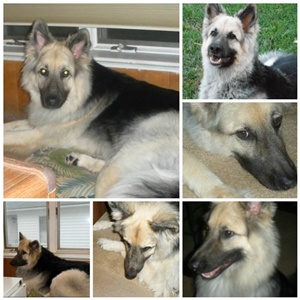 Baron Lee Ward RIP July 4th 2011 to March 6th 2019
Midi Lua
---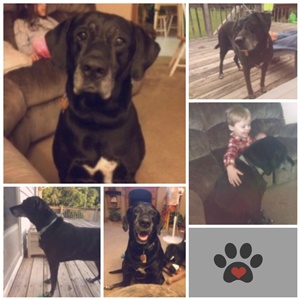 Thank you to the caring staff for helping my family and I through this most difficult time in saying goodbye to our precious Midi. She was greatly loved by many and the most gentle furry friend I could have ever had. We greatly appreciate that she was treated with care and love on her final day and after.
Barney Balsley
---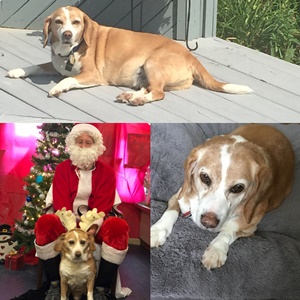 In loving memory of Barney. You had a heart of gold and loved your neighborhood, everybody and every dog but most of all your grandbabies and BFF Libby. Thank you for finding me and spending the last ten years of your long life of seventeen years. Run free Barn!
Buzz Tierney
---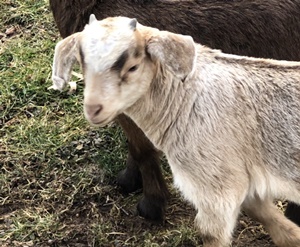 Buzz the Boer goat was born on December 26, 2018 and we also have his brother Woody. It was important for us to have both so they could be raised together and not separated. God had other plans and unfortunately Buzz became unexpectedly ill overnight. He was extremely loved and we cherished every moment we were given be it as short as it was. Buzz died peacefully in my son's arms, letting him know he was surrounded by love. We will never truly know what happened to Buzz but we will cherish his memory with his brother Woody and herd mates Dash and Thumper. We hope you're enjoying all the carrots you want on The Rainbow Bridge. Sleep well our beautiful boy.
Lily and Daisy Freysinger
---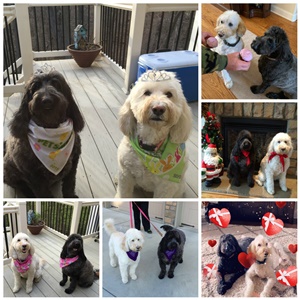 You came into our lives and brought such joy. You made us smile at the cute little way you would cock your heads when we would talk to you. You loved when people would come to visit or stop and talk to you when you were out in the yard. You would get so excited when you would hear the garage door go up and Daddy was home. You knew it was pet me time. We love you so much and you will always be in our hearts and in our memories.
Bud and Smoke Flinchbaugh
---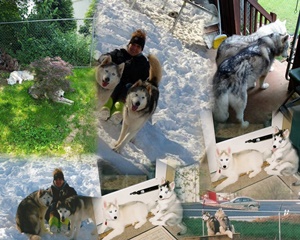 For the past 17 years they have been a huge part of our lives and to lose them both within 8 months of each other is very traumatic. There was always something going on with these two. From their sweet love me moments to their let's run away together days. They were truly escape artists from climbing the fence to chewing through their crates. We know you will watch over us I feel you with us everyday. You are both so incredibly missed but I know you suffer no more and you are together forever in heaven as you were here on earth.
Until we meet again.
Lady Stoner
---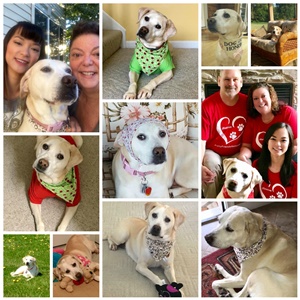 In loving memory of Lady
Oliver Haldeman
---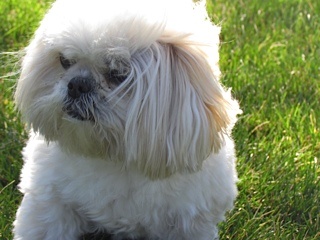 Ollie would have been 17 on May 30, 2019. For 17 years he was our best friend, guardian, and companion to our 4 children. Our hearts are broken, our house is empty without him, but we know that he is in peace now. Peaceful Pet Passage was very caring and compassionate and we can't thank you enough for making such a hard decision as smooth as could possibly be. WE LOVE YOU, OLLIE♥️🐾
Buttons Fetterhoff
---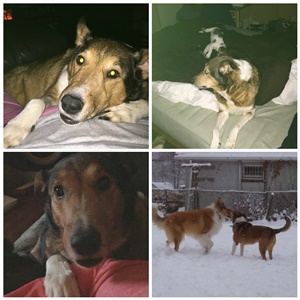 When we went to pick out a puppy for my daughter's 5th birthday, we went in with the idea that we were leaving with a boy puppy. The boy trying to help us find a boy puppy wasn't having much luck, and yet this one puppy kept coming over to Kerri and ultimately after a little while, I said, I think this puppy really wants us, so ultimately that spunky puppy picked us! She was so smart, and knew so many words. She played fetch and loved to snuggle. She was either in Kerri's bed or at her doorway. Even when she couldn't get in bed anymore, she was in the doorway. And when she couldn't take stairs anymore, she laid at the bottom of the steps. She loved to play in the snow and was very protective of Kerri. She picked us and I'm so glad that she did, she was the most amazing dog and 14 years of the most wonderful adventures together. It killed me to have to put her down, but she's whole and happy and running around in heaven.
Dakota Bogus
---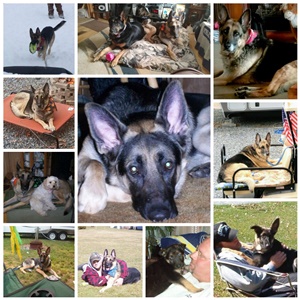 Dakota, from the time we brought you home at 7wks old you were an amazing addition to our family and a best friend to your Dad. You gave us 14 fabulous years full of AWESOME memories. We love and miss you so much Buddy!💕
If love could have saved you we would have had you forever!💕
The Bogus Family
NancyLee Lanigan
---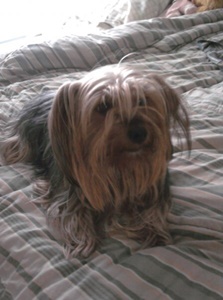 11-24-2003
2-21-2019
I'm gonna miss my beautiful little girl
Although we are still blessed with her son, Handsome and her daughter, Agatha.
My fondest memory of NancyLee was when she wanted to snuggle with me. Did not matter what I was doing or where I was. She put her head next to the side of my head and snuggled into my neck and pushed hard until I wrapped my arms around her and scratched her butt. If I stopped she stood up and did it again. I love you forever and ever my little snuggle buddy.
Buddy Bechtel
---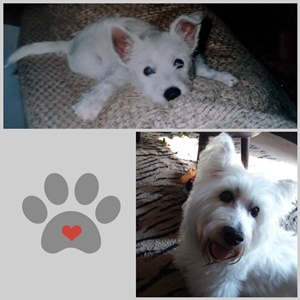 From 7 weeks to 16 years he was the best buddy ever.
Daisy Hultman
---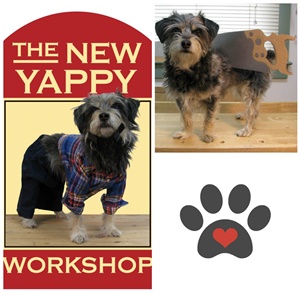 Daisy Susan, our Terrier/Chihuaha mix, was a big dog packed into a pint-sized body. She never met a canine she couldn't intimidate. In fact, she once chased a full-grown Weimaraner around a ballpark just to show off her Alpha-status. But while she was bossy with other dogs, she absolutely loved humans and would do anything for her mommies. She was very smart, nearly a Rhodes Scholar, and was easily trained. She could be quite mischievous: we remember the time we heard Grandma yell "Hey! Get back here!" only to see Daisy tearing through the house with Grandma's nylons trailing behind her. She allowed herself to be dressed in dungarees and plaid shirt to portray Norm Abram of the New "Yappy" Workshop, and gleefully participated in mommy-hijinks by wearing a cardboard "handsaw" as a Halloween costume. In her older years, she lost most of her eyesight and hearing and became more chill. She loved to go on walks and though her hind legs became a bit unsteady, she still managed to happily run/hop in our backyard and race through the house like a nut. Her mommies were blessed to have her as a loving companion for 18 years, 3 months, and are sure that she's with her other fur-siblings, running free over the Rainbow Bridge....and reminding everyone who's boss.
Bids Weaver
---
I got Bids from a pet store when I was 18 years old and she was a year old. When I moved away from home and wasn't able to take her, she stayed and became my family's pet - not just mine.
She was very playful when she was younger, but was always cautious of strangers. As she got older, the only people she really liked was our immediate family - my mom, dad, brother and sister and myself. She had a tendency to hiss at other people, but that was just part of her personality.
Over her 20 years, she really did become a part of our family. She like to lay near my mom on the couch in the evenings. She greeted my dad in the mornings to meow for a treat. And we all talked to her like she was just another member of the family.
It was a difficult and painful decision to say goodbye to her. But age and ailments were affecting her in many ways and she could no longer enjoy food or even her favorite nap spots.
She will be missed, but we are all glad to have had her in our family for 20 years.
Thank you again for your wonderful service. It means a lot that we were able to say goodbye to Bids in her home. I will definitely recommend you to anyone else who has to make a difficult decision for their pets.
Aspen Starr
---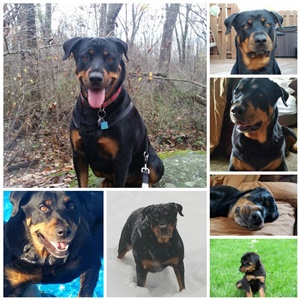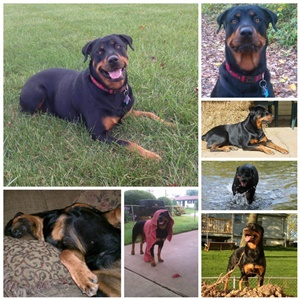 In loving memory of Aspen, August 20, 2009 - February 15, 2019
Aspen came into our lives at 7 weeks old. Although the smallest of her siblings she was definitely the most rambunctious. We knew then that she was going to be part of the family.
Her personality was only matched by her energy which was 110% all of the time. She had a love of the outdoors, investigating every nook and cranny whether it was in the yard or in the woods. She did learn to swim, which, at the beginning was funny to watch but she eventually got the hang of it and became an expert. We went to the creek often and also swam in the pool at home daily. Our neighborhood was filled with many kind people to whom she befriended almost immediately. Her love for people was abundant and she always was eager to say to hi. She was tough, but loving, all wrapped up in one beautiful soul.
The last year of her life was a struggle with cancer, but she toughed it out until the end. Her never give up attitude helped us get through this time with her.
We will surely miss the daily walks, swimming together and seeking out a good trail to embark upon. The bed has a huge empty spot as do our hearts. We would like to hope that we gave her as beautiful a life as she gave us ❤
Forever In Our Hearts
Jai Tshudy
---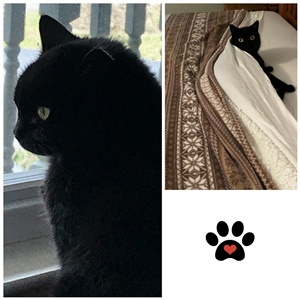 This is my beautiful kind hearted soul Jai. She came into my life by accident. We went to get one of her litter mates but fell in love with her personality too ~ you know "what's one more"? So Jai and Asha came home. Asha passed several years later and Jai welcomed every soul that joined the household. Jai was my bed bug. Every night I would sing "you are my sunshine" and she would head butt, make dough and purr with every off key note. This was my favorite time of day. I am grateful to Dr C and Rob/John's ongoing loyalty to assist with this most difficult loss. Jai ~ you are and will always be my sunshine. Paw prints in my heart forever.
China Palma
---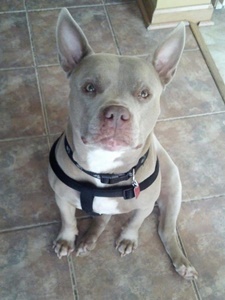 We never forget how everyday at 5 clock you sat by the back door waiting for daddy to come we love you and miss you say hello to grandma for us.
Thunder Macera
---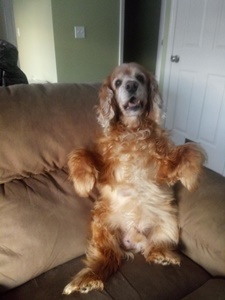 Thunder was born June 11, 2005 in Gardnerville, NV. He joined our family at 11 weeks old. My husband wanted a Golden Retriever, but I wanted a small dog, so we compromised on a golden Cocker Spaniel. Thunder travelled to 19 states, experiencing mountains, forests, deserts, and the beach. In 2006, Thunder earned AKC "Canine Good Citizen" status. He was a registered Therapy Dog from 2012 to 2018, bringing joy to his many friends at Penn-Mar group homes. Thunder advanced to Level 3 in his favorite sport, Nosework, and went on to become the smallest member of the South Central Pennsylvania Search-and-Rescue Team. In Heaven, Thunder joins his beloved cats and his friends Alaska and Max. He will rest in peace, in the care of his Guardian Angel, who passed 13 years and 1 day prior. I am grateful to Thunder's vet at Healing Creatures, who detected his splenic mass before it ruptured. Thunder never felt any horror before he died: He loved life until the end, smiling and kissing us as we cried during his euthanasia. Thank you to Peaceful Pet Passage for meeting us at John Rudy park, one of his favorite places, where he modelled for the Canine Meadows calendar and won two gold medals at Dog Olympics. In his final hour, Thunder went to the dog park, ate a bag of treats, and walked the trail that led him to eternal paradise. In honor of Thunder, please do something loving each day, so that his spirit may live. And, if you have a pet, give them extra treats tonight because Thunder sure loved treats and he would be thrilled if all pets got more. Thunder – I love you. You were my loyal companion for the majority of my adult life, and you helped me through some of my toughest times. My home and my life will be so empty without you. I will always remember your smile and the way you stared at me from across the room like I was the love of your life.
Snuggle Bear Traxler
---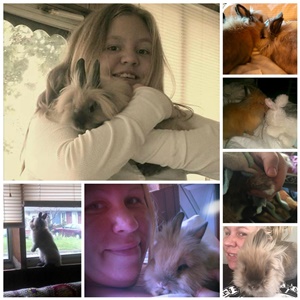 To my sweetest little Snuggle Bear.... there is not a single day I don't think of you, miss your sweet bunny kisses, head pets, snuggle time with Mommy....
I wasn't ready to let go but I know I have to go on without you. Frolick freely my sweet snuggle bunny boy..... don't forget me as I will NEVER forget you.
I love you more than my heart can hold and Mommy hopes you forgive me but please wait for me cause I can't wait to see you again.
Mommy & Sissy love you.... ALWAYS!!! ❤️
Steve Epley
---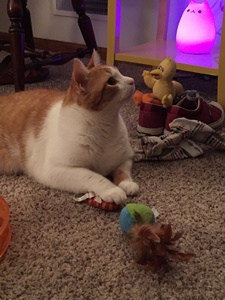 Steve loved his toys. He never played with them, he just liked having them; touching them, laying on them. He also loved "patty pat pat" time with his doting human mom who took him in as a stray.
Lorenzo Pristow
---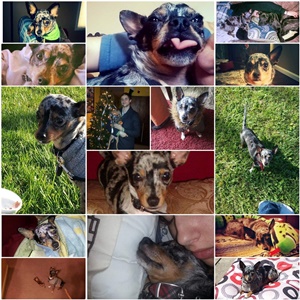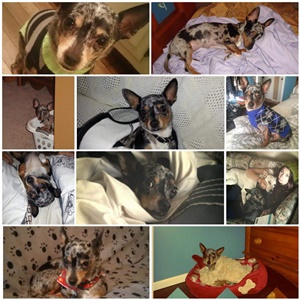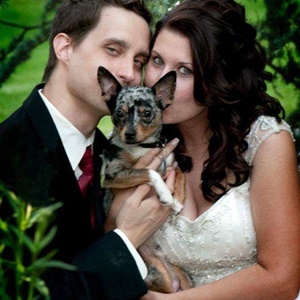 Lorenzo,
From the very first day you came into our lives, about 8 short years ago, we knew you were anything but a typical chihuahua. You provided us with more happiness and love than we ever thought possible. There will not be a single day that goes by that we will not miss, love and think about you. Though you were unexpectedly taken from us in this life, you will forever be our Little Man and we cannot wait for the day we can hold you in our arms again. We will miss being woken up by your loud snoring, your circle 8s around the house to air dry after your baths, your army crawls to stretch and scratch your tummy, the way you said please when you really wanted something, your howl to let us know someone/something was outside, stealing our spots on any piece of furniture whenever either of us moved, refusing to move when either of us needed to get up from cuddling, how happy you got when we got you a new sweater, the way you seemed to pose for pictures, burying under the covers and curling up as close to us as possible, the very first Christmas we shared together where we had to rewrap all the gifts 5 times because you just wouldn't stop peeing on all of them and so much more. Lorenzo you were one of a kind and there will never be another handsome Little Man like you. We could never repay you for all the happiness and unconditional love you brought into our lives. No amount of time we would have had with you would have even been enough.
Mommy & Daddy will love you Always and Forever!
1/31/11 - 2/4/19
Zeus Alexander Rohrbaugh
---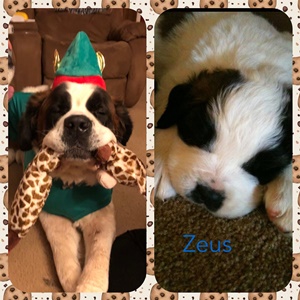 We came home December 14, 2012 to my male and female stuck together which was my mothers birthday. If that wasn't funny enough my husband woke up on his birthday February 16, 2012 and said, "watch she will have these pups on my birthday!!!" Only about an hour later she started to push Zeus out. She had three at home 4th one was stuck. We had to have a c-section done. We had 8 pups but one died. We fixed Sammie after that. So we had three saints till 2 years ago we lost Zeus's Dad. Harley Bubba! Now we lost our pup which his 7th birthday would have been February 16th. I never wanna watch a dog go through that ever again. That was devastating to watch. Cancer sucks!!! My poor baby! We still have our female(Zeus's mom) Sammie Sue Snowflake. She is 10 years old, her belly just bloated and twisted on us in December, so we got her tacked and she is acting like a pup again. I'm just hoping Zeus and Harley found each other up there and are playing together again. I sure do miss that guy, I am so glad the pain is gone.
We just wanna say thank you for coming to our house to do this process. We had a mess the first time. Didn't wanna do that again. Thank you the Rohrbaughs
Seth, Jessica, Christian, Paige, Madison, Sammie, Zeus, and our Bunny Montana.
Boo Hepfer
---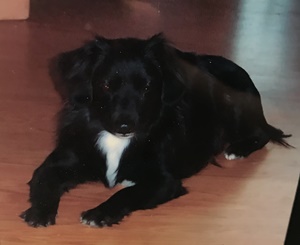 In memory of Boo our faithful companion and beloved family member. You will be in our hearts forever. 6/11/05-2/09/18
Bandit Gardner
---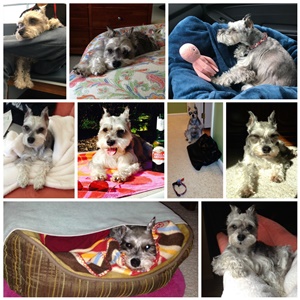 Bandit passed on December 21, 2018 after an 8 month battle with kidney failure. Bandit was a special part of our family and we loved him with all our hearts.
Bandit was cute, quiet, and laid back. He quickly learned the meaning of the phrase, "Bye-Bye", "Go for a ride", or "Go for a walk". He would run to his basket where we kept his collar, pick it up, and bring it to us to show that he wanted to go with Mommy or Daddy. We never thought twice about taking him along with us when we could. On many occasions Bandit would come into my office with his collar in his mouth as I was packing my bag and getting ready to leave for work. I had a hard time saying no to Bandit. More often than not I would clear my schedule, snap his collar shut, and take him along for a short ride in the car. When we came home, he would race upstairs into the living room, bow and tear into one of his "babies" with an enticing growl, just begging for me to play with him. I would have to work twice as hard the next several days to make up for our "play day", but it was well worth it knowing Bandit was totally satisfied. He loved to go for a walk, do yardwork with me, and wait for Mommy to come home. When we brought him inside the house, he would sit on the small rug inside the door and wouldn't budge until we wiped his paws. Training Bandit was a breeze. Over the years, countless people would comment about how smart and well behaved he was. He loved to relax on top of the living room sofa by the large window. He spent most of his time there when he was home alone. He would lay in his usual spot soaking up the warm afternoon sun, waiting patiently for a family member to come home. His favorite spot was on the sofa, snuggled in his blanket between Mommy and Daddy.
He was a neighborhood celebrity. Neighbors and strangers would wave to him as they walked by and in return, he would politely match their gaze without as much as a bark. He would sit up posing handsomely when the girls from our middle school gym class walked past the house. They'd wave, call his name, say hello, and occasionally taking pictures with our little canine sensation smiling back at them through the glass. Everyone loved Bandit!
Coming home was always a happy occasion. He'd wag his stubby tail, and as his nose would point skyward, a slow gurgle would rumble in the bottom of this throat until it finally emerged like a song of joy to let us know he was very happy to see us. There was hardly any time to walk inside the house, unload the car, or take off a coat until Bandit was satisfied and calmed down by a loving hug and gentle touch. Afterwards, he would either run upstairs to get his "baby" or run out to the driveway, hoping we would take him for a walk.
Bandit loved to spend time in his yard chasing squirrels and bunnies, but it became an overwhelming obsession of his search for the elusive "Chippie". He always wanted to be outside with whoever was in his yard at the time. Although he wasn't fond of the swimming pool usually keeping a safe distance, he loved to relax in the shade and keep a watchful eye on us as we swam.
I'll never forget the day that Mommy brought him home to join our family. I embraced the cute little puppy that desperately wanted my attention and whispered into his ear, "I love you and will always take care of you". I believe I did everything I could to keep that promise.
He had numerous health issues as an adolescent including 2 surgeries for bladder stones, and trips to the vet had become routine for Bandit, ever since he suffered a severe pancreatic attack in April 2018, which damaged his liver and kidneys. These visits occurred every two weeks and included a quick exam followed by a blood test. During his second hospital stay in May 2018, his kidney values were once again extremely high. One of the veterinarians suggested we take him home and make him "comfortable" as the animal hospital was closing for the long holiday weekend. We made the decision to give him 24/7 TLC at home but added carefully researched prescription food, sub Q IV's twice a day, and the medications prescribed by the veterinarian. Bandit rebounded within a week his kidney values dropped so low that his primary veterinarian declared his recovery was nothing short of a miracle. However, we knew better. Bandit was a fighter and wanted nothing more than to be home with his loving family. Bandit remained in fairly good health throughout the fall and even stopped resisting the twice daily subcutaneous IVs. Unfortunately, in late November his blood showed that the chemicals associated with kidney, liver & pancreatic function were elevated again.
The test results during his last two weeks did not improve and were climbing at an alarming rate, and it was only a matter of time until his kidneys stopped working or worse. I made the toughest phone call of my life and tried to prepare myself for our final day together. We had to do what was best for Bandit. We couldn't let him suffer after all the love he gave us. He spent his final week sleeping on the sofa with me. He was very content knowing he was safe and secure in my arms. He would often look up at me, kiss my nose, then go back to sleep as I kissed his face and gently rubbed his ears. Early on Thursday morning, he climbed up on my chest and looked at me as if to say I'm ready. After all these years of not asking for anything, he was asking me for just one favor. With a flood of tears in my eyes, I knew exactly what he wanted me to do. I told him, "I love you, and I understand". Giving me one last kiss on my nose, he slowly inched closer and put his entire face against mine before drifting off to sleep again. We were both tired after eight long months battling a terrible disease.
Friday came too soon. I spent as much time as possible cuddled up with him, kissing and holding him. We went outside for a short walk around his yard, and then one last shower together to get cleaned up and looking handsome. We stopped at the Pizza Grill for one of his favorites, Filet Mignon. As soon as he smelled the steak in the dish, he sat up excitedly and made short work of his final meal.
It was a somber ride to Peaceful Pet Passage. I drove while his Mommy held him gently in her loving arms one last time. When we arrived, Bandit led her into the building, weak and wobbly, but with head held high. I followed behind them with his bed and blanket holding back my tears. We walked into the "living room" and spent the precious time we had left with him, cuddling him and quietly murmuring our last reassurances of love. Our hearts broke as we watched the life leave our sweet baby's body. But knowing that his spirit left his worn-out body before his symptoms worsened, left us some comfort. The grief that overcame us was equal to the love we had for him. We loved him very much and will miss him more than he could ever know.
Dr. Mary Riordan was understanding, caring, and gentle with Bandit, allowing him to leave us in a loving and peaceful manner. The staff was patient and compassionate as we said goodbye to Bandit, and for that we will be forever grateful. They made a very difficult day a little easier, knowing they all cared so much.

BANDIT
August 13, 2007 – December 21, 2018
Inga Shepard
---
My sweet Inga.. My love.. My best friend..
I'm so proud & blessed to have been able to spend these last 13 years with the best companion, protector, snuggler, kisser & friend. Your loyalty & love was beyond compare. You've brought this family so much joy & happiness - Thank you for choosing & loving us baby girl. Thank you for always being there. I'm so happy to have been able to hold & hug & kiss you one last time as you drifted off to sleep.. You were surrounded by so much love, & all of your 'pack'. I won't ever forget you, WE won't ever forget you. I'll keep you with me always... My boo boo, my pook, my beautiful girl, my big mama. 'Til we meet across that bridge someday 🌈🐾
I LOVE YOU BIG GIRL, I LOVE YOU 🖤🖤
Maddox White
---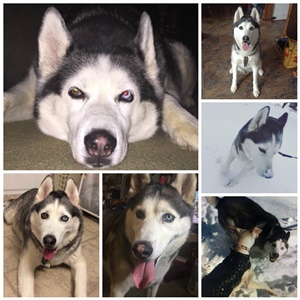 In loving memory of Maddox
Diesel Robertson
---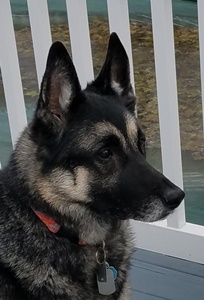 Thank you so much for your compassion to us as we were dealing with the loss of our dear sweet Diesel!!
Chloe Stansfield
---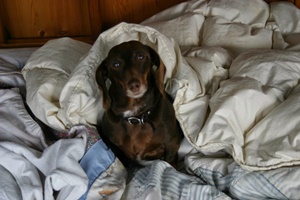 Miss Chloe lived in a small pen in a basement for the first 6 years of her life having puppies for a breeder. Chloe had many physical challenges during her lifetime, but lived a long life after coming to me. She loved the sun, running, and curling up under warm covers on the sofa. The most loving strong little girl I have ever met. She will be in my heart forever.
Jet Smith
---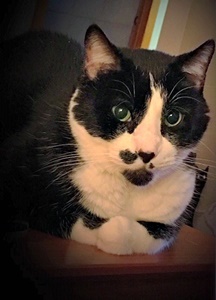 Jet was a wonderful pet and friend and we considered him a part of the family.
Bandit Norris
---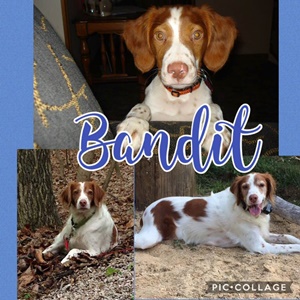 Bandit crossed over peacefully on Feb 2, 2019 with the help of Dr. Elizabeth Carney. He absolutely loved his family and friends and anyone he met (unless you were wearing a uniform). He loved his yard, his kingdom so very much. He enjoyed watching the bunnies and butterflies, chasing squirrels, and digging and laying in mommy's flower beds. His best friend was his daddy, and he followed his every footstep. Bandit adored camping, ice, pizza crust and hiding snacks throughout the house to find later. He was the best dog two kids could have ever grown up with. A best friend, faithful companion, and sweet, gentle soul. We love you Bandit and will miss you so much until we see you again. Thank you for choosing and loving us. RIP 2007-2019
Ruby Red Jones
---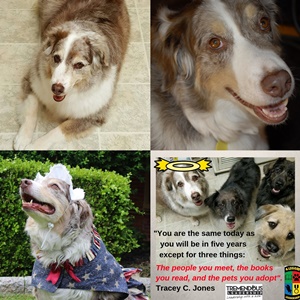 Ruby Red was a red merle beauty queen who had been used as a breeding dog in Kentucky for six years and was then dumped at a high kill shelter. Her lack of socialization made her unpredictable and scared, but when I looked into those almond eyes, I knew that love would find a way.
Ruby helped me, and so many others, leave the past in the past. Her open heartedness and willingness to embrace her new life helped me to identify and dump my baggage for good. As a momma pup, she nurtured every new rescue I brought into my pack. She was the matriarch Indigo, Roscoe, and Goliath needed and I learned much about a mother's love from her.
She wrote two books as a best smelling "paw"thor, and gave numerous speeches to women's groups and children about getting a second leash on life. I know she is with Mr. Blue and the other heavenly hounds and I look forward to experiencing eternity with her where death has no sting.
In memory of an amazing creature. I thank God for every moment I had with you.
Sammy Krehling
---
Sammy showed up at our door step one day and immediately rolled on his back wanting his belly rubbed. We fell in love with him as soon as we met him and though he was a stray, he decided that staying indoors was going to be okay with him. He brought so much happiness and sweetness into my life and I will forever be grateful for the seven years he choose to be with us. His feline leukemia was dormant for a while and then it wasn't. He was brave and strong until he couldn't be anymore. I have no words for how much I miss him, but now I picture him roaming outside exploring fields in the sun healthy, happy and frolicking as he was when he first came into our lives. I love you Sammy and I know you are in kitty heaven, in Summerland.
Jasmine Stormin
---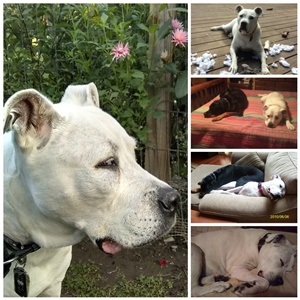 I first met Jasmine in 2010 as a volunteer at the Humane Society of Harrisburg when she ran straight into my face in a pen to head butt and then lick me. A typical greeting for anyone two- or four-legged who happened to be at her level. After taking her to an event (the Harrisburg holiday parade) in the hopes of getting her adopted, I couldn't stop thinking about her. She was a favorite to walk and her silly deaf dog bark always made me smile. One day, I finally texted her photo to my husband asking "Are you my new daddy?" He said yes and after a visit to our home to see how she and our Rottie, Chuck got along, we adopted her. To say she loved her brother is an understatement. After he passed from cancer four years ago, and we all had time to grieve, we rescued another Rottie puppy, Greta. Jasmine was a great sister to both. We were blessed to be able to travel with our dogs to visit family and, despite her breed, being welcomed by wonderful people to vacation at the beach and lake houses we visited over the years. In April 2018, Jasmine was diagnosed with cancer, osteochondrasarcoma to be exact. We removed it, but it returned with the prognosis that she probably had three months left. So we decided to make them the best we could. She had extra outings, toys, burgers, visits with friends and all the love we could give. We are grateful that we got to spend nine more months with her and that when the time did come, Peaceful Pet Passage was here to help us say goodbye. We are also so thankful for organizations like HSHA and other shelters, rescues and dedicated volunteers who give pets a second, third or fourth chance at finding a loving home.
Nestle Baublitz
---
In loving memory of Nestle
Our Nestle crossed over peacefully on January 28th. Nestle was one of those dogs that you dream of having. His personality and love was his greatest traits. We received Nestle when he was 6 months old. He was a wild little puppy, who turned into a loving guy that welcomed you at the door with a lick. He would join us on journeys to the creek and camping trips. Nestle loved car rides and playing with the kids. Words can not fully describe how Nestle impacted the last 13.5 years of our family's lives. He loved to sleep on the couch (when we were all at work and school), he liked to climb into bed and snuggle under the covers. He may be gone but his memories will last forever. We all love you Nestle Poo.
Cody King
---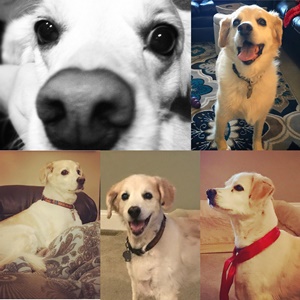 Our boy Cody was one of a kind for sure. I know many pet parents say this but in our case it was true. We were given Cody at 5 weeks old as a rescue. There were not enough foster homes and we were interested in seeing if we could adopt him anyway, but not that early. Needless to say we pushed up our sleeves and along with this wide eyed pup took our family for pet supplies. That was a day I will never forget. Making sure he had everything he needed, wanted, and of course the collars, toys and treats he could ever want. Over the years, he was too smart for his own good. He would misbehave, then lay the guilt on us so we felt bad. He would hug you like a human would at just the request. Our favorite thing was how he would ride in the car, always looking straight ahead, great posture and paw on the dash. Even in his last days on car rides to the vet, when he couldn't stand very well or hold himself up, he would hold my hand. He would look for reassurance. And then the day came when we knew we had to decide, and made the decision for Peaceful Pet Passage to come in and help him pass, he was brave then. We felt a sense that he knew what was going to happen, yet had no fear. He stayed strong and tall thru much of it till his last breath. That is the Cody We will remember, strong for all of us. He will be missed so very deeply, for his calming nature and love. A true companion to the end. RIP Cody Duke King, 8/2005-1/25/2019 We love you.
Lily Hollis
---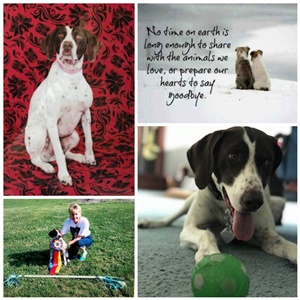 We gave Lily one final gift on January 23rd by helping her cross the Rainbow Bridge with the help of Peaceful Pet Passage.
It is an impossible task to sum up the amazing 11 1/2 years of our Lily girl's life. I want to celebrate Lily's accomplishments and focus on what made her extraordinary! She truly was what is referred to as my "Heart" dog. This unexpected bond we formed was a gift from God. Lily lived her life to the fullest. She was a 3 time agility champion; earned a novice obedience title; was a Level 1 and 2 Scentwork champion and a therapy dog. Lily's most important work was her therapy interactions. Lily brought so much joy to all the human hearts she encountered. Lily's last gift was through a Puppy Pals Program we started at a local school. Selected students would read to Lily and feel safe enough to share their secrets with her. The entire school got to know Lily through her presence in the school! She was their "rockstar". Lily would sit in the midst of 20+ students while they pet, hugged and kissed her. Lily was in her glory during these moments.
My granddaughter shared with me, " You and Lily bring out the best in each other!" I hope I can be the person Lily believed me to be. Life without this precious canine soul will never be the same! Lily's pawprints are forever etched upon my heart!
Roma Zeiber
---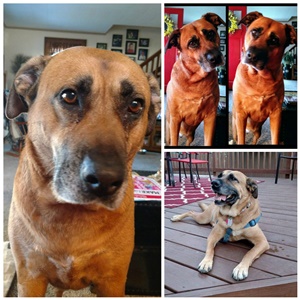 I rescued Roma on April Fool's Day 2017. She was believed to be 7 or 8 yrs old at the time. A local Rescue in Newville rescued Roma from a high kill shelter in South Carolina. Roma's former owners rescued her at 2 yrs old and after they had children, they decided they no longer had time for her and dropped her off at the high kill shelter. After a few months at the Newville Rescue, Roma went into a foster home to help socialize her Foster parent's new rescue dog. Her foster parents became attached to her very quickly because she is such sweet, kind soul. They were thrilled she found a permanent home with me 😊.
Roma passed suddenly and unexpectedly last weekend. She was the sweetest, most loving dog! She LOVED people, loved giving kisses, and enjoyed conversations with her famous head tilt. I only had 21 short months with Roma, but I am blessed to have given her the spoiled life she deserved during this short time. RIP Sweet Roma girl!
Lola Weaver
---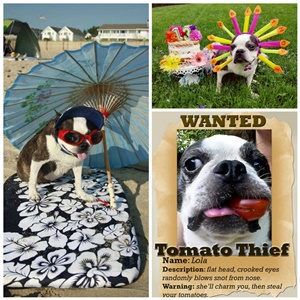 Story #1 - One year, on our way home from the beach we stopped at McDonalds for something to eat. We decided to sit outside in the grass to enjoy our meal. Our daughter Riley got French fries and set them down on our blanket, our dog Lola walked over to the fries and blew snot out of her nose all over the French fries. I can still see the look on Riley's face. I guess that was Lola's way of staking her claim to the fries. It worked, she got all the snot fries to herself. Lola was our very own comedian, not a day went by that she didn't make us laugh.
Story #2 Many times I caught Lola stealing tomatoes from our garden, I felt it was time to warn the neighborhood as there was a tomato thief on the prowl.
Tucker Heckelman
---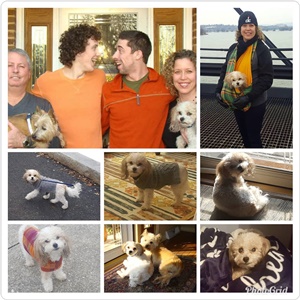 In loving memory of Tucker ❤ – 6/5/09-1/23/19
Our sweet Tucker brought us so much joy and happiness into our lives. We have so many great memories…….he loved to lay at the front door in the sun, to go with us wherever we went, to snuggle next to us on the couch in the tightest spot, always greeted us at the door and then danced/scampered around with excitement that we were home, and always came running whenever he heard the dryer door open which meant a warm pile of towels or clothing to lay on. He loved that!
We brought Tucker home when he was just 12 weeks old. Unfortunately, he was taken from us too soon, at only 9 ½. When just weeks before, we found out that he had several abdominal masses and internal bleeding and were told that we would have to put him down soon, we were devastated! It had been a rollercoaster of emotions for all of us as he would have good days and bad days, and then the bad days were too many. We were hoping we could keep him longer, but we knew he was in pain and we didn't want him to suffer any longer. We loved him up even more so those last weeks.
Our house feels so empty now and it is terrible coming home/being home without him there. He will be forever in our hearts. We miss him terribly!
Rest In Peace our sweet Tucker Boy.
Cupid Raimondi
---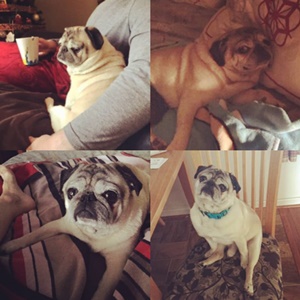 Here are a couple of pictures of Cupid. As a pug he had his own very distinct personality. Cupid LOVED attention and when he didn't get it, there would be trouble! If I left him alone for more than 30 seconds he would start to whine which eventually became barks. He had to be everywhere that I was and that included when I showered. Fortunately he was agreeable with sitting next to the bathtub and not insisting on being inside of it.
When he slept with me he took up most of the bed (big time bed hog). Plus he would snore like an 80 year old man! For such a little dog he made a lot of noise, you always knew he was in the house. Our home is so quiet without him.
Roman Krout
---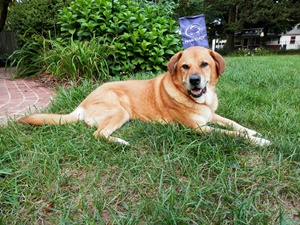 I've been into the whirlwind, the zone between health and sickness, clarity and uncertainty, pain and comfort. I've been there before, several times actually.
27 months ago Roman arrived in my life and yesterday we said goodbye. 27 months is the shortest amount of time I've spent with a dog, but he altered me forever. He had a lifetime of epilepsy, with thyroid issues, dementia and degenerative disc disease rearing their ugly heads most recently. At 14 years of age Roman was a strong and stoic dog and I would not allow him to be a shell of his former self. I would not permit Roman to suffer greatly for any period of time. My responsibility is to be his advocate and monitor him. I was faithful to that duty, as Roman had always been faithful to me. His faithfulness and loyalty was astounding. He was my guardian and my protector. He made it his job to bark at every single living thing. Even with Summer and Madison still here, the house is eerily quiet.
He has taught me patience. A level of patience I never knew existed, at least not for me. He has been an anchor in bad times and a dose of humility when things might be going a little too well. He has been a sanctuary, a confidant and my truly faithful friend. He lived by one simple mantra; count me in! Anything I was doing, he wanted to do as well.
I would have never had the chance to fall in love with this wonderful dog without Jamie Vogel. Jamie I will ALWAYS be thankful to you for rescuing Roman from living in the woods in NJ. He brought us together and I am blessed to have you as my true friend.
I would not have had Roman in my life for this long if it hadn't been for Dr. Sarah Dowling. You are so much more than his internal medicine veterinarian; you are a giver of hope and compassion. You guided me through his journey with an open heart and profound truth. I will FOREVER be grateful to you for giving Roman and I an extra year to spend together. Thank you will simply never be enough.
Right now I feel this ironic combination of searing pain and complete numbness. I feel as if my soul has been injured. This is the cost of sharing your life with a dog worth missing.
Until we meet again my fuzzy red old man….you will live in my heart for the rest of my life.
Sooner Merritt
---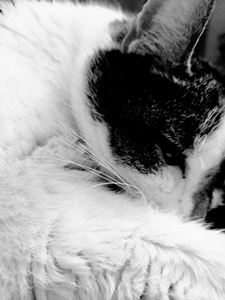 Sooner "Sociocat" Merritt came into my life 15 years ago as a tiny little kitty with a lioness attitude. Although she never really learned how to be a cat she was the mostest feline with attitude that I ever had the privilege of living with.
Pudder Woomer
---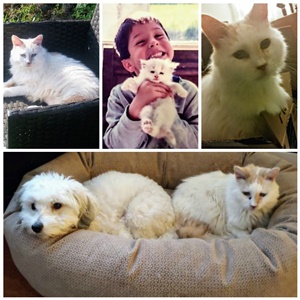 Puddy was born a little farm kitty who couldn't jump, and came to live with me in the "big city." He ignored the fancy cat tree and preferred any box or bag that came into the house. Watching him "attack water" was endless entertainment for both of us. Puddy was never afraid or intimidated by anything. He was a good sport when I brought other furry friends in to live with us. He was a huge part of my home and heart, and will be greatly missed!
Theo Holliman
---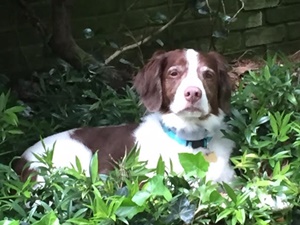 A Wonderful, Gentle and Loyal Dog
Abbey Bouse
---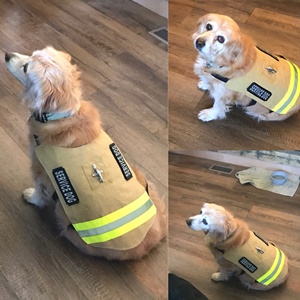 Abbey rescued me when she was 5 weeks old. I had been searching for a dog for months but didn't connect with any I had seen. I had finally found a 6 month old yellow lab and as I was filling out the paperwork I locked eyes with abbey and that was it. She stole my heart. She was sick and I was told she wasn't expected to live past 1. So I wanted to give her the best year ever. Who knew she would have been with me for 14 years. She was also my lifeline. I had her trained and she became my service dog. She alerted me to migraines, and Graves' disease. She also became my PTSD dog which I had developed from my work as a first responder for the past 15 years. She truly was my best friend and I miss her so much! I'm so thankful to peaceful pet passage for giving me as much time as I needed and never rushed me. They didn't move on with anything until I was ready and were so caring and compassionate. It was a great comfort to me as I said goodbye to my sweet girl. RIP my baby girl 01/14/2019
Neener Steele
---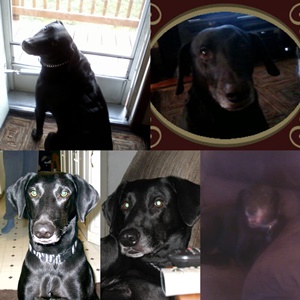 1/06/01 - 3/03/12
Neener was dad's dog. He would bark at me to pick on me until I yelled at him to be quiet. He loved swimming and loved his family. He mostly loved lounging around in the sun.
Joey Steele
---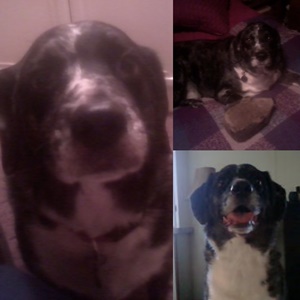 5/10/05 - 1/14/19
Joey was always very personable. He loved everyone and loved to play ball. He was obsessed with balls and couldn't get enough fetch. I will severely miss him.
Patches Swank
---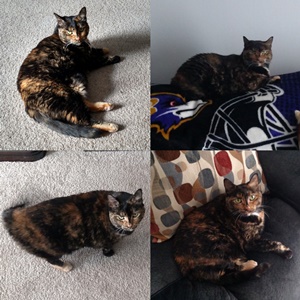 In loving memory of Patches ❤ 4/14/09 to 3/7/2017
Patches always made me laugh when I was down. She loved playing outside chasing bugs squirrels and rabbits. Older neighbors enjoyed watching her play outside. She was the queen of the house. She is definitely missed every second of the day. I love her & miss her.
Trouble Gavin
---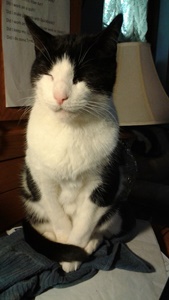 Trouble died last week at the great age of 19 and a half, the last of his family. When I got Trouble and his sister Sweetheart, they were 8 weeks old, son and daughter of my brother's Shop Cat. Trouble was the runt of the litter and never got very big, weighing in at 10 # at his heaviest. They were called Little Boy and Little Girl for the first 6 months, until a friend harassed me enough about naming them. So, I named them for their personalities. Trouble lived up to his name till the end. I have a permanent reminder in a scar on my forehead from the ladder he knocked over doing his morning kitty Olympics.
Trouble loved people. He always thought they had come to visit him. Service men had a willing assistant regardless of what they had come to fix. At parties, he would wonder from lap to lap and after he had spent a comfortable amount of time (and received enough attention) from each person, he would settle on the lap of one of the guys. He was a guy's guy, I guess because he lived in a house with females.
While both Trouble and Sweetheart traveled with me when they were younger, secured by their leashes to the back seatbelt. In his last year, he traveled extensively with me the last year of his life throughout Pennsylvania. His perfect way to travel was stretched out on my lap for the whole trip, even if it was the 5 hours to Pittsburg. Since moving to Lancaster, I have had a back yard and he loved to stretch out on one of the chairs.
Trouble will be greatly missed by me and all the people who got a laugh out of his antics.
Milo Dowless
---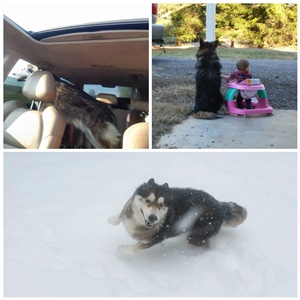 Milo, I've been adjusting to you not being there waiting outside for me to get home, that was always a must do for you. Snow days were your favorite & it was never too cold for peanut butter ice cream & Car rides were never long enough and if there was a creek you'd be in it. I found something in you that will never be replaced, Though it hasn't been easy these days, I cherish the time we had.
Blackjack Safko
---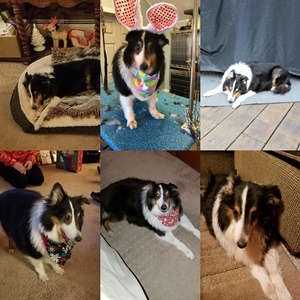 Here are some photos of my baby boy Blackjack aka Bubba, not sure how or why we started calling him that but it stuck. He was such an amazing pet, so docile, friendly...loved playing frisbee outside in the summer. He woud love to snuggle up with me on the couch as we watched TV. At one point we had 4 dogs, a Shitzhu and 3 Shelties. Blackjack was the last of my fur babies to go and my heart is broken. I will miss him ever so.

Thank you PPP for taking good care of our boy :(
Sammi Hetter
---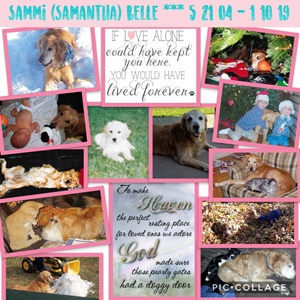 We brought Sammi home at 8 weeks old and we were fortunate to have her with us for 14 ½ years. She loved everyone she met and every animal too!! She loved greeting everyone who came in the house and even peed for a select few from so much excitement.
She loved her squeaker toys, especially hedgehogs; first the stuffing came out then the squeakers. She loved peanut butter treats and near-empty jars of peanut butter. She loved going for car rides and walks, especially to get our boys from school; she could say hi to all the kids and her neighborhood dog friend. She would chase the squirrels and bunnies in the yard and if we said either of those words, she was quick to look out the window for them. Sammi gave us quite a scare on 4/1/08 (no April Fool's joke here) when she jumped out the truck window, while we were driving, breaking through her harness to go after a bunny she saw. The emergency vet couldn't believe she had no serious injuries.
She loved Christmas and would open each of her gifts and tried everyone else's too; she loved laying under the tree. She loved to jump in the pile of leaves to find her ball we would throw in. She also loved snow and would always find that last pile in the Spring to lay in.
She didn't get into too much puppy mischief, she was a very good dog, our first dog. We will never forget the day she played in the mud and was completely brown; she looked like a different dog. She looked at us from outside the back door as to say, "But mommy, it was soooo much fun".
We had a 3rd baby when she was 3 years old and she was wonderful with him; she especially loved the "high chair" treats… lol!! She lost one fur-sibling, our cat and always welcomed to new pets we brought home.
As she got older, she developed arthritis in her hips but kept going as long as she could. When she was 11, we got a puppy who was super active and hyper but Sammi, in her upper years adjusted well. Her arthritis seemed to be getting worse and even got ill for a while and we honestly thought we were going to lose her then. We really feel the puppy brought back life into her and we had 3 more years with her!!
Near the end of her life, even though she had good days, they seemed to be less and less. We didn't want to let go but in the last few days, we realized it was time; we were keeping her here for us and it wasn't fair to her. Our oldest son was moving 7 ½ hours away and he really wanted to be here when we said goodbye so we knew it was time.
We could not have asked for a better place to have taken care of Sammi in the end then Peaceful Pet Passage. Dr. Carney was wonderful and explained everything that she was going to do from the start and she wouldn't do anything until we told her we were ready.
The best moment of the actual process was after Sammi was sedated, I truly felt a moment when Sammi said to me that she was ready and she loved us for the life we gave her.
I know Sammi had a good life and was always spoiled by her family. Now she will be spoiled at the bridge with all the food, water and sunshine (or snow) she could ever want. She will be greeted by her "fur-brother" Turbo and human grandparents where they will all be together again. And when that time comes, she will run to us and we will cling to each other while she gives us happy kisses on our faces.
We love you Sammi and miss you dearly. Rest in peace and run and play happily until we meet again!!
Mazie Kurtz
---
Mazie, my little shadow, loyal "Puppers", Mazinator, Mazers, "Little Girl", "Little Lamb," blessed our family with unconditional love for 15-1/2 wonderful years! December 14, 2018, she left our home for her forever one. Special thanks to Peaceful Pet Passage in Mechanicsburg for coming to our home to put Mazie to rest in a very sweet and peaceful way ....
Olive Migliori
---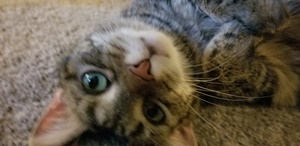 Olive was our "Lovie Dovie" cat out of the three. She loved to sit next to you and knead on you while purring or just sit with you while watching TV or reading. When our Daughter was well enough after being in and out of the NICI and the Childrens Hospital to be around the cats, Olive was the one she loved the most because Olive would let her pet her and hug her all the time and not run away!! We will miss not only her but her constant sandpaper kisses!!
Buddy Atkinson
---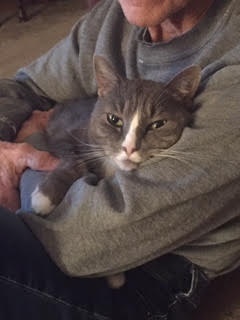 Our sweet Buddy was a wonderful cat. He acted more like a dog & was always by my husband's side. He is missed so much! It will take a long time to heal. Thank you Peaceful Pet Passage!
Pitch Boyer
---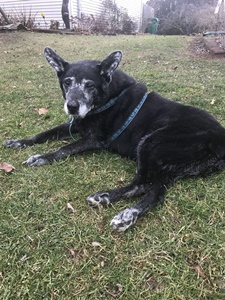 Pitch filled our lives with lots of love and joy. She loved to go on walks and hikes. Enjoyed many hot evenings laying on the cool grass. But she really hated thunderstorms and fireworks. She lived a long and happy life 22 days shy of 15 years. She was a great dog and will come back a great puppy someday. We miss you much Pitch! ♥️
Tommers Barrow
---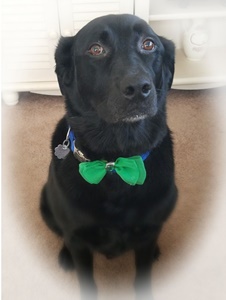 My Dearest Human,
I know your heart is breaking right now, but I would like to thank you.
I would like to thank you for all of the love you gave me, for our home and our adventures, for all of the ear scratches and the belly rubs and the tug of war. I really didn't mean to pull you off of your feet that time, but I have to admit, I did like to win.
I would like to thank you for all of the times you lay beside me in the sunshine, talking with me, telling me all of your secrets. No, I didn't understand most of your words, but I was listening to your heart, and that is where your truth is always found.
I would like to thank you for turning to me during your darkest times. I was lying beside your bed the night the call came in. That night when your world shattered. I knew when you got up in the darkness, pacing and crying, that the road ahead of us would be a long one...and yet I followed you from room to room, and when you finally sat down, curled up in that corner weeping, I lay there at your feet, offering any bit of comfort I could.
I would like to thank you for crying in my scruff, letting me lick away your tears, for the way you would look into my eyes, seeking the answers you imagined I had. I remember you saying you wish I could speak, share the wisdom you thought you saw there. I did not actually possess the solutions to your troubles, but would never have wanted you to know that...so I sat stoically, giving you those classic Labrador eyes...and hope...as you battled your way through your internal storms.
Now, my Dear Human, I would like to thank you for your final act of love for me. I would like to thank you for not letting me suffer as my old body gave out, no longer strong enough to hold me, the spirit who lived in there. I know it broke your heart, and yes, I know you questioned your decision...but I need you to know that making that phone call, having me released from this painful body at our cozy home, was such a relief to me.
It's harder for me to protect you in this state. I see your eyes leaking, but now I cannot kiss away the tears like I used to. So, I have had to find other ways to let you know that I'm okay. You've heard my tags jingle in the distance, heard me lay down with that sigh I always used to make, even heard my toenails on the floor. No, my Dear Human, this is not your imagination. I really have not left you.
I remember you telling me, on the day of my release, that you wish I could walk with you forever. Do you want to know a secret? Your wish I have granted. I will be by your side...always.
Love,
Your Dog
Colby Jack Farner
---
In loving memory of Colby Jack Farner
9/14/2005 - 9/10/2018
Buddy Petersheim
---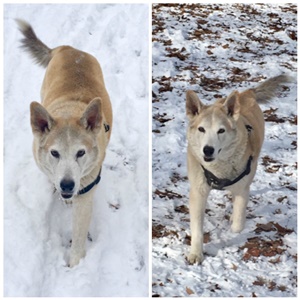 Buddy, thank you for taking walks with me at Landis Woods, I had so much fun hanging out with you. You always made me smile :) You would always greet me wagging your tail even if I was only gone for 10 minutes:) I still find myself wanting to save a couple bites of my hamburger for you when I go out to eat. And I still catch myself looking down aside of my bed for you. You were my Buddy and will be greatly missed! Thank you for being such a loving and caring friend!
Belle Smeltz
---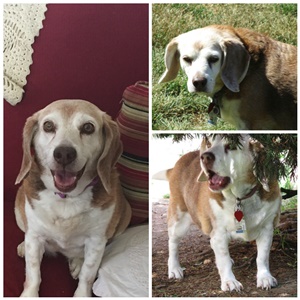 3 and a half years ago , I saw this face on facebook on the euthanasia list at fulton county animal shelter in Atlanta GA. She was 10ish, and found as a stray. While I see those faces every night of dogs who will die, this little beagle really tugged at my heart strings. So I adopted her, had her transported by wheels4paws to me and called her my little southern Belle. We became a family as she learned to be nice to cats and love her beagle sister and big brother.
She had cushing's, seizures and gall bladder issues but she never let any of that stop her from playing and being mischievous. In the end cancer caused her demise. I miss her so much. Her beagle sister Bailey is distraught not being able to find her. Rest in peace, sweet Belle, with no more pain and troubles until we all meet again at the rainbow bridge.
Ginger Hetherson
---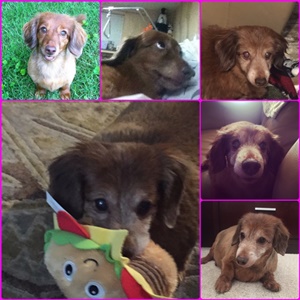 10/8/07-12/29/18
Ginger was a very sweet and affectionate girl. She loved to cuddle and smoosh up close and give lots of kisses. Always happy with her waggy tail she was always afoot and was a wonderful part of our lives. Gingy you are going to be deeply missed - so sorry you had to battle so many things in your last year with us - we love you and will always keep you in our hearts . Love Mommy, Daddy and Brandy xoxo
Fred and Ginger Bock
---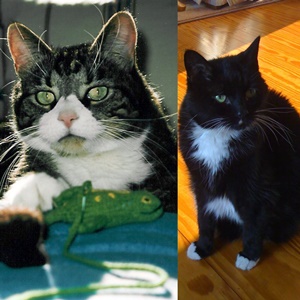 Date of birth: 9/1/1993
Went to Heaven: Fred (5/20/2007); Ginger (7/20/2009)
Fred (tabby) and Ginger (black and white) were brother and sister. Fred was cuddly, liked to play fetch, and when stretched from nose to tail he measured three feet long, and weighed 23 pounds. He liked to sleep and lay in the bathroom sink and enjoyed drinking from the faucet. Ginger was soft, cuddly, and very sweet-tempered. She was always a lady and crossed her paws when laying on the floor. She liked to play with her flappy mouse (a flat leather cut out with a string attached to it). Our home is filled with many good memories.
Charlie "Mr. Bink" Bock
---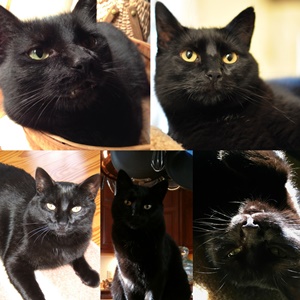 Thank you Peaceful Pet Passage for taking such respectful care of our Charlie when it was time to lovingly let him go due to a long illness. Charlie was sweet, funny, smart, loving, and a snuggler who filled the house with his big personality. He was the love of our life. Born: April 22, 2007 and went to heaven: December 26, 2018.
Buck Johnston
---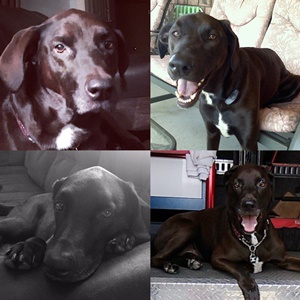 RIP my dear sweet boy.
I only hope you know how much you were loved & how much we miss you. You were taken from us too soon, at only 9 years old, I hoped we had a few more years left. The house is way too quiet without your toes tapping across the floor. Way too quiet when we come home, how we miss the way you would just about kill us with love & happiness. You were a little neurotic, a little stubborn, but how you loved us.
Buck never met a stranger either. Even the UPS drivers loved him. He also thought he was a lap dog at 80 pounds, a major snuggle bug. We all will miss kissing that precious face. You just don't realize how much a part of your life they really are until they aren't there.
You took a piece of my heart the day you left us & there will always be a piece of you still in my heart. You left big paw prints to fill because you were imperfectly perfect You!!!
Love Always,
Mom, Dad & Sissy
Buck Johnston
---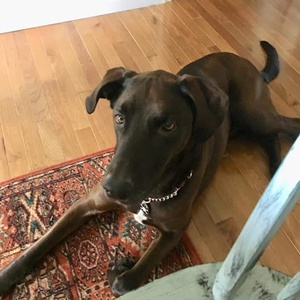 RIP Buck
We will all miss you so much. You were a goofy mutt, made us laugh so many times. You also were a wonderful companion, always so good, so loving. You left some awfully big paw prints to fill. Thank you Peaceful Pet for treating my baby with such dignity and me with kindness & compassion.
Kobi Elicker
---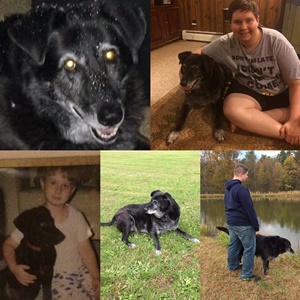 We love and miss you! You were so strong and brave and protected us every minute! You loved to swim in the pond and chase everything that was not supposed to be on our property. Thanks for your hard work My friend! We will see you again!
Pete McCabe
---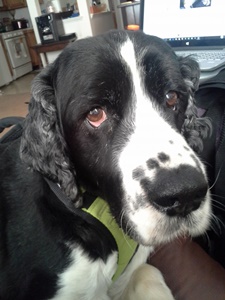 In loving memory of Pete
Stevie Newcomer
---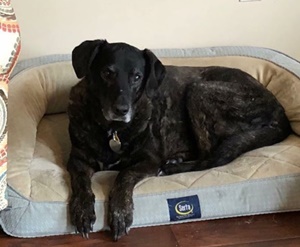 In loving memory of Stevie "Nicks", 2004-2018. Stevie entered our lives when she was rescued at 5 mos old. We thought she was a lab mix but our vet proclaimed, "she's a Plott hound". She was loving, sweet, and sensitive to being there for her family. Because of Stevie, we sought out hounds to adopt. She leaves behind Plott hound and Bluetick coonhound sisters, all loved each other and enjoyed barking, baying, playing and snoozing together. We will forever miss our Stevie but know she is now reunited with her adopted sister, Sasha who was a lab mix and cats Bojangles, Geoffrey and Sabrina. Thank you Dr Carney and Peaceful Pet Passage for once again providing a peaceful sunset for a beloved family member.
Lexus Horn
---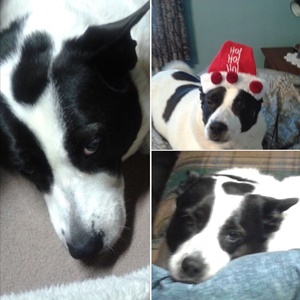 Thankful for Peaceful Pet Passage. You were wonderful with our baby girl Lexus. Our hearts are still broken without her.
Memphis Shellenberger
---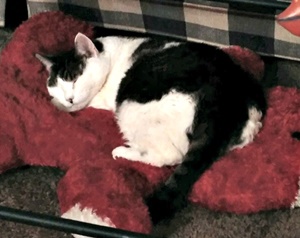 Memphis, our little Memphers, passed away at 17, now able to find peace without pain. She is missed greatly and will always be missed until we meet again.
Sir Pudder Purrs A Lot Cassel
---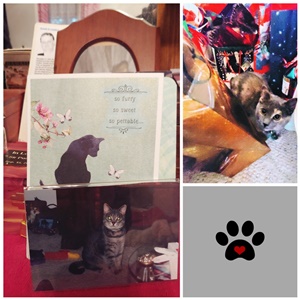 I wanted to thank you for taking such good care of my "Pudder". Sir Pudder Purr's A Lot was my first cat ever and he taught me how to love cats. He was the best cat ambassador ever! On this past Saturday 12/15/18 I finally grieved for him and read all the literature you gave me with his little casket. I believe this was his way of saying it's ok Mom go get yourself another baby which I did. I have attached a picture of my new Baby Gidget Marie which I adopted/rescued on Saturday. I would never have got another kitty if it wasn't for Pudder teaching me that cats are very cool and not "Just a Cat"!!!! Gidget is 6 months and has so many Pudder-like ways that I can't help but think Pudder is there showing her the kitty ropes.
Conway Bloodsworth
---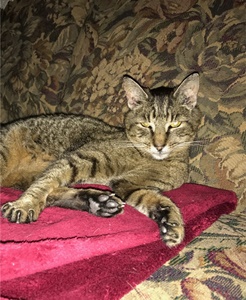 In loving memory of Conway
1998-2018
Trixie Deck
---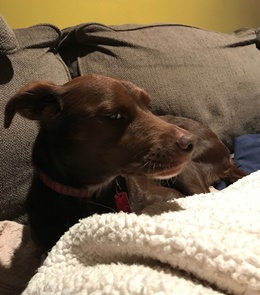 We were fostering pets for the Happy Hounds Homeward Bound dog rescue. We had over 7 fosters before her, but when she was placed in my husband's arms, he told me he never wanted to let this one go. We adopted her as our Christmas gift to each other on Dec 12th, 2014. She was born on August 1,2014. Her foster name was Coco, before we changed it to Trixie. My husband called her that bc she was tricky on getting things. She loved her stuff animals and would carry them everywhere inside and outside, & to the potty with her. She slept on my legs every night, jogged with me in the mornings, & while I was working at home, I would just look at her and smile. She even ran races with my husband and got a medal. We did everything we could to try to beat her cancer but I guess God wanted my puppy with him this Christmas.
Thank you for being there for us.
Khyra Wise
---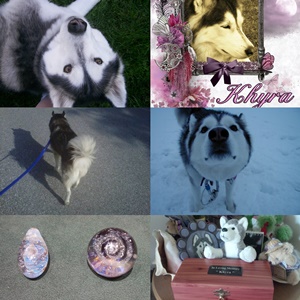 It's been two months since you helped give Khyra her wings and Silver Harness...we thank you for your loving compassion and the chance for us to give her a very special day...Gotcha Day 8/26/06 -EOW 10/09/18...miss you Baby Girl
Lady Lovett
---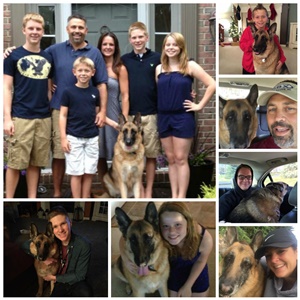 On Dec 3 2018 we laid to rest an integral part of our family. Thirteen years to the day she was born. She brought so much joy and love to us all. Although she is now at peace and is gone she will always be in our hearts. Love and miss you so much Lady!
Sylo Krepps
---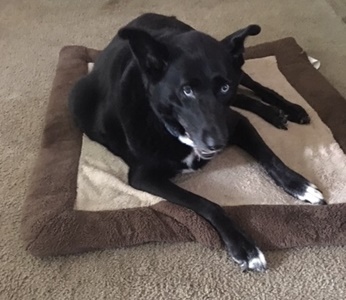 In loving memory of Sylo
Sylo was born in Alaska, July 2005 and adopted in January 2006 by her owner who moved back to Pennsylvania in 2009 where she passed away 2018. She was loved very much and a very good life ... Sylo was my neighbor and dear fur baby of my good friend. She will be missed.
Skyy and Stoli Marrazzo
---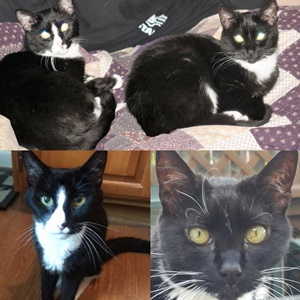 Skyy and Stoli were sisters until the end. Peaceful Pet Passage helped them to get to the rainbow bridge!
Ruger Johnson
---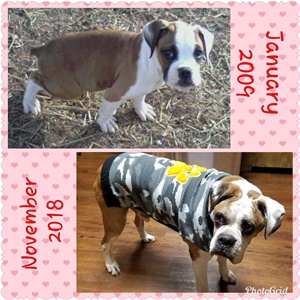 This morning we made a very hard decision to say goodbye to our Ruger. He has been an absolute joy in ours lives. Such a good boy. He lived a very happy and full life and will always hold a special place in our hearts! Peaceful Pet Passage was wonderful, very caring and supportive with us through the entire process. Thank you so helping Ruger and us. We truly appreciated your services.
Isis Brandt
---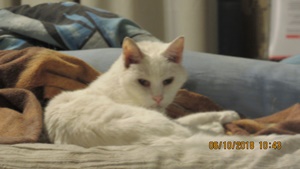 I want to thank you SO much for the caring way you handled my loss of Isis. She was a dear friend for 19.5 years. She would usually sleep on my chest at night, especially if I was trying to read a book! She would purr and constantly "mark" my glasses - in case I forgot she was there. I will always remember the day we brought her home - a rescue and very shy. That sure changed! She acted as mother to all the others, even to the point of cleaning our beagles' faces. Again, thank you.
Banshee Stinson
---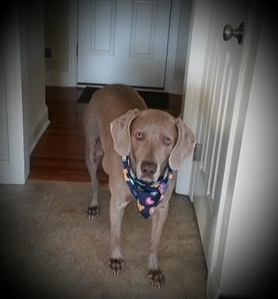 From Aug 4th of 2005 until Nov. 16th of 2018
Banshee was our best friend and the dearest part of our family. She traveled the country with us as the Marine Corps took us on many adventures, and Banshee gave us so many incredible memories that we will never forget.
You came into our lives in North Carolina and we had no idea what we were getting into or just how much fun we were about to have! From our daily walks to teaching you to swim and our hikes that were way too long in Arizona, and putting your snow boots on to play in the snow which you absolutely did not care for...you always found a way to make us laugh! When we had our son 6 years later we were nervous that you would feel left out, but you were so wonderful with Ben and an even stronger and closer companion to all of us once our family was complete. Looking back, I only hope and pray that you know how loved you were and how much joy and comfort that you brought to our lives every day, from the moment we met until I held you and you took your last breath. You will always be in our hearts and souls and you will never be forgotten or replaced. I miss you more than anything Banshee and I know that you are at peace in your new home in Heaven.
Thank you Peaceful Pet Passage staff for being so caring with our Banshee. Letting her go was the hardest thing we've ever done and we appreciate you being there for our family.
Duke Evans
---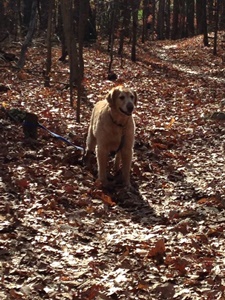 Duke came to us on Mother's Day 2006. He was our oldest son, Garrett's, 9th birthday present. Duke loved his family. He loved to take walks and we had to use "code" when talking about the possibility. Camping and hiking were two of his favorite things to do with his family. He also loved to take car rides to his Grandma and Grandpa Lauer's house - staying at Hotel Lauer was almost as good as being home with his kids. When we adopted his "brother" Finn from a rescue, Duke wanted nothing to do with him; for about 4 days. After that they were inseparable. We will miss his gentle ways, his constant need to be touching you and his wagging tail every time we walk into the house. He is deeply missed.
Oscar Rhoads
---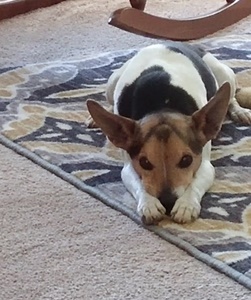 Oscar was such a great dog, old and stinky but forever loving to the end. He will be missed by all. Longest we've ever loved a pet ❤
Marshall Muza
---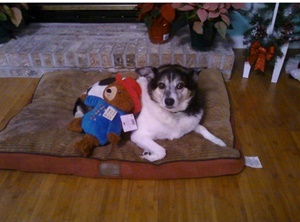 The morning of Monday November 5, 2018 our boy Marshall went to the Rainbow Bridge. It was a very sad day for us his family
Marshall was a great family member and the last of our dogs. Marshall's story was a classic one of "good news" and "bad news". The good news was, Marshall was a calm and loving Terrier mix who came to a safe, happy and loving foster home. He liked the other foster dogs in the home and took as much love as he could get. The bad news was that, Marshall's life was not always so easy. He was turned into a shelter as a stray and while his basic needs were cared for no one noticed his leg was injured. Due to some form of abuse, he had nerve damage in his leg and foot. In addition, he had BB pellet wounds to his body which made the veterinarians think he had been shot. Marshall sat in a shelter for months. How he must have suffered in the months before being brought into foster care. It was then we learned the full extent of his injuries. At first the veterinarians felt his leg would heal. He received medicine to combat the infection and treatments for the injured leg by us his foster family. He continued to drag his leg and would not put weight on it. He was in pain, and could not understand why the leg felt the way it did, and began biting it to the point of hurting himself. It became apparent the leg would have to be amputated.
The good news was once the leg was amputated Marshall learned to walk on his three good legs and also learned that human beings can be a source of love and attention instead of pain and suffering. No one wanted a dog with three legs a misfit so he decided he liked it just where he was. We don't think he ever realized he only had 3 legs. He ran and played like our other dogs. Our hope is that Marshall remembered the love and care we gave him and not the abuse he suffered prior to his life with us. Marshall was a happy guy that loved his treats.
Marshall gave us 11 1/2 years of love and laughs.
My grandson called him Marshmallow and the rest of us nicked named him Marshey. The house is empty with out him. We hope they have ice cubes and treats at the Rainbow Bridge as they were his favorites. Every time I open the freezer door I wait to hear him standing there waiting for an ice cube. I am sure his sisters were there to greet him at the Rainbow Bridge. Roxie, Angel and Hoops.
Marshall until we meet again know you were loved sweet boy and we will miss you terribly.
We were so happy you choose us to be you family.
RIP
Forever your Family
Sage Haag
---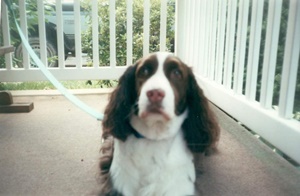 Sage entered this world on April 9th, 2004 and passed to doggie heaven on October 22, 2018. She was an amazing dog with her own unique personality. Feisty and living on her terms was her hallmark. Yet her temperament was one of extreme loyalty, love, eager to please, and quick to learn. God created dogs so I believe we will see our beloved pets again. We love you very much, Sage. Rest in peace our dear friend.
Love,
Your family
Elizabeth Miller
---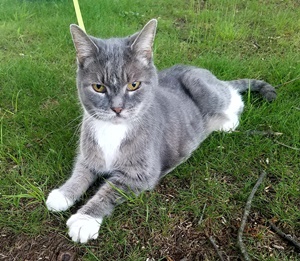 My sweet Elizabeth was 16 years old. She was abandoned on June 1st, 2017 by our neighbors. She showed up on our front porch and instantly became our cat. We decided that June 1st would become her birthday and on June 1st, 2018 we celebrated her Sweet 16th birthday with a party. Elizabeth enjoyed sitting on her grandpa's lap, sleeping the day away and swinging on the back porch swing. She was the friendliest cat I've ever known and loved to be around the family. She brought us unmeasurable joy and we were blessed to be able to give her love in her last years.
Vegas Wallace
---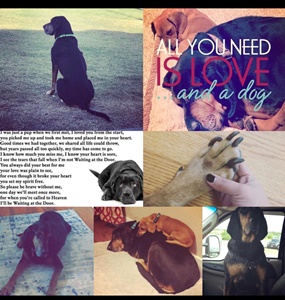 Today we lost our beloved fur baby, Vegas. We sure are going to miss our little old lady. She lived a long life and was the best companion. Thank you for being the sweetest dog and for taking good care of momma all of this time. I wasn't always the perfect owner, but you were the perfect dog. Thank you for loving us unconditionally and for all of the wonderful memories. I'll miss your long ears, your big ole paws and your sweet kisses. Home will never feel quite the same without you there. I hope you have fields to run through. We love you Vegas Michelle Wallace!
Rio Morrison
---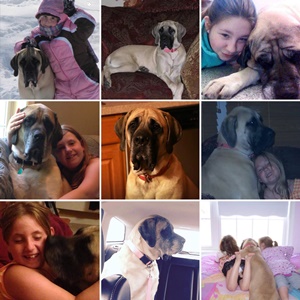 Rio was our beautiful, gentle giant. In her prime, she was nothing short of majestic. She was a shy girl and had no interest in anyone except her family. She was always by our side. My two daughters always had a shadow in Rio. They were "her" girls and they didn't stand a chance of going anywhere without her to watch over them. Such a sweet face and loving spirit. At nearly 11 years old, we know we gave her the happiest life possible. Her tail was always wagging (and often knocked over anything in its path!) Our lives will be so empty without her but I know we made the best decision for her. We still look for her when we walk in the door and I suspect we will continue to look for that sweet girl for a very long time. She was our sweet, sweet girl.
Tiger Gardner
---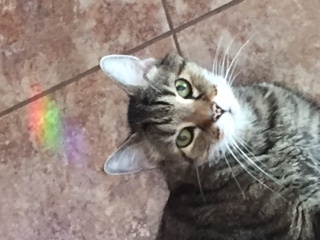 Here is a picture of Tiger, my dear boy. Thank you for helping me say goodbye. — Eve
Sadie Lovelace
---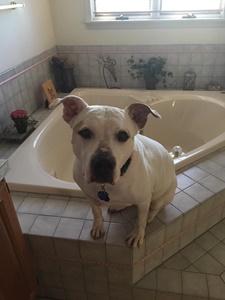 The most loving dog we have ever known. We were together for too short a time, but our lives were enriched far beyond what words can express. We miss her dearly, but our memories of her will never fade.
Izzy Boyer
---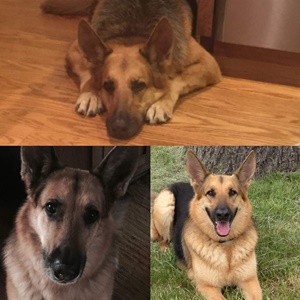 My precious Izzy left us after 9 1/2 years. She did everything but talk. Missing her every day!
Georgina Miller
---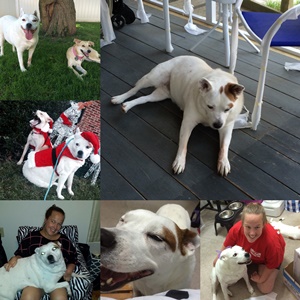 I adopted Georgi in 2014 but knew her since 2012 as I would go play with her after hours in the shelter. She had stolen my heart such a short time. I bought my house solely so she could spend every day with me. In our short time together I made sure that she got to go on many adventures and enjoy her years as any other dog. She was and is my best friend and I will forever cherish the many cuddles laughs and tears we shared. I love you always and forever Georgina.
Morgan Ramage
---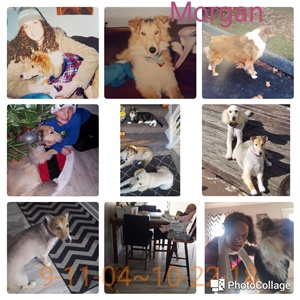 Morgan was born September 11, 2004 and was called to doggy Heaven on October 22, 2018. She was the sweetest, most loving and loyal companion. She always greeted us when we came home and followed me everywhere I went, no matter what. She loved going for walks when she was younger and traveled as far as Miami with me. I loved taking her everywhere and she loved coming along. She will always be remembered for being such a loveable and sweet dog that was always there for me, no matter what. I love you, Morgan, always and forever 💗
Thank you, Peaceful Pet Passage, for helping me through one of the hardest things I will ever have to do.
Wyatt James Kline
---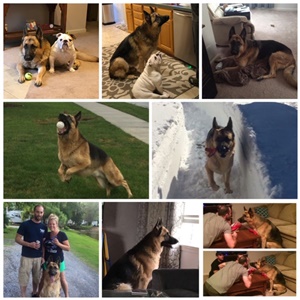 Wyatt was loyal, protective, and playful German Shepherd during all 11 years and 4 months of his life. He loved to play ball and catch his "woobie". He also loved stealing his Daddy's socks out of the laundry basket and chewing on them. Wyatt loved snow, it was probably his favorite thing. He loved going on walks in his younger days, loved watching out the front door and was always curious and protective when someone walked by. He was an excellent guard dog. Wyatt loved cheese, carrots, hamburger, and Milkbone treats. He would hear the cheese wrapper and come running!
When he was 8 years old, his English Bulldog sister joined the family & he treated her like he knew her forever. He loved his family and would do anything to make them happy. Since October 15, 2018, Wyatt is in Heaven guarding the pearly gates!
Sky Thomson
---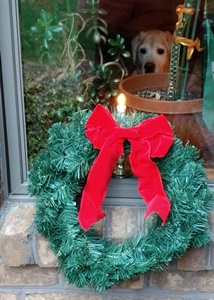 Sky was a sweet girl. She was very laid back. She loved her sister! We miss you, sweet girl! Mom, Dad & Haze
Sadie Belle Larock
---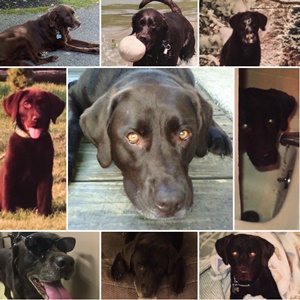 We bought our house in 2003 and two months later we made it our home with the arrival of our sweet chocolate lab puppy. The puppy that picked us, each time we would go visit she would come to my lap and roll over to have her belly rubbed. Sadie was the most loyal companion we could have ever asked for. She loved to visit the farm and swim in the river. Sadie knew when we were getting close to both and she would start to whimper in the car. She was the best big sister to our son, she made sure she was always present when people came to visit him (to keep a watchful eye on her baby). She loved to go to his sporting events, as he got older, and being outside with everyone. When she would go to take a nap, she would always grab her favorite toy, which was the multi colored stuffed jack. Sadie would love to take walks thru the neighborhood and stop by and visit with neighbors.
Sadie was a gentle, caring, silly and fun, loving and at times a stubborn dog who graced us with her personality for 15.4 years. She will be greatly missed. Thank you to Peaceful Pet Passage for allowing us to let Sadie leave this world in the comfort of her own home with her family by her side, where she was at peace. We love you and we will see you again sweet baby girl. 💜
Sadie Belle Larock 5/24/03 – 10/12/18
Omie Fishel
---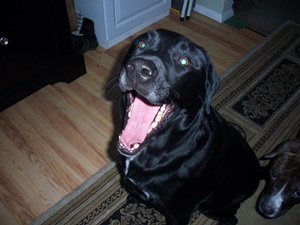 Omie, my precious, happy love bug...you are missed every day but gave us all wonderful memories and brought us so much joy! We love you!
Thank you to Peaceful Pet Passage for helping us through the arrangements.
Penny Talarico
---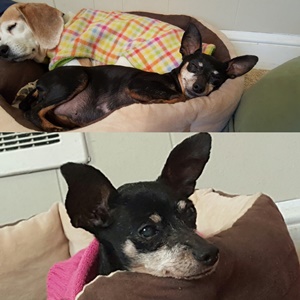 In loving memory of Penny
Lily Bird Nance
---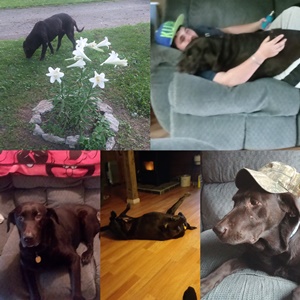 Lily you came in to our lives with no manners. You over came alot in the short time we had you. Lily with your goofy run and floppy ears. I miss my Lily lovens that i used to get when i would sit in my chair. We all miss you so much. I hope you are up there running with your little sister Meggy Moo. Run free till we all meet again. We all love you durtadur.
Tucker Ford
---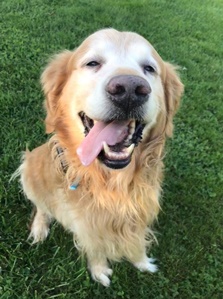 Tucker
The sweetest, purest, and most loving soul you were to ever meet.
You were to always find him sleeping by your feet.
He greeted everyone he met not with a bark or a growl
But by getting you to pet him by putting your hand on his brow.
He loved chin scratches, belly rubs, rice crispy treats, and holding hands.
He will be dearly missed by his Shanny, Rachel, Erin, Tom, Meribeth, and all his other friends.
Yogi Dravk
---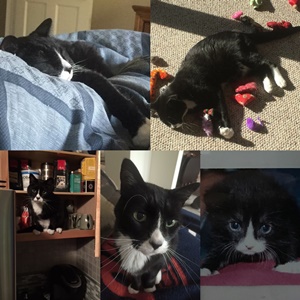 What a wonderful family member who always took great care of me. From the very first time I held him at 45 minutes old my cat Yogi stole my heart!! I guess you could say it was love at first sight, with his little white paws and a cute black nose. In our first few years together we only had one another, he would turn on the house lights while waiting for me at the front door as I came home from work. We played fetch for endless hours, he learned many words such as " tune tune", which means breakfast or dinner, basement, closet and the word no, and many other words too. After 17 1/2 years I lost my cuddle buddy, my family and best friend thanks to peaceful pet passage I was able to honor him in the way he deserved.
Ginger Hollenbaugh
---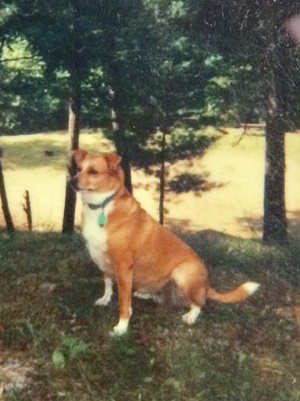 Ginger Hollenbaugh passed away December 2, 1995
She was a Very Loving and Special Companion.
Sparky Hollenbaugh
---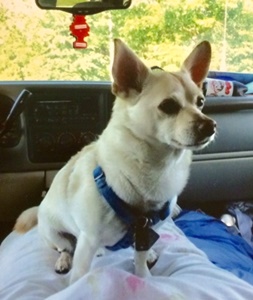 Sparky Hollenbaugh December 15, 2005 - June 15, 2018
He was a Very Loving and Special Companion.
Sampson Carroll
---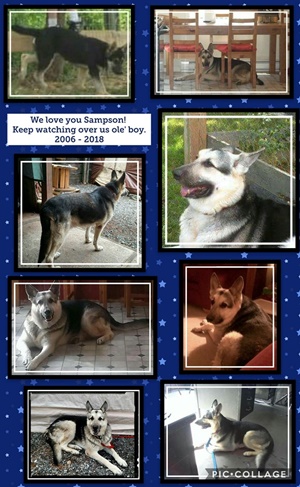 Thank you again for your kindness and compassion as we said goodbye to our Sampson

The Carroll Family
Shadow Tay
---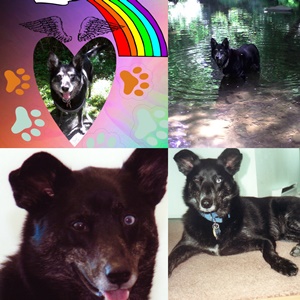 Hello, Shadow here. I got my angel wings today—just 21 days shy of my 13th birthday. It was with great sorrow, but much peace, that I reluctantly left my humans, Dad Tom and Mom Jody, and all my earthly friends. God called me over Rainbow Bridge to Heaven's Gate where I join my doggie brother Champy and my other doggie angel friends. Dad and Mom are very sad and miss my handsome face, warm fuzzy kisses, howls, long nature walks, love, and companionship. I'll live forever in their hearts, however, and they in mine. We wish to thank Shores Veterinary Emergency Center, Dr. Steven Stake and staff, and Peaceful Pet Passage for their kind and compassionate care. Until our 'wolf-doggie pack' is together again, I am waiting here in beautiful heaven—pain free and happy. Much love always from Shadow. <3
I would add that Shadow kept us on a tight dinner schedule: he would come find Tom and me about 6:30 PM and started talking / whining to us to tell us it was dinner time and we better start cooking.
Bliss's Blessing of Faith Imhoff
---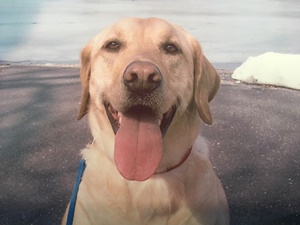 Bliss was my first beautiful yellow lab whose life was cut way too short at five years old. It was ten years later when my husband and I passed a sign along the road that noted "Yellow Lab Puppies for Sale". Without a second thought, he turned around and we headed back to see the puppies. None of the puppies were spoken for yet so we had first pick and it was our desire to choose a female. When we saw the puppies the littlest female there was very hyper and playfully energetic, so I leaned toward a quiet laidback puppy for which we were told was a female. We gave them our down payment and were given a date to pick 'her' up. We later received a call at which time we were told the puppy we choose was a male and that all the other puppies were now spoken for. However, at that point, they were waiting on a decision from someone else as to whether it was definite they were going to take the little energetic female we had previously strayed from. Feeling highly disappointed, I did not give up hope on getting one of the puppies. We were thankfully blessed with being able to adopt into our family that feisty little female puppy. It took no time at all for her to steal my heart. Maybe, just maybe, the reason this little puppy was so ecstatically happy was because she was Bliss's soul coming back to me or perhaps Bliss sent her to me and this puppy was happy and excited we found her. The puppies were born on November 11th, of 2003, so I was able to pick her up on my birthday, December 21st. I was then the one who was ecstatic, as what an amazingly awesome birthday gift. A good friend who also just got a yellow lab puppy from a different litter suggested we name them after country music singers. She named her puppy Toby Keith. I chose Faith Hill. However, I changed her name to "Bliss's Blessing of Faith" in honor of my first yellow lab Bliss. Faith never lost that playful energy she had over the years exuberantly running after her ball and catching frisbee, for which she was a champion. She loved camping, going for walks and running around the yard with her buddy Chance, who was a stray we adopted seven years earlier. When Chance passed Trey joined the family as a puppy and grew highly fond of Faith. He loved to latch onto Faith's tail as they ran around the yard. Trey was with her the day she transitioned to cross over the rainbow bridge. Faith would always pick one of her stuffed toys to bring upstairs when it was bedtime. After Faith's soul crossed, I positioned all her stuffed toys around her bed downstairs. Trey would then take one toy a day, during the time-period we were not home, upstairs to our bedroom until eventually they were all upstairs, including a four-foot long stuffed snake. I moved her bed upstairs and again positioned all her toys on her bed where they remain to this day. It will be an awesome day when we are reunited with Bliss, her pups Bear and Sable, Chance, Faith and our kitties Midnight and Whiskers. I pray Faith and all our other beloved pets are around us in spirit as they will always be in our hearts.
Oscar Taylor
---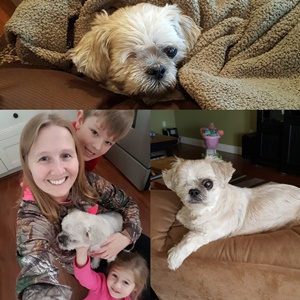 We have so many memories with Oscar. I got him at 12 weeks old, I was only 22, we basically grew up together. For 16.5 years he greeted me when we came home. I loved finding him on the back of the recliner, some how he managed to jump onto the top with it rocking and kept his balance. He was an awesome dog he always knew when you or someone needed cheering up because he would go be with them. He will be greatly missed. Thank you Peaceful Pet Passage for helping my boy go peacefully.
Eve Holtzinger
---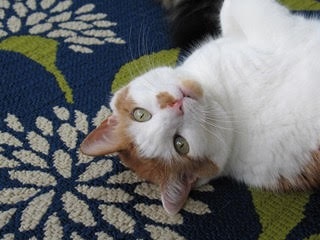 Here is my favorite picture of Eve. She has been my best buddy for 14 1/2 years!! She was a true red-head in attitude!
Molly Auman-Krebs
---
May 25, 2011 - September 14, 2018
Molly was found dumped in a field when she was about 3-4 weeks old. She was always a feisty girl who lived life in her terms. She had the typical calico temperament, but she loved her family very much. She enjoyed playing with toys with bells and loved eating tuna and mashed potatoes. She was soft, beautiful and very very vocal! She never stopped being herself even after her cancer diagnosis. She fought hard and lived life to the fullest for over four months when no one thought she would even survive one more month. She is loved and missed every day by her entire family, both human and furry.
Bailey Anderson
---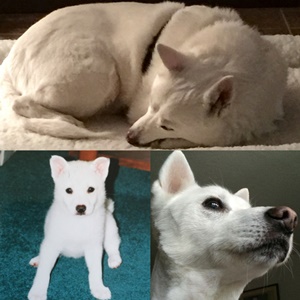 My family would stop by the Humane Society every Sunday on the way home from church. We would see the usual collection of large dogs waiting to be adopted. Our hope was to find a small dog or puppy. The staff told us they rarely get any puppies. Then one Sunday in June of 2001, we stopped by and amazingly, someone had just dropped off a litter of fluffy white puppies! We played with them for a while and picked a male that was all white except for a light brown patch across his eyes. We decided that he was the one and because of his brown mask we would name him Bandit. The staff put a special color collar on him to indicate that he was adopted. We filled out all the papers and were told we could pick him up later that afternoon. We went home excited! After stopping at Wal-Mart to pick up all the puppy stuff that we would need we headed back to the Humane Society to pick him up. When they brought the puppy out, we immediately noticed that it was the wrong one. This one was all white with no brown mask and it was a female. As it turned out, someone had just adopted Bandit by switching the collars! The staff called the people who had just left with our puppy, but they said they would not bring him back. We were heartbroken, but only for a moment. We decided to take the female all white puppy home with us. We named her Bailey. WOW! Now in hindsight, we realize that Bailey was the dog that God wanted us to have. She was a true gift and blessing for our family. Our kids spent the next 17 years growing up with Bailey as a faithful and loving friend and companion. She was an amazing, loving, well behaved, beautiful gift. Most of her life she was healthy and energetic, but eventually she slowed down. We could see the years of running, jumping and chasing bunnies were starting to wear her body down. She was a tough old girl and put up with a lot of the aches and pains that come with old age. Eventually, she couldn't see or hear much, and her wobbly legs weren't able to take her up or down stairs. Soon even her favorite activity of going for a short walk became too much for her weakened body. We knew that the dreaded time had come. One of the toughest decisions we have ever made. We had to set aside our selfishness and do what was best for her. We will miss her terribly, but we know that God had only loaned her to us and the time had come to return her to God. She dreaded going to the Vet so Peaceful Pet Passage was a true gift. A beautiful service in our home where Bailey was calm and relaxed surrounded by her family. We were truly blessed to have her as a family member for 17 and a half years!
Apache Eberly
---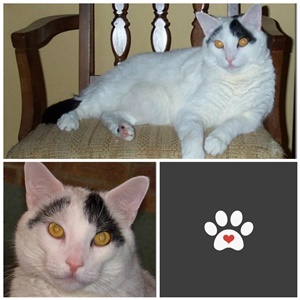 In loving memory of Apache
Randy Strausbaugh
---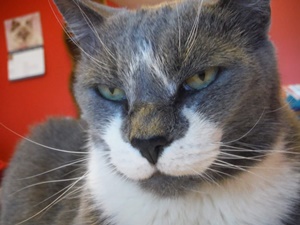 We love you Randy. Rest easy big guy. Thank you to Peaceful Pet Passage, Dr Carney for your service. Your care and compassion is much appreciated.
Sincerely Jim and Michelle Strausbaugh
Carter Ray Ort
---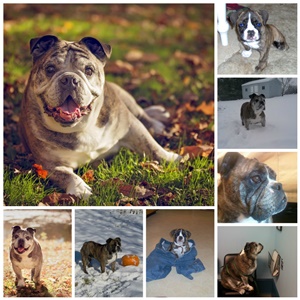 Carter Ray Ort also known as "Bubba J." was not just a dog, he was a one in a million, our boy, our baby. Such a happy smiling boy he lightened up the room when he walked in. Carter had a way of lightening when he knew you were sad, and would put smiles and laughter on anyones face when he saw you. Everyone who would meet Carter made an instant friendship which he had many, they would also say they never met a dog that had such a personality. For us he was truly a gift from God.
Carter's personality was absolutely amazing, light hearted, kind, loving, playful, yet at times could be very stubborn when he wanted to be too. Talkative, oh yeah Carter had a full vocabulary as well full of grumbles, groans, sighs, coo's, and gargles, and as far as his loud meaningful bark, that always came out when the door bell was sounded or a knock came at the door.
My boy was always with me no matter where I went. If I didn't take him out to the shop or out side with me he would grumble and bark incessantly until I would bring him out to where I was. Then there would be some wandering around to see what I was doing in the shop then he would usually crawl under the truck or race car which I was working on. Laying on the shop floor under the car was always interesting, you knew you were either going to get stood on or get lots of kisses, which was fine by me. Carter loved being outside too this by far was his favorite thing to do, lay in the sun then come in on the cool shop floor to cool down get a drink and go back out and repeat. He also loved sitting on the front porch waiting and watching for his Daddy to come home from work. Because he didn't have much of a tail to wag Carter would show you how happy he was by dancing, stomping his feet and twisting back and forth with a bunch of wiggles it was so very funny to watch. I loved every minute of it.
Spring and winter were Carter's favorite times of the year. In the spring he loved barking and chasing all the robins around the yard he would even jump into the bushes after the robins too, so funny! Winter time was fun for him too he loved to eat the snow then run around and jump and root through it all, what fun!
Carter you touched our hearts so deeply like no one ever could, we miss you so very much Bubba, our Love for you will never stop and you will never leave our hearts or thoughts you will be with us for the rest of our lives... We Love You Carter!
Bella and Apollo Schroeder
---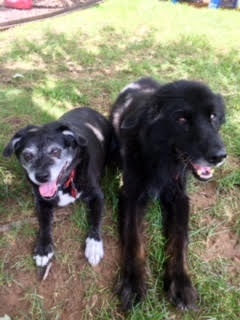 Bella & Apollo were a special part of our family for 12 & 14 years, by our side through so many life changes as we got engaged and married, bought and sold 2 homes, and welcomed 3 children. We are missing them dearly, but hope that they are again running and playing together, free from pain and suffering. ❤
Jake Snyder
---
Nine years ago, we attended a summer festival that our local veterinarian's office was hosting, unaware that our lives were about to change forever. While walking around and visiting the different stands, one particular pup caught our eye in the sea of dogs enjoying the beautiful summer day. His name was Jake, a foster from the GoldHeart Golden Retriever Rescue. Jake was eagerly collecting donations for the rescue and we were happy to find out he was available for adoption. With no time to waste, we applied to become Jake's forever home and a few weeks later, Jake came home with us. It was immediately obvious Jake was a special boy with a gentle spirit. A natural swimmer, Jake could barely contain his excitement upon seeing a body of water. He loved to swim after his tennis ball for hours at a time and needed a lot of convincing (and treats) when it was time to go home! Jake also loved to run through the woods at Rocky Ridge, so excitedly overwhelmed by all of the different sights and smells. At the end of a long day, Jake was happy to curl up in the living room and enjoy a rawhide. Food was, without a doubt, one of Jake's favorite things. From cheeseburgers to tomatoes, Jake would gladly eat it all. He even won a clean-plate contest once, beating out all of the other dogs by eating a lemon slice! Despite all of the things Jake loved and found joy in, nothing trumped his love for his family. All he wanted was to spend time with his humans and provide unlimited love and companionship. He never failed to greet us at the door after a long day, rarely leaving our sides for the night. Jake, we cannot thank you enough for nine years of never ending love. We were so lucky to have you and there is definitely an empty spot in our hearts now without you. A sincere thank you to Dr. Carney and Tom for allowing our Jake to have the peaceful passage he deserved at home surrounded by the people he loved most. Now play hard and chase those tennis balls in heaven, buddy!
Graydie & McKenzie Craul
---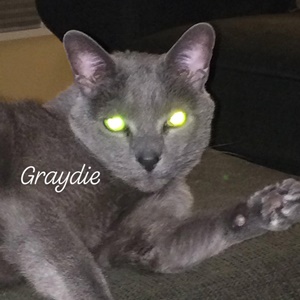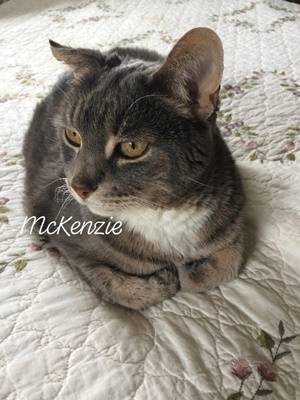 Hazel Heh
---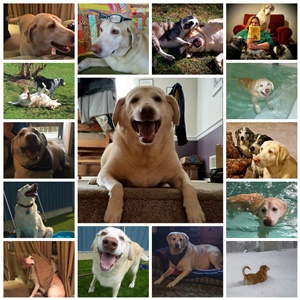 Hazel—to know her was to love her!
Do you know what pure goodness and happiness look like in a physical form? I do because I have lived with the personification of those virtues for the last 9 years in my sweet Hazel Bazel Whizzle Wuzzle.
Always happy, always wagging, she was my fun-loving goofball, and the biggest food mooch who ever lived!!! Ever-sporting her doggie smile, and always so affectionate to everyone (with the possible exception of groundhogs)...
Right up to her last moment, and even while moaning in pain as her heart was failing and her body was filling up with fluid, she was still trying to wag her tail and trying to ease my worry about letting her cross over that rainbow bridge.
Journey well and rest easy my sweet girl...at peace and without pain.
You are so missed and so loved!!!!
💔🐾🌈 2009-2018
Cosmo Clark
---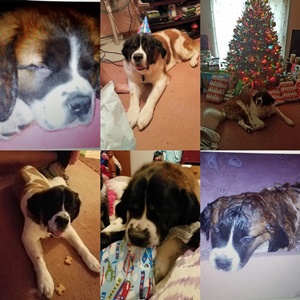 In loving memory of Cosmo
Abby Flor
---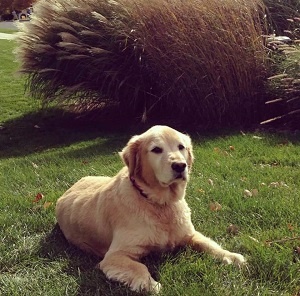 In loving memory of Abby ❤
Our sweet baby girl Abby crossed to the rainbow bridge this past Tuesday. We are very thankful for the help of Peaceful Pet Passage. Abby was able to be outside, laying in the sunshine with her family by her side, her favorite place to be. We love you so much and you will never be forgotten. 🐶❤️🌈
Winston Werzyn
---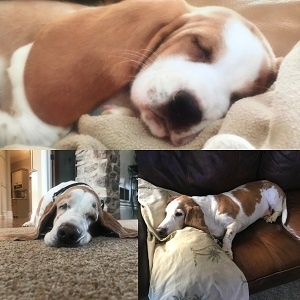 We would like to thank Peaceful Pet Passage and Dr. Carney for their professionalism and support in saying goodbye to our 12 year old Basset Hound, Winston. He was our "Speedbump", our "Flapdoodle" and our "Winne Pooh", but when our daughter came along 4 years ago, he became her "Mimi-Dog." We will all miss him terribly and love him forever. Until we get to the Rainbow Bridge.......
Mr. Maggie Eisenhard
---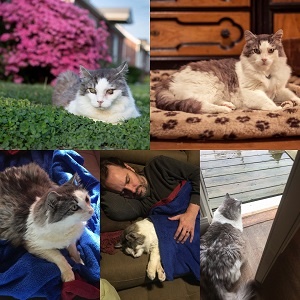 Attached are some photos of Mr. Maggie, who passed away on September 16. Thank you so much for all you do.
Georgia Howe
---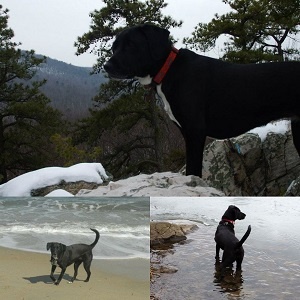 Georgia loved running, chasing squirrels, rolling and digging, swimming and riding in the car. She loved the woods and the beach. She loved family and friends, furry & not-so furry. She was sweet and gentle, sometimes noble, sometimes silly. Georgia was crazy enough to catch a firework and run with it in her mouth while the sparks singed her face. She went on countless 'walk-abouts' into the fields and the forest. She loved freedom and she loved me. Run free my girl.
Milkshakes Weaver
---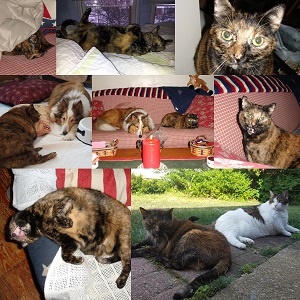 Milkshakes came to us as a rescue and we were so very fortunate to have her as part of our family for almost sixteen years. She was the sweetest little girl with a truly unique personality. Milky loved nothing more than being close to her big sister Lexy - whether wrestling when they young or napping as they got older. We are certain that the two of them are together playing again. She also loved he little brother Max (although she would never admit it.) We will miss and love you always Milkshakes.
Humphrey Replogle
---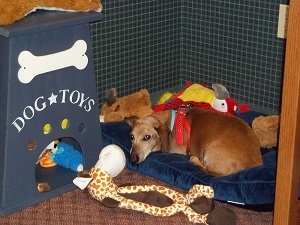 Adopted into our family on February 27, 2016
Departed from us on September 5, 2018
Our Humphrey was adopted from the Humane Society of Harrisburg. He was considered a senior as was my husband, so there was no fee for his adoption. We encourage everyone to consider adoption!
His name at the shelter was Frost, but Humphrey was the name we chose for him and it suited him well. He also had a long list of nicknames: Humpty Dumpty; Humpman; Grumpy Humpy and Bump Bump.
He was a little dog with a great big personality and was by far the most vocal dog we have ever had. He regularly voiced his opinions which produced a lot of laughter from his humans. He owned two toy boxes full of toys, and especially loved the ones that crinkled. He was also my 'office buddy' as I work from home most days.
A week ago our veterinarian gave us the devastating diagnosis of liver cancer which proved to be very aggressive. For the past week we watched our strong boy wither away as the tumor took over. As a final act of love, we knew we had to let him go ~ and so today his daddy held him as he took his last breath.
Thank you to the caring staff at Peaceful Pet Passage for helping our boy cross the Rainbow Bridge. In time, our tears will give way to fond memories and laughter, but tonight our hearts are hurting and have a paw-shaped hole in them.
The Replogle Family
Slugo Grimwood
---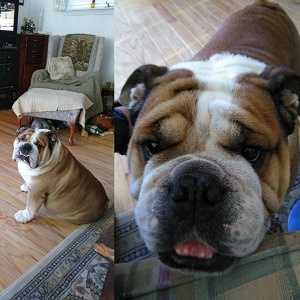 Slugo was a great dog and had just turned 5 the day before he died. We miss his kind face, he loved sitting next to me and liked his head rubbed. He liked to play with his friend Thumper( a cat) and they slept together. She is still looking for him. I miss him everyday and find myself talking to him especially when I leave, I always said goodbye to him when I had to go out. It's not goodbye my friend just a short separation, I will see you again.
Love
YaYa
Duke Paszkiewicz
---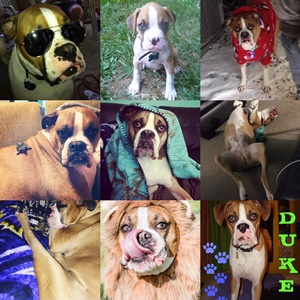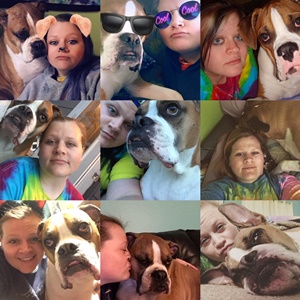 Here's two collages of some of my favorite pictures of my Duke. With well over 600 pictures it was hard to pick which to send but these ones show his personality the best. He was for sure a one of a kind dog and I never have and never will meet another dog like him. I had him from 8 weeks and we made it to 10 1/4 years, not long enough though. He was the runt of the litter believe it or not but turned out to be a big guy! He had many nicknames such as Duke Man! He also was a part time model being featured by the Baltimore Ravens on social media and even made his way to a few websites. Our house feels so empty without him and we miss him terribly.
Lucky Michajluk
---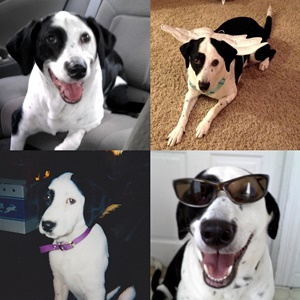 In November of 2001, I went to the local S.P.C.A. and found myself sitting amongst a litter of 5 adorable puppies. After a few minutes, a little pup with a patch of black fur over her eye and paws too big for her body walked over to me and licked my hand. I looked at her sweet face and she tried climbing into my lap. I loved her immediately. She spent the next 17 years by my side, creating memories and moments that would change my life forever. Even when she grew up and weighed 70 pounds, she would try to lay in my lap just like the first day I met her. No matter what kind of day I was having, she always made it better. Whether it was a walk around the block, going for rides in the car, or snuggling on the couch, everything was better with Lucky by my side. Her sweet, loving disposition never wavered, even when her health declined. She had a special quality that made you believe she was so much more than "just a dog"—she was my best friend.
Moe Lucas
---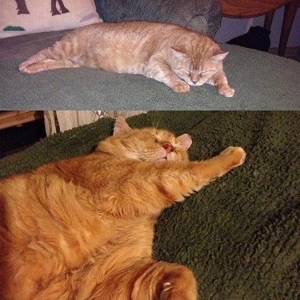 Moe meant the world to us and everyone who knew him. He had a big heart and a playful soul. We will forever keep him in our heart. We miss him every day but we know he has never left our side. We still have his kids with us and they keep his memories alive for us. Thank you from the bottom of our hearts💕
Apollo Jester
---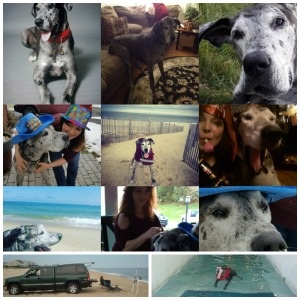 Raising a toast to my Apollo Jester -
Wishing you a gentle journey and much joy once you reach your destination. I'm sure I will see you again - my kind, softhearted sweetie pie. The world is a lesser place with out you.
I remember falling in love with your mischievious eyes when I saw you in NC living outside in a kennel with 40 other rescue Danes amusing yourself by tossing a Tide detergent container up in the air, running and catching it.
I smile remembering you protesting in your lifejacket at the lakehouse until I heard your Darth Vaderesque breathing as you karate chopped towards my paddle boat as I found a place to pull over and help you in as my co-pilot.
I smile thinking of us frolicking on the beach, jumping off the boat deck and lounging in the sun.
I laugh thinking of you farting the entire road trip to Maine to celebrate our birthdays complete with guards chasing us off IRS property for a potty break.
You taught me never to settle.
You taught me joie de vivre.
You taught me not to be shy meeting new people.
You taught me zoomies make me forget about how hard sometimes life can be.
You taught me how to read people's characters.
You taught me to always smile.
I love you to the moon and back.
You smiled even yet on your last day in this broken down body surrounded by your harem - 3 purdy important ladies and I paid homage to your magnificence.
To the entire staff at Peaceful Pet Passage - thank you for easing our pain.
Your paw prints forever on my heart - Alexandra
Simon Kiehl
---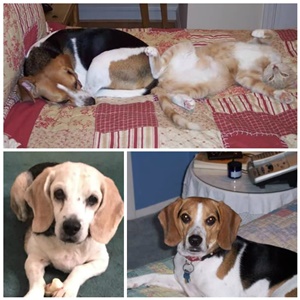 In loving memory of Simon 4/15/02 - 8/21/18
Simon had 2 families - the family he was with from adoption around 6 months old until October 2012 shared the first two pictures and wrote: Oh, Simon. You were our first baby. Whether you were stealing food off the table, trying to make a run after the nearest squirrel, or just snoozing with your best bud, Garfunkel, you kept us on your toes. I hope doggie heaven gives you plenty of table scraps and critters to chase. Rest in peace, you crazy beagle.
Then Simon was adopted by us, a cousin of his first family in October 2012. He looked like he was slowing down, but was still quick to grab food someone left for a second - or to try to sneak over to the neighbor's yard when he thought no one was watching. He loved walks around the neighborhood and rides to the park for walks. He was a cutie pie and a great companion and will be truly missed!
Gus Shoff
---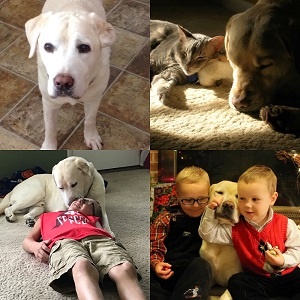 9/11/2004-8/22/2018

Best.Dog.Ever. You were our first "kid" and company before the boys came along and the constant presence and watchful eye after they were born. Loyal, patient, and gentle....everything a family dog should be. Rest easy sweet boy...❤️
Janet Haynes
---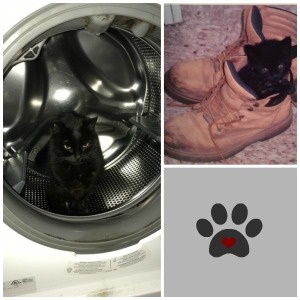 In loving memory of Janet
Windy Barnhard
---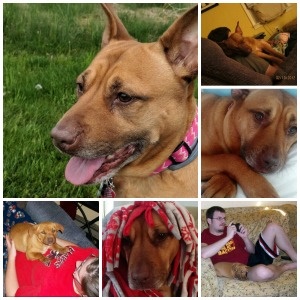 Our Windy was the best puppy we could have asked for. She was a constant companion whenever we needed her. She was my knitting buddy and Levi's sweet pea! We miss her so very much but we are so glad she is no longer scared or hurting, she is at peace. Her absence is felt daily in so many ways. She will never be left behind or forgotten.
Tracey Crystal
---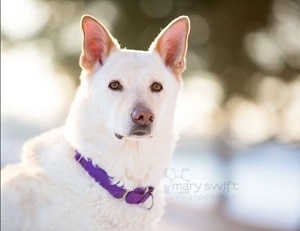 Tracey came into our lives almost 9 years ago as a fearful girl at 2 years old. She would bark at all people and other dogs. She ended up becoming the most amazing girl. She would light up when she was with us, and out with her human and canine friends.
Every night when she was well, she would demand we go up to bed when she was tired. When Tracey asks you to do something, you do it. This also included holding the bone for her so she could chew. Her intelligence has always blown us away. It was as if we were looking into human eyes. We would ask her to go get or do something, and she would do it without prompt.
She loved her toys, and she never could have enough of them. Perhaps this is why we purchased a large toy chest for storage. Her toys lasted forever because she would never destroy them (and she made sure Hoss didn't either.) Hoss and Tracey came to have a special bond. While the initial intro almost 7 years ago didn't go very well, over time they learned to develop a very good friendship with a mutual understanding of each other's rules.
She taught me about loyalty, and dedication. Her past reactivity created a love for me to work with other dogs experiencing fear (I am a dog trainer.) Tracey Bean we are going to miss you beyond words. Our hearts are breaking into a million pieces, but we know you are no longer in pain.
I know you are sitting in a pile of toys up there (suckling on the faces) pain free. We love you forever baby girl.
Murphy McNeal
---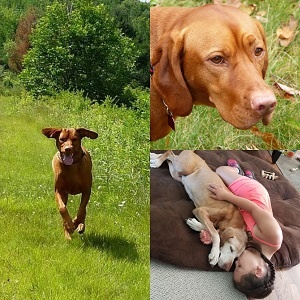 Murphy March 7, 2004-August 10, 2018

Our sweet, energetic boy is running through the fields again and swimming for hours in the creek!
Casey Tilley
---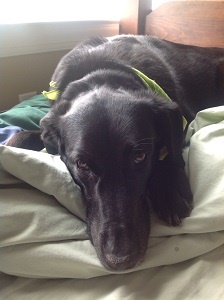 When she first hopped out of a van 15 years ago, we had no idea that the skinny puppy with kennel cough, who was afraid of everything, would become such an integral part of our family. Casey immediately bonded with our other puppy, Murphy, and also immediately put him in his place as the "low man on the totem pole" (which was way, way overdue!). Her attitude throughout her entire life was of complete obedience to us, and complete dominance over her troublesome brother. The two of them were best friends and inseparable - whether romping and racing across the yard, laying in front of the fireplace, or hanging out around the swimming pool, they were never more than a few yards away from each other. Her calm, sweet, quiet demeanor was the perfect balance to his overall craziness, and together they were the best dogs we could have asked for.
We were very lucky to have a few extra years with Casey, and although it hurt immensely to see her go, it makes us happy to know that she's now back with her partner-in-crime waiting for us (although, given the way it went throughout her life, she's probably busy trying to get him out of trouble). We love and miss you, Roo Bear.
Chloe Harrison
---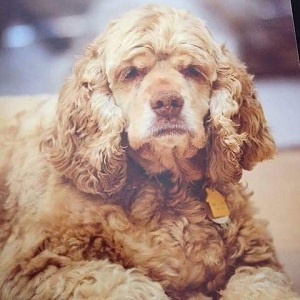 Chloe: will the other side of the Bridge be pain free?
Me: Yes, otherwise I wouldn't let you go.
In loving memory of our dear Chloe. We adopted Chloe 5 years ago at the age of 7. Six months later she blew out both ACLs with both luxating pataella. In October 2016, she was diagnosed with an insulinoma (tumor on her pancreas), a very aggressive cancer. She had surgery and we tried oral chemo but the cancer returned. We then consulted with a holistic vet who prescribed some Chinese herbs. She lived another 18 months and simply laid down last Monday night and died. No seizure (which we expected and were sort of prepared for) but simply stopped living. We were and still are shell shocked but she left us on her terms and peacefully. Thank you once again Tom and everyone at Peaceful Pet Passage for your love and compassion. I don't know what we would do without you. Run free and healthy at The Bridge dear Chloe - you took a huge piece of our heart with you.
Homer Stiles
---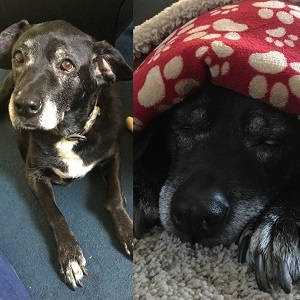 Thank you for treating Homer with respect and love.
Rowdy Mitchell
---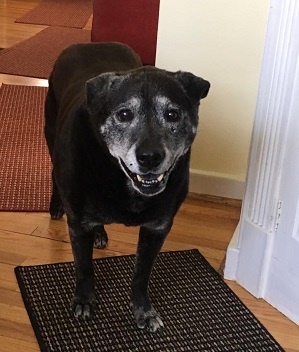 Rowdy came to me a little over 2 years ago at the age of 10. He was available for adoption through the Dachsund Rescue of Illinois where he was in foster care.
Rowdy spent his first 10 years on a chain as a watch dog for a drug house. When the owner was arrested and sent to prison nobody came back for Rowdy. He survived a life of abuse - how I know that is because every time I would reach out to pet him he would cringe in fear of being hit.
At first it was just him and I, two old guys "hanging out". Where the name Rowdy came from, I am not sure. He did not live up to that name. He was a sweet and gentle dog who still loved his stuffed toys.

I believe God gave us dogs as an example of how we are to treat each other.
I miss my "Rowdy Bear"
Torrie Gross
---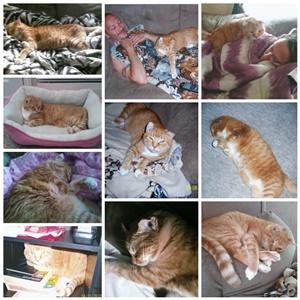 We miss our Torrie very much but we know that she is in a better place now and is no longer suffering although it is hard we will get through this difficult time and move on but we will never forget her. Here are some of our favorite memories of our Torrie for you to post to your websites. Thank you again for helping us get her over to the rainbow bridge.
Bucky B Katt Stirk
---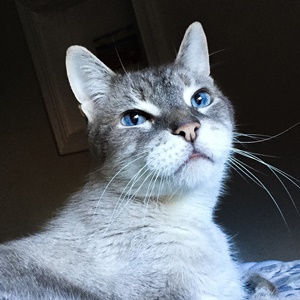 Foundling 2002 - 7/30/2018
Macy Reynozo
---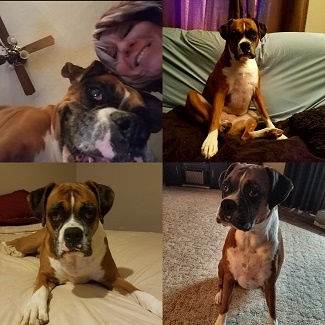 In loving memory of Macy ❤
Our little Macy, partner in crime, helper, protector. We love you so much. We miss your wiggle butt when we get home. We miss the slobber kisses. You are very loved. And you are missed deeply.
R.I.P sweet girl
Love , Mommy and Daddy ❤
Sasha "Lamb" Louise Schell
---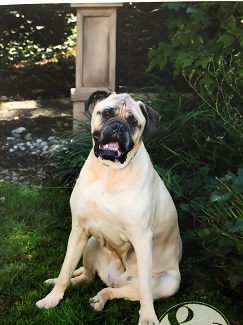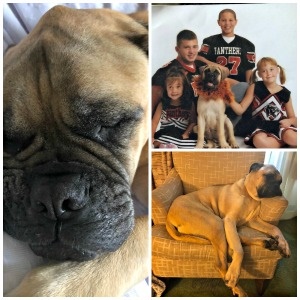 On Tuesday, Dave and I made the decision that sooner or later, all of us who give our hearts and souls to our pets will have to...
After 11 plus years, Sasha "Lamb" Louise Schell's body finally gave out. She was a fighter and worked so very hard until the end to stay with our family!!
Sasha was a very happy dog, though serene. And she loved love. Over the past few months, Sasha suffered with hip issues and arthritis. But with good meds and a nurse named me, she truly seemed happy!
Peaceful Pet Passage in Mechanicsburg came into our home to comfort my princess with dignity. They were so kind and compassionate. I told Lamb how loved she was, and thanked her for giving our family so much happiness, love and for her unwavering companionship.
Our long time vet was too busy to help.....
May you rest in peace my perfect princess!! I know I'll see you again one day!!
Be nice to the bunnies and birds in Heaven!! They might just turn out to be some of your best friends!!
Lucky Danner
---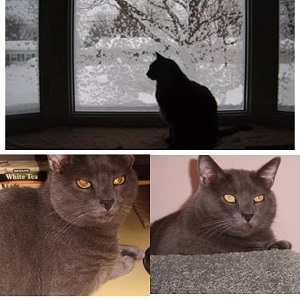 On a very hot day in June of 2002, upon returning to work from a dental appointment, I found a gray kitten running around 7th Street, Harrisburg, in the middle of the road. I stopped my car in between the two lanes to block traffic and he ran under it… probably to get out of the sun. I scooped him up into my arms. He had a respiratory and an eye infection and later I found that the pads on his paws had been scorch. I named him Lucky because he had beaten so many odds in his young life. On Friday, July 13, 2018, he passed over the rainbow bridge to reunite with his feline brothers who had gone before him. He was the absolute joy of my life for 16 years. He followed me everywhere; he slept in my arms at night and on the couch for afternoon naps. He barely meowed so when he did I knew he was serious. He would lick my ear ending with a little nibble. I would worry about leaving him for vacation. He would always greet me at the door and would bug me to go to bed if it was getting too late. So many wonderful memories.
Barrett Canterbury
---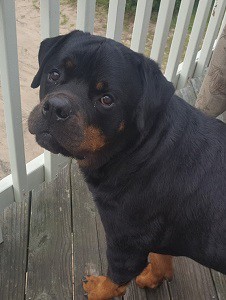 We would like to honor Barrett with this photo. He was such a wonderful and adorable dog and we miss him very much. It's been quiet around here without him.
This photo was taken at the beach last year, we really missed him this year.
Thanks for honoring him.
Shep Jordan
---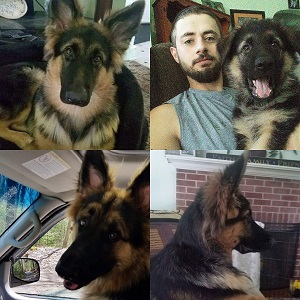 My Shep followed me every step, now I hold my furbaby in my heart. Always near me.
Penney Menas
---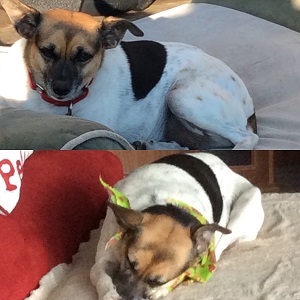 My precious Penney, on 12/2/12 I rescued you but it in reality it was you who constantly rescued me! You were my joy and filled my heart and home with such love and devotion! Everyone who met you loved you because of your sweet spirit and playful antics. I miss you more than words could ever express. Run freely my precious Penney! I fell in love with you from the moment I saw your picture on the rescue sight and was blessed to be chosen as your mommy! I will love you forever plus one day because forever isn't long enough! I will forever treasure our memories, they are tucked deep in my heart and soul!
Lucky Witmer
---
Lucky you were a great dog and touched a lot of lives. You are very missed. Love You.
Harley Moffitt
---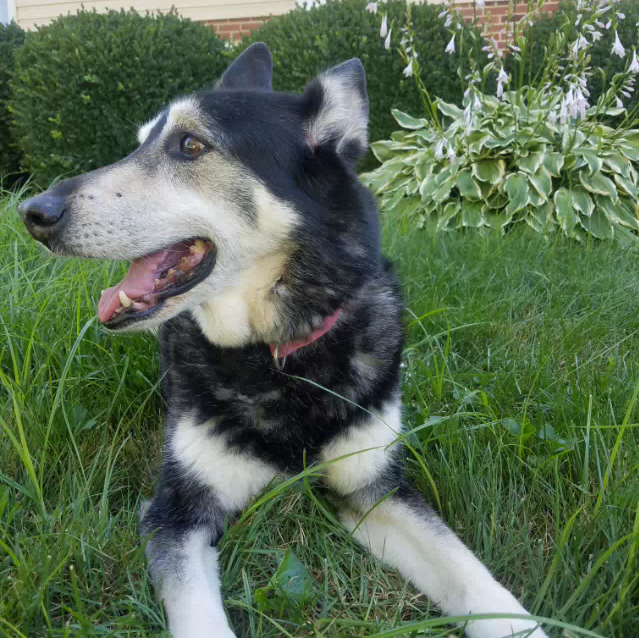 Harley was our first pet.
We got her a year before our daughter was born. She was the highlight of our lives. When our daughter was born Harley didn't know what to think. At first it was a love hate relationship! As time went on Harley and Annabell became best friends. Harley helped Annabell take her first steps. Annabell love to feed Harley her pizza, and Harley loved to take Annabell's pizza! As the year got harder for Harley we asked ourselves is it time? Then we would see her running around, and think no she is still playing. It is never easy to see a part of your family pass away. Harley almost made it until she was 15 years old. We would like to thank Peaceful Pet Passage for their kindness as Harley made her way to the other side. The patience they had while we said our good byes. The care they gave to Harley on her final moments.
Tucker Hindermyer
---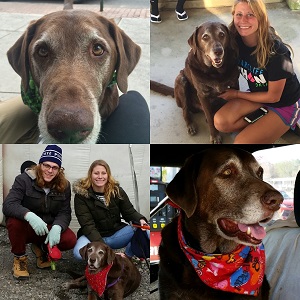 A few words and memories from the Hindermyer family.
1 – The Fifth Member of the Family — The day we got Tucker we walked into the pen looking for a female yellow lab, we were going to name Layla. However, instead this male chocolate lab came running up to us right as we entered and started biting at my brother's shoe laces. Mom said "Well, we know which one we aren't getting", and we moved on. However, this little guy was persistent. Later, as I was sitting next to another pup giving him my attention, here comes the same chocolate lab as before. He came over and sat right in my lap. We knew in that instant — you don't choose the dog, the dog chooses you — and that was the puppy we would take home.
I hope you loved who you chose Tucker, we all loved you very much and will miss you forever.
2 – I didn't want a dog. When I was a kid we had a German Shepherd named Lucky. We had to put him down and I cried my eyes out. So when talk of getting a dog rolled around I was out voted, three to one by my wife and kids. I fell in love with Tucker anyway and once again cried like a baby when we had him euthanized. I'll never underestimate the bond between man and a dog.
3 – I remember this time in middle school when I was walking Tucker around the usual loop, and I ran into a guy named Troy, and I can't remember who else. All I remember is Troy saying something along the lines of Tucker being "stupid" and I didn't want him to get away with it. I took one of Tuckers treats that I had in my pocket and held it out over Troy's head. "Get it Tucker, get it," I yelled, and he responded by happily jumping all over Troy trying to use him as a step to reach the treat. Even as the kid started yelling I egged my dog on. "Good boy, get 'im." He wasn't hurting him at all obviously, he would never. Just giving him a good enough scare so he would watch his mouth around Tucker Hindermyer.
Tipper Byrne
---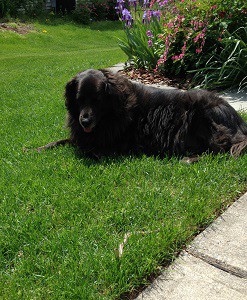 Tipper loved sitting here and watching the world pass by even the snake in the grass.
Sadie Rose Boswell
---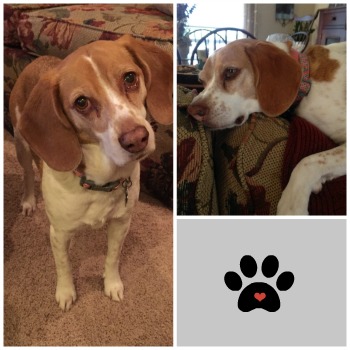 Sadie Rose was a wonderful companion for almost 12 years. While at first as a puppy her nickname was the green eyed monster for her love of unrolling toilet paper and running around the house with it, she grew into a calm lap dog over the years. She had many nicknames, and of course we thought she was a smarty pants for answering to all of them. Our yard was always squirrel, chipmunk, and bunny free due to our "guard dog" who may just lick you to death if you were the UPS man, landscaper, or another guest. Although we never thought she would a dog to wear clothes, she looked beautiful in her pink pajamas after she lost her fur. We will miss and love her always, the best hound around.
Daisy Kuntz
---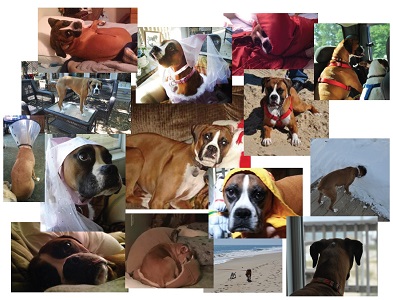 The happiest boxer with the cutest wiggle you've ever seen, Daisy Kuntz was almost 12 years old when cancer took her from us on June 28, 2018. Daisy had a good life. She had a beach in her backyard, a brother to chase and a family who loved her madly. She routinely enjoyed trips to get ice cream, visit her grandparents, and even went on vacations with our little family to the Outer Banks, Maryland and Delaware beaches and many trips to Elk County to bark at big animals. She was a clown all her life, right up until about a month before she crossed the Rainbow Bridge. One of her many nicknames was "Nick Nutz" because when she was naughty, she flashed her sweet, sad face which melted our hearts. She got away with everything!
Daisy, thank you for allowing us to love and care for you, and for spending so many years with our family. We hope you have all-you-can-eat giant Cheetos in Heaven. Mom and Dad (and Snorkels) will love you forever, and look forward to seeing you again one day, precious, precious baby girl!
-Scott and Kelly Kuntz (and Snorkels Kuntz)
Willie Ramsey
---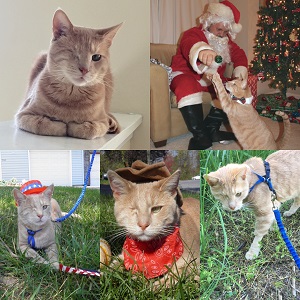 Willie had a rough start in life. A lot of people passed on him for adoption because he came with health issues. I almost gave up on him after I adopted him because of his health issues; but we got them under control and he became the most amazing cat I've ever known. So outgoing and friendly to everyone and any animal that he met, Willie was always at the center of attention. Willie loved playing, going on walks outside, and burrowing under blankets. He loved talking and always had something to say — very loudly.
Always a good sport and never moody, Willie had the personality of a dog and not a cat. Everyone that met him noted it…even when his health was declining at the end. It seems so unfair that such an amazing pet only lived to be 6 years old, but I'm so lucky to have had him for 5 of those years. The void he leaves is as big as his personality was. We will always remember our One-Eyed Willie. Hopefully, sharing his life will make others think twice before passing on a pet that comes with a little extra baggage.
Tucker Hindermyer
---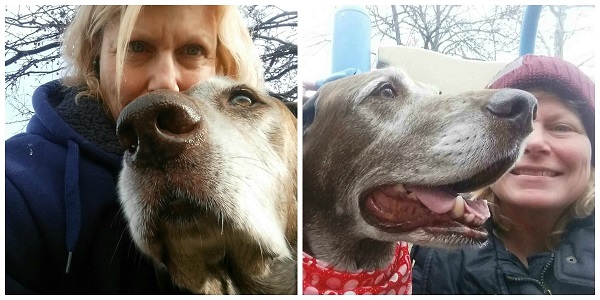 When I graduated from college and was working as a new nurse I never understood why my coworkers pasted pictures of their dogs on their lockers. I didn't get it, but then again I never had a dog. My husband and I bought a dog for our children in 2007. I was looking for a female yellow lab and I planned on naming her Layla. We came home with a male chocolate lab, and named him Tucker. We grew to be close friends, in fact Tucker was my best friend. The times his simple presence comforted me are too numerous to mention. I will treasure those memories forever. My days off work were spent with him and I loved it. I can still see him sitting in the back seat of my Jeep ready to go for a ride. I understand the pictures on the lockers now.
Baby Tux Dittman
---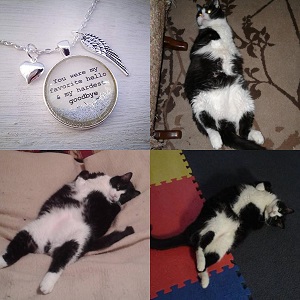 01/15/2006 (adopted) to 06/23/2018
Tux was a feral that we had been feeding in 2006. He would never let us get any closer than an arm's length away. He just didn't trust humans (really didn't blame him).
In the dead of winter January 2007, after being missing for several weeks, he trusted us enough to come to us for help. His leg had gotten caught in a fur trap. We rushed him to a vet for evaluation and treatment – his front leg had to be amputated. He spent an entire month hiding in our bathroom closet, still traumatized by the event and not trusting humans. Until his follow up visit – it was then he realized I was taking him BACK home and REALLY wanted him. At that point I won him over whole heartedly.
In April 2014 he got pancreatitis and was diagnosed an insulin dependent diabetic. Didn't blink an eye – only option to me was insulin. Terrified of needles I still learned how to give him his insulin shots twice a day. Still steadfast in our dedication to each other.
Once we won his trust and love the bond was never broken – until now.
We lost our Baby Tux on June 23, 2018 at 5:42 pm due to malignant lymphoma that spread to his lungs, less than 25 days from diagnosis. We always thought we'd lose him to diabetes complications, not this.
After breathing difficulties, even with oxygen on board, we had to help him cross the Rainbow Bridge at home surrounded by his family. I am so thankful we found a vet that would make a house call, even if in finding one it was a bitter sweet blessing.
Tux was a beautiful, talkative, loving, gentle and INNOCENT soul that did NOT deserve this. He drooled like a madman when he was being loved up and his happiness was contagious. He was my shadow, never too far behind, and bedtime snuggle buddy. He will be sorely missed and the void left behind without him is beyond words. Gone way too soon!
SCREW CANCER!
Hadley Bishop
---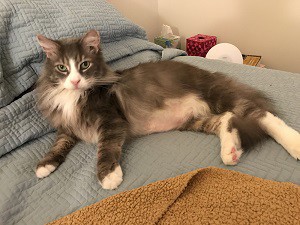 In memory of my handsome floofer.
Nova Baumgardner
---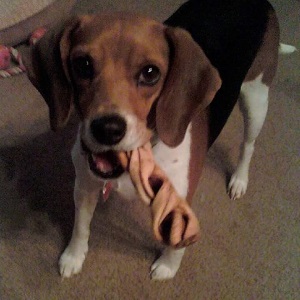 On May 24th we said goodbye to our baby girl Nova. I'm sure she is chasing bunnies over that rainbow bridge. She was the sweetest. This girl was a Wisconsin dog and boy did she love playing in the snow with her partner in crime Bruno! We are blessed to have spent 10 years with her. ❤ We love and miss you baby girl!
Runca Shouck
---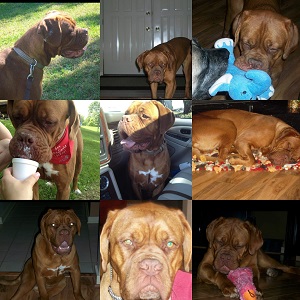 In loving memory of our sweet and loving Runca.
We recently lost our 7 year old dog de bordeaux Runca to cancer. Runca came to us from Michigan when she was 1 1/2 years old. We had another dog in the house (Shaka) who we were not sure if she would end up liking a new friend but with Runca's sweet and loving temperament they were best friends. Funny thing about Runca she hated getting her picture taken. She would snob her nose in the air at it. She did however love riding in the front of vehicles, ice cream and toys. Every time we left her out to go to the bathroom she ran the fence line with her other best friend Russell the neighbors dog. Despite her size and look she was very gentle with our kiddos but would protect her house if needed. She was truly loved and we will miss her forever.
McKinley Hosler
---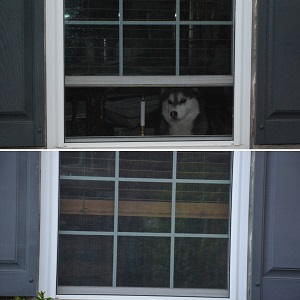 Love is supposed to be just a concept, something that you can't reach out and touch. Before I met McKinley, I believed that – now I know that the pure spirit of love can have a physical presence.
McKinley, You were my "Special Gift! You always knew how to cheer me up when I had bad days. You gave us so much love, and taught us all about unconditional love and affection for the last 12 years. (75 in dog years with our family). You gave me so much joy, you were caring when I was hurt or down, so much understanding, so much patience, so much kindness, so much loyalty. You were a daughter to me and loved by everyone that was fortunate enough to ever meet you. You had a tough life prior to your rescue, but you adopted me, and from the time we first made eye contact, I fell in love.
I look for you, looking out the window, waiting for me to come home and welcoming me with the most awesome husky welcome. I continue to look for you at every turn. I awake at night, making sure that I'm not stepping on you, as I look to see that you're all right.
You are truly missed and I know I will see you again one day. Until then, know that you will always live within all of our hearts! I will always love and forever miss you McKinley. Your absence leaves a big hole in our family.
Now, with all the pain gone, be happy, talk like you did for many years and tell your new friends to never give up. Share with them how great and unpredictable life can be when when there is unconditional love.
I will do my all to live up to the examples you have shared and set for me. I promise you McKinley, I'll try. Until we meet again, North of the Rainbow Bridge…
Dozer Shuey-Seifert
---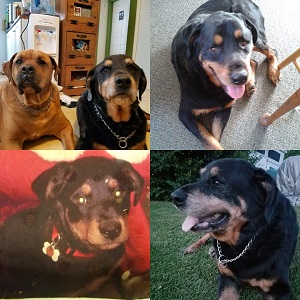 In Loving memory of our Dozer.
He was such a blessing in my life. He was a sweet, smart yet bull headed American Rotti that came in to my life as an adorable ball of thunder at 6 months old when he came to live with me temporary but never left because he picked me as his owner…and decided he was staying and I had to agree and he turned out to be the best big brother to all the rescues I brought home over the years…he was a great guard dog and a great companion. I sure have missed him and so has all his brothers and sisters around the house these last few weeks and we still find ourselves looking for him… his memories will live on forever. All the paw prints he left on our hearts will be forever. Till we see you again…We pray you are up there running young and free and out of pain over the rainbow bridge Doz! 07.30.2005 – 05.19.2018
Casey Stambaughr
---
In loving memory of our sweet Casey.
For over 14 1/2 years you have been a loving member of our family. You are a part of so many memories. We will miss you every day. This place is not the same without you. You were the sweetest dog ever.
Xander Bentz
---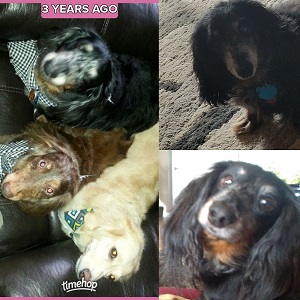 In loving memory of our forever friend and devoted companion. You will forever be in our hearts and our memories with you cherished.
Samson Krebs
---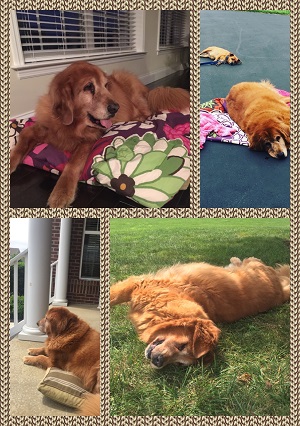 Samson came into my dad's life at a difficult time. In 2006, he was diagnosed with prostate cancer and had just put his golden retriever, Chester to rest. But he quickly became my dad's new best buddy and they've spent the last 12 years walking the block together. Sammy is the gentlest, giant, teddy bear you'll ever meet, he's Lola's best dog cousin (and the ONLY dog she likes). Sammy aka Sam Bam- we love you and we will miss you dearly. I hope you are rolling in the grass in heaven, getting lots of treats and will wait for us our faithful friend…until we meet again.
"The journey of life is sweeter when traveled with a dog."
Dewey Bloodsworth
---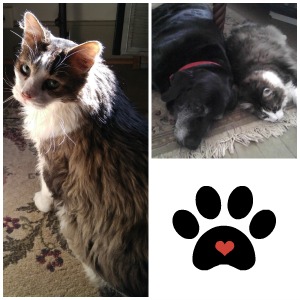 In loving memory of Dewey.
Tuck Milway
---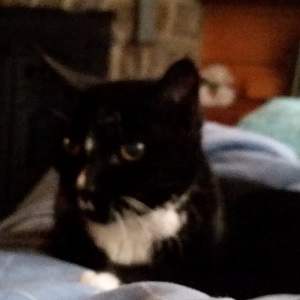 Tuck followed the kids home from the bus stop in the fall of 1997. She was about 4 or 5 months old and very friendly. We "tucked" her in a make shift cat house with a heating pad and she never left. She lived with us for 21 years and never scratched any furniture or jumped up on anything but the couch. She patrolled our yard and went for walks with us. She was our cat-dog. She welcomed all of our other pets over the years and outlived them all. We said good bye to her for the last time on June 4th. She will live in our hearts forever💗and we will cherish our memories of her.
Gomez Grimm
---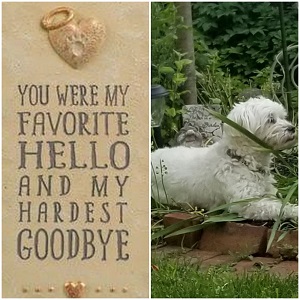 Gomez was best know for being my emotional support dog (anxiety). He made it clear daily he loved us as much as we loved him. I have never owned a dog so attuned to his surroundings. He was definitely human, and that's what he preferred being around. On our last day as We sat crying over our heart wrenching decision, he whimpered right along with us. My life has been changed because of how wonderfully he fit into it. There will not be a day that goes by that I won't think of his charming funny and spirited personality. I can't thank you enough Dr. Carney for the patience and understanding you gave us here at home. Definitely will recommend Peaceful Pet Passage to my friends.
Sami Craul
---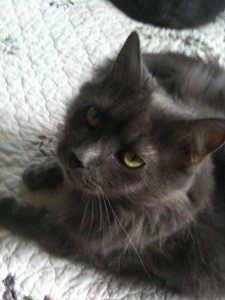 My precious tiny Sami. We will miss watching her morning patty cake with one of her buddy cats while waiting for morning breakfast. We certainly loved our little girl. 💔😢
Sonny Kenney
---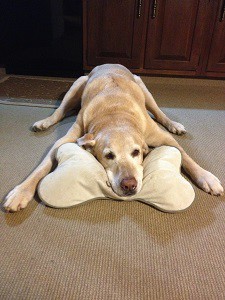 Our Sonny had a smile and wagging tail for everyone. He loved peanut butter and evening massages. For almost 14 years he showered us with happiness and love, and we're thankful to have had him in our lives. We will always miss our handsome boy.
Gunner Lehr
---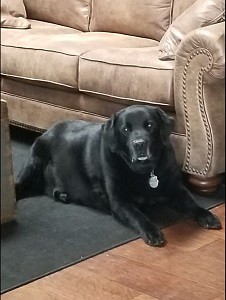 Gunner found me and walked right into my heart 11 years ago. The unconditional love that I received from my Big Boy will never be replaced. I have an enormous amount of beautiful memories and will cherish them forever. I think we all have that "one" pup that steals our heart.. Gunner was that pup. I will forever miss my Gun Gun.
Tanner Stern
---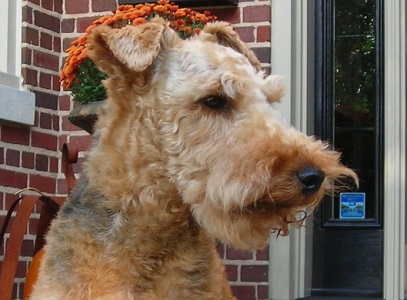 In loving memory of my best friend Tanner. You made my life complete with all the joy you gave me. I will miss you every day and hold you close to my heart!
Aja and Thai Thai Anthos
---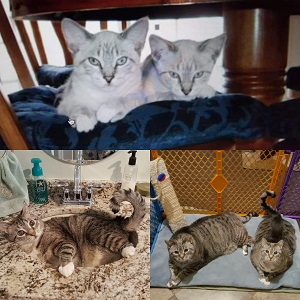 Thank you so much for your wonderful care of our two fur babies. In January of 2017 you helped us with Aja. Then on April 30, with his twin brother Thai. You made a heartbreaking time in our lives much
more bearable. Our boys, Aja and Thai (Thai Thai) came to us in 2005 from a dear friend who ran a cat rescue in Long Island New York. I always told her if she ever had Siamese kittens come through her rescue
to let me know. And sure enough she called one day and said she had 2 little brothers up for adoption and since I said I wanted 2 kittens, I was first on the list. We had 12 and 13 wonderful years with the boys.
They were the most loving and friendly cats one could hope for. They acted more like dogs. In fact, they got along with dogs! We are so happy we have their little cedar urns to remind us of them. Best Regards, Wendy, Bill, Zach and Julie
Raja Graham
---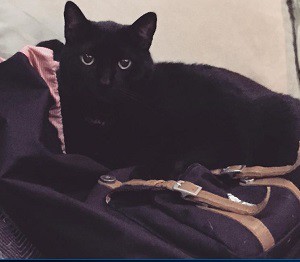 Raja will be missed for his very loud purring, lively cat conversations, superman poses, and overall fussiness. I will especially miss my cat-nap partner. Rest in peace, 'Pretty Kitty'.
Amber Lynne Nailor
---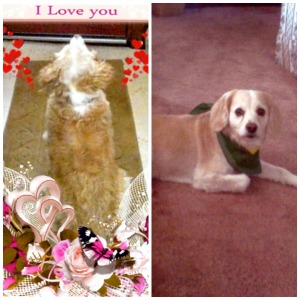 We are very happy to have had 17 good years with her. Amber was full of love. No matter how bad of a day I had at work she would always be waiting at the door when I got home to greet me. She would jump up at me so I would get down to her level to give her a hug. Then she would run back the hall to the bedroom and jump on the bed and wait til I came back to see her.
It did not matter what room I was in she was always right by my side. I would sing to her that I had sunshine on a rainy day and that's what she gave to us.
Our hearts are empty now that she is not here with us, but we know we will be together again someday.
Cocoa Patton
---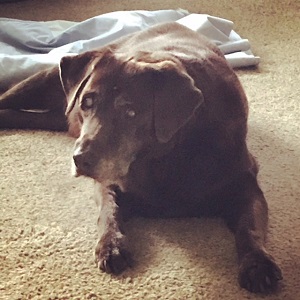 Cocoa Banana - we'll miss you buddy. Such a great companion. Though his sight and hearing were failing and his legs weakening, he had to go on his walk and see his many friends. Rest In Peace big guy.
Oliver Wyndal Douglas Romberger
---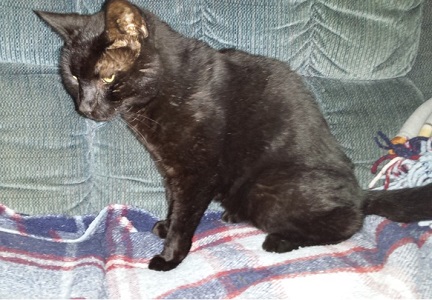 Oliver was the Best Farm Cat Ever. He Loved the Outdoors, We would go for many Walks on the Farm together. He Loved catching Mice and Chasing Birds and catching them. He would get them and put them on The Back Porch for me to see his Trophy. I would never go to Bed without Calling Oliver to come in from Outside, He always slept on my Pillow at Night and put his Paw on my head. We had a Special Bond and I will Never forget Him and Our Memories we made together over the Last 18 Years. God Bless My Best Friend and I will see you again on the other side of the Rainbow Bridge. Love Always, your Mom, Carol…I want to Extend A Great Gratitude To Peaceful Pets and Dr. Carney for Helping Oliver to Pass over in Great Peace.
Sonya Danner
---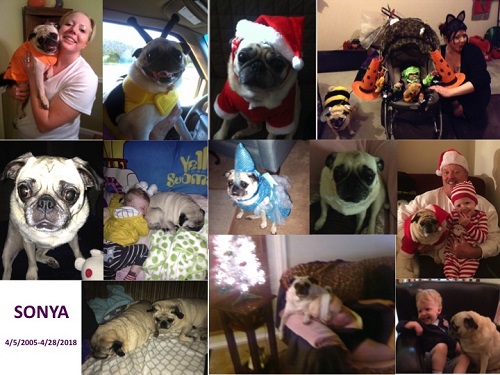 Sonya was such a special pug who was very loving and always had a kiss for everyone. She endured many health conditions during her 13 years of life. We'll miss you greeting us with your wagging tail and big beautiful brown eyes every day. Rest in peace and know that some day we'll join you in heaven. Love, Megan, Justin, Parker, Skiler, and Mom and Dad.
Field Troutman
---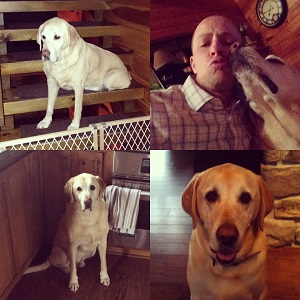 In loving memory of Field.
Tuna Hoffmaster
---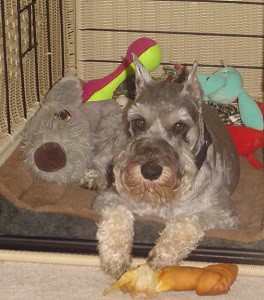 In loving memory of our handsome Tuna
14 years is not nearly enough time….we will miss you every day. I know you are running and playing again and doing all those things you loved so much. #rainbowbridge
Pepper Ream
---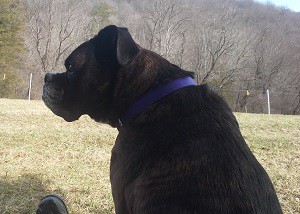 We recently lost our wonderful girl Pepper to kidney failure. She was a fun, loyal member of our family who loved to travel, play with her furry friends and go on hikes by the creek. She was gentle to other animals and especially loved children. Dr Carney was so patient and kind and made Pepper's passing as peaceful as possible. We will love and miss her forever. Sheilah and Luke Ream
Shadow King
---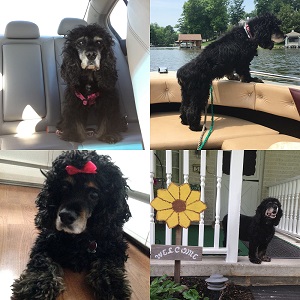 In loving memory of our sweet Shadow…
For over 16 years you have been a loving member of our family. You are a part of so many happy memories. Boat rides at the lake will not be the same without you. You have been in our shadows since the day we brought you home…the kids sports, trips for ice cream, the boat rides, and always to Nana and Pappy's house. You even seemed to know the way there. Even though you haven't been able to run and jump for a while now, you were still always there with a butt wag and kisses when we came home, no matter how long we had been away. Saying good-bye to you was the hardest, most heart breaking thing I have ever had to do. We know you are no longer in pain, now it is our hearts that hurt. We love you so much and will miss you forever.
Leo and Timber Harvey
---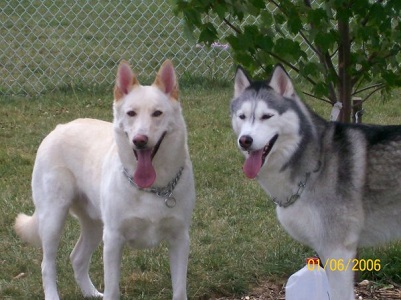 Leo Excalibur was my pure breed Siberian Husky. I raised Leo when he was a puppy. He was my little Houdini that always had me on my toes. Timber Lee was my German Shepard. He was a rescue dog and my protector. I adopted Timber when I found him in a trailer home with 20 other dogs and 30 cats. Both Leo and Timber bonded quickly like soul mates. With active life styles we had a lot of adventures together. So many memories that I will cherish. I had almost 14 wonderful blessing years with them. I miss them dearly.
Harley DeSorbo
---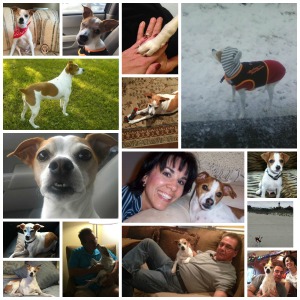 On June 28, 2003 in the small town of New Holland (Lancaster County), Pennsylvania an Amish farm on Railroad Avenue welcomed a litter of five pure bred Fox Terrier puppies. It was a hot July evening when Tony and Beth DeSorbo journeyed to this farm to meet the pups. Several Amish children brought the three females and two males out of the barn and placed them on the ground. One of the males was very interested in meeting the couple. He quickly took a liking to their Honda CRV and the dog toys they had in their hand. He was definitely the brightest in the group as he wanted desperately to get into their air conditioned vehicle. After carefully examining all the pups, it was decided that the roly poly white and brown male was the one for them. Unfortunately, the pup was still too young to leave its mother. So on August 4, 2003, Tony and Beth made the trip back to New Holland to pick up their boy. He would be called Harley McCarran DeSorbo from that day on. He was wrapped in a blue baby blanket and laid on Beth's lap for the car ride home to Old Mountain Road in Wellsville, Pennsylvania. For the first 20 minutes of the ride Harley whimpered. However, after a short potty break in Columbia, Pennsylvania Harley got back in the car and instantly went to sleep. When he arrived at his new home, he sat on the sidewalk, not quite sure what to make of it, he then went over to Tony and licked his face. Certainly this was his way of saying he approved of his new parents and home. Two days later he went to the vet to get his shots and check-up; he weighed six pounds. Harley had a plush crate for his bed, but he did not like being away from his mom and dad. He found his way into their bed and slept between them every night of his life. Harley was the love of his parents' life and the envy of all who met him. He quickly learned every trick and command he was taught. He loved to play outside on his two acre yard. He knew his property and often had to give up on catching a squirrel because they left the boundaries of his yard. Harley loved going for his daily walk around the neighborhood. He strutted and I mean strutted down the road for a two mile walk. Sometimes he would want to go further venturing out about three miles; he loved seeing the farmers and jumping across the creek. Some of his favorite places to go for a walk were at Pinchot Park and on the Appalachian Trail. In the summer he would run out to garden to chase rocks that his dad threw into the field. He would bark letting the neighbors know it was time to chase rocks. In the winter he could not wait for it to snow. He loved playing in the snow; chasing snowballs for so long that often times he had to come in to change into a dry sweater. Harley loved to go for rides in the car, he had a wonderful dog seat that allowed him to see out the window. On his many trips to Cape May, New Jersey he would fall asleep in the car, but as he got to the New Holland exit he would instantly wake up look out the window for a brief second bark at a horse and buggy only to lay down and go back to sleep. It was as if he recognized the place, but knew he was loved, safe and happy with his life. Harley was a well-traveled dog and made many visits to see his cousins in college. He went to Penn State, West Virginia and Mary Mount Universities. He also traveled to Connecticut, Delaware, Maryland, Massachusetts, New York, Tennessee, Virginia, and made one international trip to Niagara Falls, Canada. When Harley was ten he was diagnosed with diabetes. He started to lose weight so after a few blood test it was confirmed he had diabetes. It required him to get insulin shots twice a day. He never once showed any fear, he knew it was for his own good and it made him feel better. He would jump on the bed, get his shot, jump off the bed and run to the kitchen to eat. Once he was very sick and needed urgent care, this is how he met Dr. Amber Crow and Mikki Clark, they became his veterinarian and technician. They took good care of him and loved him like he was their own pet. He loved going to see them at Timber View and Dillsburg Veterinary Hospital. He loved seeing them so much he even visited them when he was healthy. About eighteen months after his diagnosis of diabetes, he got cataracts due to the insulin. He was still the sweetest boy you would ever meet and he did not let it slow him down. A few month later his parents found a wonderful person, Dr. Amanda Corr, she specialized in ophthalmology at the Metropolitan Veterinary Hospital in Norristown, Pennsylvania. She performed surgery to remove his cataracts; he had to wear the cone of shame for a few weeks but once it was removed he was back to his old self. A year later Harley developed glaucoma in his right eye. Dr. Corr was able to remove the eye and after only a few days he was running and playing like a big dog (Harley thought he was a lab like his furry cousins). Harley was strong and gentle, he loved to give kisses, he loved to get his belly rubbed and especially loved it when you kissed the wrinkles on his forehead. Harley was not fond of baths, but would slowly make his way into the shower on Sunday nights. He had the funniest ritual; once he was done being dried with a bath towel he would run around the family room running up the back of the couch, jumping across to the chair and love seat and after doing this a few times he would jump on the bed and go to sleep. Harley knew when you were sick and would resist playing with his hundreds of toys to lay beside you until you were better. He spent weeks lying next to his mom while she recovered from surgery. He did not let anyone get close to her and protected her until she was better. This is why it broke his parent's hearts when he got sick. It was January 2017, Harley was not feeling well, and after a visit to the vet he still would not eat. It was very early on Sunday morning he had to go to the pet emergency hospital and was diagnosed with pancreatitis. He spent four night there, his parents visited with him every few hours, taking him for walks, coming by to feed him and just sitting with him. They were all happy when he was able to come home. For the next few months it was difficult to get Harley to eat. His parents tried everything; eggs, rotisserie chicken, baby food just about anything they could think of to include many different kinds of dog food. It was a difficult time for all because Harley could not get his insulin if he did not eat. This required his dad to take many blood glucose readings throughout the day. Again, Harley was just so sweet and would let you stick him as often as needed. This process was probably more painful for his parents as they hated having to do this so often. On Harley's 14th birthday his parents decided to celebrate his day with a trip back to New Holland. Every birthday from the time he turned one was celebrated in a big way. This day was no different, after a visit to the Amish farm where he was born, they went for a walk at Friendship Park his favorite dog parks, took a birthday cake to his favorite veterinarian and then came home to open his birthday presents. He unwrapped some toys, a new coat and a fancy dog bowl. He loved opening gifts and especially liked anything in gift bags. People would say Harley was spoiled, but really, he was just loved. A few weeks after his birthday on a Sunday night Harley stopped eating again. No matter what was offered to him he would not eat. It was Monday, July 17, 2017, as soon as the Veterinary office opened his dad called Mikki, she always gave Harley special treatment. She contacted Dr. Amber who was out of the office, but would see Harley as soon as she could get to work. Harley's mom knew he was very sick and worked from home that day so she could go along to his appointment. Dad and mom were very anxious and could not bear to see their boy in such pain. They decided to take Harley for a ride and went to Friendship Park. Harley knew where he was and jumped right out of his car seat, he walked around the park strutting like everything was okay. It was now time to go to the Dillsburg Veterinary Hospital to see Dr. Amber. Mikki greeted them at the door. The other ladies that work at Dillsburg Veterinary Hospital were very concerned when Harley came through the door. They could see how fragile he looked. Dad, mom and Harley were taken into a room, it was now that Harley let it be known to them that it was time. He laid quietly next to his mom and dad until Dr. Amber came to see him. Dr. Amber and Mikki made a comfortable bed on the floor for Harley. Surrounded by his mom, dad, Mikki and Dr. Amber, Harley took his last breath. Many tears were shed that day as they prepared to say goodbye to their most loyal companion. They were hoping for some sort of sign from Harley letting them know he was okay. It just so happened that same night there was a special Stations of the Cross being held at their church (St Patrick of Carlise). Tony and Beth decided to go, as they left church they looked in the sky and saw the brightest rainbow they ever saw. The rainbow remained in the sky their entire way home (about 30 minutes). At that moment they knew Harley was once again whole and on the Rainbow Bridge waiting for the day they would all be together again.
Harleyboy you are the greatest joy a parent could ever hope for. We love and miss you with all our heart. Love and kisses, Dad and Mom XOXOXO
Harleyboy as he was affectionately called left his paw prints on many hearts. So many people have said they wish they could live their life as Harley. On December 24, 2017 Tony and Beth went to Oberndorf, Austria to celebrate Christmas Eve at the Silent Night Chapel and to honor their boy.
Max Zeigler
---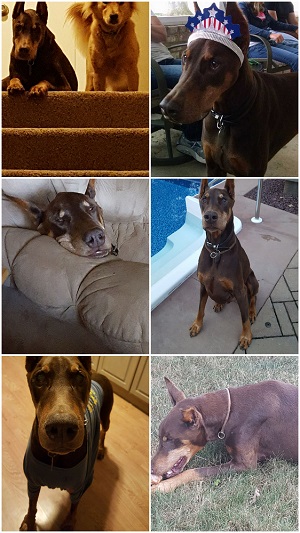 Hugs n kisses to our sweet loving Max. We miss ur crazy loving self every minute of every day.
Mom, Taz & Ona
Skooter Whittaker
---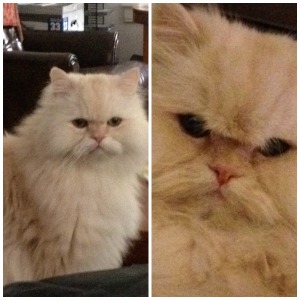 He was a sweet boy and loved getting under the covers.
Cheerio Kurtz
---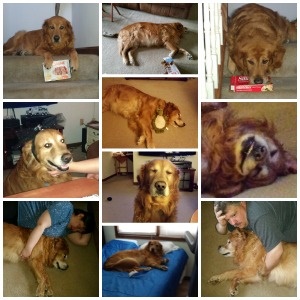 In loving memory of our friend and buddy Cheerio. 8/28/05-4/7/18

From the first day we brought him into our home, he was part of the family. A gentle giant who loved car rides, playing with his toys and cardboard, and made a positive impact on everyone he met especially Melanie and I.
We will always remember his first cup of "my" coffee, how I turned around to see him up on the washing machine drinking my coffee, looking up at me with coffee dripping from his mouth with the "who me" look on his face. From that moment on we knew we would be best of friends.
We will miss our snuggle buddy, assistant cook, and official greeter of the Kurtz family. Until we meet again you will always be in our hearts, see you on the other side buddy. PS save me a cup of coffee.
Mocha Myers
---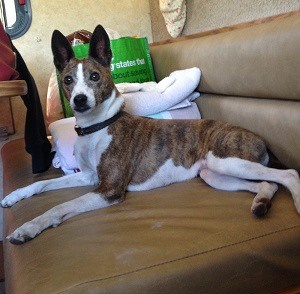 I want to share some pictures of my Basenji and Best Gal Mocha. Mocha & I found each other when she was 9wks old. She was in the final stages of her life with Kidney disease at age 14. I like to say with a heartfelt Thank you to John, Dr. Elizabeth Carney & Tom for your professionalism, kindness, and compassion that you showed Mocha and I. I know Mocha has no more pain & she is running free. I sure do miss her. I wish one more time we could share a "doggie kissy" together. I love you my Precious Mocha …… Run Free………
Duece Watson
---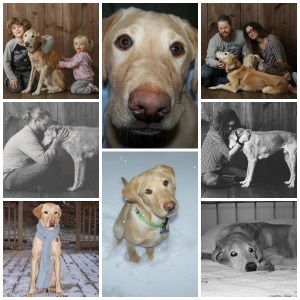 Duece 9/28/06-4/10/18 R.I.P. to our beloved Duece. From the day we brought you home you were the best friend we could have asked for. You had such a great personality and thats why all who met you fell in love❤️ You loved playing catch with your tennis balls and going for long walks. When our human kids came along you loved them and were so gentle with them, they loved you so much too. Saying goodbye to you was one of the hardest things we have to do. We miss you so much. We know you are running around chasing tennis balls. Until we meet again❤️
Toby Smee
---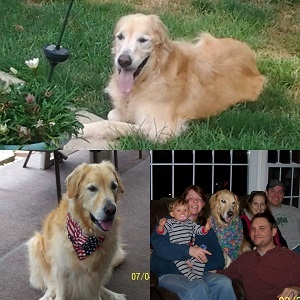 Toby was a wonderful, happy dog for his 15 years. We got him as a rescue pup at 8 weeks and from that time on, he was an integral part of our family. Our 2 children were finishing college when we got him. Since then, they have both gotten married, and both had 2 children each. Toby has helped 'Grandpa' take care of them since they were babies. Having to make that heartbreaking decision at the end is so, so difficult. Our Toby was still 'involved' in all that happened and was always wagging his tail when someone came to visit. (He even used to 'grab' a shirt or two to 'bring you in' and then 'grab your shirt when you were trying to leave.) One of his favorite games was playing ball by the pool (he didn't get in, unless he fell in). Loved his tennis balls. You would throw the ball to him standing alongside the pool, and he would 'bounce it' out if his mouth right back at you in the water. He was also the pool lifeguard-dog. Toby, you took a piece of our hearts with you. The phrase "heavy-heart" is real. But, you are now able to run and play like you used to, in doggie heaven. I know God has a place for all his creatures and some day we will be reunited. All our love to you, my sweet 'baby boy'.
Jackson Knaub
---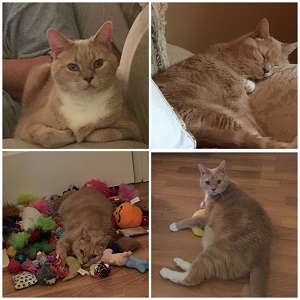 In loving memory of our baby boy, Jackson, who brightened our lives for nearly 12 years with his unique personality. He was such a happy boy. He cheerfully trotted around the house with his tail straight up and chirping his happy greeting to Mommy & Daddy. Even when he was sick and weak, he still seemed to carry a positive attitude.

He loved to play, and he loved his toys – especially his yellow catnip banana. He also loved to lay beside Daddy on the couch and watch him play guitar. He loved Daddy so much and often looked at him adoringly.

There is an empty place in our home now and a hole in our hearts that our baby boy once filled. We miss you Jackson & we always will.

Thank you Peaceful Pet Passage for making this painful time a bit more bearable. Your compassion & respect throughout this process is very much appreciated.
Orca Dupell
---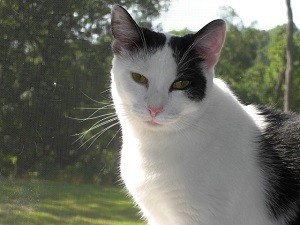 Thank you for the beautiful card regarding the passing of my precious cat Orca. The whole experience with all of you was as wonderful as it possibly could be given the circumstances. So humane. My beautiful Orca gently passed in my arms, in his favorite blanket, in the comfort of his home- pain free. It doesn't get any better. Orca was a very loving cat and he was my shadow. He was as gentle as could be and had such a loving and friendly disposition. I miss him so much!
Kelse Rose Felix
---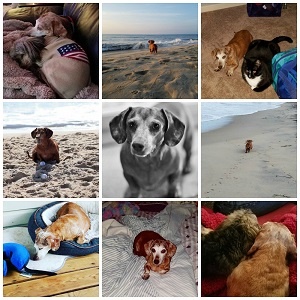 Kelse came into my life after injuring her neck playing with her new little sister. I offered to keep her after her neck surgery until she convalesced. After a few months, her owner asked if I would like to keep her as she seemed so happy being an "only" dog. Naturally, I said yes. Kelse had back surgery as well so I had ramps everywhere for her. I never had to lift her. She could follow me to the yard, sit with me on the sofa and get into bed beside me without any assistance from me. She was a very independent dog. I would go to work in the yard and before I knew it, my neighbor would text me to tell me she was visiting at their house. They kept treats there even though they had no dog! They were simply for Kelse's visits. She made friends so easily. She had the sweetest disposition. She rarely barked except to let me know she needed to go out. Or to get me to let her out where she'd promptly make a u-turn only to come in for her treat. She was quite the chowhound. I caught her once, helping herself to the cat food in a sealed bin. She learned to pop it open with her nose! When I turned it so the door faced the side of the desk, she realized if she pushed and pulled with her nose and teeth, she could turn it so, once again, she could help herself to the tasty treats. When I called Peaceful Pet Passages, I was heartbroken. I second-guessed myself. I took her to 2 vets who explained to me the same scenario. When Dr. Carney showed up, I desperately wanted her to tell me that the others were wrong; that I could and should keep her with me longer. She calmly let me know that this was the right thing to do for my beautiful girl. The cancer cells were causing her internal organs to become enlarged and giving her distress in her breathing. I used to try to match her breathing when she slept. I could almost mimic her breathing pattern and now, she was having shallow breaths. They were so unlike her "normal" breaths. Dr. Carney was patient with us both. She got to know Kelse in the short time she was here. She made her comfortable. She made ME comfortable. It was the hardest thing I've ever had to do. I miss her tremendously. The pitter patter of her chubby little paws, her nuzzling the crook of my arm, her co-pilot position in her car seat and the love that she exuded whenever she looked at me. I will always miss her. But I will be forever grateful to PPP for their selfless service to these beautiful animals God has "lent" us.
Sylvester Martin
---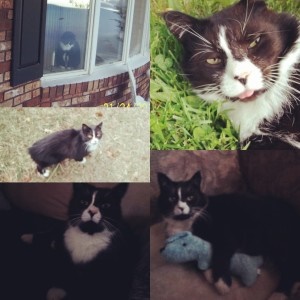 SYLVESTER….2003-2018, twelve of these years a blessing to our lives, thank you GOD for this beautiful creation!
Violet Doukas
---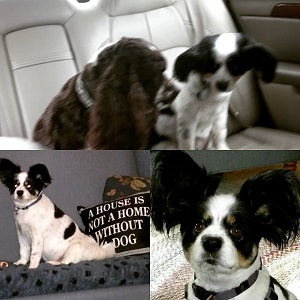 On March 31 my best buddy Violet passed away from kidney failure. For three months we tried everything to halt the progression of this disease.

I adopted her from Popcorn Park Zoo in New Jersey. She was 4 and a half years old but seemed like a puppy. She was feisty and took over my life completely.

She loved walking the neighborhood and having the neighbors make a fuss over her. And, believe it or not, she loved Nick the mailman.

Her best friend was a rescued cocker spaniel, Milo. She was the boss. Milo and Violet traveled to Hilton Head Island many times together. They loved the ocean.

During Violet's last week, all her neighbors came to visit. She was truly loved by all and she blessed my life.
Frankie Gergle
---
My best friend for 16 years has passed – I am devastated, but know that she is in a better place and I will see her again one day.

Frankie was the most amazing dog I have ever met. She was my friend and loyal companion for so long that we could look at each other and know what was needed and wanted.

I miss her with all my heart and the house is not the same with out her.

I'd like to thank Dr. Carney for your compassion and gentle calmness, you made the the last hours of her life, tolerable for her and me – THANK YOU SO MUCH!

I also need to thank Tom – you showed great compassion and love for dogs, I now consider you a friend and I am a better person for meeting you.

Rest in Peace Frankie – I will see you on the other side!
Granite Snyder
---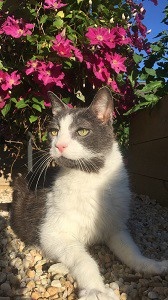 In loving memory of Granite
July 2000 – March 2018

Granite was an amazing cat and a much-loved member of our family for almost 18 years. He loved his furry brother and his humans unconditionally and wanted nothing more than to cuddle on your lap at the end of a long day. A feisty old boy, Granite wasn't afraid to let you know if his dinner was taking too long to prepare but also had a sweet and gentle soul that he expressed so openly. Despite his size, he was, without a doubt, the leader of our family pack that includes two 100-lb golden retrievers. A heartfelt thank you to Dr. Carney and her team for the compassionate care and peaceful passage given to our beloved Granite.
Kaine Paugh
---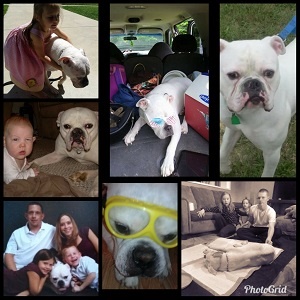 At 11 months old, our beloved American bulldog Kaine was abandoned at his vets office. We were so lucky to know one of the staff members at that office and we were blessed with becoming his furever family. From day one in our home, he was gentle, loving and protective. He was well mannered and never demanded dominance with other animals. He was welcomed home to two children, 4 and 5 years old at the time. Over the years, he gained two more sisters. When they were babies he would always lay at their feet or on the floor next to them, even letting them pull on his ears and face at times when they started crawling, and he didn't care the least little bit. Over the years, he continued with his well mannered and gentle behaviors and loved the attention he received, especially from the kids. Sadly, he grew old and his time recently came to an end. We would have never been able to get through such an emotional time in our lives as we said our final goodbyes to him without the caring team at Peaceful Pet Passage.
Marty Shadder
---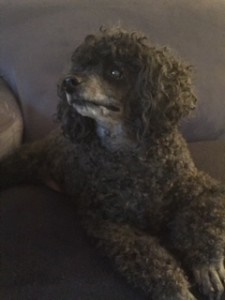 Thank you, Dr. Carney and the staff at Peaceful Pet Passage for guiding our family through a difficult period. The loss of Marty on March 8, 2018, was a very emotional experience. The fifteen years of unconditional love that our little poodle gave us is irreplaceable. As Marty crosses the Rainbow Bridge, the memories of our special bond remain with our family.
Stephen, Anita, Aimee & Vinci Shadder
Potter Bortner
---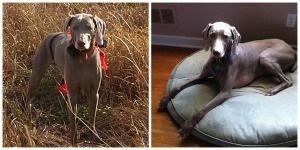 In loving memory of Potter! We are very grateful to have had 13 years with this guy! Potter enjoyed many years of bird hunting with his dad and daily walks at the local park with his mom! Thank you to everyone at Peaceful Pet Passage and a special thank you to Elizabeth Carney for coming to our home. We love you "Potter Man"! Crosby and Od miss you too!
Cheyenne Peiffer
---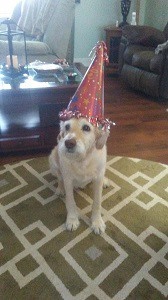 She was our best friend and baby. Words cannot describe how much we loved her. She brought so much love to our family. She was so smart. She will be terribly missed. She went peacefully into God's arms on Saturday March 10, 2018. Forever in our hearts!
Mr. Burns Katherman
---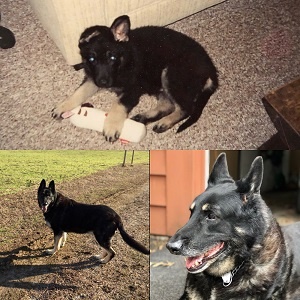 Attached are pictures of our gone but never forgotten dog, Mr. Burns (named after a character from the Simpsons). Mr. Burns had the temperament of a grumpy old man, and yet, never outgrew his puppy behavior. Mr. Burns liked to get himself in trouble by eating out of trash cans, stealing scraps from the table, and sneaking sips from open toilet bowls. He was with us through some of life's biggest adventures and struggles these past 12 years. He will be most missed by my father who considered him to be his #1 best friend. We love you, Mr. B!
Copper Kennell
---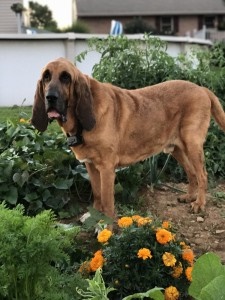 Copper you gave us so many memories and so many stories to tell over the years. You always knew how to make us laugh. You comforted us when we were sick or sad. You were one in a million. You were my best friend and I will always love you. We wish we could have had you longer but it still wouldn't have been long enough. 9-28-2008 til 2-12-18
Leezle Flynn
---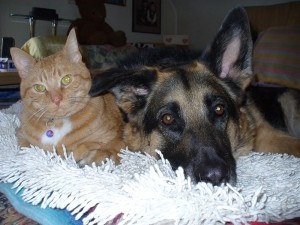 Much gratitude to you and Dr. Elizabeth Carney for your kind service to our family on March 1, 2018. We had to make a difficult decision to end our beloved Leezle's suffering. We knew the day was likely coming with her increasing inability to walk or bear weight on her hind legs and that day did come. Leezle was 7 months old when she was adopted at Molly's Pets as a rescue. The name they had given her was Star but I had just watched the Sound of Music the day before and Leisle came to mind. She was the biggest but yet the most timid dog there. She cowered in the corner trying to play with a Kong toy but the other dogs kept taking it from her. The first thing I got her when she came home was Kong but she never showed interest in it. Leezle brought with her some fear issues that never completely went away such as anxiety of going through doorways or getting into a vehicle. Leezle is pictured here in 2011 with Nero who was euthanized at age 13 for kidney failure. Nero's littermate, Zoe is still with us at age 15. Leezle was always the kind and gentle mothering type with all of her "charge" here. Our pack of 4 dogs thrived for many years together until sadly we lost our littlest and youngest Maddie, a cairn terrier, in December to illness. The two remaining dogs, miniature schnauzers, have seemed to be a bit lost after losing 2 companions in a short amount of time. They have been exhibiting more "neediness" lately. Leezle enjoyed and in fact seemed to live for our daily play until which time that she could no longer run, jump and play. Leezle made our home feel especially safe from intruders but to any brave strangers coming through the door she would never jump and was always welcoming and friendly. Leezle was a gentle soul and a wonderful companion to us all. We miss her terribly but know she was ready and know we did the right thing. Much gratitude to Peaceful Pet Passage and Dr. Carney for your professionalism and sincere and caring support. Rest in Peace Leezle or better yet hope you are running, jumping and playing with all your furry friends on the Rainbow Bridge.
Beezer Craley
---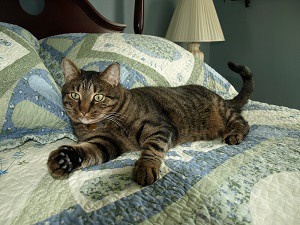 Beezer will always have a special place in my heart…he was my buddy for 13 1/2 years. I got him as a kitten from a farm. He had huge paws and loved to play. I miss seeing him laying in the window watching the birds, squirrels and bunnies. I miss hearing and feeling him purr…. I know he is at peace and I will see him again someday. It was very comforting to have the personal experience with Peaceful Pet Passage. Thank you so much.
Simba Robinson
---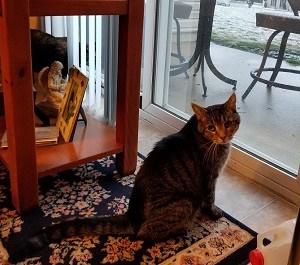 We've been Simba's mom and dad for 14 years since he was 6 weeks old. He was a sweet boy. His sister Iris is grieving for him and we're giving her a lot of attention. They played together quite a bit and I'm sure she misses him as much as we do. We'll miss his head bonks. Until we meet again know that we loved you very much.
Sam Scudder
---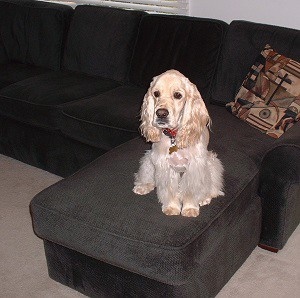 SAM SCUDDER
10/30/04-02/23/2018
We recently lost our beloved Sam. We had our beautiful boy for all of his 13 years and he gave us love and joy every one of those days. His tail was always wagging,especially when he heard the words car ride and he would run to the door waiting. His favorite place to be was on the sofa with Mommy and Daddy. Words cannot express how much we miss our Sammy. You will forever be in our hearts,buddy. We know that someday we will see you again.
Bernie Bowser
---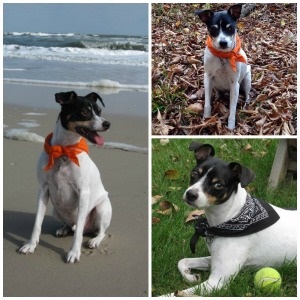 Bernie loved the beach, hiking and best of all chasing his tennis ball!!!
Hunter Fritz-Glusco
---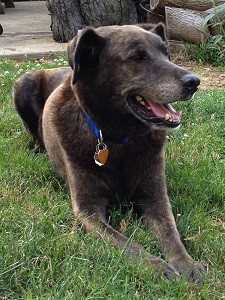 We said a peaceful but tearful goodbye to our lovable and sweet Hunter. We adopted Hunter in 2014 at the gentle, mature age of 12. Hunter was smiling all the time and was always ready for a walk. He was a stray, and other than a brief two years in a home, he spent more than a decade of his life at Animal Rescue Inc. (www.animalrescueinc.org). They loved and cared for him there, but they knew he had a family waiting for him again. The HOPE program (www.hopedogs.org) helped Hunter learn basic obedience skills and gave him a second chance. Hunter trusted and loved us from day one. He looked for us to come home when we were at work or running errands. He made sure he was always in the room we were in so that he could spend as much time as possible with us. And he loved car rides, hanging his head out the window enjoying the smells and sights along the route. He never questioned his place in our home, with his canine brothers and friends, or our hearts. He loved us and showed us every day that he knew we loved him. He knew he was home the first moment he walked through the door. We adopt adult and senior dogs, and we know that because of that, our time is short with them and we might have to make difficult decisions about saying goodbye more often than a family who adopts younger dogs. Making the decision to say goodbye is never easy, no matter how long our dogs are part of our family. Knowing we have Peaceful Pet Passage to turn to makes that decision just a tiny bit easier because we know that our pets, most of whom have been through a lot of uncertainty and transition, will not have to face another unfamiliar situation or environment. They join our family later in their lives, but they treat us as if there was never anyone before they came to live with us. Allowing them the opportunity to say goodbye from a place they finally found love, stability, and peace is our final gift to them after all they have given us.
Murphy Fogdall
---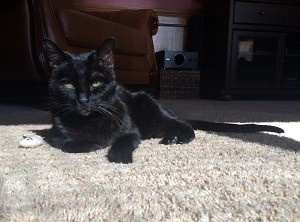 Dear Murphy, I met you in 1997 at a no kill shelter in Minnesota. You were a young, scrappy thing – quick to introduce yourself and follow me around as I attempted to meet other, more mature cats. I was young myself, just a year out of college, still living with roommates, and trying to make all the ends meet. Adopting a young cat, especially a needy and persistent one like you, was not something I'd considered. That day I met a lovely, big and fluffy, independent cat and decided she was the one. The cat had lived at the shelter for a while and was not real keen to get in the carrier when the time came. Meanwhile, you saw your chance and took it. You snuck in the carrier and would not get out. For the first time that day, you had my full attention. The volunteer helping suggested since you were already in the carrier and since I wanted a cat, perhaps I'd like to take you home instead? She then said something that would become a running joke for our family, "If it doesn't work out, you can always bring him back." Little did I know, I would still be making that joke more than twenty years later.
You were a needy and persistent and sometimes aggressive young cat, Murphy. The first few months I had you were rough. There were times I wondered if I should take you back. At the suggestion of our vet, I wound up adopting another cat to keep you occupied. By the time we met your dad, he knew we were a package deal. And you knew he was the one before I did. Over the years, our family grew – first came the house, then the dog, then the kids, later the lizard. During the two decades you were our cat, you lived in four states and you saw all of the other pets come and go. At the time of your last move – 1,000 miles from Iowa to Pennsylvania – you were already 18 years old. A year ago, you had your last well cat visit. When the vet called to discuss your blood work, he told me it looked pretty good for a cat your age. When I suggested we would see him in a year then, he replied, "well, that might be optimistic." He did not say this to be unkind, but as more of a reality check. Still, it became another joke for our family. We kept saying you were going for 21, like in Blackjack. And you came just as close as you could without going over.
Saying goodbye to you was not easy. After all, I had lived with you longer than I lived with any human. You made your dad a cat person and your human brother and sister had never known a world without you in it. You loved them unconditionally, even after they stopped letting you come in their rooms. Your neediness and persistence never left you but it did change. You were such a softy in the end. You loved your "couch time" and would ask us to pick you up for snuggles and rides around the house. We are so, so thankful that, in the end, we could say goodbye to you at home during your snuggle time on the couch. We are grateful Peaceful Pet Passage provides such valuable end of life services for families and their pets. You were, and will always be, so much more than a pet to us, Murphy. You are family. Thank you for choosing us to be yours.
Brewtus Orsinger
---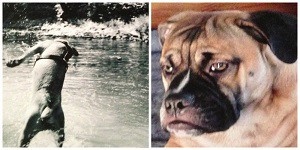 Brewtus was a beautiful dog. He was six months old when we got him. Although Brewtus had some problems being afraid to go outside, he really did "come alive" when he was in the creek. He loved to jump for rocks. He was a very different dog. He had a great life and was loved very much. Miss you Buddy!
Lobo Frey
---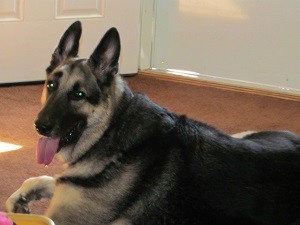 Lobo looked very intimidating, but he was like a teddy bear with his grandkids and family. And all the kids on the block! Everyone knew Lobo and he will really be missed. He was our good guard dog.
Shadow Wallick
---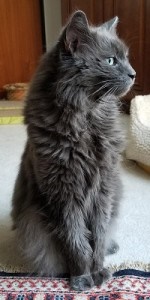 In memory of our beloved Shadow, December 1, 1999 to February 8, 2018. We were able to give you a second chance when we found you at the Howard County, Md shelter in May 2001 and you brought cheer and dignity to our house. We miss you.
Boomer Thoman
---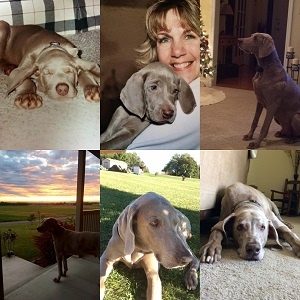 Boomer was my special gift in life! 14 years he was by my side through all life's joys and sadness!! He was my walking partner and my best buddy!! Life is quiet without you and my thoughts are always with you!!! Thank you for filling my life with joy and constant love!!!! I pray you are running thru beautiful fields and enjoying life until we meet again!!!! Boomer love!!❤️
Sylvester Christian
---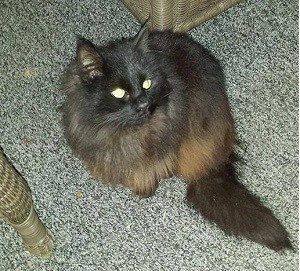 In loving memory of our baby Sylvester who went to be with the Lord suddenly on Sunday February 4th 2018. Sylvester was very special to us and a part of our lives for seven years and he will be missed very much by his family. We are so thankful for the seven years of joy and love he brought into our lives. Rest in peace sweet baby.
The Christian family
Mia Bella Castillo
---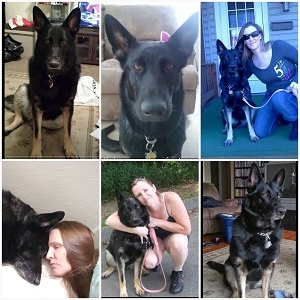 Mia Bella the day I adopted you I told you that we would be best friends forever. We definitely were just that! For the past 9 years you were a huge part of our family. You protected us everyday even up to the day you crossed the rainbow bridge. You made us laugh when you played with us. Shaking your head no every time we tried to take your toy from you. You made us laugh when you talked to us reminding us every night at the same time that it was "snackie time". You were a great companion and I will miss all the fun we had. The walks at the reservoir, trips to Starbucks every Saturday for your pupacinno, going on car rides and just plain cuddling before bed. My sweet baby girl and best friend in the whole wide world, I love and miss you so much everyday. Know that you are always on my mind and will always remain in my heart.
Mia Bella
02/01/07
02/07/18
Love,
Mommy
Max Whymark
---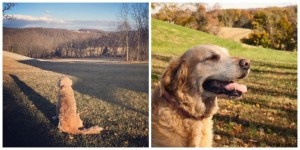 Our good boy. September 2005-January 2018 Max, you will never know just how much you were loved. You filled a void so deep, that now feels so cold and empty. You were the most lovable, happy, gentle, huggable, smelliest, dog we could have ever hoped for. You were a stealer of snacks and could swim like the Michael Phelps of the dog world in your hay day, guardian and playmate to your human kids, and best pal to everyone you encountered. Max, you are what loyalty looks like. You will always be mom and dad's first boy. We all love you more than words can say. Chase those birdies in heaven big buddy.
Until we hear your 'boof' again… ❤️❤️❤️❤️
Maggie Wilson
---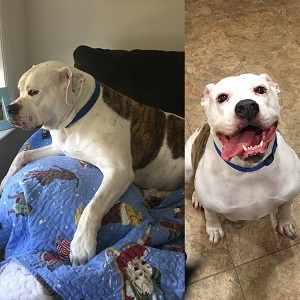 Maggie was the most loving, energetic, over-eating dog ever! She brought so much joy to our household and we were so blessed to have her for almost 10 years. Our memories of her and all of the things she consumed from an entire couch to a 2-foot chocolate bunny, will never be forgotten. We will miss her playful barking, tug-of-war sessions, and running and leaping over cars! She was our girl, and there will never be another like her.
Laddie Boy Floyd
---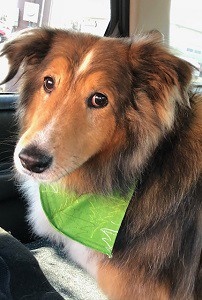 My Precious LaddieBoy I rescued LaddieBoy in 2010. It was the best decision I ever made. He has given me So much happiness and companionship over the past years. We were inseparable. I Love ❤️ him so much. I miss my Precious LaddieBoy. RIP my Baby Boy
Jericho Stambaugh
---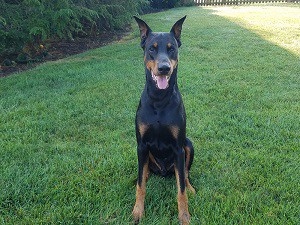 Jericho was definitely mommy's boy. He loved to be near by when I came home from work. His personality was the best. He always had a smile on his face and loved all animals and people. We enrolled him in the Pet therapy program at York Hospital. And of course he was a hit with all patients and staff.
Catalina Smith
---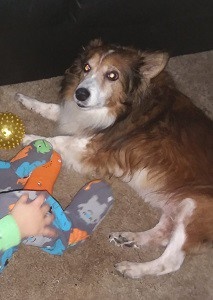 In loving memory of Catalina
Buddy Bradford
---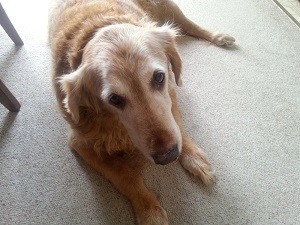 Our beloved, loyal, loving Buddy, that is greatly missed.
Thor Lytle
---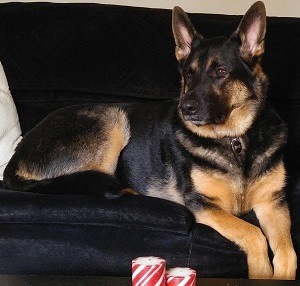 You protected us, loved us, and were our greatest friend.
And a piece of us went with you.
We love you, puppy.
Thor
May 2013 – January 2018
Libby Myers
---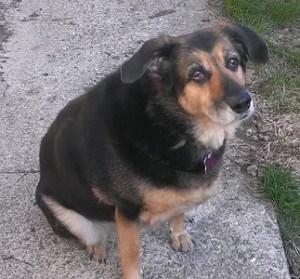 Our 15 year old Shepherd mix dog Libby, who started her life as an abandoned pup. She was found in a condemned building, rescued and got placed @ East shore humane society. Where she became part of our family. She was loved by one and all, especially the neighborhood kids who stopped by during trick or treat night to collect candy & kisses from Libby. She was a gentle soul, despite her rough start in life she never had a mean disposition to anyone. She will always be greatly missed and never forgotten.
Sadie Baughman
---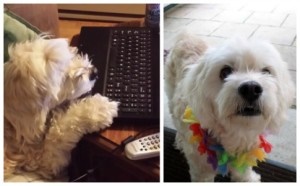 Sadie loved to play candy crush. Sadie loved it when we had cookouts, she loved to share in the food.
Teeko Magaro
---
Teeko was our 6 year old Alaskan Malamute. She had two older siblings (Turtle and Pickle, our 8 year old Shih Tzu's) and a baby sister, Eva, that made her arrival right before Teeko's sixth birthday in 2017. Teeko loved the cold weather and the snow. In the summertime, she made herself a home laying on any cold air conditioning vent in the house! She loved to spill her water and food bowls over and lay down to eat. The last few months of her life, she had undergone 3 oral surgeries to remove dead teeth and bone, but when the final results came in from a biopsy performed on the last surgery, she was diagnosed with osteosarcoma (bone cancer) and was only given a week or two. Though she was only here on earth a short time, she left a lifetime of memories behind to everyone that knew her. We will love and miss her deeply…
Jake Barley
---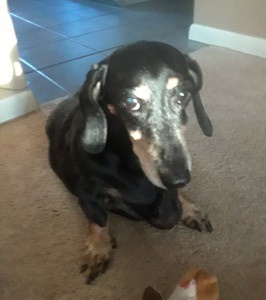 My loving Jake, born May 17, 2005 to December 29, 2017. He was my boy, I loved him so deeply so much words can't describe. My heart is aching with sadness, it's going to take me a long time to not forget him but to let him go. He was a wonderful dog I got him when he was 18 months old, a woman was getting a divorce and had two, lucky for me I got Jake. At the time I had two other doxies, the one was truly a mommas boy well in time I lost him at 14, then we had to get more so we had a total of 4 doxies and one rescued lab. My lab we had for two years then his back was going out so last year I had to put him down at 14. I loved him too even though I didn't have him for long, but he was happy with us. My Jake has been a mommas boy from day one he followed me everywhere in the house if I would go outside he'd go. Every summer he looked forward to going out to the pool, he'd get on the first step and I would wet him down and he would get out then he would watch me in the pool. He would let me know when he had enough outside. At night time he would tell me when it was time to go to bed, then all 4 dogs would go to bed. He had to sleep in the middle on his pillow and as close as he could get to me. Like I said before this is very very hard for me thank God I have these 3 but it's just not the same they don't cling to me cause they are used to not getting the full attention of me my life revolved around my Jakey! He was on heart medicine for almost years he had enlarged heart, the vet said he wouldn't make it year but he did, I know he was trying to live for me, he started showing signs around the 23rd of Dec. He collapsed several different times and screamed a couple times he was coughing up foam and didn't want him to suffer anymore he was probably filling up with fluids,so I had to make that awful decision. So I left him go on the 29 of Dec. And I cry each and every day sometimes I can't sleep, it's so hard to be without my Jake. But totally believe in reincarnation and my Jake will come back to me somehow someday. People might laugh but it's totally true my first doxie did that's why I don't miss him as much. Acts the same way and does things that only the other one did. So the only way I'm going to get through this is when I get my Jake back. i love you so much baby!
Winter Lukunich-Radle
---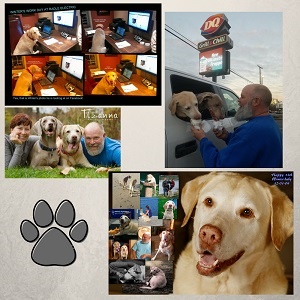 Sharing a few photos (so hard not to send one hundred photos).
1. The first is one of our favorites…is Winter incredible, or what?! (He is our mascot and precisely the reason we came up with our logo / tag line for the business)
2. The second is Winter and his family.
3. The third photo was taken during Winter's last week when we enjoyed "Celebration of Life" events (truck bed rides along the creek, visits to neighbors to say good-bye, Dairy Queen, and topped off with dozens of people joining us at Winter's Fire Pit (he LOVED fire pits) the night before he left us.
4. The last is a collage I created when celebrating Winter's 13th birthday
Diesel Sulzer
---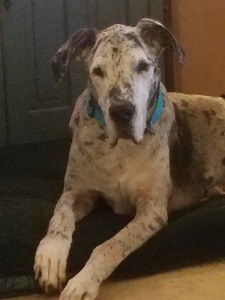 Diesel Sulzer 8/12/05 – 11/14/2017
In loving memory of Diesel
When I first brought home my little speckled pup, I had no idea how deeply he would embed himself in my heart.
Diesel was sweet and silly and the light of my life. He grew big and beautiful but remained my baby. He loved chasing squirrels and eating pizza but most of all he loved his family. As the years took away his strength I picked up the slack helping with everything towards the end. Letting go of my big boy was devastating and my heart will forever ache for him.
Catch those squirrels my angel, we will be together again one day. Your Family loves you D!
Molly Collins
---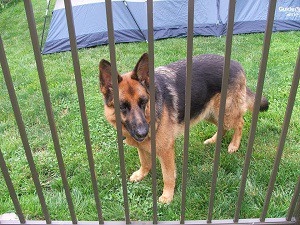 Our beautiful Molly – 2/7/2007 – 12/28/2017 While we technically rescued you, you rescued us and adopted us as your family. You were our loyal protector, our fuzzy buddy and our silly girl who loved playing in the snow and digging in her baby pool. We miss you. Say hi to LouLou, Storm and Major.
Alejandra Arrebato
---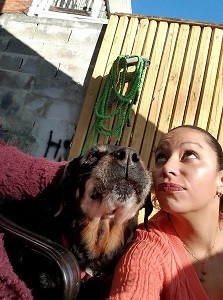 Our companion of 12 years has been called home. Alejandra you will be truly missed and always will be in our hearts and thoughts. we love you
Tracer LeBlanc
---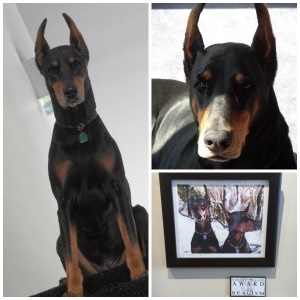 Tracer was the best of dogs – a great friend who loved everyone. He is sorely missed.
Diesel Ruth
---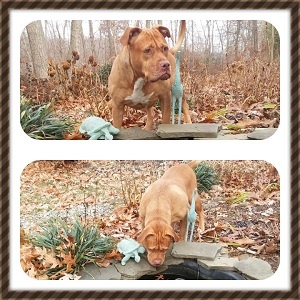 Forever Free
There's an empty space
where you used to lay,
and an ache in my heart
that won't go away.
I couldn't have asked for a better friend.
You were my faithful companion
until the end.
Now, you're roaming endless fields,
forever free to run.
Listening to the song of the wind beneath the golden sun.
Meet me at the rainbow
when the time is right.
Run into my arms again,
walk with me into the light.
Marshall Ramper
---
In loving memory of my best friend, Marshall
January 17, 2011 – December 26, 2017
Lila Bissey
---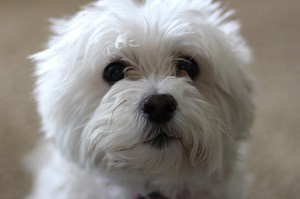 In loving memory of Lila – February 15, 2009 – December 8, 2017
Bruce Barton
---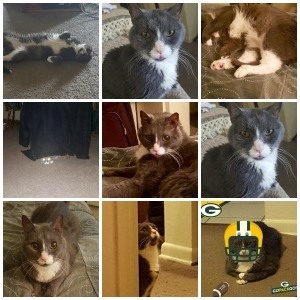 We were blessed to have Bruce in our lives for a very long time and will cherish the memories of the joy and fun (and mischief) he brought to us always! Rest in peace to our little buddy, Bruce :)
Jake Neff
---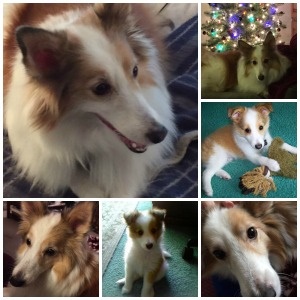 4/21/2008-12/14/2017
We will forever love and miss our sweet, happy boy, Jake, who was taken too soon.
You will always be in our hearts.
Shnowball Coeyman
---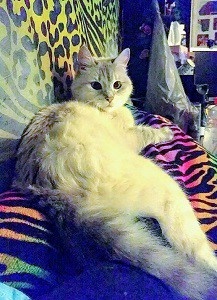 Shnowball,
You were the BEST. I sincerely feel so much pity and sadness for the people that never got to meet you. You were a life changing kind of cat, even people that hated cats, couldn't help but love you. You were the first to greet everybody and I could literally do anything to you and you just didn't care. You did tricks, played fetch and were pretty much a dog, but even better because you were a cat…and you were mine. You and Maromi are the only reason I'm still on this earth today. When I had no one, you were there. When I felt so unloved by everyone around me, you were the only one I knew loved me and always would. I never second guessed that. When I cried, no matter where you were, you somehow knew and would meow and climb all over me until I stopped. When I wanted to end it all and was so close to doing so, you were the only reason I didn't. Because you were so attached to me and I just knew it would break your heart and spirit. I knew you couldn't live without me…but I never really thought about how one day I'd have to live without you. I took for granted how every morning as soon as you knew I was awake you'd come lay on me and make me not want to get up for work. I wished I could stay there with you forever…but I never really thought about how you were the one who couldn't stay forever. I'm going to miss so much…seeing your happy cross-eyed face every morning, you greeting me at the door every time I come home, waiting for me in the window religiously and meowing for me whenever I wasn't with you. I could go on and on, but mostly, I'll just miss you and your presence. I will love you forever and always and I will never forget you. You saved my life and my biggest regret is that I couldn't save yours…please forgive me.
"Like a shooting star flying across the room, so fast, so far, but you were gone too soon. Your'e a part of me and I'll never be that same, here without you. You were gone too soon." <3
Chico Sampedro
---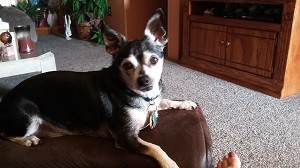 In loving memory of Chico…

Chico was a wonderful little companion who followed me everywhere. He loved to snuggle with me on the recliner, which we did every afternoon. He also enjoyed lying out on the front porch on his blanket so he could watch (and bark at) anyone who went past. He slept with me every night and was quite a bed hog for such a little boy.

My heart broke in a million pieces when he crossed the rainbow bridge. But I know he is happy and healthy there and that I will see him again someday. Love never dies.
Ben Carroll
---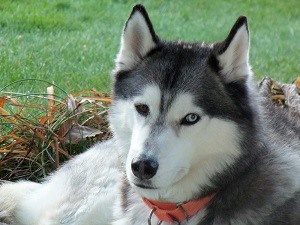 In loving memory of Ben…

Thank you Dr. Carney for helping Ben last week in his hour of need. His size and lack of mobility would have made it impossible to get him to his vet's office. I don't know what we would have done without your help.
Tetley Tea Thyme Pepper-Holzer
---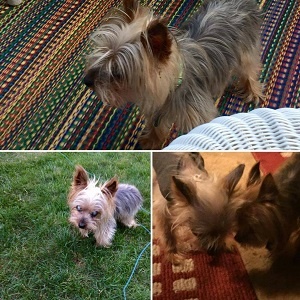 Thank you for the kindness helping me say goodbye to Tetley Tea Thyme yesterday in York❤️ My other Yorkie, Chamomile Tea Thyme, got in 1 last nose nuzzle to say goodbye at home
Romeo Johnson
---
Romeo was a daddy's boy and a fighter till the end. He enjoyed walks everyday, baby carrots, and life. He ruled the roost and had a funny personality. He would tell you if you didn't feed him fast enough and when it was snack time. Most of all he loved his family and cuddling with whoever wanted to cuddle everyday. Romeo will be missed. He was a big personality in a small dog.
We love and miss you little buddy 💖
Hines Evans
---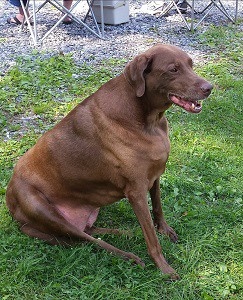 In loving memory of Hines
11/10/2005 – 11/18/2017

When we got you on Christmas Eve of 2005 we just fell in love with you. When I carried you in the house in the front pocket of my sweatshirt nobody knew I had you especially your brothers. I pulled you out of my pocket at nanny and pappy's house and everyone just wanted to take you home but you were going home with us. Your brothers were so happy that they finally had their own puppy. You were always happy, loved to watch the kids all the time especially when they were swimming in the pool. You laid on your chair on the deck so you could see everything going on or you were sun bathing. You always had a blanket that you carried around all the time and gnawed on, never tore it. Hines you will be greatly missed by so many…Love you always <3
Riggs Goliath Kritzer
---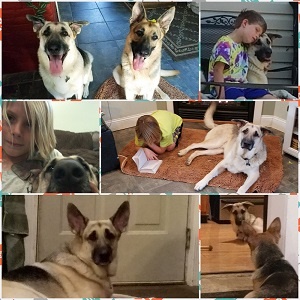 Today marks Riggs's 3rd birthday (11/26). It's been less than 2 months since we very unexpectedly lost our beloved Riggs to what we can only imagine was heart failure. We knew Riggs had a possible heart condition from the beginning and we chose to love him anyway. We just thank God for the 3 years he was given to us. That time was filled with love, laughter and fun. We miss his floppy ears, his bell ringing at the door, his droopy eyes when falling asleep, his "happy tail", and his smelly stinkers. We even miss his getting into the trash and sneaking onto the sofa. Redd has been missing wrestling with his brother, but we've been giving him lots of extra love and extra treats! Life has not been the same and Riggs will forever be in our hearts!
Megan Renee Nance
---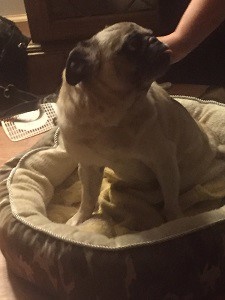 It all started back in October 2003. Your dad and I with the boys Dominick and Dalton walked into a little pet store. There you were all excited in that cage. We asked to get you out and look at you. You had won everyones hearts. We didn't bring you home that night. That night and next day I couldn't stop thinking about you. So I told your dad I was going out for awhile shopping. I had come back to the pet store to see if you were still there. You were. So i called your dad and asked how he would like to have you and he said not right now, but after I hung up the phone I did it anyways and bought you. I bought all the stuff you would need and took you home. I drove with you in my arms all the way home. When I walked in the door with you they all had smiles on their faces. That is how you became our little meggy-moo. You were so small and tiny. I think back to that day and I'm glad I rescued you from that pet store. I would do it all over again. You were the best friend, companion any one could ask for. You will always be in our hearts and souls.
Love from mom dad dom and dalton.
RIP Never Forgotten
Lacey Bergman
---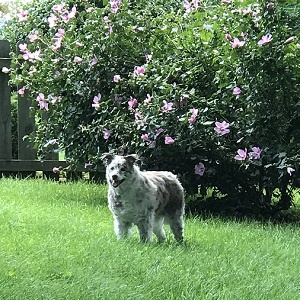 In Loving Memory of our dear Lacey 14 years and two months ago, when your little eyes weren't even open, I loved you dearly and that love grew with each and every day. You were the best, most loving, loyal dog ever. It's been less than a week but oh so hard my dear girl!! Ma and Dad miss you like there's no tomorrow. Til we meet again……RIP Lacey
Rocky Eckert
---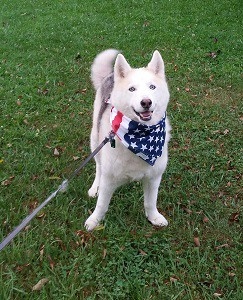 In loving memory of Rocky 1/1/2005 – 11/2/2017. Rocky came to us just 3 short years ago when his military Daddy passed away and was in need of a new family to take care of him. He has been an absolute blessing to our family and we miss him terribly but are blessed with memories that we will have forever. Here is a picture of our patriotic Rocky. We miss you terribly buddy but we know you are now reunited with Steve.
Henry Heffner
---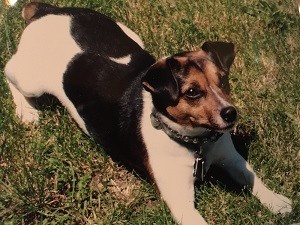 Little Henry was a vibrant, happy, joyful little soul. He was always glad to greet you. He loved chasing feet. He knew if his Mommy was wearing a new pair of shoes, he had to inspect them throughly. Henry had a collection of stuffed toys which he prized. He loved his "men" as we called them. He had over thirty men in his little army. They had to be a certain size. If they were too big or too small he would kick them out! Henry had a wonderful voice. He would talk his talk to you without hesitation. He would sing to his Mommy in the morning! His voice would carry through the house and you could not help but to smile. He would patrol our backyard every evening. On the lookout for anything out of the ordinary and if he found something you would know about it. Henry was a sweet little boy. He loved his brother Jake and his sisters Sadie and Lucy. He loved his Mommy and Daddy too. I would tuck him in every night and he so looked forward to it. I would tell him "goodnight sweet boy" or "I love you little Re-Re" and I know he was grateful to hear those words. We miss him profoundly. Henry was not a pet. He was a family member. Henry came to us needing some help and we were so glad to give it to him. He returned our love for him one hundred and ten percent. Henry was always a healthy, strong little boy. When he had renal failure it was quite a shock. Our vet tried his best to save him. But the renal failure was so severe Henry just could not fight his way back to us. We had just lost his sister Sadie a month earlier. We think he may have been heartbroken that she was gone and it weakened his ability to fight the renal failure. The kind folks at Peaceful Pet Passage helped once again and now Sadie and Henry's names are on the Memorial Wall together. Thank you Rob and John and all of the kind people that are part of Peaceful Pet Passage. Henry, You are a good son. You will always be in your Mommy and Daddy's hearts. We love you. Rest in the embrace of our loving God.
Priti Banerjee
---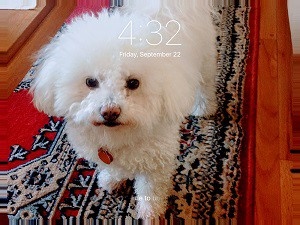 Our beloved Priti passed away peacefully after a brief illness on April 12,2017. She arrived on a snowy wintry night on Christmas Day 2004. So small, we wrapped her in a colored blanket and held her close to us and from that moment she was the special love for the family. As she grew She kept us thrilled and comforted us for over twelve years. Her love for each family member was unique. For Anuradha she was 'Mum', Nivedita she loved her for her calm love, Lopa was the mother, and Dada was who she had to care for. She delighted in taking car rides and running around at speeds we have never seen. It was always a game trying to catch her as she knew exactly where to hide knowing we could not reach her. Too many sweet memories that touched people around the world that only knew her through Skype and pictures. Her departure has saddened all of us. Her memory will always endure. Our prayers, may her soul forever be at peace and happiness. The Banerjee family( Lopa, Anuradha, Nivedita, Dada)
Bowie Lewis
---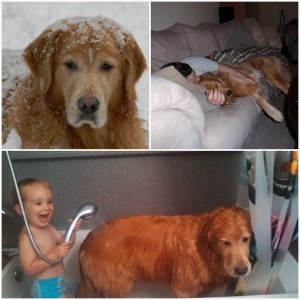 My stepdad wrote a song as a tribute to Bowie. We miss Bowie every single day. The bond that Bowie and our now 6 year old had was priceless. Bowie was my first baby; my Pooh Bear. I wish I could hold Bowie one more time. I wish the bond never had to be broken. He was 8 years and 3 days old when we had to say good-bye to him. Bowie, you are our Light. Love, Dadda, Mommy, Declan and Delaney.
Caelee Warehime
---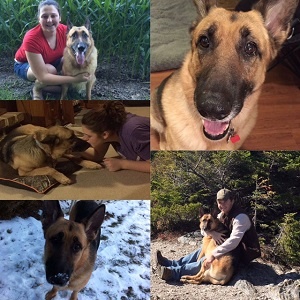 In loving memory of Caelee

When we got you at the age of 5, we had no idea how little time we would have with you. 3 and a half years was just not long enough. You were the sweetest, most loyal guard dog of a GSD. You were my little shadow. No matter where I went or what I did, you were by my side. You kept me safe when your dad started working night shift and were my peace of mind to know that I was protected and not alone during those long nights. We miss your sweet puppy smile every day. Love you always. ~Mom and Dad
Hamlet Clark
---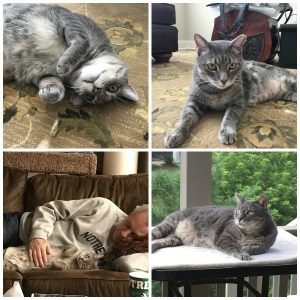 Hamlet was the happiest little guy. He loved everyone, loved belly rubs and just loved life. He was a bright spot in our lives. He took a piece of our hearts with him. But he will always be with us.
Coty Keener
---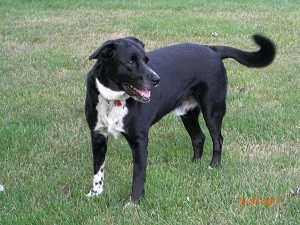 Coty had many friends and many nicknames within our town. Buddy Boy, Code Dog, Coatsters, etc. It seemed as everyone knew him and had their own special name for him. Probably because he liked people better than other dogs. He led a very social life and loved getting belly rubs from those passing by. He was the gentlest of dogs and could never hurt a living thing. Once he even licked the head of a baby bird. He loved to chase his rabbit and squirrel friends, play ball and especially liked car and golf cart rides. Some special memories are his pulling slippers off our feet as we laid on the couch, his crawling on our laps in the front seat of a car at the end of a drive, and his special way of showing affection which involved nipping our nose. There will never be another one like him!!! Gentle and loving.
Nugget Blanteno
---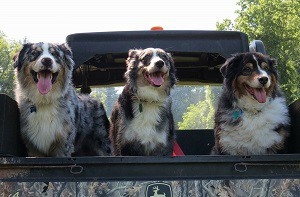 Nugget is on the far right with his two younger brothers.

My husband is a truck driver that found Nugget in a free ad in a farm shopper. We went to Newville PA and collected him. We all know that there's no such thing as a free dog, but he blended in well with several Aussie brothers and sisters over the course of the 14 years of his life. Aussies are crazy…Nugget was calm and dignified. He commanded a quiet respect from his young siblings. We all will miss him.
Peppe Detwiler
---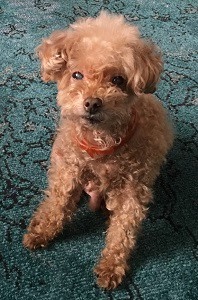 In loving memory of Peppe
Max Cooper
---
We rescued Max in Feb of 2007. It was love at first sight. He came running over to me with the happiest look on his face, smiling! From that day forward he was my boy. He enjoyed tearing all the squeakers out of his toys, peanut butter bones,and pizza crust. He loved the snow and hated baths. His ears were like velvet and we rubbed them daily. When our daughter was born in 2010 he would lay wherever she was protecting her and letting us know if she made a peep. He was a smart and loving dog that tossed goldfish crackers from his nose into his mouth. He gave high fives upon request. He followed me around until his final days even though he wasn't getting around easily. Max was the best dog we ever had. He is greatly missed. Rest easy big guy.
Levi King
---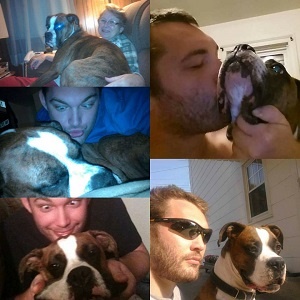 Levi King crossed over Rainbow Bridge on April 28, 2017. He was surrounded by his owner Kyle, Kyle's girlfriend Sydney, his mommy Kelly, and his Pap Dave. We fought long and hard against Levi's spinal cancer but in the end it prevailed. Some of Levi's favorite activities were walking the Hershey bike path, going for car rides, and protecting the property. Please say prayers for the King family during these tough times. Levi you will never be forgotten and I thank you once again for snapping out on that state trooper in my car. If it wasn't for your protective instincts my car would have been towed that night. One Love and we are always thinking of you.
Sammy VanWyk
---
Here is my sweet Sammy. You folks helped him cross over in such a lovely way. I will always miss him, my most favorite boy. Dr Carney helped us to get through a tough time.
Harry Wertz
---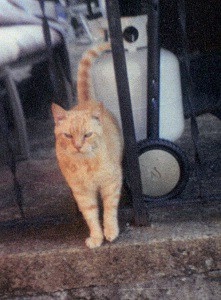 The story of Harry…a stray cat I found half starved. He is a male orange tiger. I named him Harry. I found him on August 21, 2010. Took care of him, vet visits and all until his passing on Oct 15th 2017. For 7 years & 2 months, I enjoyed his love & companionship. The sweetest cat I ever had. I will miss you sweet boy.
Olive Giorgi
---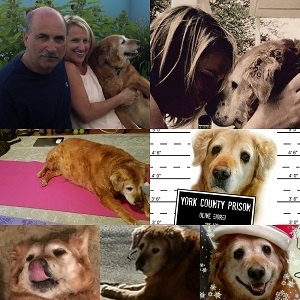 The house feels so empty without Olive. I had her since she was a puppy. She gave me 13 years filled with unconditional love. She loved to play with her little stuffed lamb and eat the cats treats. She loved to plop in the middle of my yoga mat as soon as I rolled it out.
She is missed by all her family and friends.
Cheyenne Casey
---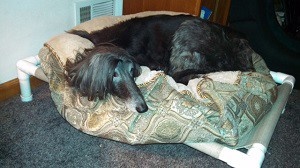 My beautiful girl, you were such a challenge, but so sweet at the same time. From the time I picked you up, you never failed to catch me off guard with your quirky personality. I miss you so much, the house seems empty without your larger than life presence. Until we meet again, my beautiful blue diva—Taza Kaimar Shadowynde Veritas…Cheyenne. Wait for me. 💕🐾
Coby Otto
---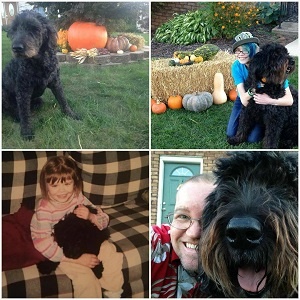 Coby was the best dog ever. He spanned almost the entirety of Sarah's life. They were young, energetic tots together. He walked with her to and from the bus stop almost every morning and afternoon throughout the elementary school years. He slept faithfully outside her bedroom door every night for nearly a decade, until he could no longer do stairs. He loved the snow. And there were many, many, many great walks over the years; we eventually transitioned from Coby eagerly pulling and yanking us all over the place to us intentionally walking very slowly so that Coby could keep up on his failing legs. His favorite sound in the world was a tie between Sarah's voice and the jangling noise that the metal part of his leash made when it was time for a walk. He was always there for his people, and never met a new person he didn't like. Everyone who met him loved him right back. We miss him so much.
Cooper Bender
---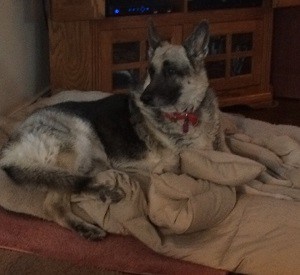 This is our dear Cooper who passed over on April 6, 2015. This is the first time I've considered sharing her photo.
Tommy Metz
---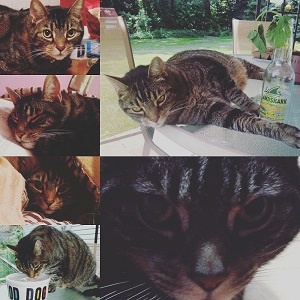 What can I say…. he was the best comfort buddy ever. Tommy and I were like peas in a pod – kindred spirits. I will miss him immensely, but his presence will remain.
Blossom Loiselle
---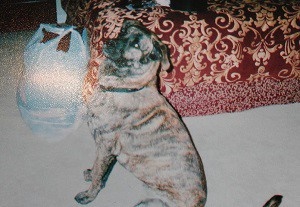 Blossom 14 years old, Pit/Lab Mix, rescue. Gone too soon. Love your, Mommy
Abby Kreiger
---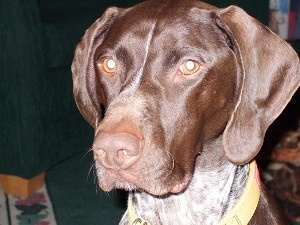 This is our "Abby." She was with us for thirteen years. She was gentle, intelligent, playful and with us always. She was Daddy's girl for about 10 years or so, but she slowly gave up catching the ball, protecting the garden and chasing chipmunks. She then liked to stay with Mom, "helping" in the kitchen where something just might fall to the floor and need to be cleaned up. She had a "brother" cat named Iggy who she lovingly washed his ears every chance she could. She was our dog, our friend, she was loved.
Raider Dohm
---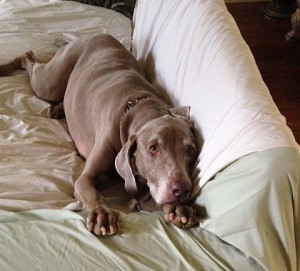 We had Raider from when he was a 7 week old puppy. There are a lot of memories in nearly 15 years. Here are a few of my fondest memories of Raider. He was a big 98 lb. dog but he acted like he was a little lap dog. He always wanted to be close to one of us. He loved to go out on our boat and swim in the river. He would ride behind my husband on our jet ski. Raider would bark and the way he looked at me, somehow I knew what he wanted me to do. He did everything but talk to me. I could go on and on, but the best of all is the wonderful personality he had. He will forever be in our hearts!
Booboo Strausbaugh
---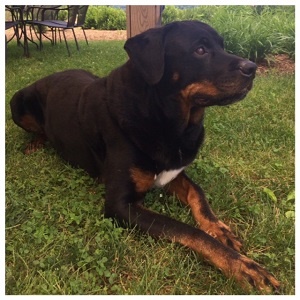 Booboo you are our best friend. We love you and will miss you forever. Thanks for your love. God has a million balls for you to play with. See you in Heaven our precious baby.
Maggie Young
---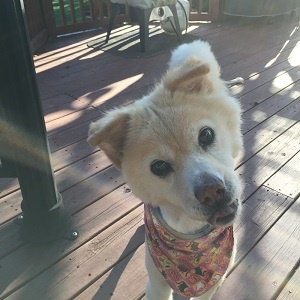 Maggie,

You were the best dog anybody could ask for. You will always have a special place in our hearts. I'm sure there is plenty of grass to run in and touchdowns (treats) up in doggy Heaven. We love you and we miss you dearly.

Love, Mom Dad and Lizzy
Maddie Apgar
---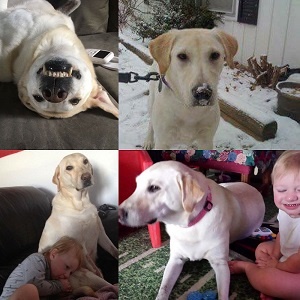 In memory of Maddie Apgar, she was our best friend thank you guys so much for making the worst day a little easier.
Toby Sadler
---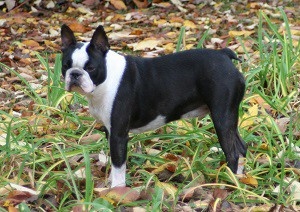 Toby was a kind and gentle soul. Definitely a follower… never a leader, yet full of spunk and play. He was a lover, not a fighter. With a heart the size of Texas, he would give unending kisses and love. He would make us laugh at his silly antics. Playing fetch with a simple tennis ball was his favorite thing to do… besides being with me every chance possible. He snored like a sailor…. It's too quiet now….
Angel Zepp
---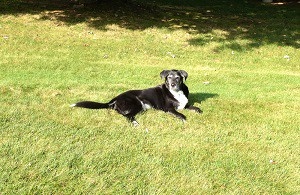 We sadly said goodbye to my daughters first love and her very first puppy. I brought her home for Chelsi almost 14 years ago and watched myself my wife and daughter cry tears of joy. She was the cutest thing and Chelsi named her Angel. It's time to live up to your name sweet girl ❤️ We are all so heart broken now, but we know that we will get to see you again. RIP baby girl 💔😪
Gala Goodlavage
---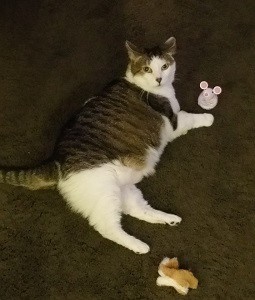 My first trip to the Harrisburg Humane Society was to adopt a kitty named Elliott however Elliot came with a sister which led me to another pet search. I met and greeted multiple kitties and settled on Darjeeling however when I got to the front of the adoption line found out that Darjeeling was adopted by the lady standing in front of me. I left without a kitty. Once home and relating my non adoption story my husband said Gala was our cat. We went back and adopted Gala and she really was our kitty. She would not leave our home even if the door was open and we love her with all our hearts. Thank you Gala for all the special treats we received being your adoptive parents. There will always be a small candle lit after dark on the windowsill where you watched everything on the outside of this house safely from your space. Missing you. Mom & Dad.
Lizzy Rupp
---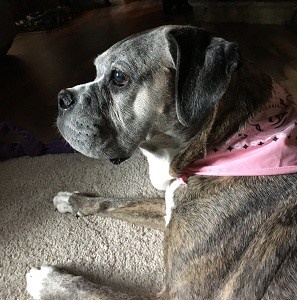 Here is a picture of our awesome Lizzy. She was a great dog. She lived inside with us, slept with one of our children every night and loved sneaking up on the couch (even though she knew she wasn't supposed to). We miss her greatly and thank you for your discreet service and pleasant attitude.
Toriann Hess
---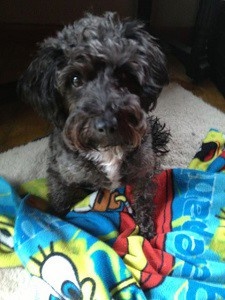 Toriann as we called her was our first family dog. The girls loved her. Played dress up and veterinarian with her. She was a sweet dog. Never got angry just went with the flow. She was a rescue and I think she always remembered that. She will really be missed. She was our little rug. When she laid on the floor she always looked like a rug, Rest in Peace little girl. We will meet you at the Rainbow bridge someday. Your brother Benson misses you too.

The Hess family,
Darla, Craig, Chantal, Cheyenne and Benson
Izzy Tarquino
---
It was a sad end to our summer. For some, it's the last 'official' day of summer. For us, it was our final day with Izzy. We like to think this is where wanted to be; at the lake. She spent so much time here. Fishing, swimming, walking, being lazy at the fire, boating, jetsking, paddle-boarding, etc.

We'll miss the slobber, the barking, the farts, the hugs and kisses too! The welcomes at the door, even the seldom-unwelcome trash on the floor.

Izzy…you will be missed by many and still loved by all. Catch all the fish you want now! It will be extremely difficult without you 💔
Elmo Damon
---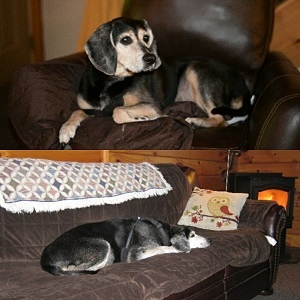 My wonderful companion, "Elmo", died on Monday, August 28. I've never felt such sadness and sorrow, and the pain I feel is without words. "Elmo" came into my life when he was an adult, as dog years go. I first saw him in the Spring of 2007; he was with a man who owned a shabby mobile home (MH) on property near mine, and he shared life with another, much bigger and more aggressive dog. On rare occasions, my wife and I would see Elmo in the man's yard, but more often than not he was nowhere to be seen, probably keeping his distance from the larger dog. As the months passed, it became obvious the home-owner was having financial problems; the MH and property were slipping into disrepair, and it wasn't long before he was evicted from his trailer, the property was foreclosed upon, and all utilities turned off. But he left his two dogs behind, only occasionally showing-up to feed and water them in their small enclosure at the back of his home. Soon, and as time passed, his visits became less and less frequent, and my wife and I took notice. For months at a time he was absent from the property, and as the seasons passed it became clear he had abandoned his dogs, leaving them to die. My wife and I kept in-touch with the Humane Society about these animals, encouraging them to do whatever they could to rescue the dogs. In the meantime, and as the "wheels of justice" turned ever-so-slowly, we fed and watered the dogs. We had to do this separately, as the larger dog would terribly abuse "Elmo" when food and water were brought to them. One of my most vivid memories of "Elmo" was during one of our Wintertime feeding sessions. While my wife lured the bigger dog to one side of the MH, I was able to slide a window open just enough to reach inside to caress Elmo and feed him some ring baloney. He desperately tried to escape through the window and was clawing frantically, trying to crawl into my open arms. Right then and there I knew we'd made a life-long connection with each other, and he stole my heart in that instant. It broke my heart when I had to push him back into the vacant, freezing room where he lived behind a couch to avoid the bigger dog. During the winter of 2007/2008 there was a brutally cold period and the temps plummeted and we feared the dogs would soon freeze to death in their unheated room/enclosure. We finally convinced the Humane Society to act in this emergency to seize the dogs for their own welfare, and "Elmo" and the larger dog were finally taken into protective custody. About a week later, and after the Humane Society had thoroughly checked his physical conditions, I received a call asking me if I wanted to adopt him, since I was his "savior" of sorts. I wasn't really ready for another dog; we already had a very active Springer Spaniel to raise, but I decided to go see him for the Humane Society's introductory 'Meet & Greet' appointment. We met on a sunny afternoon at the Humane Society's offices and I was surprised at his condition: he was very thin and he smelled horribly, but he was full of enthusiasm and an obvious 'love of life'. The Humane Society's staff told me he wasn't all that 'physically affectionate', but he was simply a dog who loved everyone. He came to me right away and planted a kiss on my hand. I was hooked, and from that moment until he passed away, we were inseparable. After the adoption process the first stop on my way home was at PetSmart where he got a 'free' bath; a perk PetSmart offers to adopted shelter dogs. Even after the bath, he was still a bit smelly, so my wife nick-named him, Ol' Stinkin' Elmo, owing to a hound's natural aroma. Elmo's instinct to smell and investigate was intense, and he could not be trusted to be off-leash; he would run toward any interesting scent. And it was also apparent he was never trained to respond to commands. On one occasion, I left him tied to a tree in my yard while I was doing something in the house. I checked on him an hour or so later only to discover he'd chewed through his rope and ran away. I spent hours driving the countryside looking for him, only to discover he returned to the vacant MH from where he'd been rescued. I can't possibly describe the happiness and joy he brought to my home and into my life over the years. His unusual antics and behavior could fill a book, and his distinctive hound bawling drove my wife crazy – but I loved it and encouraged him to bawl as often as he liked. As the years passed he developed a host of illnesses, with tumors being the worst, but he maintained his spirit and his 'love for everyone' throughout his entire lifetime. As sick as he was at his passing, he even greeted Dr. Carney with love as she arrived at my home to put him to sleep. Elmo showered happiness, joy and love to everyone who ever met him, and now the silence and emptiness in my home is like the vast voids of outer space since he's been gone. He truly was 'one-of-a-kind', and he'll forever occupy a huge place in my and my wife's heart. The phrase, "Pets Leave Paw Prints In Our Hearts", is so very true when I think of my wonderful friend, "Elmo".
Cali Bair
---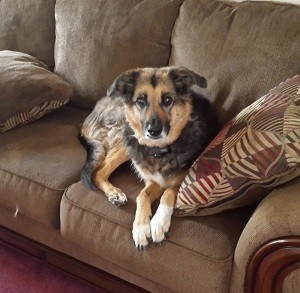 Cali Bair passed away on 8/25/17 at 13 years old. A Shepherd mix, we got Cali when she was only 8 weeks old. Cali loved to sing when she heard either Fire truck or Police car sirens, sun bathe, hog most of our bed and also liked to bark at anyone who dared walk down the sidewalk in front of her house. She was also freaked out by thunder and lightning. Cali definitely ruled in our house hold. She will be greatly missed by our family and friends.
Lacy Smyser
---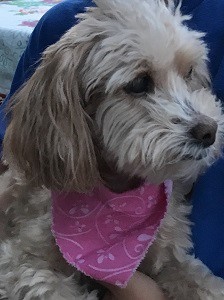 Dear sweet Lacy was the light of our lives.. She was our first child and was the most beautiful, loving, fun dog anyone could ever ask for.. She blessed our lives in so many ways and have touched our hearts and souls.. She will NEVER be forgotten and will always be thinking and praying for her.. She will be deeply missed but know she is in a better place with Jesus.. We love you Loo Loo and miss you so very much..

Love Mommy, Daddy and the Boys!!
Reilly Tileston
---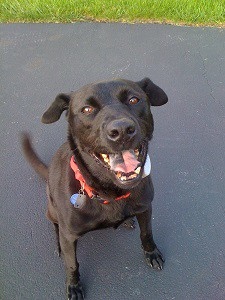 Reilly Tileston passed on 8/19/17 at 14.5 years. A black lab/sharpei mix, we rescued him when he was 4. Reilly loved to walk in the park, sun bathe, and chase cats and rabbits out of his yard. He did NOT like thunderstorms and lightning. He also liked to bark at anyone who dared walk down the sidewalk in front of his house.
Ashe Prediger
---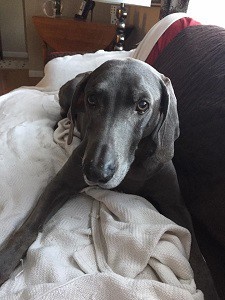 On Monday 8/21/17 we said our final farewells to our "grumpy old man", Ashe. He came to us as an almost 14 year old forever foster, and he spent the last 2 ½ years of his life being loved and spoiled. We took him in just 3 month after the loss of our other Weimaraner, I knew as soon as I saw his picture he needed to be part of our family; we needed him as much as he needed us. All he asked of us was to be fed on time and space on the sofa (a lot of space) to sleep the day away. He snored like a freight train, his breath was toxic and he couldn't hear when someone came in the door (our great watch dog), but we loved him completely. He reinforced that seniors aren't disposable, they deserve a family that loves them to the end. I am so happy he found his way into our lives and he knew what it was like to be truly loved in his final years. We will miss you so much…
Gordon "Dink" Taylor
---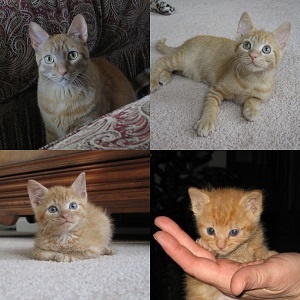 I lost my best buddy "Dink" 8/17/2017. He was only 11 years old. I had an incredible bond with this little guy. Not only did I bottle feed him from approx. 2 weeks old but he was also a special needs cat. Despite having a lot of issues he was a very sweet and loving cat. I will never forget his unusually loud purr. All you had to do was look at him or say his name and the motor would start.

Dink had cerebellar hypoplasia, a neurological disorder causing him to be off balance. It was severe at first but as he got older & his legs strengthened he did exceptionally well, even mastered his own special way of running. Reminded me of a rabbit hopping and a cartoon I had seen with the caption ….dink, dink, dink., thus his nickname.

He also had Pica, a condition where animals & even humans crave & eat unusual things. In Dink's case it was litter. From that point on we had to use a wheat based litter. The third condition IBD is what eventually took his life. The last couple years it had become severe. We tried everything. It would help for a while then we would be back to square one.

I loved him, kept him happy & safe for 11 years. I know he is at peace & whole over the rainbow bridge but I miss him terribly & my heart hurts every time I think of him.

Thank you to all at PPP for what you do.
Shelby Foltz
---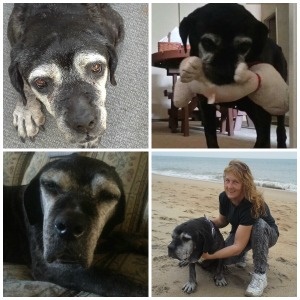 It's been a little over a year since I made the call for my "hambone" Shelby. I miss her often and now wait for the wall unveiling she is on. No one ever wants to say goodbye but I'm thankful that I heard about Peaceful Pet Passage. The compassion and "above and beyond" things you do for all of us are greatly appreciated!
Jade Hartman
---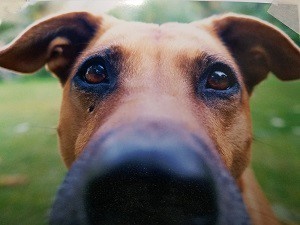 Today I sent a piece of my heart with Jade over the bridge, my loyal companion of 11 wonderful years. She arrived at our house an unwanted stray and immediately became part of the family. We will no longer receive kisses from that purple tongue. No more will she come running to protect me from the snake that made me scream. I will forever remember her wandering the mountainside at our home, never further than my voice, training with me for every race I ran, "watching" her favorite tv show (the fireplace), chasing her tail, her jumping bean act when she knew we were going for a car ride, and her joy of hiking and wading in the creeks. Later in life she became one of our studio mascots. She was so well behaved there, knowing her boundaries. She shared her love with everyone who walked thru our doors.

Jade, you had such a wonderful, gentle personality that came out to everyone you met. You will be painfully missed my girl. Until we meet again…
Colonel Malcom Anderson
---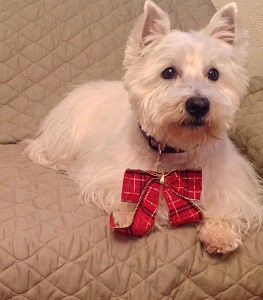 Malcom was a Westie who roared with delight when he was happy. He'd roar when he saw us putting our sneakers on because he knew he was going for a walk. Malcom loved all people and other dogs. On our walks, if his friends were a 4 legged or a 2 legged, he would respond back with roars seeming to answer when people would talk to him. He knew where all dogs lived and he'd give out a little whimper if they were not outside as we passed by. Attached is a picture of him Christmas morning 2013.
Bella Kenemore
---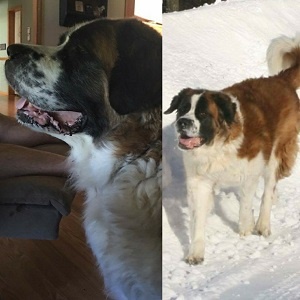 Thank you to Dr. Carney and her compassion with helping us say goodbye to our beloved Bella Rose. She was our beautiful 10 year old Saint Bernard. She loved the snow, the cooler weather, and loved her family, especially her daddy! Thank you again…The Kenemore Family in Dover.
Abbi Henry
---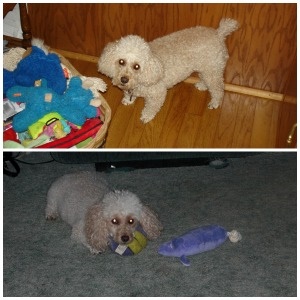 Abbi was the first small dog I owned AND a poodle which I didn't think I would ever own. A friend's dog had a litter of puppies, and I decided I needed one — our daughter was leaving for college and I hoped that a puppy would help to fill that void. I wanted a lap dog, but Abbi was anything but a lap dog .. she was full of energy and constantly playing with anyone willing to throw her ball over and over and over again! She was a feisty little girl too. Abbi was still a little playful until last July when she became totally blind; she had been deaf for a couple of years. I carried her outside to potty for the past year, and she maneuvered around the yard and in the house quite well. Dr. Carney took care of Abbi when she was a puppy, and Dr. Carney was there when Abbi took her last breath. Thank you so much for your kindness during this very difficult time.
Calvin Fritz
---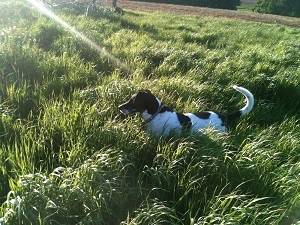 We said a peaceful goodbye to our sweet Sir Calvin. He was in and out of at least three homes before he found his true family with us. We adopted him as an adult and had seven wonderful years with Calvin. He was a quiet and calm dog, but he still loved meeting people and other dogs, played any game that involved treats, loved Rita's frozen custard, enjoyed cool weather, played in the snow like a puppy, was very fond of walks in the high grass, and had only one favorite toy, a stuffed rabbit. He was stubborn, funny and quirky but never shy about expressing his love and affection. Calvin was very independent until his mobility decreased, but he trusted us to help him; and he trusted us to love him and respect him enough to make the difficult decision to say good bye when he was ready and on his terms. His calm and quiet dignity was with him to the very end, but he offered us a wonderful last day to remember him along with all the other years of many cherished memories. We will love him and miss him forever.
Shy Anne Smith
---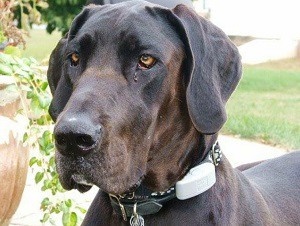 Dear Puppy, It has been a week since we said goodbye to you. A week since I saw that blood in your stool and I knew you were telling us it was okay, that you were tired, you were done. You lived much longer than those crazy Great Dane people in New Jersey told us you would live. "Oh, five to eight years, max, for a Dane," they said, nodding their heads in unison.

You nearly made it to twelve. And you've been part of our family since you were 9 months old.

I remember the first time I saw you. The Great Dane Nazis had me browse through photos of prospective adoptions online. I sifted through pic after pic, mesmerized by the giants that I saw, their large jowls dripping with drool, perky ears alert. And then I saw you. "Oh no! NOT THAT ONE. She looks insane," I mumbled, taking in your bright golden eyes, gleaming black coat, floppy ears, and huge Gene Simmons' style tongue as it dangled a good six inches from your mouth.

Imagine my surprise when we drove over into south Jersey and there you were, all 148 pounds of you, 100% full of puppy energy and glee, sporting spinning eyes and a lollygagging tongue.

Your official pedigree name was Not So Shy Anna, but we decided it would be awkward to stand at the back door and holler out that long of a name. So we shortened it to Shy Anne. Never was a dog more wrongly named. You were not shy. Not in the least. We discovered your great love of crotch sniffing almost immediately.

You were my first dog. I've always had cats (you were obliged to share our domicile with three cats – and you did so admirably) – but I'd never had a dog. Go big or go home must have been the motto lurking about in my psyche.

I remember taking you to obedience school. Our graduation photo showed well-mannered pups all sitting in a row, smiling owners beside their pets . . . and me. Tugging on your leash. Trying to get you to SIT STILL and not drag me into another wall.

I don't know if I ever told you why we started searching for you, Shy. There were break-ins in our nice neighborhood. Lots of them. I mean, we live near a country club for God's sake, but I guess the robbery gangs took that into account and decided to go big or go home, and go big they did.

So we sat down as a family and decided that we wanted a dog that was large enough to scare the poo out of strangers but sweet enough to be gentle with Carter and Zak. Zakky wasn't yet 2 years old and Carter was 6 when we brought you home that day. I was worried how you would react with them. I needn't have been concerned. You were the Queen of Sugar. I think you fell in love with them that first night. The only Shy damage Zak ever endured was a small welt on his legs, caused by over-wagging of your massive tail. He cried, and said you were a bad dog, and then I think you licked him to death and he forgave you instantly. See, we got you to be our family dog and to love, but we also brought you into our home for protection. And protection you provided, in spades.

You nipped the nice man that tried to help me start the mower one sunny day. "She doesn't bite, right?" he asked nervously, giving you a side eyeball. You were barking at him like he was a piece of bacon wielding a sword. You thought he was dangerous, and tasty, all at the same time. As you hadn't ever bitten anyone, I blew off his concerns and thanked him for giving my mower aid. Two inches of hair hackles raised up on your neck as you circled him at a run . . . and then dive bombed him, and bit him squarely on the ass. "Thank you!" I squeaked out meekly as he ran for his life, one hand firmly on his buttocks.

Then there was the FedEx guy – the newbie in training. Daddy told him to wait, to not come into the yard. He didn't listen. I'm so thankful we didn't get sued.

I remember the time that I was in Philly for work, Daddy was in Maryland, and we both got calls from the security company. Our alarm was blaring and cops were at the house. I guess you decided you needed to go outside (understandable, since Daddy forgot to let you out to pee!!) and you halfway opened the back door with your nose and set off the alarm.

"Um, officer?" I said to the cop on the phone, as I flew down I-76 at 80 mph trying to get back to you, "Could you do me a favor and reach your hand in there and open the door all the way so Shy Anne can get out? She really needs to pee."

"Ma'am!" his voice boomed over the speaker, "No offense, but there is NO WAY IN HELL I am reaching inside the house toward that dog!" He told me you were up on your hind legs, eyes blazing, enormous teeth on display, with murder in your eyes.

"Do you think someone got in?" I asked stupidly. The officer chuckled, then responded. "Trust me. Nothing got past that dog, Ma'am."

You protected us fiercely – against UPS drivers, FedEx drivers, The Dude (aka The Postman That May Have Had a Bong In His Postal Truck), potential robbers, ne'er do wellers, other neighbors, the wind, swirling leaves, thunder, fireworks, and most importantly, Jehovah's Witnesses and Mormons.
Job well done, my sweet girl.

And you didn't want to give up. When the doctor gave you the sedative, she told us it would take five minutes to calm you down . . . but you fought it. You fought it so hard. Your panting finally slowed, and you sank to your belly in the shaded grass underneath the huge tree in the backyard, your long, elegant paws stretched out in front of you.

You were our protector, always.

My favorite part of your body was your ears. We didn't clip them – they were floppy and velvety soft, warm and utterly glorious. I loved every part of you, but I loved your ears the most. I loved how you would saunter up during Saturday morning breakfast, eyeball level with my plate of bacon, and nudge your nose under my arm, nearly flipping me out of my chair. You would stare at me, eyeball to eyeball, nose to nose, and then lick my nose after I asked, "What do you want?" Every. Saturday.

You went through approximately 24 beds in your 11.75 year life. Like clockwork, every few months I would buy a new human-sized bed for you. My wood floors are deeply scarred from your nails and near rotted from your drool. The drapes are currently at the cleaners but may not be salvageable. I scrubbed the walls clean of your streaks and dirt. It took a full three hours of deep cleaning and a whole bottle of cleaning fluid. Multiple swipes of microfiber and Windex finally freed the windows and back door of your nose imprints and congealed snot balls. And all I could think of as I scrubbed and swiped was, "This means she is gone."

When I would come home, weary from travel, often in the wee hours of the morning, who would be at the door with a huge smile and a kiss? My husband? My children? NAY. It was YOU, Puppy. Always you. Always first. Always ready to greet me and genuinely happy to see me. Even when your eyes clouded over and you were nearly blind at the end, and it took massive effort to hoist yourself up from bed number 4,382, you were still first in line.

You murdered our grandfather clock. Jumped right over it and it slammed down on the floor so hard I thought a bomb had exploded. That innocent clock is now a mangled jumble of metal and wood.

You used to spring straight up in the air as if you were a marionette on strings and the master puppeteer had yanked you skyward. You totally freaked out that mean lady that lives behind us and threatened to call the cops about your incessant barking. And the mean lady that used to live around the corner who complained that you had busted through the invisible fence. (My response was the International Middle Finger of Love.) And that other mean lady further down on Wetherburn Drive who shook her fist at me from the front seat of her Mercedes when she saw you jump five feet straight up in the air.

We had a lot of mean ladies around here, but you outlasted them all.

We used to walk almost daily, round and round the neighborhood. Then, around age 8, you pulled your hips out and scared me to death. You cried and limped and I wanted nothing other than to save you pain. X rays showed your hip had slipped out of socket. The docs gave us paid meds and shook their heads.

And then, miraculously, you started feeling better. Nearly four years later, you had pain, I'm sure, but we managed it with pills. I remember you pushing yourself up from the floor, front muscles straining, long legs extended, and finally your hindquarters would obey and follow suit.

I asked the vet many times if you were ok. I didn't want to be selfish and keep you alive just so I wouldn't be sad. It came down to a quality of life issue, he said. And by all measurable signs, your quality of life was pretty darn fantastic.

So we moved forward as a family.

And then, last Monday, I saw that blood in your stool. And then it doubled, and doubled again, and I knew.

I'd never had to put an animal to sleep. I've been lucky, I guess, because I've had many cats that lived many decades and they passed away quietly when they were ready.

It was so hard to watch you go. I'm slapping tears from my face as I type this.

I picked up your ashes last night, sweet girl. You're in a beautiful cedar box and I put you in our living room. All I could think of was how happy you would be to come back home. When we boarded you at the kennel, you always became so anxious on the drive home, whining as we rounded the corner to the driveway, springing from the back of the car with sheer joy, bounding onto the grass, landing on your back and sticking those thoroughbred legs in the air.

Even though you can't revel in the grass any longer, you're home, and you're here to stay.

Everywhere I look, I see a void, because you aren't here. I still get up thinking, "I need to go feed Shy." I had to stop myself from buying a ton of hamburger and rice at the grocery store, because you aren't here to eat it. We took a family trip to Pittsburgh to visit potential colleges for Carter, and I kept thinking we needed to get home so you could go outside, but we didn't, and you couldn't.

I want you to know you were loved – purely and thoroughly. You were a big dog with a huge life and a heart that was a bottomless vat of love and loyalty for your family.

You were a good dog. Such a good dog.

Goodbye, my Puppy. I miss you. I love you.
Tootsie Spears
---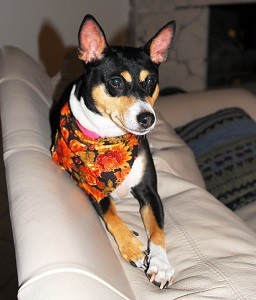 "Tootsie" Spears was the beloved Basenji companion of the Spears family for almost fifteen too-short years. "Tootsie" was a very independent girl, with cat-like athleticism and an indomitable spirit. She definitely didn't think she was small. As a young dog, her favorite bit of mischief was to jump high behind me to grab my dress shirt and hang on for dear life. "Tootsie" managed to tear at least a half dozen shirts right off my back. She also took delight in unraveling a Berber carpet in my family room with her teeth, one loop at a time. Luckily, she settled down as she got older and became quite a pleasant and mellow companion. The entire family misses her greatly. We are grateful to Dr. Carney and John at Peaceful Pet Passage of York for their timely and compassionate care of "Tootsie" when she needed help the most.

The Spears Family
Onyx MaGilton
---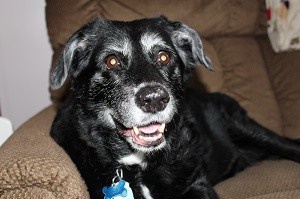 In loving memory of Onyx MaGilton

You will be missed dearly, Mommy's Girl. From your goofy smile and head cocks of "did", "do", "treat" and all the other words you knew to barking along with me when goal was yelled! I will think of you during every game. Cancer took you too soon, but now you can run free with Blaze. Until we are all together again. Meet me at the Rainbow Bridge. I love you!!
Sox Hollis
---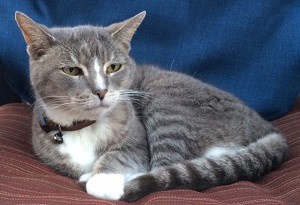 On July 26, we bid farewell to our beloved Sox. She was 19 years young! We were blessed to share our lives with this spunky feline – from her college days to the dog days to her crossing the Rainbow Bridge! Thank you to Peaceful Pet Passage for enabling Sox to transition in a dignified manner. Sox is in our hearts forever and life will not be the same without her❣️
Maggie Wertz
---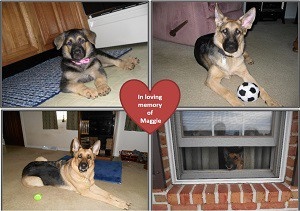 In loving memory of Maggie Mae Wertz – (06/02/06 – 07/12/17)

Dear Maggie,
It seems just like yesterday when you joined our family. At first, I didn't think you wanted to be there but as time had gone by, you and I began our journey to loving each other. We took long walks together, played ball and frisbee. You slept on the right side of the bed and I on the left. We were inseparable. You always knew when it was time for me to come home from work, you sat by the window looking for my arrival with your doggie smile and big ears. You were such a loyal friend.
Now that you are gone the house is so quiet and my heart is broken in pieces. You were my best friend, you loved me unconditionally, no question asked. Until we meet again, Maggie, in the next life, I will always love you and never forget how much you loved me.
Love,
Mommy
Baba Booey Ribeiro
---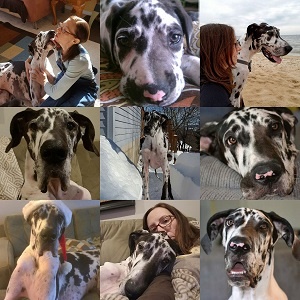 Baba Booey was my 5th Great Dane rescue, but he was the first Dane I got as a puppy. I took him home when he was only 7 1/2 weeks old and 8lbs. I knew from day one that he would be broken, as he was from an accidental litter with two rescue parents of obviously sketchy breeding. Predictably he started falling apart at 7 months old when his rapidly growing shoulders started to splinter. By 18 months old, he was officially diagnosed with Wobbler's Disease, a progressive neurological condition that broke down the communication between his brain and the rest of his body. After several surgeries and a lousy prognosis, it was clear that my mission was to make Booey's life the best it could be in spite of his daily struggles. I would like to believe that, with the help of my friends and family, we achieved that mission in spades. Booey was an epic pal – he was smart, funny, happy, playful, sweet as pie, and an all around great dog. To me, he was the best dog on earth, the best dog I ever had, and I loved him to pieces. I have no doubt that he knew how much I loved him because you can clearly see the love he had for me in return in his big brown eyes. Booey struggled to get around for most of the short 6 1/2 years we had him, but he didn't seem to mind as long as I was there to help him out. I was his caretaker, his support, and his best friend, and he was all of those things to me in return. There will never be another Baba Booey – he was a truly special one-of-a-kind. I'm shattered that he's gone, but I'm glad we got to give him a red-carpet exit from this mortal coil because I cannot think of a more deserving creature to enjoy a peaceful, graceful, struggle-free ending than Booey. Run free, Baba Buddy, Baba Buzz. I miss you. We all do.
Jazzminn Kennell
---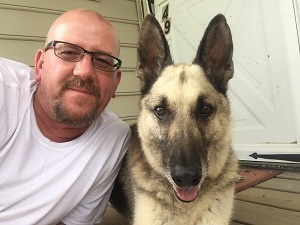 In Loving Memory of Jazzminn Kennell
Our hearts are heavy this week as our sweet girl Jazzminn has passed away. She was eight weeks old when we picked her up and she was with us for 12 years and 5 months. She was a very loyal companion and will live forever in our memories.
We Love You Jazz.
Cheyenne Kerlinger
---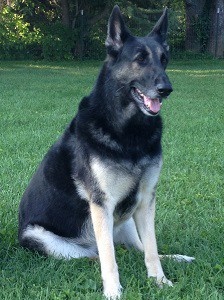 Cheyenne is, always was, and always will be our "princess". I believe she honestly thought she was a member of the royal family, and she sure acted like it. She was a very unique, special girl. She was happy every single day of her life. Nothing kept her down. She was the most energetic, playful, happy, and very verbal dog ever. In her younger days she was very fast. I remember a time we were at a family gathering with 6 other dogs. They all formed a train & ran in a single line through the yard. Of course our Cheyenne ALWAYS had to be first so she led the pack but before long she caught up to the end of the line. When she realized she was at the end she stopped and waited for the others to catch up to her so she could be first again. It was the funniest thing to watch all those dogs in a train. Big and little dogs alike. She was a quick food snatcher too! If you turned your head for a second you came back to an empty plate. Cheyenne loved her food, loved her family, loved her brother, and loved being loved. Most of all she loved being in charge of the other dogs (thus the royal status). Our memories of Cheyenne will forever bring smiles to our faces. We are truly lost and heart broken without her. However, it is comforting knowing that she was the same happy girl right up to the very end. We would not have had it any other way for our special girl.
Blaze MaGilton
---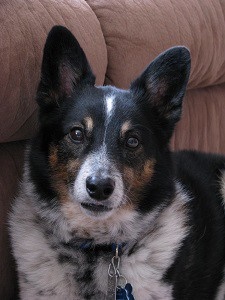 In loving memory of Blaze MaGilton

You were Kayla's 11th birthday gift from Nana & PapPap, but never left our house. You were such a sweet boy that was loved by everyone! You had a long wonderful life and will always be missed! Love you "Man". RIP June 20, 1999-Sept 11, 2015
Candi Molina
---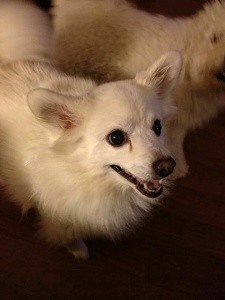 Here is a picture of Candi before she became blind. Candi was the sweetest dog I ever owned, she was a rescue dog that I took in because her previous owner had a stroke and passed away. My husband and I fell in love with her and she mourned her owner for about two weeks. We loved her and spoiled her every chance we could. She was with us for 11 more years and I will thank God she came into our lives. I will miss her and I know my husband who passed a year ago today, are together. I can't wait to see them.
Chopper Davis
---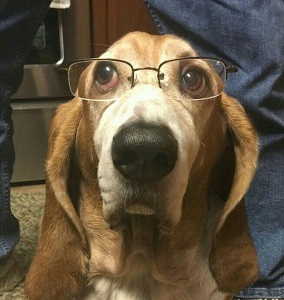 Chopper was a loving Basset Hound that came to us as a rescue. He spent the last 3 1/2 years of his life with us and certainly grew on us over time and into our hearts. He is greatly missed and may he rest in peace.
Monster Foster
---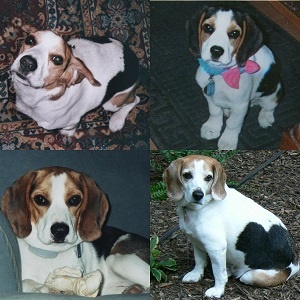 In Memory of Monster Eugene Foster

This has been a difficult time for our family over the last month as we coped with Monster's diagnosis of cutaneous lymphoma, a very aggressive cancer. How painful to look into his eyes and know there was nothing we could do to help him. It was even harder to see him suffer and to realize we had come to the end of our time together. Simply described, he was a great buddy. Whether he was called Monster, Monty, Buns or when he was being a pistol Monster Eugene, he was family right from the beginning. From the time he figured out how to unlock his cage at the age of 2 months, he was a constant companion day and all night right to the very end. Monty was well known in the neighborhood always telling everyone who walked by who was the boss, but retreating behind his Mema when someone approached. He beagled his way around the yard insisting he could climb with the squirrels he incessantly chased. His appetite knew no bounds and even after his meal was served early he was always hopeful and always vigilant as we moved about the kitchen. Most of all we miss his energetic chastising of us after we arrived home after leaving him to guard the house, knowing full well he was cowering under the bed until our return. As the last few weeks passed, we yearned for the days of old, but realized it was not to be. He needed to rest so he could be at peace. That look at the end told us he is in a happier place and that placce is always in our hearts.

Love you Buns!

Mommy, Daddy, Harry, Jess and Gretchen
Jasper Hummel
---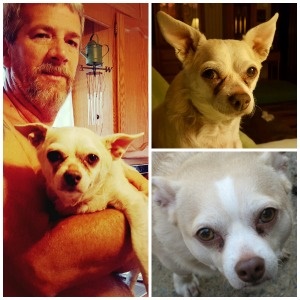 Loving Memory of Jasper Hummel

It is with a very heavy heart and great sadness that our sweet boy Jasper passed away and went across the rainbow bridge to meet up with his Brother Buddy and sister Sadie. Our heart is broken. He was such a laid-back, sweet dog. He loved to snuggle and give big kisses! Jasper loved to lick ears too. He would lick his sister Molly's ears all the time and would go after ours too!!!. Jasper always had a smile on his face and would welcome us home with it. I don't know how we are going to make it day to day not being able to see his smile. Jasper would sleep at the foot of our bed every single night to be close to us and to protect us. We already miss our loyal and best friend and always will for the rest of our lives.Jasper, we love you with all of our heart and we will meet up with you again when it is our time to cross the bridge.

Love You Jasper,

Mommy and Daddy
Tweek Cash
---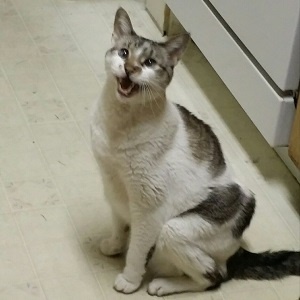 Tweek was 16 years old and I had him since he was only 3 weeks old. He was left on my back door by a stray I took care of in florida. He had moved across the country with me and was always so loyal and loving. He was the sweetest cat I've ever had. He loved being brushed and would sit in my lap for hours. Even in his last week's as his health declined, he would be outside my bedroom door waiting to greet me every morning with purrs and love. He will never be forgotten and thanks to your service, he was able to die peacefully at home, surrounded by love.
Oscar Rhoads
---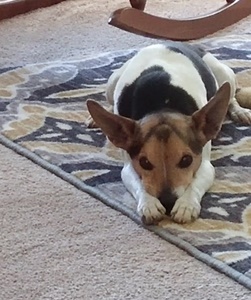 Oscar was such a great dog, old and stinky but forever loving to the end. He will be missed by all. Longest we've ever loved a pet ❤